Gardener's pie recipe – proper comfort food that absolutely anyone can make in 20 minutes + 20 minutes oven time. Nobody would ever know its Coeliac-friendly and wheat-free either!
Gardener's pie recipe – if you're looking for something to break the weeknight dinner cycle, then here's something new to try. It's essentially a veggie shepherd's pie in a homemade herby, baked bean-style sauce… but with XL beans in it!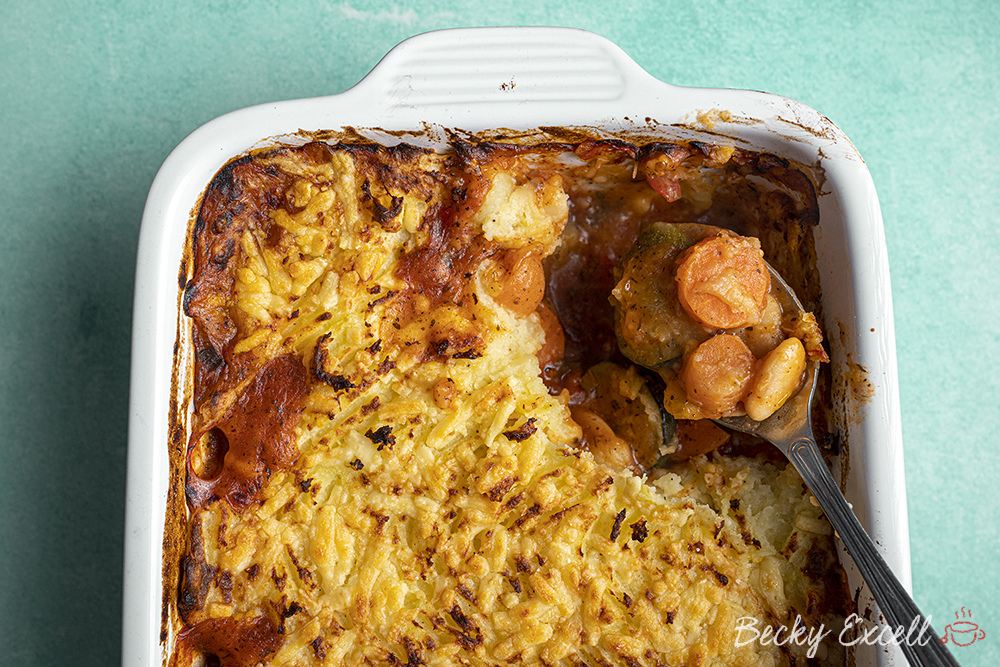 The home comforts chapter in my first book 'How To Make Anything Gluten-free' was a celebration of all the foods myself and Mark enjoy at home.
But of course, there's only so many recipes I could cram into one one chapter and furthermore, one book (I actually managed to go well over the 100 recipe limit in that book!)
Fortunately, I've been expanding that chapter here on the blog ever since – so here's another one to throw on top of the pile.
It's one that Mark and I enjoy regularly as a meat-free meal, which is always welcome when we have meat in almost every meal the rest of the week! Here's all the simple ingredients you'll need:
Gardener's pie recipe: What you'll need…
Garlic-infused oil: An instant injection of wonderful garlic flavour – no chopping or pre-frying of fresh garlic required. And if your garlic oil doesn't have any bits of actual garlic floating in it, then it's low FODMAP too.
Leek or onion: I actually use leek for the recipe as onion doesn't agree with me, but I wanted to include it anyway as it doesn't actually matter which you use. If you use the green parts of the leek only, then it'll be low FODMAP too.
Carrots and courgette (zucchini): This chunky selection of veg absorbs so much flavour and is super easy to prepare – no peeling required here.
Cornflour (corn starch): This helps the pie filling to achieve a sauce-like consistency and speeds up how long it takes to reach that point when reducing. Potato starch works too.
Smoked paprika: This is my 'secret ingredient' to giving the pie filling that baked bean-like flavour and colour. Trust me, don't skip this one!
Chopped tomatoes: As with a lot of recipes, a humble tin of chopped tomatoes goes a long way in creating the base of the sauce.
Gluten-free vegetable stock: In reality you can use whatever stock you want – as long as it's gluten-free! You'll find gluten-free stock cubes in the supermarket and are usually clearly labelled.
Dried mixed herbs: An instant injection of herby flavour without the need for any fresh herbs (or chopping!).
Butter beans: These are essentially like XL baked beans and have a lovely mild taste and chunky texture. Perfect in the herby tomato sauce!
Potatoes: Any variety of potato is fine in reality, but remember that russets and Yukon-golds are more starchy and result the in the fluffiest, smoothest mash!
Butter: You'll need this for the mash – it's mainly added for a lovely, rich buttery flavour.
Milk: I used semi-skimmed but any milk will work fine too.
Cheddar cheese: And of course, for the ultimate crispy, golden, cheesy top, a little grated cheese works wonders.
Salt and pepper: Don't forget these, please!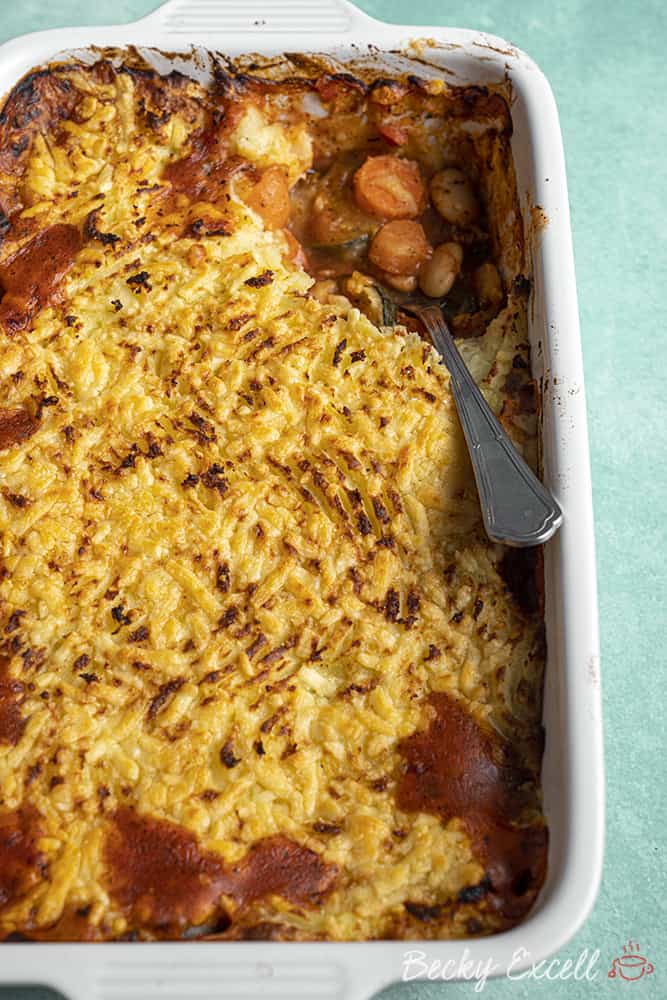 So, what does my gardener's pie taste like?
It's golden, crisp and cheesy on top, with lots of fluffy, buttery mash hiding beneath. The pie filling is packed with tender veg and XL beans in a herby, tomato, baked-bean-inspired sauce.
The combo of both layers creates pure comfort food in every bite – it's hearty, filling, warming and will be loved by vegetarians and meat-eaters alike!
This is a bit of an all-in-one meal, so I'd recommend serving with a simple side salad or a little rocket drizzled with olive oil.
Gardener's pie recipe: Frequently Asked Questions
Can I make this recipe gluten-free? Is it suitable for Coeliacs?
It is gluten-free, though nobody would know just by tasting it – trust me!
Bear in mind that minimising cross-contamination is hugely important if you're Coeliac or making this for someone who is. Here's some tips from Coeliac UK on minimising the risk of cross contamination.
Also, make sure that all ingredients used don't have any gluten-containing ingredients. Then make sure that they also don't have a 'may contain' warning for gluten, wheat, rye, barley, oats (which aren't gf), spelt and khorasan wheat (aka Kamut).
Here's some more info from Coeliac UK on identifying safe gluten-free products.
Can I make your Gardener's pie recipe dairy-free?
Yes, here's the swaps you'd need to make:
Use a dairy-free butter or a 'buttery' margarine instead of butter.
Use dairy-free milk.
Use dairy-free cheese.
That's it!
Can I make your Gardener's pie recipe vegan?
If you follow the steps above to make this dairy-free, then you've also made it vegan too!
Is this recipe low FODMAP?
It can be! Start by using lactose-free milk and a low FODMAP stock cube. Use leek (green parts only) instead of onion.
A low FODMAP serving size would be a quarter of the finished dish.
Oh and also ensure your garlic oil doesn't have any bits of actual garlic floating at the bottom of the bottle too.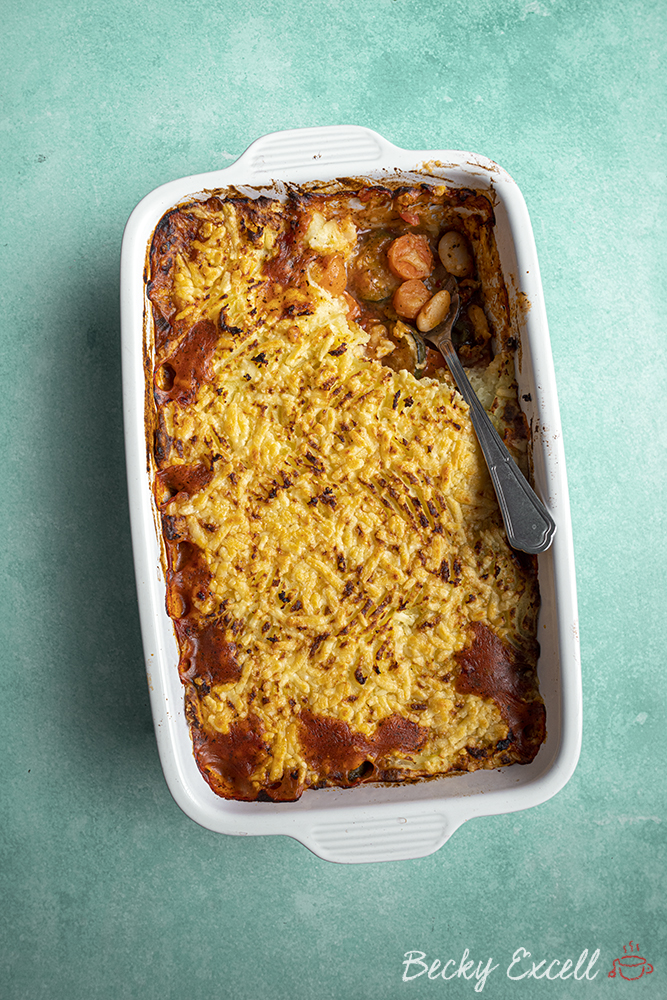 Can I swap up the veg?
Of course! In reality, you can use almost whatever you like. Mushrooms would work well instead of the courgette, or you could use sweet potato instead of the carrots. You could also add broccoli or frozen peas when you add the stock.
But feel free to make it your own using the veg you like most!
How can I make this healthier?
Whilst I personally don't think that a recipe is immediately 'unhealthy' just because it contains a small amount of oil or butter, you're more than welcome to use alternatives.
If you want to make it even healthier you can always:
Use a low calorie garlic-flavoured cooking spray instead of garlic oil
Omit the butter or use margarine instead
Use skimmed milk
Use a very modest amount of grated cheese on top
Of course, this will make the recipe a little different than I intended but I just wanted to give you a few ideas!
Can I freeze your Gardener's pie?
Yes! Once cooled, simply portion into airtight containers and freeze for up to 2-3 months.
To reheat from frozen, defrost in the fridge overnight then reheat in the microwave until piping hot in the middle.
You can also store this in the fridge for 3-4 days and microwave until piping hot too.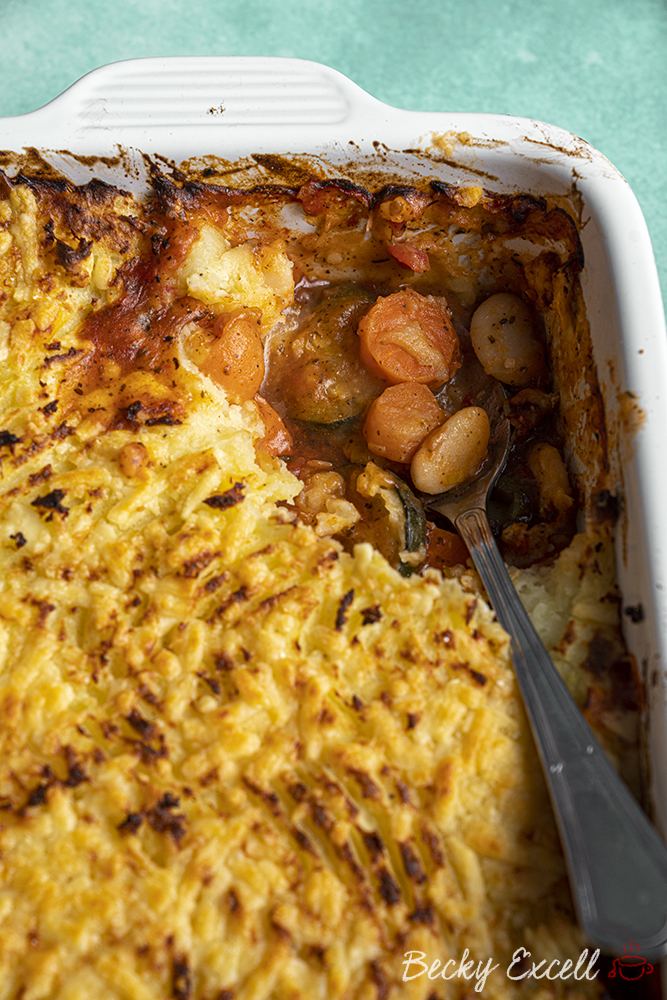 Gardener's Pie Recipe
Gardener's pie recipe – veggie comfort food at its best! Super easy to throw together and nobody would know it's gluten-free and Coeliac-friendly.
Ingredients
1

tbsp

garlic infused oil

1/3

leek or 1 small onion

finely chopped

2

medium carrots

sliced into thin rounds

1

medium courgette

zucchini, sliced into 1/2cm rounds

1

tbsp

cornflour

corn starch

1/2

tsp

smoked paprika

1

x 400g can chopped tomatoes

400

ml

gluten-free vegetable stock

1.5

tbsp

dried mixed herbs

1

x 400g can butter beans

drained

salt and black pepper
For the top:
900

g

potatoes

about 4 medium potatoes, peeled and chopped into chunks

knob of butter

use dairy-free or vegan butter if needed

3

tbsp

milk

use dairy-free milk if needed

small handful of grated cheese

plus another large handful to sprinkle on top (use dairy-free cheese if needed)

salt and black pepper
Instructions
Place the potatoes into a large pan of boiling water. Bring to the boil again, then simmer for 15-20 minutes until you can poke a fork through them without much force. Drain and set aside.

In a large pan, add the garlic infused oil and place over a medium heat. Once heated, add the chopped leek or onion and fry for 2 minutes.

Add the carrots and courgette, then fry for 4 minutes. Add the smoked paprika and cornflour, mix in, then fry for a further minute.

Add the chopped tomatoes, stock, dried mixed herbs and drained butter beans. Season with salt and pepper. Mix well and bring to the boil, then simmer and reduce for 10 minutes until you achieve a sauce-like consistency.

Preheat the oven to 220C/200C Fan/425F.

Whilst the pie filling is reducing, the potatoes should now be done. Once drained, return the cooked potatoes to the large saucepan and add the butter, milk, grated cheese and salt and pepper to taste.

Use a potato masher to mash until super smooth – it should be a little 'looser' than you'd usually serve mash so it's easier to spread on top of the pie. If yours is a little thick and stodgy, just gradually add a little more milk and mix in until easily spreadable.

Transfer the pie filling to a large roasting dish (mine is 13" x 10") and spread out into a flat, even layer.

Top with the mash and spread out into a flat, even layer. Use a fork to create lines all over the top of the pie and top with the remaining grated cheese.

Place onto a baking tray, then place into the oven for 20-30 minutes or until the top is golden and crisp.
Thanks for reading all about my Gardener's pie recipe! If you make it, I'd love to see how it turned out so don't forget to take a snap of your creations and tag me on Instagram!
Any questions about the recipe? Please do let me know by following me on Instagram and leaving me a comment on a recent photo!
Thanks for reading,
Becky xxx
Don't forget to pin this for later!