Mini Egg pancakes recipe – Easter and Pancake day collide! Best of all, nobody would know they're Coeliac-friendly and wheat-free too.
Mini Egg pancakes recipe, anyone? All you need are 7 simple ingredients for the ultimate Pancake Day goals and yes, one of those ingredients is Mini Eggs! Say hello to a quick and easy recipe that absolutely anyone can pull off.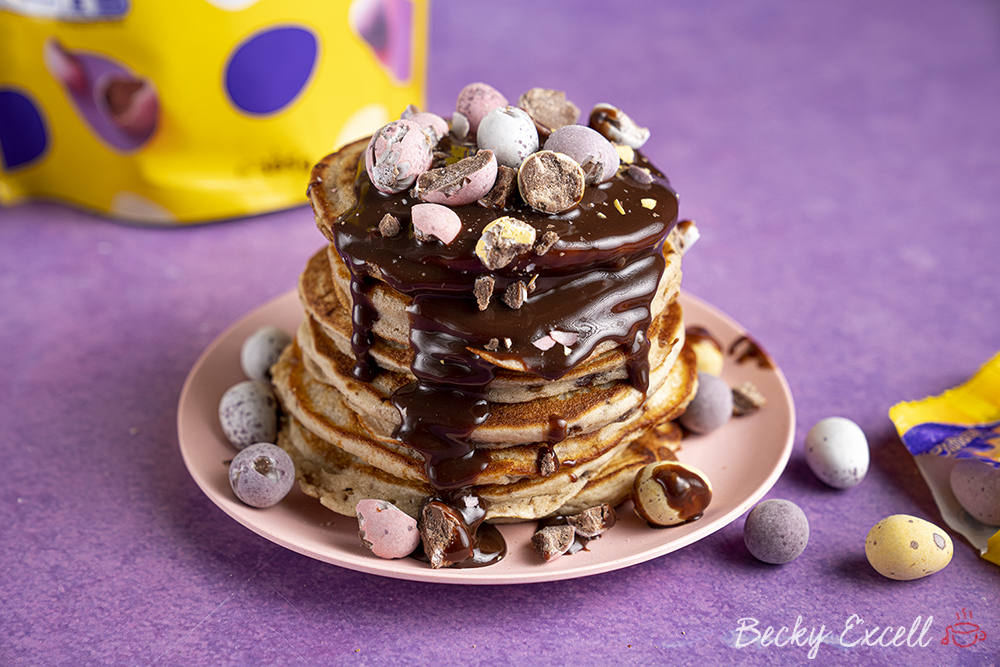 What do you get when you cross Easter and Pancake Day? And no, I'm not setting up another one of my sometimes-hilarious-mostly-cringey jokes.
The answer is: my Mini Egg pancakes recipe (and yes, Mini Eggs are gluten-free here in the UK!)
This is a remix of my classic gluten-free American pancakes recipe with a Mini Egg twist and a 2-ingredient chocolate sauce. Honestly, you really can do anything with that recipe, so make sure you try putting your own spin on it too.
But most importantly, if you've ever made that recipe before… then you'll definitely be able to pull this off no problems. Here's everything you'll need:
Mini Egg pancakes recipe: What you'll need…
Gluten free self-raising flour: I use a simple commercial blend from the free from aisle in the supermarket. If you can't find a blend like this where you live, you can always make your own using my gluten-free flour recipe.
Gluten-free baking powder: Not all baking powder is gluten-free, so please ensure that yours is first!
Caster sugar: The more neutral-flavoured caster sugar is traditionally preferred in pancakes, though any sugar works just fine. You can also omit the sugar if you'd prefer too.
Milk: Skimmed, semi-skimmed or whole milk is fine here – I used semi-skimmed. You'll need this for the pancakes and for the chocolate sauce too.
Eggs: I used large eggs for this recipe, but medium works fine too.
Mini Eggs: Yes, they're gluten-free here in the UK! I crushed mine by bashing them with a rolling pin in a ziplock bag on a hard work surface.
Vegetable oil: You'll need this for greasing the pan between each pancake – having a silicone brush to evenly spread it out makes this part mega quick and easy.
Milk chocolate: You'll need this for the chocolate sauce (if making) and any chocolate will do as long as it's gluten-free; make sure you check the packet for 'may contain' gluten etc warnings. The sauce sets to an almost mousse-like texture when cold, but you can always warm it up again in the microwave… or just eat it!!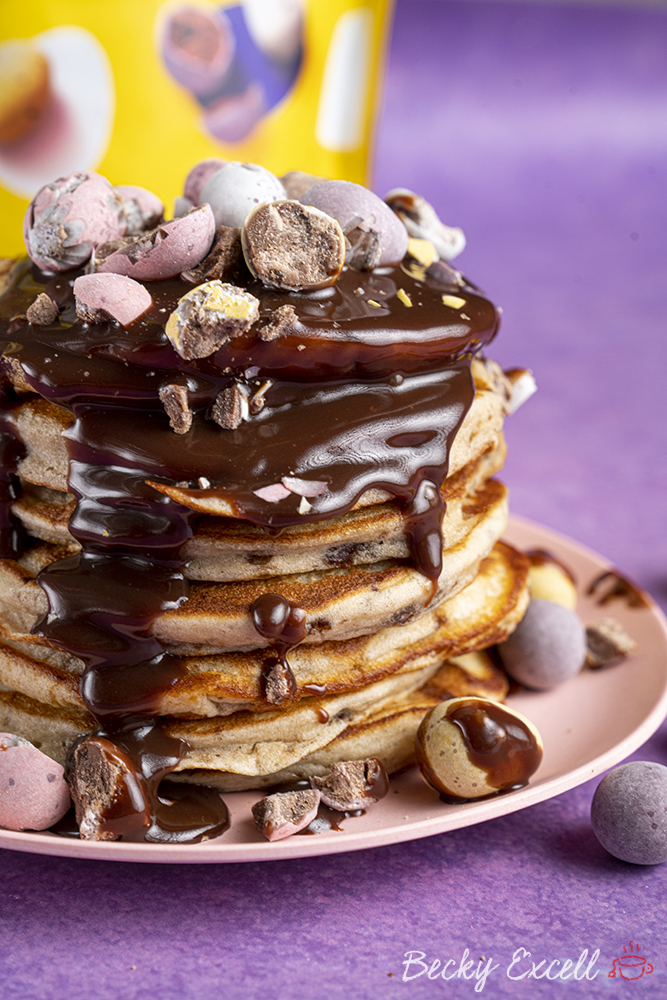 But what do my Mini Egg pancakes taste like, I hear you ask?
Each pancake is thick and super fluffy with a golden exterior, speckled with lots of melty, crushed Mini Eggs.
And to be honest, that's more than heavenly enough already! But if you go ahead and make the chocolate sauce, which is thick, warm and indulgent, my Mini Egg pancakes suddenly make the ultimate stack – no questions asked.
Of course, don't forget to serve them with even more crushed Mini Eggs too for good measure and a welcome, chunky crunch in every bite.
Mini Egg pancakes recipe: Frequently Asked Questions
Can I make this recipe gluten free? Is it suitable for Coeliacs?
It is gluten free, though nobody would know just by tasting it – trust me!
Bear in mind that minimising cross-contamination is hugely important if you're Coeliac or making this for someone who is. Here's some tips from Coeliac UK on minimising the risk of cross contamination:
Also, make sure that all ingredients used don't have any gluten-containing ingredients. Then make sure that they also don't have a 'may contain' warning for gluten, wheat, rye, barley, oats (which aren't gf), spelt and khorasan wheat (aka Kamut).
Here's some more info from Coeliac UK on identifying safe gluten free products.
Can I make your Mini Egg pancakes recipe dairy free?
Of course, but even though you can easily make the pancakes AND chocolate sauce dairy-free using the swaps below, please remember that Mini Eggs are NOT dairy-free.
However, I have included a couple of easy substitutions that still capture the magic of the recipe.
So here they are:
Can I make your gluten-free Mini Egg pancakes recipe vegan?
Yep! If you follow the instructions above to make this recipe dairy free, then all you've got left to contend with are the 2 eggs.
Simply use:
6 tablespoons of aquafaba, pre-whisked until frothy. Aquafaba is simply the water from a can of chickpeas. Keep the chickpeas for a future dinner!
Can I make this recipe low FODMAP?
Unfortunately, as Mini Eggs are high FODMAP, this recipe isn't suitable for the elimination phase of the low FODMAP diet.
You could however always replace them with lactose-free chocolate chips, then use lactose-free milk and lactose-free chocolate (for the sauce). This would make this recipe entirely low FODMAP!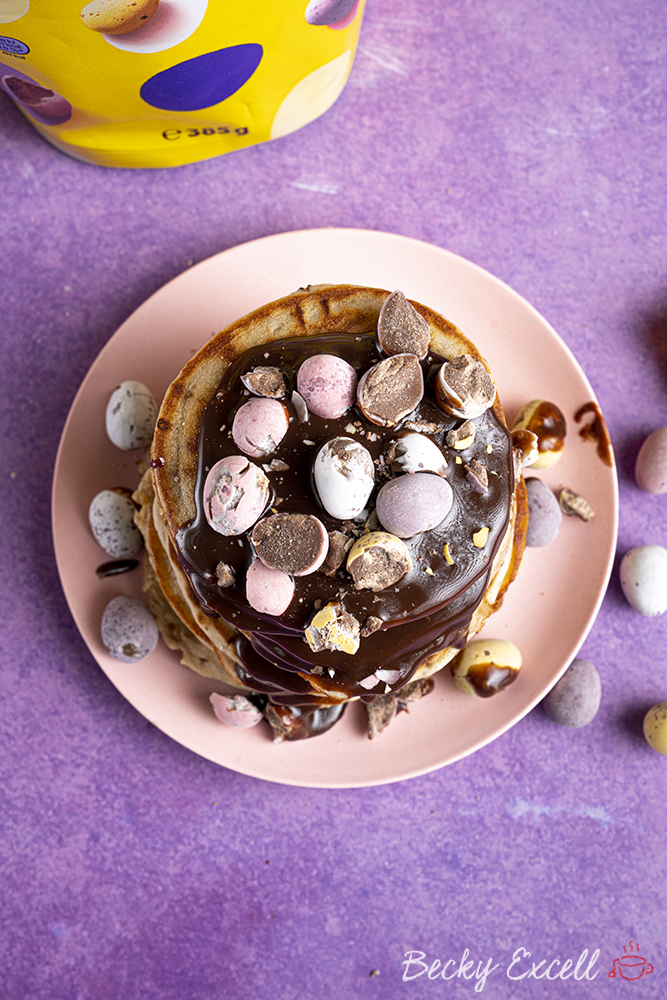 Are Mini eggs gluten-free?
Yes, they are in the UK! They don't have any gluten-containing ingredients or a 'may contain' warning for gluten.
Tap here to read the ingredients label for yourself – it never hurts to double-check! You'll find them down the seasonal aisle in the supermarket.
Do I need weighing scales to make your Mini Eggs pancakes?
In short… yes, yes and yes! And I wouldn't advise attempting any my recipes without them.
A lot of work went into fine tuning ratios and quantities and for me, cooking and baking are all about consistency and precision. I want you to make this recipe and for it to turn out EXACTLY like mine did.
I'd recommending using digital cooking scales like these so you know you're getting an accurate measurement and replicating my recipe as accurately as poss.
Do I need any special equipment to make your Mini Egg pancakes recipe?
Nope – what does come in handy however is a simple silicone brush to grease your frying pan between each pancake.
Otherwise, a frying pan, whisk, mixing bowl and spatula are all you need! A rolling pin comes in handy for bashing up the mini eggs, however.
Why are my pancakes burnt or overly browned after flipping?
It simply means your pan is too hot – if it's too hot, the underside will get too dark before the top is ready to flip. This can mean it's burnt on one side and makes a bit messy splat when you flip it!
Simply lower the heat and wait a little before making the net pancake. Once you've got the heat in that sweet spot, you can make the rest perfect every time.
Unless you know your hob really well (and have made pancakes many times before), you'll usually find that your first pancake is generally a bit of a lost cause until you make little adjustments to the heat!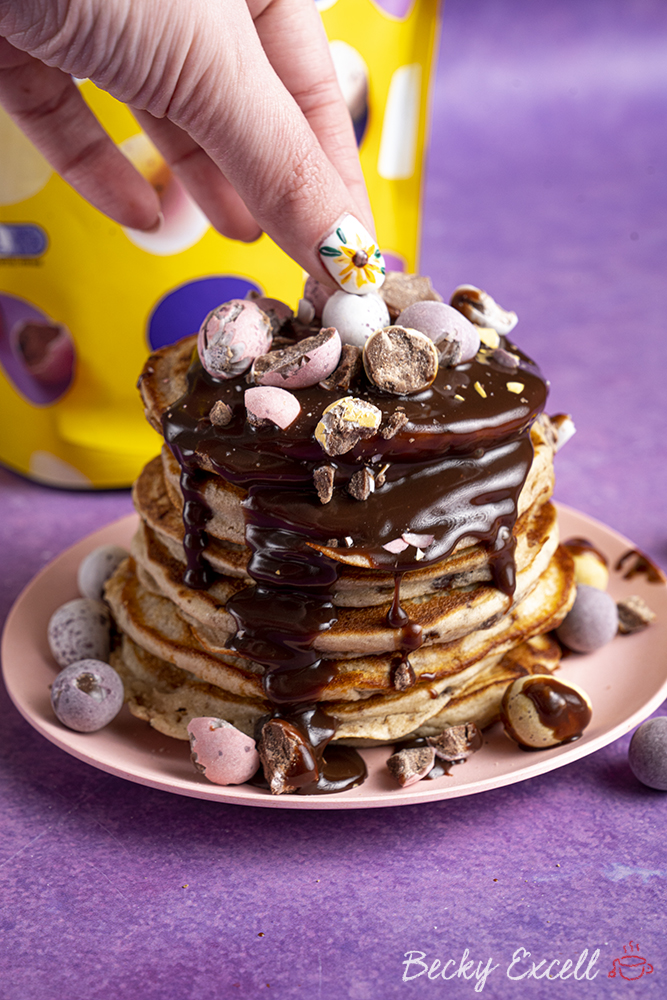 How long can I keep your Mini Egg pancakes for?
I've kept the pancakes for 4-5 days in an air-tight container in the fridge with no problems. Simply reheat in the microwave until piping hot.
If you need to keep them any longer than that, I'd highly recommend freezing them (see advice below for doing that).
Can I freeze your Mini Egg pancakes?
Of course! I've frozen them for up to 2-3 months no problem. It's best to freeze them in small, separate batches so they don't freeze in one big lump; that way, they'll be quicker to defrost too.
When you want to eat them, they should take 2 hours to defrost at room temperature. Once defrosted, simply reheat in the microwave until piping hot and enjoy.
Gluten-free Mini Egg pancakes recipe: Tips for pancake perfection
Crush your mini eggs in a ziplock bag with a rolling pin on a hard surface. That way, you'll get no mess, plus, don't underestimate how tough a Mini Egg is to smash! A hard surface really helps to ensure you smash them with ease.
Mix your pancake batter in between each pancake. The flour will naturally sink to the bottom of the mixture over time, so make sure you briefly mix it before spooning out your batter into the pan.
It's better to keep your pan at a lower heat. This is especially true for thicker pancakes like these – if the heat is too hot, the underside can get burnt before it's ready to flip. If that's the case, just lower your heat before making the next one.
Once you've made your pancake batter, use it ASAP. As the batter contains baking powder, it needs to be used ASAP or else it'll lose its rising effect. There's no big hurry, but that means you shouldn't make the batter too far ahead of time.
Keep your finished pancakes stacked to keep them warm. Don't let those first few pancakes go cold!
Mini Egg Pancakes Recipe + 2-Ingredient Chocolate Sauce
Mini Egg pancakes recipe with a 2-ingredient chocolate sauce – perfect for Easter and Pancake Day combined! Gluten-free and Coeliac-friendly. See the FAQ section for advice on adapting this recipe to be dairy-free or vegan.
Ingredients
For the pancakes:
200

g

gluten-free self-raising flour

1.5

tsp

gluten-free baking powder

1

tbsp

sugar

300

ml

milk

2

large eggs

60

g

mini eggs

crushed finely, plus extra to serve

vegetable oil

for frying
For the chocolate sauce:
200

g

milk chocolate

100

ml

milk
Instructions
Put your gluten free self-raising flour, sugar into a large mixing bowl and mix together.

In a jug or smaller mixing bowl, add your eggs and milk and beat thoroughly.

Create a well in your flour bowl and add in your wet ingredients. Whisk until smooth and consistent. Then mix in your crushed mini eggs – crushed mine in a ziplock bag with a rolling pin on a hard work surface.

Set your hob to a low-medium heat. Brush the pan with a light coating of oil and allow to heat – test if it's ready by spooning in one small drip of pancake batter; if it sizzles slightly, then it's ready.

Ladle in your pancake batter. I used a 1/4 measuring cup to do this as it's the perfect amount of batter for 1 pancake and ensures they all come out the exact same size.

Allow to cook until the side facing up looks like you could flip it without it splattering everywhere! This should take about 1-2 minutes at a low heat. If it's browning on the underside before the top is looking ready to flip, then lower your heat.

Flip it over and cook for a further 30 seconds or so and transfer to a small plate. Repeat until all the batter is used, brushing the pan with oil in between each pancake.

For the chocolate sauce grab a saucepan and place the milk chocolate and milk in it. Turn on a medium heat and gently melt whilst stirring occasionally until smooth and shiny. If its too thick add a little extra milk, if too thin add some more chocolate!

Pour the chocolate sauce all over your pancakes and finish with as many mini eggs as you like! Enjoy!
Thanks for reading all about my gluten-free Mini Egg pancakes recipe!
Any questions about the recipe? Please do let me know by following me on Instagram and leaving me a comment on a recent photo!
Thanks for reading,
Becky xxx
Don't forget to pin this for later!