Gluten-free Welsh cakes recipe – an absolute classic that's perfect for St. David's day or any time of the year! Best of all, nobody would know they're Coeliac-friendly and wheat-free too.
Gluten-free Welsh cakes recipe, anyone? Super easy to make and they can be ready to eat in just 30 minutes.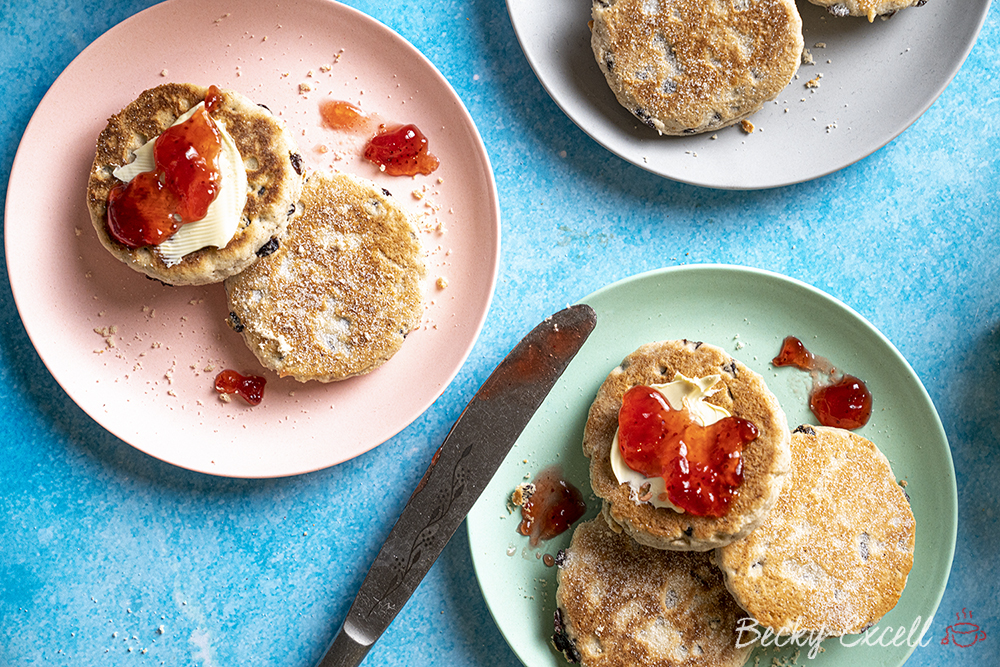 This recipe is so highly requested by you guys that I simply couldn't delay posting it any longer… so here's my gluten-free Welsh cakes recipe!
Before being gluten-free, I'd rather impulsively grab a pack of Welsh cakes in the supermarket without a second thought. Then, suddenly, I was unable to eat them for well over a decade.
I don't even specifically remember the last time I enjoyed one – that's how much I clearly took them for granted!
But with this recipe, I finally got the reunion I'd been craving. But perhaps best of all… my Welsh cakes somehow taste even better than I remember buying in the supermarket.
I'll let you be the judge! Here's everything you'll need for the recipe…
Gluten-free Welsh cakes recipe: What you'll need…
Gluten free plain flour: I use a simple commercial blend from the free from aisle in the supermarket. If you can't find a blend like this where you live, you can always make your own using my gluten-free flour recipe.
Xanthan gum: This helps to bind the dough together so it doesn't become crumbly, replacing the gluten that would otherwise do the same job.
Gluten-free baking powder: Not all baking powder is gluten-free, so please ensure that yours is first!
Mixed spice: This spice blend is a staple in so many classic bakes – you'll find it with all the other dry herbs and seasonings in the supermarket. If you're not sure what it is, see the FAQ section.
Caster sugar: The more neutral-flavoured caster sugar is traditionally preferred here.
Butter: Salted or unsalted is totally fine (I use unsalted), but whichever you go for, make sure it's nice and cold.
Currants: Currants are preferred for this recipe as they're nice and small – the perfect size for the average Welsh cake.
Egg: I used a medium egg for this recipe, but large works fine too. If using large eggs, you may not need to add the milk if your dough is already the perfect consistency.
Milk: Skimmed, semi-skimmed or whole milk is fine here – I used semi-skimmed.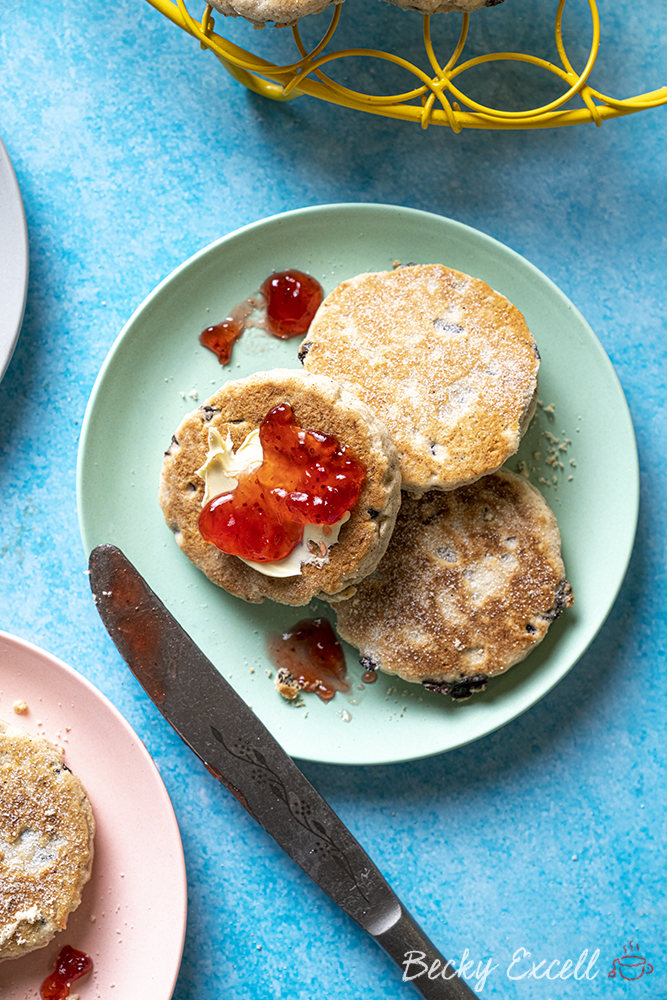 But what do my gluten-free Welsh cakes taste like, I hear you ask?
They're golden and slightly crisp on the outside, but super fluffy in the middle; a little short and buttery yet NOT crumbly or dry.
The mixed spice adds a subtle warming flavour with the currants and crunchy sugar dusting adding the perfect level of sweetness.
More than good enough to just eat plain, but absolutely divine with a little butter and jam. The choice is yours!
Gluten-free Welsh cakes recipe: Frequently Asked Questions
Can I make this recipe gluten free? Is it suitable for Coeliacs?
It is gluten free, though nobody would know just by tasting it – trust me!
Bear in mind that minimising cross-contamination is hugely important if you're Coeliac or making this for someone who is. Here's some tips from Coeliac UK on minimising the risk of cross contamination:
Also, make sure that all ingredients used don't have any gluten-containing ingredients. Then make sure that they also don't have a 'may contain' warning for gluten, wheat, rye, barley, oats (which aren't gf), spelt and khorasan wheat (aka Kamut).
Here's some more info from Coeliac UK on identifying safe gluten free products.
Can I make your gluten-free Welsh cakes recipe dairy free?
With two simple swaps, you certainly can! To make it dairy-free:
Use dairy-free milk
Use Stork hard margarine (very cold) instead of butter.
That's it!
Can I make your gluten-free Welsh cakes recipe vegan?
Yep! If you follow the instructions above to make this recipe dairy free, then all you've got left to contend with is the egg.
Simply use:
3 tablespoons of aquafaba, pre-whisked until frothy. Aquafaba is simply the water from a can of chickpeas. Keep the chickpeas for a future dinner!
Can I make this recipe low FODMAP?
Unfortunately, as currants are high FODMAP, this recipe isn't suitable for the elimination phase of the low FODMAP diet.
You could however always replace them with dried cranberries for a low FODMAP twist on this recipe. Don't forget to use lactose-free milk too.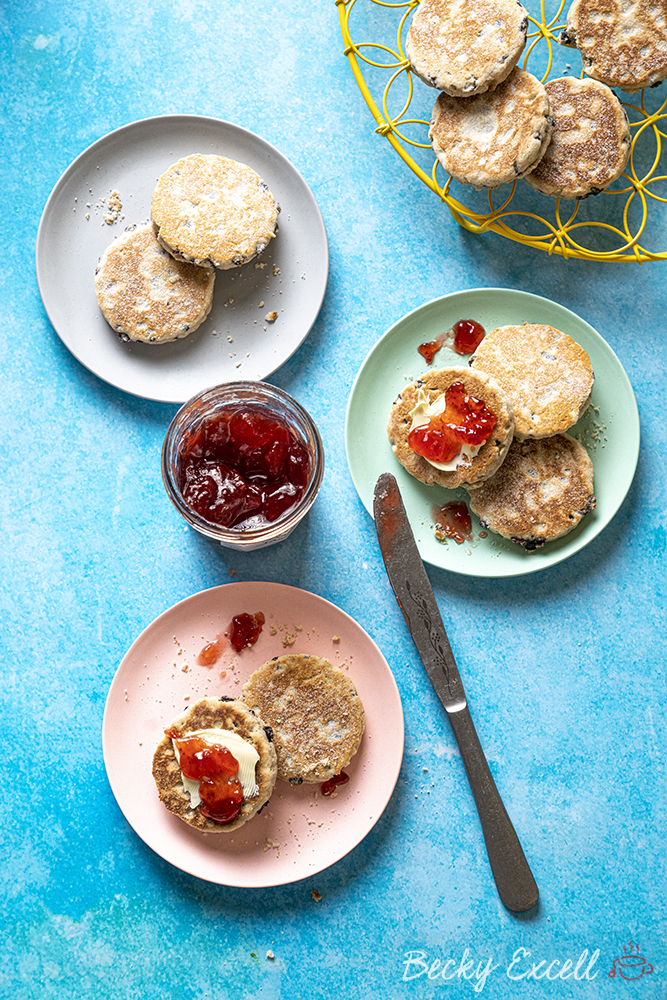 What are Welsh cakes?
Welsh cakes are a sweet bread in Wales, traditionally baked on a bakestone or griddle. I'm reliably informed that they're often enjoyed on St. David's Day!
Served hot or cold and sometimes dusted with sugar, they're not usually served with any accompaniments – though that doesn't stop me serving mine with jam and butter anyway!
So… are they are they classed as a biscuit, a pancake… or even a flat scone? They're sort of halfway between all three! The dough is very similar to a scone dough, they're fried similarly to pancakes and you eat them like a biscuit.
In short, I think the only answer is this: they're a Welsh cake!
Can I use different dried fruit?
Yes! I prefer currents as they add lots of little short bursts of chewy sweetness (as they're smaller), whereas raisins and sultanas are bigger and chunkier.
But traditionally speaking, you can actually use currents, raisins or sultanas in Welsh cakes.
What is mixed spice?
Mixed spice is a spice blend that can be found in supermarkets here in the UK and is traditionally used in lots of our bakes (such as in hot cross buns and fruit cake).
The mixed spice I use is a blend of ground cinnamon, coriander seed, nutmeg, clove, pimento and ginger. It adds a wonderful warming flavour to the Welsh cakes.
Do I need any special equipment to bake your gluten-free Welsh cakes?
Nope! However, a food processor can massively speed up the process of rubbing butter into flour, but it's certainly not mandatory for this recipe.
Oh and of course, as Welsh cakes are traditionally made on a bakestone I thought I'd mention that here too. I simply use a frying pan for this recipe, but you could always pick one up if you're gonna be making these regularly and want that authentic, traditional touch!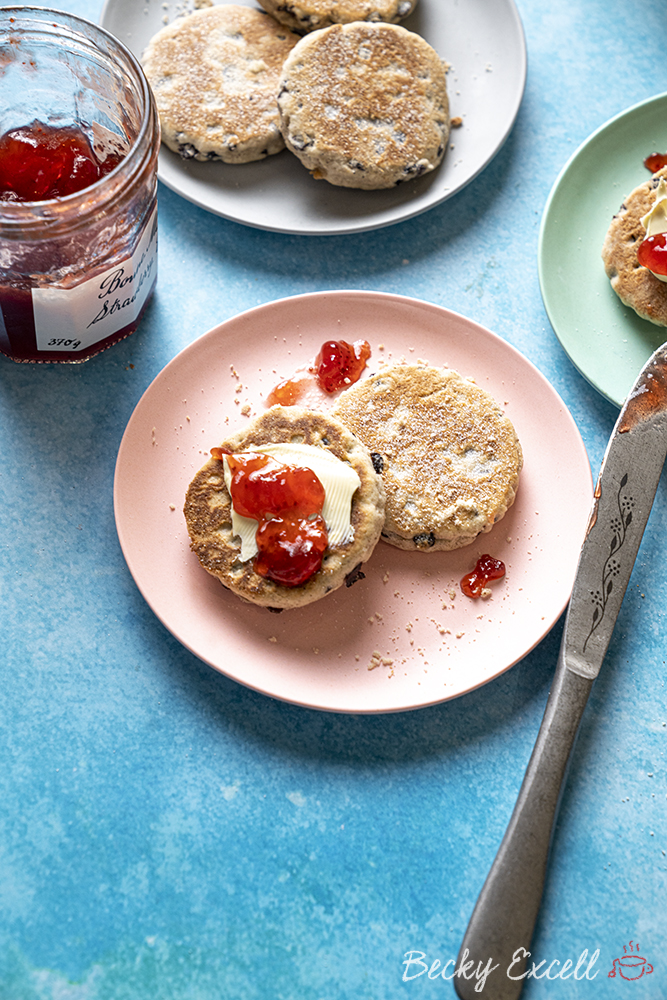 How long can I keep your gluten-free Welsh cakes for?
I've kept my gluten-free Welsh cakes for 4-5 days in an air-tight container with no problems.
If you need to keep them any longer than that, I'd highly recommend freezing them (see advice below for doing that).
Can I freeze your gluten-free Welsh cakes?
Of course! I've frozen them for up to 2-3 months no problem.
When you want to eat them, each Welsh should take around 1-2 hours to defrost at room temperature. Once defrosted, simply rewarm a little to remove any excess moisture and enjoy.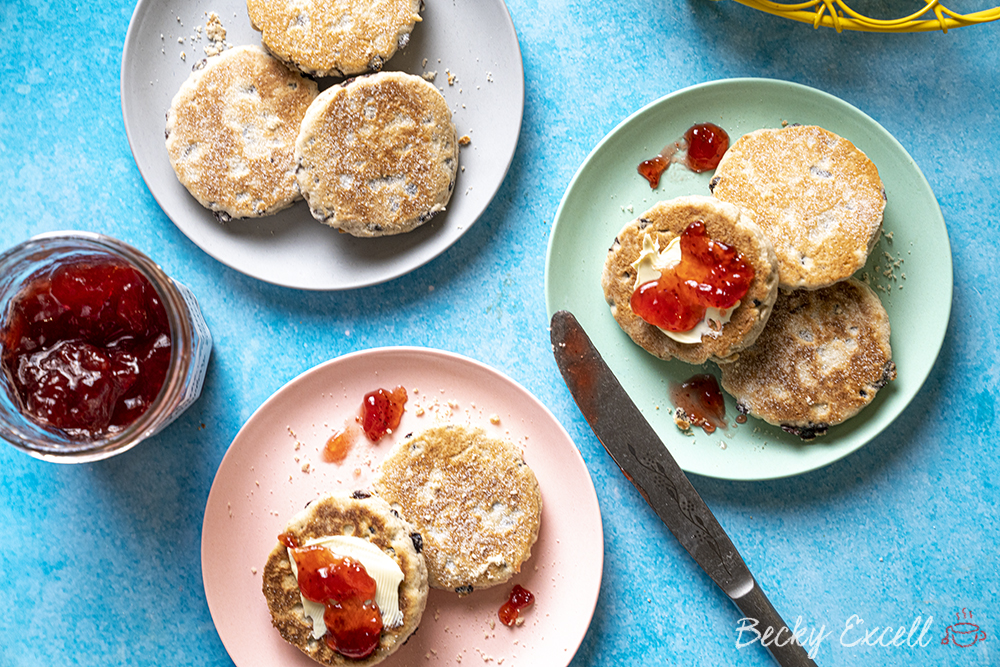 Gluten-free Welsh cakes recipe: Tips for baking perfection
Make sure your butter is nice and cold before starting. The colder, the better as it'll be easier to rub in – warm butter won't work!
You can always use a food processor to blitz the flour and butter into breadcrumbs. It's quicker and faster… if you don't count having to wash up the food processor!
Cut in the beaten egg using a knife or a fork. This will help the egg to combine easier, instead of sloshing it around. The end result is a more consistent mixture!
The added milk may not be necessary if you're using large eggs. We add the milk to achieve a perfect consistency of dough that isn't dry or sticky – if you've used particularly large eggs and the dough is already perfect, then there's no need to add it.
If your pan is too hot, your Welsh cakes can be burnt or too dark on the outside before the middle is even cooked. Find the right heat which results in the middle of each Welsh cake being perfectly cooked right when the outside is lovely golden – this varies from hob to hob but a medium heat is generally best!
Gluten-free Welsh Cakes Recipe
Gluten-free Welsh cakes recipe – made to a traditional recipe yet you'd never know they were Coeliac-friendly and wheat-free too.
Ingredients
220

g

gluten-free plain flour

1/2

tsp

xanthan gum

1

tsp

gluten-free baking powder

1

tsp

mixed spice

75

g

caster sugar

100

g

cold butter

cubed (use Stork hard margarine if dairy-free)

75

g

currants

1

egg

beaten

1

tsp

milk

dairy-free if necessary

caster sugar

to sprinkle at the end
Instructions
Place your flour, xanthan gum, baking powder, mixed spice and sugar into a large bowl and mix.

Add in your cold cubed butter and rub it in with your finger tips so it's like fine breadcrumbs. You can use a food processor to do this if you struggle with rubbing in.

Stir in your currants so they're evenly dispersed.

Gradually add in your beaten egg, working it in using a fork so that the mixture starts to come together. Add your milk to help bring it together more, like a dough. You don't want the dough to be dry so add a little extra milk if you need to. Equally if the dough is already sticky then don't add additional milk that's asking for trouble!

Flour your work surface and roll out your dough to about 6-8mm thick. If the dough is sticky just flour the top of the dough and your rolling pin.

Use a round biscuit cutter that's about 6cm in diameter and cut circles out of the dough – I use a fluted circular cutter.

Heat up a frying pan (or a bakestone if you have one, or even a skillet) on a medium heat and grease with a little butter or oil. Add a few of your welsh cakes and cook for about 3 minutes on each side. They should be lovely and golden on both sides once done. Do watch them though as the slightest wrong temp will make them burn on the outside before they cook on the inside, keep monitoring at all times!

Remove from the pan and sprinkle with caster sugar. Serve warm or cold. I like mine with butter and/or jam.

Thanks for reading all about my gluten-free Welsh cakes recipe!
Any questions about the recipe? Please do let me know by following me on Instagram and leaving me a comment on a recent photo!
Thanks for reading,
Becky xxx
Don't forget to pin this for later!