Turkey Kofta curry recipe – a mildly spicy, creamy curry sauce packed with perfectly seasoned turkey kofta balls. Nobody would ever know its healthy, Coeliac-friendly and wheat-free either!
Turkey kofta curry recipe – a quick and easy meal that can be ready in just 20 minutes! Serve with rice or gluten-free flatbread and then make sure that you pencil it into your future meal plans.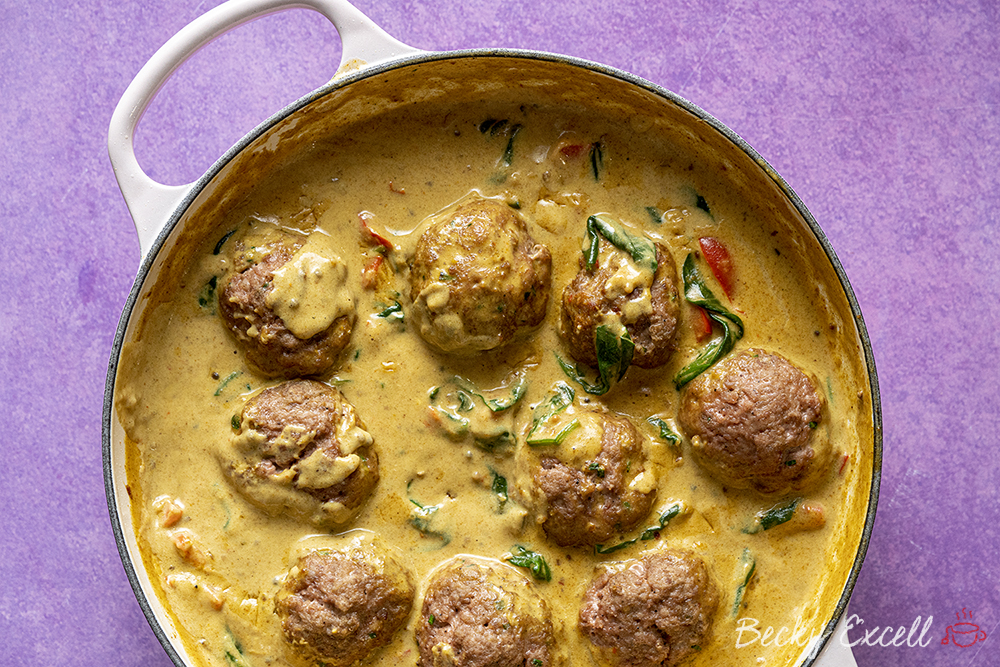 As I'm sure you know already, at first, being gluten-free often feels like jumping through several fiery hoops, seemingly blindfolded with your hands together.
However, my turkey kofta curry recipe is here to remind you that it certainly doesn't have to feel that way!
For example, with a large majority of 'regular' dinner recipes, you can use your gluten-dodging-ninja-like knowledge to make a few simple swaps that'll make it 100% gluten-free.
Or, in this case, I've done the brainpower part for you! And of course, as the only 'gluten-free' product you'll need here is gluten-free plain flour, there's no reason that muggles would ever notice any difference.
Turkey Kofta Curry Recipe: What you'll need…
Turkey thigh mince: Thigh mince is preferable here as turkey breast mince can become quite dry. Of course, you can always use beef or lamb mince if you'd prefer too.
Fresh chives: These add a lovely, sweet onion flavour to the turkey kofta balls. Don't forget these!
Egg: This helps to bind the turkey balls together, though you can omit it if you struggle to tolerate egg.
Ground coriander: This adds a wonderful aromatic flavour that goes so well with turkey, so make sure you have this super spice in your store cupboard.
Salt and pepper: A little seasoning goes a long way when cooking from scratch, so please don't forget these!
Gluten-free plain flour: I use a simple commercial blend from the supermarket, but cornflour (corn starch) or potato starch also works just as well too. This not only thickens the sauce, but also helps the turkey balls to retain all the 'juice' when cooked, preventing them from drying out.
Garlic-infused oil: An instant injection of wonderful garlic flavour – no chopping or pre-frying of fresh garlic required. And if your garlic oil doesn't have any bits of actual garlic floating in it, then it's low FODMAP too.
Mustard seeds: When toasted, these add such a wonderful flavour, as well as a little crunch.
Red (bell) pepper: Any colour of pepper will do here, but red is my personal preference in terms of flavour and aesthetics in this dish.
Curry powder: I use a mild curry powder, but medium or hot curry powders work here too, depending on your preference.
Dried chilli flakes: Since I use mild curry powder, this puts me in complete control over how spicy it is! So add a little, taste, then add more accordingly.
Minced ginger: Mine comes in a little jar, which I usually find in the supermarket next to all the spices. It saves a lot of time on chopping ginger!
Coconut milk: You can use full-fat or low-fat coconut milk for this recipe, though of course, full-fat offers the creamiest sauce.
Curry leaves: You'll usually find these dried with all the spices in the supermarket. Remember to remove them before serving as they're not supposed to be eaten!
Spinach: A super quick and easy way to get goodness into this dish – just throw it into the pan and watch it wilt.
Yoghurt: This adds an extra dimension of flavour to the sauce whilst also helping it to thicken up a little.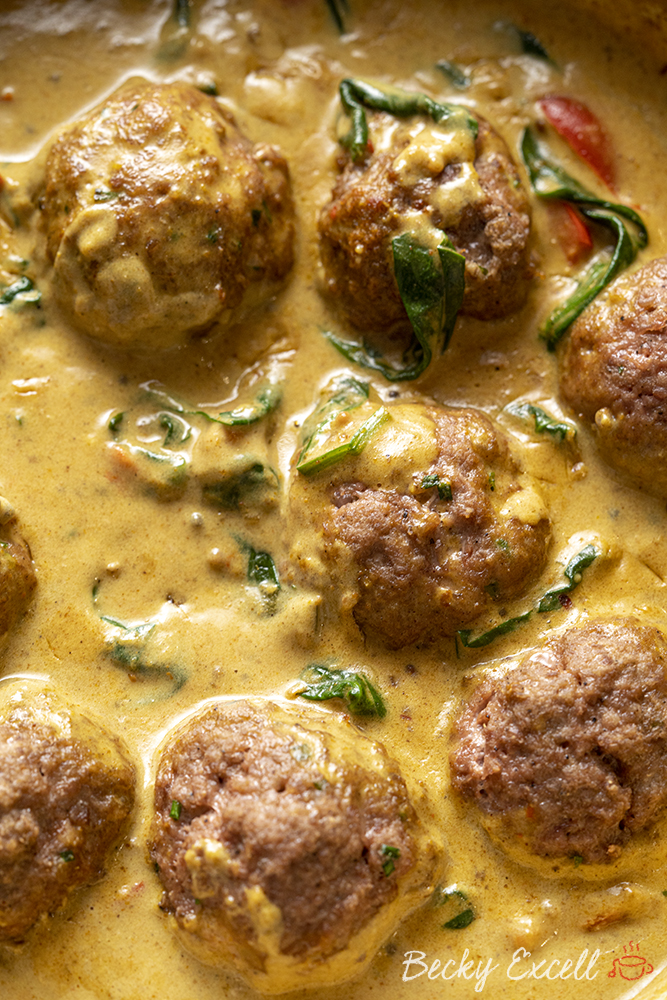 So, what does my turkey kofta curry taste like?
The sauce is mildly spicy and creamy, with a warming depth of flavour thanks to the red pepper, ginger and curry powder. The yoghurt also gives it a lovely 'tang'.
And honestly, I don't think turkey has ever tasted as good as it does in this recipe. Using turkey thigh mince ensures you get tons of flavour and, alongside a little flour to ensure all those flavourful juices stay in the balls, this definitely isn't a compromise over using beef or lamb mince.
(which you can also use if you fancy too!)
Simply serve up with freshly steamed rice and gluten-free flatbreads for the ultimate quick and easy comfort food.
Turkey kofta curry recipe: Frequently Asked Questions
Can I make this recipe gluten-free? Is it suitable for Coeliacs?
It is gluten-free, though nobody would know just by tasting it – trust me!
Bear in mind that minimising cross-contamination is hugely important if you're Coeliac or making this for someone who is. Here's some tips from Coeliac UK on minimising the risk of cross contamination.
Also, make sure that all ingredients used don't have any gluten-containing ingredients. Then make sure that they also don't have a 'may contain' warning for gluten, wheat, rye, barley, oats (which aren't gf), spelt and khorasan wheat (aka Kamut).
Here's some more info from Coeliac UK on identifying safe gluten-free products.
Can I make your turkey kofta curry recipe dairy-free?
Simply use dairy-free coconut yoghurt to make this recipe dairy-free.
Can I make your turkey kofta curry recipe vegan?
Of course – for the sauce, simply use dairy-free coconut yoghurt for starters. Then, you've got a couple of options when it comes to the kofta balls:
Ditch the turkey koftas completely and simply make the sauce, then chuck in a can of chickpeas (drained) at the end, and simmer for a few minutes.
Use your favourite gluten-free and vegan mince substitute instead of turkey mince, then use 3 tbsp of aquafaba instead of the egg to make the 'turkey' koftas.
Is this recipe low FODMAP?
If you use lactose-free yoghurt, then just under a quarter of the finished dish would be suitable for the elimination phase of the diet.
However, you could also increase the suitable serving size by using only half a can of coconut milk and replace the rest with 200ml of low FODMAP stock to make the sauce.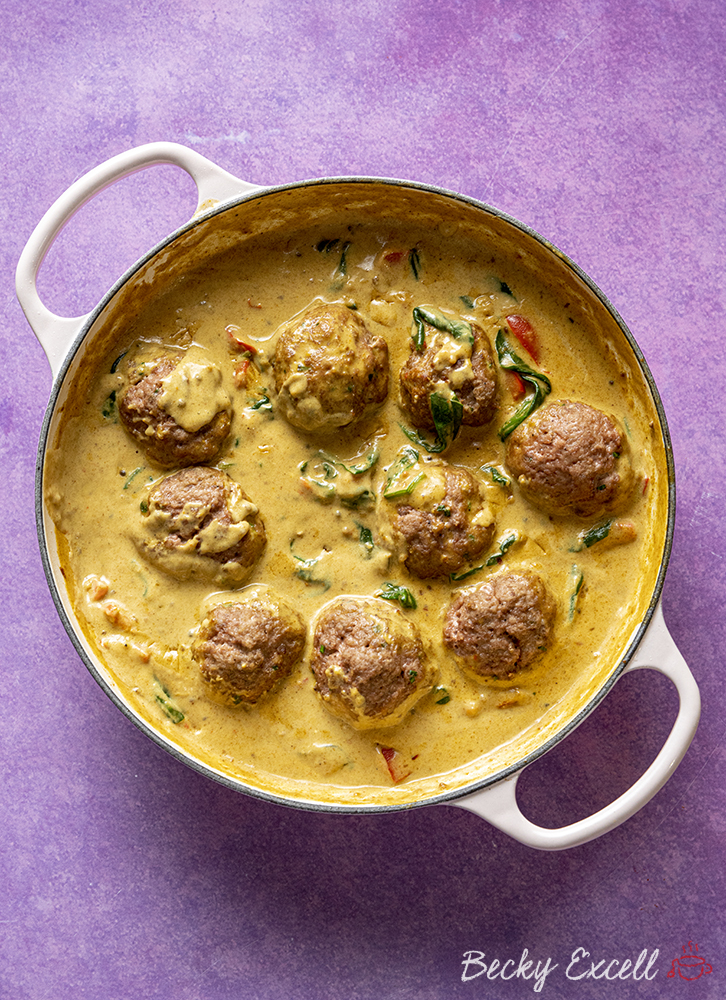 Can I use veg other than peppers and spinach?
Yes, as long as they can reasonably cook in time! Here's a few other veg swaps you could make, as long as they're all finely chopped:
Onion
Aubergine
Courgette
Carrot
Frozen peas (two handfuls added along with the coconut milk)
Can I make this using turkey breast mince? What about beef or lamb mince?
You certainly can, but the turkey koftas can be a little drier. However, the egg in the koftas should help with that a little!
You can also use beef or lamb mince as a swap, no problems.
Is this a healthy recipe?
Yes! You guys requested more healthy, every day gluten-free dinner recipes so that's exactly what I'm going to make.
If you want to make it even healthier still, you can always:
Use low-fat coconut milk
Use low-fat natural yoghurt
Use turkey breast mince instead of thigh mince
Can I freeze your turkey kofta curry recipe?
Yes! Once cooled, simply portion into airtight containers and freeze for up to 2-3 months.
To reheat from frozen, defrost in the fridge overnight then reheat in the microwave until piping hot in the middle.
You can also store this in the fridge for 3-4 days and microwave until piping hot too.
Turkey kofta curry recipe: Tips for quick and easy prep + cooking
Get your spices and seasoning out before you start, so they're ready for when you need them. Trust me, it makes cooking feel a lot easier!
Make the balls whilst the oven is heating and chop the veg whilst the oil is heating. A little multitasking goes a long way in speedy cooking!
Bake the turkey kofta balls in the oven until nicely browned and crisp. Turkey thigh mince won't dry out anywhere near as a fast as as turkey breast meat; so don't be afraid to give them an extra few minutes to get that ultimate crispy exterior.
Simmer the sauce until it's to your preferred thickness. The sauce has flour in it, so if it's a little too thin for your liking, just simmer it until it thickens up.
Prepare the rice or whatever else you're serving this dish with ahead of time. If serving with rice, put it on before you start cooking this. A microwave packet of rice makes this part even easier and quicker too.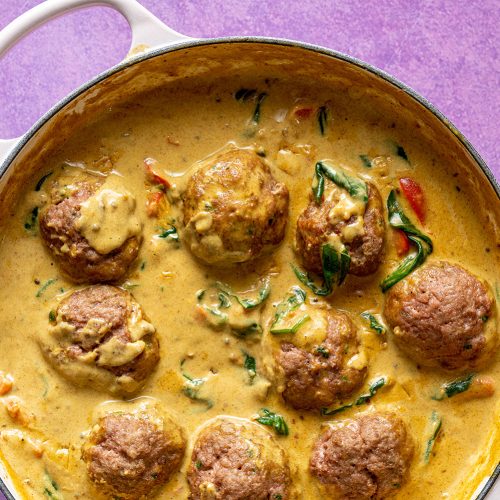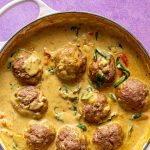 Turkey Kofta Curry Recipe
Turkey kofta curry recipe – ready in just 20 minutes! Best of all, nobody would know it's Coeliac-friendly and wheat-free too.
Ingredients
For the koftas:
500

g

turkey thigh mince

1

tbsp

fresh chives

chopped

1

egg

2

tsp

ground coriander

pinch

of salt and pepper

2

tbsp

gluten-free plain flour
For the sauce:
2

tbsp

garlic oil

1 1/2

tsp

mustard seeds

1

red pepper

chopped

1

tbsp

gluten-free plain flour

2

tbsp

curry powder

1/2

tsp

chilli flakes

or to taste

1

tsp

minced ginger

400

ml

full-fat or low-fat coconut milk

5

curry leaves

handful of spinach leaves

1 1/2

tbsp

natural yoghurt
Instructions
Mix all the ingredients for the koftas in a bowl till combined and smooth.

Shape into balls and pop on a lined baking tray in a 200C Fan / 220C preheated oven for about 12-15 minutes.

Heat up garlic oil and then add in the mustard seeds until they start to snap, crackle and pop! Then add the red pepper and allow to soften a little.

Add gluten-free flour, curry powder, chilli flakes and minced ginger and mix in.

Follow this with the coconut milk and curry leaves, allow to simmer and thicken for a few minutes.

Pop in a handful of spinach and allow it to wilt, then stir in some yoghurt to make it lovely and creamy.

Finally, add your koftas back in and serve with rice and gluten-free naan. Enjoy!
Notes
You could use a different meat (or veggie substitute) mince.
Thanks for reading all about my turkey kofta curry recipe! If you make it, I'd love to see how it turned out so don't forget to take a snap of your creations and tag me on Instagram!
Any questions about the recipe? Please do let me know by following me on Instagram and leaving me a comment on a recent photo!
Thanks for reading,
Becky xxx
Don't forget to pin this for later!