Gluten-free doughball wreath recipe with baked camembert – this is a festive crowd pleaser that you *need* in your party food spread! Best of all, nobody could EVER tell that they're Coeliac-friendly and wheat-free.
Gluten-free doughball wreath recipe with baked camembert, anyone? We almost never get to enjoy anything that has the phrase 'tear and share' in it, so why not make your own? After all, you only need 6 ingredients and a little salt!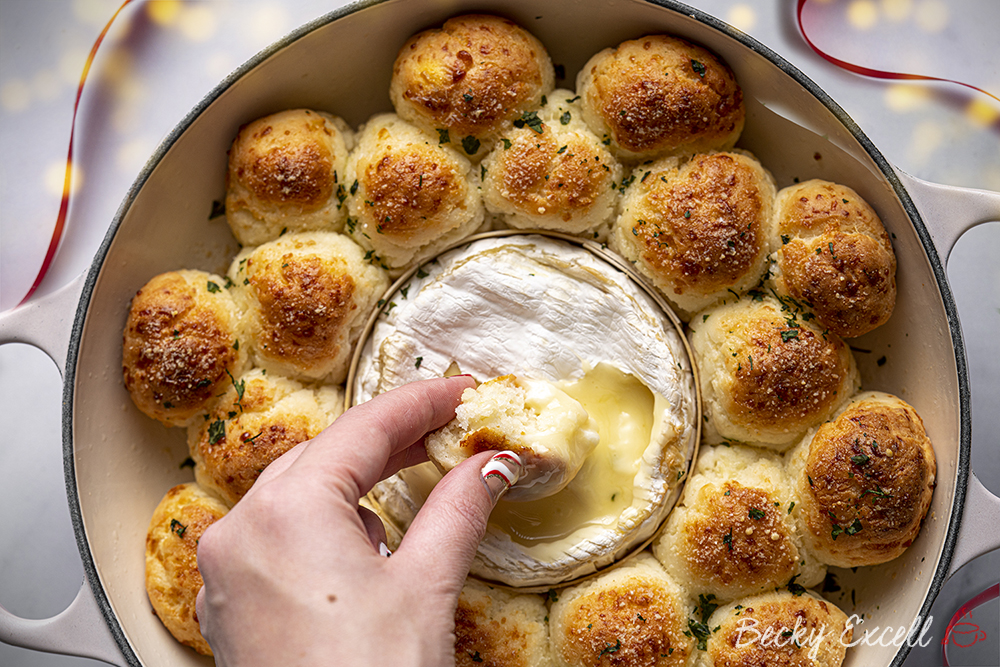 There's no denying that party food can be tough when you're gluten-free. Well, maybe tough is the wrong word and 'nightmare' is a better word!
These days, it can even be hard to find good gluten-free party food products in supermarkets…
But when you can make your own using 6 simple ingredients, there's certainly no need to despair!
Not only is this a dish that serves 4-6 people, but it's incredibly easy to make. Here's what you'll need…
Gluten-free doughball wreath recipe: What you'll need…
Greek yoghurt: I use Greek yoghurt because it's lovely and thick. Natural yoghurt works too, but you may need to add more flour to compensate for it being runnier.
Gluten-free self-raising flour: I used Doves Farm's FREEE flour blend for this, which has added baking powder and xanthan gum. If you cant find this where you live, you can always make your own blend using my recipe.
Extra mature cheddar cheese or Parmesan: Any grated hard cheese will do, but I find myself using these most often and they both taste amazing in this recipe.
Salt

: A doughball is well… mostly dough! So adding a little salt for seasoning goes a long way when matched with a good hard cheese.

Garlic-infused oil: Add instant garlic flavour with none of the chopping or prep required. Plus, it's also low FODMAP!
Camembert: You'll easily find this with all the rest of the cheese in supermarket chillers. Just remove the packaging and lid, pop it back into the base, then you're ready to bake.
Fresh parsley: When combined with the garlic-infused oil, this helps to add a garlic bread-like finish and taste.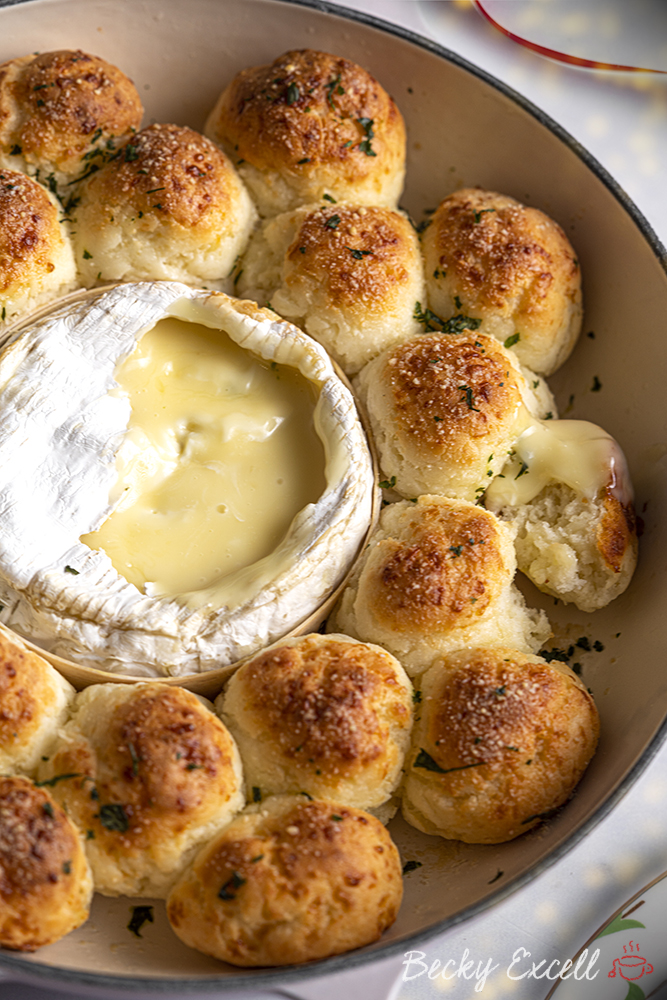 So here's the fun part for me: describing what my gluten-free doughball wreath tastes like!
Each doughball has a wonderful cheese/garlic flavour running through it with a wonderful, soft, subtly chewy texture with a crisp exterior.
When dipped in that gooey camembert, which coats each doughball like a cheese sauce, one is certainly never enough!
Trust me, no muggles will turn this one down!
Gluten-free doughball wreath recipe: Frequently Asked Questions
Can I make this recipe gluten-free? Is it suitable for Coeliacs?
It is gluten-free, though nobody would know just by tasting it – trust me!
Bear in mind that minimising cross-contamination is hugely important if you're Coeliac or making this for someone who is. Here's some tips from Coeliac UK on minimising the risk of cross contamination.
Also, make sure that all ingredients used don't have any gluten-containing ingredients. Then make sure that they also don't have a 'may contain' warning for gluten, wheat, rye, barley, oats (which aren't gf), spelt and khorasan wheat (aka Kamut).
Here's some more info from Coeliac UK on identifying safe gluten-free products.
How do I make this recipe dairy-free?
Easily! Simply use dairy free yoghurt – I often use Koko dairy free plain yoghurt to make this recipe and you'd never know the difference.
Also, use dairy-free cheese and that's it! I'd highly recommend a smoked dairy-free cheese for this one as the flavour generally isn't as strong as real cheese.
But what about the main event? The camembert… well, you'll never guess what I found in Waitrose last week: VioLife dairy-free camembert! I haven't tried this recipe using it yet, but I certainly will ASAP!
Can I make your gluten-free doughball wreath recipe vegan?
Yep! If you follow the instructions above to make this recipe dairy free, then all you've only gone and made it vegan too!
Is this recipe low FODMAP?
Not as is, but you can easily make the doughballs low FODMAP by using lactose-free Greek yoghurt.
And great news: Camembert is low FODMAP at a 40g serving size! Since there's extra hard cheese in the doughballs too, I'd recommend going even lower than a 40g serving size however, or waiting until you've successfully reintroduced dairy.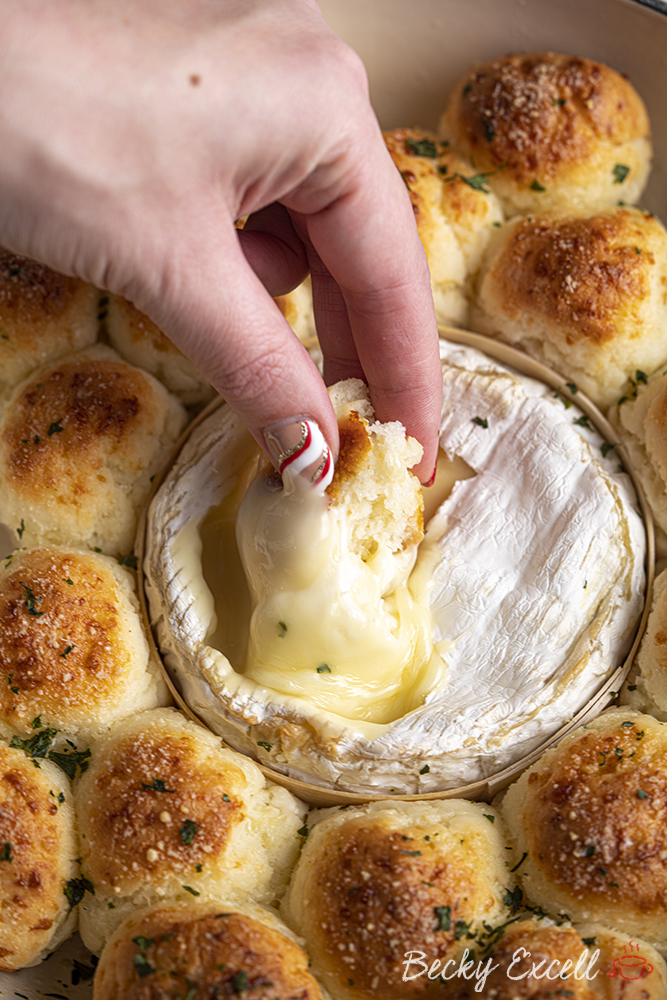 What yoghurt should I use for this recipe? Do the doughballs taste like yoghurt?
It's totally up to you. I'd recommend using a lovely, thick Greek yoghurt – that's what I use to make this recipe.
Natural yoghurt works fine too, but as it's runnier, you might need a little more flour to compensate.
If you want to keep this recipe vegan and dairy free, simply use Koko dairy free plain yoghurt.
And no, they don't taste like yoghurt at all!
My dough was too wet and sticky to roll. What should I do?
Firstly, it's supposed to be a little sticky as a formed dough in the bowl. As long as you're able to bring it together into a ball, when you start rolling it out on a floured surface, the extra flour should make sure it doesn't stick to your surface, hands or rolling pin.
There's only two main ingredients here (yoghurt and gf flour) so measuring them out correctly is really important. It'll stop you from adding in too much yoghurt in the first place and making the dough too wet!
But of course, if you have added too much yoghurt by accident, you can always just add a little extra flour until it's the correct consistency.
My dough was too dry and cracked and crumbly to form a ball.
If the dough seems a little crumbly in the bowl, get it out of the bowl and knead it on a floured surface first before adding any extra wet ingredients.
This will ensure that it's truly combined and there isn't any yoghurt not properly mixed in at the centre of the dough. If it's too crumbly to form a dough ball, then simply add a little extra yoghurt to compensate – but only as a last resort!
Can I use gluten-free flours like almond flour or coconut flour to make this recipe?
Certainly not using this recipe. This recipe uses FREEE gluten-free self raising flour which is easily available in supermarkets here in the UK.
If you can't find it where you live, you can always make your own using my gluten-free flour recipe.
The reason you can't use flours like almond or coconut in this recipe is because gluten-free plain flour is a blend of lots of different gluten-free flours and starches.
So to ditch a carefully made blend and try to substitute them all for ONE flour… it's just not going to work!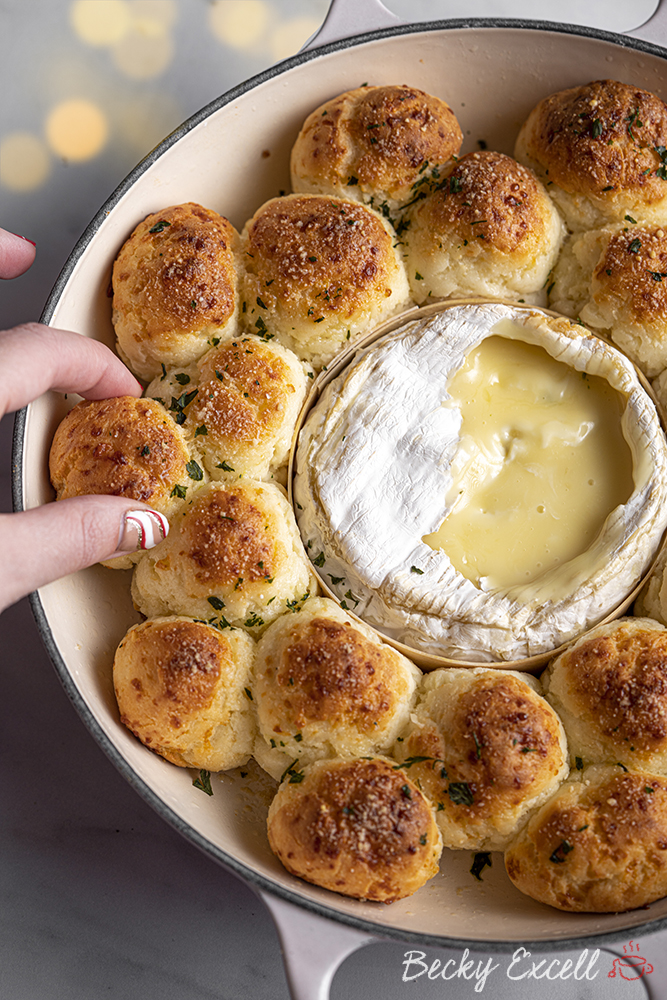 Gluten-free doughball wreath recipe: Tips for perfection!
Ensure all your doughballs are equal in size. That way, they'll all bake at the same speed.
Don't make them too big either! They'll take even longer to bake and you risk them still being doughy in the middle. If you get 20-25 doughballs out of your mixture then you're on track!
Serve this up whilst it's warm. Otherwise the camembert won't be gooey and dippable! Also, the doughballs are at their softest and fluffiest when warm – they'll need reheating if completely cooled before serving.
Brush with garlic-infused oil before and after baking in the oven. Not only does this add favour, but it ensures the doughballs get a lovely 'tan' in the oven and don't come out pale.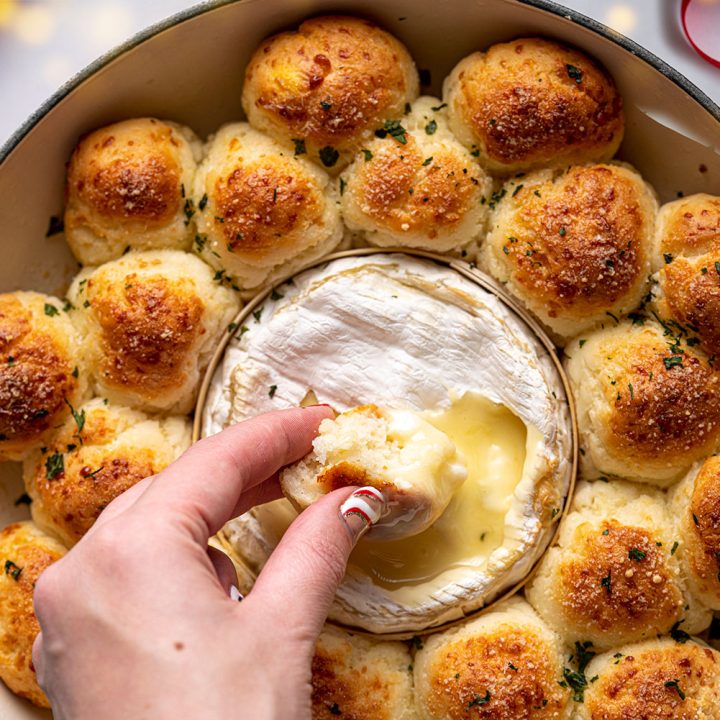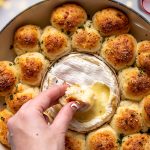 Gluten-free Doughball Wreath Recipe with Baked Camembert
Gluten-free doughball wreath recipe with baked camembert – the ultimate festive party food that nobody would know was Coeliac-friendly and wheat-free.
SERVINGS:
20
-25 doughballs
Ingredients
350

g

gluten-free self-raising flour

360

g

Greek yoghurt

any thick yoghurt

75

g

extra mature cheddar cheese or Parmesan

grated, plus extra to sprinkle on top

pinch

of salt

Garlic oil

for greasing and brushing

handful of fresh parsley

roughly chopped

1

Camembert

250g
Instructions
Preheat the oven to 200C fan / 220C and prepare a round oven proof dish by lightly greasing with oil.

Mix together yoghurt, flour grated cheese and salt. Start with a spatula and then get your hands in there to form a dough.

Break your dough into balls and roll them so they're smooth. I tend to make between 20-25 doughballs with this amount.

Place your camembert in the middle of a circular oven proof dish and then place your doughballs all around the edge.

Brush your doughballs with garlic oil and sprinkle with a little extra cheese.

Bake in the oven for about 20 minutes until the doughballs are golden and fully cooked – cover with foil if it starts to get too brown. The doughballs could take slightly less or slightly more depending on how big you roll them.

Brush with a little extra garlic oil and season with a little finely chopped fresh parsley. Tear the doughballs, dip in the Camembert and enjoy. This is best served warm!
Nutrition
Serving:
1
g
|
Calories:
523
kcal
|
Carbohydrates:
72
g
|
Protein:
21
g
|
Fat:
16
g
|
Saturated Fat:
7
g
|
Polyunsaturated Fat:
7
g
|
Cholesterol:
36
mg
|
Sodium:
1368
mg
|
Fiber:
2
g
|
Sugar:
7
g
Thanks for reading all about my gluten-free doughball wreath recipe with baked camembert! If you make it, I'd love to see how it turned out so don't forget to take a snap of your creations and tag me on Instagram!
Any questions about the recipe? Please do let me know by following me on Instagram and leaving me a comment on a recent photo!
Thanks for reading,
Becky xxx
Don't forget to pin this for later!