Gluten-free mince pie pop tarts recipe – a fun, festive twist on a sweet breakfast classic! It uses my ULTIMATE shortcrust pastry, which nobody would ever know it's Coeliac-friendly and wheat-free.
Gluten-free mince pie pop tarts recipe – delightful, golden, flaky pastry that encases sweet and sticky mincemeat, topped with sweet icing and sprinkles. Best of all, it's SUPER easy to make.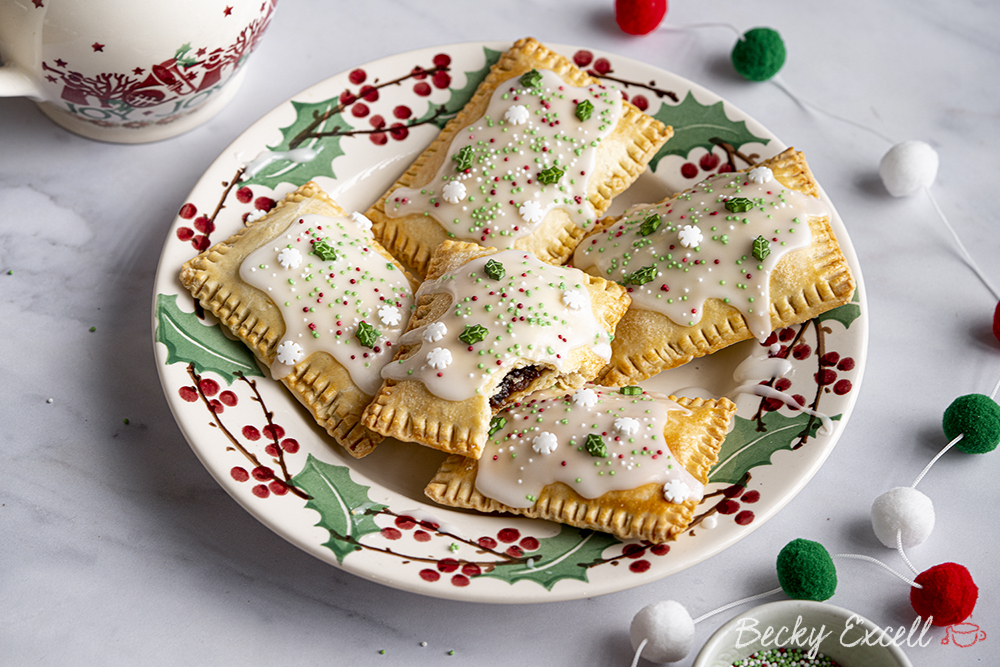 If you've got my second book 'How To Bake Anything Gluten-free', you might find that the pastry recipe here is very familiar…
And yep, that's because it's the same! My gluten-free shortcrust pastry recipe is also on the blog over here too, including instructions on how to use it for other bakes like pies and quiches.
Of course, it's in this recipe too as that's exactly what I used to make these beautiful, festive pop tarts.
So if you've made it before, then you'll find this recipe even easier than it already is! Here's everything you'll need to make them possible…
Gluten-free mince pie pop tarts recipe: What you'll need…
Gluten-free plain flour: I use Doves Farm's FREEE gluten-free plain flour blend that you can find in the supermarket. Can't find it in your part of the world? You can always use my homemade gluten-free plain flour blend.
Xanthan gum: This is used as a binding agent in the absence of gluten and integral in gluten-free baking. You can find it in your supermarket's free from aisle or online.
Caster sugar: This is to add a subtle sweetness to the pastry, otherwise, it'll taste wonderfully buttery but without that expected sweet pastry taste.
Butter: This is a super-important ingredient in gluten-free shortcrust pastry as, when cold, butter has brilliant strength and malleability. Bear in mind that once warm, it gets very sticky, so we'll always be trying to keep our dough as cold as possible.
Large eggs: As eggs are our only liquid in this recipe, I'd advise using large as that's what I used to create this recipe – medium eggs may result in the dough being a little dry and crumbly when working with it.
Mincemeat: Shop-bought is fine (and easiest and quickest) but you can always make your own using the gluten-free mince pies recipe in my second book.
Icing sugar: You'll need this to make the pop tart-style icing to finish the pop tarts. Caster sugar won't work here!
Vanilla or almond extract: The choice is yours and of course, the better quality extract you use, the better they'll taste.
Gluten-free sprinkles: Any will do, as long as they're gluten-free! So make sure you thoroughly read the label before using. See the FAQ section to find out which sprinkles I used in this recipe.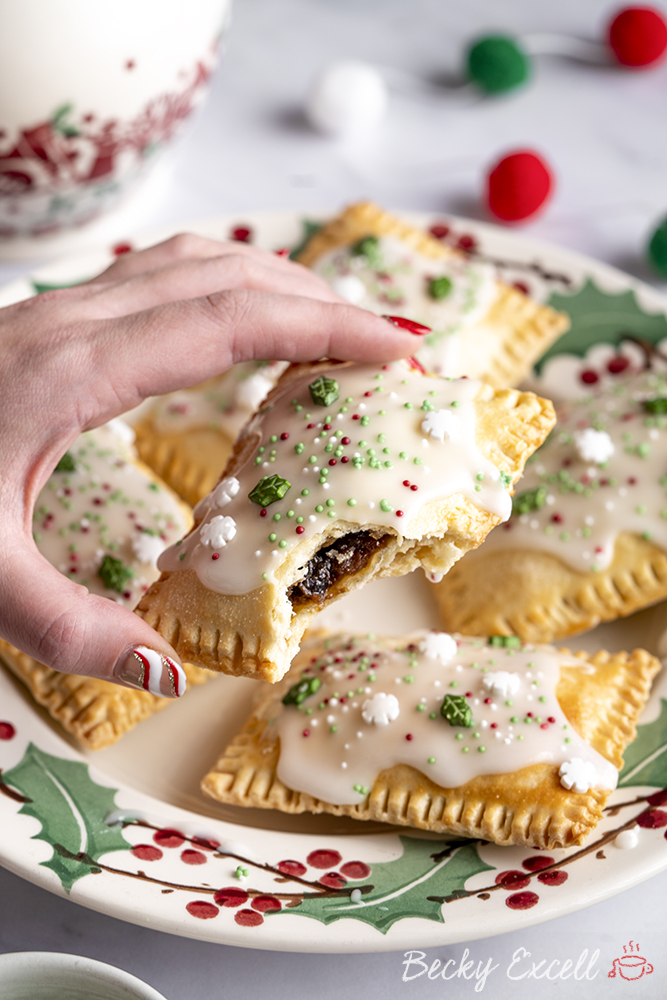 So, what do they taste like? In short: like my iced gluten-free mince pies… but totally different!
The pastry is wonderfully golden and flaky and, I promise you, doesn't taste gluten-free AT ALL. Of course, you can't go wrong with mincemeat at Christmas, whether it's shop bought or homemade.
Then, it's all topped off with a sweet glacé icing and sprinkles, adding a welcome crunch in every bite.
In my opinion, it's the best way to enjoy a mince pie, whether you're gluten-free or not. You get an equal amount of icing, sprinkles, pastry and mincemeat in every bite, unlike a mince pie which is quite mincemeat heavy by comparison.
Honestly, you just have to try it for yourself!
Gluten-free mince pie pop tarts recipe: Frequently Asked Questions
Can I make this recipe gluten-free? Is it suitable for Coeliacs?
It is gluten-free, though nobody would know just by tasting it – trust me!
Bear in mind that minimising cross-contamination is hugely important if you're Coeliac or making this for someone who is. Here's some tips from Coeliac UK on minimising the risk of cross contamination.
Also, make sure that all ingredients used don't have any gluten-containing ingredients. Then make sure that they also don't have a 'may contain' warning for gluten, wheat, rye, barley, oats (which aren't gf), spelt and khorasan wheat (aka Kamut).
Here's some more info from Coeliac UK on identifying safe gluten-free products.
Can I make your gluten-free mince pie pop tarts recipe dairy-free?
Yes! All you need to do is use a block of Stork hard margarine instead of butter. As it isn't as firm as butter, you'll likely need to chill the dough for a little longer, so do bear that in mind.
Can I make your gluten-free mince pie pop tarts recipe vegan?
I personally haven't tested this recipe using egg replacers and as eggs are so vital when creating pastry without gluten, I'm hesitant to say it can be done.
That is, of course, until I try it for myself! So watch this space and I'll let you know how it goes.
Is this recipe low FODMAP?
Unfortunately, Christmas mincemeat is one of those things that will never be low FODMAP due to the sheer amount of dried fruit in it.
However, you can always use raspberry or strawberry jam instead, which would make this recipe 100% low FODMAP!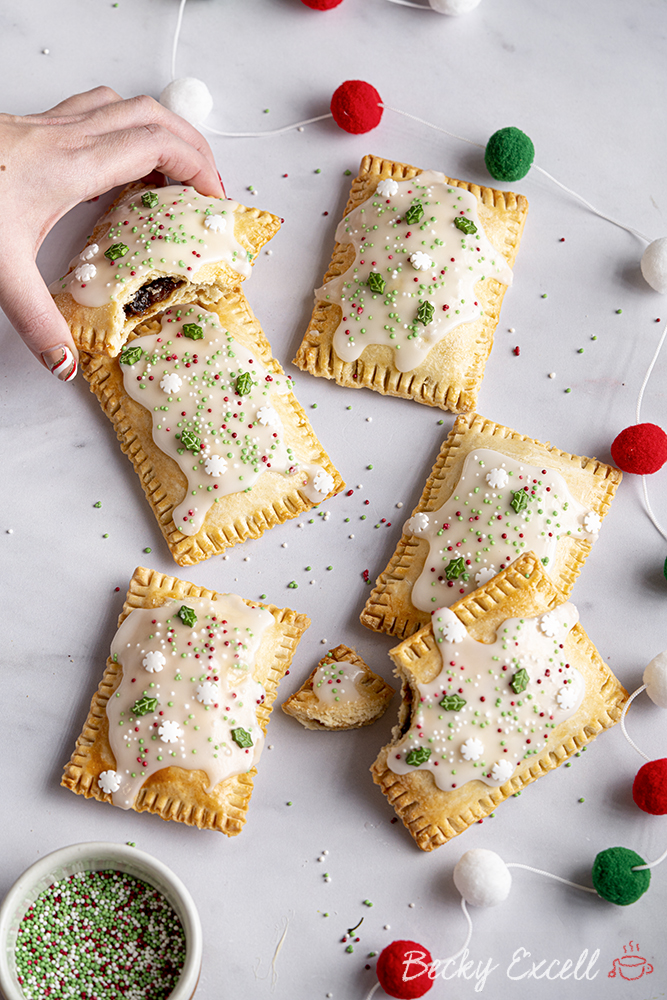 What did you use to decorate the pop tarts?
Of course, feel free to use whatever sprinkles you like (and are gluten-free) but here's what I used in the photos:
Do I need any special equipment to bake your gluten-free mince pie pop tarts?
Certainly not! A food processor can make rubbing flour and butter together much quicker and lazier, but it's not required for this recipe.
Other than a couple of baking sheets, a pastry brush like this one will definitely come in handy for applying the egg wash.
Can I use gluten-free flours like almond flour or coconut flour to make this recipe?
Certainly not using this recipe. This recipe uses FREEE gluten-free plain flour which is easily available in supermarkets here in the UK.
If you can't find it where you live, you can always make your own using my gluten-free flour recipe.
The reason you can't use flours like almond or coconut in this recipe is because gluten-free plain flour is a blend of lots of different gluten-free flours and starches.
So to ditch a carefully made blend and try to substitute them all for ONE flour… it's just not going to work!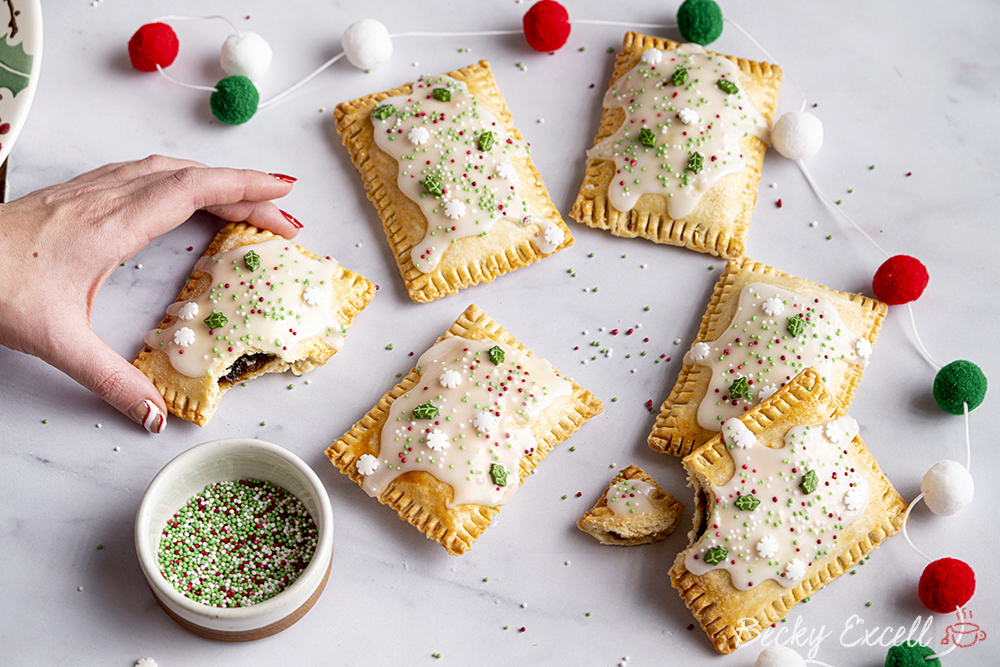 Gluten-free mince pie pop tarts recipe: Tips for perfect bake every time
Keep the pastry cold! Ensure your butter is nice and cold before starting and that your pastry is chilled until firm, yet malleable. The cold temperature of the dough ensures you can roll out your pastry without it breaking, so handle it as little as possible – your hands are warm after all!
Don't bring the pastry mixture together into a ball too quickly. It might feel like you can very shortly after the egg is cut in, but please resist and continue cutting in for a minute or two! If the egg isn't adequately cut in, your pastry will be dry and brittle to work with.
Once chilled, ensure your pastry dough ball isn't rock solid. Of course, this is because it'll be near impossible to roll out! It should be firm, yet workable. If it is solid, simply leave out at room temperature until workable enough to roll out.
Don't overfill the pop tarts or place the filling too close to the edge of the pastry. The edges of the pastry need to be clean and clear so the egg-wash can glue them shut!
Wait until the pop tarts have cooled before icing them. The icing will just melt into a watery mess otherwise!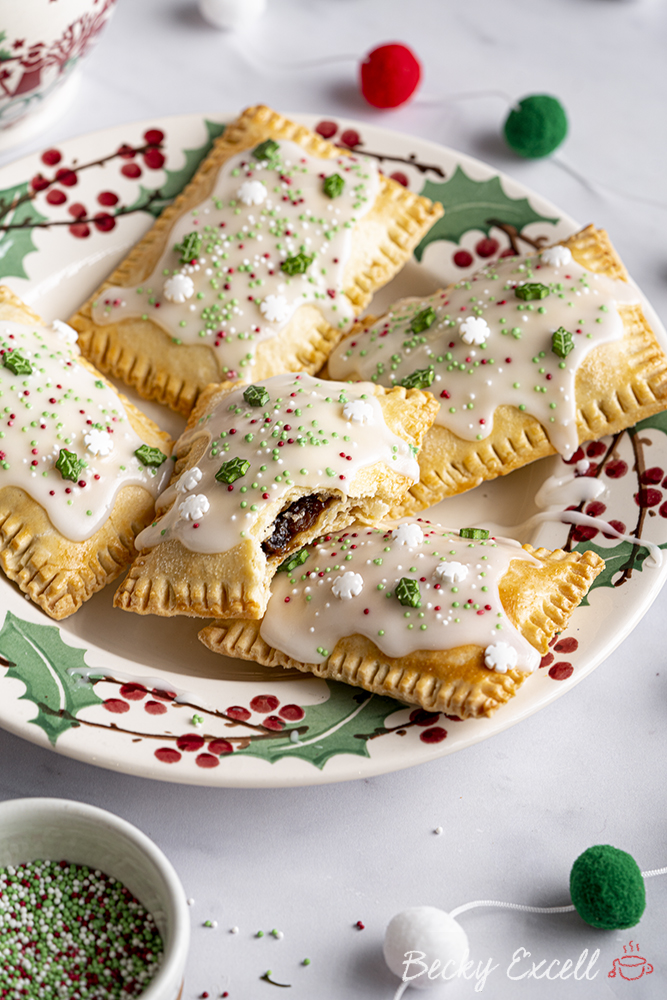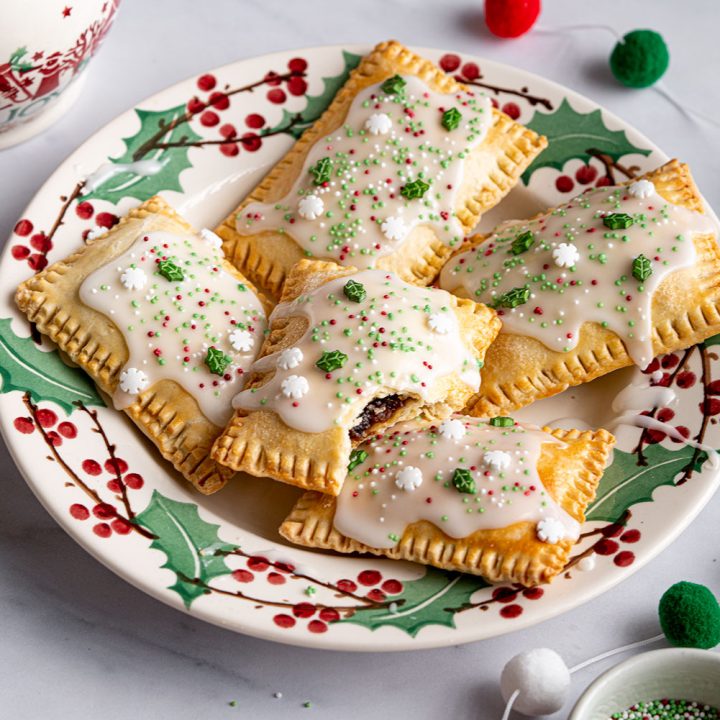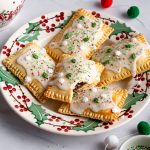 Gluten-free Mince Pie Pop Tarts Recipe (dairy-free option)
Gluten-free mince pie pop tarts recipe – a fun festive twist on a sweet breakfast classic! Nobody would know it's Coeliac-friendly and wheat-free too.
Ingredients
300

g

gluten-free plain flour

1.5

tsp

xanthan gum

3

tbsp

caster sugar

145

g

unsalted butter

very cold (use Stork hard margarine if dairy-free and keep it even colder!!)

2

large eggs

6

tbsp

mincemeat

homemade or store bought

1

additional egg to egg-wash / brush the pastry

or you can use milk instead – dairy-free if necessary
For the icing:
200

g

icing sugar

1

tsp

vanilla or almond extract

gluten-free festive sprinkles

see the FAQ section for links to what I used
Instructions
Place your flour and xanthan gum into a large bowl and mix. Make sure your butter is cold, cut it into small cubes and rub it in until the mixture resembles breadcrumbs.

Stir in your caster sugar.

Beat your 2 eggs together in a separate bowl and gradually add them. Use a fork to bring it all together. It should form a ball and not be very crumbly. The ball might be a tiny bit sticky but very minimally.

Wrap your pastry in cling film. Place in the fridge for 30 minutes (or longer). Don't skip this part – it's very important!

Preheat your oven to 160C Fan / 180C and prepare a baking tray with non stick baking paper.

Remove your pastry from the fridge – if your dough feels really firm when you take it out, leave it out at room temperature before rolling it. If it's too cold when you roll it, it will crack so ensure its warmed up a bit!

Lightly flour your rolling pin. Roll out the dough to a rectangle, about 2mm thick. Cut as many 4x3in rectangles out of your pastry as you can. Put them to one side while you reroll your pastry to cut out more rectangles.

Brush around the border of half of your rectangles with some of your beaten egg mixture, then add a tablespoon or so of mincemeat. Spread it out, leaving a half inch border around the edge.

Using a fork, prick some holes in the remaining rectangles (which will allow steam to escape when baking).

Press these rectangles on top of the mincemeat, the egg should seal them together but then additionally use a fork to push down and seal the edges even more.

Brush the top of each with egg wash and bake in the oven for 20-25 minutes until golden. Remove from the oven and allow to cool.

If you want to make the icing, place your icing sugar in a bowl and add a little water at a time and your extract until you have a very thick icing. You'll probably only need a couple of tablespoons at most. Make sure you mix it thoroughly so you don't add too much. If it does become too thin, just add more icing sugar to correct this.

Once cooled, drizzle the icing onto each pop tart. Add a few festive sprinkles and repeat until you've decorated all of your pop tarts. Allow to set and enjoy.
Notes
DON'T WANT ICING? You don't have to have icing on top, you could just sprinkle with a little sugar after the egg wash before they go in the oven and have them plain. They are really nice this way, warmed up and eaten with custard.
Nutrition
Serving:
1
g
|
Calories:
462
kcal
|
Carbohydrates:
64
g
|
Protein:
8
g
|
Fat:
20
g
|
Saturated Fat:
11
g
|
Polyunsaturated Fat:
7
g
|
Cholesterol:
137
mg
|
Sodium:
75
mg
|
Fiber:
1
g
|
Sugar:
31
g
Thanks for reading all about my gluten-free mince pie pop tarts recipe! If you make it, I'd love to see how it turned out so don't forget to take a snap of your creations and tag me on Instagram!
Any questions about the recipe? Please do let me know by following me on Instagram and leaving me a comment on a recent photo!
Thanks for reading,
Becky xxx
Don't forget to pin this for later!