Gluten-free mince pie mug cake recipe – got leftover Christmas mincemeat after making mince pies? Then this recipe is perfect for you! Best of all, nobody could EVER tell that it's Coeliac-friendly and wheat-free.
Gluten-free mince pig mug cake recipe, anyone? There's nothing more warming and festive than this beauty and it can be whipped up in under 5 minutes – it only takes 60 seconds in the microwave after all! Making it in a festive mug is mandatory, of course.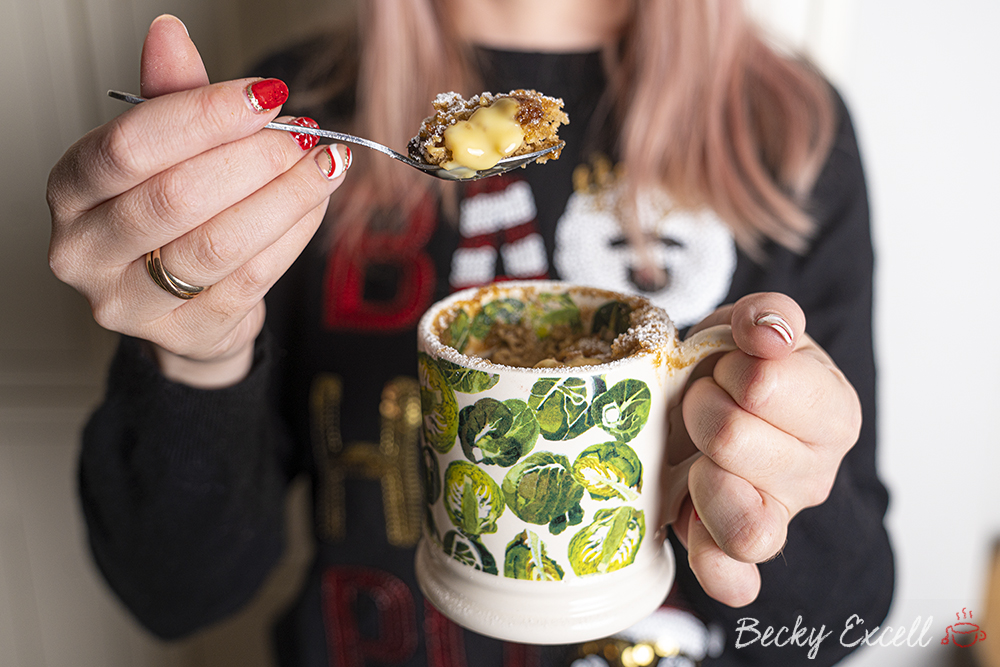 Sometimes when you just need a quick sweet treat, only a mug cake will do.
It's the perfect single-serve cake that, not only doesn't taste gluten-free, but it doesn't even taste like it's been made in a microwave either!
Of course, a few finishing touches like custard or vanilla ice cream work perfectly on top too for the ultimate mug cake experience.
Here's everything you'll need for my gluten-free mince pie mug cake recipe…
Gluten-free mince pie mug cake recipe: What you'll need…
Caster sugar: Sugar isn't just for sweetness – it helps to achieve a lovely crisp exterior and helps the sponge to form a perfect crumb.
Egg yolk: I use a medium egg yolk for this recipe, but large works fine too.
Gluten-free plain flour:

I use a simple commercial blend from the free from aisle in the supermarket – my go to is FREEE. If you can't find a blend like this where you live, you can always make your own using my gluten-free flour recipe.
Gluten-free baking powder: Not all baking powder is gluten-free so make sure you read the ingredients list first!
Vegetable oil: Instead of using butter for this sponge, vegetable oil is perfect as it keeps it lovely and moist.
Milk: Whole, skimmed or semi-skimmed (or even dairy-free) is fine here.
Mixed spice: Of course, there's lots of lovely fluffy sponge in a mug cake, so adding this gives it a warming flavour and stops it from tasting too plain.
Mincemeat: Homemade or store-bought mincemeat is fine here.
Icing sugar: This is just for adding a little 'snowy' finish on top.
Custard or vanilla ice cream: And either of these go a long way when serving!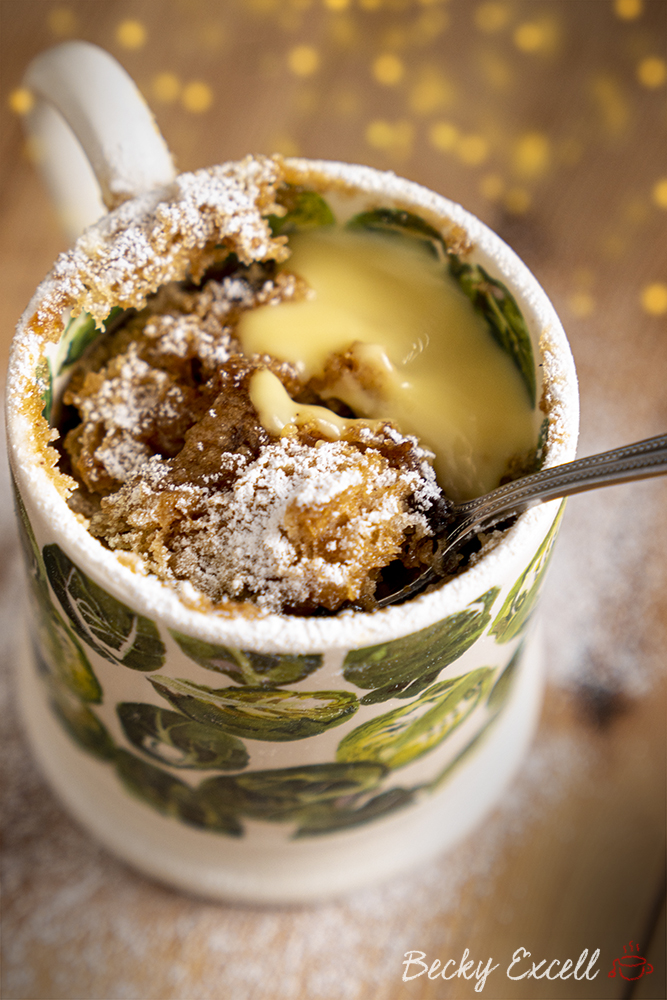 So here's the fun part for me: describing what my gluten-free mince pie mug cake tastes like!
The sponge is super light and fluffy, with a warming spice and lots of sticky mincemeat. The microwave gives it a wonderful rise and it's probably the softest sponge you'll try!
When served with a little custard and a sweet, snowy dusting of icing sugar, it's the perfect *mega quick* sweet treat that we all need this time of year.
Gluten-free mince pie mug cake recipe: Frequently Asked Questions
Can I make this recipe gluten-free? Is it suitable for Coeliacs?
It is gluten-free, though nobody would know just by tasting it – trust me!
Bear in mind that minimising cross-contamination is hugely important if you're Coeliac or making this for someone who is. Here's some tips from Coeliac UK on minimising the risk of cross contamination.
Also, make sure that all ingredients used don't have any gluten-containing ingredients. Then make sure that they also don't have a 'may contain' warning for gluten, wheat, rye, barley, oats (which aren't gf), spelt and khorasan wheat (aka Kamut).
Here's some more info from Coeliac UK on identifying safe gluten-free products.
How do I make this recipe dairy-free?
Easily – just use dairy-free milk!
Can I make your gluten-free mince pie mug cake recipe vegan?
Yep! If you follow the instructions above to make this recipe dairy free, then all you've got left to contend with is the egg yolk.
Here's a few ideas you can use as egg replacements in the cupcakes, so each of these = 1 egg.
1 tbsp of aquafaba – water from a can of chickpeas. Make sure you whisk it up until frothy before adding.
Egg replacement powder – I'd recommend using Orgran as it's gluten free. Remember not to use too much as it's only an egg yolk we're replacing – not an entire egg!
1/2 tablespoon of chia/flax seeds mixed with 1 tablespoons of water and left for 10 minutes in the fridge.
1/2 tbsp of applesauce.
I haven't tested all of these egg alternatives so let me know how you get on in the comments below.
Is this recipe low FODMAP?
Unfortunately, Christmas mincemeat is one of those things that will never be low FODMAP due to the sheer amount of dried fruit in it.
However, you can always use raspberry or strawberry jam instead, which would make this recipe 100% low FODMAP!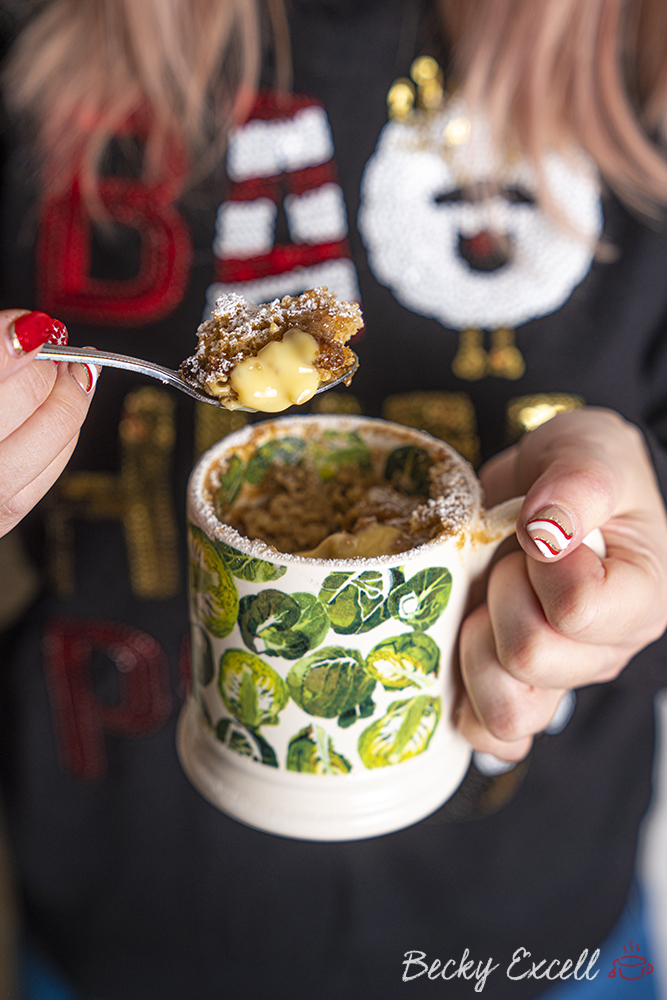 Do I need any special equipment to bake your gluten-free mince pie mug cake?
Just a regular-sized mug like in the photo above… and a microwave I guess!
Help! My mug cake overflows out of the mug when it's cooking, what should I do?
Do what I do and simply use a little clingfilm to cover the mug before cooking. Make sure you poke a hole in it to let the steam out.
Can I use gluten-free flours like almond flour or coconut flour to make this recipe?
Certainly not using this recipe. This recipe uses FREEE gluten-free plain flour which is easily available in supermarkets here in the UK.
If you can't find it where you live, you can always make your own using my gluten-free flour recipe.
The reason you can't use flours like almond or coconut in this recipe is because gluten-free plain flour is a blend of lots of different gluten-free flours and starches.
So to ditch a carefully made blend and try to substitute them all for ONE flour… it's just not going to work!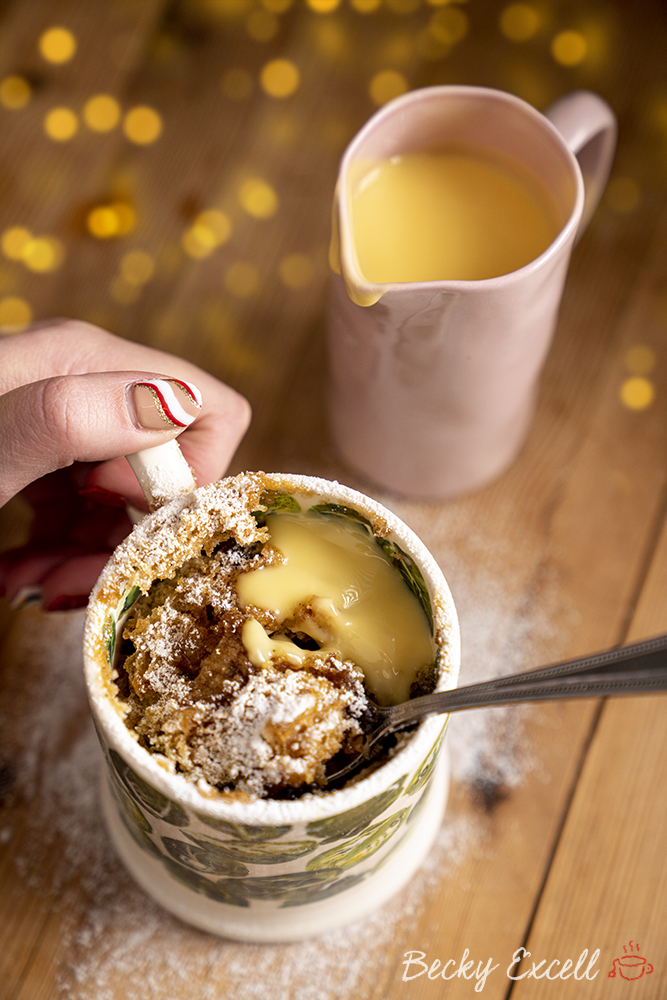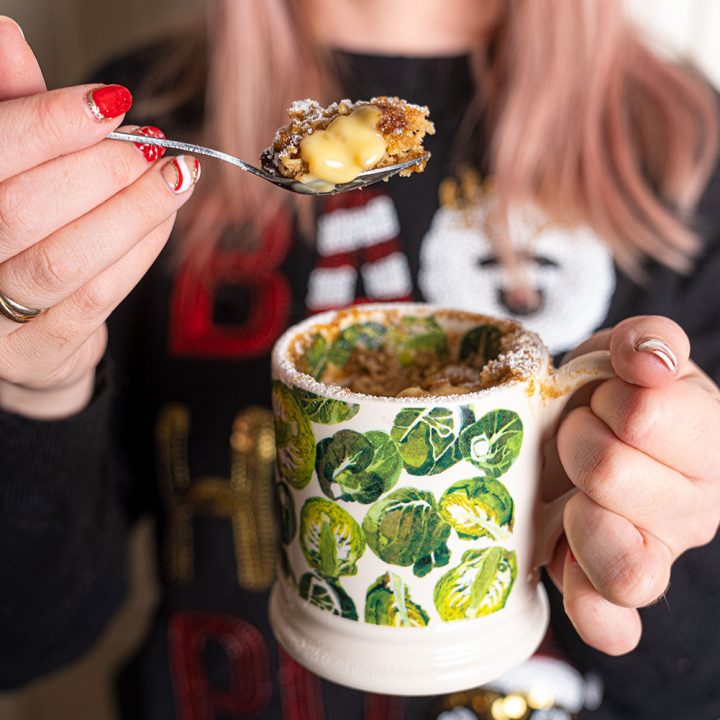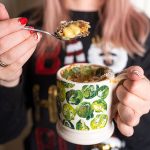 Gluten-free Mince Pie Mug Cake Recipe
Gluten-free mince pie mug cake recipe – super easy to make and cooks in just 1 minute in the microwave. Nobody would ever know it's Coeliac-friendly and wheat free.
Ingredients
2

tbsp

caster sugar

4

tbsp

plain flour

gluten free for me!

1/2

tsp

mixed spice

2

tbsp

vegetable oil

1

egg yolk

2

tbsp

milk

1/2

tsp

baking powder

2-4

tsp

mincemeat

if you don't like mincemeat, use jam!

icing sugar for dusting

custard or ice cream for serving
Instructions
Put all your ingredients (except the mincemeat) into a microwaveable mug (mine holds approx 300ml of water). Mix together till combined with a fork.

Add your mincemeat to the top and push it down a little so it goes beneath the cake mixture.

Pop into the microwave on high (mine is 900W) for 60-70 seconds. I always cover my mugs so no mixture escapes over the sides!

Remove from the microwave, dust with icing sugar and serve with custard or ice cream. Enjoy!
Thanks for reading all about my gluten-free mince pie mug cake recipe! If you make it, I'd love to see how it turned out so don't forget to take a snap of your creations and tag me on Instagram!
Any questions about the recipe? Please do let me know by following me on Instagram and leaving me a comment on a recent photo!
Thanks for reading,
Becky xxx
Don't forget to pin this for later!