Dairy-free millionaire's shortbread recipe? Yes, it's possible! Best of all, nobody would know they're Coeliac-friendly and wheat-free…
Dairy-free millionaire's recipe – not to be confused with my regular gluten-free millionaire's shortbread recipe. I made this version specifically for all the dairy-free/vegan folks who requested it… so here it is!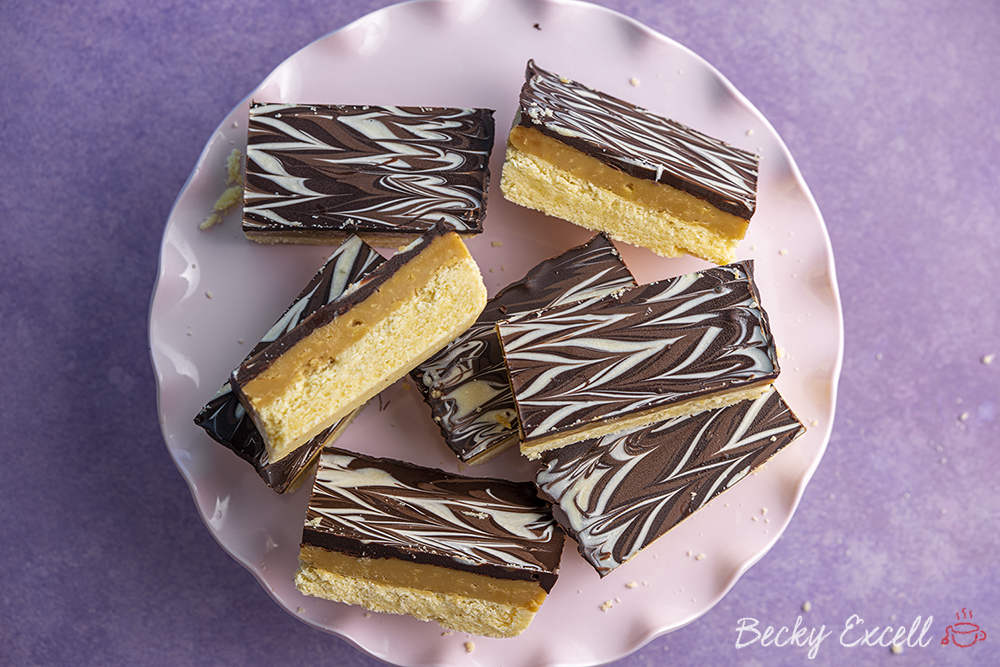 I'm sure nobody cares, but I actually started out as a gluten-free and dairy-free baker here on the blog. Yes, once upon a time, everything I made was dairy-free as standard!
But one thing I always struggled to make dairy-free was millionaire's shortbread. It's so simple to make caramel when you can just use a tin of condensed milk… so what. do you do when you can't?!
So I always said: 'I'll make dairy-free millionaire's shortbread one day' or 'I'm working on it!'
Well, that day has finally come and I'm done working on it – I'm pleased to report that I've done it!
Dairy-free millionaire's shortbread recipe: What you'll need…
Hard dairy-free margarine or vegan butter: The key word here is 'hard' – it must be a hard block like Stork hard margarine or Flora vegan butter.
Caster sugar: Granulated sugar is fine too, but caster sugar is the sugar of choice when it comes to the classic shortbread base. You'll also need a little for the caramel too.
Light brown sugar: Adding this to the caramel not only makes it more caramel coloured, but also gives it more of a caramel flavour.
Golden syrup: This traditional ingredient is integral to making a dairy-free or vegan caramel. Other syrups often aren't thick enough, so this is a key ingredient.
Salt: A pinch of salt works perfectly in caramel and helps to emphasise the flavour.
Vanilla extract: A little of this goes a long way and the better quality yours is… the better they'll taste!
Gluten-free plain flour:

I use a simple commercial blend from the free from aisle in the supermarket. If you can't find a blend like this where you live, you can always make your own using my gluten-free flour recipe.
Xanthan gum: This helps to bind the shortbread dough together so it isn't too brittle to work with, replacing the gluten that would otherwise do the same job.
Dairy-free chocolate: For this recipe I used a mix of dairy-free dark, white and 'milk' chocolate. I found these down the free from aisle. Feel free to use all of one variety instead of all three if you'd prefer.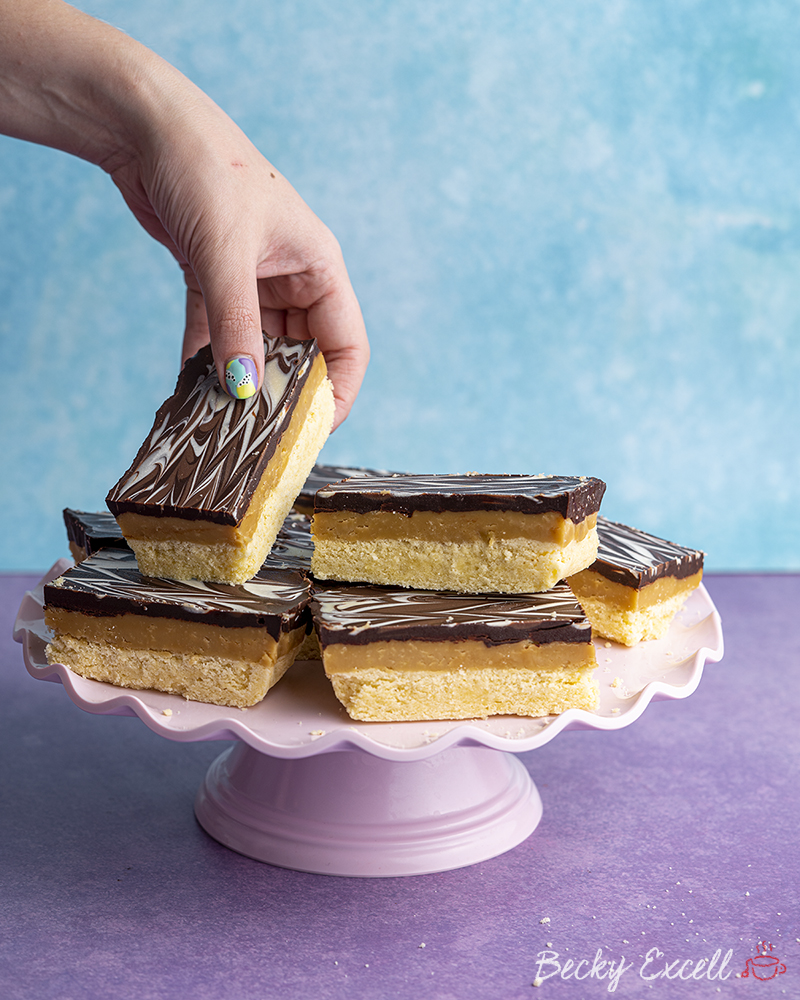 So why is it suddenly possible now? Because I finally found a way to make a proper dairy-free caramel that, well… actually tastes like caramel!
I tried vegan condensed milk which made the caramel taste like coconut (which is definitely not what I wanted) and I've tried lots of dairy-free caramel recipes which never set properly, creating a big mess when I tried to slice them.
So I made my own dairy-free caramel – no vegan or dairy-free condensed milk required! In fact, all the ingredients are extremely simple and you can easily find them in the supermarket.
And the end result actually tastes like proper millionaire's shortbread – and nobody would know they're dairy-free, vegan and gluten-free!
Dairy-free millionaire's shortbread recipe: Frequently Asked Questions
Can I make this recipe gluten-free? Is it suitable for Coeliacs?
It is gluten-free, though nobody would know just by tasting it – trust me!
Bear in mind that minimising cross-contamination is hugely important if you're Coeliac or making this for someone who is. Here's some tips from Coeliac UK on minimising the risk of cross contamination.
Also, make sure that all ingredients used don't have any gluten-containing ingredients. Then make sure that they also don't have a 'may contain' warning for gluten, wheat, rye, barley, oats (which aren't gf), spelt and khorasan wheat (aka Kamut).
Here's some more info from Coeliac UK on identifying safe gluten-free products.
I don't need to eat dairy-free. Can I make your dairy-free millionaire's shortbread recipe using dairy products instead?
If that's the case then you're on the wrong post! This version is specifically for dairy-free and vegan folks.
So if that's not you, simply head over to my regular gluten-free millionaire's shortbread recipe.
How do I made your dairy-free millionaire's shortbread recipe vegan?
It is vegan!
Is this recipe low FODMAP?
Unfortunately, this recipe is not suitable for the elimination phase of the diet due to the amount of golden syrup required. Golden syrup is only low FODMAP in 1 tsp servings and one millionaire's shortbread would exceed that limit.
Once you've successfully reintroduced fructose, you might be ok to give these a try.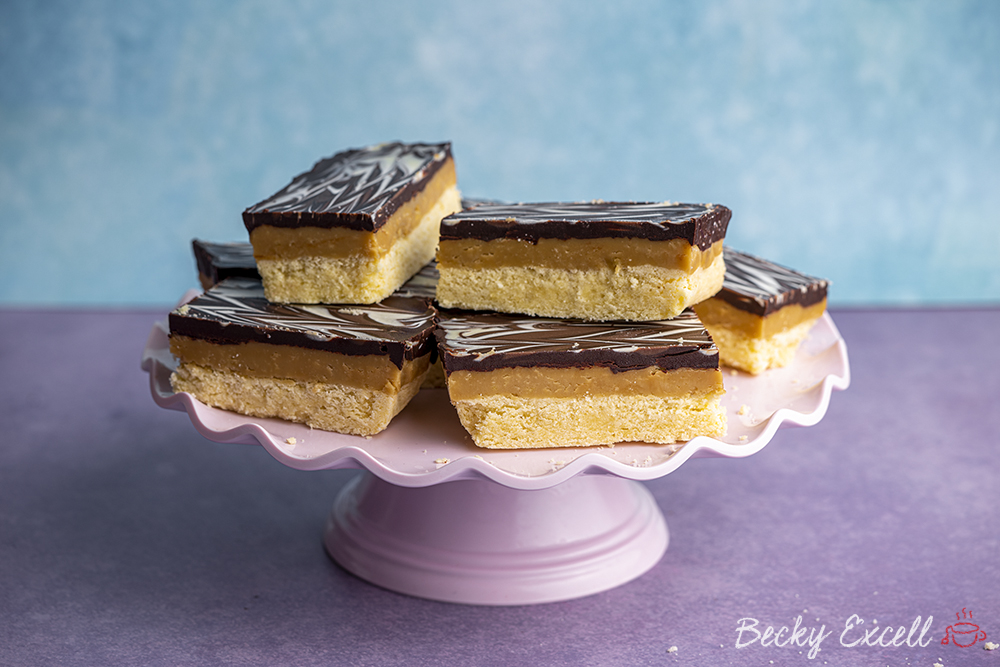 Can I use a tin of dairy-free caramel instead of making my own?
No – tinned caramel will never set, even when chilled. When you go to cut these, you'll end up with a huge mess!
The caramel we're making in this recipe is one that completely sets and holds its shape once chilled. Unfortunately, you can't buy a caramel like that!
Can I use caster sugar instead of light brown sugar for the caramel?
You can, but it won't have that depth of caramel-like flavour (it'll taste more like golden syrup) and the caramel will come out looking a lot more yellow and pale.
Do I need any special equipment to make your dairy-free millionaire's shortbread recipe?
What you will need for certain, is an 8″ square baking tin – here's the one I use. You'll just need a little baking paper too. If you're using a 9″ square baking tin, just bear in mind that your millionaire's will be a lot flatter.
When making caramel, a digital cooking thermometer takes away all the guesswork so I'd highly recommend getting one!
Do I need weighing scales to make your dairy-free millionaire's shortbread recipe?
In short… yes, yes and yes! And I wouldn't advise attempting any my recipes without them. One of the worst things you can do in any recipe is alter the quantities by mistake or on purpose.
Why? Well, you're sort of just gambling with the recipe and praying that it turns out ok, don't you think? And I've generally already done the hard work there for you, so you don't have to do the guesswork with measurements!
A lot of work went into fine tuning ratios and quantities so I wouldn't mess around with them unless you really know your stuff. I'd recommending using digital cooking scales like these so you know you're getting an accurate measurement and replicating my recipe as accurately as poss.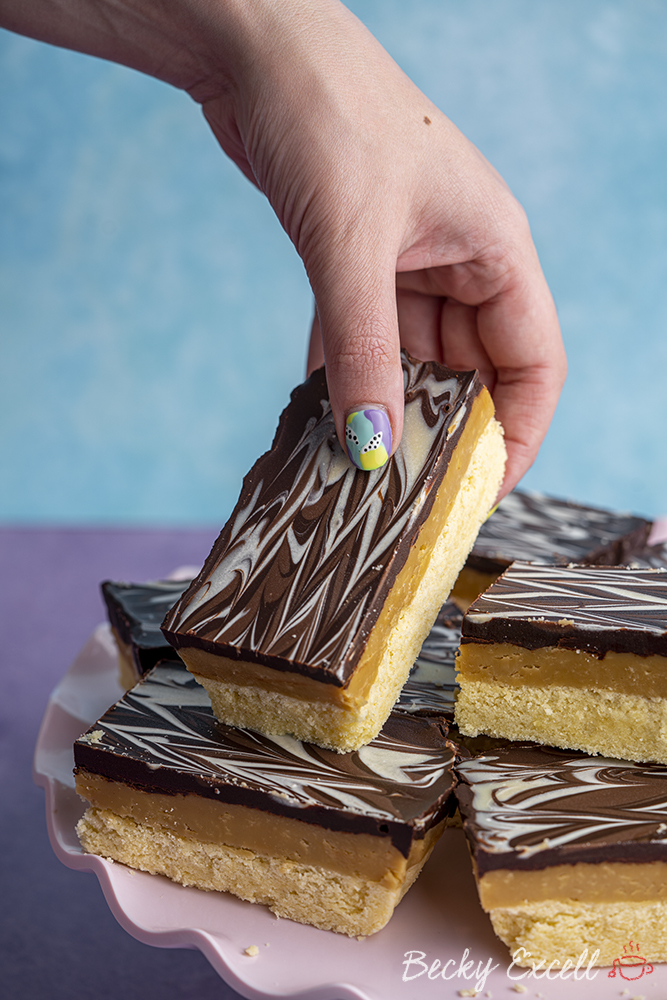 Dairy-free millionaire's shortbread recipe: Tips for perfection!
Don't overmix the shortbread dough – once it forms a nice, smooth dough, stop! You don't want too much air into this dough.
Using a digital cooking thermometer when making the caramel makes the job so much easier.
Be patient when making the caramel! The caramel will get to the right temperature and thickness eventually – if you take it off the heat too soon, it won't set in the fridge.
If ever your caramel splits after you've taken it off the heat, don't panic! Just pop it back on and stir constantly on a low heat until it comes back together.
When slicing your finished millionaire's, use a warm knife – they'll be very cold and a little solid from the fridge, so a warm, sharp knife really helps. Just run it under a hot tap first!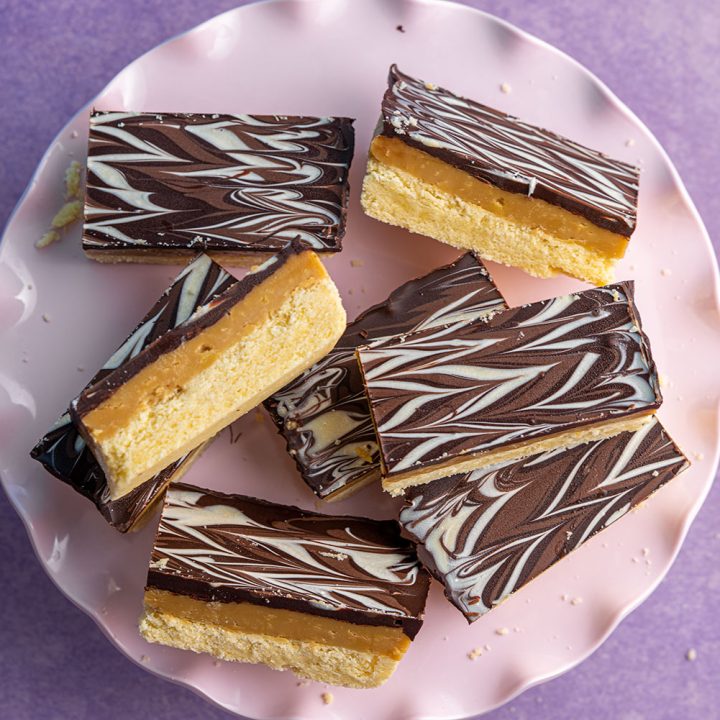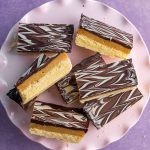 Dairy-free Millionaire's Shortbread Recipe (vegan + gluten-free)
Dairy-free millionaire's shortbread recipe – SUPER easy to make and you'd never know it was vegan, Coeliac-friendly and wheat-free too.
Ingredients
For the shortbread base
75

g

caster sugar

150

g

hard dairy free margarine or vegan butter

I use Stork hard margarine

225

g

gluten-free plain flour

1/4

tsp

xanthan gum
For the caramel
120

g

hard dairy free margarine or vegan butter

I use Stork hard margarine

130

g

golden syrup

90

g

caster sugar

90

g

light brown sugar

1

tsp

vanilla extract

pinch

of salt
For the topping
200

g

dairy free / vegan dark chocolate

50

g

dairy free / vegan white chocolate

50

g

dairy free / vegan milk chocolate
Instructions
For the shortbread base:
Firstly, line a 8in (20cm) with non-stick baking paper, make sure you have excess baking paper coming up over the sides of the tin to make it easier to lift your bake out later. Preheat your oven to around 160C Fan (180C).

Cream together your dairy free butter and sugar until light and fluffy.

Mix in your flour and xanthan gum to combine. Initially I use a spatula and then use my hands to bring the dough together into a ball. It might be a little crumbly but only slightly – its shortbread so it's not a problem!

Press your dough into your pre-prepared tin. Push it right into the corners and try to make it nice and evenly flat. Prick the top all over with a fork (otherwise it will puff up) and place in the oven for 22-25 minutes until slightly golden on top. Put to one side and allow to cool.
For the caramel:
Add all your caramel ingredients to your saucepan and place on a low / medium heat. Stir until the butter is fully melted and the sugar has dissolved.

Keep on the heat until it reaches 115C. Use a sugar or food thermometer to check this. It might seem like it never will but it will I promise – usually it takes about 10-15 minutes.

Once it's got to the right temperature, remove from the heat and stir constantly until it thickens up. Once thickened (usually takes 5-10 minutes), pour on top of the cooled shortbread base. Spread it out and place in the fridge to set. It should take about an hour.
To finish:
Melt your dairy free chocolates in separate bowls – I do this in the microwave, stirring in between short bursts.

Pour the melted dark chocolate over the caramel and spread to the edges. Then add your milk and white chocolate and use a cocktail stick or skewer to feather it in alternating directions. Pop back in the fridge to completely set.

Remove from the tin (I leave it out for about 20 minutes before slicing to warm up a little or else the chocolate can be hard to cut), cut into slices/squares using a warm knife (this helps the top not crack) and enjoy!
Notes
You don't have to use a mix of dairy-free dark/white/milk chocolate on top – you can just use 300g of one of them!
Nutrition
Serving:
1
g
|
Calories:
370
kcal
|
Carbohydrates:
44
g
|
Protein:
3
g
|
Fat:
21
g
|
Saturated Fat:
7
g
|
Polyunsaturated Fat:
13
g
|
Trans Fat:
3
g
|
Cholesterol:
6
mg
|
Sodium:
35
mg
|
Fiber:
1
g
|
Sugar:
29
g
Thanks for reading all about my dairy-free millionaire's shortbread recipe! If you make it, I'd love to see how it turned out so don't forget to take a snap of your creations and tag me on Instagram!
Any questions about the recipe? Please do let me know by following me on Instagram and leaving me a comment on a recent photo!
Thanks for reading,
Becky xxx
Don't forget to pin this for later!