Gluten-free brandy snaps recipe – you wouldn't believe how easy they are to make in just 30 minutes. Best of all, mine are Coeliac-friendly and wheat-free.
Gluten-free brandy snaps recipe, anyone? They're sticky, crunchy, super duper easy to make and you can decorate/fill them however you like. Of course, they're easy to make dairy-free, vegan and low FODMAP too – head over to the FAQ section to find out how!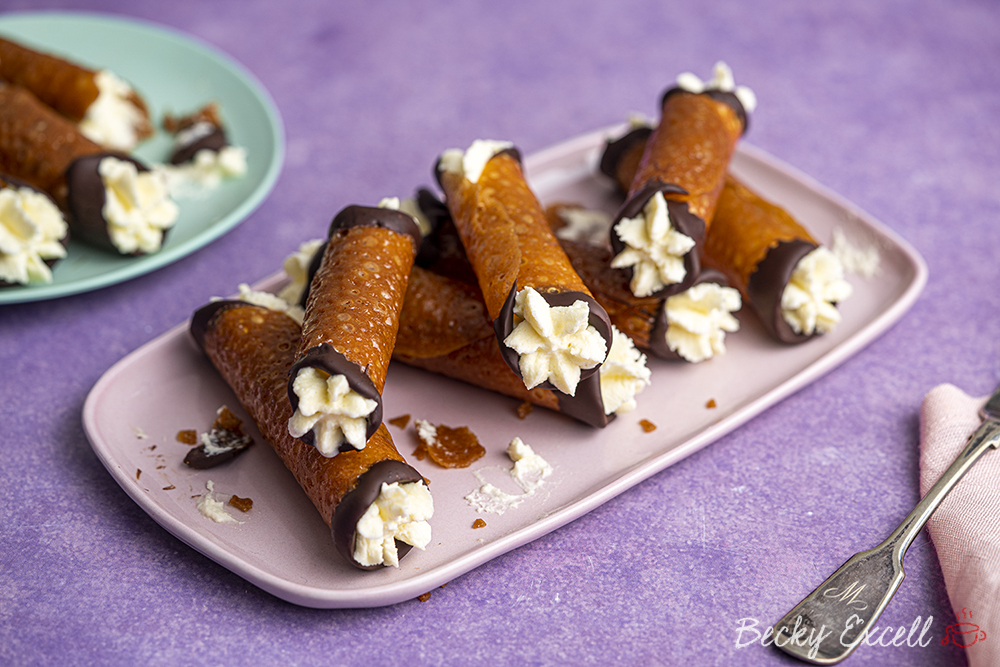 Another day, another recipe inspired by the Bake Off! Surely nothing they make on there can really be classed as 'easy', right?
Well actually, brandy snaps are very easy to make!
Simply whip your your mixture and spoon it onto a baking tray. Once baked, you'll need to leave them to cool for a minute or so before peeling them off the tray and wrapping around a wooden spoon.
And that's pretty much it!
From that point onwards, it's just a matter of decorating them and filling. I've provided a simple serving suggestion but in reality, you can enjoy them however you like.
Gluten-free brandy snaps recipe: What you'll need…
Butter: Salted or unsalted is totally fine (I use unsalted).
Light brown sugar: The natural molasses in light brown sugar bring a lovely caramel-like flavour to the brandy snaps.
Golden syrup: Not only does this bring flavour, but it's integral to the lovely sticky finish and wonderful snap.
Gluten-free plain flour:

I use a simple commercial blend from the free from aisle in the supermarket. If you can't find a blend like this where you live, you can always make your own using my gluten-free flour recipe.
Ground ginger: A little of this goes a long way and works so well against the sticky, sweet flavour of the snaps.
Lemon juice: And the same goes for smidge of lemon juice, bringing a subtle, warming lemon and ginger flavour.
Dark chocolate: This is totally optional and is just used for decorating. I just melt it and dip my rolled up snaps in it.
Double cream: The next three ingredients are for the filling – it's just simple, thick and fluffy cream but it's absolutely divine against the crunchy, sticky snaps.
Icing Sugar: This is just for a little added sweetness.
Mascarpone: The mascarpone thickens the whipped cream and gives it a more luxurious, velvety texture.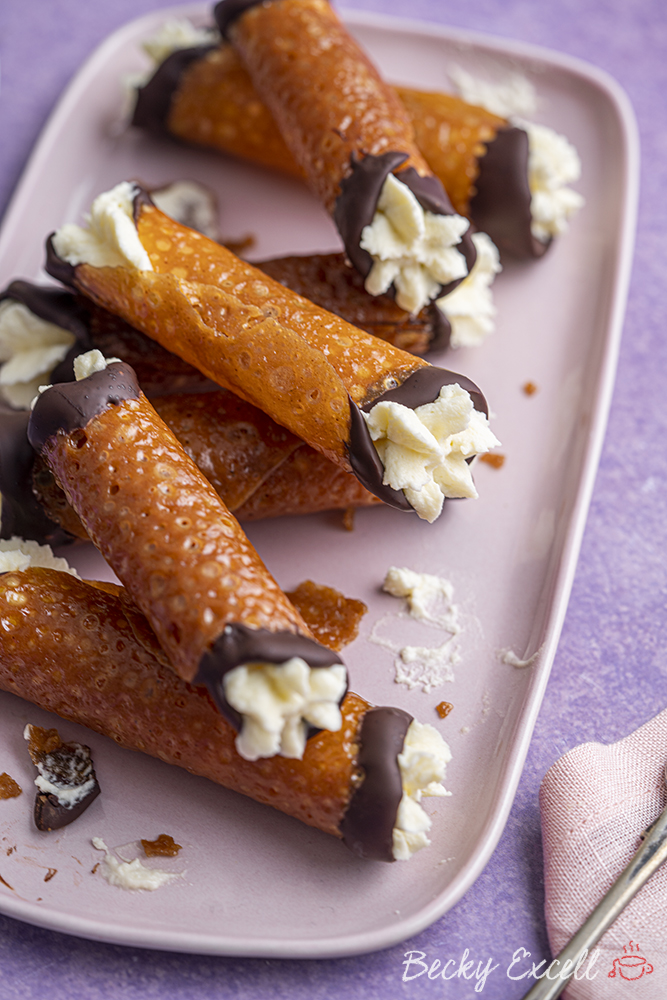 So here's the fun part for me: describing what they taste like!
Each brandy snap is super crisp and crunchy with a sweet, sticky warming flavour and a satisfying snap in every bite.
Then, you get that lovely fluffy cream inside with a little dark chocolate to balance out the sweetness.
It's basically a dessert that you can eat with your hands! There's simply nothing else quite like them, so I think it's time you got baking…
Gluten-free brandy snaps recipe: Frequently Asked Questions
Can I make this recipe gluten-free? Is it suitable for Coeliacs?
It is gluten-free, though nobody would know just by tasting it – trust me!
Bear in mind that minimising cross-contamination is hugely important if you're Coeliac or making this for someone who is. Here's some tips from Coeliac UK on minimising the risk of cross contamination.
Also, make sure that all ingredients used don't have any gluten-containing ingredients. Then make sure that they also don't have a 'may contain' warning for gluten, wheat, rye, barley, oats (which aren't gf), spelt and khorasan wheat (aka Kamut).
Here's some more info from Coeliac UK on identifying safe gluten-free products.
Can I make your gluten-free brandy snaps recipe dairy-free?
Making the brandy snaps dairy-free is simple. All you need to do is:
Use Stork hard margarine instead of butter.
When it comes to the decorating and filling, simply:
Can I make your gluten-free brandy snaps recipe vegan?
If you follow all of the above advice to make it dairy-free, then that would also make it vegan too.
Is this recipe low FODMAP?
The brandy snaps are, but when it comes to the decorating/filling, you'll need to make a few changes:
Use lactose-free dark chocolate
Use lactose-free cream cheese instead of mascarpone
Use lactose-free whipping cream instead of double cream
That would make this recipe lactose-free and also suitable for the elimination phase of the diet.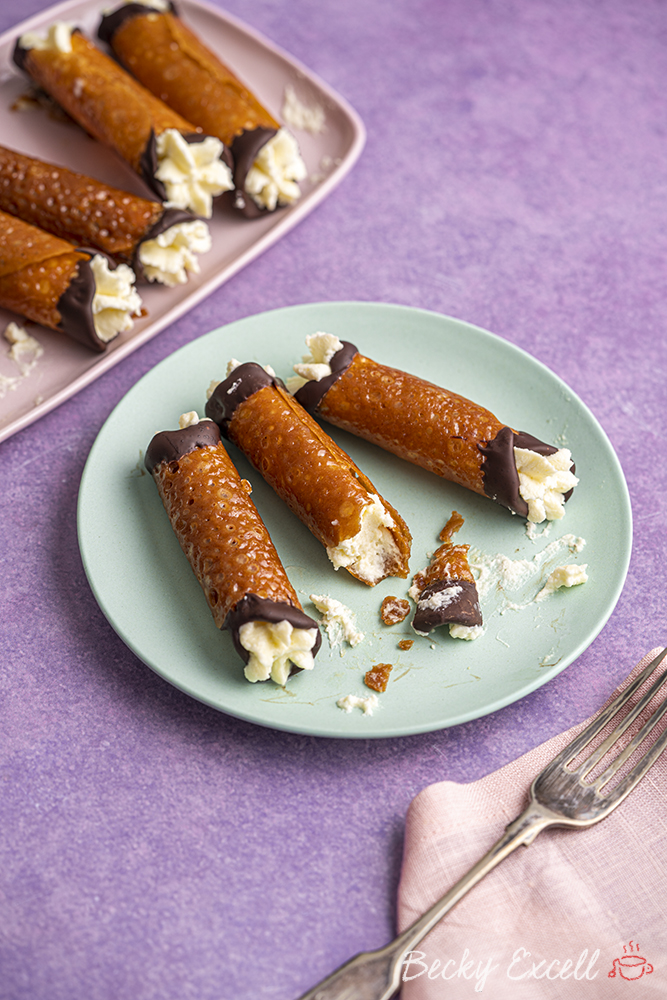 What did you wrap the the brandy snaps around?
I simply used a wooden spoon handle and loosely wrapped them around it. It's the perfect width so that they can roll up, but still leave enough space for your filling.
Can I use gluten-free flours like almond flour or coconut flour to make this recipe?
Certainly not using this recipe. This recipe uses gluten-free plain flour which is easily available in supermarkets here in the UK.
If you can't find it where you live, you can always make your own using my gluten-free flour recipe.
The reason you can't use flours like almond or coconut in this recipe is because gluten-free plain flour is a blend of lots of different gluten-free flours and starches.
So to ditch a carefully made blend and try to substitute them all for ONE flour… it's just not going to work!
Do I need weighing scales to make your gluten-free brandy snaps recipe?
In short… yes, yes and yes! And I wouldn't advise attempting any my recipes without them. One of the worst things you can do in any recipe is alter the quantities by mistake or on purpose.
(unless you know what you're doing of course)
Why? Well, you're sort of just gambling with the recipe and praying that it turns out ok, don't you think? And I've generally already done the hard work there for you, so you don't have to do the guesswork with measurements!
A lot of work went into fine tuning ratios and quantities so I wouldn't mess around with them unless you really know your stuff. I'd recommending using digital cooking scales like these so you know you're getting an accurate measurement and replicating my recipe as accurately as poss.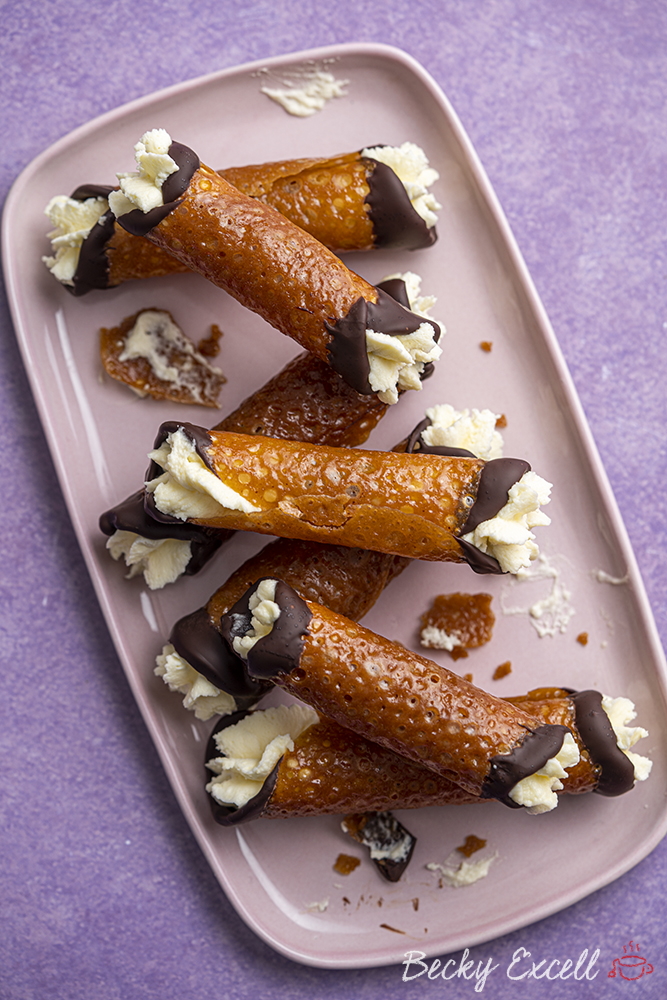 Gluten-free Brandy Snaps recipe: Tips for perfection!
Have everything for the brand snaps prepared before you start – you'll need to work fast when making these so you want everything ready to go!
Make sure you mix in your flour thoroughly as you don't want there to be any clumps or pockets of flour, this would lead to the wrong consistency for the mixture.
Space out the circles of mixture on your baking tray, if you put them too close together, they will join and that's not ideal You could do two baking trays at once if you want to do more quicker.
You only need a teaspoon of mixture per brandy snap – a tsp goes a long way!
Only remove them from the oven when you can see they are more golden and laced. Leave them in slightly longer if not.
If you are a bit slower rolling them up and some of your other ones on the tray firm up, just pop them back in the oven for literally a few seconds to loosen; then they will be flexible enough to roll once again.
The rest of your mixture will firm up whilst you are making other batches – if so, just pop your saucepan back onto a low heat to loosen it again before spooning your next batch onto a baking tray.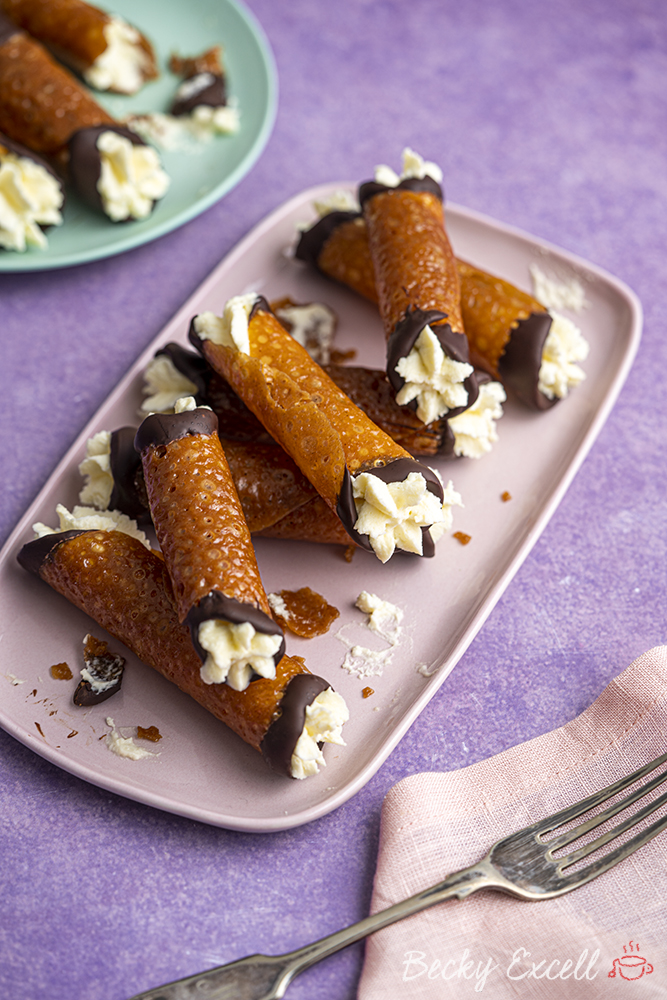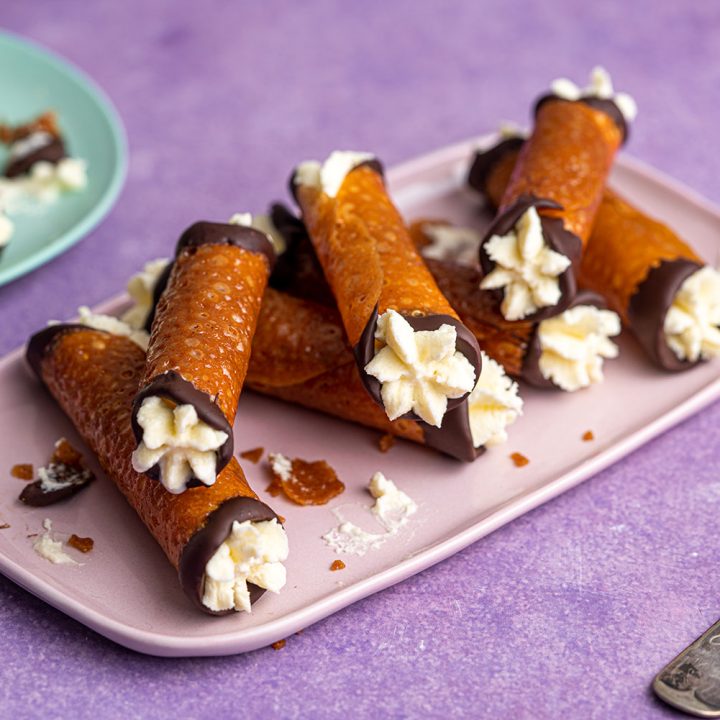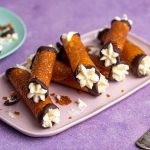 Gluten-free Brandy Snaps Recipe
Gluten-free brandy snaps recipe – SUPER EASY method that anybody can make in no time! Coeliac-friendly and wheat-free too. See the FAQ section for advice on how to make this recipe dairy-free, vegan or low FODMAP.
Ingredients
For the brandy snaps:
55

g

light brown sugar

55

g

golden syrup

55

g

butter

50

g

gluten free plain flour

1/2

tsp

ground ginger

1/2

tsp

lemon juice
Filling and decorating idea:
80

g

dark chocolate

milk or white would work too!, melted

250

ml

double cream

50

g

icing sugar

50

g

mascarpone
Instructions
For the brandy snaps:
Preheat your oven to 160C Fan and prepare a large baking tray with non stick baking paper. Also grease the handle of a wooden spoon or a small rolling pin.

Place your light brown sugar, golden syrup and butter into a small saucepan and place on a low heat until the butter has melted and the sugar has fully dissolved (it should no longer feel gritty and feel smooth) – this takes about 10 minutes. Stir throughout so it doesn't boil.

Remove from the heat and allow to sit for a minute to settle before adding in your gluten free plain flour and ground ginger (the ginger is optional really but I love the flavour). Mix quickly so that it combines well and the flour doesn't clump. Add your lemon juice straight afterwards and give a final good mix.

Use a teaspoon to spoon 3-4 round dollops of the mixture onto your prepared baking tray (1 teaspoon per dollop!). Make sure they are quite far apart from each other as the brandy snaps will spread out massively.

Place into the preheated oven for around 12 minutes until they are golden coloured, spread and have a almost lacy look to them.

Remove from the oven and allow to sit for a couple of minutes before using a palette knife to ease off one of the brandy snaps – whilst you need to work quickly, be patient. Once you've carefully removed your super flexible brandy snap from the paper, wrap it around the wooden spoon or small rolling pin handle, allowing it to join.

Then carefully slide it off and place on a cooling rack. Repeat with the other ones on the tray. If any firm up too much, pop back in the oven for a few seconds and they will softened again enough to roll around!

You will of course have lots of mixture left to make more – it can firm up very quickly in the pan, so pop it on a low heat again to loosen it, and once at the consistency it was before, repeat with the round dollops. Use a new piece of baking paper if you need to. Keep repeating steps 4-7 until you have used up your mixture.
To decorate and fill:
Dip both tips of your brandy snap in chocolate and allow to set. I set mine on a couple of wooden spoon handles so the melted chocolate didn't touch anything. Allow to set.

Whisk together double cream and icing sugar until it forms soft peaks. Then fold in your mascarpone till thicken and smooth.

Spoon your cream mixture into a piping bag with a star nozzle (the nozzle needs to be just smaller than the holes of your brandy snaps. Pipe into the brandy snap so its nice and full!

Enjoy straight away!
Notes
Filling ideas
My filling idea is just a suggestion of course and you can fill them with whatever you wish. You could make a Baileys cream, a Nutella cream, a Strawberry cream… the options are endless!
Dipping ideas
You don't have to dip the ends in chocolate but if you do you could also sprinkle some finely chopped hazelnuts or pistachios onto the melted chocolate.
Brandy Snap Basket?
If you want to make a brandy snap basket, instead of rolling for brandy snap around a wooden spoon handle / small rolling pin, just drape it over the base of a drinking glass and it will harden into a basket shape! You can then fill with ice cream, fresh fruit etc. I used to love having this for dessert!
Nutrition
Serving:
1
g
|
Calories:
189
kcal
|
Carbohydrates:
17
g
|
Protein:
1
g
|
Fat:
13
g
|
Saturated Fat:
8
g
|
Polyunsaturated Fat:
4
g
|
Cholesterol:
34
mg
|
Sodium:
51
mg
|
Fiber:
1
g
|
Sugar:
12
g
Thanks for reading all about my gluten-free brandy snaps recipe! If you make it, I'd love to see how it turned out so don't forget to take a snap of your creations and tag me on Instagram!
Any questions about the recipe? Please do let me know by following me on Instagram and leaving me a comment on a recent photo!
Thanks for reading,
Becky xxx
Don't forget to pin this for later!