I don't know how I haven't posted this in the last 6 years of recipe creating… but here's my gluten free Millionaire's shortbread recipe! Trust me though – it was worth the wait 😆
And can you guess which layer is my favourite?! Hint: it's several times larger than it would be if you bought it in the shop 😂 Anyway, let's get started on my gluten free Millionaire's shortbread recipe…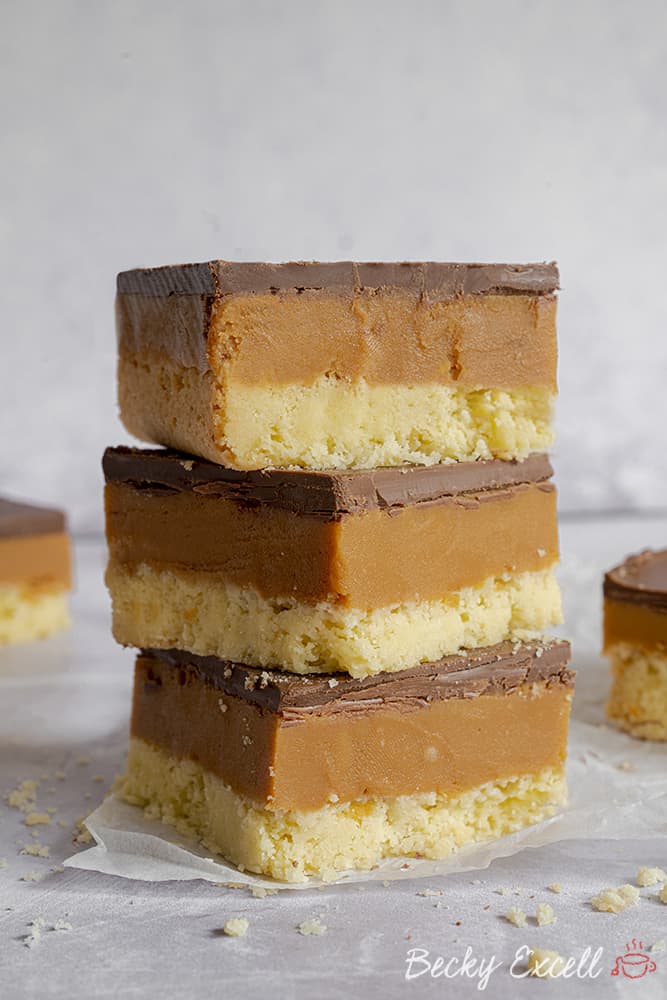 Hello fellow millionaires!
(what do you mean that you don't need to prove your income to be able to make these?!)
This has been highly requested for a very long time, but my gluten free Millionaire's shortbread recipe is here and here to stay.
I thought making my own caramel would be really tricky, but it was actually really easy and so much nicer than caramel you'd buy in a tin.
So what makes my millionaire's shortbread so special?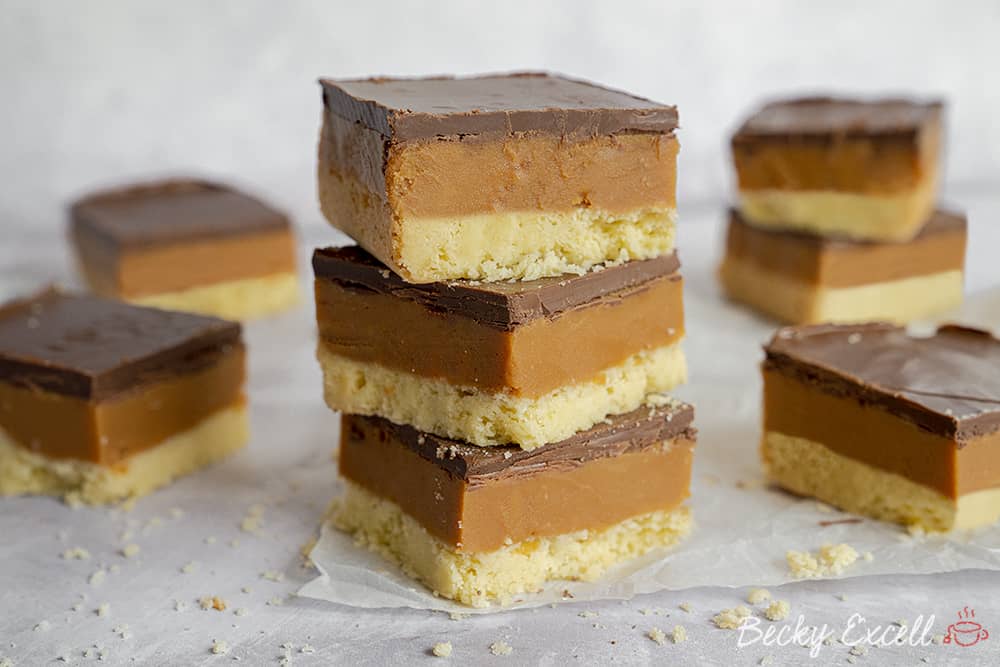 So first of all, there's a lovely, creamy milk chocolate layer which, when set, has such a nice snap to it in each bite.
(bonus points if you can cut your slices into squares without cracking all the chocolate in the process! Just try cutting them before the chocolate is totally set OR leave them out of the fridge to soften a bit before cutting)
Then there's that lovely, toffee-like caramel layer which adds all that lovely, intense sweetness.
Lastly, there's that buttery shortbread base which in itself is such a treat. It's so creamy and slightly crumbly and is perfect against those other two layers. It's a millionaire's match made in heaven!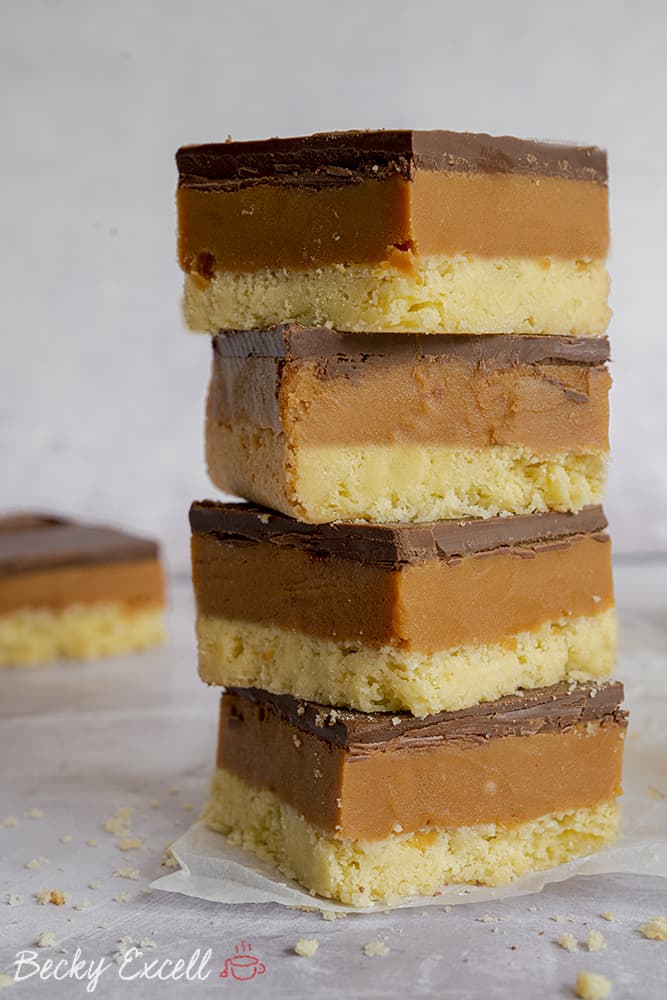 I guess what took me so long to post this recipe is that I HAD been trying to make it dairy free for the last few months on and off… and failing massively!
The shortbread section was fine – I just used hard margarine – the chocolate section was fine – I just used dairy free dark chocolate. But the caramel layer just *would not* set for the life of me.
I made my own coconut caramel using condensed coconut milk – it tastes AMAZING, it looked the part… but when I took these out of my loose bottom tin… it just all oozed EVERYWHERE. It was a disaster!
So if anyone wants me to continue to experiment and try to make these dairy free, let me know in the comments below! 👇🏻
Ok – so here's my gluten free Millionaire's shortbread recipe…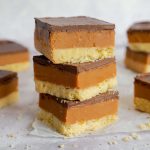 My Gluten Free Millionaire's Shortbread Recipe
Here's my gluten free millionaire's shortbread recipe! There are my absolute fave treat and there's actually really easy to make - so give them a try!
Ingredients
For the shortbread base
300

g

gluten free plain flour

1/4

tsp

xanthan gum

(optional but I think it helps!)

100

g

caster sugar

200

g

butter
For the caramel
175

g

butter

165

g

light brown sugar

60

ml

golden syrup

1

tin

of condensed milk

(tin is 397g)

1/4

tsp

salt
For the chocolate topping
200

g

milk chocolate

(you can use dark chocolate, I prefer the colour of the milk chocolate!)
Instructions
Firstly line a 20cm x 20cm square tin with baking/parchment paper, make sure you have excess baking paper coming up over the sides of the tin to make it easier to lift your bake out later. Preheat your oven to around 160C Fan (180C).

Cut your butter for your base into smaller pieces and place in a bowl with your gluten free flour and caster sugar. Rub them in with your fingers until evenly combined and a dough has formed. Alternatively you can put them all into a blender and they will come together much quick... I always do this by hand though.

Press your dough into your tin. Push it right into the corners and try to make it nice and even across. Prick the top all over with a fork and place in the oven for about 30 minutes until slightly golden on top. Then allow to cool, don't remove from the tin. (I often just pop it in the fridge till my caramel is ready to go on top).

To make your caramel, put your condensed milk, butter, sugar, golden syrup, and salt into a saucepan. Heat so that the butter melts completely and the sugar dissolves. Keep stirring throughout.

Bring your mixture to the boil and then simmer it for a further 10 minutes (stirring all the time) until the caramel has thickened and become a slightly darker colour.

Pour the caramel carefully and evenly over the shortbread base and place in the fridge for about 2 hours to set.

Once your caramel is set, melt your chocolate (either in the microwave or in a glass bowl over a saucepan of boiling water).

Pour your chocolate over the caramel and carefully spread it so the entire top is covered.

Place back into the fridge until the chocolate has fully set (this takes about an hour and a half usually, be patient!)

Lift the chilled millionaires shortbread out of the tin. Allow it to warm up a little prior to slicing, this reduces the chances of the top cracking, not that it matters! Carefully slice into pieces using a large sharp knife.
Thanks for reading how to make my gluten free Millionaire's shortbread recipe! If you make it, I'd love to see how it turned out so don't forget to take a snap of your creations and tag me on Instagram!
Any questions about the recipe? Feel free to leave a Facebook comment below this post 👇🏻
Thanks for reading,
Becky xxx
Oh and don't forget to pin this for later!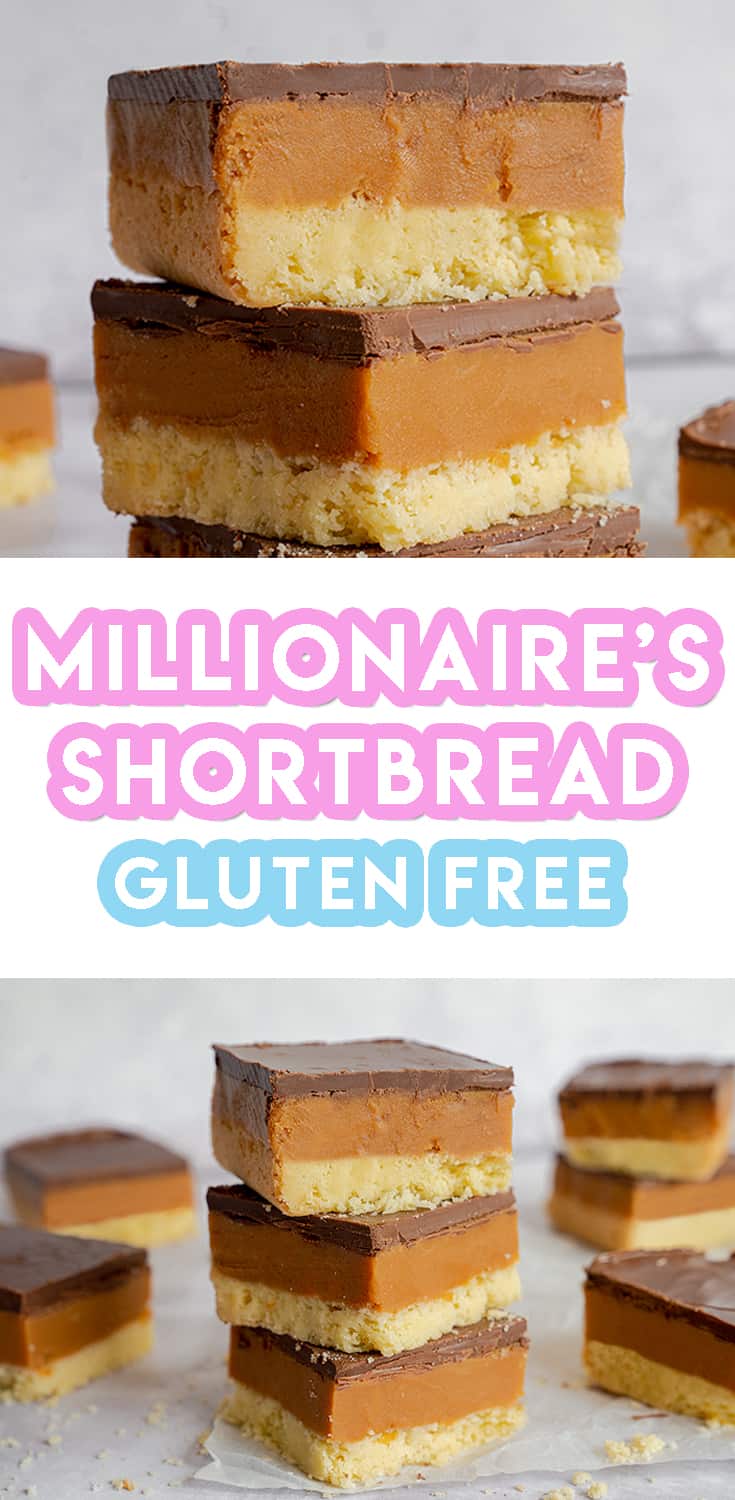 Comments