Gluten-free Jammy Dodgers recipe – just like the classic biscuit you used to remember… but even better! They're Coeliac-friendly and wheat-free as always.
Gluten-free Jammy Dodgers recipe – all they take is 15-20 minutes of effort and 15 minutes in the oven… that's it! Best of all, if you need to make them dairy-free, it's super simple with one swap.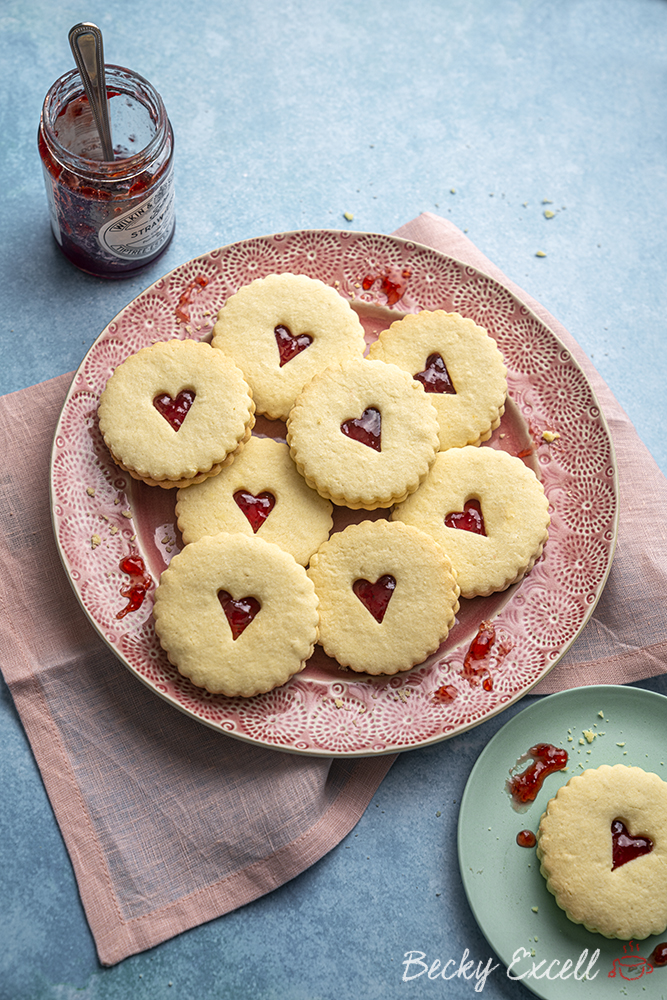 During biscuit week on Bake Off this year, one contestant asked something to the effect of: 'who bakes something that you can buy in the supermarket for 11p?'
And for me the answer was very clear… me!
So often, that's because a gluten-free version of that 'cheap and cheerful' product just doesn't exist. So I make my own! That's exactly the inspiration behind my gluten-free Penguin bar recipe, for example.
But fortunately, there are actually gluten-free alternatives to Jammy Dodgers down most supermarket free from aisle.
But with everyone on the Bake Off having so much fun (and stress!) making their own, I thought I'd make my own version too!
Gluten-free Jammy Dodgers recipe: What you'll need…
Butter: Salted or unsalted is totally fine (I use unsalted), but whichever you go for, make sure it's softened first.
Caster sugar: As a Jammy Dodger biscuit has quite a neutral flavour, caster sugar is perfect for recreating them.
Egg: You'll only need one medium egg for this recipe. If you can't tolerate egg, to the vegan section of the FAQ for some simple swaps you can try.
Gluten-free plain flour:

I use a simple commercial blend from the free from aisle in the supermarket. If you can't find a blend like this where you live, you can always make your own using my gluten-free flour recipe.
Xanthan gum: This helps to bind the biscuit dough together so it isn't too brittle to work with, replacing the gluten that would otherwise do the same job.
Raspberry or Strawberry Jam: Use whichever you'd prefer or go completely off piste and use lemon curd, Nutella or any other spread you fancy.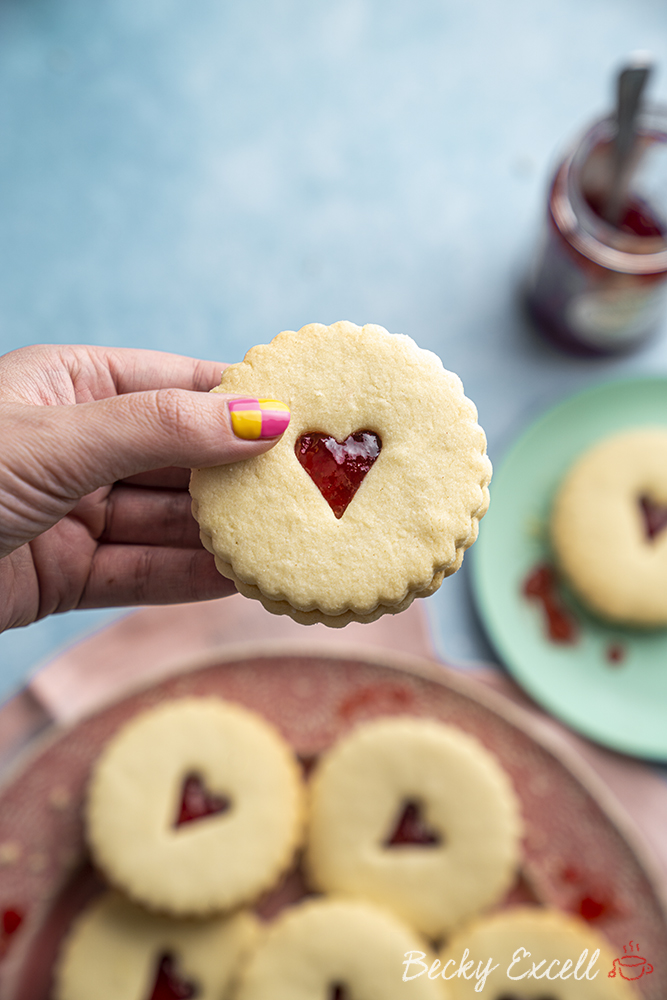 So here's the big question: do they taste like Jammy Dodgers?
The short answer would be yes, but even better! My biscuit tastes so much more like a fresh, homemade biscuit baked with love – which is always an advantage a home baker has.
It's not only buttery and light with a satisfying snap, but it melts in your mouth too – definitely not something I can recall thinking about a humble Jammy Dodger all those years ago!
Then, when you get a little taste of that sweet, sticky jam, it all becomes pretty clear that you've made a great life choice by baking these.
Gluten-free Jammy Dodgers recipe: Frequently Asked Questions
Can I make this recipe gluten-free? Is it suitable for Coeliacs?
It is gluten-free, though nobody would know just by tasting it – trust me!
Bear in mind that minimising cross-contamination is hugely important if you're Coeliac or making this for someone who is. Here's some tips from Coeliac UK on minimising the risk of cross contamination.
Also, make sure that all ingredients used don't have any gluten-containing ingredients. Then make sure that they also don't have a 'may contain' warning for gluten, wheat, rye, barley, oats (which aren't gf), spelt and khorasan wheat (aka Kamut).
Here's some more info from Coeliac UK on identifying safe gluten-free products.
Can I make your gluten-free Jammy Dodgers recipe dairy-free?
Yep and here's the only swap you need to make:
Use Stork hard margarine instead of butter.
That was a really unnecessary use of bullet points wasn't it? Just make sure it's a hard block of margarine, NOT the kind you'd spread on toast.
Can I make your gluten-free no-bake Jammy Dodgers recipe vegan?
If you follow all of the above advice to make it dairy-free, then all you've got left to contend with is one egg.
With that in mind, I'd recommend using the below as a substitute:
1 tablespoon of flax seeds mixed with 2 tablespoons of water and left for 10 minutes in the fridge.
Is this recipe low FODMAP?
Yes! one biscuit is suitable for the elimination phase of the diet.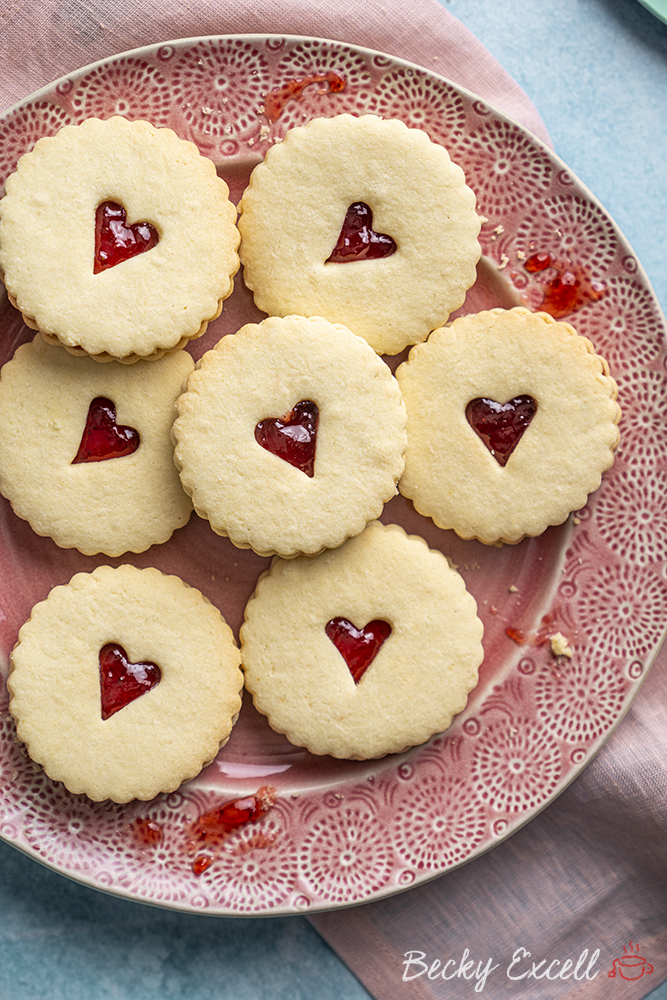 Which biscuit cutters did you use? And what size?
I used a simple 7.5cm fluted biscuit cutter from a set like these.
Then for the middle, I used the smallest heart shape from this set. If you don't have a small heart, then you can always use the wide end of a piping nozzle to cut out circles from the middle instead.
Can I use gluten-free flours like almond flour or coconut flour to make this recipe?
Certainly not using this recipe. This recipe uses gluten-free plain flour which is easily available in supermarkets here in the UK.
If you can't find it where you live, you can always make your own using my gluten-free flour recipe.
The reason you can't use flours like almond or coconut in this recipe is because gluten-free plain flour is a blend of lots of different gluten-free flours and starches.
So to ditch a carefully made blend and try to substitute them all for ONE flour… it's just not going to work!
Do I need weighing scales to make your gluten-free no-bake Jammy Dodgers recipe?
In short… yes, yes and yes! And I wouldn't advise attempting any my recipes without them. One of the worst things you can do in any recipe is alter the quantities by mistake or on purpose.
(unless you know what you're doing of course)
Why? Well, you're sort of just gambling with the recipe and praying that it turns out ok, don't you think? And I've generally already done the hard work there for you, so you don't have to do the guesswork with measurements!
A lot of work went into fine tuning ratios and quantities so I wouldn't mess around with them unless you really know your stuff. I'd recommending using digital cooking scales like these so you know you're getting an accurate measurement and replicating my recipe as accurately as poss.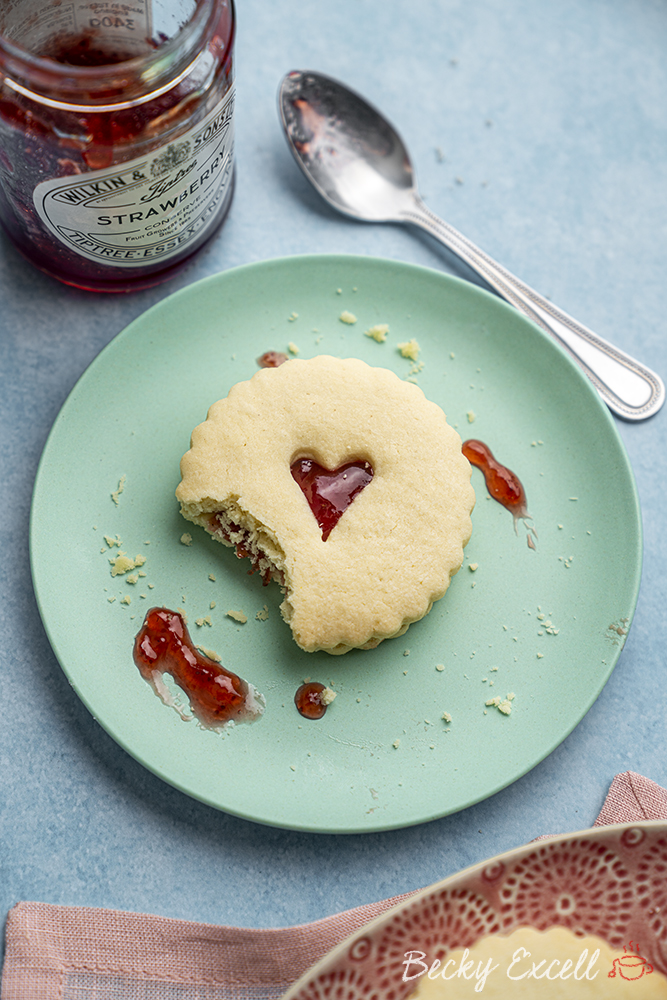 Gluten-free Jammy Dodgers recipe: Tips for perfection!
Don't overmix the biscuit dough – once it forms a nice, smooth dough, stop! You don't want too much air into this dough.
If the dough is too wet to roll out, just generously flour your surface and rolling pin when you roll. This can happen depending on the flour blend you use and just needs a little flour to correct it.
Use a palette knife to lift the cut-out biscuit shapes onto a lined baking tray. The ones with hearts cut out of the middle will be especially delicate, so be careful with them!
Remember: smaller biscuits will bake faster in the oven. I used a 7.5cm biscuit cutter, so the baking time in this recipe is specified with that size in mind. If your cutter is smaller, they'll be done quicker.
When the edges of the biscuits go a little golden, they're done. They're actually quite a pale biscuit and came out a bit more golden in the photos so don't aim for a golden finish all over – it's just the edges!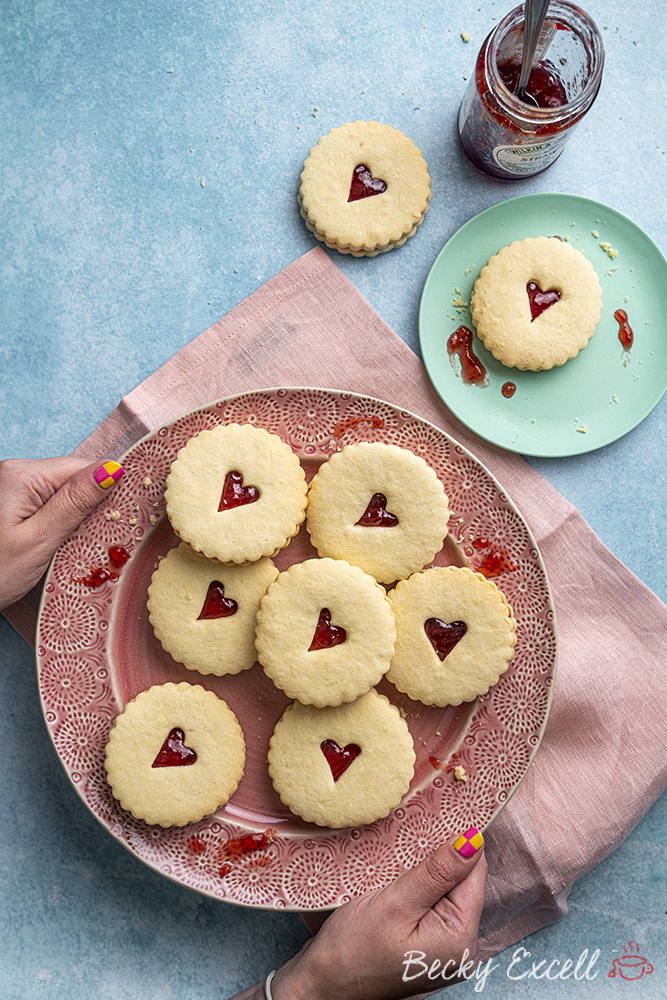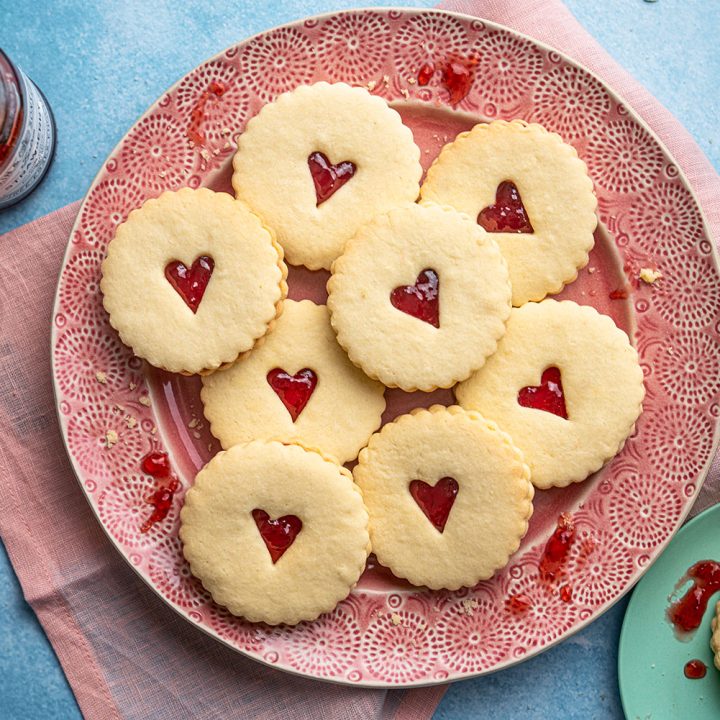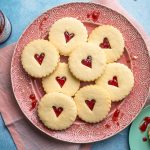 Jammy Dodgers
Gluten-free Jammy Dodgers recipe – SUPER easy to make and you'd never know they were Coeliac-friendly and wheat-free.
Ingredients
200

g

butter

softened

125

g

caster sugar

1

medium egg

beaten

325

g

gluten free plain flour

1/2

tsp

xanthan gum

raspberry or strawberry jam
Instructions
Preheat your oven to 160C and prepare 1-2 baking trays with non stick baking paper.

In a large bowl cream your butter and sugar until light and fluffy.

Add in your beaten egg and mix to combine.

Add in your flour and xanthan gum and mix until it comes together and starts to form a dough. (if for some reason its sticky just add a little more flour)

Flour some non stick baking paper as well as your rolling pin and roll out your dough to just over half a cm thick.

Use either a round or fluted round cutter to cut out shapes – my cutter was 7.5cm in diameter but you can use whatever size cutters you like. On half of them, use a small heart cutter to cut a shape out (if you don't have one you could cut a small circle out instead).

They can be a little delicate so use a palette knife to lift your dough onto your prepared baking sheets. Re-roll the rest of the dough so you can cut out more shapes.

Bake for about 12-15 minutes until slightly golden at the edges – bear in mind that smaller biscuit shapes will bake quicker. Allow the biscuits to cool briefly on the trays and then transfer to finish cooling on a cooling wrack.

Once cooled spread a little jam on the biscuits without a heart cut out. Ensure the jam is mainly in the centre so it pokes through the hole when you sandwich them together!

Sandwich the biscuits together and enjoy!
Notes
Sometimes I like to spread a layer of buttercream on first, then spreading the jam on top of that to make jam sandwich biscuits.
These are a fairly soft buttery biscuit but you could use my Christmas biscuit recipe if you prefer something a little less buttery and with more of a snap!
Nutrition
Serving:
1
g
|
Calories:
358
kcal
|
Carbohydrates:
43
g
|
Protein:
5
g
|
Fat:
19
g
|
Saturated Fat:
12
g
|
Polyunsaturated Fat:
6
g
|
Trans Fat:
1
g
|
Cholesterol:
66
mg
|
Sodium:
151
mg
|
Fiber:
1
g
|
Sugar:
15
g
Thanks for reading all about my gluten-free Jammy Dodgers recipe! If you make it, I'd love to see how it turned out so don't forget to take a snap of your creations and tag me on Instagram!
Any questions about the recipe? Please do let me know by following me on Instagram and leaving me a comment on a recent photo!
Thanks for reading,
Becky xxx
Don't forget to pin this for later!