Gluten-free no-bake chocolate tart recipe? Made using 5 simple ingredients? No flour required? Yes, it's possible! Best of all, nobody would know it's Coeliac-friendly and wheat-free…
Gluten-free no-bake chocolate tart recipe – it only takes 30 minutes of actual effort and 4 hours of chilling in the fridge. Before you ask – yes, you can chill during that time too!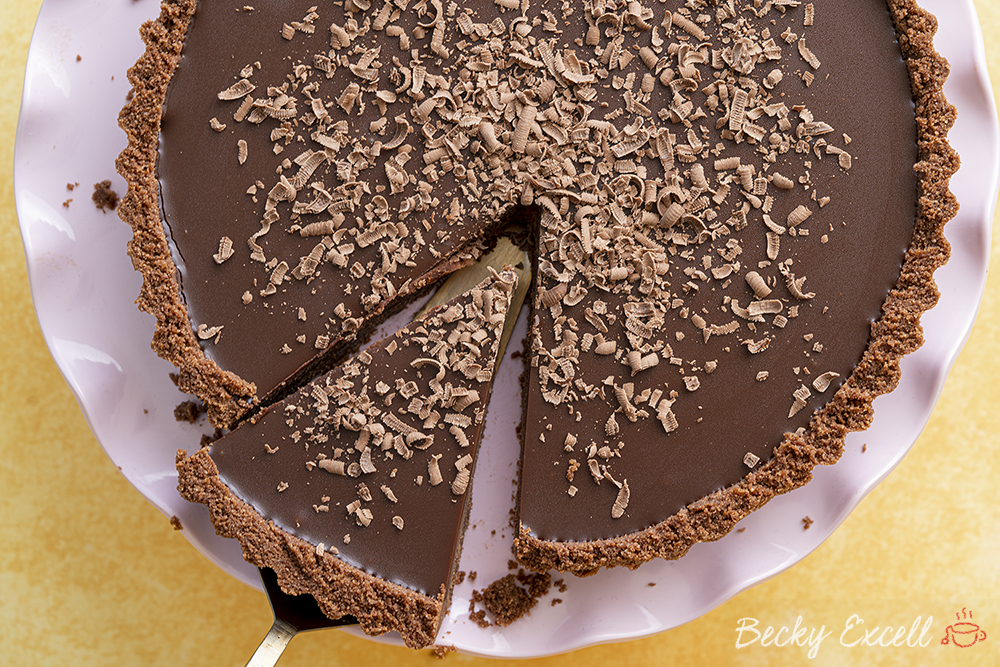 When I first posted this recipe on Instagram and on TikTok, I never knew it would go down so well.
I think it's got over 300,000 views on total on both platforms, which is absolutely crazy!
But I mean… should I really be surprised? Who doesn't love a chocolate tart in all its glorious simplicity?
And best of all, there's no pastry making or baking required – it's actually a chocolate biscuit base!
Gluten-free no-bake chocolate tart recipe: What you'll need…
Butter: You'll need a little butter for binding the base and putting in the chocolate filling. As it'll be melted in both situations, you can use either cold (straight from the fridge) or room temperature (softened) butter.
Gluten-free digestive biscuits: You can find these down the free from aisle in nearly all supermarkets, but here's a link so you know what you're looking for.
Cocoa Powder: This makes the base chocolatey for that ultimate double-chocolate finish – of course, you can always leave it out for a golden, buttery biscuit base.
Double Cream:

Believe it or not, the combo of double cream, chocolate and a little butter is all you need to make a rich, creamy, indulgent chocolate ganache. And yes, that's everything you'll need for the filling!
Chocolate: Use either milk or dark chocolate or a 50/50 combination of both. I like to reserve some to grate a little on top.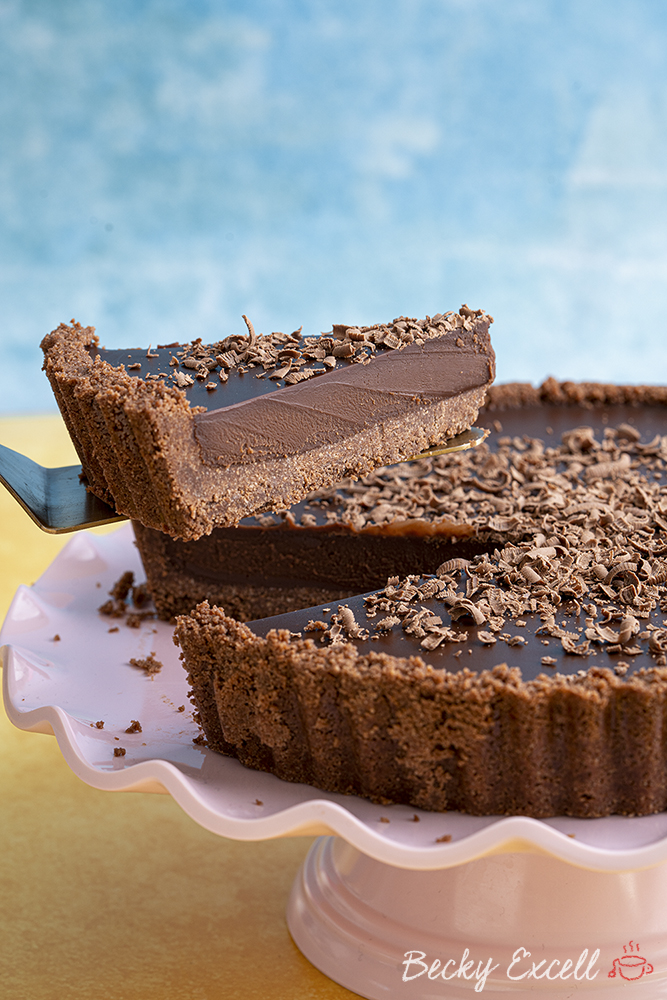 The tart filling is a simple and quick ganache that's delightfully creamy, soft and devilishly chocolatey.
And the combination of the crumbly crunch you get from the buttery, chocolate base is… well, it's a match that could only be made in chocoholic heaven!
When gluten-free desserts like this can be so simple and easy, how come gluten-free dessert menus can still be so lacking in 2021?
Funnily enough, when I can make a gluten-free no bake chocolate tart so easily at home… I find that a lot easier to cope with!
Gluten-free no-bake chocolate tart recipe: Frequently Asked Questions
Can I make this recipe gluten-free? Is it suitable for Coeliacs?
It is gluten-free, though nobody would know just by tasting it – trust me!
Bear in mind that minimising cross-contamination is hugely important if you're Coeliac or making this for someone who is. Here's some tips from Coeliac UK on minimising the risk of cross contamination.
Also, make sure that all ingredients used don't have any gluten-containing ingredients. Then make sure that they also don't have a 'may contain' warning for gluten, wheat, rye, barley, oats (which aren't gf), spelt and khorasan wheat (aka Kamut).
Here's some more info from Coeliac UK on identifying safe gluten-free products.
Can I make you gluten-free no-bake chocolate tart recipe dairy-free?
I haven't tested making this dairy-free, but if you get the right products, you shouldn't have any problem! Here's what I'd do:
Use Stork hard margarine instead of butter.
Ensure your gf digestive biscuits and cocoa powder are both dairy-free.
Use a dairy-free alternative to double cream (minimum 30% fat per 100g)
Use dairy-free chocolate or any dark chocolate that happens to be dairy-free.
If you test this before I do, feel free to let me know how it goes in the comments below this post.
Can I make you gluten-free no-bake chocolate tart recipe vegan?
If you follow all of the above advice to make it dairy-free, that would also make it vegan too. Just ensure all alternatives used are vegan-friendly.
Is this recipe low FODMAP?
No, but it can be! Firstly, ensure your gluten-free digestive biscuits are FODMAP-friendly.
Secondly, use lactose-free cream like this instead of double cream (must be 30g of fat per 100g or more). Then just use lactose-free chocolate or dark chocolate which contains no dairy.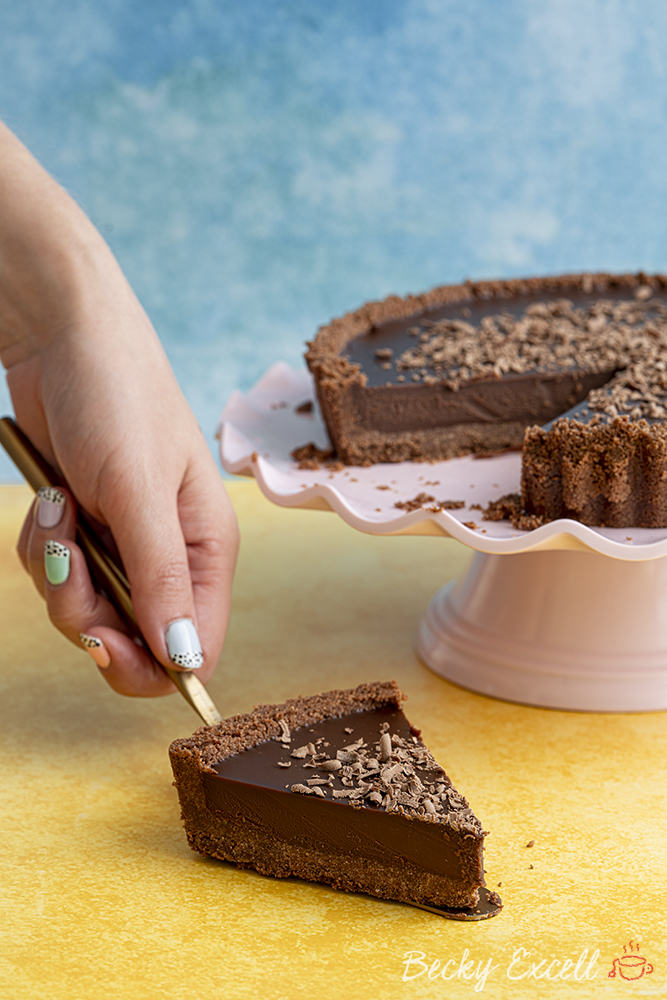 What gluten-free biscuits should I use for the base?
In the photos I used some gluten-free digestive biscuits from Tesco's free from aisle. However, you can actually use whatever biscuits you fancy! Gluten-free Hob Nobs would work well here too.
Loads of supermarkets like Asda, Sainsburys and Tesco do their own gf biscuits too, so happily give them a go as well.
Can I make your gluten-free no-bake chocolate tart recipe using a food processor or electric whisk?
You actually don't need a stand mixer or electric mixer for this recipe at all. But what would really help is a food processor!
I used my food processor to blitz the biscuits into a fine consistency so that it will be nice and easy to shape into my tart tin.
Do I need any special equipment to make this?
You won't need anything in particular apart from a good 23cm (9 inch) pastry tin with a loose bottom like this one.
I wouldn't really recommend trying this in a tin without a loose bottom, otherwise it will be next to impossible to remove from the tin when you want to serve it up.
Using a tin smaller than mine will mean that each slice will be thicker and take longer to set, so bear that in mind!
Do I need weighing scales to make your gluten-free no-bake chocolate tart recipe?
In short… yes, yes and yes! And I wouldn't advise attempting any my recipes without them. One of the worst things you can do in any recipe is alter the quantities by mistake or on purpose.
(unless you know what you're doing of course)
Why? Well, you're sort of just gambling with the recipe and praying that it turns out ok, don't you think? And I've generally already done the hard work there for you, so you don't have to do the guesswork with measurements!
A lot of work went into fine tuning ratios and quantities so I wouldn't mess around with them unless you really know your stuff. I'd recommending using digital cooking scales like these so you know you're getting an accurate measurement and replicating my recipe as accurately as poss.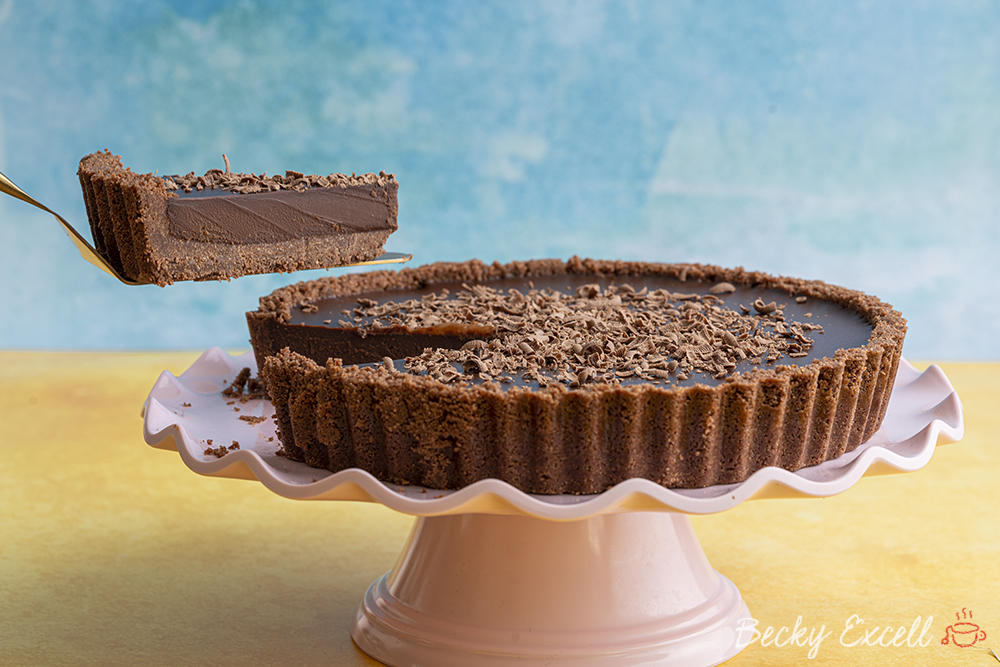 Gluten-free no-bake chocolate tart recipe: Tips for perfection!
Use the bottom of a (clean) jar or ramekin to compact the biscuit base in. Whilst using the back of a spoon or using your hands is fine, either of these will make it so much easier to get the job done.
Make sure your fluted tart tin is loose-bottomed. If it isn't you won't have a hope of getting this thing out in one piece!
Ensure the sides of the biscuit tart case aren't too thin – especially at the top. It can be a little trickier to get the sides all a consistent thickness. But using a jar or ramekin can make this part especially, much easier.
Allow the filling adequate time to set. As this is a no-bake tart recipe, chilling time is equally as important as baking time if you were baking a cake. This allows it the much needed time it needs to set.
Chop up/break up all your chocolate before adding to the hot cream. It'll melt quicker!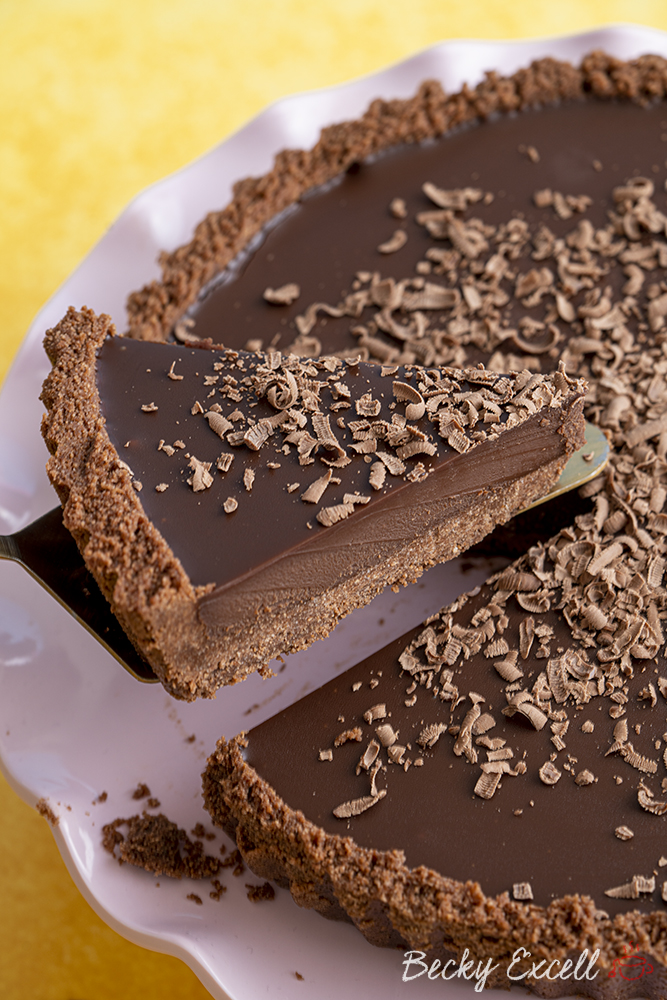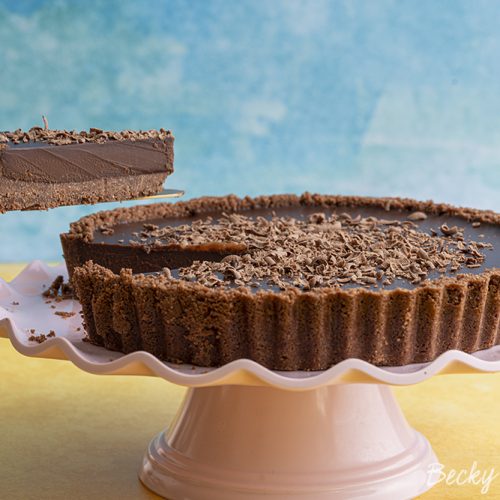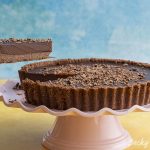 No Bake Chocolate Tart
Gluten-free no-bake chocolate tart recipe – you only need 5 ingredients to make it and nobody would know it's Coeliac-friendly and wheat-free. See the FAQ section above for advice on making this recipe dairy-free, vegan or low FODMAP.
Ingredients
For the base:
350

g

gluten free digestive biscuits

graham crackers

2

tbsp

cocoa powder

150

g

butter

melted
For the filling:
300

ml

double cream

300

g

chocolate

I use half dark and half milk

55

g

butter
Instructions
Crush your biscuits into fine crumbs and then mix in cocoa powder so thoroughly combined. I often do this in a food processor or I use a rolling pin to crush the biscuits and then stir in the cocoa powder.

Pour your melted butter into your crushed biscuits and mix together in a bowl.

Press your mixture into a 23cm loose bottom fluted tart tin. Chill in the fridge for at least 30 mins.

For the filling heat your cream in a saucepan until just boiling. Remove from the heat and add in your chocolate and butter. Stir continuously until it's all melted, combined and creamy.

Pour your filling into your tart shell and place back in the fridge until set. I often make mine the night before, but it will be set in a few hours.

Grate some chocolate on top to serve and enjoy!
Nutrition
Serving:
1
g
|
Calories:
489
kcal
|
Carbohydrates:
36
g
|
Protein:
5
g
|
Fat:
37
g
|
Saturated Fat:
22
g
|
Polyunsaturated Fat:
12
g
|
Trans Fat:
1
g
|
Cholesterol:
74
mg
|
Sodium:
215
mg
|
Fiber:
2
g
|
Sugar:
25
g
Thanks for reading all about my gluten-free no-bake chocolate tart recipe! If you make it, I'd love to see how it turned out so don't forget to take a snap of your creations and tag me on Instagram!
Any questions about the recipe? Please do let me know by following me on Instagram and leaving me a comment on a recent photo!
Thanks for reading,
Becky xxx
Don't forget to pin this for later!