Gluten-free Oreo ice cream recipe – it's no-churn so there's no ice cream maker required AND you only need 4 ingredients! Better still, nobody would ever know it's Coeliac-friendly and wheat-free.
Gluten-free Oreo ice cream recipe? Yes, it's definitely possible and no – proper Oreos aren't gluten-free! But fortunately, there's a free from version that tastes almost identical.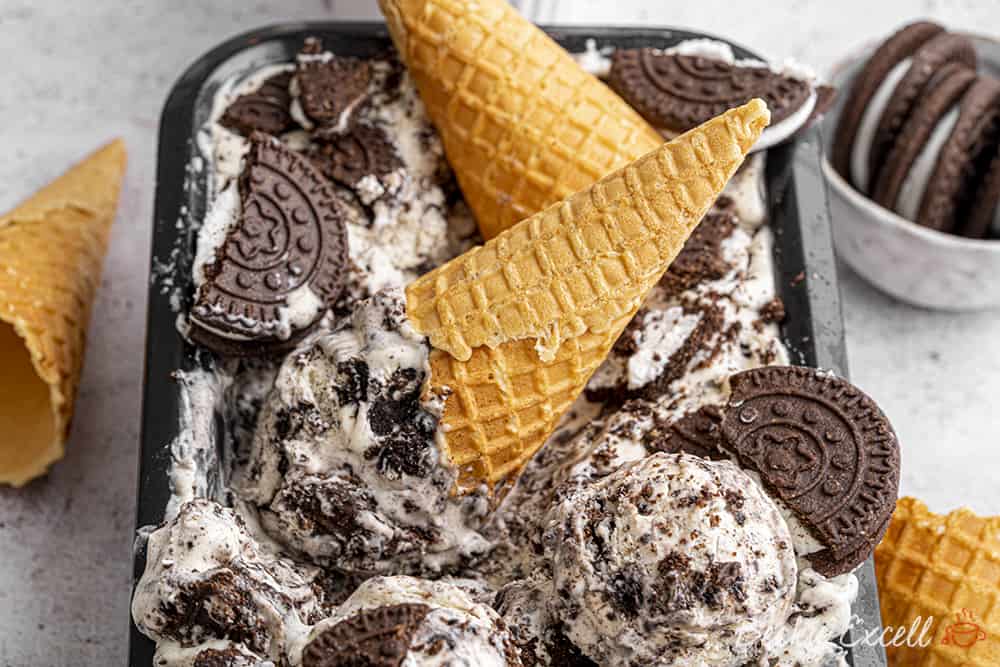 You might have heard a lot of hype about gluten-free Oreos floating about recently… but sadly, that's for the folks in America to enjoy, not us!
But fortunately, there's been an easy alternative available in free from aisles for a couple of years now: free from cookies and cream biscuits.
You'll find links to these in the FAQ section just so you can be sure you're hunting for the right thing – otherwise, you'll simply find them in almost all supermarket free from aisles.
Not surprisingly, this recipe was inspired by a simple tub of Oreo ice cream in the supermarket, something which isn't gluten-free whatsoever. So I did what I always do: I made my own instead!
Gluten-free Oreo ice cream recipe: What you'll need…
Double cream – This is the first key ingredient in creating homemade ice cream without using an ice cream maker. Its fat content allows it to whip up and retain air, making your ice cream creamy and light – so please don't try using single cream instead!
Condensed milk – Bringing in sweetness and a delicious, creamy flavour, this it the perfect pairing with double cream to create a no-churn ice cream base.
Vanilla extract – Of course, we're making vanilla ice cream, so a little of this is vital!
Gluten-free Oreos – You'll find these in supermarket free from aisles, usually labelled as 'Cookies and Cream Biscuits'.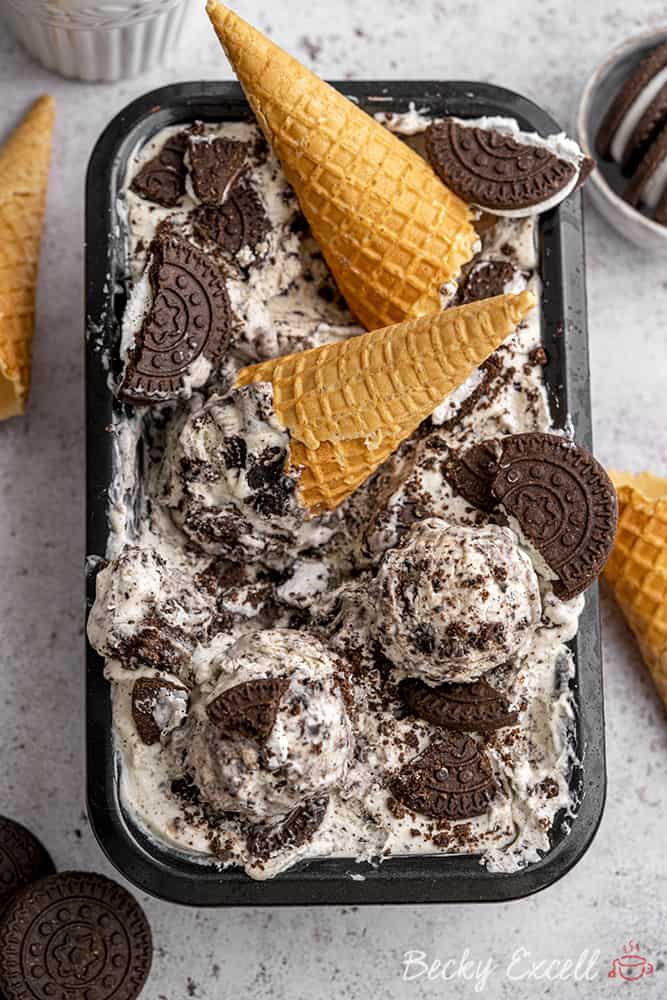 So what does my gluten-free Oreo ice cream taste like? The base is a deliciously light and creamy vanilla ice cream that has a wonderful, scoop-able texture.
Then the crushed Oreos colour and flavour the ice cream base with that trademark Oreo speckle and chocolate cookie flavour, with a chunky, crunchy texture in every bite.
This is most definitely not the kind of recipe us gluten-free folks get to enjoy ever, so make every scoop count!
How do I serve my gluten-free Oreo ice cream?
It's totally up to you, but here's a few ideas:
Simply scoop and enjoy with a little chocolate dessert sauce on top.
On a warm day, add a couple of scoops of ice cream in a gluten-free waffle cone. You can easily find these in the free from aisle in Tesco.
Serve on top of a warm gluten-free brownie or alongside your favourite desserts.
Create the ultimate gluten-free ice cream sandwich by sandwiching a flat layer of gluten-free Oreo ice cream between two chocolate cookies.
Gluten-free Oreo ice cream recipe: Frequently Asked Questions
Can I make this recipe gluten-free? Is it suitable for Coeliacs?
It is gluten-free, though nobody would know just by tasting it – trust me!
Bear in mind that minimising cross-contamination is hugely important if you're Coeliac or making this for someone who is. Here's some tips from Coeliac UK on minimising the risk of cross contamination.
Also, make sure that all ingredients used don't have any gluten-containing ingredients. Then make sure that they also don't have a 'may contain' warning for gluten, wheat, rye, barley, oats (which aren't gf), spelt and khorasan wheat (aka Kamut).
Here's some more info from Coeliac UK on identifying safe gluten-free products.
Can I make you gluten-free Oreo ice cream recipe dairy-free?
Unfortunately this would involve so many swaps that you'd end up making a different recipe entirely!
My first bet would be to try using a dairy-free alternative to double cream (fat content must be around 40% or it won't whip) and a vegan condensed milk.
I haven't had time to try this personally, but you're welcome to try it before I do! Fortunately, most gluten-free Oreo-style biscuits tend to be dairy-free too, though ensure you check the packaging first.
Can I make you gluten-free Oreo ice cream recipe vegan?
See the dairy-free advice above and if attempting, ensure your gluten-free cookies and scream biscuits are vegan too – most are!
Is this recipe low FODMAP?
Unfortunately not as this recipe contains products with a high level of lactose, so it is not suitable for the elimination phase of the low FODMAP diet.
Though lactose-free whipping cream works well in place of double cream, I'm yet to find a lactose-free condensed milk alternative that's also low FODMAP too.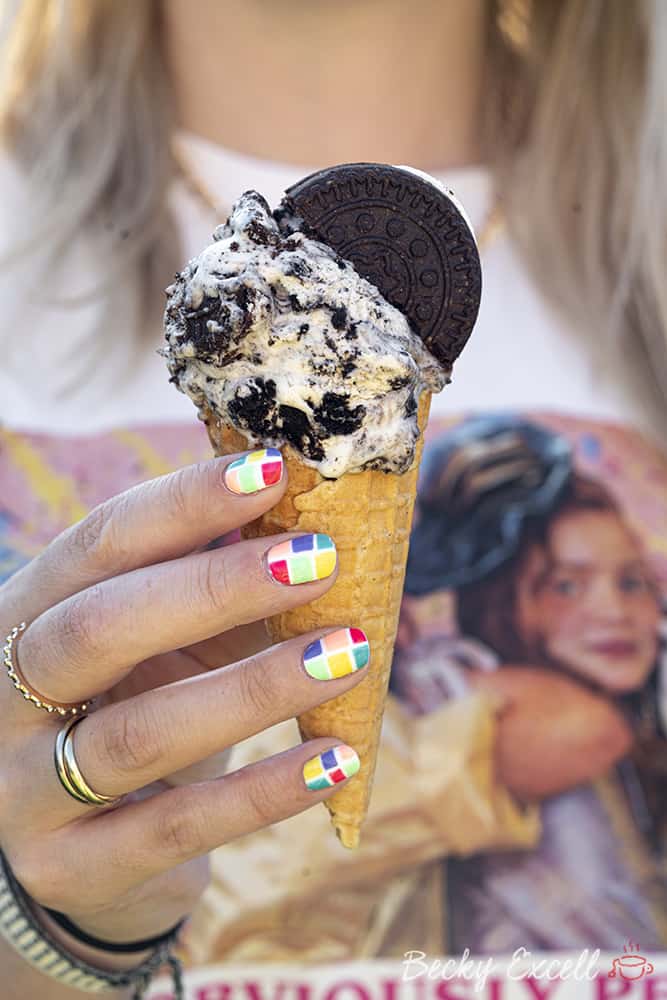 Where can I buy gluten-free Oreo-style biscuits?
In almost every supermarket free from aisle! They always seem to be readily available here in the UK, so here's as many as I can think of off the top of my head:
Can I make your gluten-free Oreo ice cream recipe by hand?
I wouldn't recommend it as a lot of the magic in making no-churn ice cream comes from lots of mixing and whipping to get as much air into the mixture as possible.
Not only would it take you ages, but you'd need to give a stellar whipping performance to match a stand mixer or electric whisk! You're welcome to try, but let me know how it turns out either way.
Do I need weighing scales to make your gluten-free Oreo ice cream recipe?
In short… yes, yes and yes! And I wouldn't advise attempting any my recipes without them. One of the worst things you can do in any recipe is alter the quantities by mistake or on purpose.
(unless you know what you're doing of course)
Why? Well, you're sort of just gambling with the recipe and praying that it turns out ok, don't you think? And I've generally already done the hard work there for you, so you don't have to do the guesswork with measurements!
A lot of work went into fine tuning ratios and quantities so I wouldn't mess around with them unless you really know your stuff. I'd recommending using digital cooking scales like these so you know you're getting an accurate measurement and replicating my recipe as accurately as poss.
Gluten-free Oreo ice cream recipe: Tips for perfect ice cream everytime
Don't over-mix it. Once it's thick and fluffy, stop!
An under-mixed mixture will still be runny and won't set well in the freezer. Ensure it's thickened and whippy before freezing.
Use a stand mixer if you have one. It'll make making this an absolute breeze!
If a little firm straight out of the freezer, simply leave out at room temperature to soften before serving.
Using a food processor makes crushing the biscuits a breeze. Just don't blitz them into a fine dust or you'll lose that chunky, crunchy texture in the ice cream.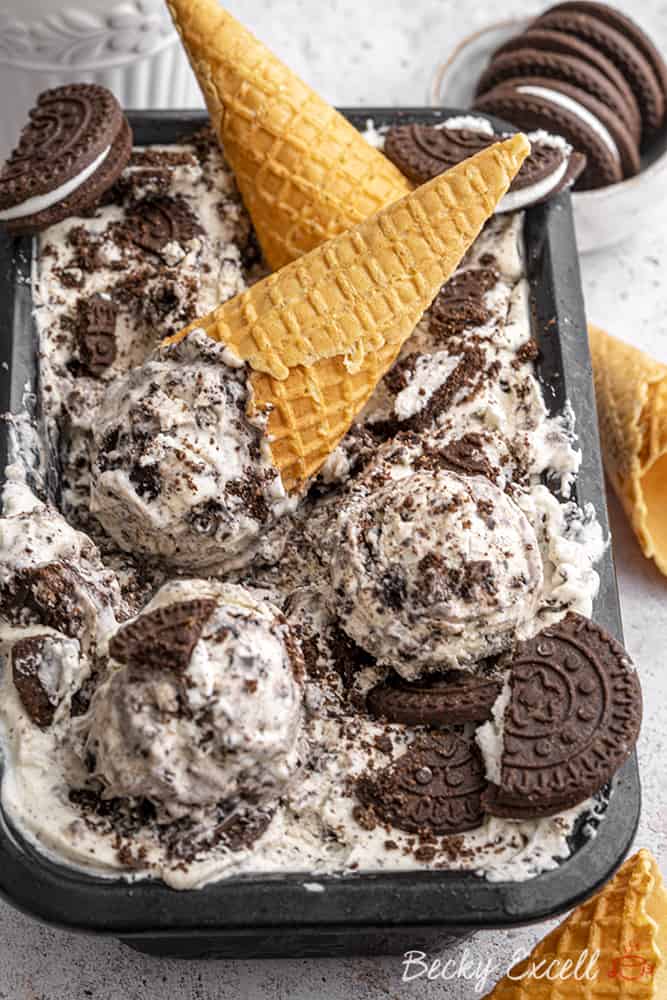 Gluten-free Oreo Ice Cream Recipe (No Churn)
Gluten-free Oreo ice cream recipe – no ice cream maker required (no-churn) and you only need 4-ingredients.
Equipment
The loaf tin I use for this recipe
Ingredients
600

ml

double cream

397

ml

condensed milk

1 tin

2

tsp

vanilla extract

160

g

gluten-free Oreos

see FAQ section for the ones I use, plus extra for placing on top
Instructions
Place your double cream, condensed milk and vanilla extract into large bowl.

Using an electric mixer (I use my stand mixer but you could use an electric hand mixer) mix the ingredients together until all combined on a low speed.

Increase the speed of your mixer and continue to mix until it thickens quite a bit and is a little more stiff.

Crush your gluten free Oreos – either with a rolling pin or in a food processor. I do like to keep some of the bits a little chunky so don't blitz completely to dust!

Fold the gluten free Oreo crumbs into your ice cream.

Pour / spoon your ice cream into a 2lb loaf tin, smooth the top over and finish with some broken up gluten free Oreos on top.

Cover your tin with a lid or cling film and place in the freezer for a few hours until set frozen. My freezer took 3 hours so that as a minimum but you can of course leave it for days too!

When its frozen, remove from the freezer 5-10 mins before you want to eat it as it might be quite frozen! Make sure you check though as it could be the perfect texture and it might not need to.

Serve up in a gluten free cone or in a bowl. Optionally drizzle with chocolate sauce and add an extra gluten free Oreo on top for good measure! (Once frozen for more than 24 hours, you may need to remove it from the freezer 10 minutes before serving, giving it time to soften up a little.)

Enjoy!
Thanks for reading all about my gluten-free Oreo ice cream recipe! If you make it, I'd love to see how it turned out so don't forget to take a snap of your creations and tag me on Instagram!
Any questions about the recipe? Please do let me know by following me on Instagram and leaving me a comment on a recent photo!
Thanks for reading,
Becky xxx
Don't forget to pin this for later!