Gluten-free Oreo cupcakes recipe – yes, it can be done! The free from aisle has some great Oreo alternatives and best of all, nobody would know they're gluten-free!
Gluten-free Oreo cupcakes recipe, anyone? First of all, let me get this out of the way: Oreos are NOT ordinarily gluten-free here in the UK! But I'll be recommending a sneaky swap you can make which even muggles wouldn't notice…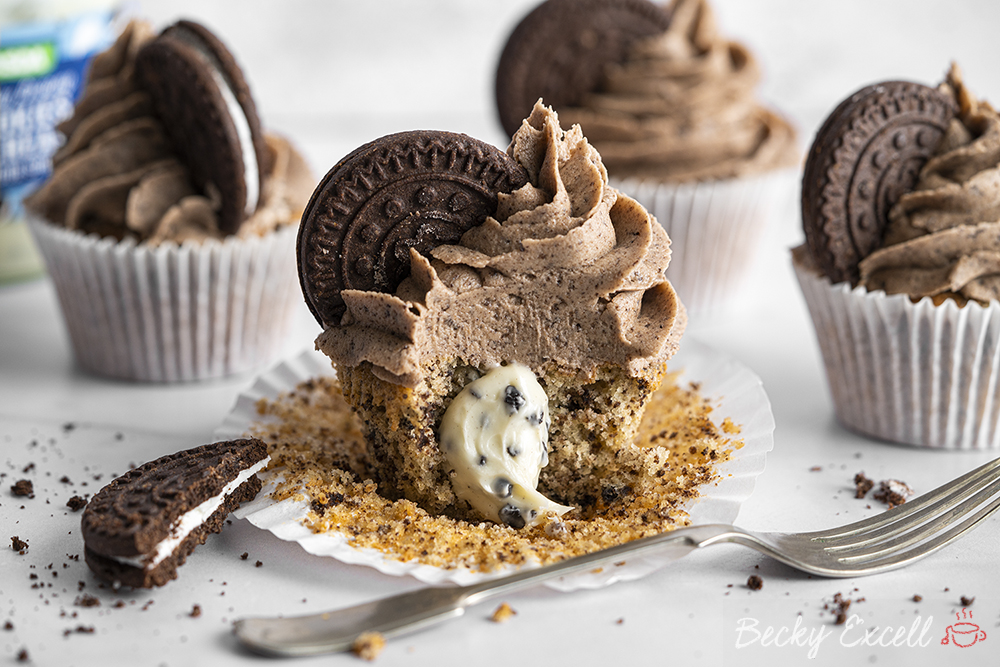 Whilst everyone seems to be getting super hyped over gluten-free Oreos that are now available in the US, I've always been happy enough with the supermarket own-brand gluten-free versions!
You'll easily find these in supermarkets here in the UK down the free from aisle – usually called 'cookies and cream' biscuits or something similar. You'll know you've got the right ones as well… the picture on the front looks like Oreos.
(I believe they refer to that key information as 'rocket science' if I'm not mistaken 😂)
And the fact that those exist makes this recipe not only possible, but incredibly easy and convenient to make. Looks like that's another free from aisle victory for us!
Gluten-free Oreo cupcakes recipe: What you'll need…
Butter – Butter is king in cakes and buttercream, but make sure yours is softened before you mix up the cake batter. Leaving it out of the fridge for a couple of hours should do it.
Caster sugar – Of course, sugar isn't just for sweetness – it helps to achieve a lovely crisp exterior and helps the cake to form a perfect crumb.
Large eggs – I used large eggs for this recipe, though medium eggs should be fine too.
Gluten-free self-raising flour – I used Doves Farm's FREEE flour, which you easily find down the free from aisle in supermarkets. If you can't find a blend like this where you live, you can always make your own using my gluten-free flour recipe.
Gluten-free baking powder – Though there's a little of this in gluten-free self-raising flour, a little more goes a long way to ensure a nice, perfect rise.
Vanilla extract – The better quality yours is, the better your buttercream will taste!
Xanthan gum – This helps to bind the cake crumb together so it doesn't become crumbly, replacing the gluten that would otherwise do the same job.
Icing sugar – You'll need this for the buttercream as caster sugar won't cut it whenever it comes to creating icing.
Cookies and cream spread – This is an 'accidentally' gluten-free find that I use to fill the middle of each cupcake. See the FAQ section below on where to find it, though filling your cupcakes is optional.
Gluten-free Oreo-style biscuits – I buy these in the free from aisle and you can find them in any supermarket here in the UK. See the FAQ section for links so you know what you're looking for!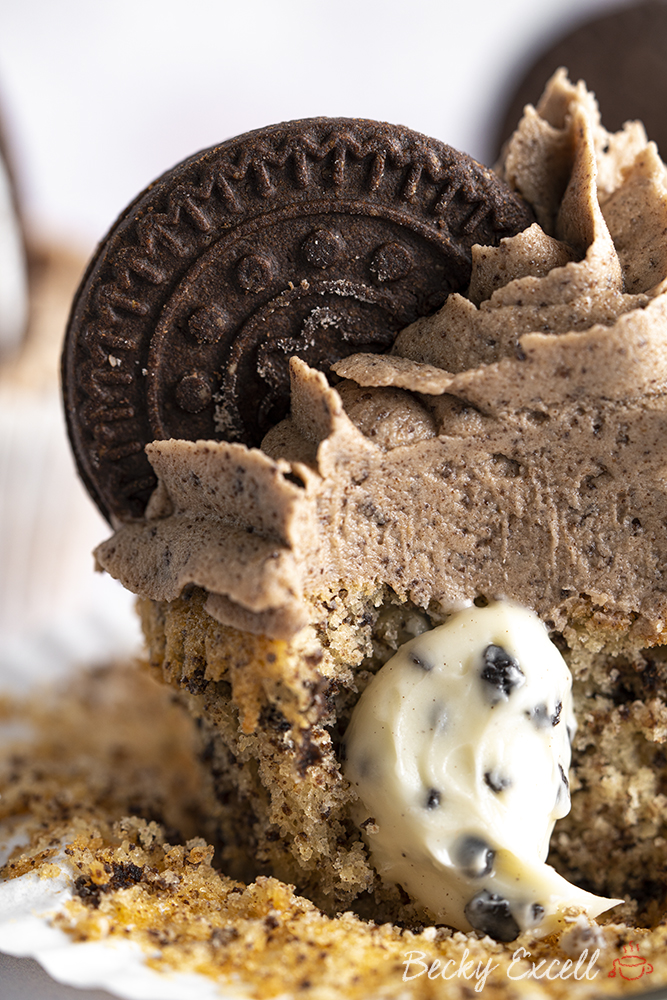 So what do my gluten-free Oreo cupcakes taste like?
Each cupcake is beautifully super soft, light and moist with a distinct Oreo flavour thanks to the crushed biscuits running through it. The cookies and cream spread adds an extra level of cookies and cream-like flavour, with a sweet and crunchy finish.
Then they're topped with fluffy, sweet vanilla buttercream that's cut with even more crushed Oreos, giving it a lovely chocolate-y colour. Yes, that's right, every element of these cupcakes Oreo-flavoured!
Gluten-free Oreo cupcakes recipe: Frequently asked questions
Can I make this recipe gluten-free? Is it suitable for Coeliacs?
It is gluten free, though nobody would know just by tasting it – trust me!
Bear in mind that minimising cross-contamination is hugely important if you're Coeliac or making this for someone who is. Here's some tips from Coeliac UK on minimising the risk of cross contamination.
Also, make sure that all ingredients used don't have any gluten-containing ingredients. Then sure that they also don't have a 'may contain' warning for gluten, wheat, rye, barley, oats (which aren't gf), spelt and khorasan wheat (aka Kamut).
Here's some more info from Coeliac UK on identifying safe gluten free products.
Can I make your Gluten-free Oreo cupcakes recipe dairy free?
Yes! Here's the simple swaps you need to make:
Can I make your Gluten-free Oreo cupcakes recipe vegan?
Yep! If you follow the instructions above to make this recipe dairy free, then all you've got left to contend with is the eggs. Fortunately, most gluten-free Oreo-style biscuits tend to be egg-free and vegan too, though ensure you check the packaging first.
Here's a few ideas you can use as egg replacements in the cupcakes, so each of these = 1 egg.
3 tablespoons of aquafaba – water from a can of chickpeas. Make sure you whisk it up until frothy before adding.
Egg replacement powder – I'd recommend using Orgran as it's gluten free.
1 tablespoon of chia/flax seeds mixed with 2 tablespoons of water and left for 10 minutes in the fridge.
3 tablespoons of applesauce.
I haven't tested all of these egg alternatives so let me know how you get on in the comments below.
Is this recipe low FODMAP?
Unfortunately, because gluten-free Oreo-style biscuits tend to contain high FODMAP ingredients in unknown quantities (soya flour for example), I cannot be 100% sure that this recipe is suitable for the elimination phase of the diet.
However, once you've successfully reintroduced any potentially high FODMAP ingredients in the biscuits (and the cookies and scream spread), you'll likely be able to come back and enjoy these no problem.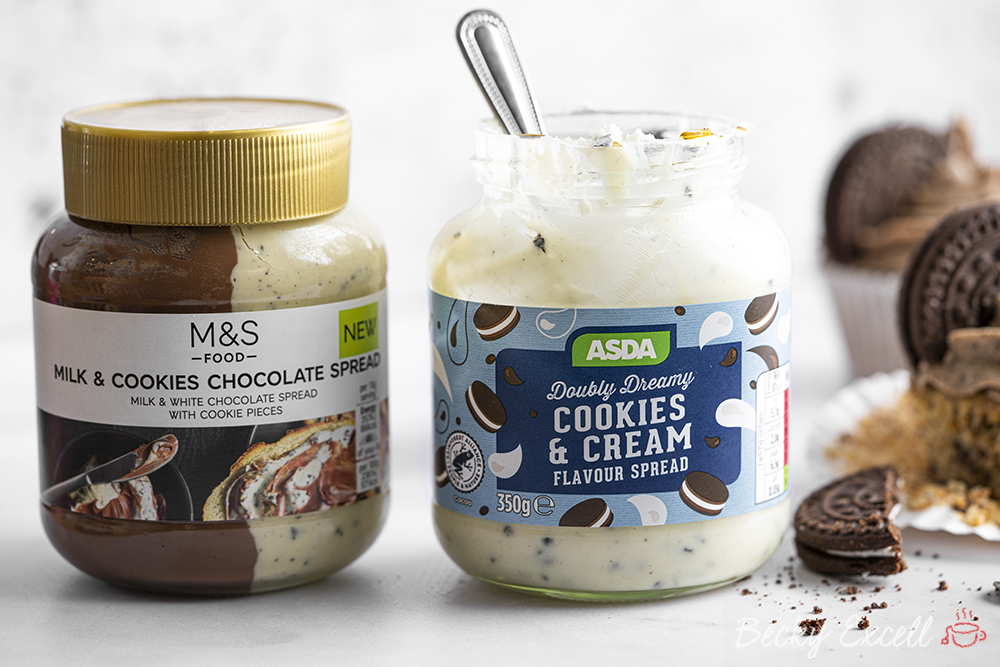 Where can I buy gluten-free Oreo-style biscuits?
In almost every supermarket free from aisle! They always seem to be readily available here in the UK, so here's as many as I can think of off the top of my head:
Where can I buy gluten-free cookies and cream spread?
The one I used is from Asda which, at the time of writing, has no gluten-containing ingredients and no 'may contain' warnings for gluten, wheat etc. The biscuit pieces in it are made from mainly cornflour and potato starch!
There's also a milk and cookies chocolate spread from M&S which would work perfectly too. You can see both of these spreads pictured above for reference.
Alternatively, you can also use Nutella, chocolate spread or simply skip coring the cupcakes and filling them entirely.
Can I make your Gluten-free Oreo cupcakes in a food processor or standing mixer?
Of course you can, but you definitely don't need to. I use both a stand mixer and an electric whisk for this recipe. Here's a link to the electric whisk I use.
A stand mixer makes making buttercream a breeze and an electric whisk speeds up mixing the cake batter. You can of course, use either for both tasks too, just make sure you clean your stand mixer bowl in between of course.
Can I make this recipe completely by hand?
Of course! Just a good ol' fashioned wooden spoon or spatula will do. Just make sure you give it a lot of welly, otherwise your mixture won't be consistent!
Making the buttercream can take a little longer by hand, but it's definitely do-able.
Do I need any special equipment to bake your Gluten-free Oreo cupcakes?
Certainly not! You will need a good quality muffin tray, so here's a link to the one I use.
Of course, you will need a piping nozzle and piping bags if you want to finish them like I have in the photos. I use the 1M star nozzle in this set to pipe cupcakes and piping bags like these.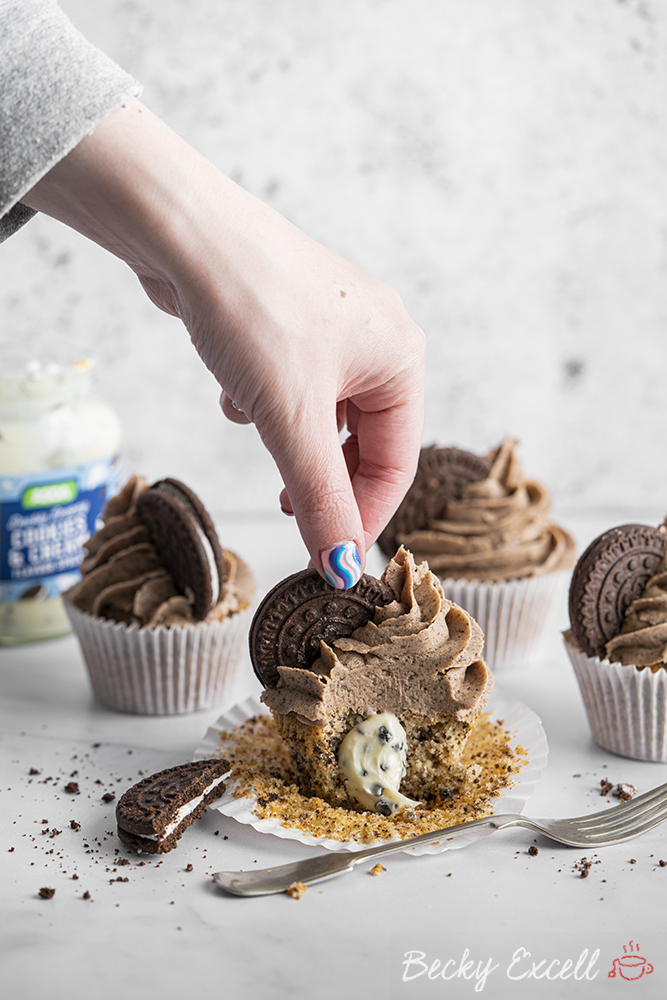 Do I need weighing scales to bake your Gluten-free Oreo cupcakes?
In short… yes, yes and yes! And I wouldn't advise attempting any of my recipes without them.
A lot of work went into fine tuning ratios and quantities and for me, baking is all about consistency and precision. I want you to make this recipe and for it to turn out EXACTLY like mine did.
I'd recommending using digital cooking scales like these so you know you're getting an accurate measurement and replicating my recipe as accurately as poss.
Can I bake your Gluten-free Oreo cupcakes with less sugar?
I can definitely understand the need to reduce sugar in our foods, but this is one of the recipes where I wouldn't advise removing it from the cake batter itself.
Of course, the sugar isn't just for sweetness. It's integral to the structure of the cake once baked and is sooo important.
However, if you want to reduce the overall sugar, you can always omit the Nutella filling, or reduce the amount of buttercream on each cupcake.
Can I make this recipe without xanthan gum?
In some of my recipes, yes, but I wouldn't recommend leaving xanthan gum out of this one. You'll see xanthan gum in a lot of my recipes as it's an essential ingredient in gluten-free baking.
Without gluten to bind the cake batter together, you can be left with a very loose and crumbly sponge texture which won't work for this recipe.
Some people have asked if they can use psyllium husk powder instead of xanthan gum, but I've found that it definitely results in a denser sponge so I wouldn't overly recommend it.
If you're really against xanthan gum or you simply don't have any, you can omit it if pushed. There's a little in gluten-free self-raising flour anyway, so they should still turn out fine.

Gluten-free Oreo cupcakes recipe: Tips for the perfect cupcakes
Ensure your gluten-free Oreo-style biscuits are a little more crushed for the buttercream. If they're too chunky, they won't pass through the piping nozzle!
If your buttercream is a little too thick simply add a 1 tsp of milk (dairy-free if needed) at a time until perfect. It should be smooth and spreadable, not like a thick paste!
Spoon an even amount of cupcake batter per cupcake case – that way, they'll all bake at the same speed.
Use the large end of a piping nozzle if coring your cupcakes, but don't core them too deep! You can actually buy a cupcake coring tool from most good baking shops.
Don't overdo the baking powder, or it can make your cupcakes sink in the middle.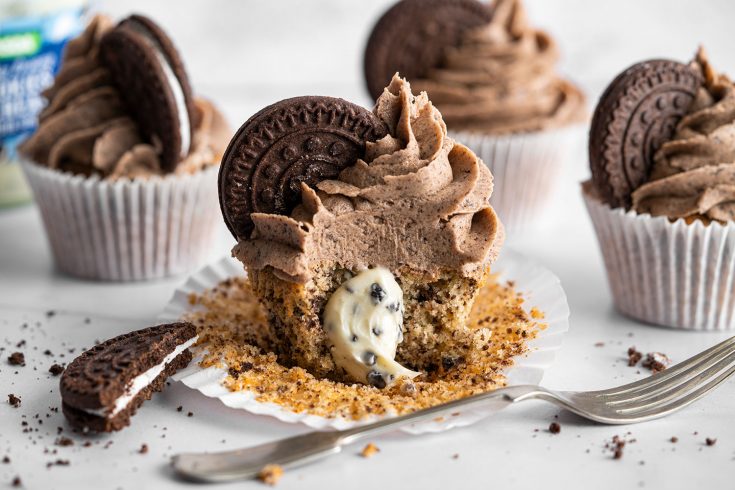 Yield: 9-12
Gluten-free Oreo Cupcakes Recipe (dairy-free option)
Cook Time: 22 minutes

Total Time: 22 minutes

Gluten-free Oreo cupcakes recipe - with a cookies and cream filling in the middle! You'd never know they were Coeliac-friendly and wheat-free.
Ingredients
For the cupcakes:
225g gluten free self raising flour
1 tsp gluten-free baking powder
1/4 tsp xanthan gum
225g butter, softened (use a block of Stork hard margarine if dairy-free)
225g caster sugar
4 eggs
8-10 gluten-free Oreo-style biscuits (dairy-free if necessary)
For the buttercream
450g icing sugar
225g butter, softened (use a block of Stork hard margarine if dairy-free)
1 tsp vanilla extract
10 gluten-free Oreo-style biscuits (dairy-free if necessary)
To decorate:
extra gluten-free Oreo-style biscuits for decorating, halved (dairy-free if necessary)
Gluten-free cookies and Cream Spread - linked in FAQ section (use dairy-free chocolate spread instead if necessary)
Instructions
For the cupcakes
Preheat your oven to 160C Fan / 180C and prepare a cupcake / muffin tin with cases.
Place your gluten-free Oreos into a ziplock bag and bash with a rolling pin until crushed into small chunks - aim for the size of chocolate chips.
Place all your sponge ingredients (except the gluten free oreos) into a large mixing bowl and whisk until well combined and thoroughly mixed (1 minute should do it).
Fold in your broken up oreo style biscuits so they're evenly dispersed.
Divide the mixture between the cases. I fill mine just over 2/3 full.
Place in the oven for between 20-25 minutes until cooked through. To check if the cupcakes are cooked, insert a skewer and if it comes out clean, it's done!
Allow the cupcakes to cool completely on a cooling rack.
For the buttercream
Place your remaining gluten-free Oreos into a ziplock bag and bash with a rolling pin until crushed into a fine dust - this needs to be finer than your last batch of crushed Oreos or your buttercream won't pass through the piping nozzle!
For the buttercream, ensure your butter is soft and at room temperature. I find it takes a good hour out of the fridge to soften, but never let it go too soft! Place your butter into a stand mixer and mix on a medium speed for about 5 minutes until the butter has gone a lot more pale in colour.
Add your icing sugar gradually. I add it in 2-3 stages and beat for about 3 minutes between each addition. Start your mixer slowly to save your kitchen from a real icing sugar mess, but then increase the speed to medium / high for each of your 3 minutes.
Add your vanilla extract and crushed gluten free oreos, mix once more - it should now be done. Ensure it's the right thickness - it should be if you've beaten it for long enough. However, if it's too thick you can add a tiny amount of milk.
For the assembly of the cupcakes:
Once the cupcakes are cool, you need to make little holes in your cupcakes to fill with the cookies and cream spread, use something circular to make a small hole - just make sure you don't go too deep as you need some of the cake beneath to hold the filling!
Spoon some filling into the hole you've made in each cupcake. This of course is optional and they are fab without it too!
Spoon your buttercream into a piping bag with a large star nozzle. Then pipe your buttercream on top. If you don't want to pipe it, you can spoon it on top too!
Finish with half a gluten free oreo in the top of the buttercream. Enjoy!
Recommended Products
Thanks for reading how to make my Gluten-free Oreo cupcakes recipe! If you make them, I'd love to see how they turned out so don't forget to take a snap of your bakes and tag me on Instagram!
Any questions about the recipe? Please do let me know by following me on Instagram and leaving me a comment on a recent photo.
If you want to send me a photo of how your bake turned out, you can request to join my Facebook group and post it there. Myself and everyone else would love to see it!
Thanks for reading,
Becky xxx
Oh and don't forget to pin this for later!
Comments