Gluten-free lemon and blueberry scones recipe – but you'd never know they were gf! Of course, they're Coeliac-friendly and wheat-free as always too.
Gluten-free lemon and blueberry scones recipe, anyone? Since Nigella recommended my gluten-free scones on Twitter, I thought it was about time I remixed them a little… and the results were stupendously good!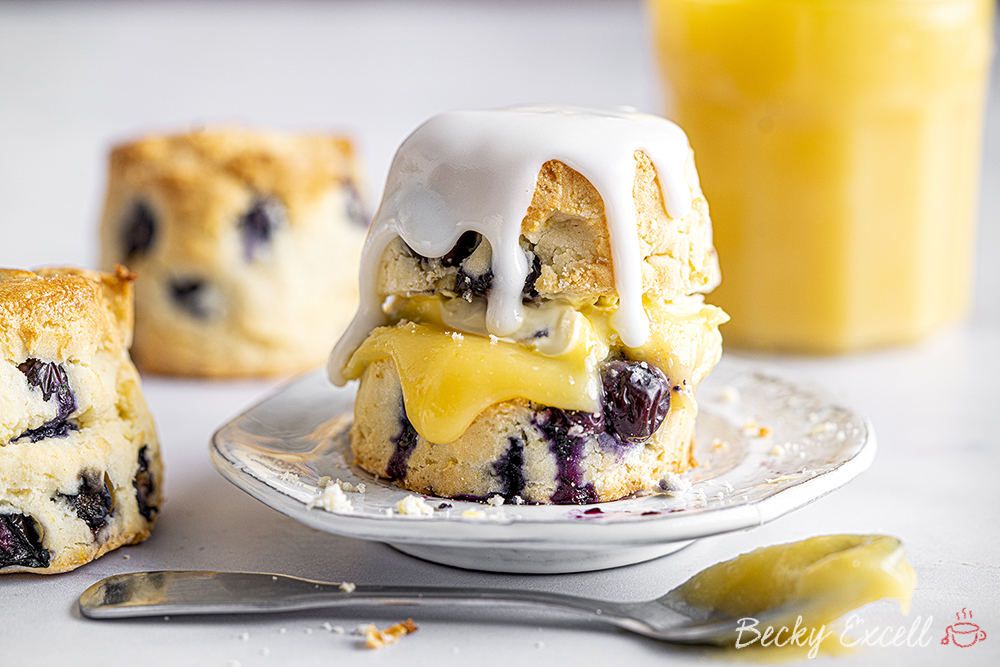 You might not believe this, but gluten-free scones are one of those recipes that are identical to 'muggle' scones in terms of method, ingredients, taste, texture and appearance.
In other words, they're utterly identical in every way – apart from the fact that you can actually eat these if you're gluten-free!
So follow this recipe closely and you'll be enjoy epic gluten-free lemon and blueberry scones in no time. And remember: if you ever fancy gluten-free scones, you can always use the original recipe I adapted to make these.
Here's a few reasons you need to make this if you weren't convinced already…
Why make my gluten-free lemon and blueberry scones?
Super easy to make – just mix up the dough, shape to the right thickness and cut them out using biscuit cutters. Bake and enjoy!
Lemon and blueberry is a classic flavour combo that works so well in scones. Just serve with lemon curd and thank me later.
All of the ingredients required for the recipe are easily available in supermarkets and supermarket free from aisles.
Best of all, you'd never know they were gluten-free by tasting or looking at them – they're super soft and NOT crumbly or dry at all.
Yep, it's easy to make dairy-free or vegan too – just see the FAQ section to find out how.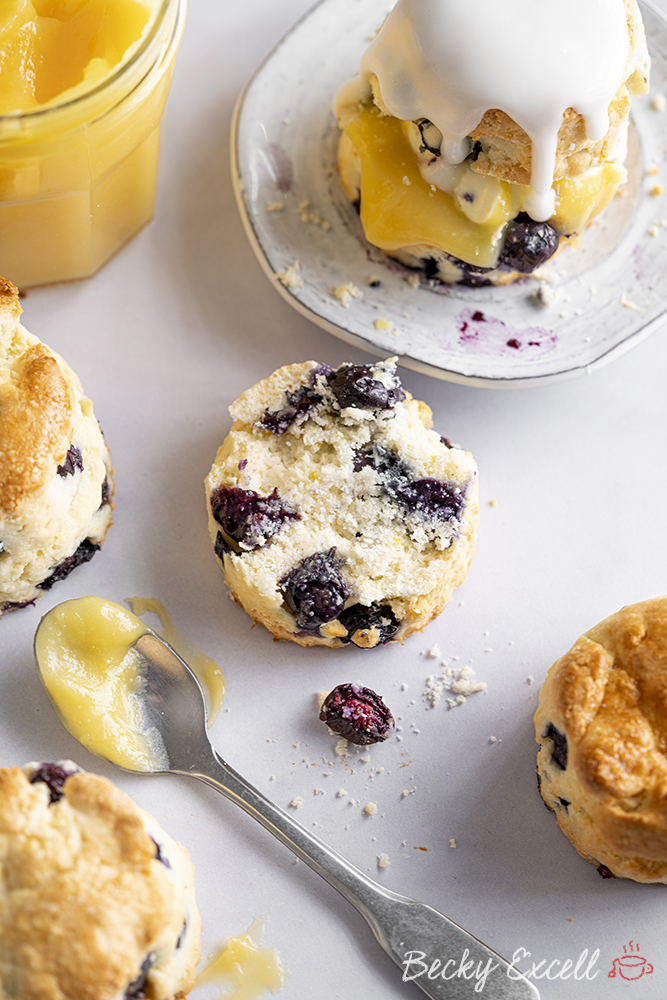 My gluten-free lemon and blueberry scones recipe has come off the back of a couple of things.
Firstly, I went for a lovely afternoon tea late last year at the Corinthia and had some lovely, warm gluten-free scones. From that day forth I realised that I want these on the regular!
Secondly, I've had soooo many requests for this recipe and your wish is my command (feel free to always message me recipe requests ❤️).
And fortunately for us, scones in general are actually really simplistic as recipes go. I mean, Mark always reminds me that it was one of the few things he used to make when he was at secondary school in food technology classes.
If 12 year old Mark was a whizz at scones I think we can all give gluten-free scones a go! Here's what you'll need for this recipe:
Gluten-free lemon and blueberry scones recipe: What you'll need…
Gluten-free self-raising flour – I use Doves Farm's FREEE flour, which you easily find down the free from aisle in supermarkets. If you can't find a blend like this where you live, you can always make your own using my gluten-free flour recipe.
Gluten-free baking powder – Though there's a little of this in gluten-free self-raising flour, a little goes a long way to ensure a nice, perfect rise. Please note that this is

NOT

bicarbonate of soda, which is much, much stronger!
Xanthan gum – This helps to bind the crumb together so it doesn't become crumbly, replacing the gluten that would otherwise do the same job.
Butter – Ensure that your butter is super cold – ideally straight out of the fridge. Rubbing warm butter into flour is not something I would ever recommend!
Caster sugar – Of course, sugar isn't just for sweetness – it helps to achieve a lovely crisp exterior.
Lemon zest – Fresh is ideal, so ensure you have lemons handy ready to grate.
Milk – Milk not only provides the ever important liquid part of the mixture, but also helps to give the scones a lovely golden colour as they bake.
Lemon juice – This is to ensure that the milk reacts and becomes a little curdled and lumpy, essentially making homemade buttermilk. Of course, it's the flavouring the icing too!
Fresh blueberries – The combination of fresh blueberries and lemon is divine, to say the least. I've never tried this recipe with frozen blueberries before but I'd imagine they'd do fine too.
Egg – This is just for egg-washing the top of each scone to give them a lovely golden finish on top. It's just a visual thing!
Icing sugar – You'll need this for the optional drizzle of lemon icing on top. But for me, icing is never optional!
Lemon curd – Of course, instead of serving with raspberry or strawberry jam like you would with regular scones, it's gotta be lemon curd here, right? Either store-bought or homemade works fine, though you can definitely tell the difference in taste when you make it yourself.
Looking for the method and measurements? Keep scrolling to the bottom of this post until you find the recipe card. You can also print it off there too.
Gluten-free lemon and blueberry scones recipe: Frequently asked questions and tips
And here's a few answers to some frequently asked questions, as well as a few tips and product recommendations for this recipe. Hopefully this will help you to make this recipe perfect, first time!
Can I make this recipe gluten-free? Is it suitable for Coeliacs?
It is gluten-free, though nobody would know just by tasting it – trust me!
Bear in mind that minimising cross-contamination is hugely important if you're Coeliac or making this for someone who is. Here's some tips from Coeliac UK on minimising the risk of cross contamination.
Also, make sure that all ingredients used don't have any gluten-containing ingredients. Then make sure that they also don't have a 'may contain' warning for gluten, wheat, rye, barley, oats (which aren't gf), spelt and khorasan wheat (aka Kamut).
Here's some more info from Coeliac UK on identifying safe gluten-free products.
Is your gluten-free lemon and blueberry scones recipe dairy free?
Yep, this recipe can easily be dairy free! First of all, use a hard margarine like Stork baking block. And then use any dairy-free milk you like – I find that unsweetened almond works really well.
If serving with lemon curd, ensure it's dairy-free or make my homemade recipe dairy-free instead.
Can I make this recipe vegan?
Start by following the steps above the make the scone mixture dairy free. Secondly, instead of using egg-wash, brush a little unsweetened almond milk on top instead. Ensure the lemon curd you use is vegan-friendly, if using, and enjoy.
Is your gluten-free lemon and blueberry scones recipe low FODMAP?
Yes! You can easily make this low FODMAP by using lactose-free milk. Butter is naturally low in lactose so that's low FODMAP too.
One scone is a safe low FODMAP serving size during the elimination phase of the diet.
What lemon curd should I use?
You can happily serve these store-bought lemon curd, but I would highly recommend making your own. Compared to the shop-bought varieties I've tried, homemade lemon curd is generally thicker, more velvety and luxurious.
You're welcome to use my homemade lemon curd recipe, though it's totally optional for serving with these.
Do I need any special equipment to make your gluten-free lemon and blueberry scones recipe?
Nope, all you really need to make this is a mixing bowl and a metal spoon! I wouldn't recommend using a standing mixer or a food processor for this one, it's a little overkill.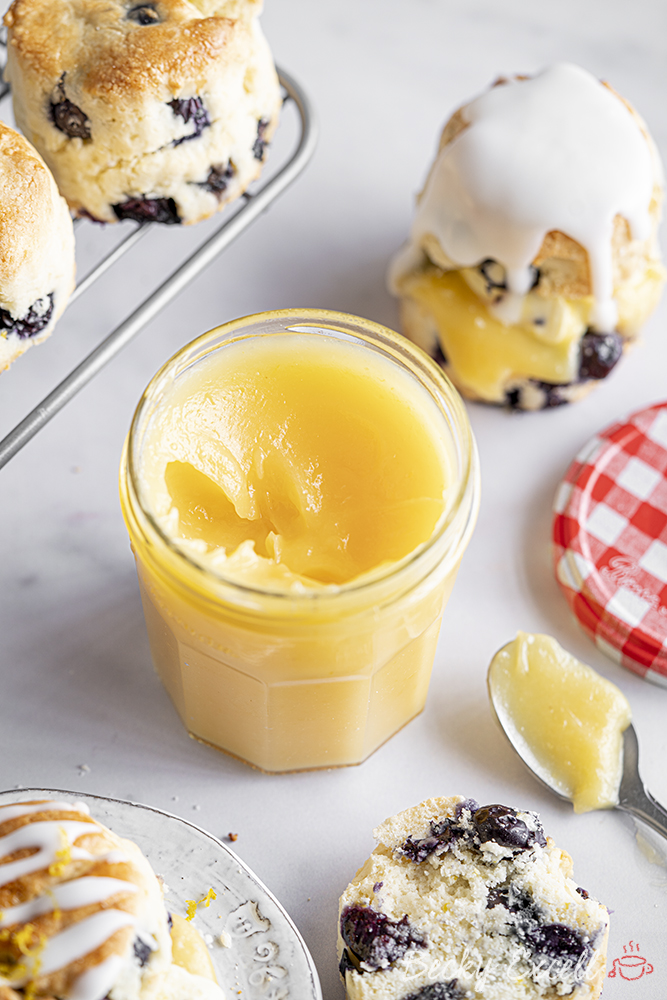 I can't buy gluten-free self-raising flour where I live, can I use gluten-free plain flour?
Yes, BUT! If you use gluten-free plain flour, then add 2 tsp extra baking powder and another 1/4 tsp of xanthan gum. gluten-free self-raising flour naturally has a little baking powder and xanthan gum in it (usually) but gluten-free plain flour doesn't, so make sure you add extra.
Can I make this recipe without xanthan gum?
There's a little xanthan gum in self-raising flour already, so in a sense, yes you can skip adding more xanthan gum, though I always make mine with it just to be safe. It really helps everything bite together and the final texture!
Can I make this recipe using other gluten-free flours like buckwheat flour or coconut flour?
There's a big difference between 'gluten-free self-raising flour' and a *singular* type gluten-free flour. When I say 'gluten-free self-raising flour' in a recipe, I mean a BLEND of gluten-free flours, not just one, singular flour.
Most gluten-free flour you buy in the supermarket typically contains a blend of rice flour, potato flour, maize flour, tapioca flour AND buckwheat flour. That's a lot of different flours!
So to replace it with just one specific type of flour… that's not going to cut it at all. Definitely go for a gluten-free flour blend.
Do I need weighing scales to bake your gluten-free lemon and blueberry scones recipe?
In short… yes, yes and yes! And I wouldn't advise attempting any of my recipes without them. One of the worst things you can do in any baking recipe is alter the quantities by mistake or on purpose.
A lot of work went into fine tuning ratios and quantities so I wouldn't mess around with them unless you really know your stuff. I'd recommending using digital cooking scales like these so you know you're getting an accurate measurement.
How long can I keep your gluten-free scones for?
You can keep them in an airtight container in the fridge for up to 3-5 days.
Can I freeze your gluten-free scones?
Yes! You can keep them in the freezer in an airtight container for up to 2-3 months.
When you want to eat them, simply allow to defrost at room temperature for 3-4 hours.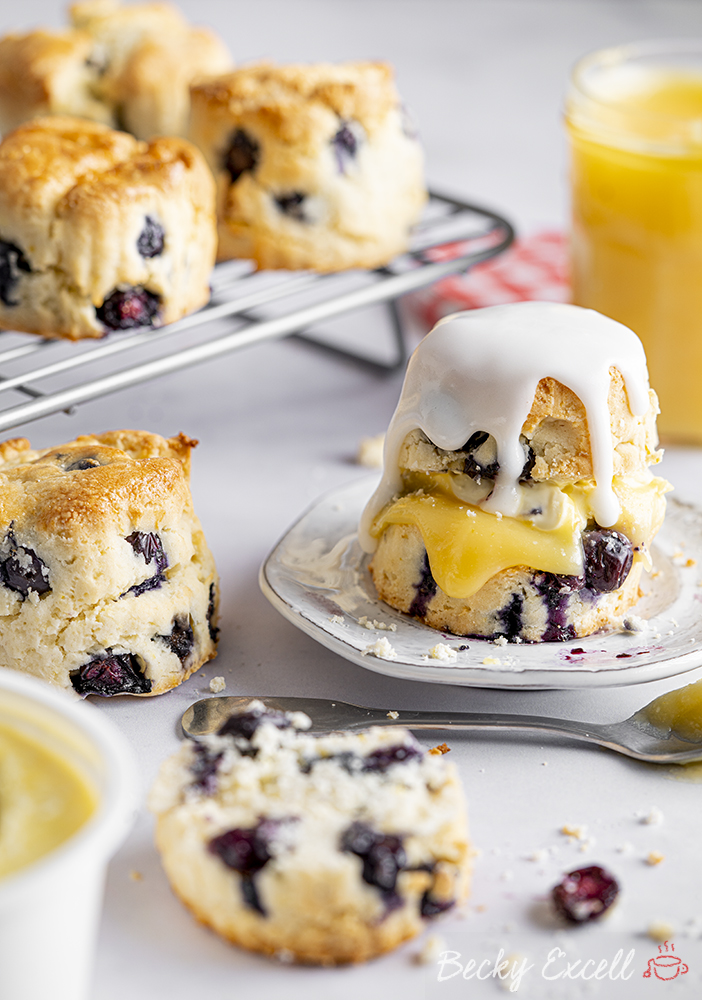 Gluten-free lemon and blueberry scones recipe: Troubleshooting
My scones were flat and didn't rise? What did I do wrong?
There's three reasons a scone will be flat or won't rise:
Firstly, scones aren't the type of thing that rise much at all. That's why you need to roll out your dough to be nice and thick before baking. That way, you'll get a little extra rise when baking, but the nice, tall shape of your scone will already be guaranteed before baking them.
Using old baking powder. Make sure it's well in date!
Overworking the dough. Don't play with the dough too much or roll it out multiple times!
What flour did you use for this recipe? I'm not sure what to buy!
I used FREEE by Doves Farm's gluten-free self-raising flour to create this recipe. You can find it in the free from in aisle in nearly all supermarkets.
But any gluten-free self-raising flour should do fine!
My scones look really pale – what happened?!
The egg-wash is what gives them a lovely golden colour on top. If you don't use it, they'll look a little pale all over. Still taste exactly the same though!
Gluten-free lemon and blueberry scones recipe: The actual recipe…
Ok, so here's my gluten-free lemon and blueberry scones recipe. Please rate it 5 stars if you liked it as it helps others to know it's a recipe worth trying! Feel free to leave your written reviews in the comments below this post.
Gluten-free Lemon and Blueberry Scones Recipe (dairy-free/vegan option)
Gluten-free lemon and blueberry scones recipe - super easy to make and you'd never know they were Coeliac-friendly and wheat-free.
Ingredients
340

g

gluten-free self-raising flour

1

tsp

gluten-free baking powder

1/4

tsp

xanthan gum

85

g

butter

cold (use Stork hard margarine if dairy-free)

4

tbsp

caster sugar

zest of 2-3 lemons

175

ml

milk

dairy-free if needed

4

tsp

lemon juice

125

g

fresh blueberries

1

egg

to make this vegan, as well as using dairy free milk and hard margarine rather than butter, you could brush the tops with almond milk instead of egg
Optional iced top
120

g

icing sugar

4

tsp

lemon juice

add gradually could need a little more/less
To serve
Lemon curd

store-bought or make your using using the recipe linked in the FAQ section
Instructions
Preheat your oven to 200C (fan). Prepare a baking sheet with parchment / baking paper.

Place your flour, baking powder and xanthan gum in a bowl. Chop your hard margarine / butter into cubes and add that to the flour. Rub it in with your fingers till it forms what looks like breadcrumbs.

Stir in your caster sugar and lemon zest.

Gently warm your milk (I pop it in the microwave for about 35 seconds, don't let it get really hot, just lukewarm). Then add your lemon juice and vanilla extract. Put to one side to cool briefly.

Place your baking sheet in the oven whilst your make your scones. It helps that the baking sheet is hot when you place your scones on it.

Make a well in the middle of your dry mixture. Pour in milk and work it in using a metal spoon. Keep working it till it forms a dough (it might be a little sticky).

Mix in your fresh blueberries carefully.

Flour your work surface and your hands. Get the dough out of your bowl and fold it over a few times to bring the dough together. Then bring the dough into a rounded shape about 3.5-4.5cm thick. The taller, the better!

Using a cutter (about 45mm to 55mm wide) push down into the dough and bring out your scones with the cutter. Push them out of the cutter and put to one side till your have used up all the dough (keep re-rounding the dough).

Brush the tops of the scones with beaten egg.

Place the scones onto the hot baking sheet and pop them into the oven for about 12-15 minutes. They should be golden on top and have a golden base too 🙂

Serve up with whatever you fancy (lemon curd and fresh or clotted cream for me!). You can rewarm them up later, eat them cold, or even freeze them for another day.

If you wish to add the icing on top of your scones, gradually add a little lemon juice to your icing sugar until you have a thick but drizzly consistency, then spoon a small amount over the top of your scone and allow to set briefly before tucking in. This is totally optional but a nice extra touch!

Serve with lemon curd and enjoy.
Notes
This mixture doesn't make that many (6-8 depending on the size of your cutter). If you want more I'd recommend doubling the ingredients. Or you can make more scones by just reducing the height of them... you don't necessarily need scones as tall as mine, I just like them that way!
Thanks for reading all about my gluten-free lemon and blueberry scones recipe! If you make it, I'd love to see how it turned out so don't forget to take a snap of your creations and tag me on Instagram!
Any questions about the recipe? Please do let me know by following me on Instagram and leaving me a comment on a recent photo!
Thanks for reading,
Becky xxx
Oh and don't forget to pin this for later!