Mini Egg brownies recipe – the ultimate Easter baking project that's incredibly easy to make. They're gooey, fudgy and packed with chunky, chocolatey mini eggs. Plus, you only need 7 simple ingredients.
Mini Egg brownies recipe, anyone? Yes, it's time to 'Easter-ify' more of my favourite bakes and brownies were my first choice this year! And yes, in the UK, Mini Eggs are totally gluten-free too.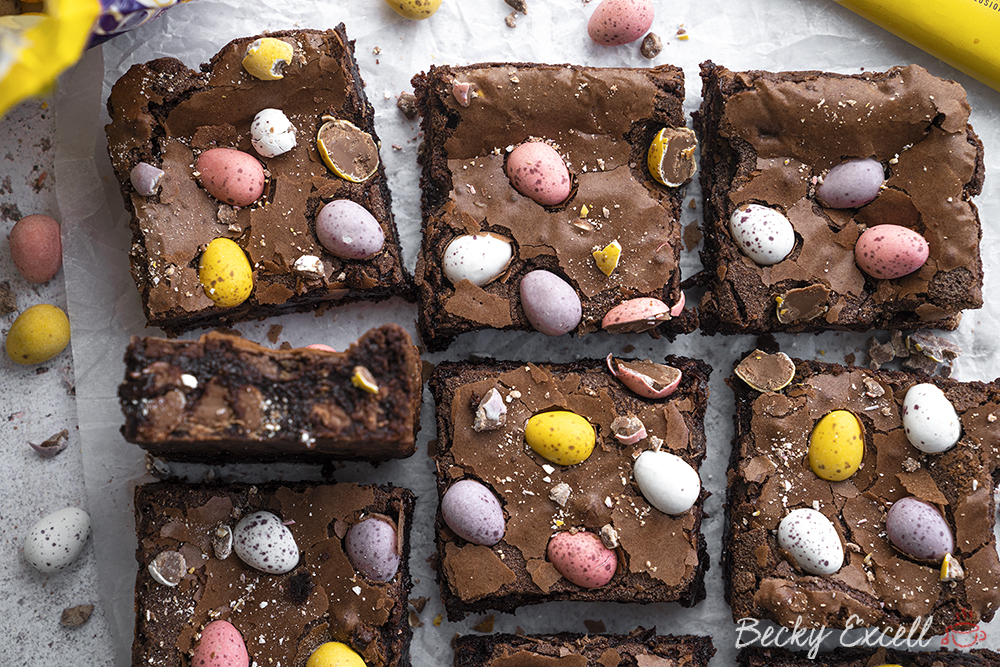 Despite what's going on in the crazy world outside my house, one thing will clearly never change for me: Easter baking.
However, I have most definitely found that I appreciate it on a whole different level this year. The wonderful colour of mini eggs, packed into a gooey, comforting, chocolatey brownie has never felt more necessary!
As you can probably tell, baking is one of the BIGGEST things that got me through 2020. And if that's the case for you, then here's another recipe to keep you busy and hopefully put a smile on your face.
And as always, you'd never know it was gluten-free – you have my promise on that as usual!
Why make my Mini Egg brownies recipe?
These brownies are super fudgy, chocolatey and gooey in the middle. NOT like dry chocolate cake.
You wouldn't believe how easy these are to make – totally beginner friendly.
No xanthan gum required for this one.
You'd never know they're gluten-free by tasting them AT ALL. Everyone will love these – including muggles!
KitKat Santas and Festive Friends are gluten-free (linked in FAQ section) so celebrate that fact by making these!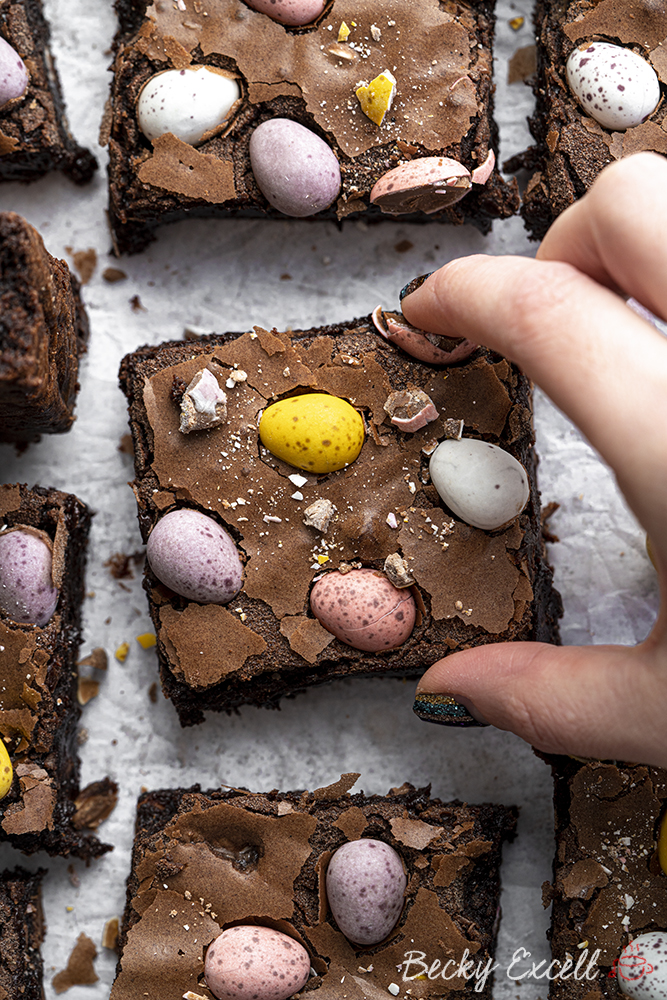 So what do my Mini Egg brownies taste like?
They're super fudgy, intensely chocolatey with that lovely, slightly crisp, paper-like top to them – that finish is key to any perfect brownie FYI.
They're packed with chunky, crushed mini eggs AND topped with whole ones too. It just works so incredibly well against that backdrop of fudgy awesomeness.
Best of all, you only need 7 simple ingredients to make them and they're super quick to whip up too.
Here's everything you'll need for my Mini Egg brownies recipe. Keep scrolling until you see the recipe card below if you're looking for the method and measurements…
Mini Egg brownies recipe: Ingredients you'll need
plain flour, gluten-free
cocoa powder
butter
milk/dark chocolate or Cadbury's Mini Eggs chocolate bars
large eggs
caster sugar
Mini Eggs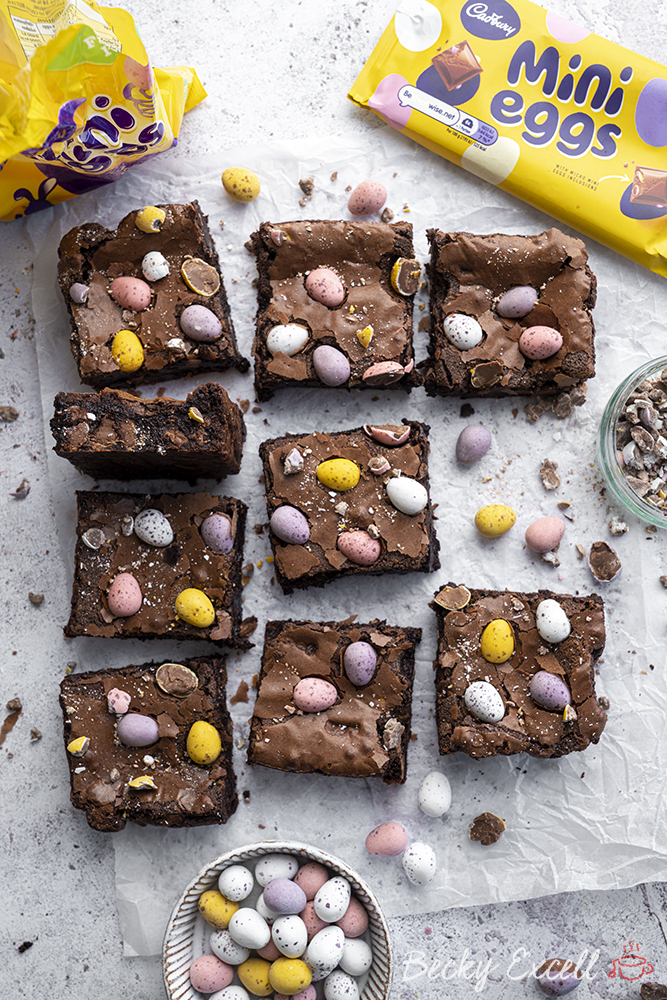 So I thought I'd kick things off with a little frequently asked questions section – if you just want the recipe, then keep scrolling.
But I've thrown in some tips here that will be really helpful if this is your first time making this, or you want to adapt it. So here they are!
Mini Egg brownies recipe: Frequently asked questions
Can I make this recipe gluten-free? Is it suitable for Coeliacs?
It is gluten-free, though nobody would know just by tasting it – trust me!
Bear in mind that minimising cross-contamination is hugely important if you're Coeliac or making this for someone who is. Here's some tips from Coeliac UK on minimising the risk of cross contamination:
Also, make sure that all ingredients used don't have any gluten-containing ingredients. Then make sure that they also don't have a 'may contain' warning for gluten, wheat, rye, barley, oats (which aren't gf), spelt and khorasan wheat (aka Kamut).
Here's some more info from Coeliac UK on identifying safe gluten-free products.
Can I make your Mini Egg brownies recipe dairy free?
You can make the brownies dairy-free with ease, but unfortunately, without the mini eggs. Here's how to do it:
Instead of using dark chocolate, use dairy-free chocolate.
Instead of using butter, use Stork hard margarine
Instead of using mini eggs, use dairy-free white chocolate eggs instead.
Ensure your cocoa powder is dairy-free
That's it!
Can I make your Mini Egg brownies recipe vegan?
Yep! If you follow the instructions above to make this recipe dairy free, then all you've got left to contend with is the eggs.
Here's a few ideas you can use as egg replacements, so each of these = 1 egg.
3 tablespoons of aquafaba (pre-whisked until frothy) – water from a can of chickpeas. Keep the chickpeas for a future dinner!
Egg replacement powder – I'd recommend using Orgran as it's gluten-free.
1 tablespoon of chia/flax seeds mixed with 2 tablespoons of water and left for 10 minutes in the fridge.
3 tablespoons of applesauce.
I haven't tested all of these egg alternatives so let me know how you get on in the comments below…
Can I make this recipe low FODMAP?
Unfortunately not as there's no easy lactose-free AND low FODMAP alternative to mini eggs available at present. You can however make the brownies low FODMAP using this recipe.
Are Mini eggs gluten-free?
Yes, they are in the UK! They don't have any gluten-containing ingredients or a 'may contain' warning for gluten.
Tap here to read the ingredients label for yourself – it never hurts to double-check! You'll find them down the seasonal aisle in the supermarket.
I also used mini eggs chocolate for this recipe (you can feel free to use dark/milk choc instead), you can find it in Tesco at the mo.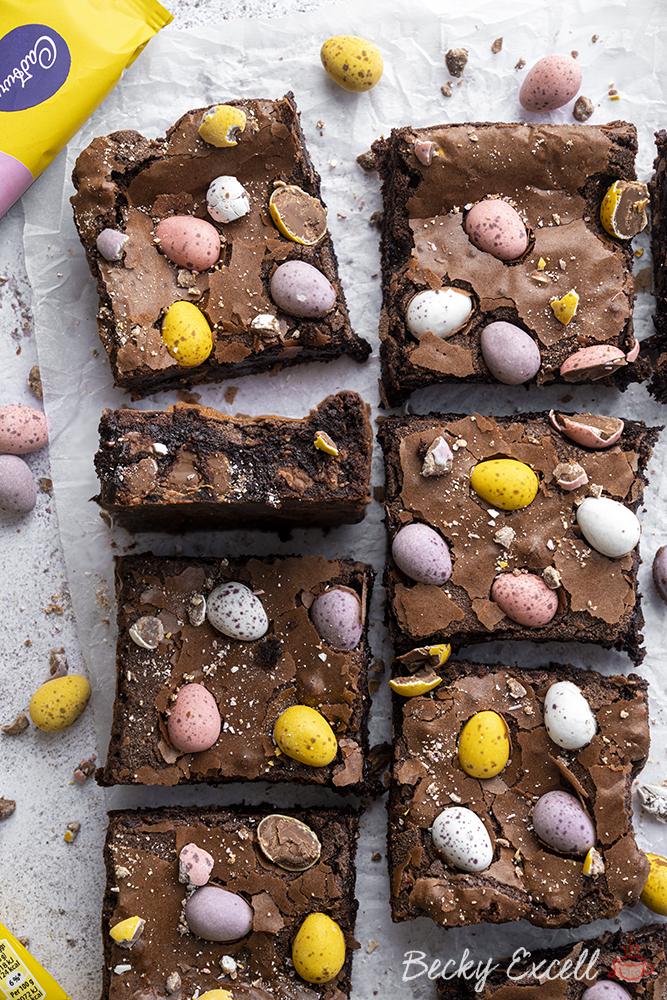 Can I make your Mini Egg brownies in a food processor or standing mixer? Can I make this by hand?
You're more than welcome to, but both are a little overkill for this recipe. I personally find that an electric hand whisk is the best option here.
But of course, you can make this entirely by hand with no problems too.
Do I need any special equipment to bake your Mini Egg brownies recipe?
Certainly not! You will need a good quality 9 inch x 9 inch square though, so here's a link to the one I use.
Does this recipe need xanthan gum?
You'll see xanthan gum in a lot of my recipes as it's usually an essential ingredient in gluten-free baking. But this recipe is a rare exception!
Can I make this recipe using other gluten-free flours like buckwheat flour or coconut flour?
There's a big difference between 'gluten-free plain/self-raising flour' and a *singular* type gluten-free flour. When I say 'gluten-free plain or self-raising flour' in a recipe, I mean a BLEND of gluten-free flours, not just one, singular flour.
Most gluten-free flour you buy in the supermarket typically contains a blend of rice flour, potato flour, maize flour, tapioca flour AND buckwheat flour. That's a lot of different flours!
So to replace it with just one specific type of flour… that's not going to cut it at all. Definitely go for a gluten-free flour blend.
Do I need weighing scales to bake your Mini Egg brownies recipe?
In short… yes, yes and yes! And I wouldn't advise attempting any my recipes without them.
A lot of work went into fine tuning ratios and quantities and for me, baking is all about consistency and precision. I want you to make this recipe and for it to turn out EXACTLY like mine did.
For example, adding too much flour can make things dry and crumbly, whereas not adding enough sugar means it'll lose its crisp exterior. I don't want you to be disappointed, so please weigh your ingredients!
I'd recommending using digital cooking scales like these so you know you're getting an accurate measurement and replicating my recipe as accurately as poss.

Can I bake your Mini Egg brownies recipe with less sugar / without sugar?
I can understand the need to reduce sugar in our foods, but sugar is integral to the structure of this bake – it's not just for adding a sweet taste!
So yeah, remove/reduce the sugar at your own risk!
How long can I keep your Mini Egg brownies for?
Once cooled, I've kept these for 3-5 days in an air-tight container with no problems.
Can I freeze your Mini Egg brownies?
Of course, just allow them to fully cool! I've frozen them for up to 2-3 months no problem. Make sure you slice them up before freezing, then, you can easily defrost a few slices at a time instead of the entire thing.
When you want to enjoy one, each slice should take around 3 hours to defrost at room temperature.
How can I tell when my Mini Egg brownies are done?
Grab a skewer and give it a poke in the centre. If it comes out clean, then it's done! You might get a little chocolatey residue on there, but that's ok too.
You just don't want tons of gooey chocolate coating your skewer.
Mini Egg brownies recipe: Method
Ok, so here's a printable version of my Mini Egg brownies recipe. Please remember to give it 5 stars if you tried it and enjoyed it as it helps people know it's worth trying too! ⭐️ Feel free to leave your written reviews in the comments below this post.
Mini Egg Brownies Recipe - Easter baking! (gluten-free)
Mini egg brownies recipe - the PERFECT Easter baking project that's incredibly easy to make. All you need in a 9 inch square baking tin!
Ingredients
90

g

plain flour

gluten-free

50

g

cocoa powder

200

g

butter

200

g

milk/dark chocolate

I used the Cadbury's Mini Eggs chocolate bars - linked in FAQ section

3

large eggs

280

g

caster sugar

180

g

mini eggs

crushed all different sizes (you can add more if you like!!)

80

g

approx mini eggs, for decorating
Instructions
Preheat your oven to 160C Fan / 180C and prepare a 9x9inch square tin with non-stick baking paper.

Melt together your butter and chocolate in a microwave or over a bain marie until completely melted. Mix together and leave out to cool down to just warm / room temp.

Sieve together your cocoa powder and gluten free flour in a bowl. Mix briefly until combined, then put to one side.

In another bowl crack 3 eggs and pour in your caster sugar. Beat together (I use an electric hand whisk) until paler in colour and almost a little frothy.

Once the chocolate and butter mixture is cooled to room temp, pour it into your egg/sugar mixture. Fold it in with a spatula - it will
initially marble and then turn super chocolatey.

Next fold in the your flour and cocoa powder mix. Ensure it's fully folded in.

Fold in your crushed mini eggs.

Pour/spoon your brownie mixture into your prepared tin and smooth it over so it's even and level.

Bake for about 25 mins. The brownies will wobble slightly upon removing from the oven but will firm up as they cool. If you want them even more gooey, cook for 5 minutes less, if you want a firmer brownie, cook for slightly longer.

Remove from the oven and immediately/carefully push in some whole mini eggs into your brownies.

Allow to completely cool before removing from the tin and cutting into squares. Decorate with more crushed bits of mini egg if you like and enjoy!
Notes
My regular brownies on the blog are slightly chunkier but i reduced these down as they have the mini eggs in the topping. If you want them to be slightly bigger these are the measurements: 100g gluten free plain flour
50g cocoa powder
250g butter
250g dark chocolate
3 large eggs
280g caster sugar
These would then need to be baked for 35-40 minutes instead.
Thanks for reading all about my Mini Egg brownies recipe! If you make it, I'd love to see how it turned out so don't forget to take a snap of your creations and tag me on Instagram!
Any questions about the recipe? Please do let me know by following me on Instagram and leaving me a comment on a recent photo!
Thanks for reading,
Becky xxx
Don't forget to pin this for later!