Gluten-free chocolate orange yule log recipe, anyone? All you need to do is make the swiss roll-style sponge and some icing – easy! Best of all, you'd never know it was Coeliac-friendly and wheat-free too.
Gluten-free chocolate orange yule log recipe – topped with Cadbury chocolate orange buttons and chocolate orange Toblerone. I put a little spin on my classic festive yule log once again and well… here we are yet again!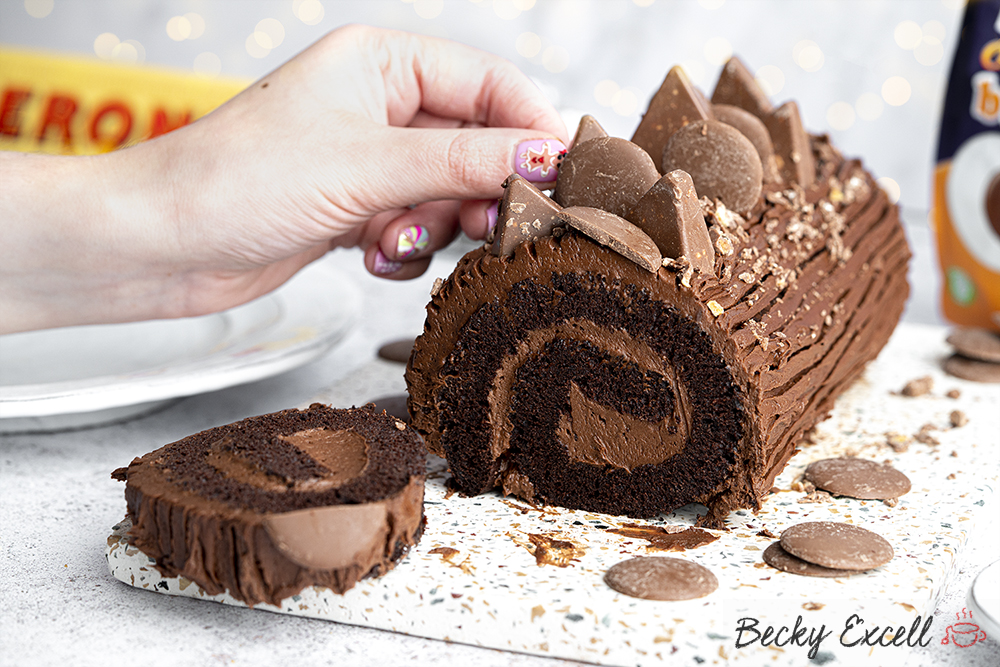 Is it just me, or does anything chocolate orange flavoured instantly feel Christmassy?!
I'm guessing it's because Terry's chocolate orange is such a big thing during the festive season – is that why?!
(Terry's chocolate orange is NOT gluten free btw – it has a may contain warning. A lot of people don't seem to realise this!)
But whatever the reason, trust me – this is a real Christmas treat that you won't want to miss! This is a twist on my classic gluten free yule log recipe which you can find here.
Here's a few reasons you need to make my gluten-free chocolate orange yule log recipe if you weren't convinced already…
Why make my gluten-free chocolate orange yule log?
Get all the festive flavour of chocolate orange wrapped in a super soft sponge and thick, fluffy icing with a beautiful swirl in the middle.
It's easier to make than you'd think! Follow the recipe and once you've successfully rolled up your sponge, it's simply a matter of making the icing – both of which are a doddle.
Muggles would NEVER know that this is gluten-free – so you can enjoy it with everyone. If they're lucky enough to get a slice that is!
Once you've nailed this recipe, you can use it to make Swiss rolls and change up the flavour combos however you like.
Chocolate orange buttons AND chocolate orange Toblerone are both gluten-free, so celebrate that fact by making this!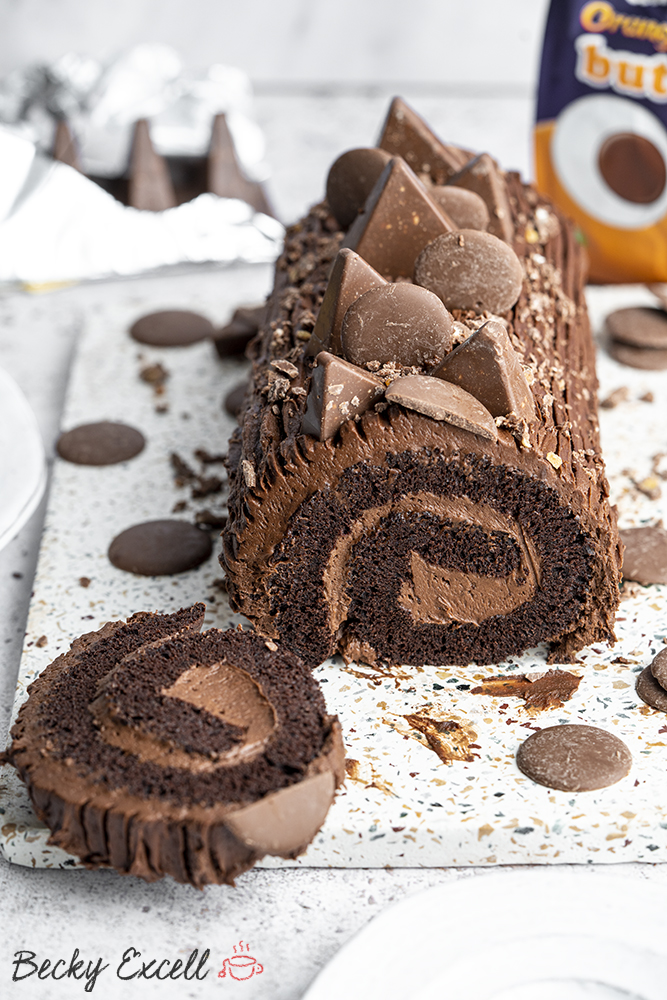 So what does my gluten-free chocolate orange yule log taste like?
It's an incredibly light, moist swiss roll-style sponge infused with orange extract, concealing a beautiful swirl of chocolate orange buttercream.
Then, it's topped with chocolate orange buttons AND chocolate orange Toblerone for the ultimate finish. If you only make one of my gluten-free yule logs this year… make sure it's this one!
Here's everything you'll need for this recipe – keep scrolling until you see the recipe card for the measurements and method ??
Gluten-free chocolate orange yule log recipe: Ingredients
Caster sugar: You'll need this for the sponge and it's integral to the structure of the sponge. So don't reduce the amount if you want this bake to function!
Large eggs: Eggs are crucial when you're making a sponge without butter for a swiss roll/yule log. So I'd recommend using large eggs to make sure it turns out exactly the same as mine did.
Gluten-free self-raising flour: This is super important as not only does gf self-raising contain baking powder to ensure a light sponge, but it also contains xanthan gum too. And it's very important in this recipe!
Xanthan gum: This is a gluten replacer that's so important in this recipe. If you expect gluten-free sponge to roll up like 'muggle' sponge, you can thank xanthan gum for making it possible!
Cocoa powder: This gives the sponge and icing a lovely, rich chocolatey flavour.
Orange Extract: Despite this recipe not needing an actual fresh orange, my yule log still has an intense orange flavour thanks to the magic of this ingredient.
Icing sugar: Icing sugar is perfect for the the icing as it vanishes into the mix whilst adding a sweet flavour. Plus you can optionally dust a little on top at the end so it looks 'snowy'.
Dark chocolate: Don't worry, once you mix this with the butter and icing sugar, the buttercream doesn't taste especially 'dark' at all.
Cadbury Chocolate Orange Buttons: Yes, these are gluten-free! You can find them down the confectionary aisle.
Chocolate Orange Toblerone: The same goes for this beauty too.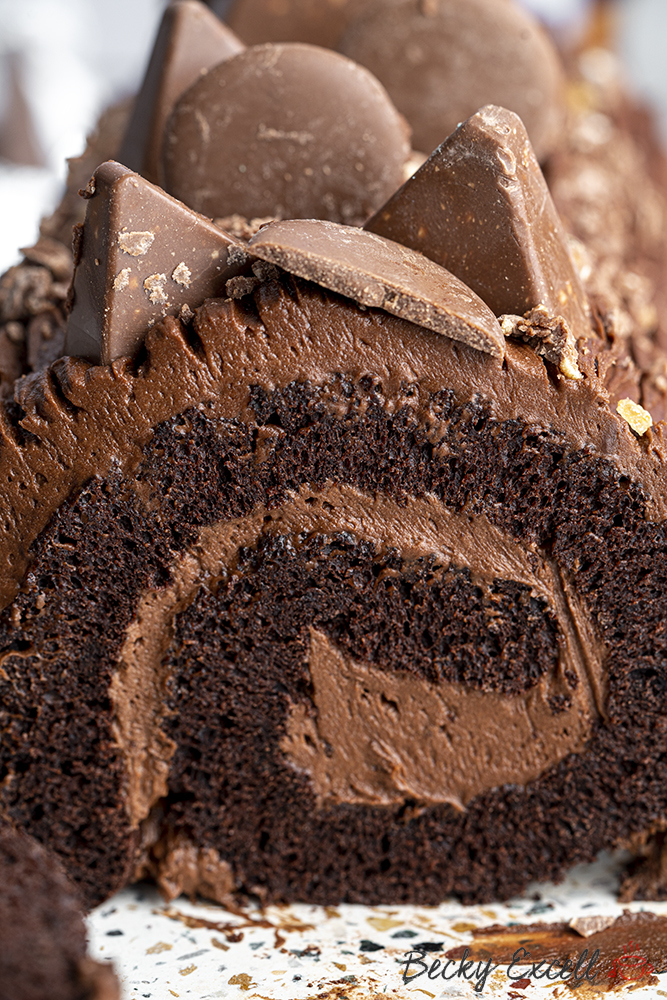 So I thought I'd kick things off with a little frequently asked questions section – if you just want the recipe, then keep scrolling.
But I've thrown in some tips here that will be really helpful if this is your first time making this, or you want to adapt it. So here they are!
Gluten-free chocolate orange yule log recipe: Frequently Asked Questions
Can I make this recipe gluten-free?
It is gluten-free, though nobody would know just by tasting it – trust me!
Bear in mind that minimising cross-contamination is hugely important if you're Coeliac or making this for someone who is. Here's some tips from Coeliac UK on minimising the risk of cross contamination.
Also, make sure that all ingredients used don't have any gluten-containing ingredients. Then make sure that they also don't have a 'may contain' warning for gluten, wheat, rye, barley, oats (which aren't gf), spelt and khorasan wheat (aka Kamut).
Here's some more info from Coeliac UK on identifying safe gluten-free products.
Can I make your gluten-free chocolate orange yule log recipe dairy free?
Of course you can! You just need a few simple swaps:
Use Stork hard margarine instead of butter for the icing. You might need to add a little extra icing sugar for the buttercream icing just to bring it together, as hard margarine can be a little looser than when using butter.
Use dairy-free dark chocolate.
For the topping, use dairy-free chocolate orange buttons and omit the Toblerone.
Also, just double-check that your cocoa powder is dairy free. That's it!
Can I make your gluten-free chocolate orange yule log recipe vegan?
Though it's easy to make this dairy-free using the instructions above this recipe isn't so easy to make vegan unfortunately.
The first stage of this recipe involves whisking eggs and sugar together so you can get lots of air into it – that rules out most egg replacements already.
Also, since there's no gluten in the sponge AND we're rolling it up, eggs are super important in terms of binding to make sure it doesn't break and crack easily.
If I was to try and make this vegan, I'd try aquafaba first (3 tbsp per egg) as it's one of the few egg replacers that can whip up like real egg. If you try making this recipe using aquafaba before I do, please let me know how you get on in the comments below this post.
Of course, follow the steps above to make this dairy-free also.
Is your gluten-free chocolate orange yule log recipe low FODMAP?
This recipe is basically low FODMAP but only if:
You use lactose-free dark chocolate (ensure it doesn't have any high FODMAP ingredients)
Omit the chocolate orange buttons and chocolate orange Toblerone – most dairy-free alternatives end up using potentially high FODMAP ingredients like soya.
That's it!
Are Cadbury chocolate orange buttons and chocolate orange Toblerone gluten-free?
Yes, Cadbury chocolate orange buttons are gluten-free! That same goes for chocolate orange Toblerones too.
That's right, both have no gluten-containing ingredients and no 'may contain' warning for gluten, wheat, barley etc.
According to Coeliac UK, that makes them safe for us to eat!
Please ensure you check the ingredients when buying them in case things change, but as of the time of writing, these are suitable for a gluten-free diet.
Where can I find Cadbury chocolate orange buttons and chocolate orange Toblerone?
You can find them in any supermarket down the confectionary aisle. Easy!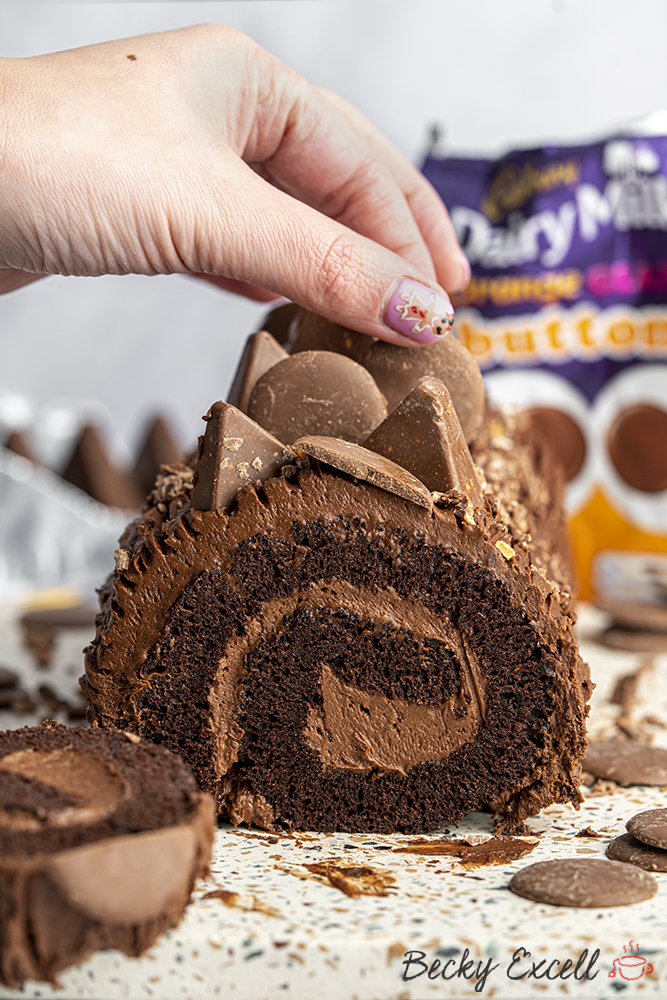 Can I make your gluten-free chocolate orange yule log in a food processor or standing mixer?
Yes – to a stand mixer with a whisk attachment for the cake batter! I personally prefer to use an electric whisk for the cake batter as it only involves short periods of mixing. Here's a link to the electric whisk I use.
I wouldn't recommend a food processor for this one – you really need a whisk attachment to get a lot of air into your eggs for this cake to work.
When it comes to buttercream, I prefer to use my standing mixer with the paddle attachment as you have to mix it for a longer period of time (around 10 minutes). So it's much easier to just let the mixer do the hard work!
Can I make your gluten-free chocolate orange yule log without any kind of electric mixer at all?
Yep! But just make sure that when you whisk the sugar and eggs together, you use a hand whisk and gets lots and lots of air into the mixture until frothy. It's super-important that the sponge mixture is really consistently mixed!
Oh and when it comes to the buttercream, it might take you a while! It can be a bit of a mission, but just make sure you don't leave any dry mixture at the bottom of the bowl and you should be fine.
Do I need any special equipment to bake your gluten-free chocolate orange yule log?
You'll need is a swiss roll tin – I use this one by Mary Berry and Lakeland, it's 35cm by 25cm.
If you're in a bit of a pinch and don't have a swiss roll tin, you can easily use a baking tray instead as long as it's roughly the same size and sides aren't too low.
Oh and make sure you have some baking paper – I use Bacofoil. You'll definitely need this to successfully roll up your sponge and to stop the sponge sticking to the swiss roll tin.
Can I bake this using the all-in-one method?
In case you didn't already know, the all-in-one method involves bunging all your sponge ingredients into a bowl at once and mixing them together. That's instead of adding them gradually.
This isn't a regular sponge recipe – there's no butter! So definitely don't throw all the sponge ingredients at once. Trust me, it won't turn out ok and we need the sponge to be spot on so it can be rolled without breaking.
For example, the first stage, which involves whisking sugar and eggs, is really important to do separately so you get lots of air into the eggs so they go nice and frothy.
So no – definitely don't throw everything in the bowl at once, please!
Can I make this recipe without xanthan gum?
In some of my recipes, yes, but I wouldn't recommend leaving xanthan gum out of this one. You'll see xanthan gum in a lot of my recipes as it's an essential ingredient in gluten-free baking.
Without gluten or xanthan gum to bind the cake together, you'll be left with a very brittle, fragile sponge which won't work for this recipe. In other words, you won't have a hope in hell of being able to roll it up without xanthan gum!
Some people have asked if they can use psyllium husk powder instead of xanthan gum, but I've found that it definitely results in a denser sponge so I wouldn't overly recommend it.
Can I make this recipe using other gluten-free flours like buckwheat flour or coconut flour?
There's a big difference between 'gluten-free plain/self-raising flour' and a *singular* type gluten-free flour. When I say 'gluten-free plain or self-raising flour' in a recipe, I mean a BLEND of gluten-free flours, not just one, singular flour.
Most gluten-free flour you buy in the supermarket typically contains a blend of rice flour, potato flour, maize flour, tapioca flour AND buckwheat flour. That's a lot of different flours!
In gluten-free self-raising flour, there's usually even a little baking powder and xanthan gum in it too which always helps.
So to replace it with just one specific type of flour… that's not going to cut it at all. Definitely go for a gluten-free flour blend.
Do I need weighing scales to make your gluten-free chocolate orange yule log?
In short… yes, yes and yes! And I wouldn't advise attempting any of my recipes without them.
A lot of work went into fine tuning ratios and quantities and for me, baking is all about consistency and precision. I want you to make this recipe and for it to turn out EXACTLY like mine did.
I'd recommending using digital cooking scales like these so you know you're getting an accurate measurement and replicating my recipe as accurately as poss.
5 tips for the perfect gluten-free chocolate orange yule log
Ensure you adequately whisk up the eggs at the very start. This is key in a sponge that doesn't contain any butter.
You MUST roll up the sponge with baking paper inside. There's no butter in this one and it'll still be warm, so you'll find that it loves to stick to itself. Baking paper prevents this from happening!
You MUST roll up the sponge whilst it's still warm. If you allow it to cool, it's game over. It will 100% break when you try to roll it up.
Don't skip adding xanthan gum to this one. We should all be impressed that it's even possible that you can roll up a sponge without gluten, so don't expect it to work half as well with out my favourite gluten-replacer: xanthan gum.
Allow the sponge to fully cool, whilst rolled up, before filling it. Not only does allowing it cool whilst rolled up give it it's swirly shape and structure, but the filling will melt if the sponge is still warm.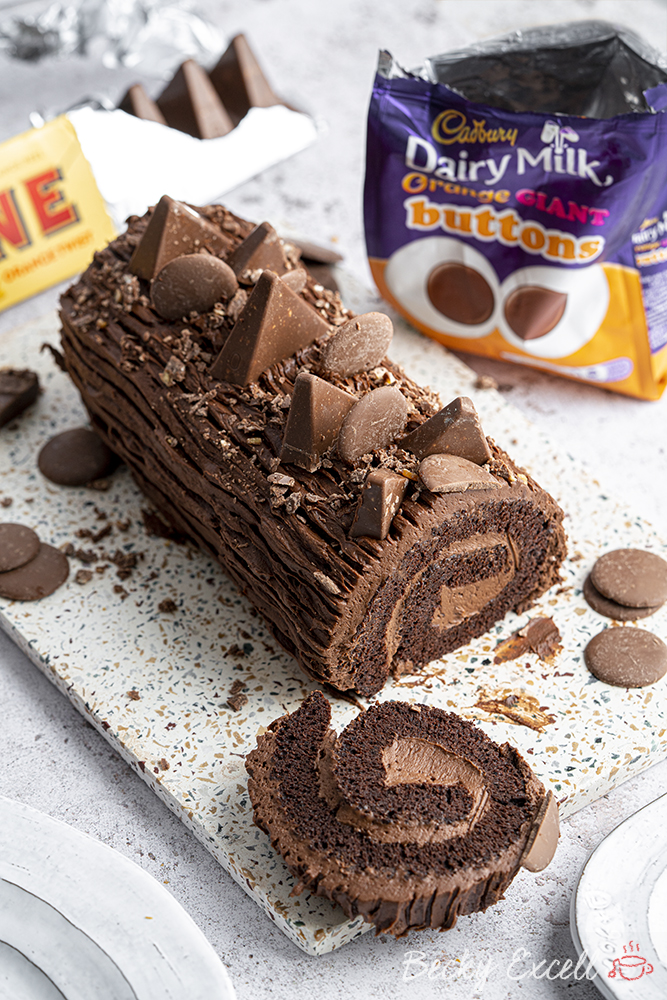 How to store your gluten-free chocolate orange yule log
Once cooled, store in an air-tight container in the fridge for up to 3-5 days. I say the fridge because there's cream in the filling after all!
If you wish to freeze it, you can also store it in an airtight container in the freezer for up to 3 months. I'd highly recommend slicing it up first.
To thaw your frozen gluten-free chocolate orange yule log, allow each slice to thaw at room temperature for around 3 hours.
Gluten-free chocolate orange yule log recipe
: Method
Oh and here's a printable version of my gluten-free chocolate orange yule log recipe. Please remember to give it 5 stars if you tried it and enjoyed it as it helps people know it's worth trying too! ⭐️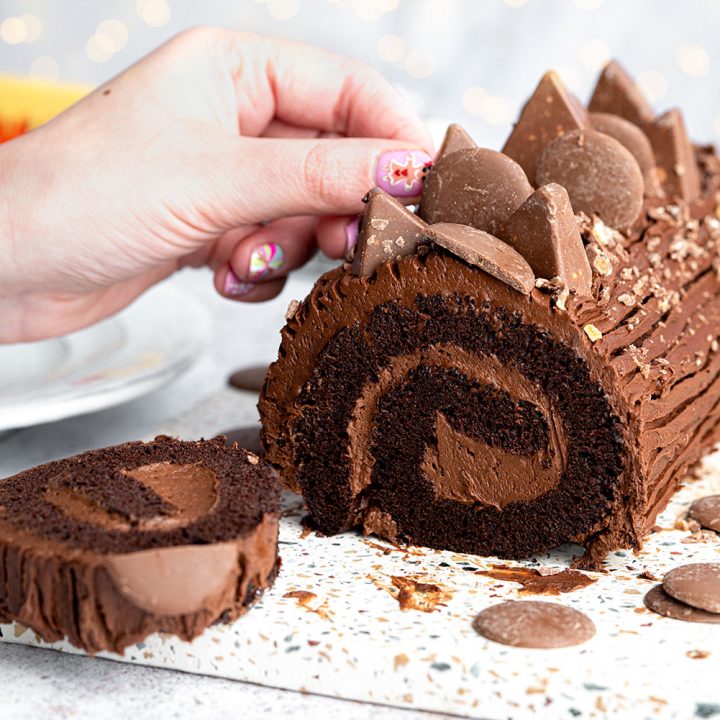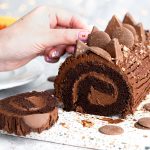 Gluten-free Chocolate Orange Yule Log Recipe (dairy free)
Gluten-free chocolate orange yule log recipe - super easy to make and you'd never know it was Coeliac-friendly and wheat-free. Promise!
Ingredients
For the sponge
100

g

caster sugar

4

large eggs

65

g

gluten free self raising flour

1/4

tsp

xanthan gum

add this even if your flour already has it in it

40

g

cocoa powder

ensure dairy free if necessary

2

tsp

orange extract
For the icing
250

g

butter

softened (use Stork hard margarine if dairy-free)

250

g

dark chocolate melted and cooled

dairy-free if necessary

250

g

icing sugar

2

tsp

orange extract
Optional extras
Icing sugar

for dusting (I didn't use this in the photos, but you can sift some on at the end for a 'snowy' effect)

Chocolate orange buttons

linked in FAQ section along with dairy-free alternative

Chocolate orange Toblerone

linked in FAQ section - omit this if dairy-free
Instructions
To make the sponge
Prepare your swiss roll tin by greasing it and then placing baking paper onto it. Make sure it fits really well as you want the full shape of the tin.

Preheat your oven to 180C Fan / 200C.

Using an electric hand whisk, whisk together your sugar, eggs and orange extract until light and a little frothy. It should only take a few minutes.

Sift in your gluten free flour, xanthan gum and cocoa powder (always sift cocoa powder otherwise it can be quite lumpy). Fold this into your mixture carefully until fully combined.

Pour/spoon the mixture into your tin, ensuring it spreads right to the edges. Try your best to get it even as it will be pretty thin.

Bake in the oven for about 9 minutes. The sponge should have come away a little bit from the sides of the tin and be slightly risen.

Remove the sponge from the oven and very carefully invert it (turn it upside down!) onto another piece of baking paper on a flat surface. Carefully peel off the baking paper that was on the bottom of it in the oven.

Whilst the sponge is still warm, roll the sponge up with the paper inside it as you roll. Put your rolled up sponge to one side and leave it to cool completely whilst still rolled. I usually put something heavy against it to ensure it stays fairly tight and doesn't unroll.
To make the icing
Whilst your sponge cools, make your icing for the inside and out. Place your butter in a stand mixer (or electric hand whisk if you don't have a stand mixer), mix on its own on a high speed for about 5 minutes. The butter should change from a more yellow colour to being a lot more pale.

Add your icing sugar gradually to the butter (I do this in two stages). I mix each addition of icing sugar for around 3-5 minutes before adding the second half.

Now add in your melted, cooled chocolate and mix until fully combined, followed by your orange extract. It should be the right consistency at this point.
To assemble:
Carefully unroll and remove the baking paper. Fortunately I never find the sponge cracks using my recipe, but if it does, it doesn't matter - it will all be covered in icing!

Spread a layer of about 1cm thick of your filling on the unrolled sponge (I leave about a half cm gap around the edge). Carefully roll the sponge back up and transfer it to the serving board. Do this as tight as you can for the best swirl. Don't overfill with cream, you don't have to use it all!

Cover the rolled up sponge with the icing and use a fork or sharp knife to go over it to make a wood like pattern.

Optionally dust with icing sugar for a snowy finish and top with some chocolate orange Toblerone (chopped up as they're quite big and chunky) and chocolate orange buttons.

Cut the ends off to reveal your swirl and enjoy!
Notes
I changed the icing recipe for this - the new one is sooo much more chocolatey, indulgent and needs less ingredients. Trust me, it tastes better AND it's easier to make! But if you want the older one because that's what you've always used, here it is:
OLD ICING RECIPE:
Ingredients:
675g icing sugar
45g cocoa powder (ensure dairy free if necessary)
65g butter, softened (dairy free alternative if necessary)
2 tsp orange extract
125ml milk (any milk should work here)
Add all your ingredients to a standing mixer (you could use an electric hand mixer too) ensuring you sift in the icing sugar and cocoa powder.
Start the mixer on low and then increase to a higher speed as it all comes together. If it's not coming together, add a little extra milk very slowly.
It should be lovely and thick but still able to be spread. If you want it to be thinner, then add a little extra milk, and if you want it more thick then sift in some extra icing sugar (mine is always perfect or a little too thick, never too runny).
Nutrition
Serving:
1
g
|
Calories:
342
kcal
|
Carbohydrates:
69
g
|
Protein:
4
g
|
Fat:
6
g
|
Saturated Fat:
3
g
|
Polyunsaturated Fat:
2
g
|
Cholesterol:
60
mg
|
Sodium:
106
mg
|
Fiber:
1
g
|
Sugar:
60
g
Thanks for reading all about my gluten-free chocolate orange yule log recipe! If you make it, I'd love to see how it turned out so don't forget to take a snap of your creations and tag me on Instagram!
Any questions about the recipe? Please do let me know by following me on Instagram and leaving me a comment on a recent photo!
Thanks for reading,
Becky xxx
Oh and don't forget to pin this for later!