Gluten free gingerbread men recipe – who's up for trying it? Hopefully you! It's super simple to make and they're even wearing cute little Christmas jumpers. You can also make this recipe dairy free, vegan and low FODMAP too if you fancy.
My gluten free gingerbread men recipe is the ULTIMATE Christmas baking project that you need to try ASAP! I've spent aaaages perfecting this, so let me tell you a little about it first…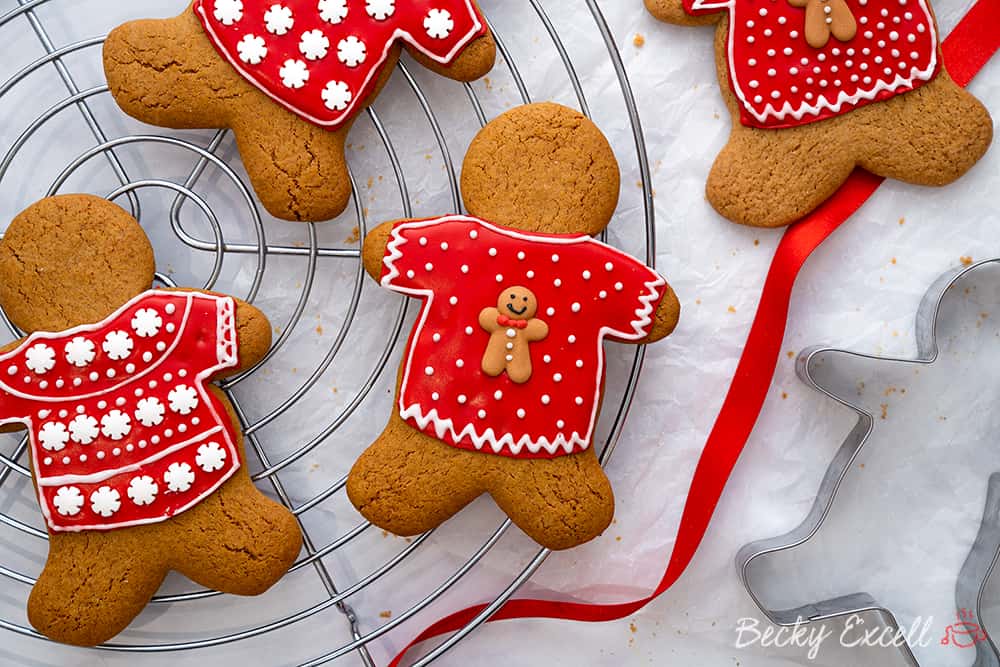 And why did I need spend time perfecting my gluten free gingerbread men recipe?
Well, because when I used to bake them… they would spread so much that they're lose their shape a look unrecognisable!
But fortunately, I think I've really nailed this one and as always… that's when I post them on the blog.
So you can be confident that I've baked these a billion times before you do, so you can be sure that they come out perfect, every time.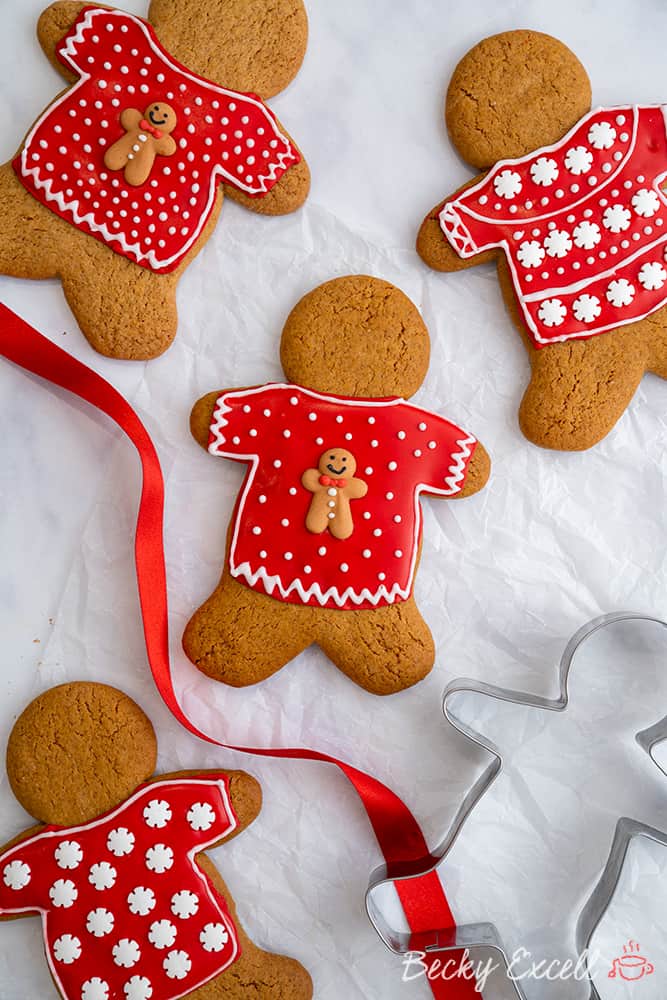 But it's not just the perfect bake that I was looking for… I put a lot of time into my gluten free gingerbread men recipe, trying to get perfect taste and texture. And I finally did it! So here's what they taste like…
They're not like hard biscuits at all – I'm not a huge fan of hard gingerbread! These are crisp on the outside, but soft and chewy in the middle thanks to a nice little rise from the bicarb when you bake them.
And each bite is sweet like a deep, dark caramel, but also lovely and fiery/warming thanks to the ginger and cinnamon.
Then, you've got that lovely royal icing on top which makes these so incredibly more-ish! Honestly, I couldn't be more happy with how these turned out.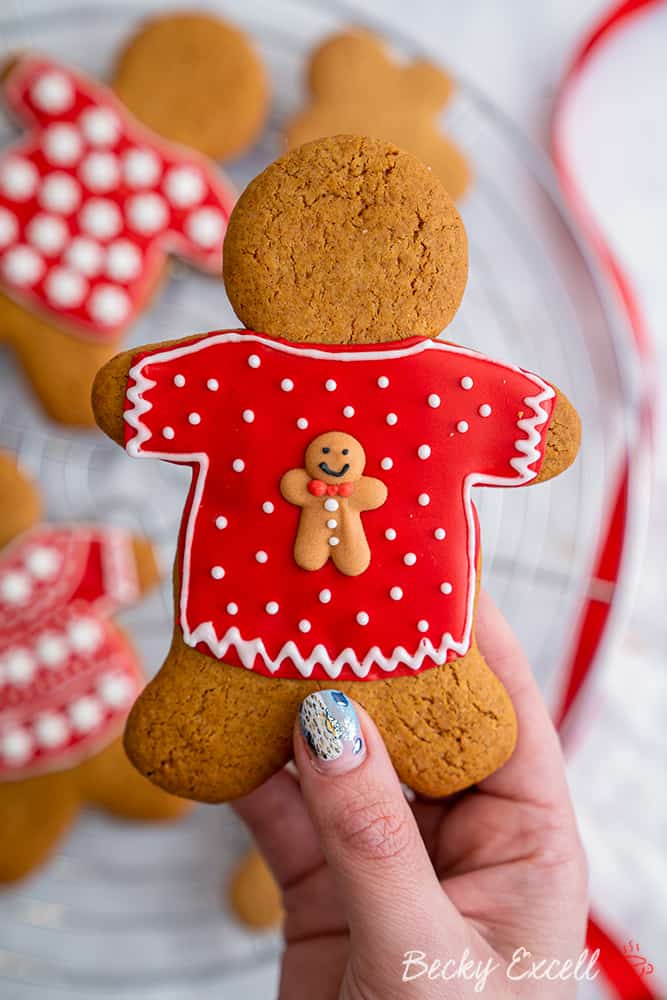 And what do you think of my gingerbread men's Christmas jumpers? I'm certainly not an expert when it comes to icing, but I do love to give it a good go.
But that's what's so good about decorating your own gingerbread men… it's actually just really relaxing and a bit of festive fun. It doesn't have to be perfect!
Anyway, here's what you'll need to add to your shopping list ??
Ingredients
For the gingerbread
350g gluten free plain flour
1/4 tsp xanthan gum
3/4 tsp bicarbonate of soda
3 tsp ground ginger
1 tsp ground cinnamon
125g butter, chopped and cold (dairy free alternative if necessary)
175g light brown sugar
4 tbsp golden syrup
1 egg
For royal icing
500g royal icing sugar
80ml cold water
colour gels
Keep scrolling until you see the recipe card at the bottom of this post for the method ??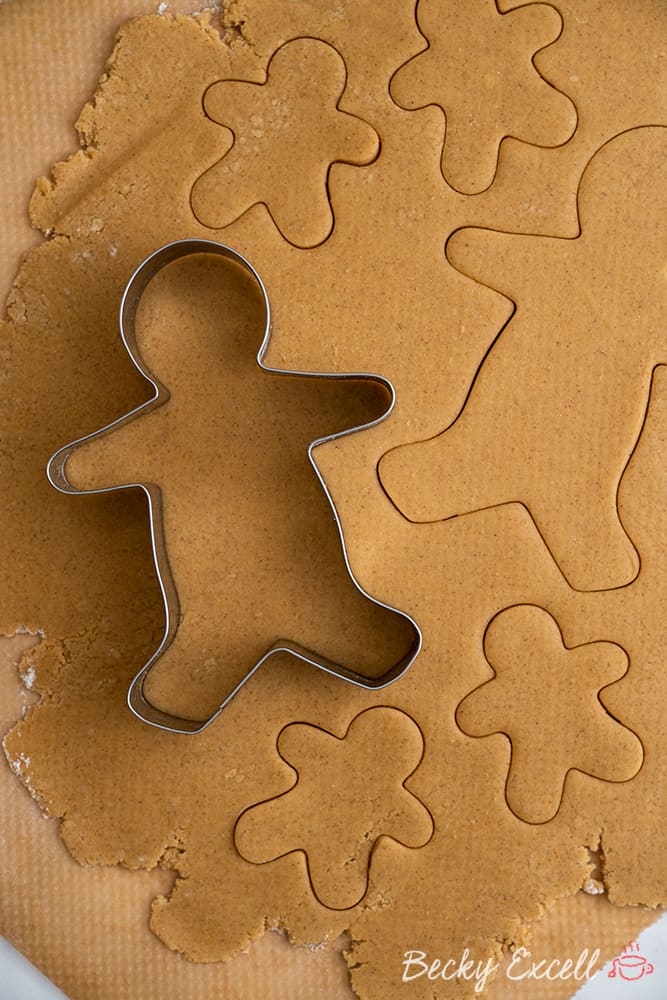 Here's some tips/FAQs for creating the perfect gluten free gingerbread men…
Can I make this recipe gluten free?
It is gluten free!
Can I make this recipe dairy free?
You actually only need to make one simple swap to make my gluten free gingerbread men dairy free.
All you'll need to do is use a hard margarine instead of butter – I used a block of Stork. That's it! Easy, peasy right?
Can I make your gluten free gingerbread men vegan?
If you follow the steps above to make this recipe dairy free (using Stork instead of butter) then all you've got left to contend with is one egg.
Here's a few ideas you can use as egg replacements, so each of these = 1 egg.
3 tablespoons of aquafaba – water from a can of chickpeas. Keep the chickpeas for a future dinner!
Egg replacement powder – I'd recommend using Orgran as it's gluten free.
1 tablespoon of chia/flax seeds mixed with 2 tablespoons of water and left for 10 minutes in the fridge.
3 tablespoons of applesauce.
So use one of those egg replacement options and you've got gluten free AND vegan gingerbread men!
Is this recipe low FODMAP?
Yep, this recipe is totally low FODMAP as it is – no changes required!
In case you're worried about butter, that's low FODMAP too as it's incredibly low in lactose.
Is this recipe nut free?
Yep, this is a nut-free recipe. But of course, make sure you check the ingredients label on all the products you use to bake these biscuits.
Even if the products don't contain nuts, they may have a 'may contain nuts' warning due to being produced in a factory that handles nuts.
You can never be too careful so always read the labels on everything first!
Can I make your gluten free gingerbread dough in a food processor or standing mixer?
Of course you can – I actually make this in a food processor myself and it's probably the easiest way to make it. Why?
Well, instead of rubbing in your dry ingredients and butter by hand in step one, you can do it much quicker and easier by using a food processor. You can't really do this part in a standing mixer, so it's best to do it by hand if you don't have a food processor.
After that, you can either use a standing mixer, food processor OR electric hand whisk after you add your wet ingredients to bring the gingerbread dough together.
I do however use my standing mixer to make the icing, which speeds up the whole process massively. You can also use an electric hand whisk for this part too.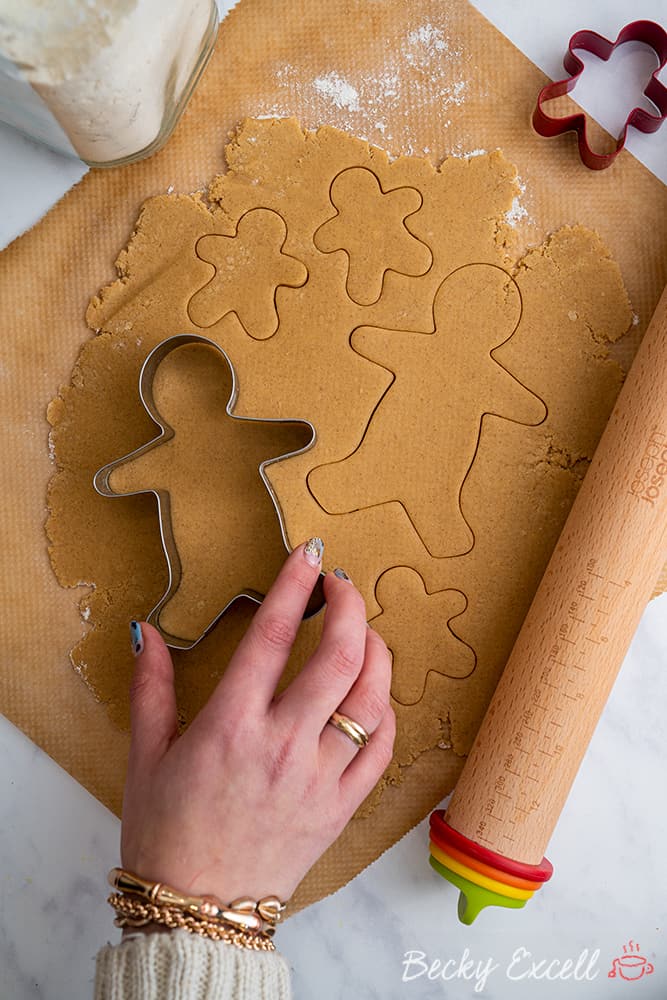 Can I make your gluten free gingerbread men without any kind of electric appliances at all?
You definitely can – it just takes a little extra time and a bit more elbow grease!
For starters, it's easy to rub in all your dry ingredients with butter by hand. Once you then add all of your wet ingredients to that mixture, simply use a good silicone spatula or a wooden spoon to bring it all together into a dough. Simple!
As for the icing, it can take a little while to come together, but just make sure that you keep scraping down the sides of the bowl. Keep mixing until everything is very well combined.
Then be proud that you make this recipe totally by hand!
Do I need any special equipment to bake your gluten free gingerbread men?
Certainly not! As I mentioned in the last question, a little elbow grease means you definitely don't need anything more than a bowl and a spatula/wooden spoon to make the dough.
I will definitely recommend my weapon of choice for biscuits though: I use this amazing rolling pin that allows you specify how thick you want your dough. That way, you can guarantee the thickness of what you're rolling out every time!
But of course, any ol' rolling pin will do too, you'll just need to pay a little more attention to the thickness of your dough when you roll it out.
What biscuit cutter should I use?
I used this Tala gingerbread man cutter here. It's 10cm tall just so you know!
The size of your cutter is important as if it's considerably smaller than mine, it'll likely mean your biscuits won't need as long in the oven.
And of course, if it's bigger, you might need to bake it for longer!
Do I need weighing scales to bake this recipe?
In short… yes! And I wouldn't advise attempting any of my recipes without them. One of the worst things you can do in any baking recipe is alter the quantities by mistake or on purpose.
Why? Well, you're sort of just gambling with the recipe and praying that it turns out ok. And I've generally already done the hard work there for you!
A lot of work went into fine tuning ratios and quantities so I wouldn't mess around with them unless you really know your stuff.
I'd recommending using digital cooking scales like these so you know you're getting an accurate measurement.
What food colouring should I use for the icing in this recipe?
I would massively recommend using food colour gels like this instead of the stuff that you can buy in the supermarket. And not just because that's the exact one I used in this recipe!
These food colouring gels are highly concentrated and you don't need to put much in to achieve a really, nice vibrant colour. The tubes of food colouring in the supermarket on the other hand…
You often need an entire tube or multiple tubes to achieve the same result. Which can not only muck up the consistency of your icing by making it really wet, but also, it costs a lot more.
So save yourself the grief.money and use what I used, or just stick with a nice, classic white icing!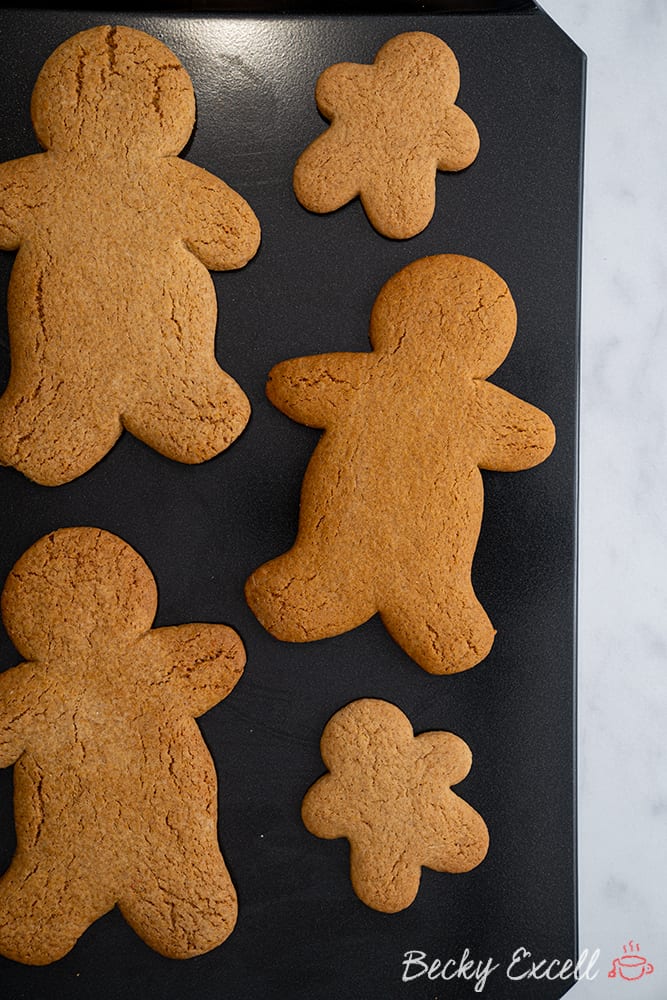 Can I make this recipe without xanthan gum?
You'll see xanthan gum in a lot of my recipes as it's an essential ingredient in gluten free baking.
Without gluten to bind the biscuit together, you can be left with a much looser texture which can be crumbly and easily fall apart. So for that reason, I wouldn't recommend trying this recipe without it!
Gluten free self-raising flour tends to have a little xanthan gum in it, so you can get away without adding xanthan gum in recipes that use it. But this is not one of them!
This recipe needs gluten free plain flour – hence the need for additional xanthan gum.
Some people have asked if they can use psyllium husk powder instead of xanthan gum and you could definitely give it a try in this recipe – though I don't recommend using it for cakes.
Can I bake your gluten free gingerbread men with less sugar?
I can definitely understand the need to reduce sugar in our foods, but this is one of the recipes where I wouldn't advise it at all.
Of course, the sugar isn't just for sweetness – it's integral to the structure of biscuits once baked, so remove/reduce at your peril!
You can always enjoy my gingerbread men without the icing (they taste amazing just as they are) so that's one way you can reduce the sugar without affecting the bake.
Can I bake this recipe using a different type of sugar?
For this recipe, I'd recommend sticking to light brown sugar.
I wouldn't recommend using any syrups in place of sugar either, as it can greatly affect the consistency of your mixture too.
How long can I keep these biscuits for?
I've kept my gluten free gingerbread for around a week and they still taste as good as they day they were made. Obviously store them in an air-tight container too.
When they start to get a bit soft, they're probably getting past their best.

Can I freeze your gluten free gingerbread men?
Of course! I've frozen them for up to a month and after allowing them to fully thaw, you'd can enjoy them once they reach room temp.
Whilst you can freeze the biscuits after baking, ideally, you'd freeze the dough at step 6.
Then you can continue from the step 7 (rolling out the dough, cutting, chilling, baking etc) after allowing the dough to fully defrost in the fridge.
Doing so will ensure the biscuits are as fresh as possible, whilst still reducing the amount you waste overall.
Can I use this gingerbread recipe to make a gingerbread house?
I'm sure it's possible, but I wouldn't recommend it. This recipe is for lovely, soft, gingerbread with a lovely subtle rise.
The gingerbread you need for a gingerbread house should ideally be really strong, with no rise so each shape stays exactly the same as when it was cut.
Fortunately for you, I've got a different recipe for a gluten free mini gingerbread house here!
What is golden syrup and what can I use instead?
As far as I know, Golden syrup is a UK thing that you can't really get anywhere else. It's different to corn syrup, honey etc. because it's made from sugar.
It's a light treacle that was created by Charles Eastick and John Joseph Eastick, which was first sold in 1885. There's a bit of a history lesson for you!
If you live outside of the UK, molasses is your best substitute as they are both very similar.
Just bear in mind that molasses will make the gingerbread darker and it tastes stronger.
How can I tell when my gluten free gingerbread men are done?
They should look nice and golden with slightly browned edges. Just aim for how mine look in the photos if you can – the subtle browned edge means they're done!
I wouldn't recommend opening the oven mid-way through cooking to check though. There's a little bicarb in my gingerbread and opening the oven door can negatively affect their rise.
Oh and make sure you leave them to cool before sampling them!!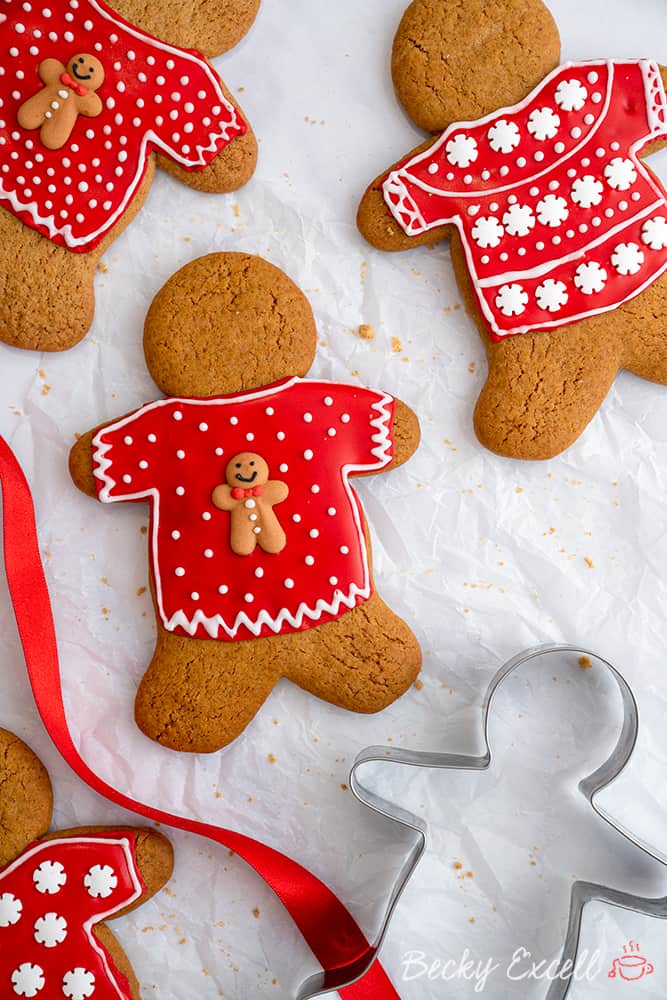 Troubleshooting
My gluten free gingerbread men came out really dark and crisp. What happened?
Sounds like they were over-baked.
So either your oven is way too hot or you're leaving them in too long… OR you rolled your dough too thin. Remember, we want 0.5cm thick dough when rolling it out! If your dough shapes are too thin, they'll cook in next to no time.
Plus, my gingerbread men were about 10cm tall, so if yours are much smaller, make sure you bake them for slightly less time.
I use this amazing rolling pin that allows you specify how thick you want your dough. That way, you can guarantee the thickness of what you're rolling out every time!
My gluten free gingerbread men spread too much in the oven and lost their shape!
Firstly of all, a very minor amount of spreading is ok – as long as they don't lose their shape. However, if they start to lose their definition in shape, they've probably spread too much. Here's why…
You might not have allowed enough time for the dough shapes to chill in the fridge. That's the first and most likely cause.
Another cause of spreading is not having your oven hot enough. For example – if your oven isn't fully pre-heated before popping the dough shapes in the oven. A low oven temp will almost melt them before they get a chance to cook.
Lastly, too much raising agent is a sure-fire way to make sure that your gingerbread spreads. Make sure you don't put in an enormous teaspoon of bicarbonate of sofa!
My gingerbread dough was really dry and crumbly when I tried to roll it out… what did I do wrong?
There's a couple of reasons – firstly, the dough can be quite crumbly if you didn't mix it all together well enough.
You need to mix it until the gingerbread dough comes together to be really soft, smooth and consistent (no lumps etc). If you can still see any trace of flour in the mixture, then keep on mixing until it's all combined.
If the dough isn't well-combined, it'll likely be too dry to roll out successfully. Also, if your dough is really cold for some reason (because you froze it and it's not quite fully defrosted) the dough will be more crumbly and harder to roll.
If that's the case, I'd recommend kneading the dough briefly after chilling as it'll help to warm up the dough. That way, it'll be less crumbly to roll.
My gingerbread didn't turn nice and golden brown in the cooking time allowed. What happened?
Either your oven isn't as hot as mine, or you might have rolled your dough to be too thick. Remember that we want to roll out our dough to be half a cm thick – if it's thicker than that, it'll take longer to bake.
Again, I use this amazing rolling pin that allows you specify how thick you want your dough. That way, you can guarantee the thickness of what you're rolling out every time!
Even if they are too thick, or just plain under-baked, you can always pop them back in until the sides are a little more golden brown.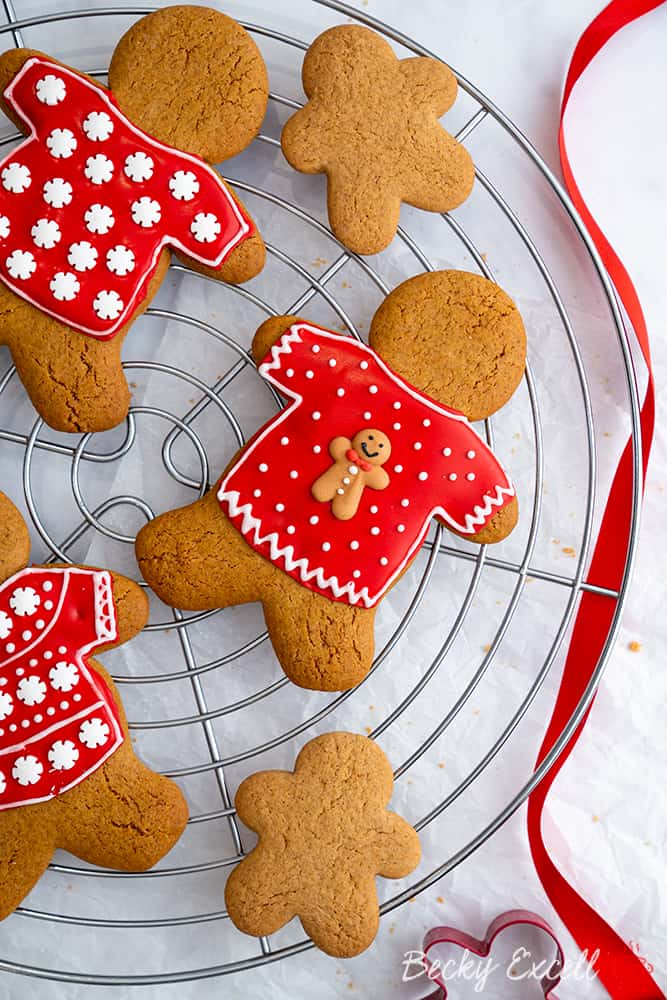 Some of my gingerbread men browned too much but some weren't cooked enough, what happened?
That likely means that the dough shapes you cut out weren't a consistent thickness.
If some are too thin, they'll cook quicker. If others are too thick, they'll take longer.
Rolling out your dough to be consistently half a cm thick means everything will bake at the same speed and all be done at the same time.
Whenever I roll out the gingerbread dough, it sticks to my rolling pin and the surface.
It is a little bit of a sticky dough and whilst just flouring your surface and rolling pin can combat this, it's not ideal.
Why? Well, the more flour you add, the more likely you are to make the dough really dry and inadvertently adjust the proportions of the recipe.
There's an easy solution to this though – simply roll the gingerbread dough out between two sheets of good non-stick baking paper like Bacofoil.
I'd still recommend adding a tiny bit of flour on both sides of the baking paper before rolling. You'll use so much less flour and it's so much easier to roll out – no sticking at all!
When I tried to rub in my butter and dry ingredients, it wouldn't get to the point where it resembled breadcrumbs. What did I do wrong?
You need to make sure that you use cold butter to achieve the breadcrumb-like consistency that we're aiming for.
Using warm butter, or something like margarine spread won't work as it'll just turn to mush!
Can I print your gluten free gingerbread men recipe?
Of course! Just hit the print button located on the recipe below ?? (otherwise you might end up printing this entire post which would probably make your printer go into early retirement)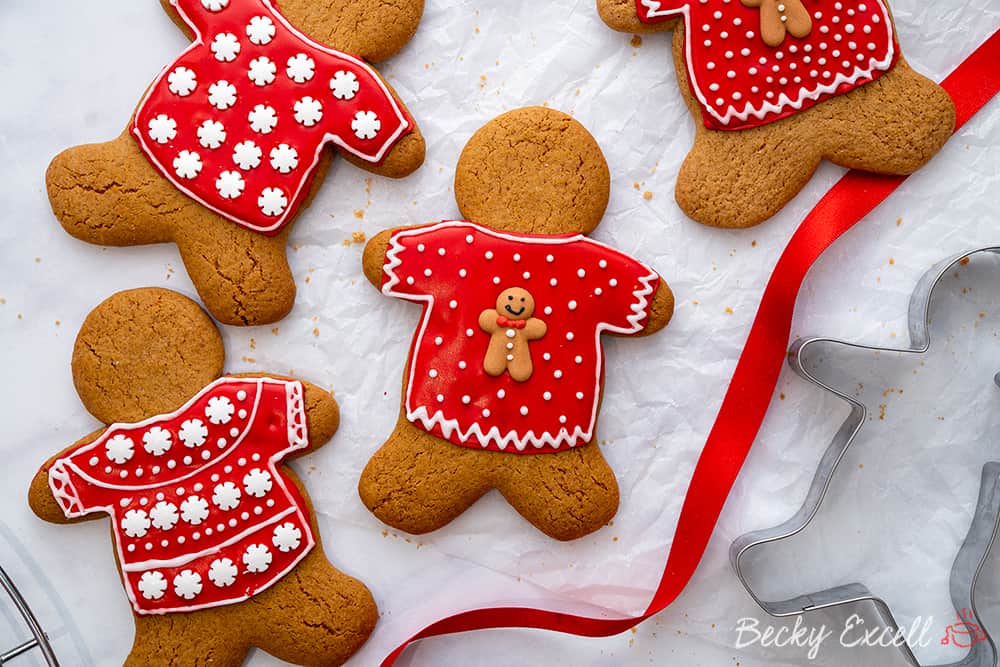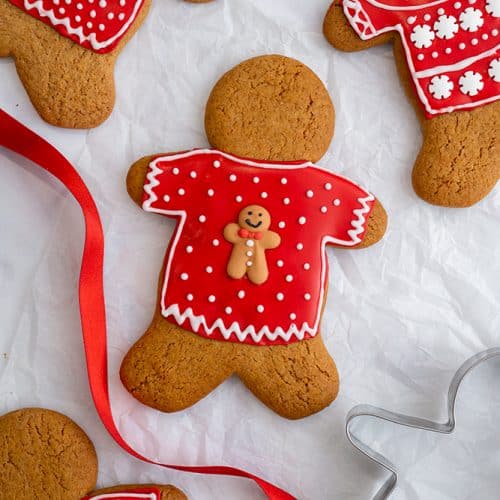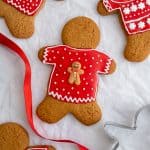 Gluten Free Gingerbread Men Recipe (low FODMAP, dairy free option)
Gluten free gingerbread men recipe! It's the perfect Christmas baking project and you can easily make them dairy free and low FODMAP too.
Ingredients
For the gingerbread
350

g

gluten free plain flour

1/4

tsp

xanthan gum

3/4

tsp

bicarbonate of soda

3

tsp

ground ginger

1

tsp

ground cinnamon

125

g

butter

chopped and cold (dairy free alternative if necessary)

175

g

light brown sugar

4

tbsp

golden syrup

1

egg
For royal icing
500

g

royal icing sugar

80

ml

cold water

colour gels
Instructions
For the gingerbread:
Place your gluten free flour, xanthan gum, ground ginger and bicarbonate of soda into a bowl. Rub in your butter until it is like breadcrumbs. If you have a food processor, then place your dry ingredients in and add your butter, then blitz until a breadcrumb texture.

Mix in your light brown sugar.

Crack your egg into a bowl and add your golden syrup to it. Beat them together.

Gradually add you egg/syrup mixture into your main bowl. If using a food processor, blitz until it all comes together. If not use either an electric hand mixer or a spatula to bring it all together.

Remove your mix from the bowl and briefly knead it together (use a little extra flour to make sure it doesn't stick to your surface).

Split your dough into two. Cover each in clingfilm and place in the fridge for no less than 30 minutes ideally. The ideal time in the fridge is around 1-2 hours but if you can't wait then 30 minutes should be ok to stop it from spreading. Also you can leave it in the fridge for a few days if you want to make it ahead of time.

Preheat your oven to 180C / 160C Fan and prepare a baking tray with some baking paper.

Once you are ready to roll your dough out get two sheets of baking paper. Sprinkle a little gluten free flour on the bottom sheet.

Place your dough onto the baking paper and place your other sheet on top of it - doing this helps your dough not stick. Roll the dough out to 0.5cm thickness. Then use your cutter to cut out your gingerbread man shapes.

Place them onto your baking tray (leaving gaps between each for any minor spread) and bake for 12 minutes, or until golden.

Leave to cool for about 10 minutes on the baking tray before transferring to a cooling rack.
For the red/white Christmas jumpers icing:
Mix your icing sugar into your water. Mix on a slow speed for 5 minutes, then a high speed for about 8 minutes. I do this in my stand mixer but you could do it with an electric hand mixer or by hand... it would just take longer.

Divide the icing up equally into smaller bowls - one bowl for each colour you'll need. I just had two bowls, one for my white icing and one for my red. Mix the red colouring gel into the bowl reserved for your red icing. Make sure you mix your colour in thoroughly so it's evenly throughout the batch.

Grab one more bowl and split the red icing again so you now have two bowls of red icing. To one bowl, add around 2 tsp of cold water and mix thoroughly until you have a slightly runnier mixture. We'll call that bowl your 'flood icing'. Put to one side for a minute.

Spoon your white icing into a piping bag, and tie up the top so it doesn't dry out - we won't need it for a while. Then, spoon your red icing into a piping bag (NOT your flood icing bowl) and snip off a very small hole to pipe from.

Simply pipe the outline of your Christmas jumpers onto your gingerbread men. Allow this to set for 5 minutes.

Then, grab another piping bag and fill it with your red flood icing. Pipe a nice dollop into the middle of the gingerbread man's jumper, leaving a half cm gap away from all edges of the outline you piped earlier. Don't use too much icing or it'll defo overflow!

Using a cocktail stick, now swirl the icing so that it meets the line, but be careful not to go over it.

Once you've repeated icing steps 5-7 on all of your gingerbread men, place them onto a baking tray and pop them back in the oven at 55C for 40 minutes.

Once the icing is really nice and set, grab your white icing piping bag and snip off a small hole to pipe from. Use this to pipe detail onto the gingerbread man's jumper. I usually did an outline of the jumper, followed by a few dots which hopefully looked like snow!

Allow this to set for 10 minutes and enjoy!
Nutrition
Serving:
1
g
|
Calories:
424
kcal
|
Carbohydrates:
83
g
|
Protein:
4
g
|
Fat:
9
g
|
Saturated Fat:
6
g
|
Polyunsaturated Fat:
3
g
|
Cholesterol:
38
mg
|
Sodium:
83
mg
|
Fiber:
1
g
|
Sugar:
58
g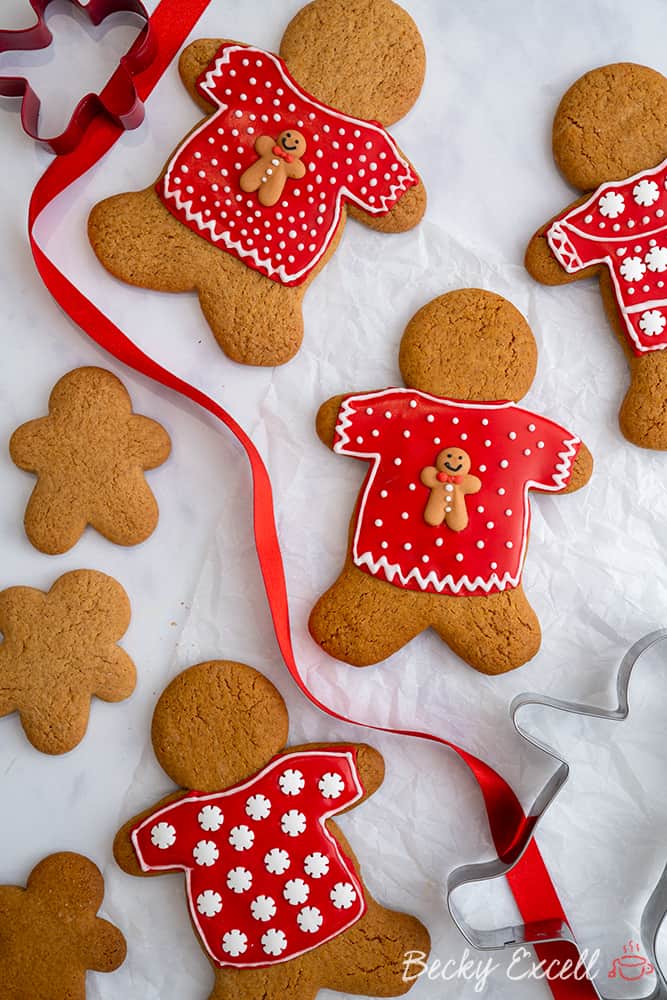 Thanks for reading all about my gluten free gingerbread men recipe! If you make it, I'd love to see how it turns out so don't forget to take a snap of your creations and tag me on Instagram!
Any questions about the recipe? Please do let me know by following me on Instagram and leaving me a comment on a recent photo!
Thanks for reading,
Becky xxx
Oh and don't forget to pin this for later!