Yes that's right, we finally have our own gluten free 'Malteasers' thanks to Schar! Their own version is called Delishios and they're everything we've been waiting for…
I mean, for starters, how long has it been since you've had an actual Malteaser?! It's been at least 10 years for me, so this is actually quite a big deal! Here's everything you need to know about Schar's new gluten free 'Malteasers'…
(disclaimer: I have worked with Schar in the past, but this is *not* a sponsored post! They kindly gifted me the products in the post today ❤️)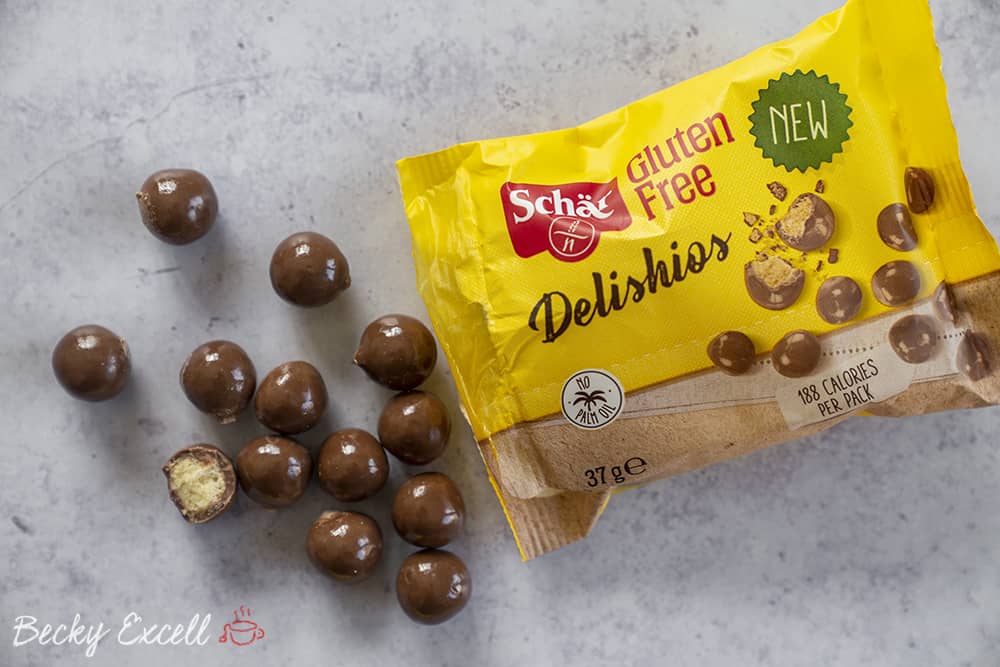 1. The ingredients.
Of course, just like with every gluten free or free from product, it's probably a good idea to read the ingredients first, so here you go: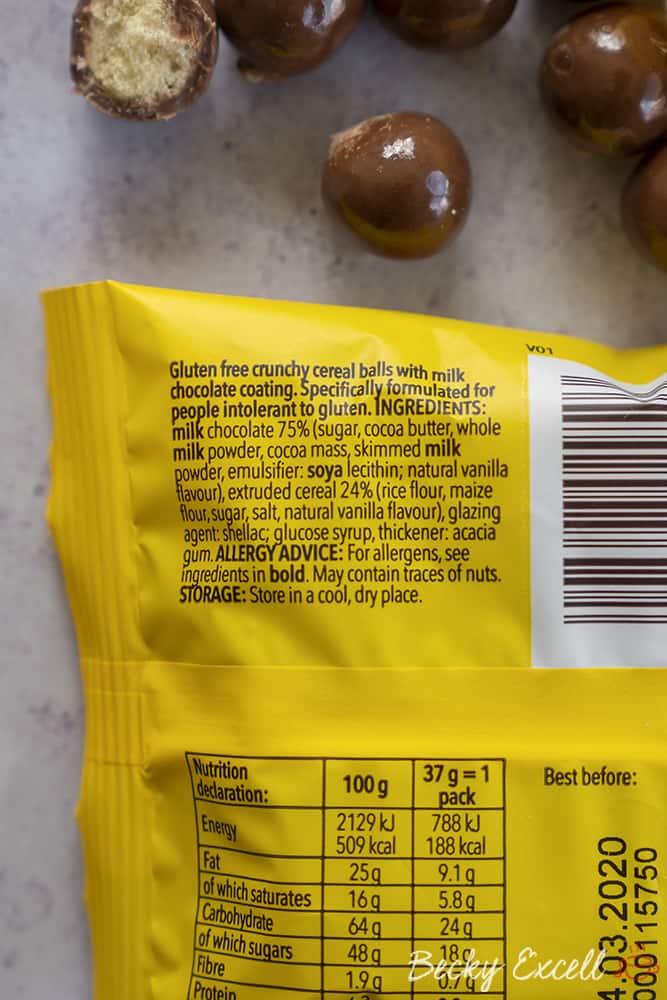 (if it's too small to read then just click/tap here)
I know a lot of you guys will be disappointed that they're not dairy free and if so, I think it's massively important that you let Schar know your thoughts on this. It's also equally as important because there's a lot of people out there who are tired of gluten free products often being dairy free too!
Which side of the fence do you sit on? Also, if you're dairy free, let me know your fave dairy free chocolate in the comments below this post please!
2. Where to find them.
You'll be able to find them exclusively in Asda. But don't head out immediately and start looking just yet – keep reading on if you want to know when they'll be rolled out to Asda's all across the UK, it's sooner than you think!
Now, just like with Schar's Melto (which is kinda like a Kinder Bueno), which started off it's life just being stocked in Asda, these days you'll see Melto's popping up in supermarkets everywhere.
So I'm guessing this is gonna be a similar kind of scenario! Make sure you let me know if you spot them anywhere else in future, but until then, it'll be purely in Asda.
Oh and it'll not just be in the free from aisle either, they're gonna be with all the chocolate by the tills too – hooray!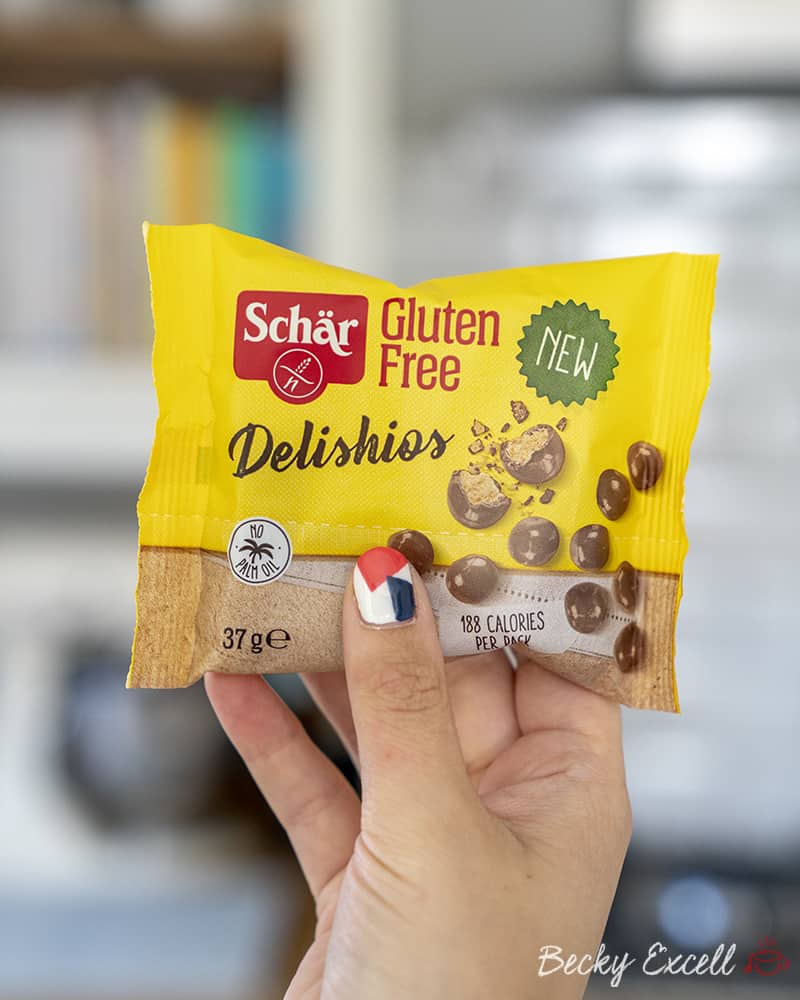 3. The price.
If you fancy a packet of gluten free 'Malteasers', Schar's Delishios will set you back just £1 for a 37g packet.
(FYI, an actual pack of gluten-containing Malteasers are 60p for 37g.)
What do you think about the price? Would you buy them? How often?! I can imagine going through several packs of these when I'm baking, but fortunately there's quite a few in each bag!
Obviously it all depends on one important factor though…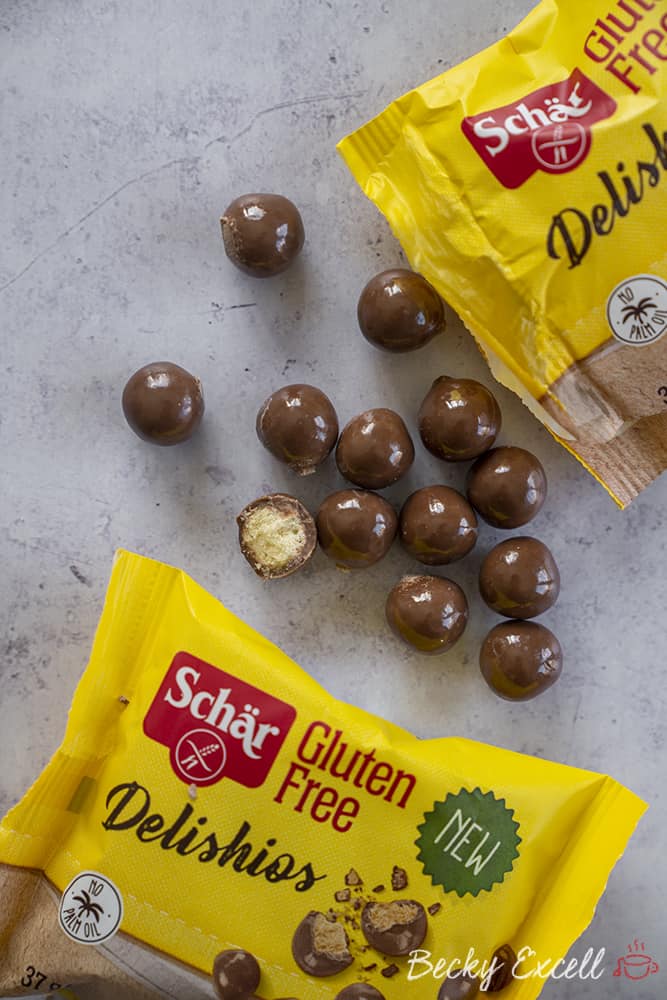 4. The taste.
As you probably clocked in the ingredients, the gluten-containing 'malty' part has been subbed with crunchy cereal balls, which I think is a great idea. Malt is usually derived from barley, which of course contains gluten, so a substitution had to be made somewhere along the line.
Of course, the chocolate is awesome – as it always is with Schar products (think the Tempties or Melto's if you've ever tried them before). It's lovely and creamy and you get quite a nice thick layer of chocolate per ball too.
The middle has the perfect crunch, though obviously tastes a teeny-tiny bit more like crunchy cereal than the 'malty' flavour some of you may remember. But as a whole, they do the job just perfectly and are mega addictive!
I'm looking forward to using them in baking because before Delishios existed, making a gluten free Malteasers cheesecake for example was actually impossible… there was no gf alternative to Malteasers at all! But now it's possible ?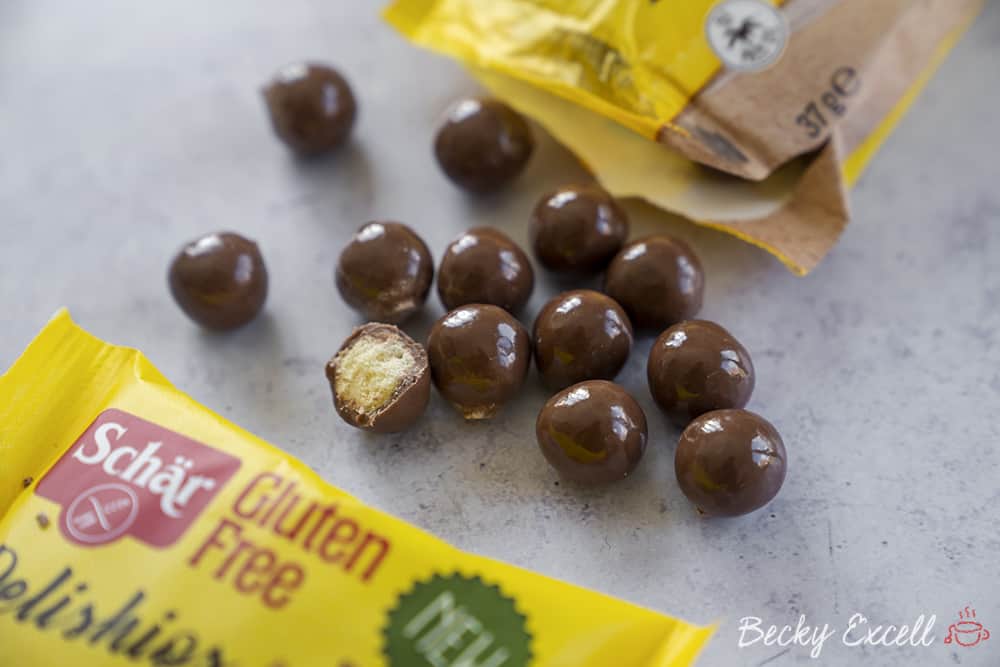 5. They're available in Asda later this week!
Yep, they're supposed to be in Asda's across the UK from Saturday the 6th of July. Who's rushing out to buy them especially?!
Absolutely make sure you give them a try and let me know your thoughts by coming back and leaving a comment below on this post.
Schar are great at making gluten free versions of stuff we really miss and I have to say… I think they may have done it again ✅
As always, feel free to keep the discussion going in the comments down below ??
Thanks for reading,
Becky xxx