When I'm dreaming of a muffin, I think of something that closely resembles what my gluten free blueberry muffins recipe would make! They're super simple to make dairy free too.
They're jumbo size, just like you'd get in the supermarket bakery, or at your local coffee shop. So how come whenever you buy a muffin tray, the muffin holes are so tiny?! But we'll get to that in a mo – first, let's talk about my jumbo gluten free blueberry muffins recipe…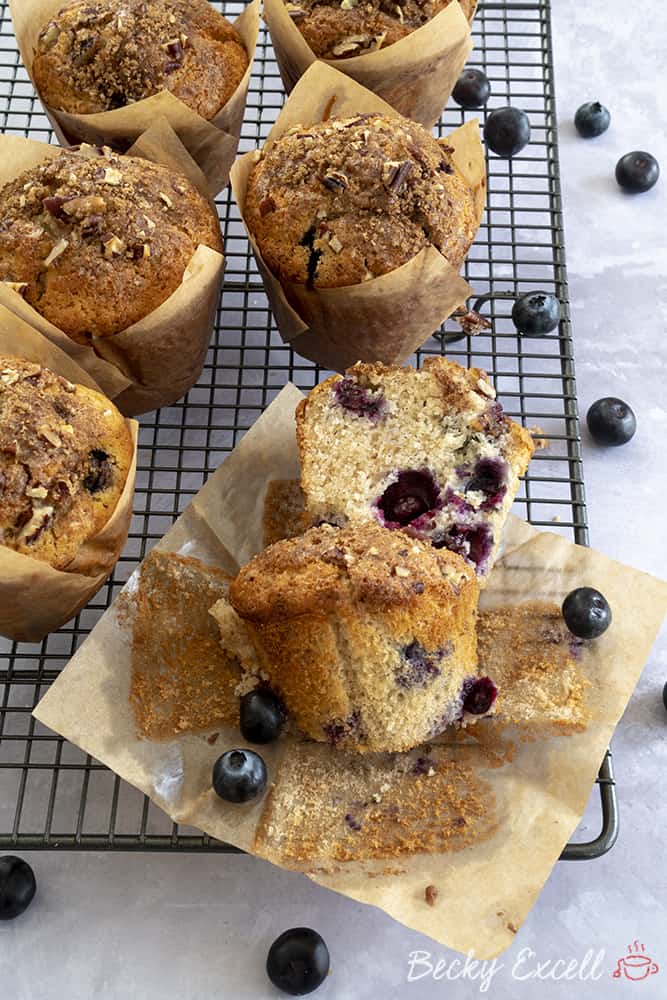 Sooo how come the only place you can buy a gluten free blueberry muffin is down the free from aisle?!
What about in coffee shops? Or cafes? Or at train stations? Or you know… basically *any other physical location on Earth* where you'd actually want a muffin?
For me, muffins are an on-the-go, out-and-about type of thing, but there's never one anywhere when I fancy one!
And even though your average gluten-filled blueberry muffins aren't exactly fresh – they TASTE fresh. They taste so moist, soft and delicious (if I remember correctly!) so I decided to bake my own fresh gluten free blueberry muffins just like those, so I could take them out and about with me.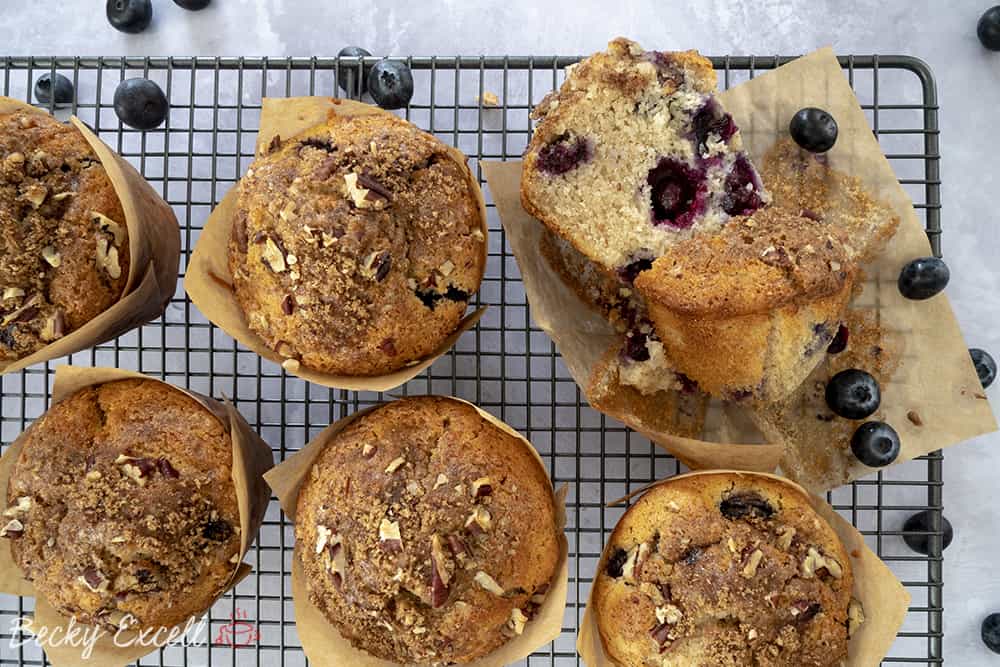 And here they are! But how did I make them 'jumbo-sized'?!
I bought these jumbo muffin trays from Amazon and to create lovely, big muffins like mine (there's an innuendo in there somewhere) you'll need a muffin tray like this one too.
(the link above is an affiliate link btw and goes towards supporting the blog)
And because the muffin holes are sooo incredibly deep, the shape of each recess supports the muffin into a taller shape. The result? Lovely, big bakery-style muffins!
If you do happen to use a smaller muffin tray though, just remember that they won't need as long to bake.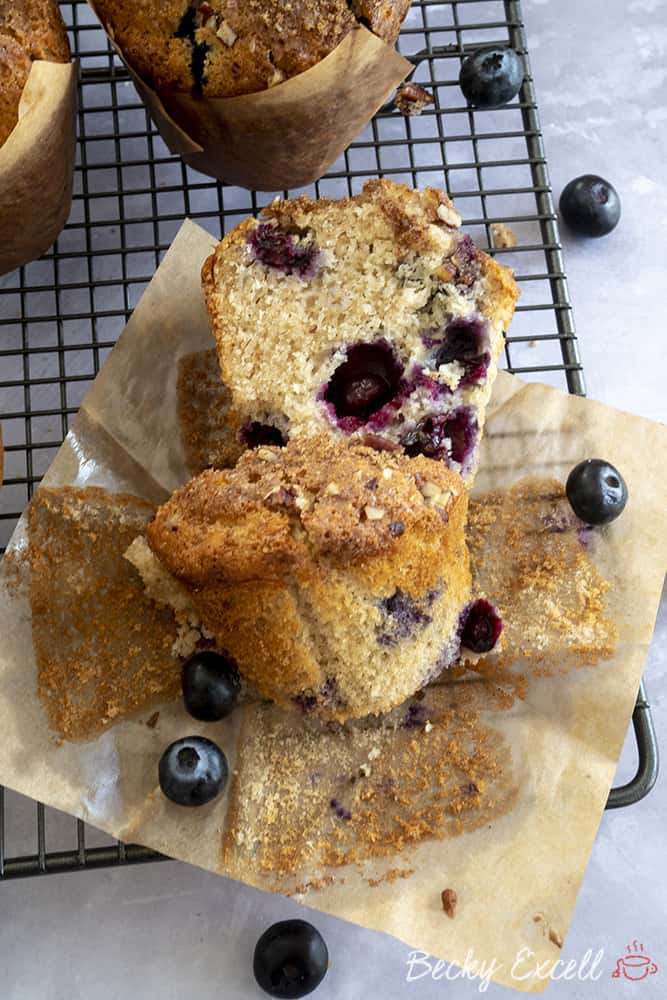 Ok, so here's my gluten free blueberry muffins recipe!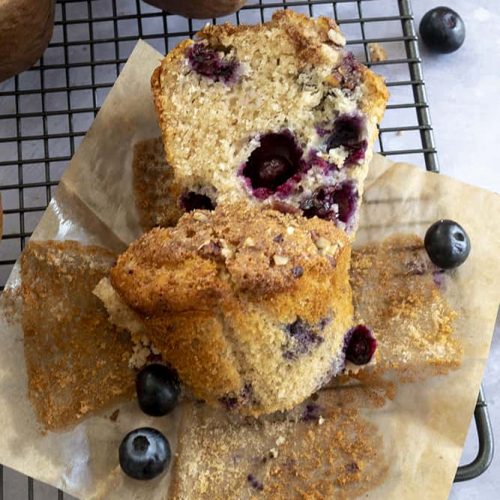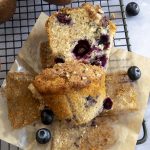 My Jumbo Gluten Free Blueberry Muffins Recipe (dairy free)
Gluten free blueberry muffins recipe, anyone? And they're nice and jumbo-sized too, as well as being dairy free. They also have a crumble top!
SERVINGS:
6
really big muffins!
Ingredients
For the muffins
370

g

gluten free plain flour

3

tsp

baking powder

(ensure it's gluten free)

1/4

tsp

xanthan gum

(if you don't have this, for this recipe it doesn't matter too much)

2

large

eggs

60

ml

plain yoghurt

(dairy free or lactose free if necessary)

240

ml

milk

(dairy free or lactose free if necessary)

200

g

caster sugar

80

ml

vegetable oil

60

g

butter

(dairy free spread or margarine if necessary)

1 1/2

tsp

vanilla extract

100

g

fresh blueberries
For the crumble topping
30

g

light brown sugar

20

g

pecans, chopped

1/2

tsp

cinnamon
Instructions
Prepare your muffin tray by popping in your tulip cases. This recipe is for really big muffins so tulip cases are essential. If you want to make smaller muffins the timings in the oven would change quite a lot!

Preheat your oven to 200C Fan.


Place your eggs, yoghurt and caster sugar into a bowl and mix together. I used a handheld (non electric) whisk for this recipe.


Add your melted butter, oil, milk and vanilla extract and continue to whisk until combined.


In a large bowl measure out all your dry ingredients (flour, baking powder, xanthan gum, cinnamon) and briefly mix.


Now pour your wet ingredients mixture into the dry ingredients and fold together. Do this very carefully and DO NOT OVERMIX. The mixture will still be somewhat lumpy and that's completely ok. If you overmix your muffins will become too dense.

Coat your blueberries in the smallest amount of gluten free four (this helps them not all sink to the bottom - a tiny amount though so it doesn't affect the rest of the recipe!) Very carefully fold in your fresh blueberries, remembering that we don't want to overmix!


Your batter will be really thick and a bit lumpy, no worries - this is a good thing! Spoon your mixture into your tulip muffin cases. I fill mine all the way to the top - this will make 6 really big muffins! (Try to ensure you can see a few of the blueberries on top - no reason other than it looks nice!)


Mix together your light brown sugar, chopped pecans and cinnamon to make a topping. Then sprinkle a little on top of each muffin (this is optional, I just like the extra crunch on top).

Place in the oven at 200C Fan for 5 minutes. After 5 minutes reduce the temperature to 160C Fan (don't remove the muffins or open the oven). Cook for a further 25 minutes (so 30 minutes in total). They should be soft and cooked through.


Allow to cool and then they are ready to eat. (You can store in an airtight container for a couple days - although as with any baked goods the first day or so is always the best!)

Notes
*** If you are going to use regular sized muffin cases (not the large tulip ones), I'd recommend baking for a little under 5 minutes (3-4 minutes) at the higher temperature and then reducing the temperature for 15 minutes instead of 25) ***
Thanks for reading all about my gluten free blueberry muffins recipe! If you make them, I'd love to see how they turned out so don't forget to take a snap of your creations and tag me on Instagram!
Plus, I'm giving away a £50 supermarket voucher every month to my fave pic, so get baking!
Any questions about the recipe? Please do let me know by following me on Instagram and leaving me a comment!
Thanks for reading,
Becky xxx
Oh and don't forget to pin this for later!