My 5-ingredient gluten free butternut squash soup recipe is soup-er (sorry) easy to make and it even has a little curried kick to it. Oh and of course, it's vegan and dairy free too.
I used to open recipe books in search of simple soup recipes for dinner and I'd always nearly fall over in exasperation. Why on Earth are there so many things in soup?!! Well, it turns out you can make awesome soup with just a few essential ingredients and here's my 5-ingredient gluten free butternut squash soup recipe to prove it…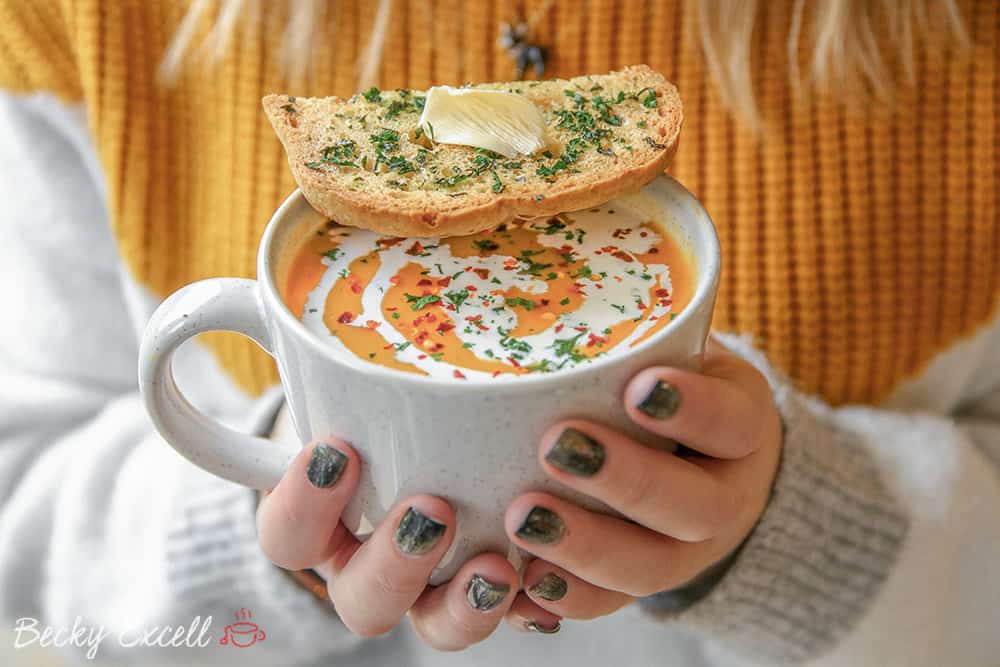 Sticking to fewer ingredients definitely doesn't mean any compromise when it comes to taste.
(I mean, would The Beatles be better if they had a fifth member who played the triangle? Probably not!)
The sweetness of the butternut squash and sweet potato works soooo well with a little curry powder, and a little salty touch from the stock. There's just no need to add anything else to the recipe!
I mean, I totally contradicted everything I just said by adding a few finishing touches on top of mine, but hey – I'm a food blogger and we often don't make any sense outside of the recipe card.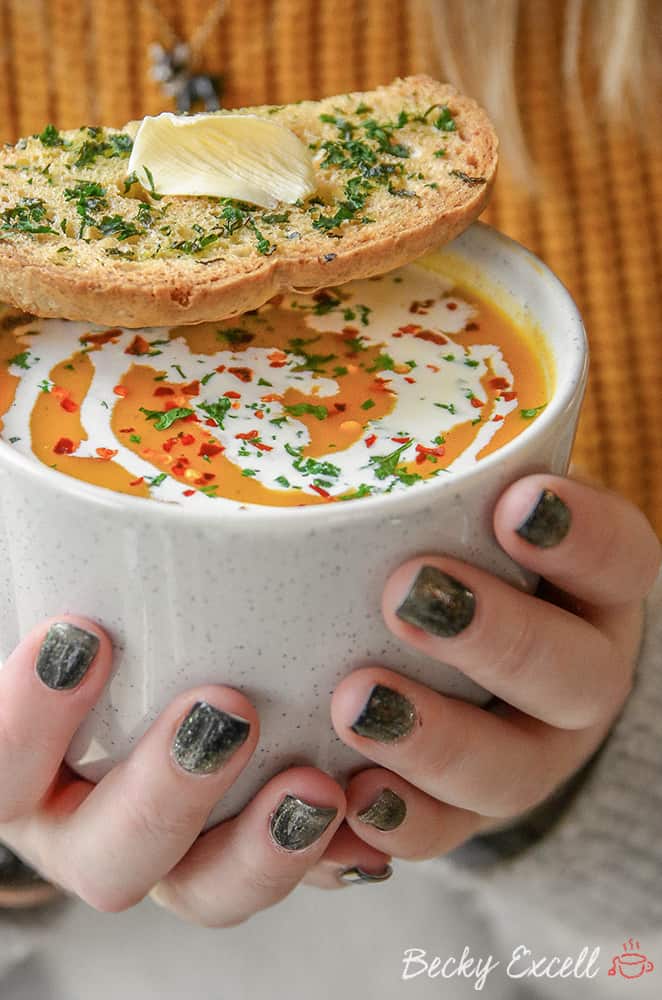 Now, a butternut squash soup can be a touchy subject if you're following the low FODMAP diet for IBS. And that's because there's a limit to the amount of butternut squash you can having during the elimination phase and a limit to the amount of sweet potato you can have too… eek.
Plus – combining the two probably isn't a good idea if you are in that elimination phase of the diet for many complicated science-y FODMAP reasons.
So it's probably best to wait until you've (hopefully) successfully reintroduced both ingredients before giving this recipe a try.
This recipe doesn't use actual garlic or onions in it though, so hopefully you can enjoy this recipe in the future! Oh and if you're in need of a low FODMAP stock option then just ask me in the comments of my latest photo on Instagram (because my DMs are overflowing – sorry!!) and I'll happily get back to you asap.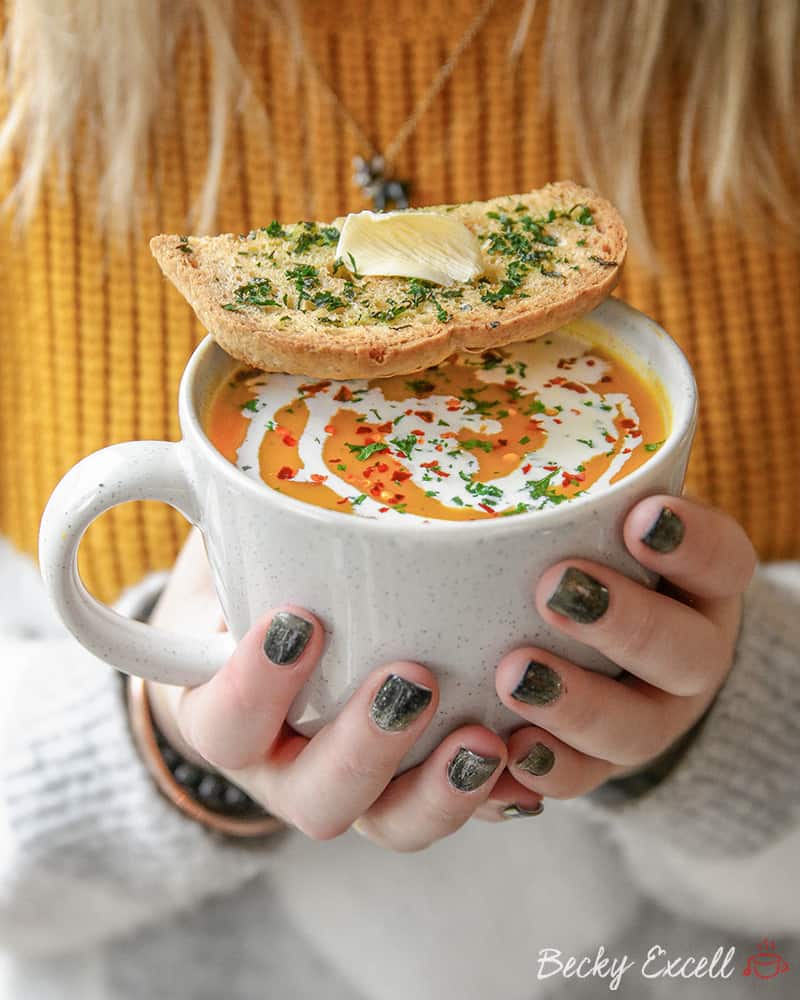 Oh and I served mine up with a beautiful gluten free garlic-infused crouton btw! If you want to do the same, you can find the recipe in this blog post here. There's only 3 ingredients required for that one and it only takes a few seconds to make.
But one thing you will need outside of those 5 vital ingredients is… a blender or some sort!
We use a stick blender (this one here actually and it's only £10 at the mo!) but you can also use a fancy Vitamix blender like this too. I wouldn't overly recommend using a smoothie blender as they probably won't be able to fit everything in it.
Ok so here's my 5-ingredient gluten free butternut squash soup recipe…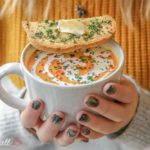 5-Ingredient Gluten Free Butternut Squash Soup Recipe (dairy free + vegan)
Ingredients
600

g

butternut squash

(cubed)

120

g

sweet potato

(peeled and chopped into chunks)

550

ml

stock

(vegetable stock if you're vegan)

2

tbsp

garlic infused olive oil

1/4

tsp

mild curry powder

(Sainsbury's Korma Curry Powder has no onion/garlic in it FYI)
Optional
1/2

tsp

salt

1/4

tsp

black pepper
Instructions
In a large saucepan, start by frying your cubed butternut squash and chunks of peeled sweet potato in the garlic infused olive oil.

Then add your stock, bring to the boil and simmer for 15 minutes or until all the veg is soft.

Blend everything using a stick blender or a big Vitamix-style blender until nice and smooth. Add your mild curry powder and mix in.

Add salt and pepper to taste. Enjoy!
Recipe Notes
I sprinkled some chopped coriander, chilli flakes on top and swirled in some full-fat coconut milk to make it look pretty. But that's definitely optional!
Thanks for reading how to make my gluten free butternut squash soup recipe! If you make it, I'd love to see how it turned out so don't forget to take a snap of your creation and tag me on Instagram!
Plus, I'm giving away a £50 supermarket voucher every month to my fave pic – result.
Any questions about the recipe? Please do let me know by following me Instagram and leaving me a comment!
Thanks for reading,
Becky xxx
Some of the links above are affiliate links and go towards supporting my blog. Thanks so much!
Oh and don't forget to pin this for later!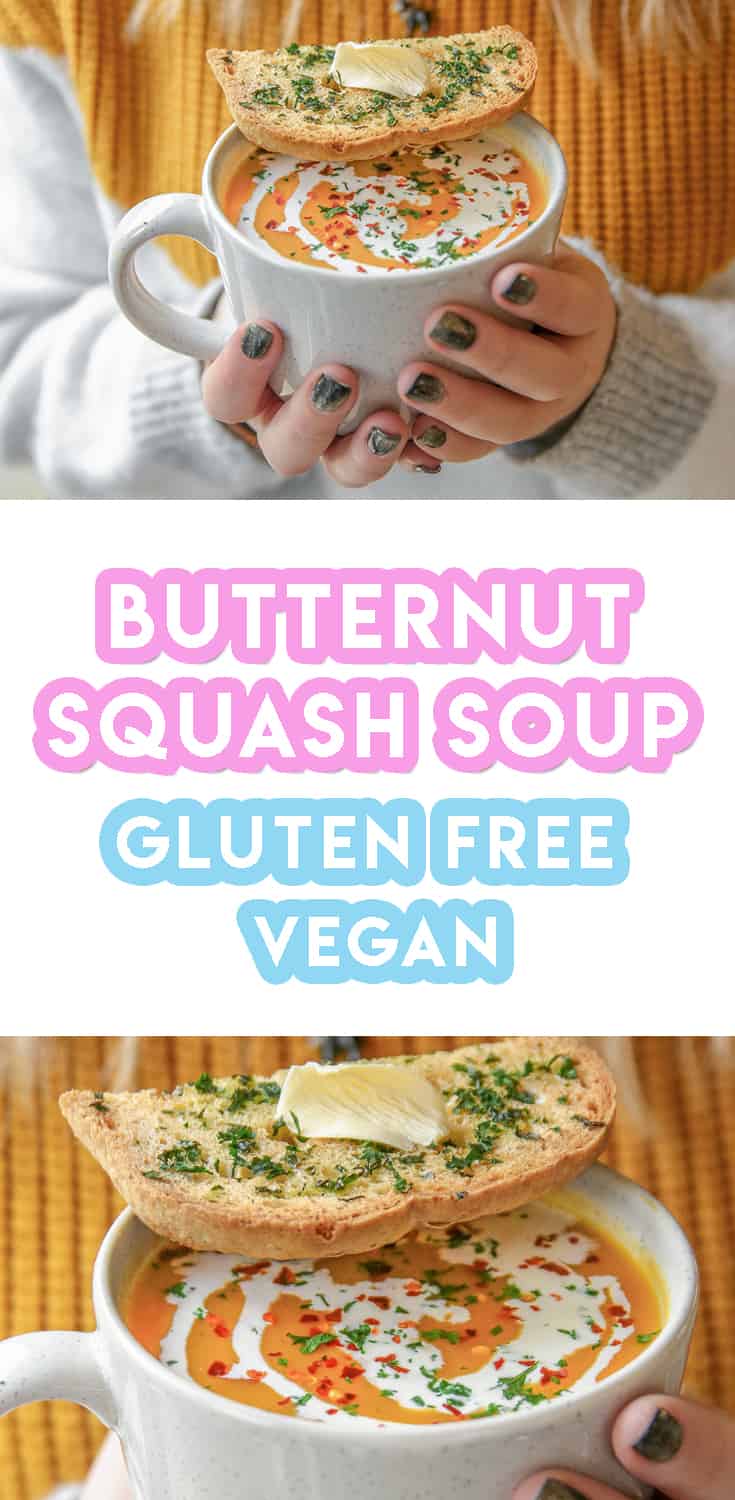 Comments