The heating's on and the winter coat is out… what's next? Soup is back on the weekly meal planner of course! More specifically, my one-pot gluten free minestrone soup recipe with herby croutons! Both recipes are onion and garlic free too.
My gluten free minestrone soup recipe is the perfect winter warmer and you only need one pot to make it in. Plus, I'll be sharing the recipe for my garlic-infused herby gluten free croutons using Juvela gluten free bread in this post too – a double whammy!
If you love a good, chunky soup, then you've come to the right place.
A chunky soup also means no faffing about trying blend your soup in a smoothie blender or trying to remember where you've hidden the stick blender.
(I once found mine in the garage in a toolbox if you're wondering about the weird places where mine likes to hide)
Then, pair it with lovely, crunchy, garlic-infused herby croutons, then you're definitely onto a winner. You only need 3 ingredients to make them and a little salt and pepper!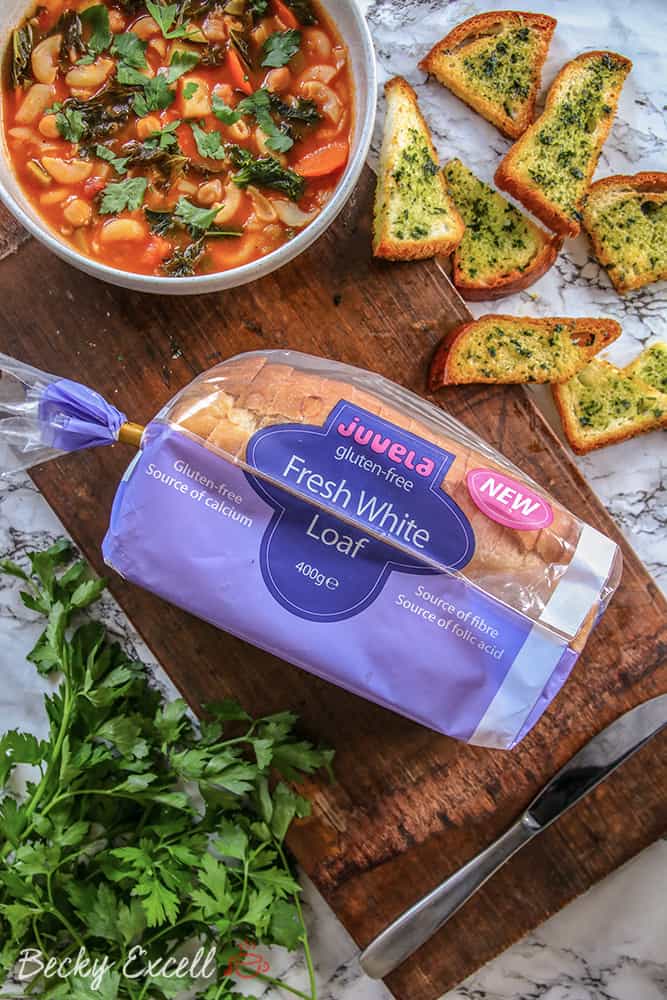 I made my croutons using the Juvela gluten free fresh white loaf and I'd highly recommend that you do too! Some gluten free bread doesn't toast all that well, but the Juvela gluten free bread toasts just like real bread.
No joke – you have to just trust me on this one.
Well, you don't have to trust me actually… just make this yourself and find out! Here's my 3-ingredient herby gluten free crouton recipe…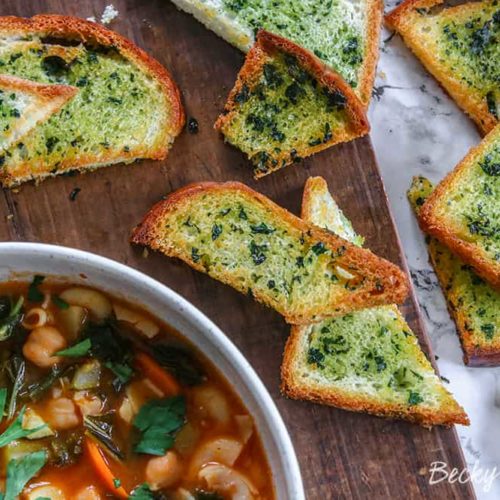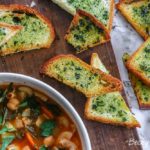 3-ingredient garlic-infused gluten free herby croutons recipe
My garlic-infused gluten free herby croutons recipe are so quick and easy to make and you only need 3 ingredients, plus a little salt and pepper.
Ingredients
4

slices of

gluten free bread (I use Juvela)

50

ml

garlic infused olive oil

2-3

tbsp

fresh flat-leaf parsley, finely chopped
Instructions
Preheat your oven to about 180C.

Roughly cut each slice of bread into about 4 pieces - you can make small uniform croutons, but I like to make mine a little larger that I use to dip into my soup.

Mix together your garlic infused oil and parsley in a bowl. Add a little salt and pepper if you like. Then drizzle it over your bread. Move the bread around so that your bread is well coated on both sides and coated fairly evenly.

Place them on a baking sheet and pop in the oven for 15-20 minutes until they are fairly crispy and golden.

Remove from the oven and serve up with your soup! Enjoy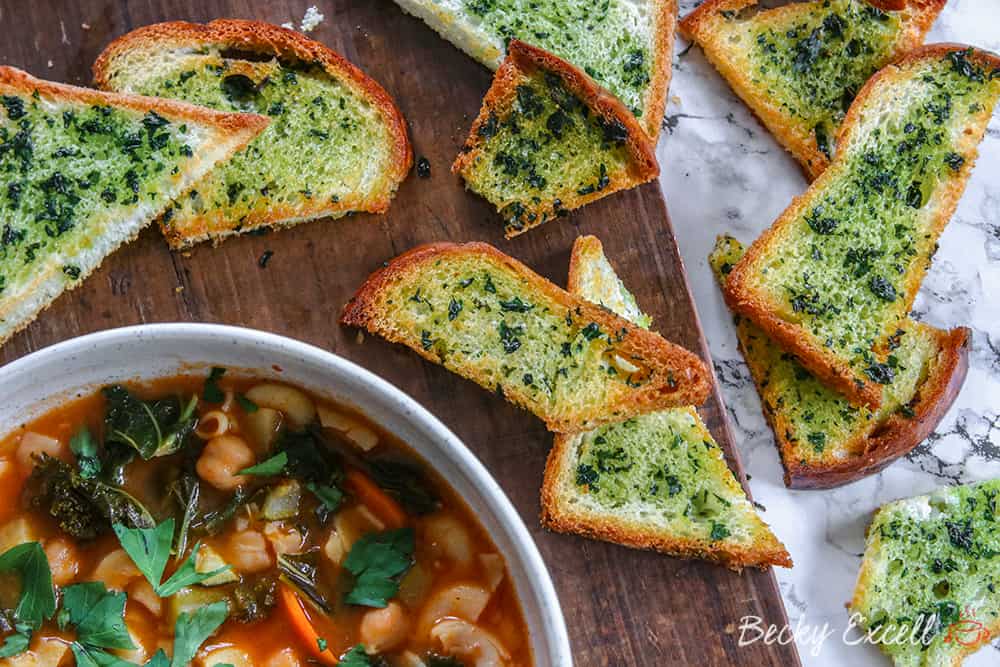 Well, that was a doddle, wasn't it?
Croutons are just one of those things that you never seem to be gluten free anywhere – both in the supermarket and in restaurants too.
But it's just so simple to make, that's what I don't understand! But what would a crouton be without soup to go with it?
So onwards to the main event – my gluten free minestrone soup recipe…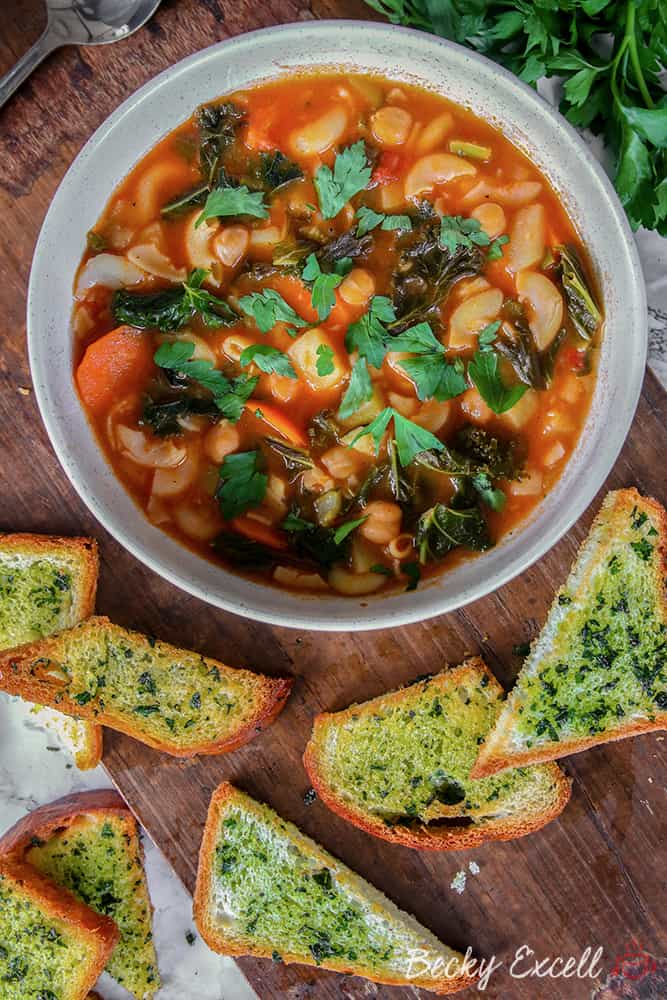 I absolutely adore one-pot soups, not just because it's so easy to make… but it also means less washing up. Hooray!
(I mean in all seriousness – it doesn't matter how good a recipe is, if it leaves you with a mountain of washing up every time, you just simply can't make it regularly!)
It's warming, packed with flavour, all crammed into a beautiful chunky texture. That veg just absorbs soooo much of the flavour and it'll basically give you that wonderful, warm feeling you crave on a chilly evening.
So let's get to it – my gluten free minestrone soup recipe!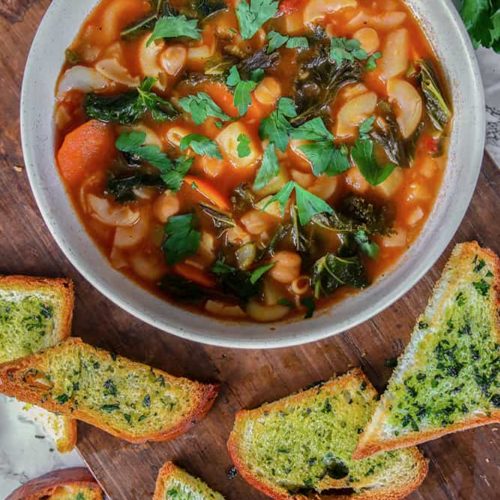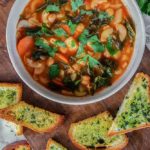 My One-Pot Gluten Free Minestrone Recipe
My one-pot gluten free minestrone recipe is so simple and easy to make! Plus, mine is onion and garlic free too. I have added low FODMAP notes in the ingredients for those who need it.
Ingredients
For the Minestrone Soup
1

carrot, roughly chopped

1

potato, roughly cubed

1-2

tbsp

garlic infused olive oil

1/2

courgette, roughly chopped

handful of

spring onion greens, finely chopped

(just the green parts, as those are low FODMAP)

1

litre

stock

(low FODMAP vegetable stock can be hard to find so I often opt for chicken or ham stock as I have some low FODMAP ones of these)

184

g

chopped tinned tomatoes

(this is about half a tin and a safe portion size for two for low FODMAP)

1

tbsp

tomato puree

84

g

chickpeas

(this is a safe portion size for two for low FODMAP - if not low FODMAP, you could use more)

50

g

gluten free pasta

(a smaller pasta like macaroni works well here)

large handful

kale

salt and pepper
Instructions
Heat up your garlic infused oil in a large pan that you are going to cook your soup in.

Add your chopped carrots and potato to the pan and fry for about 5-10 minutes until a little softened. I move them around quite a bit whilst cooking.

Add your courgette, spring onion greens, tomato puree, chopped tomatoes and stock to the pan and bring it to the boil. Then simmer for another 10 minutes or so.

Add in your chickpeas just before you then add your pasta. I allow my pasta to cook for less than the usual time that you would cook it. Maybe two minutes less - it's cooked but it doesn't fall apart like many gluten free pastas eventually do. (For me this was cooking it for about 7 minutes)

Once the pasta has been in for 3-4 minutes I also add in my kale to gently cook until the soup is ready!

Once the pasta is cooked to your liking the soup is ready to go. Season with some salt and pepper and serve up. Enjoy!
Notes
You can get Juvela gluten free macaroni on prescription if you are a Coeliac in Wales, Northern Island and Scotland. If you can't, most supermarkets today sell their own gluten free macaroni.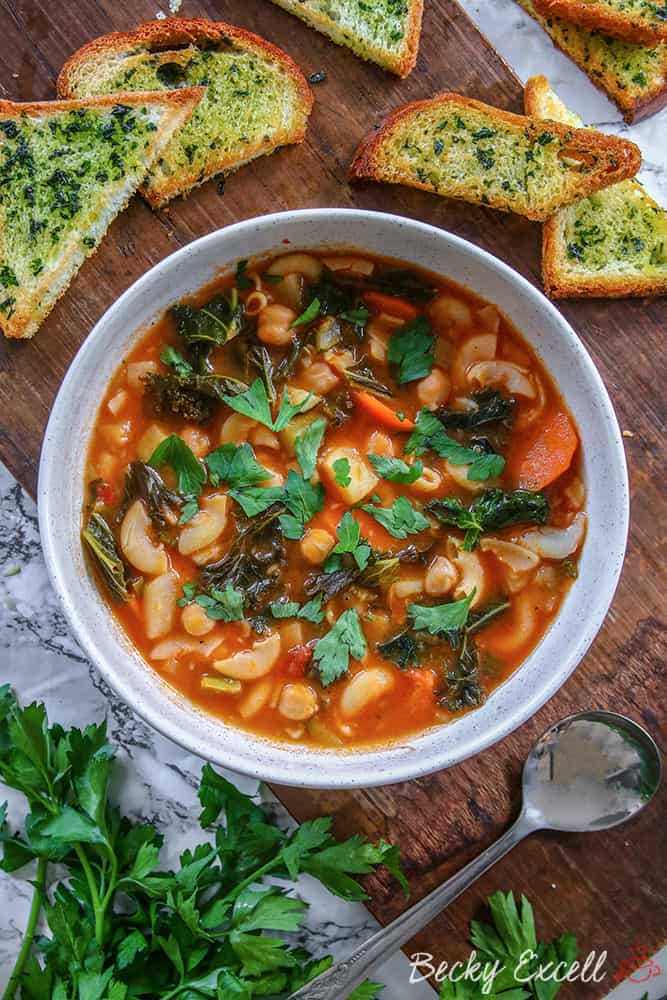 Thanks for reading how to make my gluten free minestrone soup recipe! If you make it, I'd love to see how it turned out so don't forget to take a snap of your creation and tag me on Instagram!
Need to pick up a loaf of Juvela gluten free to recreate my herby croutons? You can find their lovely loaves in Tesco across the UK.
Any questions about the recipe? Please do let me know by following me on Instagram and leaving me a comment!
Thanks for reading,
Becky xxx
This is a sponsored post with Juvela Gluten Free.