Is there ever a day where I'm not wildly excited by new gluten free options? Hooray – another place I can actually eat for once! Let me tell you about Pret's new gluten free sandwiches…
That's right, Pret A Manger is rolling out THREE new gluten free options across stores nationwide. Previously, all we've been able to eat in there is cake and salad, so this is a pretty big deal! Here's everything you need to know about Pret's new gluten free sandwiches…
HEADS UP! Whilst the gluten free bread is made without gluten, the sandwiches are prepared in areas where gluten is present like most places in the UK. Click here for a detailed explanation on Pret's cross contamination practises. Would that put you off? We need more 100% gluten free places in the UK!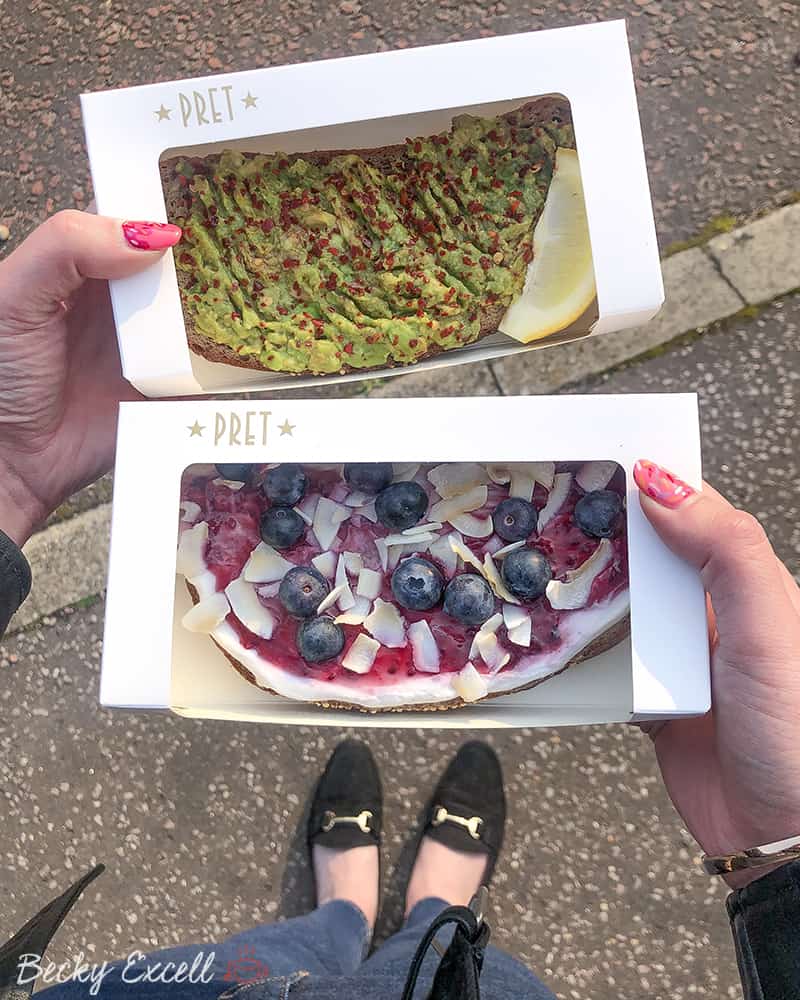 1. Pret's new gluten free sandwiches are open sandwiches and come in three flavours.
Yep, so that's just one slice of gluten free bread which does make it more of a nice, lighter option when you're on the go.
(would you prefer regular sandwiches to open sandwiches? leave a comment below this post which you'd prefer!)
The flavours are:
Smashed avocado with chilli and red pepper salt with a lemon wedge on gluten free bread (dairy free)
Coconut yoghurt, coconut chips, blueberries with a five-berry compote on gluten free bread (dairy free)
Chicken Caesar and smashed avocado on gluten free bread with grated cheese (contains milk, egg and onion and garlic)
2. They made the bread themselves.
So apparently after years of us moaning at Pret for not having enough gluten free options, they were just frantically trying to find gluten free bread that they'd be happy to serve… but they couldn't!
So instead they made their own and I have to say… it is really good. It's lovely and soft, with a nice rustic, chewy crust.
It's more of a seeded wholegrain bread, made from oat, teff, buckwheat and quinoa flour as well as millet, red quinoa and sourdough too.
It really is something special so you might just have to go try the new sandwiches purely for the bread!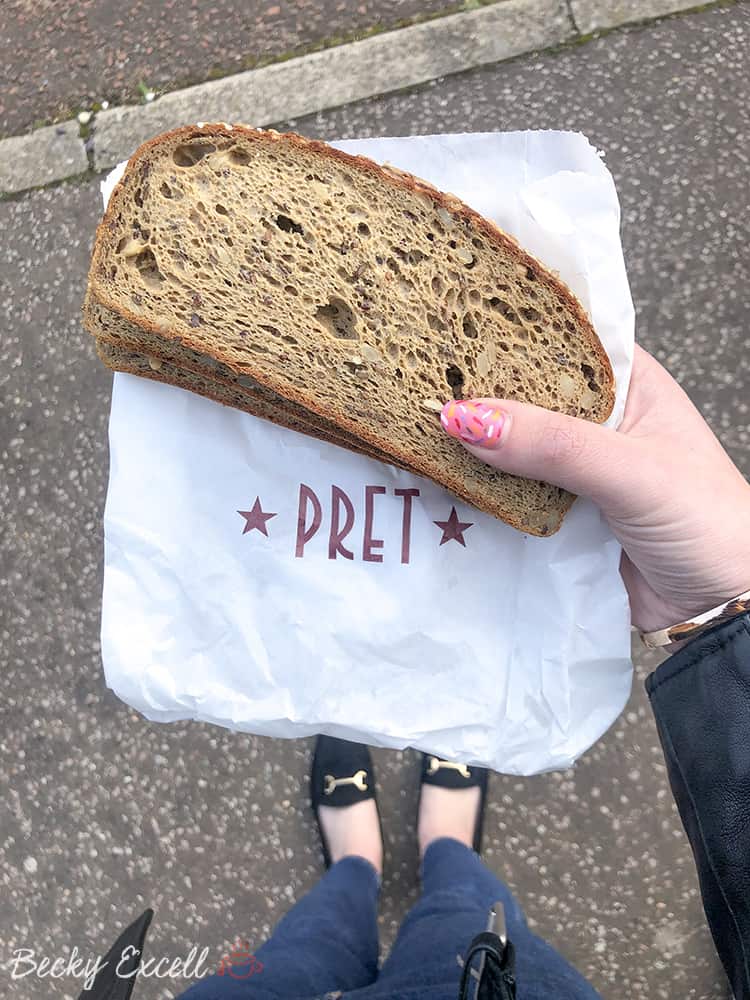 3. They're £3.25
Yep, £3.25. What do we think? Too much? Worth it?
For me, it's defo worth it for that one time where I'm hungry and near a Pret and in a hurry… because usually we're just limited to cake and salad.
And I think we all know that I'd prefer one of these!
4. Two of them are vegan and dairy free.
Yep, the smashed avo and the coconut and berries sandwiches are both vegan too.
Although we mostly all hate when the only gluten free option is gluten free AND vegan, I think Pret have nailed it here.
Two options are vegan, dairy free AND gluten free (very hard to find when you're out and about) and one is just gluten free with all the meat.
So I'm pretty sure that covers nearly everyone, right?! Plus, the smashed avo one is onion and garlic free which even means I can eat something for once!! Ace!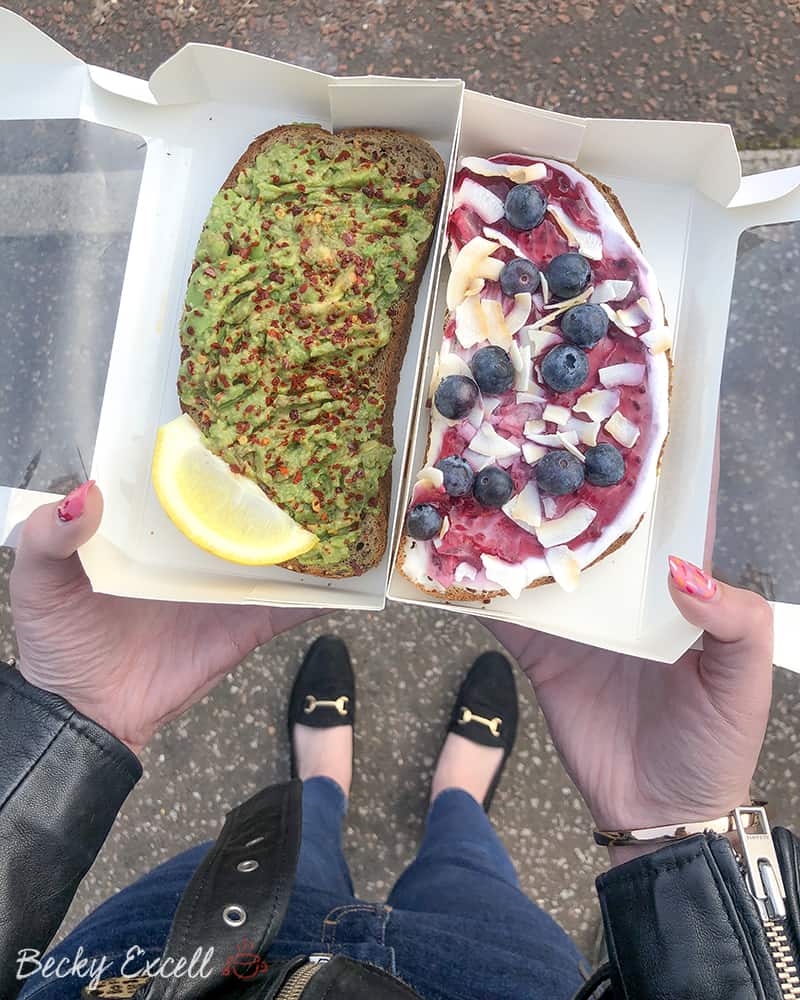 5. There's an extra one available but it's only in veggie Prets.
Yep, I've been harping on about there being three options this whole post just so I could basically reveal I've been lying to you this whole time.
There's actually a FOURTH gluten free open sandwich option which sounds really nice – it's humous, red tapenade, roasted peppers and creamy feta cheese with pine nuts on gluten free bread. How good does that sound?!!
BUT it's only available in veggie Prets so bear that in mind. In case you didn't know, Pret have outlets called 'Veggie Pret' where everything is vegetarian. You'll know if you've seen one because the shop is bright green on the outside!
And yes, Pret's new gluten free sandwiches are actually really nice!!
Obviously all this would be totally irrelevant and pointless if they didn't taste nice… and trust me, they do!! They taste so much fresher than a lot of gluten free convenience food I've tried and to be honest, you wouldn't really know any of this is gluten free at all.
That's everything you need to know about Pret's new gluten free sandwiches! What do you think? Would you buy them? Do you feel safe at Pret when it comes to allergens etc?
Please do let me know by leaving a comment below or on Facebook / Twitter / Instagram!
Thanks for reading,
Becky xxx