My gluten free chickpea tikka masala recipe is the perfect meat-free curry in a hurry. 15 minutes to be exact! It's vegan and low FODMAP too.
Yep, you can easily create this recipe from scratch in 15 minutes and no, you don't have to be good at multi-tasking! (I'm definitely not.) Ok, well here's how to make my gluten free chickpea tikka masala recipe…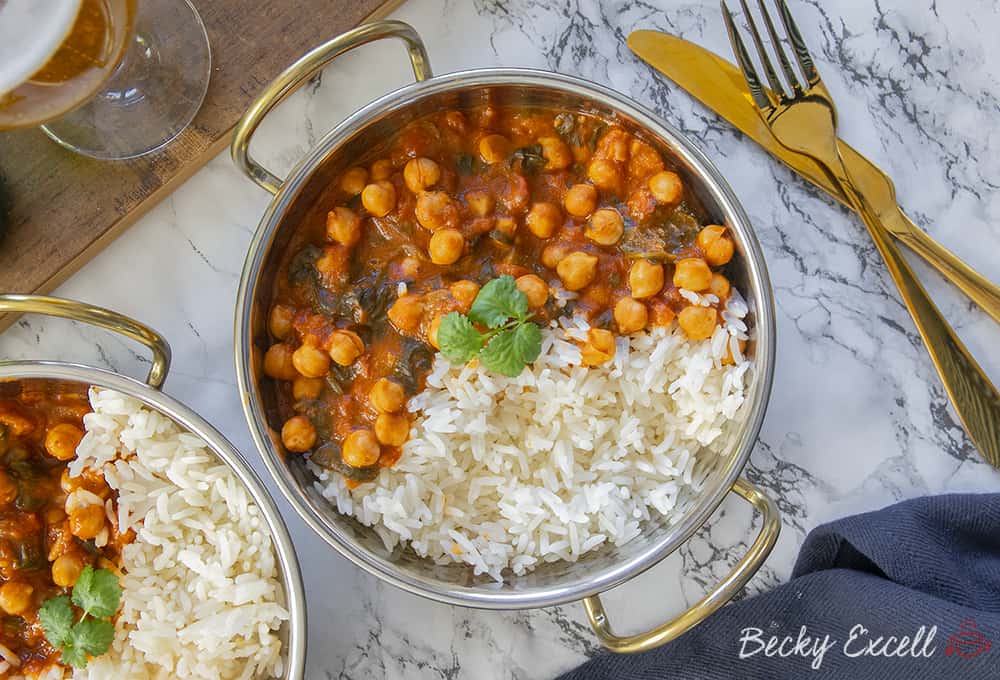 Before we get started, there's two things I've been blown away by whilst creating more vegan recipes during Veganuary this year. Well, three actually now that I think about it.
Firstly, I was amazed by how much time you can save by cooking meat-free. No chopping up chicken. No need to wait for it to cook. You can easily add 10 minutes or more to the cooking time of this recipe just by using chicken FYI.
Secondly, I still can't quite get over how much money you can save by cooking without meat. Meat is expensive! A can of chickpeas costs about 55p… and you just can't argue with that..
Lastly (and all of the above would be irrelevant if this wasn't true), meat-free cooking can taste just as good as any meat-containing dish. This curry is warming, packed with flavour and tons of goodness from the chickpeas and spinach. It's such a nice change from just having chicken for every meal like we often do!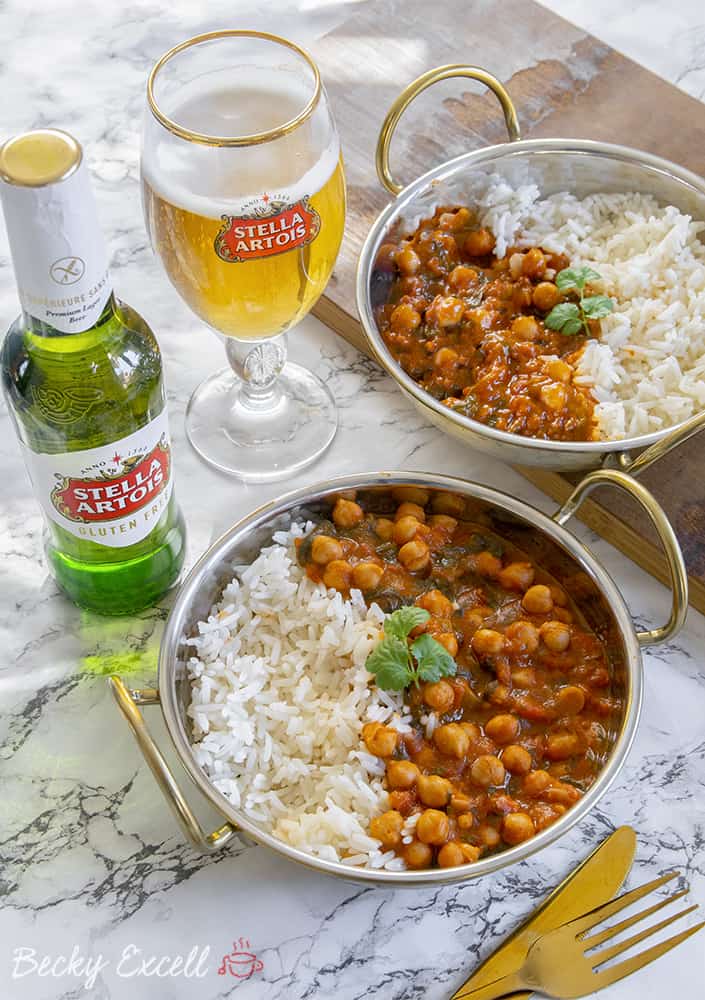 So how can you make this in such a quick time?
Well to be honest, you do have to have a bit of go in you while throwing this together! But it's certainly nothing complicated at all.
You start by making your curry paste which just involves mixing a bunch of different spices and puree together.
You then fry that with your chickpeas briefly, add tinned tomatoes, canned coconut milk (not sure why I say tinned for one and canned for the other, but there you go!), spinach and allow it to reduce .
Just serve it up with rice and job done!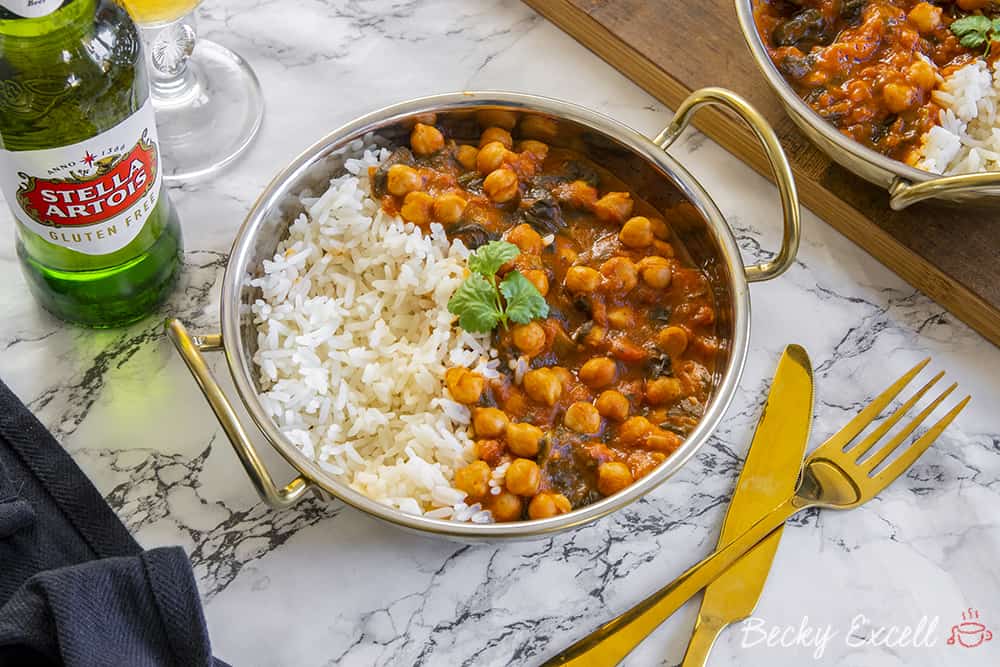 As Mark and I have quite a few food intolerances between us, cooking from scratch can often be such a pain after a tiring, busy day.
But this recipe just goes to show that cooking from scratch can be soooo easy and quick! Plus, you'd think that creating meal ideas that are not only gluten free, but vegan too AND low FODMAP would take years…
But apparently not!
So here's my super speedy gluten free chickpea tikka masala recipe…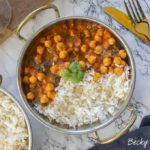 My 15 Minute Gluten Free Chickpea Tikka Masala Recipe (vegan, low FODMAP)
My gluten free chickpea tikka masala recipe is vegan, dairy free and you can make it in 15 minutes. Oh and it's low FODMAP too!
Ingredients
1

400g tin of finely chopped tomatoes

200

ml

coconut milk

100

g

baby spinach

84

g

chickpeas
For your chilli paste
1

tsp

ginger puree

1/2

tsp

chilli puree

pinch

cayenne pepper

1/2

tsp

smoked paprika

1

tsp

garam masala

1

tsp

garlic-infused olive oil

1

tsp

lemon juice
Instructions
Start by mixing all of the ingredients for your curry paste in a bowl.

Spoon all your mixed curry paste into a large saucepan and add your drained chickpeas. Mix it all around on a medium heat for 30 seconds.

After your chickpeas are well coated, add your tin of chopped tomatoes and your coconut milk. Bring to the boil, add your spinach and then simmer.

Allow this to reduce down until it's thicker and creamy while stirring occasionally.


Serve with basmati rice and enjoy!
Thanks for reading how to make my gluten free chickpea tikka masala recipe! If you make it, I'd love to see how it turned out so don't forget to take a snap of your creation and tag me on Instagram!
Plus, I'm giving away a £50 supermarket voucher every month to my fave pic, so get cooking!
Any questions about the recipe? Please do let me know by following me on Instagram and leaving me a comment!
Thanks for reading,
Becky xxx
Oh and don't forget to pin this for later!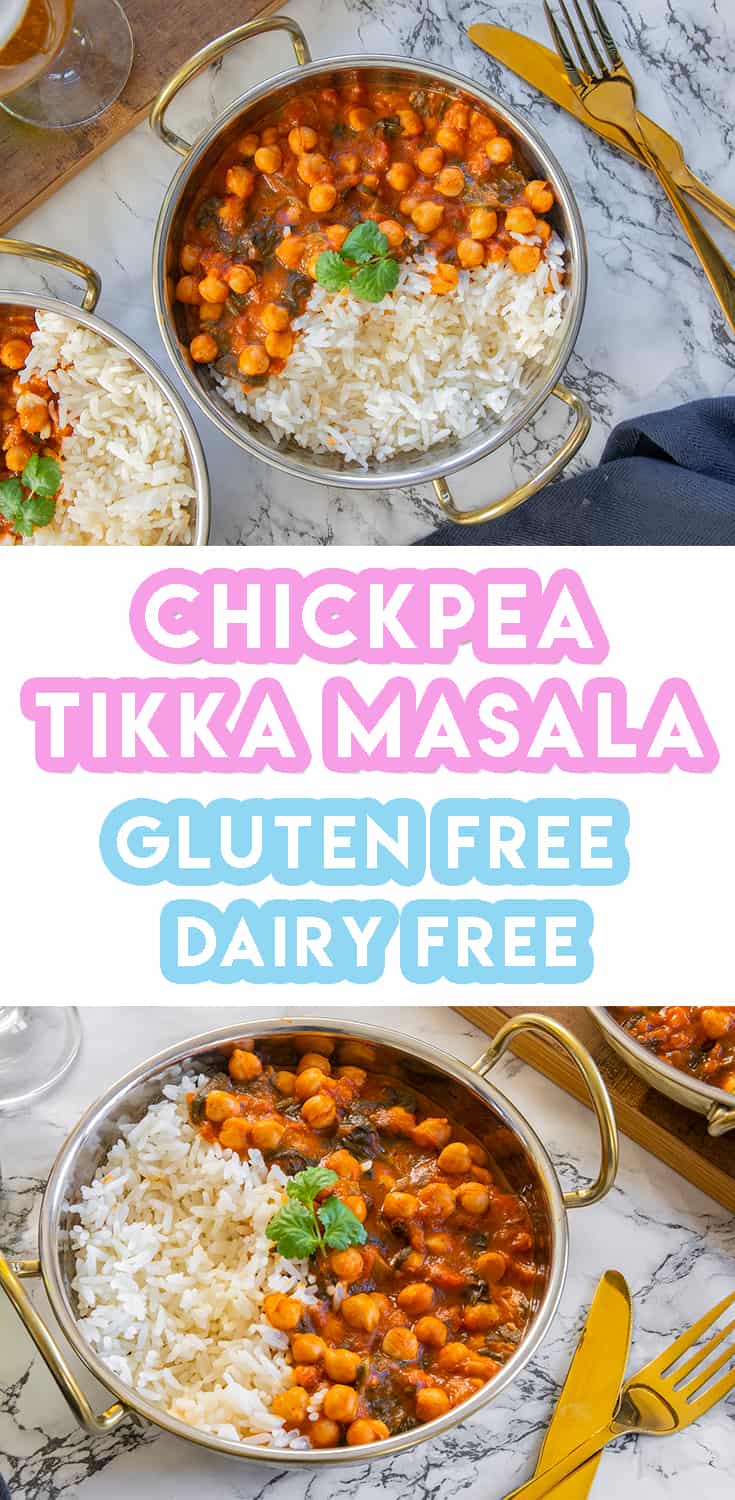 Comments