Gluten free vegan Katsu curry recipe, anyone? If you're reading this, then you've either come to the right place, or you're incredibly lost. Hello either way! This recipe is low FODMAP adaptable and dairy free too. Result.
My gluten free vegan Katsu curry recipe was inspired by one thing and one thing only – jealousy in it's purest form. Yep, that's right, just pure food envy. How many times can a girl sit in Wagamama and watch people eat this dish while I can barely eat anything?? Not that many times apparently!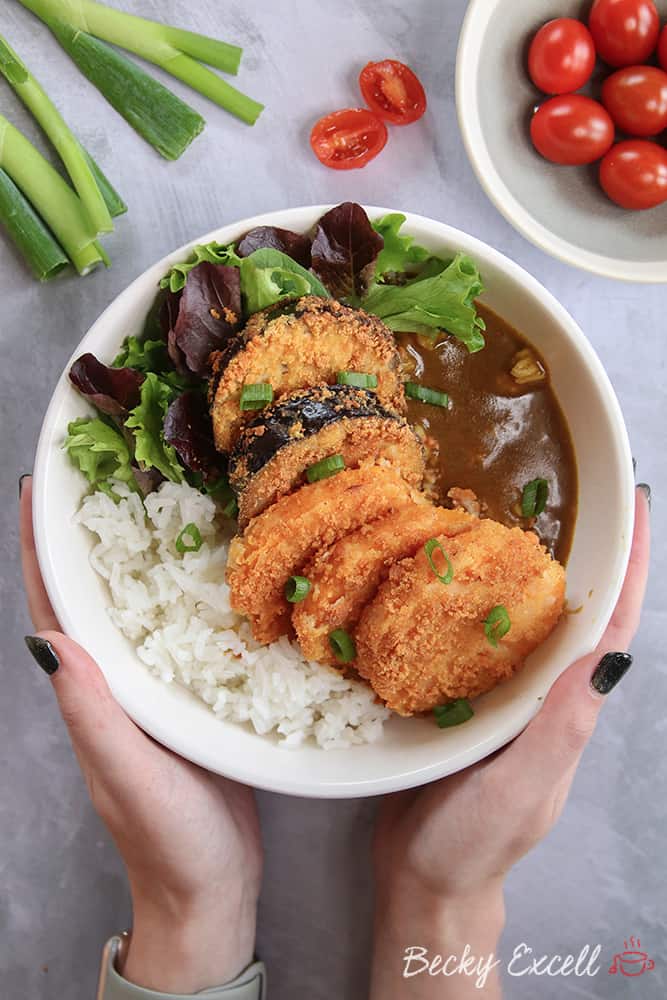 So instead of letting that jealousy turn into a few years taken off my life-span, I decided to just recreate my own version at home.
AND IT'S JUST SO GOOD.
I mean, I've been in love with Katsu since I created my gluten free chicken Katsu curry recipe a few years ago, but this is just unreal. Plus, it's 100% vegan-friendly too.
But in all honesty, you don't need to be vegan or gluten free to enjoy this dish at all. It just tastes out of this world.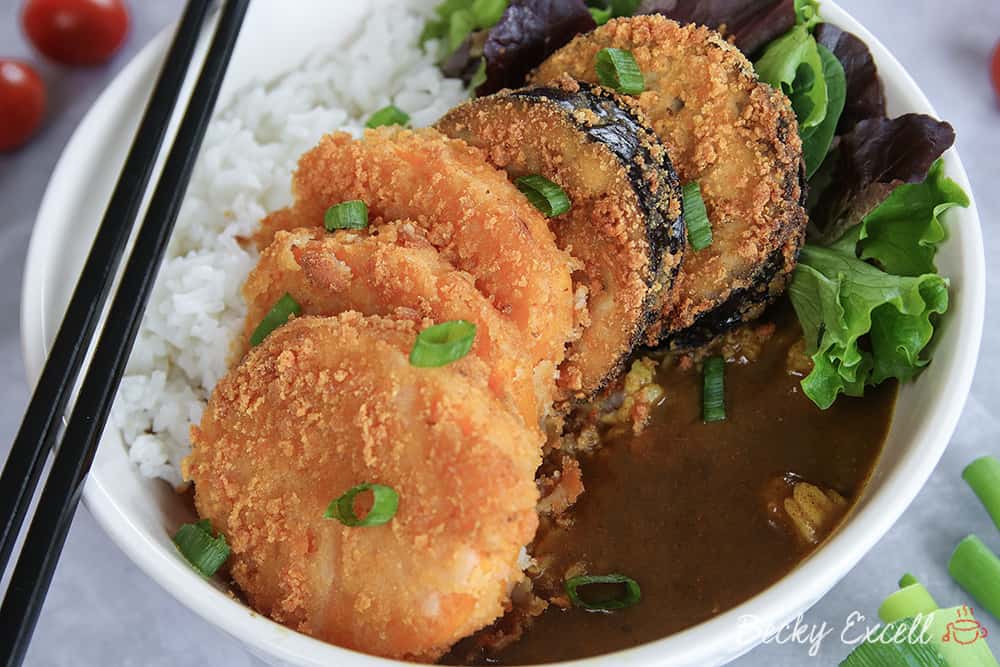 So if you've got this far and you're still wondering "ok Becky, that's cool, but what on Earth is it?" then firstly, I applaud your patience. I would have stopped reading after about 2 words.
It's basically just a lovely, mildly spicy curry sauce with breadcrumbed slices of aubergine, sweet potato and butternut squash. The veg has a lovely crispy, golden layer on the outside, but in the middle they're all lovely and soft.
See, nothing too scary! Then you just serve it up with some steamed rice and salad leaves and pat yourself on the back several times.
But it's not just substituting chicken for veggies that makes this vegan. After all, how do you coat something in breadcrumbs without using egg?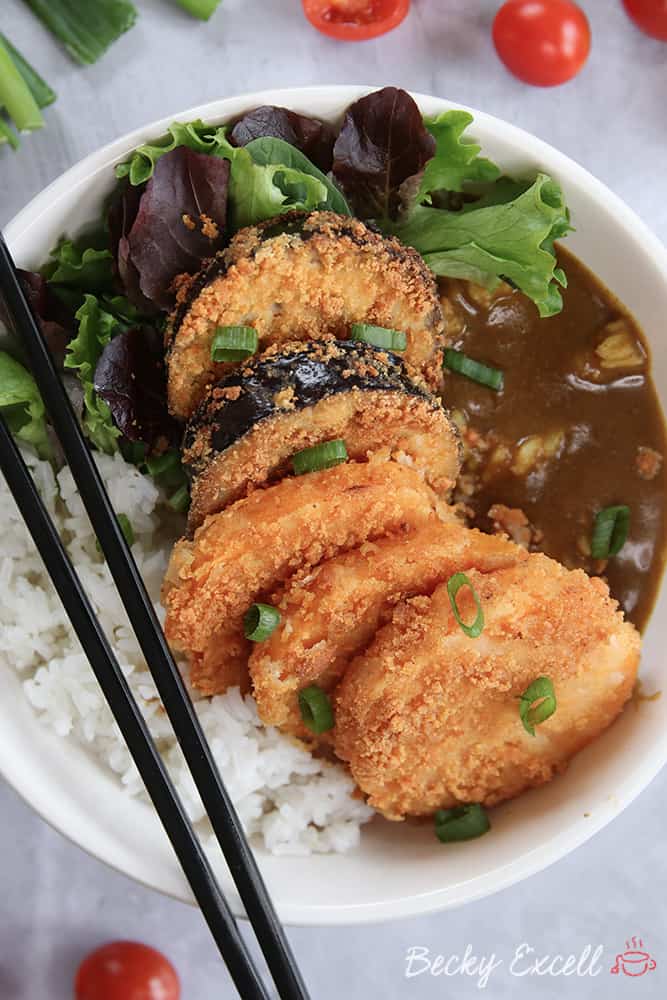 Well, you've got two options actually. Firstly – aquafaba and no, I can't tell you how to pronounce it.
But what I can tell you is that aquafaba is the water from a can of chickpeas. That's all! It has an egg-like consistency and it works perfectly as a vegan substitute for egg-wash that allows your breadcrumbs to stick to your veg.
(you can even make a meringue out of it, but let's save that for another day)
HOWEVER, if you're on the low FODMAP diet it can be a little bit of an issue because it's high in FODMAPs. So if that applies to you, then just use maple syrup instead.
That works perfectly as well and it's low FODMAP. The sweetness brings out the flavour of the veg too, so you're winning either way.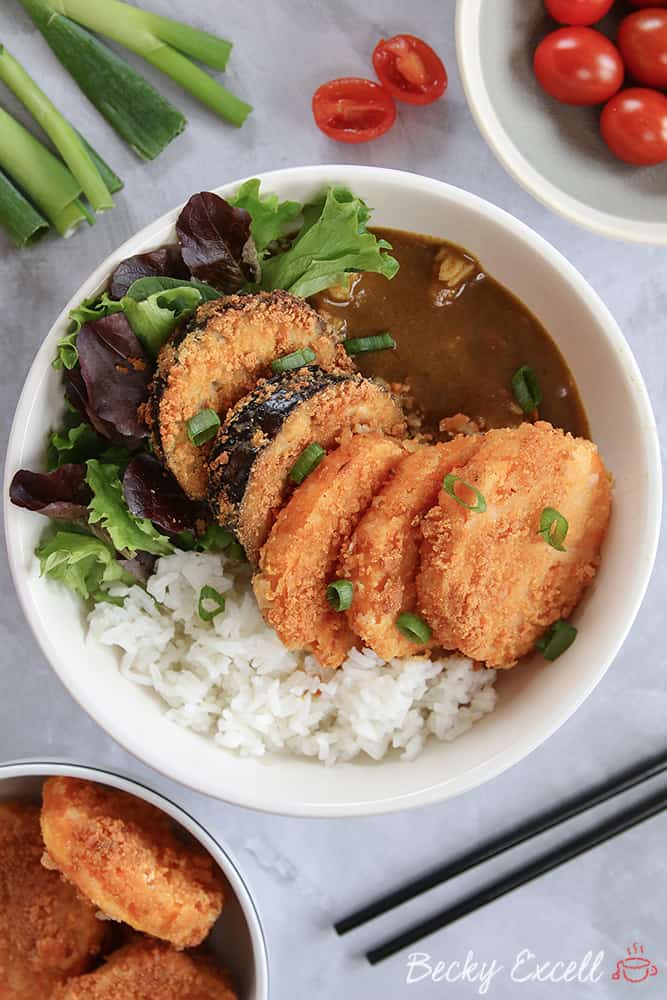 And it's actually such a simple dish to create! It's basically just a sauce, rice and your veg that you have to prepare.
I also like to double the ingredients for the sauce and make it in a massive saucepan – then I freeze half of it for next time. That way, it's just a case of putting some rice on and sorting the veg when I make this next time.
Oh and obviously, you'll have a whole tin of chickpeas leftover from making this recipe as we'll only be needing the water. But obviously, don't throw them away as you can always make my spinach and chickpea curry with them!
Btw, if you're looking for a low FODMAP vegetable/vegan stock cubes, then click here and thank me later. Here's a low FODMAP curry powder too from Sainsbury's.
Ok so here's my gluten free vegan Katsu curry recipe..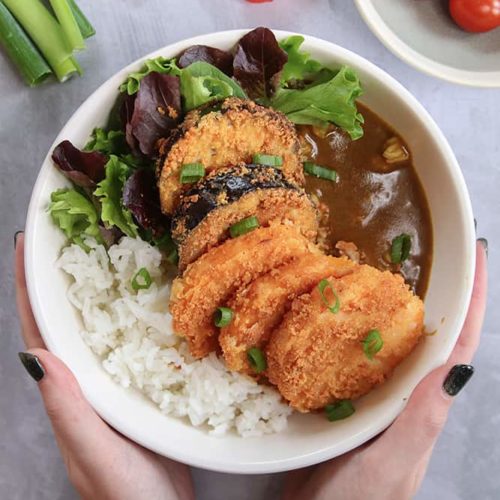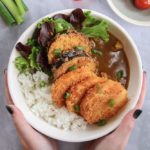 Gluten Free Vegan Katsu Curry Recipe - Wagamama style (low FODMAP, dairy free)
My gluten free vegan katsu curry recipe is a recreation of the yasai katsu curry from Wagamama that I really miss! Mine's low FODMAP too.
Ingredients
For the Katsu curry sauce
2

carrots

(thinly chopped)

garlic-infused olive oil

2

tbsp

gluten free plain flour

4

tsp

mild curry powder

(check the blog post above for a low FODMAP curry powder you can buy)

600

ml

vegetable stock

(check the blog post above for a low FODMAP vegetable stock you can buy)

4

tsp

gluten free soy sauce

2

bay leaves

1

tsp

garam masala
For the Katsu veg
1

medium aubergine

1/2

medium sweet potato

1/2

medium butternut squash

100

g

gluten free breadcrumbs

1

tin

chickpeas

(use 100g of maple syrup instead if you're on the low FODMAP diet)

110

g

gluten free plain flour
Extras
spring onion

(green parts only if low FODMAP)

salad leaves

Jasmine rice
Instructions
Start by peeling your sweet potato/butternut squash and chopping your veg into disc shapes. Make them less than half a cm thick as they'll cook quicker.

Grab three bowls. In one, add 110g of gluten free plain flour. In the other, add all of the water from a tin of chickpeas and save the chickpeas for another day. In the final bowl, add your gluten free breadcrumbs.

Take your veg discs and coat them in first bowl of gluten free plain flour first so they're lightly dusted all over. Then coat them in the chickpea water bowl. And finally, toss them around in the gluten free bread crumbs bowl.

Add 3 tbsp of garlic-infused olive oil to a large frying pan and heat to a medium heat. Shallow fry your veg discs on either side until lightly golden (not browned) on each side. Place onto a baking tray and preheat your oven to 200c.


Place your baking tray into the oven for 25-30 minutes or until all the veg is soft in the middle. The aubergines could probably do with coming out a little earlier as they cook quicker.

While your veg is in the oven, it's time to make your sauce. Start by heating 1 tbsp of garlic infused olive oil in a large saucepan. Add your carrots and fry over a low to medium heat until slightly softened.

Add the gluten free plain flour and curry powder, stir in and cook for 1 minute.


Gradually stir in the vegetable stock until combined. Add the gluten free soy sauce and bay leaves. Slowly bring to the boil and then...

Turn down the heat and simmer for 20 minutes or until the sauce has thickened but is still of pouring consistency. (Basically, the consistency you want your sauce to be!)

Stir in the garam masala.

Take off the heat and remove the bay leaves. (You can also remove the carrots if you wish by pouring the sauce through a sieve - have them on the side though, they taste good).

Serve up your katsu veg alongside a pile of jasmine rice and pour your sauce over the top. I also like to add some spring onion greens and a few salad leaves. Enjoy!
Notes
One serving (half) of this dish is a safe low FODMAP portion size during the elimination phase of the diet as long as you use maple syrup instead of chickpea water.
Thanks for reading how to make my gluten free vegan Katsu curry recipe! If you make it, I'd love to see how it turned out so don't forget to take a snap of your creation and tag me on Instagram!
Plus, I'm giving away a £50 supermarket voucher every month to my fave pic – result.
Any questions about the recipe? Please do let me know by following me Instagram and leaving me a comment!
Thanks for reading,
Becky xxx
Oh and don't forget to pin this for later!