My gluten free and vegan spinach and chickpea curry is perfect for Veganuary 2018! It's a simple and quick meal that can be made in a hurry and it's low FODMAP too.
I'm constantly on the search for recipes that fit my dietary requirements and don't need obscure ingredients/leave the kitchen looking like a bombsite. Fortunately, I think I've finally nailed it with my gluten free and vegan spinach and chickpea curry recipe!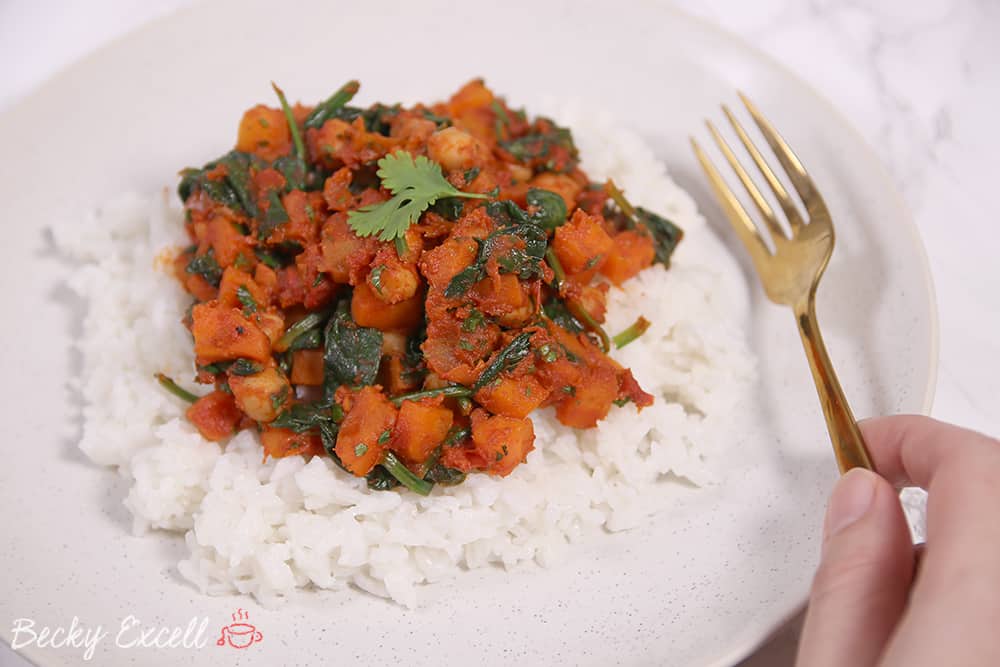 As with nearly all the recipes on my blog, I'm a massive fan of using simple ingredients to make something truly special and I'm really proud of this one.
Like, I genuinely feel bad when I list an ingredient in a recipe that you can't buy in the supermarket. "What's the point?!" I always think.
Fortunately, this recipe isn't only full of nourishing goodness, but it's easy peasy.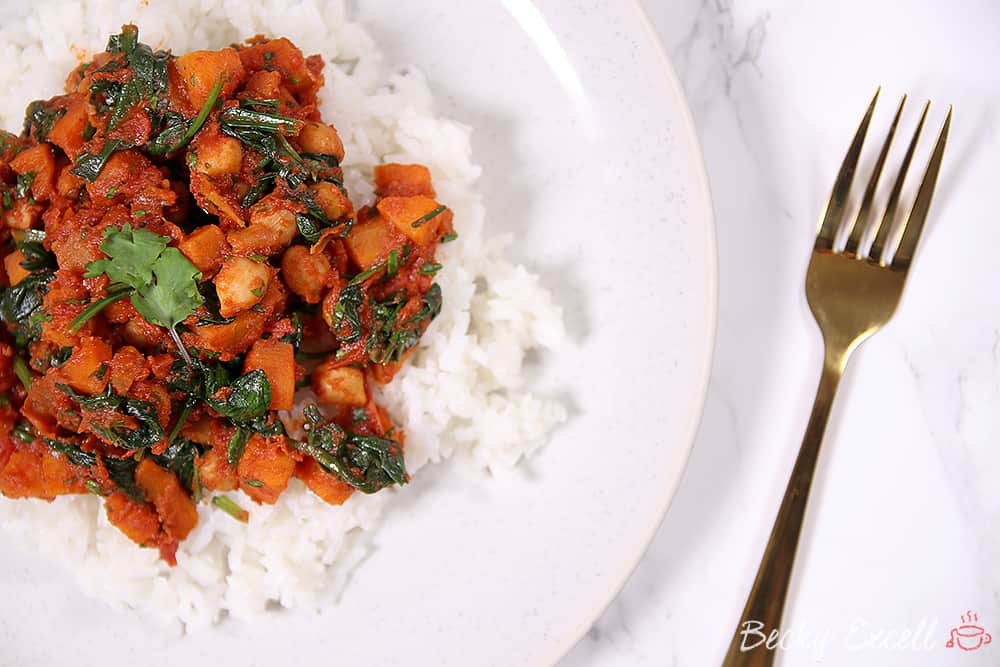 My gluten free and vegan spinach and chickpea curry is warming, slightly spicy with a rich punch of sweet tomatoes and a beautiful, chunky texture.
I honestly never thought I could make a vegan, gluten free and low FODMAP recipe without compromise, but I guess I was just plain wrong on that one.
Feel free to skip this next paragraph and onto my cooking tips, as this part is for the FODMAP folks. If you want to learn a little more about what the low FODMAP for IBS is, then check out this video I made here.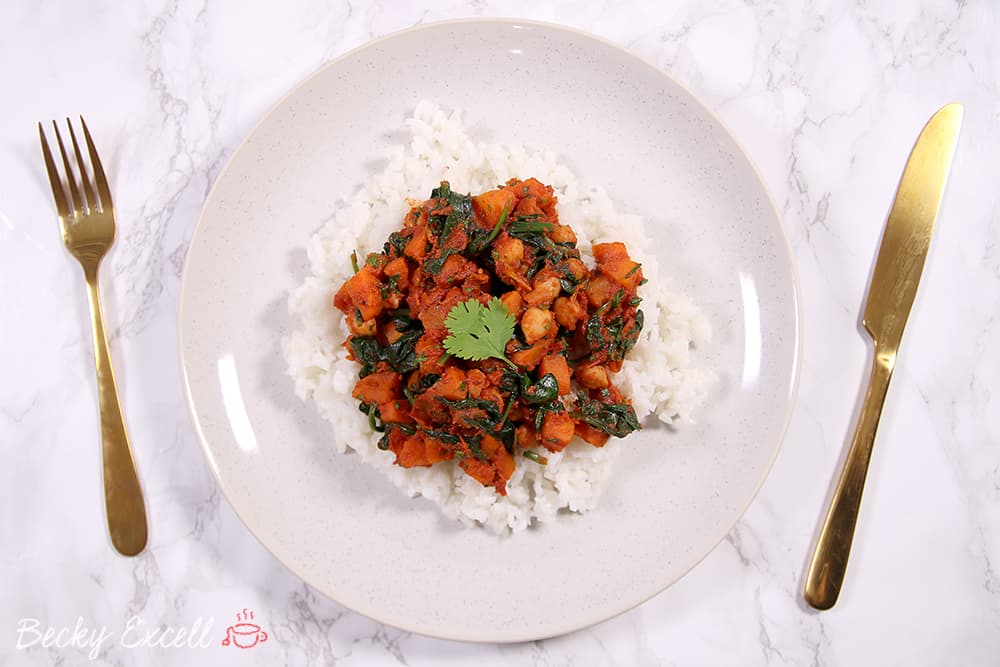 As a lot of you know, when it comes to the low FODMAP diet, portion sizes matter a lot. For example, the serving of chickpeas in this curry is a 1/4 cup per person (42g), which is the recommended FODMAP friendly portion size.
That's because checkpeas aren't low FODMAP in unlimited quantities. But you can have some! Any more than this isn't advised, but 42g is a-ok.
There's tons of different safe portion servings when it comes to what is and isn't low FODMAP, so make sure you check out the FODMAP food list for 2018 if you want to check.
As this recipe is for two people, I've doubled the chickpea serving size to 84g. Remember, it's low FODMAP, not no FODMAP!
Anyway, onwards with the gluten free and vegan spinach and chickpea curry recipe!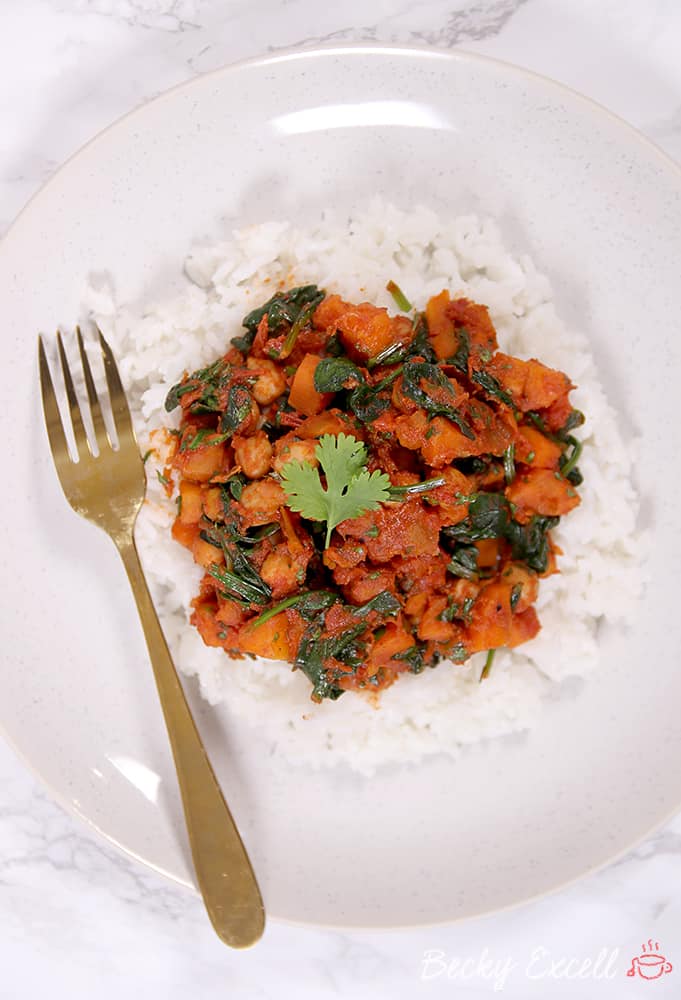 So, my best cooking tips? Well, if you like your carrots super-soft, consider boiling them cubed first, draining them, and then beginning the recipe.
I find that the softer they are, the more easily digestible they are, but it's not mandatory to do so.
Secondly, when you add your spinach, don't forget that it'll wilt down to almost nothing in a matter of minutes. I'd recommend adding big handfuls every few minutes until you've wilted it all down.
Lastly, don't be afraid to add some water if everything is reducing down before things like the chickpeas and carrot cubes are adequately cooked. It simply allows things to be on the heat for longer without reducing down too much.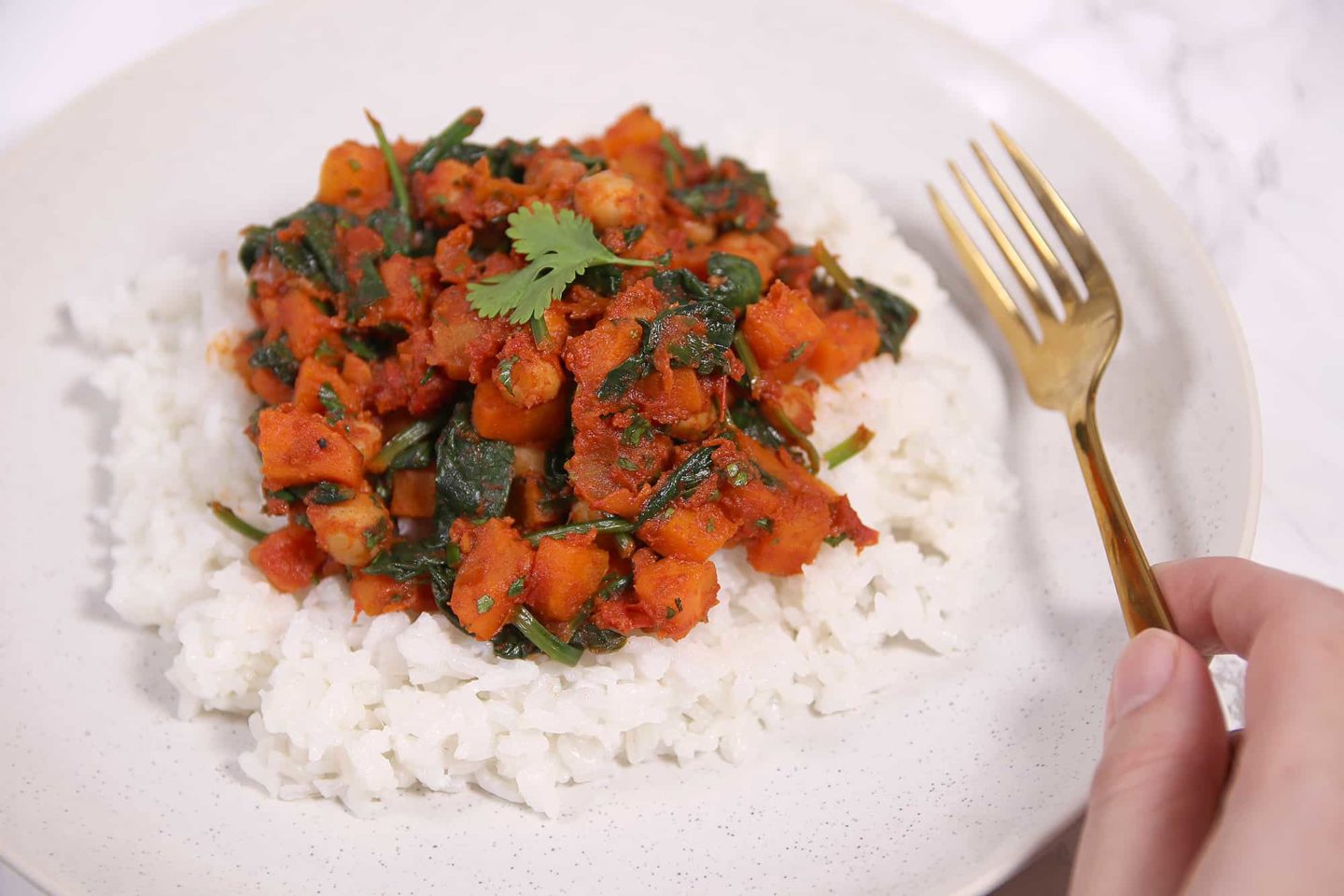 Ok, sounds like you're ready to pull of my gluten free and vegan spinach and chickpea curry recipe!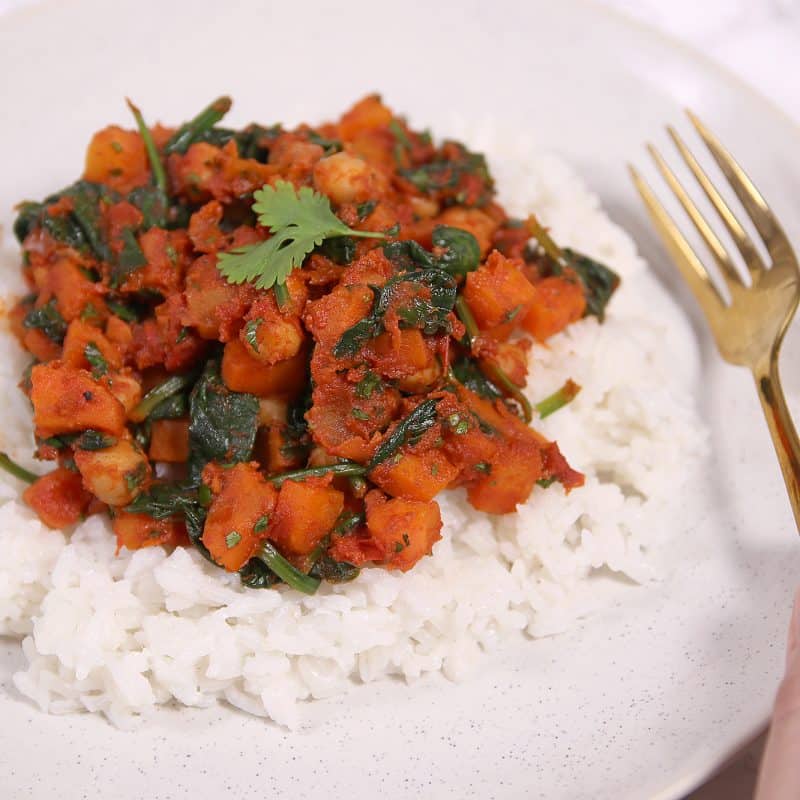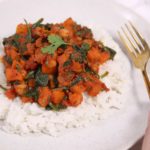 Spinach and Chickpea Curry
My Gluten Free and Vegan Spinach and Chickpea Curry Recipe (low FODMAP)
Ingredients
1-2 carrots

peeled and cubed

84g tinned chickpeas

a low FODMAP serving of chickpeas is 1/4 cup which is 42g

3-4 handfuls of fresh spinach

1 tin of chopped tomatoes

pinch of sugar

optional - I do this to take away the acidity of the tomatoes but you don't need to!

1 tsp minced ginger

2 tsp garam masala

ensure it's low FODMAP, Tesco own brand is!

1 tsp cumin

pinch of cayenne pepper

salt and pepper

1 tsp garlic infused oil

handful of fresh coriander

chopped finely

handful of fresh chives

chopped finely

rapeseed oil to fry
To serve
Thai jasmine rice

Fresh coriander
Instructions
Heat up a little oil in a frying pan. Once hot, add your cubed carrots and allow to fry. I fry mine for around 7-10 minutes but that's just because I want them to be slightly softer. Stir whilst they fry.

Add your minced ginger, garam masala, cumin and cayenne pepper. Mix in so the carrots are nicely coated and continue to cook for a couple of minutes.

Next, add in your chickpeas (I also sometimes add a tiny bit of extra oil now). Allow the chickpeas to get coated in some of the oil and spices.

Add in your tin of chopped tomatoes and a pinch of sugar. Stir it through and then turn your heat right down and allow to simmer for about 15 minutes.

Still on the heat, add in a little salt and pepper for seasoning as well as about a tsp of garlic infused oil. Stir it in for some extra flavour!

Continue to gently heat your curry and gradually add in your spinach leaves. I tend to add around 3-4 handfuls of spinach. Allow them to wilt down into the curry. At this stage I like to add a little bit of water as the curry reduces down quite a lot. I tend to add between 100ml and 150ml of water which bulks out the sauce really nicely.

Finally add your fresh coriander and fresh chives. Stir through.

Serve it up with jasmine rice and top with some fresh coriander leaves.
Thanks so much for checking out my gluten free and vegan spinach and chickpea curry recipe!
Looking for more Veganuary recipes that are gluten free and low FODMAP too? Check out my buckwheat pancakes recipe here or my pulled jackfruit recipe.
Any questions about the recipe? How did yours turn out? Please do let me know by leaving a comment below or on Facebook / Twitter / Instagram!
Thanks for reading,
Becky xxx
Oh and don't forget to pin this for later!