My gluten free and vegan spicy bean burrito recipe is just what you need to spice up Veganuary 2019! If you're looking for a new fave lunch on the go or more fuss-free meal options, then this recipe is defo for you.
Yep, I'm still on a mission to create gluten free and vegan recipes that everybody will love – meat-eaters included! So allow me to introduce you to my gluten free and vegan spicy bean burrito recipe…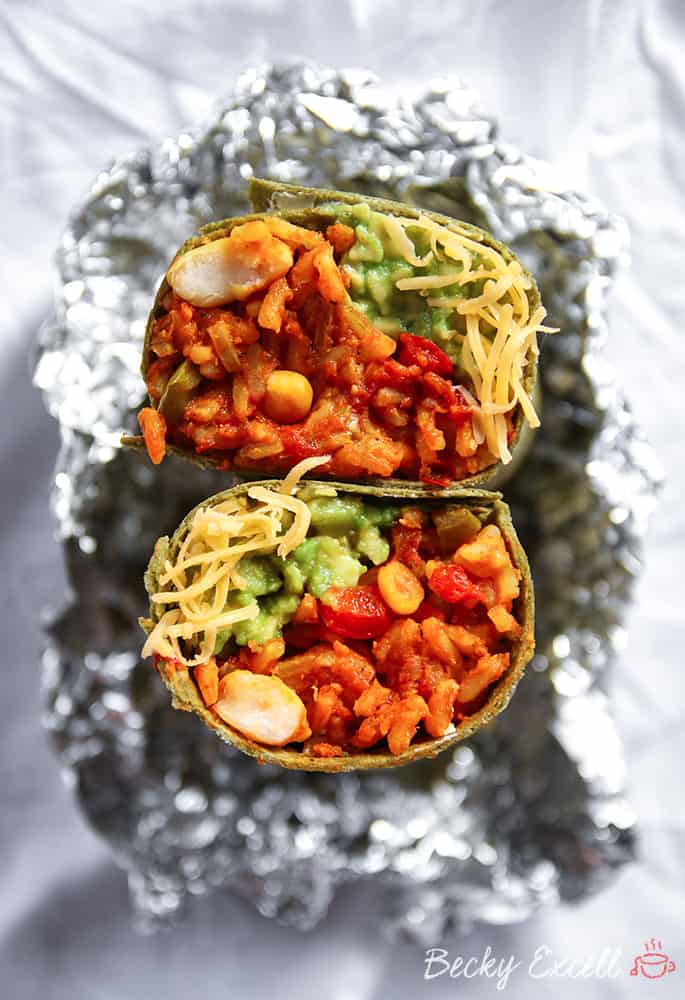 For people like myself (and my boyfriend) who have multiple food intolerances, a burrito can be a bit of a scary thing!
(ok, it's probably more 'my phone battery is on 10%' level of scary rather than 'oh no, did I turn my hair straighteners off?' on the scare-o-meter)
Firstly, there's definitely going to be gluten in the actual wrap, dairy in sour cream/cheese and onion/garlic in everything else.
So how on Earth was I going to make a tasty burrito that I could eat… and then cut out meat and dairy to make it vegan too?!
Well, I had an immediate solution to the first problem…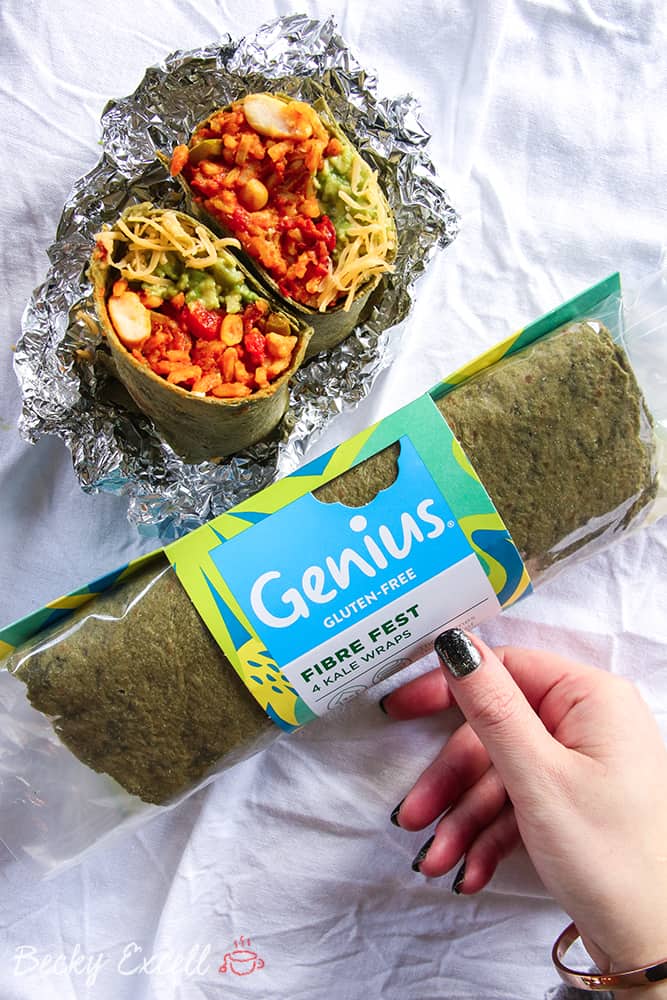 The gluten in your average wrap is easily sorted by Genius Gluten Free's Fibre Fest Kale Wraps. There's one problem solved!
These wraps are part of their 'Good for the Gut' range, which are packed with natural pre-biotic fibre and gluten free too. Gut health is so important, but so often, we don't listen what our guts are telling us! Do you guys actively listen to your gut?
(not literally guys, I'm sure nobody reading this is that flexible!!)
But it can be soooo important in attaining/maintaining good gut health. Everyone's familiar with the concept of having a 'gut feeling' or making a 'gut decision', so if you hear your gut telling you something when you eat a certain food… maybe it's time to listen!
But yeah for years, my biggest dream was to be able to find gluten free wraps that didn't fall apart when bent beyond a 1 degree angle. I know, I know… it was a big ask!
But now all you have to do is nip down to the free from aisle. These wraps are perfect for fajitas and burritos and yes – they taste as good as they look.
Gluten free food can often be so… beige?! So it's nice to inject a little instant colour onto your plate – I'm sure a lot of you guys will agree!
So that's the gluten successfully dodged, but what about the rest?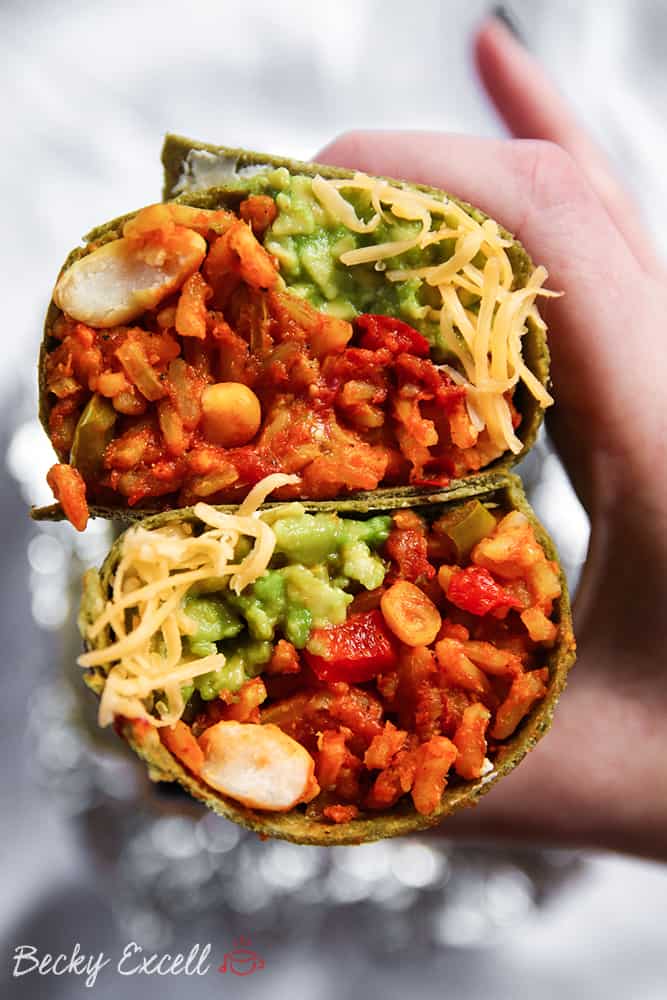 Well, all of my other barriers to enjoying a burrito (these will now be referred to as burrito barriers) are instantly solved by whipping up a batch of my homemade spicy rice.
(it's basically like all your fave burrito fillings combined into in a frying pan; salsa, protein, veggies, rice – you name it!
Then pair it up with a little mashed avocado and lime, some vegan cheese and boom. You're suddenly in burrito heaven – no gluten, dairy, onion or garlic required.
Sold? Well here's how to make my gluten free and vegan spicy bean burrito recipe…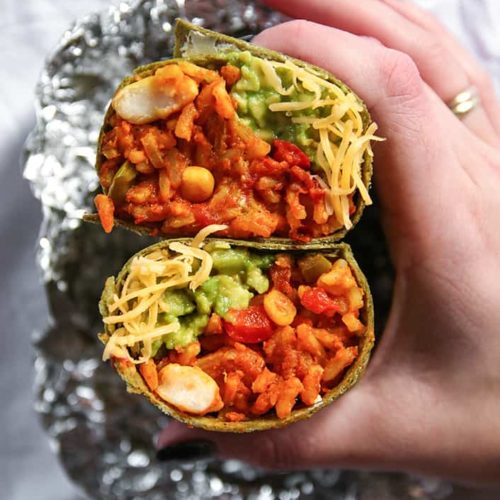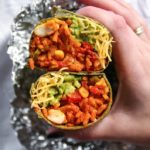 My Gluten Free and Vegan Spicy Bean Burrito Recipe
My gluten free and vegan spicy bean burrito recipe is the perfect lunch on the go and it's so easy to make at home. It's dairy free too!
Ingredients
2

Genius Gluten Free Kale Wraps

1

small avocado

1

tsp

lime juice

70

g

grated vegan cheese
For the spicy rice
80

g

long grain rice

200

g

finely chopped tomatoes

70

g

canned butter beans

(drained)

3

tbsp

sweetcorn

1/2

tsp

turmeric

1/4

tsp

cumin

1/4

tsp

paprika

1/2

tsp

chilli puree

1/2

tsp

salt

1/4

tsp

pepper

1/2

red or green pepper

(diced into small pieces)

3

tsp

garlic-infused olive oil

handful

freshly chopped chives

380

ml

boiling water
Instructions
Grab a saucepan (around 30cm wide). Start by frying your diced pepper in the garlic-infused olive oil for a minute or two until slightly softened.

Mash your avocado in a bowl and add 1 tsp of lime juice. Set this aside until later.

Add all of your spices and chilli puree to the saucepan. Stir for 30 seconds until the pepper is well coated.

Next, add your chopped tomatoes and boiling water to the saucepan and stir in. Immediately add your long grain rice and stir in. Bring to the boil.

Once it's boiling, turn the heat down and simmer until all the liquid has evaporated and your rice is cooked. Make sure you're constantly stirring it every now and then so it doesn't stick to the pan. This should take around 20 minutes.

Add in your butter beans and sweetcorn and cook for a further 5 minutes whilst stirring. Turn off the heat and allow this to cool slightly.

It's time to wrap and roll! (literally) Place a line of your spicy rice in the middle of the wrap, leaving an inch gap from the sides of the wrap. It should be about an inch tall too.

Add your mashed avocado and grated vegan cheese on top.

Take the edge of the wrap closest to you and overlap your filling. Tuck it underneath your filling slightly and roll forward until you're left with a nice oblong shape.

Tuck in the remaining tops and bottom of your wrap. Cut in half and enjoy!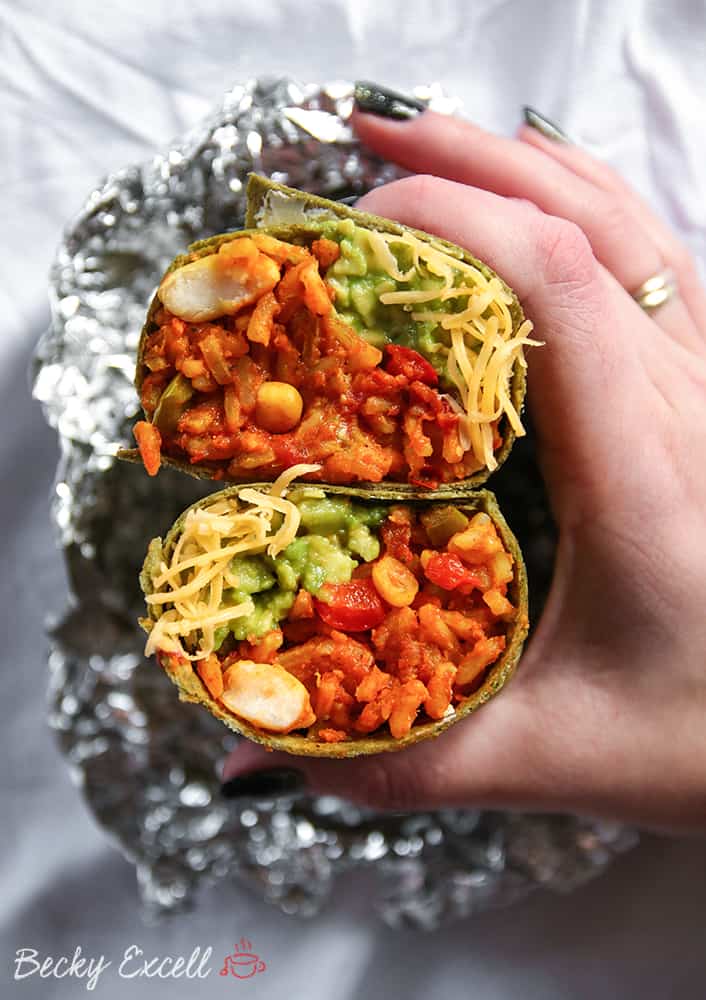 Thanks for reading how to make my gluten free and vegan spicy bean burrito recipe! If you make it, I'd love to see how it turned out so don't forget to take a snap of your creation and tag me on Instagram!
Any questions about the recipe? Please do let me know by following me on Instagram and leaving me a comment!
Thanks for reading,
Becky xxx
This is a sponsored post with Genius Gluten Free.
Oh and don't forget to pin this for later!