I'm not sure why I've NEVER posted a proper curry recipe on my blog in 5+ years… but that ends now! Here's my gluten free spiced coconut chicken curry recipe – it's low FODMAP and dairy free.
My gluten free spiced coconut chicken curry recipe is basically everything you'd want in a curry – creamy, warming with a subtle spiciness. Sound good to you? You've come to the right place!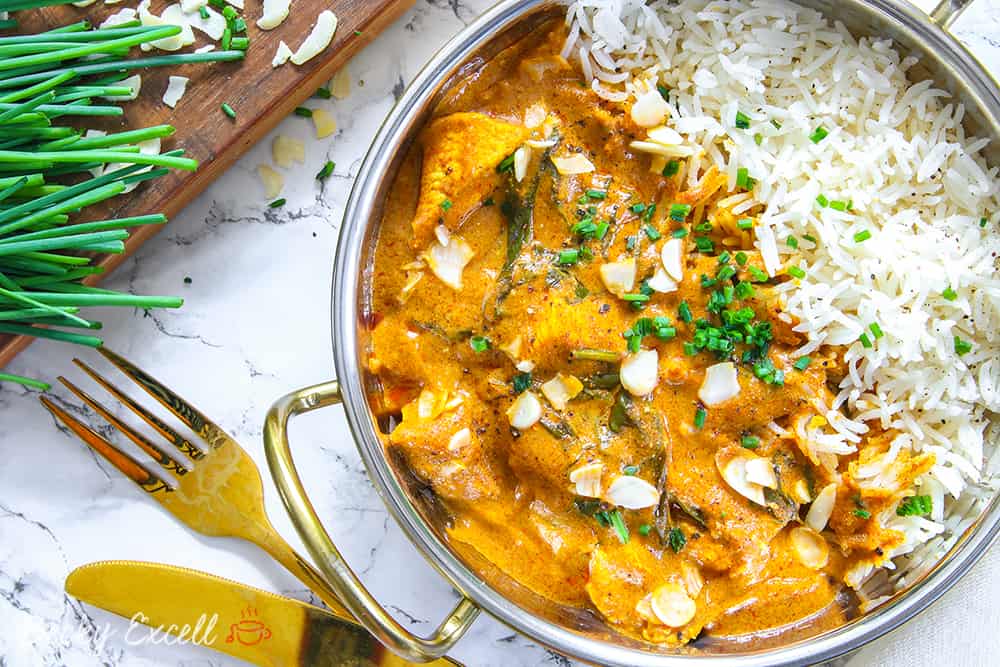 I guess when it comes down to it, most curries are gluten free already, so there's not a huge surge of hungry readers asking for them.
(yes I am that badly motivated that I need you guys to pester me for things all the time)
But yeah – I get so caught up in recreating gluten free versions of things I can't eat, that sometimes I forget to celebrate and share food that's naturally gluten free.
And no I'm not talking about fruit salad here!! I'm talking about my gluten free spiced coconut chicken curry recipe!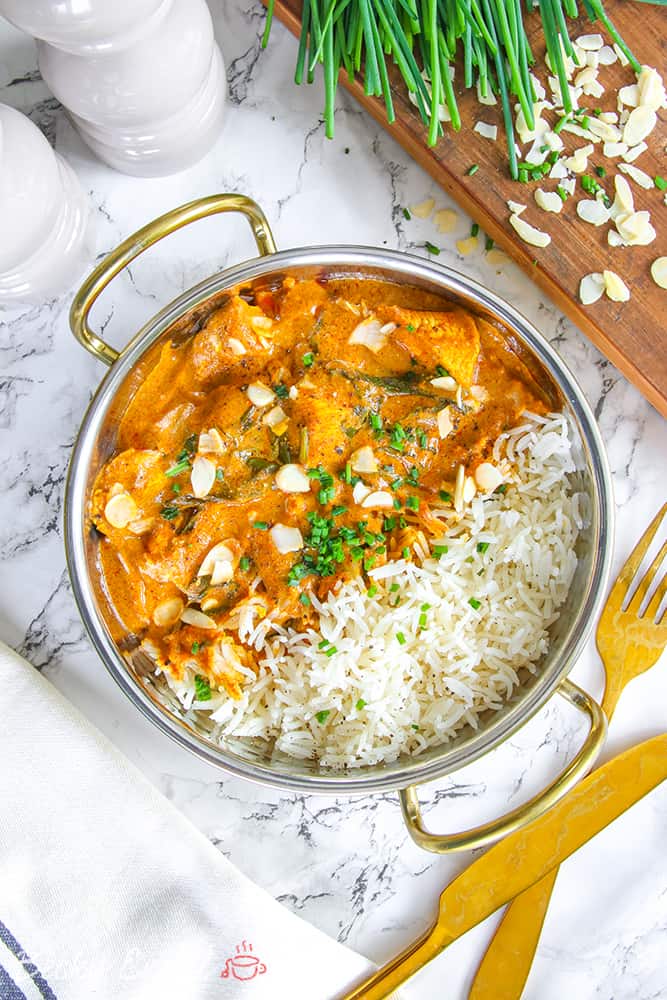 But in saying that, making a curry that's low FODMAP is no easy task. Like… it's an actual mission.
(ok yes, you can skip this bit if you don't need to be on the low FODMAP diet)
But I'm pretty sure that garlic and onion are a staple in the base of any authentic curry. So how on Earth do you get around that?!
Well, a little asafoetida is a godsend when it comes to adding that little pang of onion-like flavour without any onion required.
Then, chopping fresh chives on top only further helps to bring that onion flavour to the party too.
Lastly, a glug of garlic-infused olive oil is my final secret weapon in the war on FODMAPs. Honestly, nobody would EVER be able to tell that this was low FODMAP and that's the best compliment I could ever give this recipe!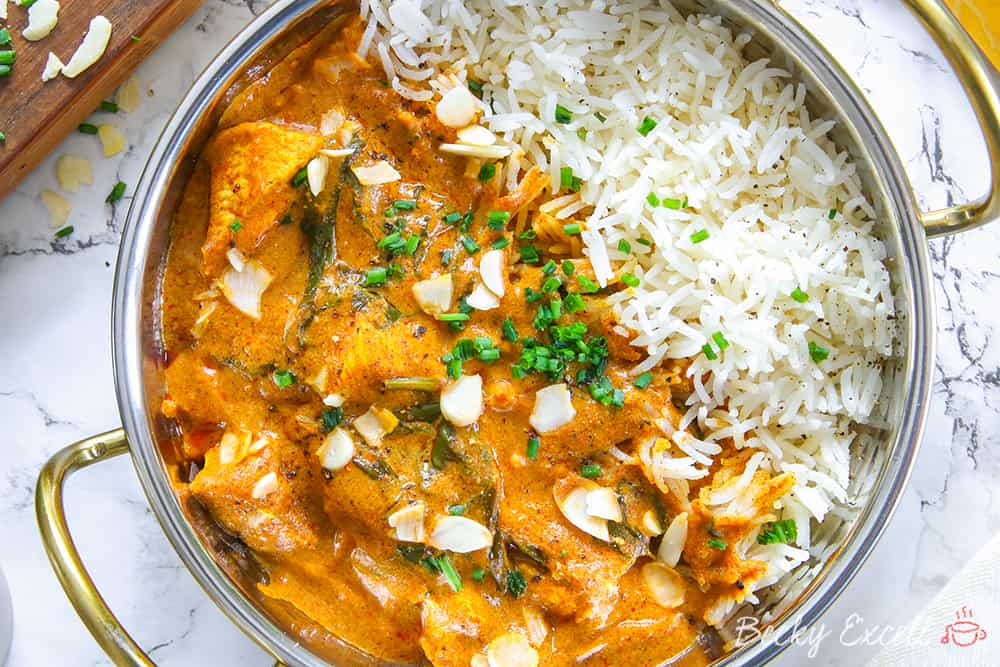 I guess if I had to compare this curry to something you'd order at an Indian restaurant, I'd say it's somewhere between a korma and a creamy masala-style curry.
I often find a korma to be a little too rich for me but I absolutely love the subtle spice and creamy coconut notes.
So I took what I loved about a korma and gave it a little more heat a little bit less of a thick consistency and here we are!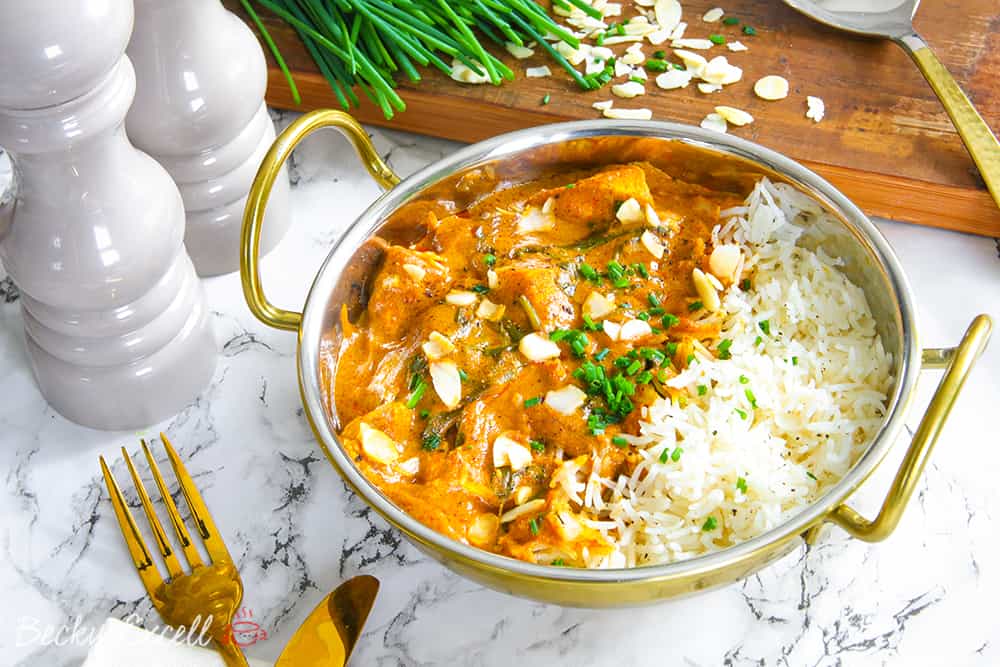 Need a side dish with this? Why not check out my gluten free no-onion bhaji recipe by clicking here?
So without further ado, here's my gluten free spiced coconut chicken curry recipe…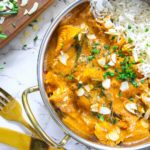 My Gluten Free Spiced Coconut Chicken Curry Recipe (low FODMAP + dairy free)
Here's my gluten free spiced coconut chicken curry recipe - the perfect warming, lightly spiced and creamy dish! It's low FODMAP and dairy free too.
Ingredients
2

tbsp

curry powder

(ensure it is low FODMAP - I have a recipe on the blog or there are some shop bought ones)

1

tsp

cinnamon

1

tsp

paprika

1/2

tsp

ground ginger

1/2

tsp

sugar

(optional - I use caster sugar)

1/2

tsp

asafoetida

1

bay leaf

2-3

tbsp

garlic infused olive oil

2

chicken breasts, chopped

175

ml

coconut milk

(regular or light work)

250

ml

coconut yoghurt

1

tbsp

tomato puree

1

tbsp

lemon juice

1-2

handfuls of spinach

handful of fresh chives, chopped
Instructions
Add your garlic infused oil to your pan, heat up and then add all your spices and sugar for about 1 minute, keep stirring. (Spices: curry powder, cinnamon, paprika, ground ginger, asafoetida).

Next add your chicken, followed by your coconut milk, coconut yoghurt, tomato puree and bay leaf. Stir and then simmer for about 20 minutes.

Add your spinach and lemon juice. Cook until the spinach has wilted down.

Remove your bay leaf and its ready to eat. Sprinkle of some fresh chives and some coconut or almond flakes if you like! Serve up with rice and any other sides you fancy. Enjoy!
Recipe Notes
A safe serving size for the elimination phase of the low FODMAP diet is third of this entire recipe. (It serves 3 anyway!)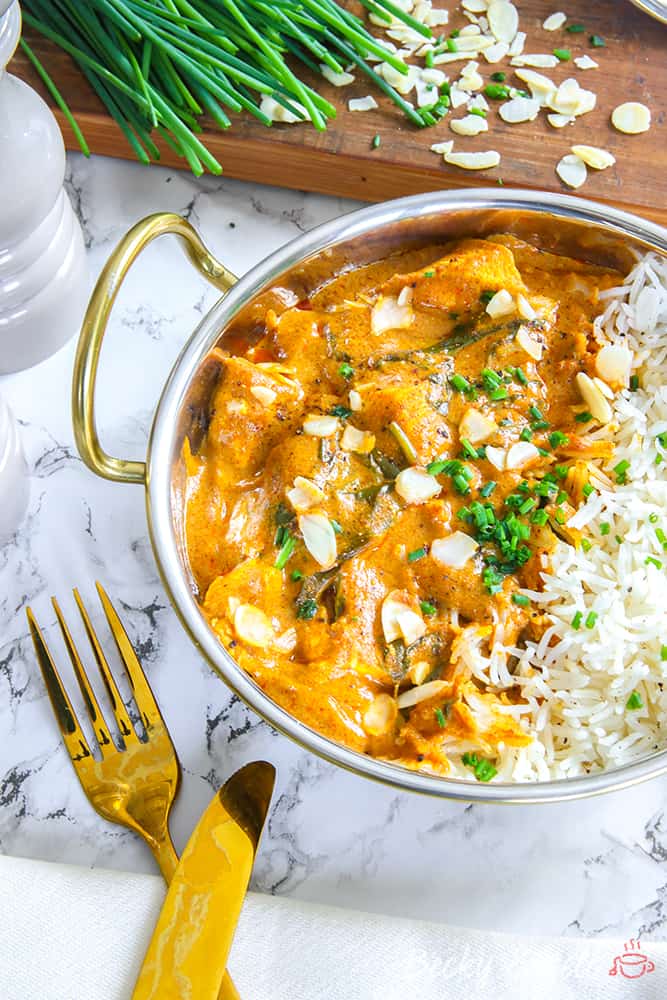 Thanks for reading how to make my gluten free spiced coconut chicken curry recipe! If you make it, I'd love to see how it turned out so don't forget to take a snap of your dinner and tag me on Instagram!
Plus, I'm giving away a £50 supermarket voucher every month to my fave pic, so get baking!
Any questions about the recipe? Please do let me know by following me Instagram and leaving me a comment!
Thanks for reading,
Becky xxx
Oh and don't forget to pin this for later!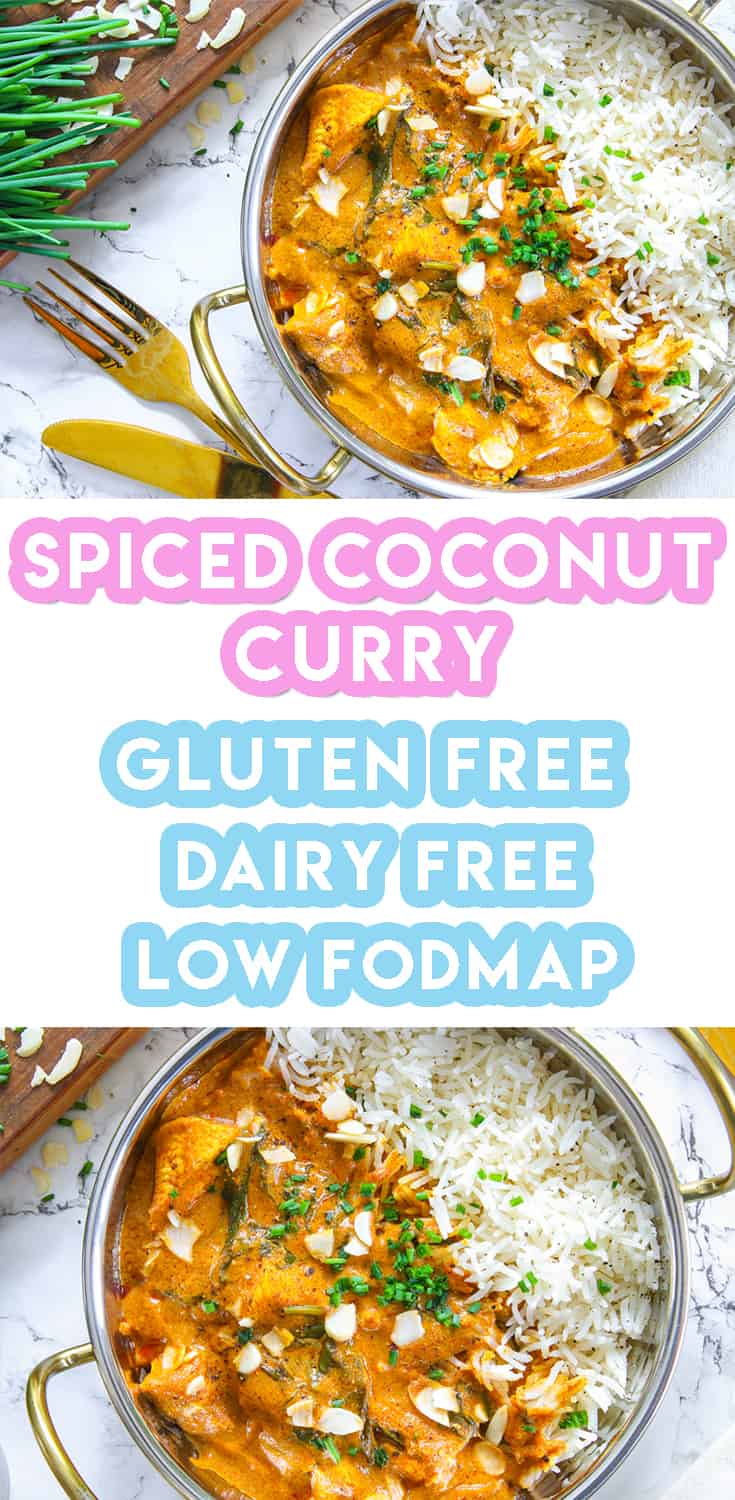 Comments