Who wouldn't love waking up on their birthday to find a gluten free chocolate drip cake waiting for them downstairs? Well, with this recipe, you can easily make someone's birthday goals come true!
But before I get into my gluten free chocolate drip cake recipe, it's time to celebrate a very special birthday… FREEE by Doves Farm's 40th!
(but don't worry, you still look 21 to me)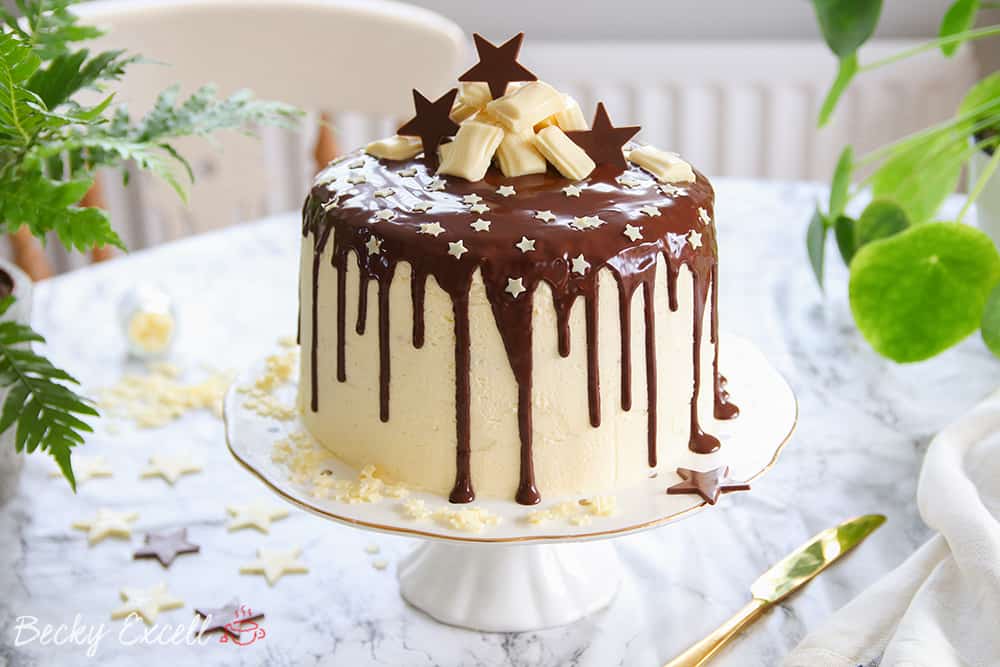 Well, they say life begins at 40 but for FREEE by Doves Farm Foods, it actually all began in 1978!
Since then they've won 50 awards across both both brands (FREEE by Doves Farm and Doves Farm) and become the #1 gluten free flour range in the UK. That's more than one award per year…
I think that calls for the biggest and best birthday celebration cake, yet don't you?!
In case you didn't already know, FREEE by Doves Farm is Doves Farm Foods' 100% gluten free brand. All their products are naturally gluten free, produced in dedicated facilities and clearly labelled to boot. It's not just all about gluten free flour either – they actually have 62 gf products out there in the wild!
In my gluten free chocolate drip cake recipe, I'll be using the FREEE by Doves Farm self-raising flour and their xanthan gum too. Two staples for any gluten free baking cupboard!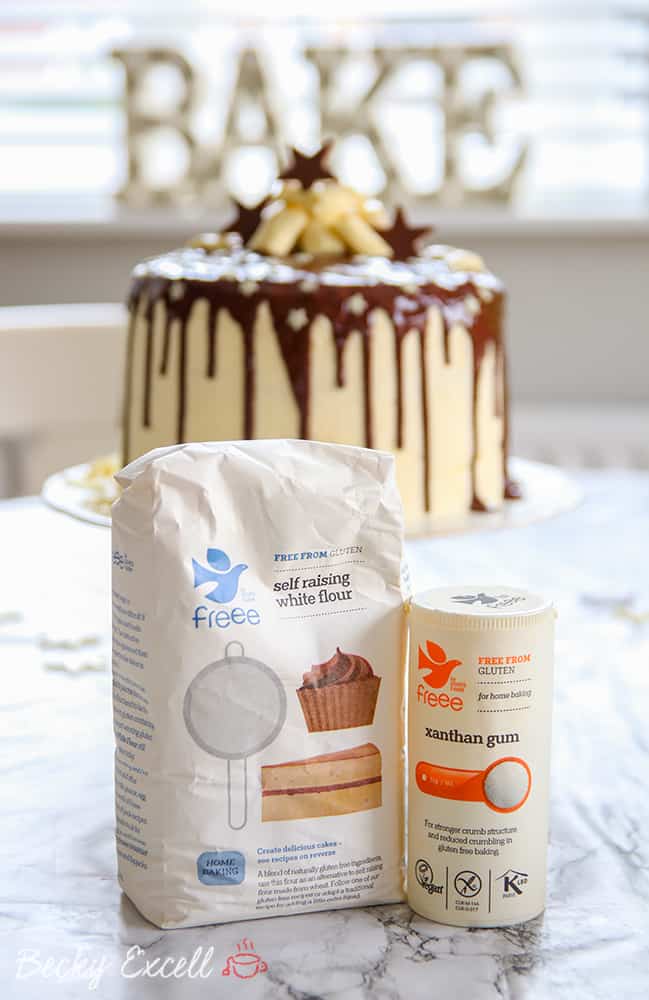 Now, I always thought that making a cake that looks like this would be basically impossible.
(if I'm totally honest, I struggle to even get icing into a piping bag most of the time)
But actually, I found it soooo much easier than I thought.
It's three layers of gluten free sponge cake, buttercream icing, chocolate ganache and well… that's it.
So in creating all the separate components, you can easily make those in a flash. But what about icing this beauty?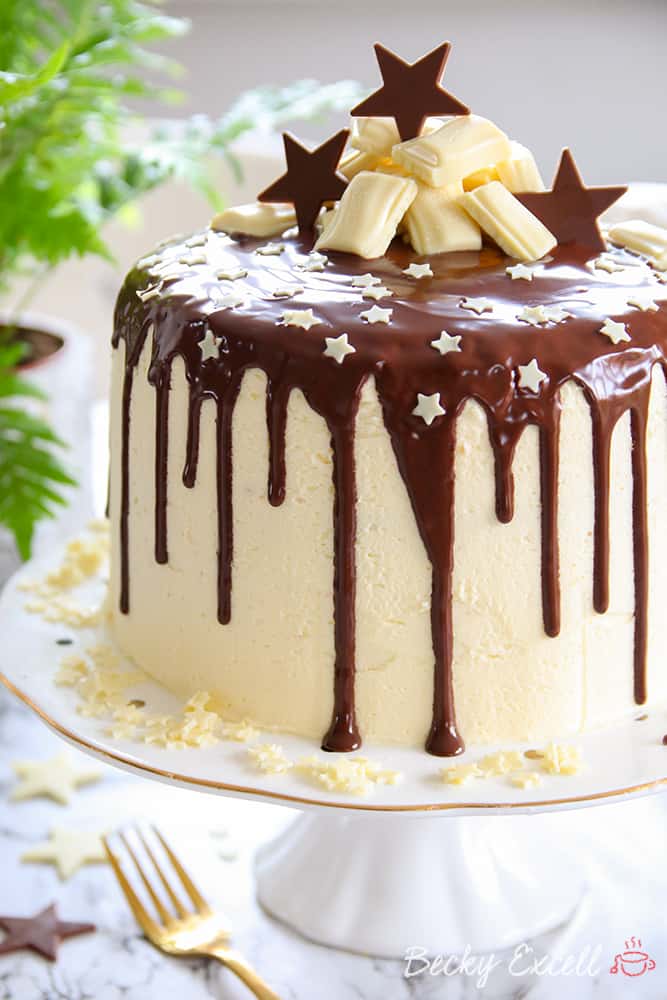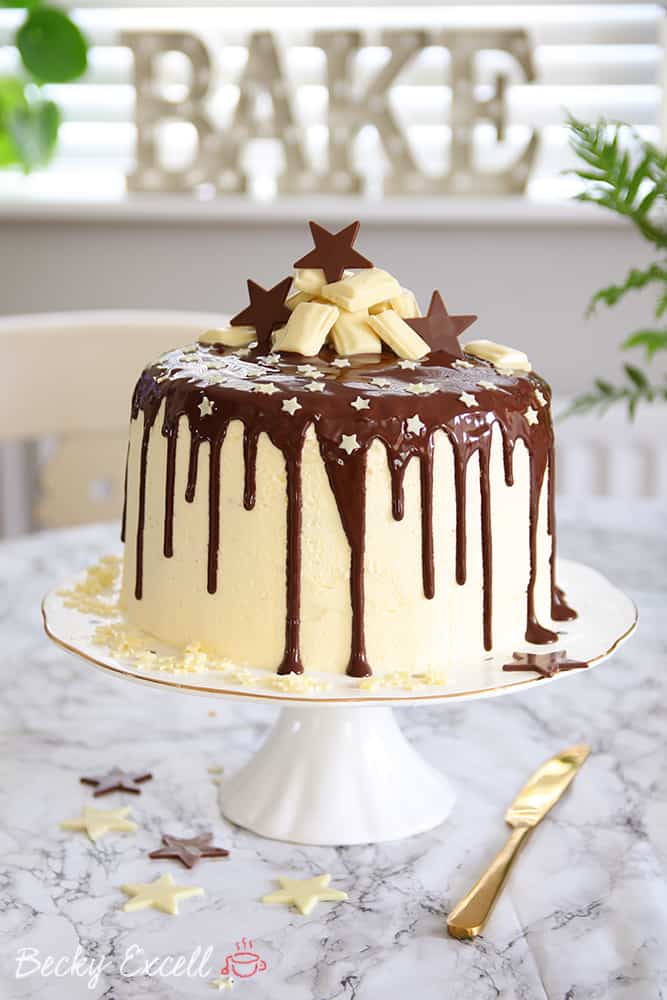 Well you're definitely going to need to be armed with two important things from your baking arsenal: a scraper for icing and a piping bag.
…
Still here? That didn't scare you off, did it? Great!
But don't be worried if you've never even used either of those before – we're not aiming for precision with this bake. I guess I'd describe it as a beautiful mess!
Plus, if I'm honest, I'd never ever used a an icing scraper before this recipe and I managed somehow!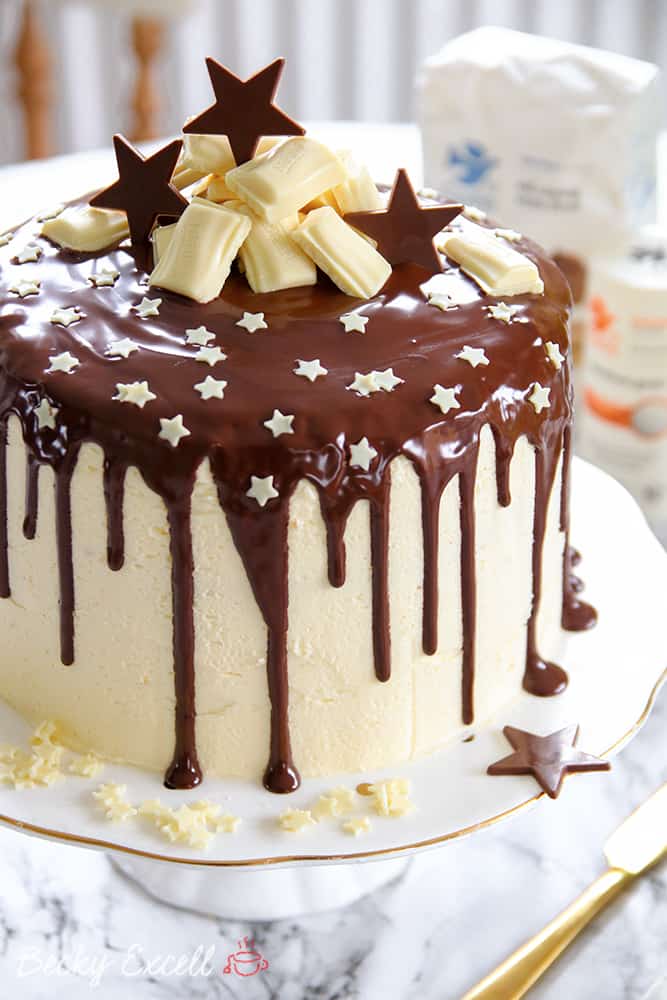 Once you've got a lovely smooth coating of icing on your cake after using your icing scraper, a piping bag of your ganache makes getting the drippy effect really simple.
Honestly, just stick the recipe like it's a set of directions to a destination and you'll soon arrive at birthday cake Heaven.
Oh and if anyone knows what to buy for a flour brand's birthday present then please DM me.
Here's my gluten free chocolate drip cake recipe that's dairy free and low FODMAP too…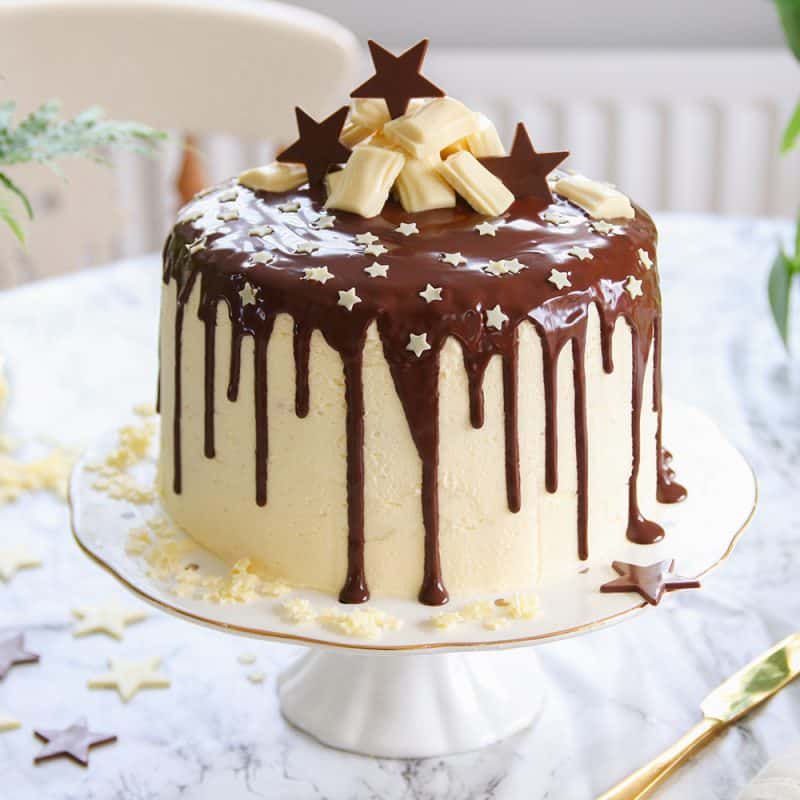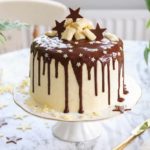 Gluten Free Chocolate Drip Cake Recipe (dairy free + low FODMAP)
Say hello to my gluten free chocolate drip cake recipe! It's so easy and simple to make and you have the option of making it dairy free and low FODMAP too.
Ingredients
For the sponge cake
400

g

caster sugar

400

g

unsalted butter, room temperature

(or dairy free spread / margarine)

395

g

gluten free self raising flour

(I use FREEE by Doves Farm)

1/4

tsp

xanthan gum

(I use FREEE by Doves Farm)

1

tsp

gluten free baking powder

1

tsp

vanilla extract

8

medium eggs

(you want them to weigh 400g too ideally)
For the buttercream (inside the cake and around it)
595

g

unsalted butter, room temperature

(you can use dairy free equivalent but I do find once you've made the icing you need to chill it)

1

kg

icing sugar

(I know this seems like a lot but I prefer to make more than less!)
For the chocolate drip
200

g

dark chocolate

(dairy free if necessary)

4

tsp

sunflower oil
For decoration
white chocolate chunks

(dairy free if necessary)

dark/milk chocolate chunks

(dairy free if necessary)

white and milk chocolate stars

(optional)
Instructions
Heat your oven to 160C fan and prepare three 20cm round cake tins with parchment paper.

Make your sponge cake mix in a large bowl - I use a Kitchen Aid stand mixer. Cream your butter until light and fluffy. Then add your caster sugar and continue to cream together until well-combined.

Add in your gluten free flour, baking powder, xanthan gum, vanilla extract and eggs. Continue to mix until fully combined. Don't overmix or the mixture could split - if it does, don't worry, it doesn't really matter!

Divide your mixture between your three tins. I tend to weigh mine to make sure they are even. Then pop in the oven for 30 minutes until golden brown and a skewer comes out clean (make sure they are all evenly cooked, but never open the oven during cooking).

Allow to cool a little in their tins before turning them out onto a cooling rack to cool completely.

To make your buttercream, cream your butter (again, I use my Kitchen Aid stand mixer) until very light and fluffy. It can take a while so be patient!

Then gradually add your icing sugar, a quarter at a time. Mix until fully combined and then continue to mix for a further few minutes to enable the buttercream to get its fluffiness back whilst it's still stiff.

Using a sharp knife or a cake leveller, thinly slice the very top of your now cooled sponges to make them nice and flat if the tops aren't already.

Place one of your sponge cakes onto a cake stand or other flat surface where your cake will remain. Place it with the flattest side down.

Using a spatula, spread an even layer of icing on top of the sponge cake. Leave around a 1cm gap from the edge of the cake.

Place your next sponge on top, press down lightly and repeat.

Place your final sponge on top with the flattest side facing up and press down lightly again.

Next, we're going to give the cake a 'crumb coat' of icing. That's just a fancy way of saying we're going to be applying really thin layer of icing and letting it set before icing it for real. It acts as a nice smooth base for our final icing coat. So using a spatula, apply your icing to your cake and spread it around to be as thin as possible.

Use your icing scraper to basically try and lightly scrape as much icing off as possible from the sides without damaging the cake. You should be able to see the cake through the icing - that's how thin is should be! The top doesn't matter too much, just make sure the icing on top is nice and flat. Now leave that to set for 15 minutes until its a little more crisp on the outside.

Now to ice it for real! Using a spatula, dollop the rest of your icing onto your cake and spread it around evenly. Don't go overboard on icing the top or you won't have enough left for the sides. The trick here is that you want to put too much on the sides and scrape the excess off with the scraper for a nice smooth finish.

Allow this coat of icing to set until you can feel a crisp coating. This should take about 30 minutes.

Now for the ganache! Melt your dark chocolate (I use the microwave in short bursts) and then stir in your oil. Allow to sit for no less than 10 minutes. Then pour your ganache into your piping bag.

Pipe a circle of ganache around the edge of the top of your cake. Once you've got a nice circle, start blobbing your ganache so that it drips over the edges. Small blobs will result in a short drip and a big blob will result in a long drip. Use small and big blobs randomly to get a nice messy effect.

Once the sides are looking fab and drippy, use the rest of your ganache to cover the top of the cake. Allow this to set for a few hours and you're done.

Decorate with chocolate chunks and a few chocolate stars if you fancy! Make sure they're dairy free if you need them to be.
Notes
When making the icing for this cake dairy free I have always found it a little less stiff. I often keep a cake with dairy free icing in the fridge for a while to enable the icing to harden.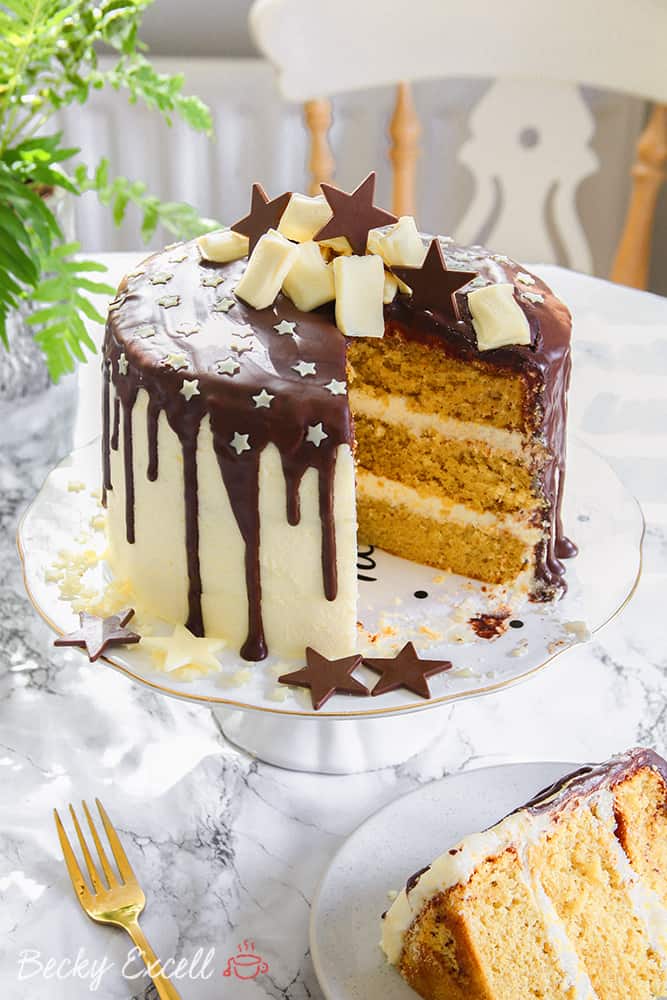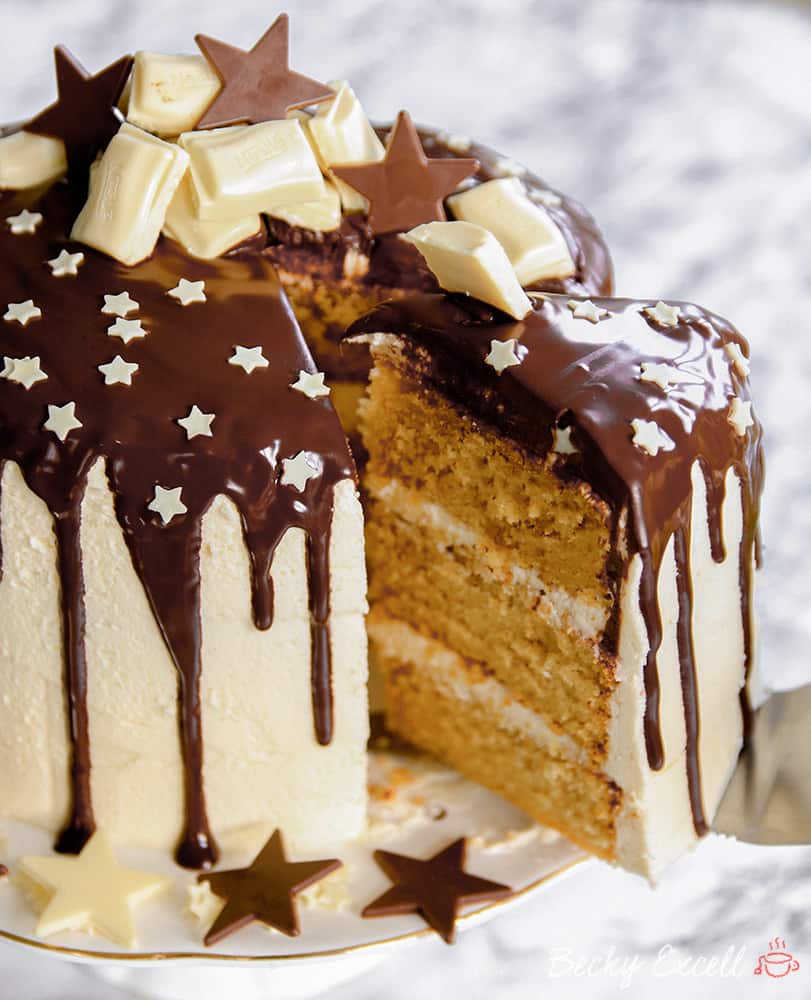 Thanks for reading how to make my gluten free chocolate drip cake recipe! If you make it, I'd love to see how it turned out. So absolutely make sure that you send me a pic using my social media links below.
Looking to find a bag for FREEE by Doves Farm? You can pick up their gluten free flour at www.freee-foods.co.uk, on Ocado or at Sainsbury's, Waitrose, ASDA, Morrison's and Tesco. Don't forget to check traditional wholesalers, food service, independent health food stores and farm shops too.
Any questions about the recipe? Please do let me know by leaving a comment below or on Facebook / Twitter / Instagram!
Thanks for reading,
Becky xxx
This is a sponsored post with FREEE by Doves Farm.
Oh and don't forget to pin this for later!