One thing you'll never find in the supermarket is low FODMAP sweet chilli sauce. It always contains garlic (and onion sometimes) which means I haven't had it in yeeeeears. But that all changes now!
Of course, this recipe is totally gluten free and dairy free too so it's pretty much fun for everyone! It's an incredibly simple recipe made from really easy to find ingredients, so let's get cracking…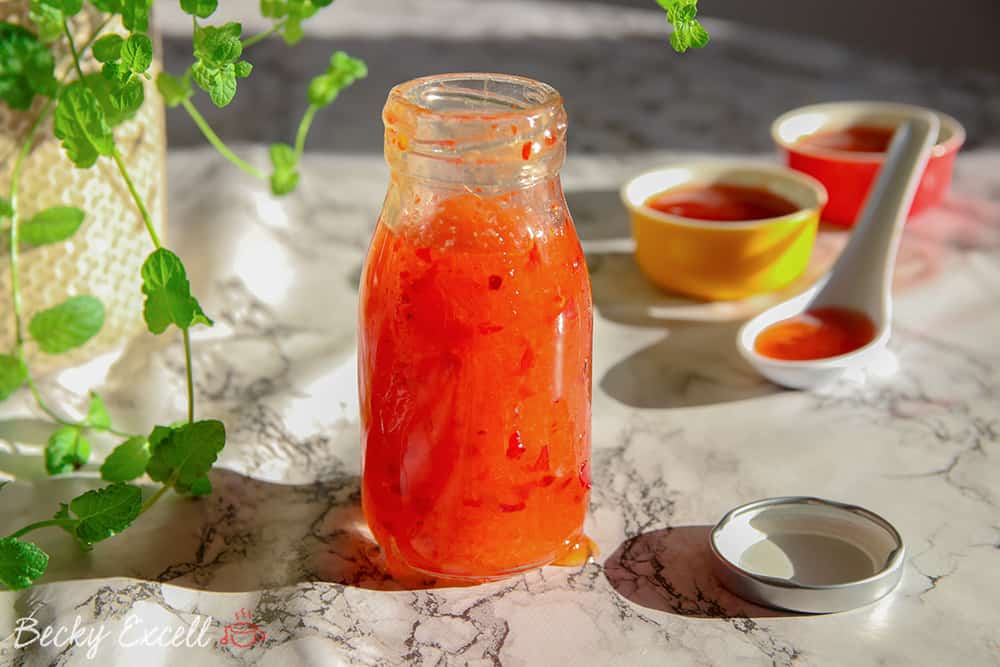 Cooking everything from scratch can be a bit of a bummer before you get started, but there's so many little ways to make life easier for yourself.
My biggest cooking hack is probably the discovered of herb purées/minced pastes.
You can find them in small jars near the spices or sometimes in squeezy tubes next to the fresh herbs.
But included with all the herbs is also chilli purée and ginger purée, which is exactly what we'll be needing for this recipe.
We use these purées to make our own low FODMAP curry pastes, pasta sauces, table sauces and… pretty much every meal.
Any little time savers when you have to cook from scratch every day because of dietary requirements are like gold dust to me.
No chopping herbs, no chopping chilli and then touching your eye and rinsing it out with water for the next 20 minutes whilst screaming (we've all been there).
No washing up awkwardly sharp food processor blades to make your own pastes either. It's just sitting there, in a little tube.
(It almost feels like cheating, but when you remember that ready meals exist, you'll soon forgive yourself.)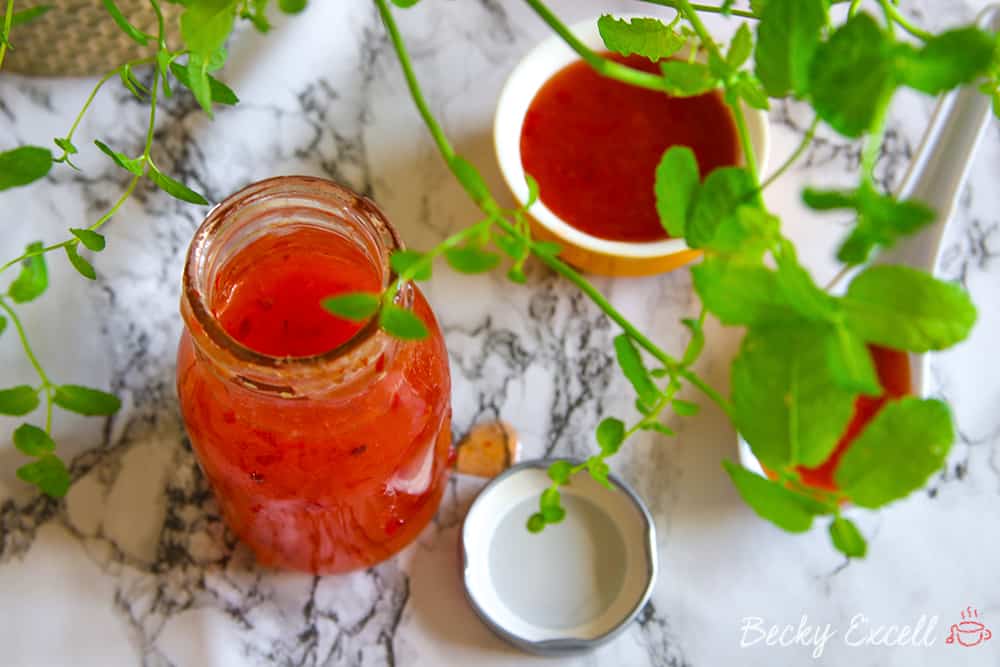 If you cook a little Chinese food every now and again, you'll probably already have the rest of the ingredients in your cupboard to be honest.
But since this recipe creates a decent amount of my low FODMAP sweet chilli sauce, you might need more than one bottle of rice vinegar – they often come in quite small bottles.
You'll need a decent low FODMAP ketchup and I used FODY Foods Ketchup, but if you're struggling, you can always replace it with tomato puree instead.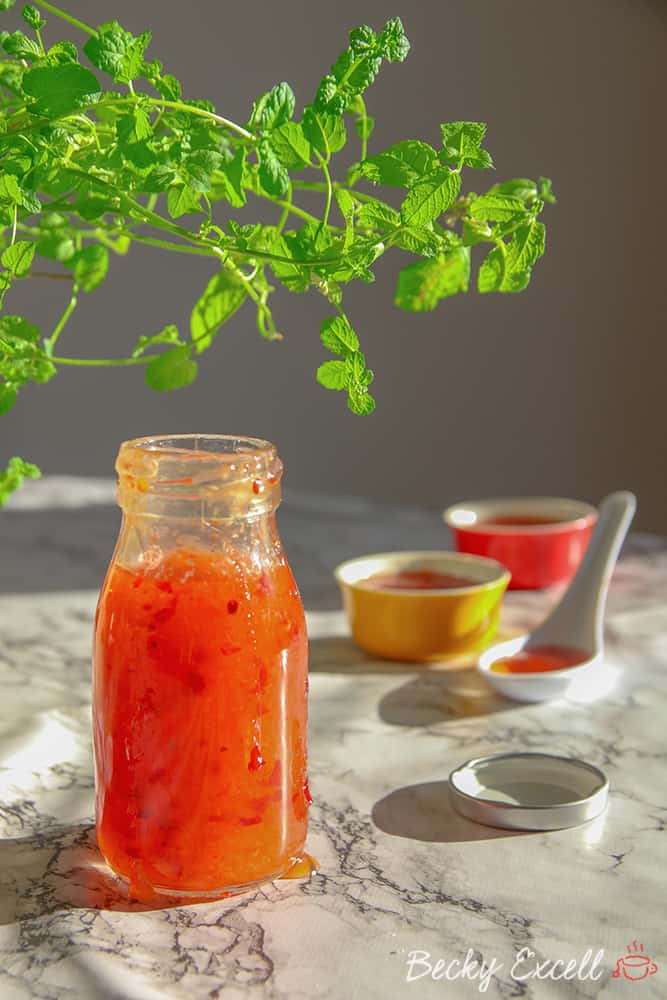 So here's the recipe for my low FODMAP sweet chilli sauce! I really hope you enjoy it – it's thick, spicy and extra sweet, just like you remember.
Plus you don't miss out on that garlic flavour with a little garlic-infused olive oil either. I've reflected in the recipe how to make it mild, medium or hot too, so you don't have to blow your head off!
It's great for dipping, as a sauce in stir fries or you can also just use it as a sauce with battered chicken/prawns. Enjoy!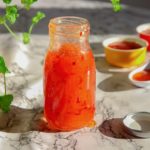 Low FODMAP Sweet Chilli Sauce Recipe (gluten free, dairy free)
My low FODMAP sweet chilli sauce recipe is gluten free, dairy free and perfect in stir fries, dipping or as a sauce for chicken/prawns.
Ingredients
200

ml

boiling water

200

ml

rice vinegar

175

g

sugar

1

tbsp

garlic-infused olive oil

3

tsp

of cornflour mixed in 6 tsp water

2

tsp

ginger purée

2

tsp

chilli purée

Add 3 tsp for medium spice or 4 tsp for hot spice

2

tsp

low FODMAP ketchup

use 1 tsp of double concentrated tomato purée if you can't find any
Instructions
Add your boiling water and rice vinegar to a medium sized saucepan and bring to the boil.

Add your sugar, garlic-infused olive oil, ginger purée, chilli purée and low FODMAP ketchup and stir for 1 minute.

Simmer for 10 minutes and then stir in the cornflour mixture.

Allow to cool before decanting into a bottle or jar. Keep up to 2 weeks in the fridge.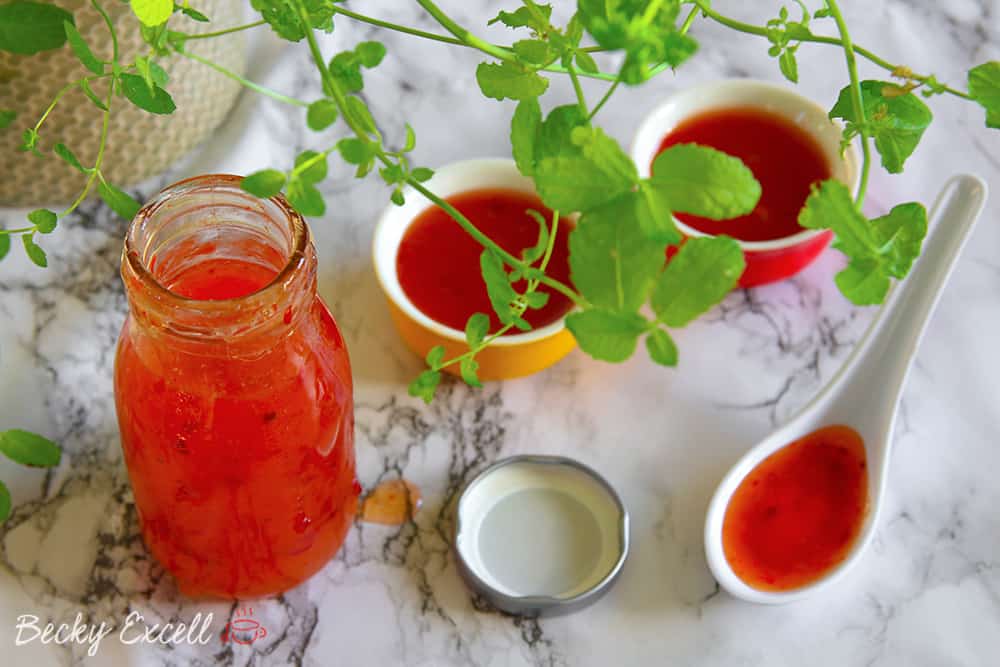 Thanks for reading how to make my low FODMAP sweet chilli sauce recipe! If you make it, I'd love to see how it turned out and what you served it up with. So absolutely make sure that you send me a pic using my social media links below…
Any questions about the recipe? Please do let me know by leaving a comment below or on Facebook / Twitter / Instagram!
Thanks for reading,
Becky xxx
Oh and don't forget to pin this for later!