Well that's defo a recipe title I never thought I'd write. But yes, I've done it! Not only did I reach 40k on Insta, but my gluten free maple pecan plait danish recipe is here and it's even dairy free too.
Ok, so for the last 9 years I've only been craving one thing. Yes, world peace would be ideal, but on a much smaller scale, I'd happily take a gluten free maple pecan plait danish any day. So I made them myself!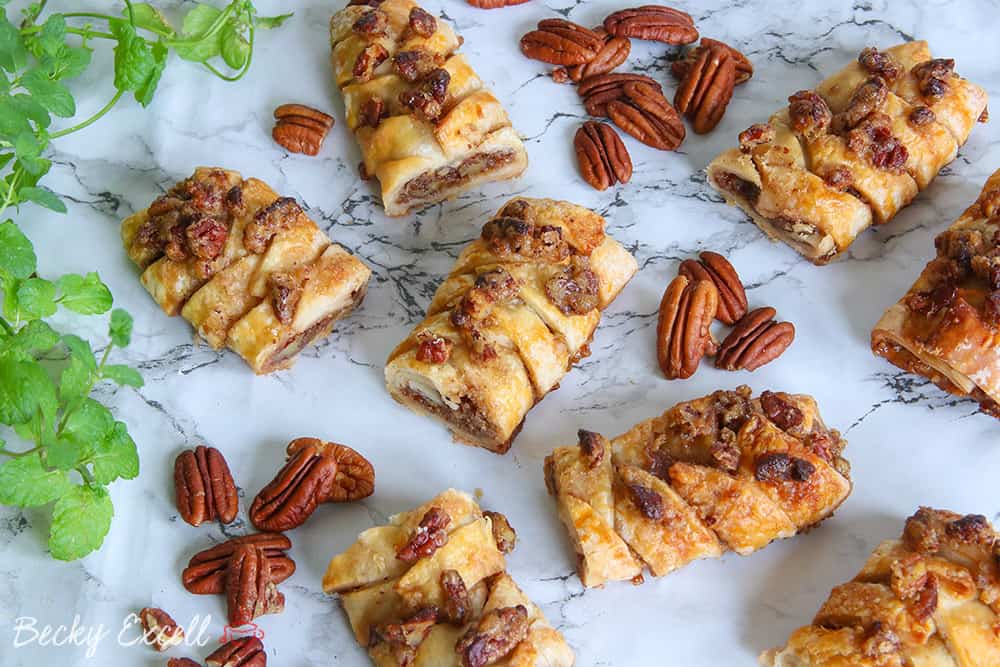 Yeah, I'm not exactly sure what took me so long to get around to it either…
Apart from the fact that making anything with gluten free pastry is FREAKIN' IMPOSSIBLE.
(sorry for the caps, but 9 years is a long time without my fave danish pastry and a gal gets hangry)
Well… that's what I thought at least. The other day I blew my own mind (and hopefully yours too) by making gluten free custard slices. O. M. G – so good!
After many years of baking fails when using gluten free puff pastry, that one success gave me a little more confidence to go for the holy grail – the gluten free maple pecan plait danish.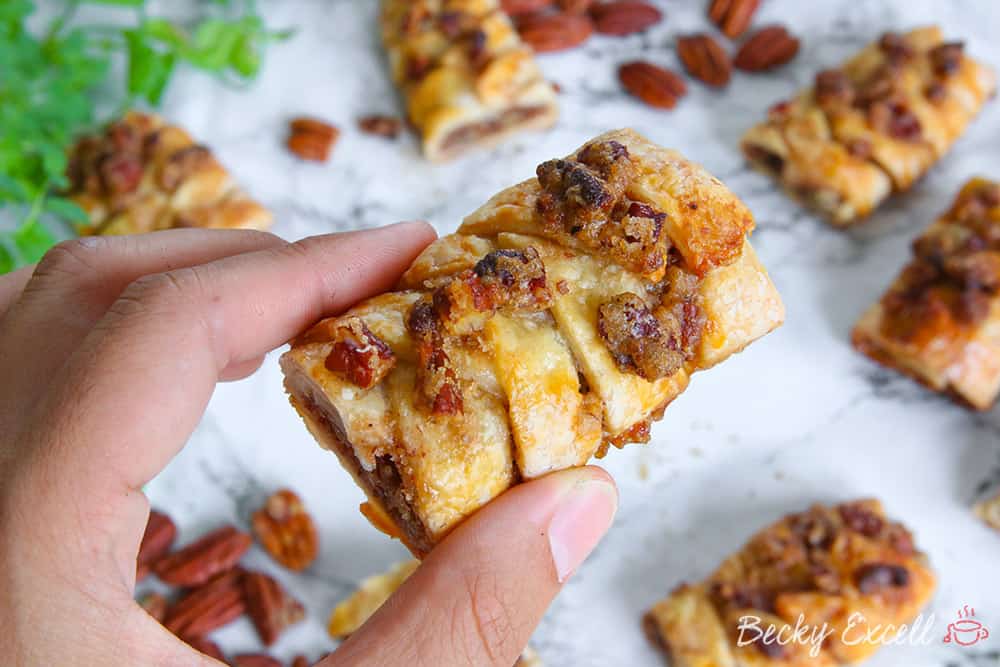 And yeah, to cut a long story short – it just worked and it tasted bloody awesome. Certainly extreeeeeemely close to the real deal I should add!
(my spell checker absolutely hates me with the amount of e's in extremely there)
But just like with my gluten free custard slice recipe, I made it using Jus-Rol's gluten free pastry.
The taste of the pastry is awesome, but as I said in my previous recipe post – it's not the puffiest puff pastry on Earth.
But with a danish, we're not exactly going for volume here, so I thought it'd do just fine. And it did even better than expected!
Oh and another thing… these are definitely best eaten on the day of making them, and if not… warm them up – it refreshes the gluten free pastry nicely.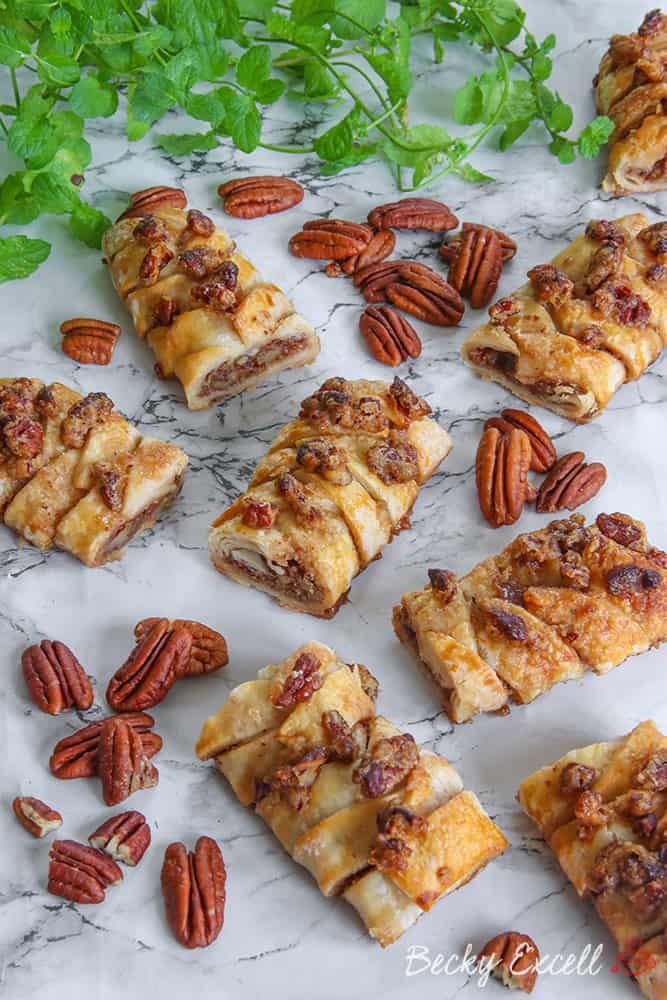 So I guess creating the filling is the easy part of this recipe. But then again, the puff pastry is already ready to go, so I guess that's pretty easy too.
Wait, wasn't this recipe supposed to be next to impossible?!
I guess the hard part is not eating the filling while you're making this then!
Oh wait, there's one last thing…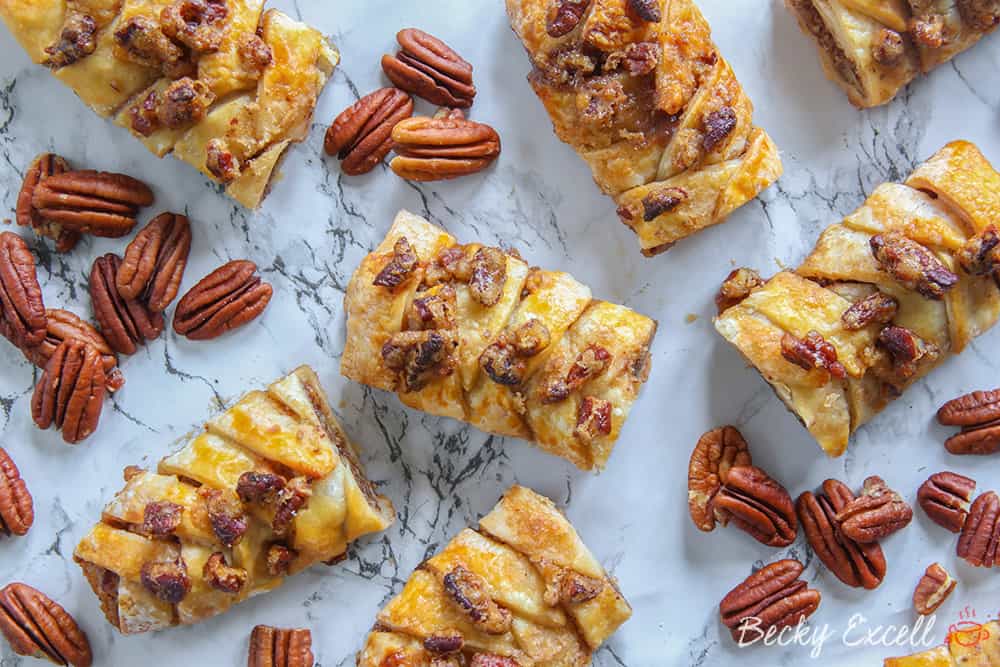 For me personally, the hardest part will be writing down how to create the beautiful plaited pattern in this recipe!
Hopefully we'll muddle through it together, but it's the type of thing that's so simple to do, but so hard to describe. A bit like trying to describe a colour to someone, without saying the name of the colour…
But hey ho – that's what photos are for! I've inserted a few step by step photos for the tricky steps so hopefully that helps you on your path to maple pecan perfection.
Just wanted to say thanks to everyone who follows me over on Instagram. It's because of you lot that I strive to keep posting and creating recipes that I hope we all crave and miss! Here's to the next 40k 🙂
So without further ado, here's my gluten free maple pecan plait danish recipe…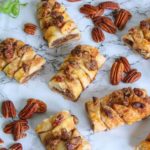 My Gluten Free Maple Pecan Plait Danish Recipe (dairy free)
Say hello to my gluten free maple pecan plait danish recipe! It's dairy free too and a doddle to make with gluten free Jus-Rol puff pastry.
Ingredients
1

packet

Jus-Rol Gluten Free Puff Pastry

85

g

light brown sugar or light muscovado sugar

3

tbsp

maple syrup

130

g

pecans

(100g for filling and 30g for topping)

35

g

dairy free spread/margarine, melted

(you can use butter if you are not dairy free)

1

egg

(for egg wash)
Instructions
Preheat your oven to 170C and get your pastry out of the packet flat (it's already rolled out!)

To make your filling, firstly blend 100g of your pecans in a food processor / blender till they are quite fine.

Pop the pecans in a bowl and then add your sugar, maple syrup and melted margarine/butter. Mix together and your filling is done!

Take your gf Jus-Rol pastry and cut it into four even sections, now ready to fill.

Put your filling in a line down the centre of your gluten free puff pastry. The filling should ideally be quite flat and less than half a cm. Be careful not to overfill them - a little goes a long way!

Cut lines down both sides of the puff pastry, making sure there is an equal amount of cuts on both sides. Also make sure the cuts are directly opposite each other.

Starting at the top, fold each pastry flap down in a diagonal direction, alternating each side as you go. Make sure they overlap each other nicely.

Once you're done, it should look a little like this.

Then, cut your incredibly long gluten free maple pecan plait into three sections. This will make three mini ones.

Place onto a baking sheet and give each mini plait a little egg wash with a brush.

Pop in the oven for about 10-12 minutes or until a little golden brown. If you bake them too long, the pastry can become hard, so keep an eye on them!

Finish by sprinkling a few extra crushed pecan pieces on top. You might also like to pour a little extra maple syrup or even make a glacé icing to drizzle over the top.

They are best eaten soon after baking, warm or cold. If you are eating them later on or the next day then I like to refresh mine in the microwave or oven 🙂 Enjoy!
Thanks for reading how to make my gluten free maple pecan plait danish recipe! If you make them, I'd love to see how they turned out so don't forget to take a snap of your bakes and tag me on Instagram!
Plus, I'm giving away a £50 supermarket voucher every month to my fave pic – result.
Any questions about the recipe? Please do let me know by following me Instagram and leaving me a comment!
Thanks for reading,
Becky xxx
Oh and don't forget to pin this for later!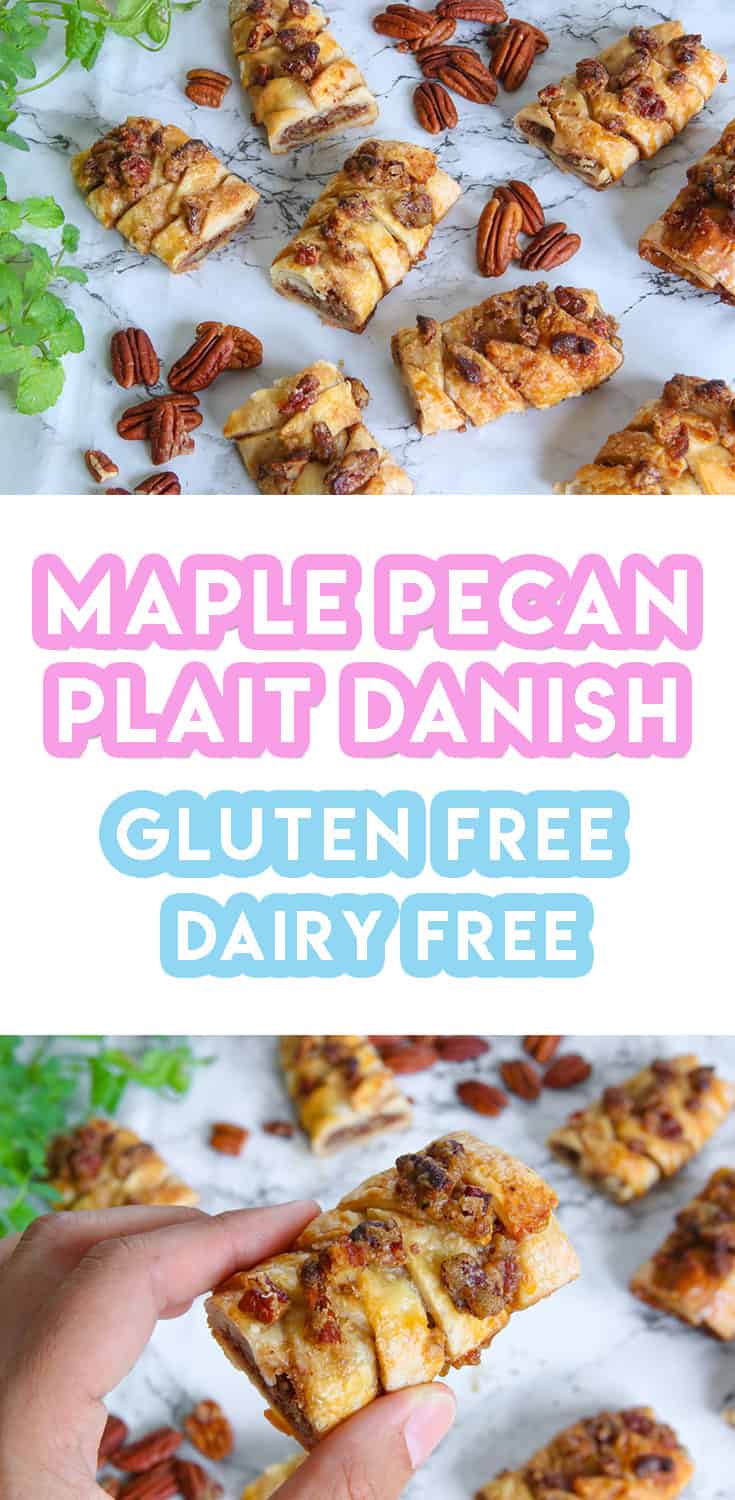 Comments