I never dreamt that a gluten free custard slice would exist… that's why I just went ahead and made my own recipe! Yep, creamy, thick custard sandwiched between lovely flaky pastry with sweet icing on the top. What could be better?
It's been so long since I had a custard slice that I totally forgot how good they were. The gluten free world is definitely lacking on the fresh pastry front, so I'm gonna try and resolve that one recipe at a time – starting with my gluten free custard slice recipe!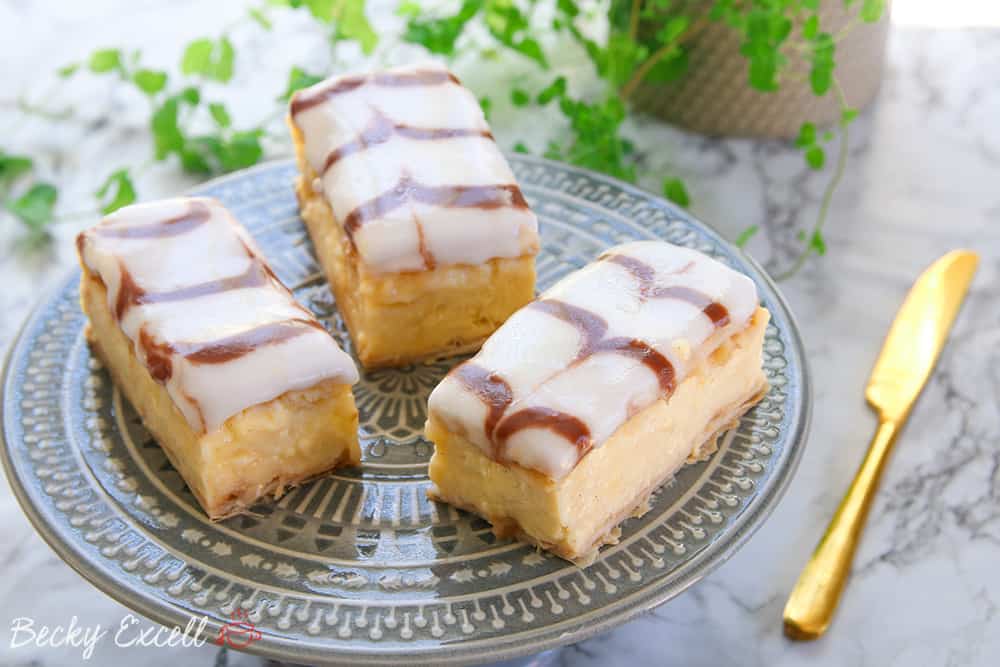 Now, making gluten free puff pastry at home is more than a bit of a mission – it's mission impossible. I'm pretty sure that making regular puff pastry is hard enough, let alone without the gluten!
That's why I picked up my gluten free pastry from the supermarket – it's Jus-Rol's gluten free puff pastry. It's doesn't puff up to the spectacular heights of regular puff pastry, but we're not after volume in our gluten free custard slices here, so it's actually perfect.
(plus, it tastes exactly like buttery puff pastry should too!)
It takes all the stress out of this recipe, leaving you just to do the fun parts!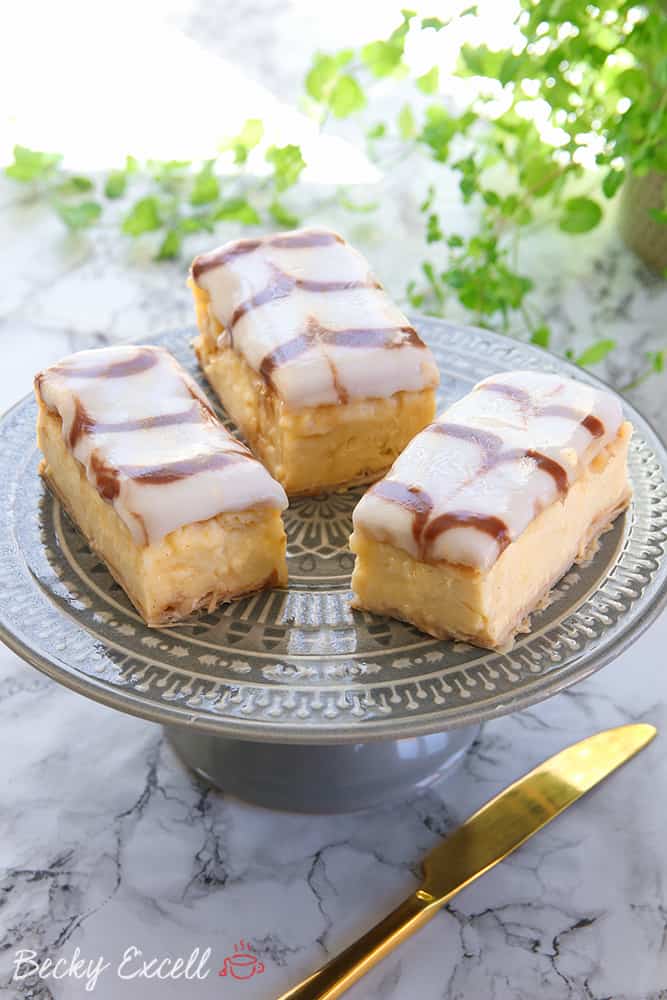 So, here's a few tips as this can be a little tricky at first!
I blind bake the pastry on a baking tray to begin with and to keep it nice and flat, I put another baking tray on top to stop it puffing up at all.
Any significant puff in your pastry will only make it harder when you want to put your filling on top!
You can then trim your cooked pastry sheets to the size of your square baking tin.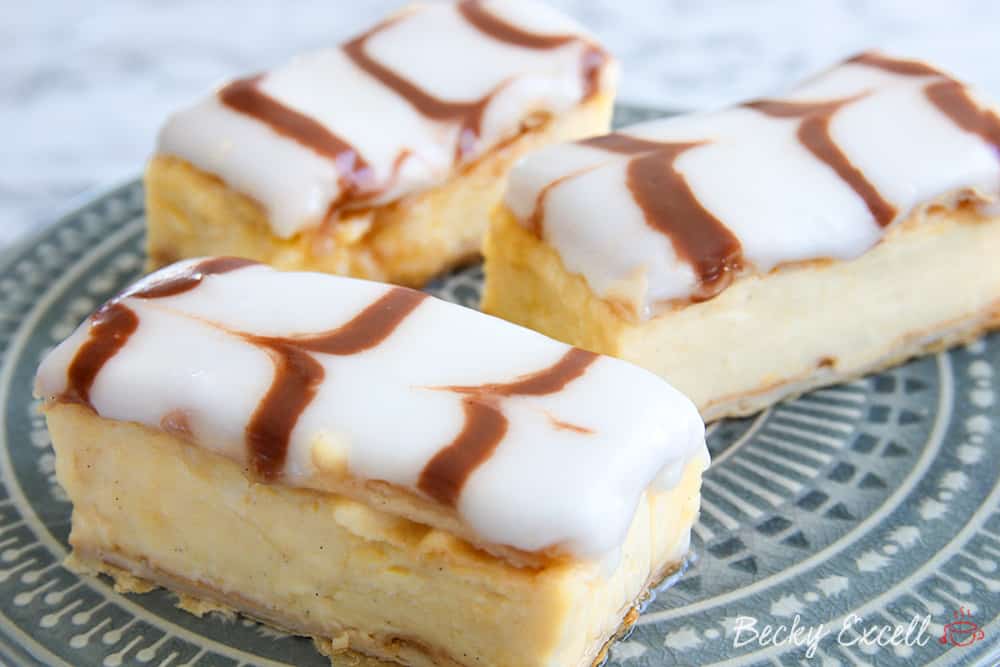 I guess my second biggest tip would be making the icing all pretty and stuff.
(yes, that is the technical term)
All I did was keep a little of the white icing to one side and added cocoa powder to make it chocolatey. Then, using a piping bag, I piped a few horizontal lines spaces a few cm apart across my custard slices.
Then, using a cocktail stick, I just lightly dragged it in a vertical direction.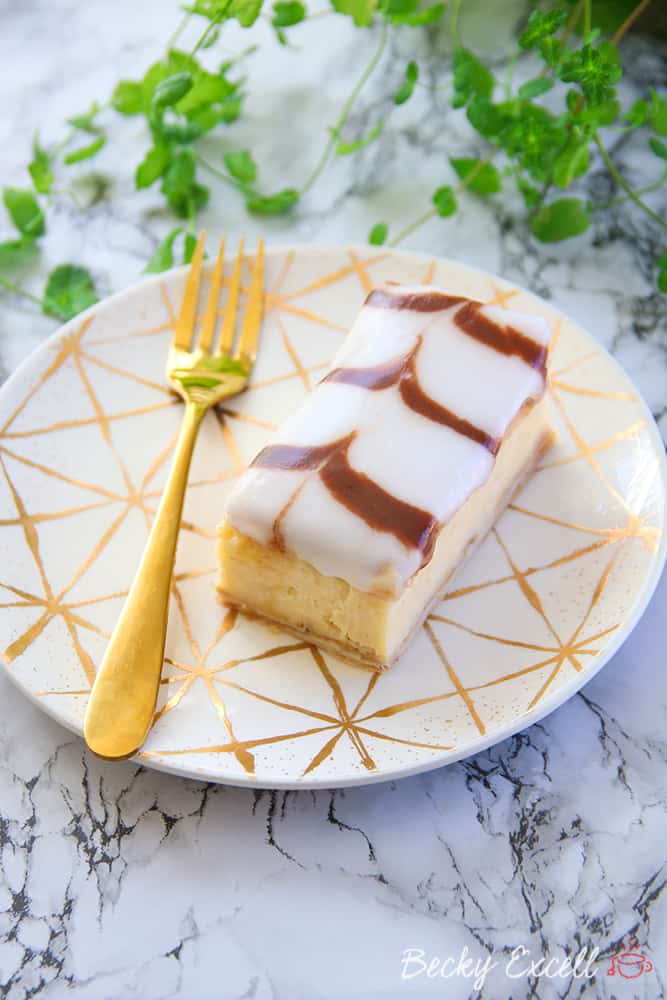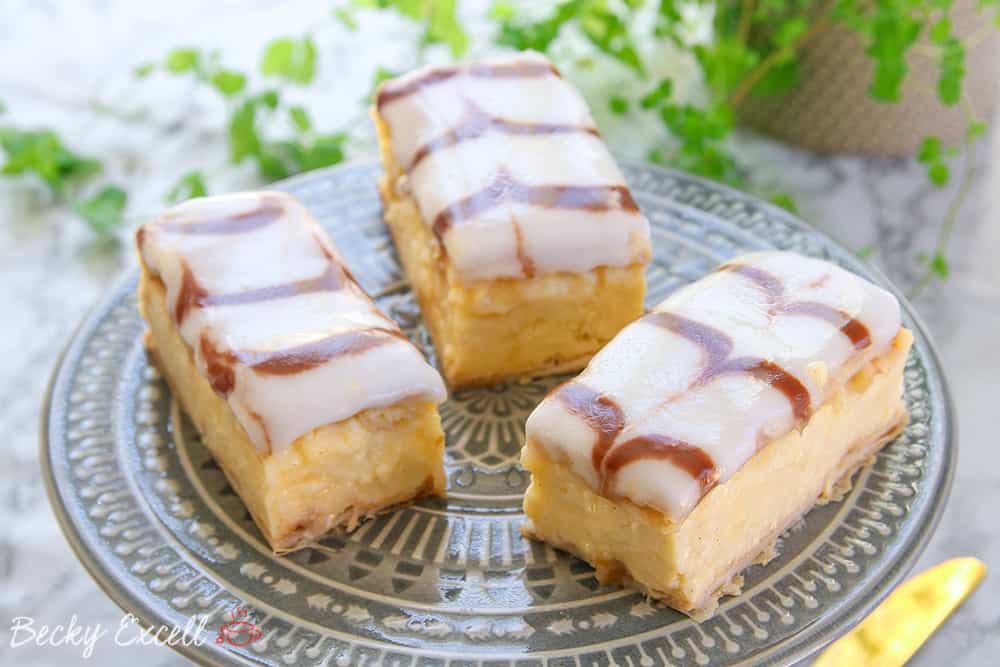 So now you're super-clued up on all the ins and outs, I think it's time you made your own gluten free custard slices! Here's the recipe…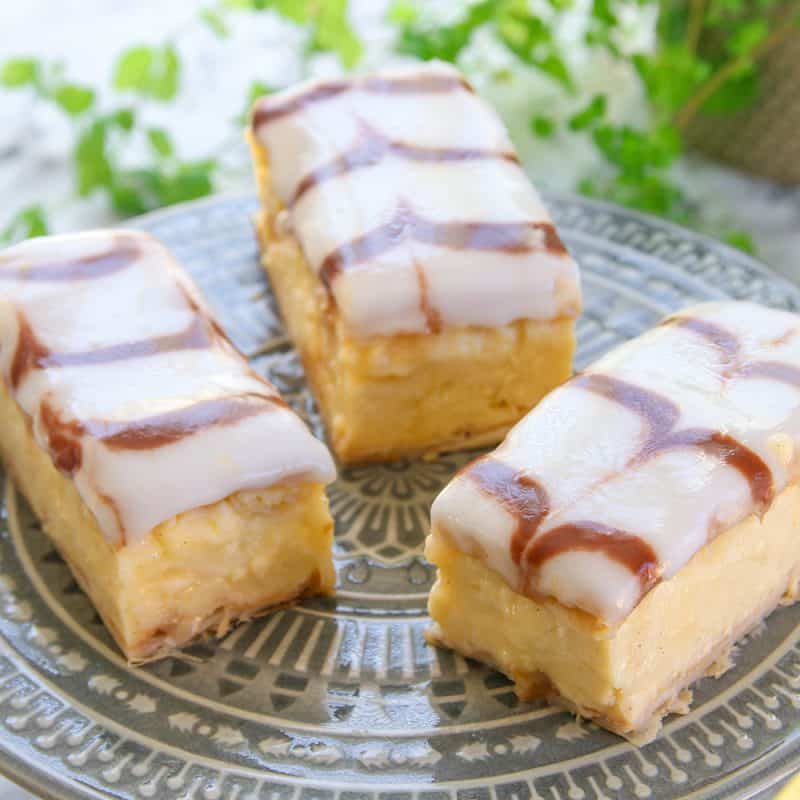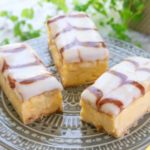 My Gluten Free Custard Slice Recipe
Say hello to my gluten free custard slice recipe! You can make them sooo easily at home using Jus-Rol gluten free puff pastry! Also known as a gluten free vanilla slice FYI!
Ingredients
2

packets

Jus-Rol gluten free puff pastry

(or any gluten free puff pastry - you could even make your own!)
For the set custard
750

ml

milk

(I used whole milk in this recipe)

250

ml

double cream

1

tsp

vanilla extract

25

g

custard powder

100

g

cornflour

140

g

caster sugar

3

egg yolks

1

gelatine leaf
For the icing
300

g

icing sugar

2 1/2

tbsp

water

(this is a rough guide, gradually add water until right consistency)

60

g

dark chocolate, melted
Instructions
Preheat your oven to 200C / 180C Fan.

Get your Jus-Rol pastry and cut both pieces down to the size of your tin. My tin is 20cm square so I cut the pastry to just just under a 20cm square so it will fit perfectly into the tin later on.

Place your square pieces of pastry onto a baking sheet and bake for about 20 minutes or until they are golden but not overcooked. I placed another baking sheet on top of the pastry and some baking beans on top just to weight it down as otherwise the pastry will puff up too much. If it still does you can gently push it down so it's more flat.

Remove from the oven and take off the top baking sheet if you used it. Allow to cool on a cooling rack. If you have a big enough oven do both squares at the same time; if not, do them one at a time.

Now to start making your set custard. Place your gelatine leaf in a cold bowl of water.

Measure out all your other custard ingredients into a saucepan over a low heat and keep stirring continuously, start to increase the heat so that it comes to a boil and then simmer whilst still stirring (I use a balloon whisk for this). It takes what feels like an age but it will thicken up and become very smooth. Remove from the heat when it has thickened.

Squeeze out the water from the gelatine leaf and stir it into the custard.

Line your tin with two sheets of baking paper, criss-crossing them and making them too long so you will able to use them to lift your custard slices out.

Place one of your pastry sheets into the base of your tin and then spoon your custard mixture over the top. Try to spread it really evenly if you can.

Place the other pastry square on top carefully but firmly.

Allow the custard to get to room temperature (you'll be able to feel from the side of the tin) and then refrigerate whilst you make your icing.

Place your icing sugar in a bowl and gradually add your water until you have the right consistency. Also place your melted chocolate into a pipping bag with your smallest nozzle and leave to firm up briefly.


Remove your custard slices from the fridge and spread your icing on top. Then pipe straight lines of chocolate down the icing and use a cocktail stick to create the feathered effect by pulling parallel lines in opposite directions down each line (I am terrible at explaining this!!).

Place back in the fridge. I always pop in the fridge overnight but about 5 hours should be enough if you are in a hurry. Then remove the custard slice from the fridge and sit at room temp for a short while before cutting.

Still in the tin carefully cut through the slices. There should be 8 slices at around 10cm x 5cm each.

Remove the slice from the tin - this is where putting your baking paper in the tin correctly is so important as you should be able to lift it up easily.

Remove them from the baking paper carefully and they are ready to eat. Enjoy!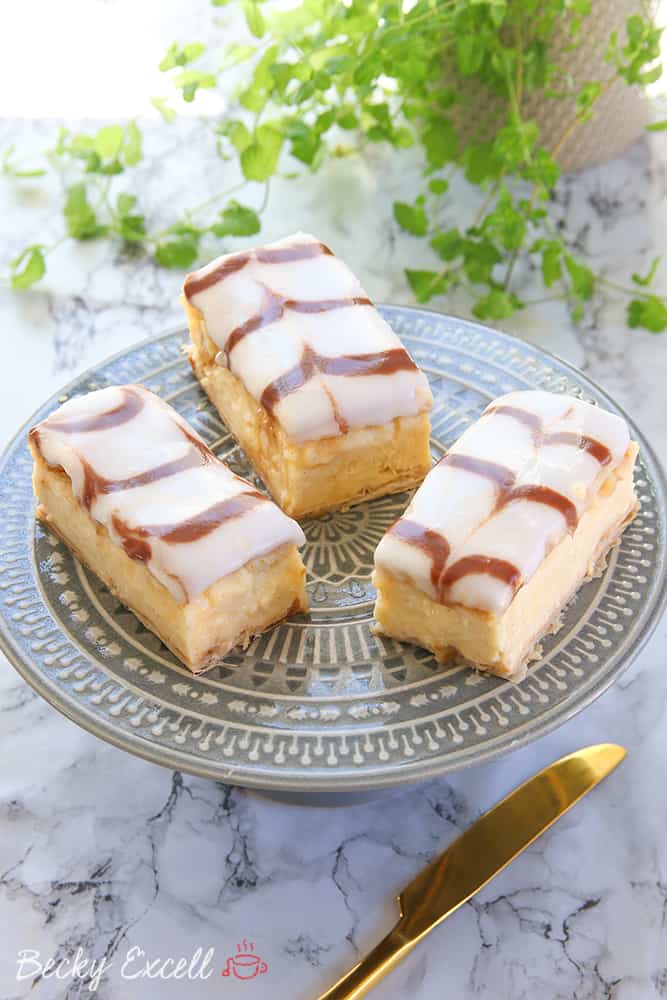 Thanks for reading how to make my gluten free custard slice recipe! If you make them, I'd love to see how they turned out. So absolutely make sure that you send me a pic using my social media links below…
Any questions about the recipe? Please do let me know by leaving a comment below or on Facebook / Twitter / Instagram!
Thanks for reading,
Becky xxx
Oh and don't forget to pin this for later!