Gluten-free shortbread biscuits recipe – using just 5 simple ingredients, I might add. Nobody would ever know they're Coeliac-friendly and wheat-free, promise!
Gluten-free shortbread biscuits recipe – super easy to make in just over 30 minutes as there's no dough chilling required! Plus, this recipe also shows you how to make chocolate-dipped shortbread too – what more could you want?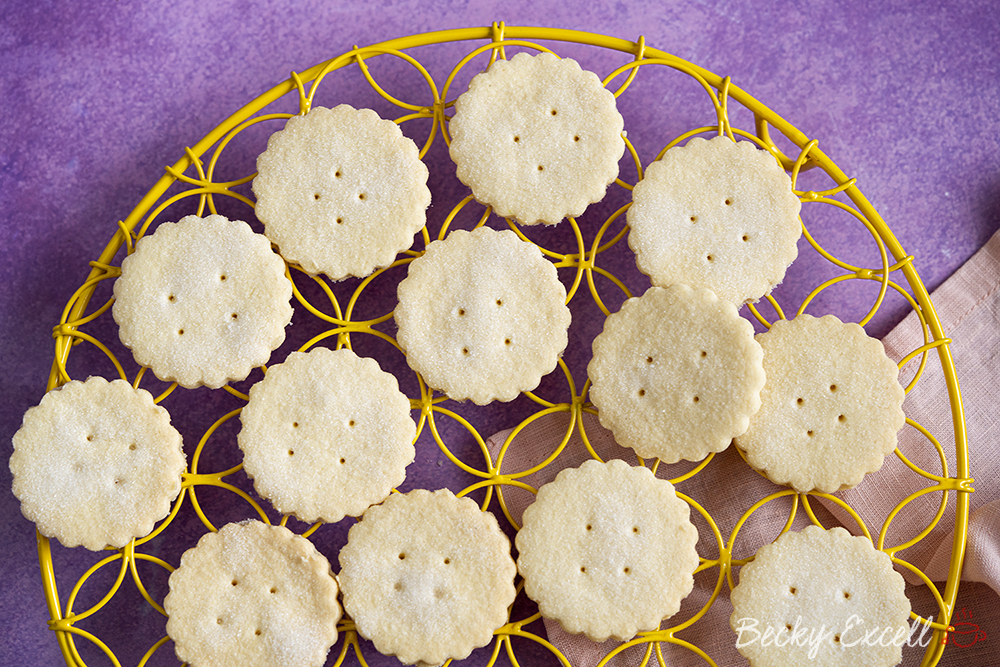 Who knew that making homemade, buttery shortbread biscuits was so easy?
This one is most definitely beginner-friendly as there's no need to decorate, no chilling required and no worries about them spreading (if you follow the recipe, of course!)
In short: just mix up the dough, roll it out, cut out the shapes and bake them. What could be simpler?
Here's all the magic, easy-to-source ingredients you'll need to make them at home:
Gluten-free shortbread biscuits recipe: What you'll need…
Butter: We need to be using room temperature (softened) butter. Salted or unsalted is fine.
Caster sugar: Sugar isn't just for sweetness – it's very important in biscuits so definitely don't leave this out! Also, the sugar on top adds a lovely crystalised, crunchy texture to each biscuit, but that part is essentially optional.
Vanilla extract (optional): This is optional as, when using butter, it's not strictly necessary. However, if making these biscuits dairy-free, it becomes mandatory as hard margarine has a very neutral flavour.
Gluten-free plain flour: I use a simple commercial blend from the free from aisle in the supermarket. If you can't find a blend like this where you live, you can always make your own using my gluten-free flour recipe.
Cornflour: This ensures your biscuits have the perfect texture. It's easily available in supermarkets and side note: in the US, it's known as corn starch.
Xanthan gum: This is super important in biscuits so they're not too brittle – it's essentially a gluten-replacer that you can find in supermarket free from aisles.
Milk chocolate (optional): This is just for melting and dipping if creating chocolate dipped shortbread as shown below.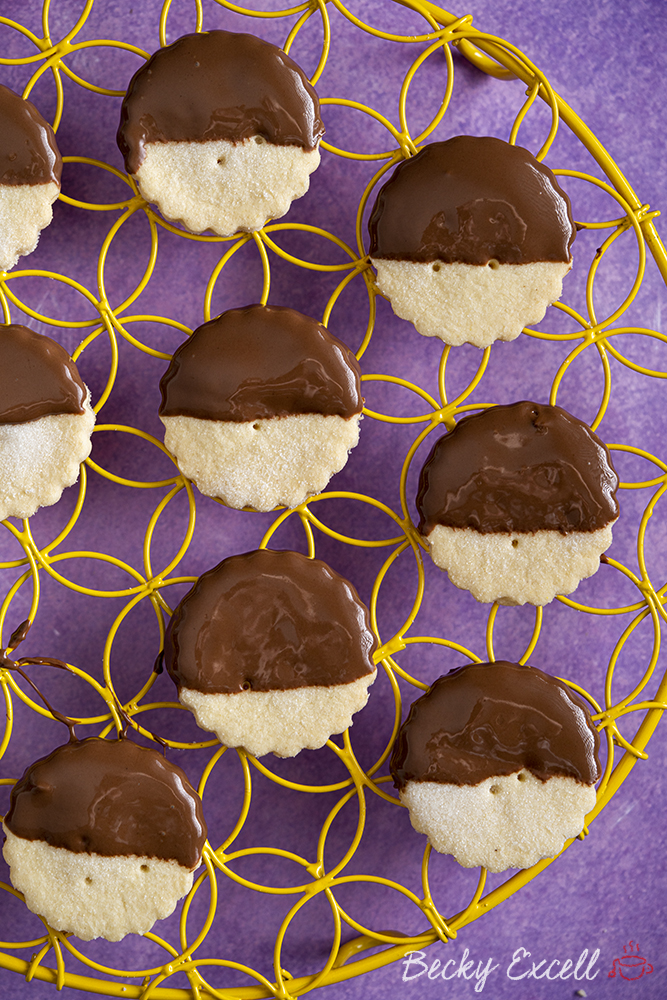 So, what do my gluten-free shortbread biscuits taste like?
Each biscuit has a satisfying snap and a slightly crumbly, buttery centre that you'll only get from a 'proper' shortbread.
And no, they won't crumble or fall apart in your hands!
Of course, if you dip them in chocolate at the end… well, you're definitely in for a treat!
Gluten-free shortbread biscuits recipe: Frequently Asked Questions
Can I make this recipe gluten-free? Is it suitable for Coeliacs?
It is gluten-free, though nobody would know just by tasting it – trust me!
Bear in mind that minimising cross-contamination is hugely important if you're Coeliac or making this for someone who is. Here's some tips from Coeliac UK on minimising the risk of cross contamination.
Also, make sure that all ingredients used don't have any gluten-containing ingredients. Then make sure that they also don't have a 'may contain' warning for gluten, wheat, rye, barley, oats (which aren't gf), spelt and khorasan wheat (aka Kamut).
Here's some more info from Coeliac UK on identifying safe gluten-free products.
Can I make your gluten-free shortbread biscuits recipe dairy-free?
Easily, with one simple swap:
Use Stork hard margarine instead of butter.
That's it! I'd highly recommend adding the vanilla extract if making these dairy-free as margarine lacks a lot of flavour when compared to butter.
Can I make your gluten-free shortbread biscuits recipe vegan?
Follow the steps above to make this dairy-free and you've only gone and made gluten-free, dairy-free AND vegan shortbread!
Is this recipe low FODMAP?
Yes! This recipe is suitable for the elimination phase of the diet – no changes necessary.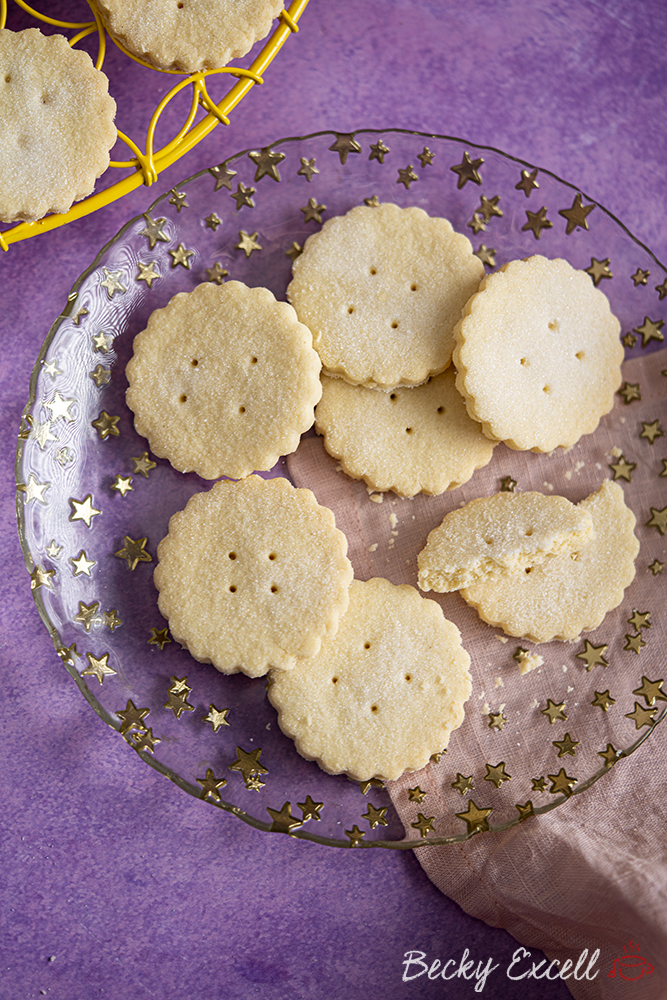 Do I need any special equipment to make your gluten-free shortbread biscuits recipe?
Nothing flash here – no stand mixer, food processor or electric mixer required. Most importantly, you'll need a biscuit/cookie cutter. Mine is a fluted 5.5cm cutter.
You'll also need a silicone spatula, non-stick baking paper and a rolling pin. Oh, and your hands too!
How do I make sure my biscuits don't spread in the oven?
Fortunately, I've already done that part for you!
The biggest cause of shortbread spreading when baked (which they shouldn't at all) is not having enough flour in your dough.
So if following my recipe and measuring out everything correctly, you'll find that these biscuits don't spread at all.
Can I use gluten-free flours like almond flour or coconut flour to make this recipe?
Certainly not using this recipe. This recipe uses gluten-free plain flour which is easily available in supermarkets here in the UK.
If you can't find it where you live, you can always make your own using my gluten-free flour recipe.
The reason you can't use flours like almond or coconut in this recipe is because gluten-free plain flour is a blend of lots of different gluten-free flours and starches.
So to ditch a carefully made blend and try to substitute them all for ONE flour… it's just not going to work!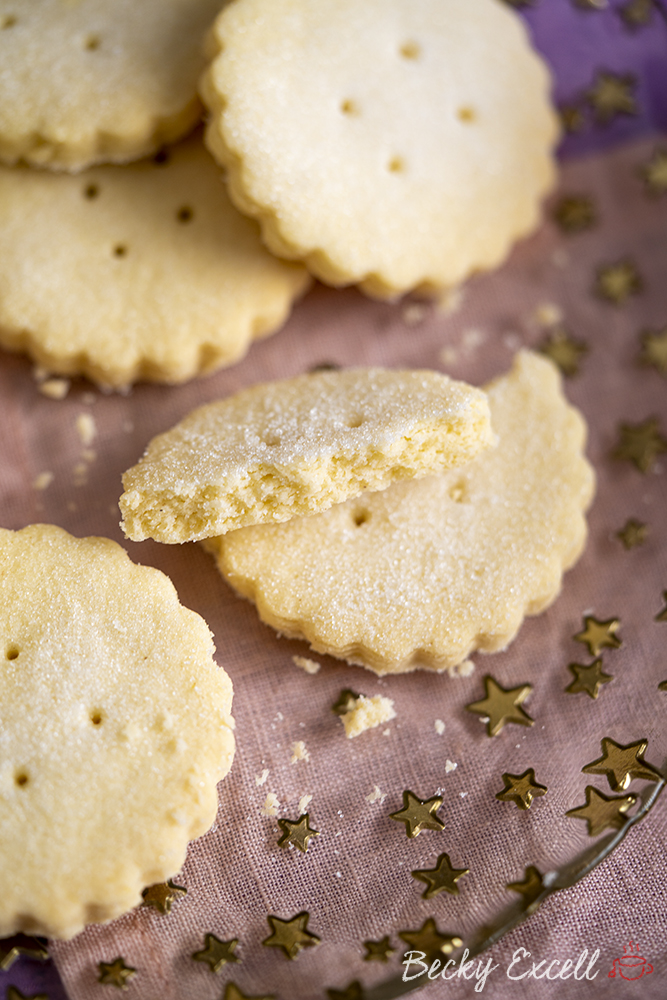 Gluten-free shortbread biscuits recipe: Tips for the perfect bake every time
No need to use an electric mixer. Just use a spatula and your hands to avoid over mixing.
Don't over mix the butter and the sugar at the beginning of the recipe. Once they're combined – stop!
Make sure your butter is softened before using. Otherwise you won't be able to mix it into the sugar – trust me.
Don't worry if the dough isn't coming together right away when mixing. It's only once you get your hands in there that a dough will form – even then, be patient!
Don't over bake them – you definitely DON'T want them to be golden brown. Think about shortbread you've eaten in the past… it's always an even, pale, blonde colour. So don't overdo them!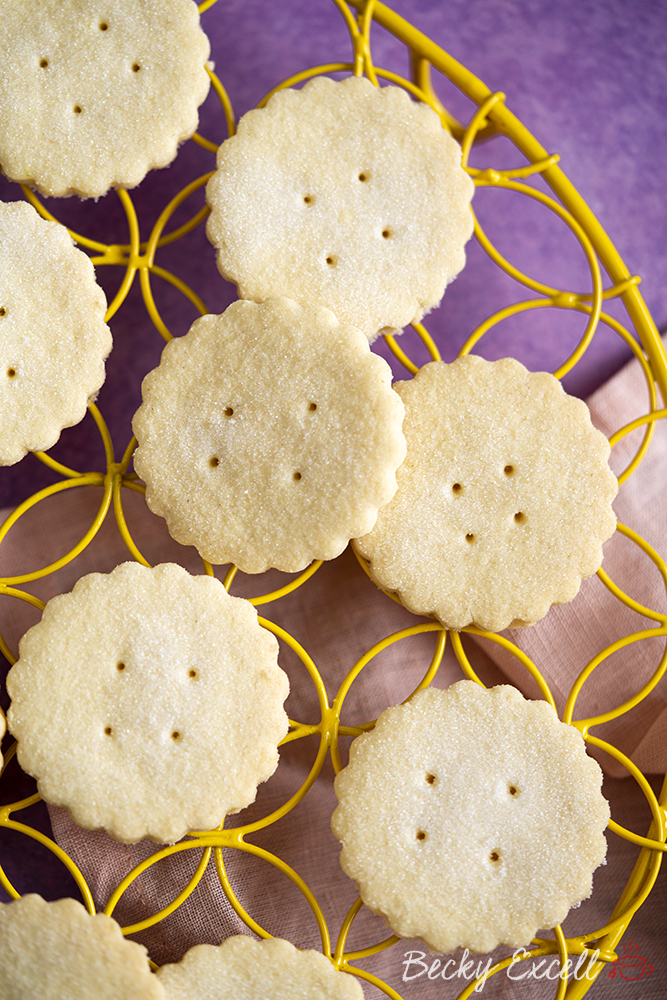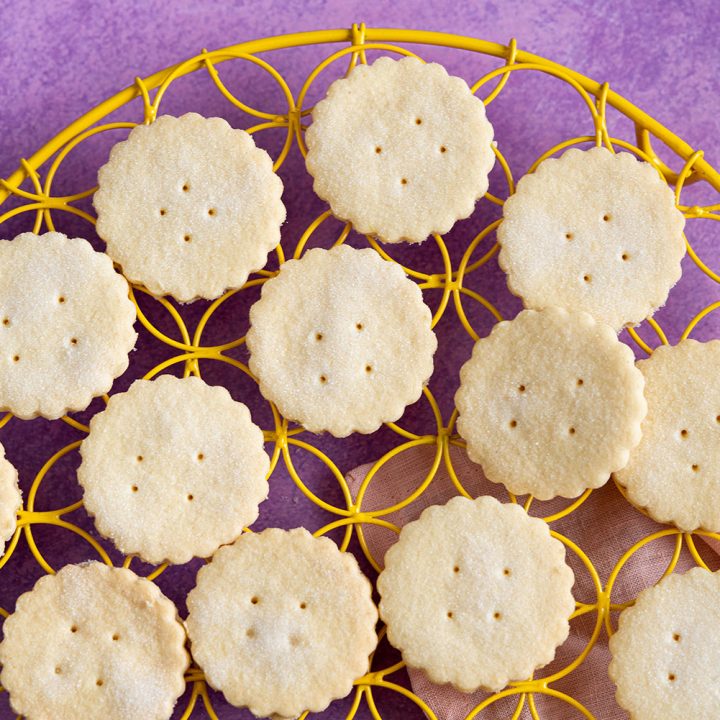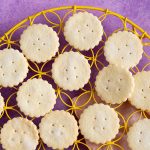 Gluten-free Shortbread Biscuits Recipe (dairy-free + vegan option)
Gluten-free shortbread biscuits recipe using just 5 simple ingredients. Nobody would ever know they were Coeliac-friendly and wheat-free.
Ingredients
125

g

butter

softened (use Stork hard margarine if dairy-free)

65

g

caster sugar

1

tsp

vanilla extract

optional – more important if making these dairy-free

200

g

gluten-free plain flour

50

g

cornflour

cornstarch

1/4

tsp

xanthan gum

100

g

milk chocolate

optional – only for chocolate dipped shortbread
Instructions
Preheat your oven to 150C fan / 170C and prepare a couple of baking trays with non stick baking paper.

In a large bowl mix together the softened butter and sugar to combine. Then add the vanilla and mix once more – do this with a spatula, not a mixer.

Add the plain flour, cornflour and xanthan gum and mix once more with your spatula. It will be super crumbly, but once combined get your hands in to start bringing it together to form a ball of dough. It takes time, and you'll think 'it's not coming together, it's too dry' – ignore that thought, just keep going for a few minutes.

Once into a smooth ball of dough, roll it out between two pieces of non stick baking paper to about 6mm thick. Cut out 5.5cm rounds using a cookie cutter and place them onto your prepared baking trays. They don't really spread so huge gaps aren't necessary. 

Sprinkle the dough circles with extra caster sugar and poke a few holes in the top. Make sure you re-roll your dough so you use it up.

Bake it the oven for around 18-20 minutes until cooked. Remember – we don't want any signs of browning! Allow to cool and enjoy!

OPTIONAL STEP: To create chocolate dipped shortbread, simply melt the chocolate in the microwave in short bursts. Then dip the cooled biscuits into the chocolate and allow to set on a cooling rack.
Nutrition
Serving:
1
g
|
Calories:
95
kcal
|
Carbohydrates:
11
g
|
Protein:
1
g
|
Fat:
5
g
|
Saturated Fat:
3
g
|
Polyunsaturated Fat:
2
g
|
Cholesterol:
13
mg
|
Sodium:
40
mg
|
Sugar:
3
g
Thanks for reading all about my gluten-free shortbread biscuits recipe! If you make it, I'd love to see how it turned out so don't forget to take a snap of your creations and tag me on Instagram!
Any questions about the recipe? Please do let me know by following me on Instagram and leaving me a comment on a recent photo!
Thanks for reading,
Becky xxx
Don't forget to pin this for later!