There's nothing quite like a gluten free BBQ pulled pork wrap with homemade slaw in the summer. Plus, you don't even need a BBQ to make them at home – result!
You just can't beat melt-in-the-mouth, sweet and smoky pulled pork with fresh, crunchy slaw in a beautifully vibrant Warburtons Gluten Free Beetroot Wrap. So say hello to my gluten free BBQ pulled pork wrap with homemade slaw recipe!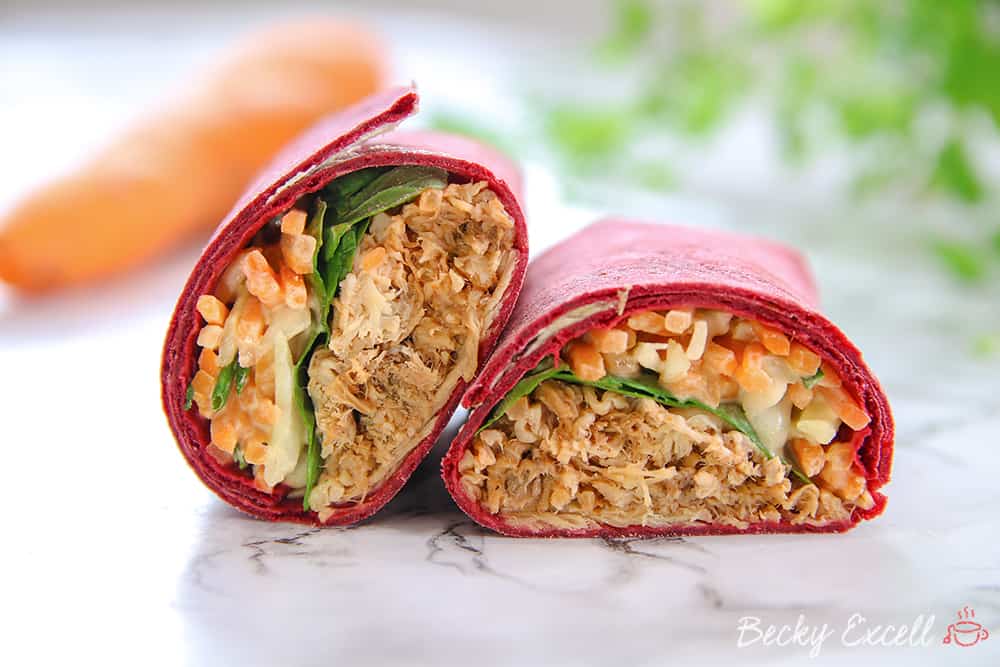 But before we even start – have you even seen the beautiful colours my wraps are sporting?! As much as I'd like to take the credit for that, I've got to give the kudos to Warburtons Gluten Free Beetroot Wraps.
Fun fact: they're actually the first ever gluten free beetroot wraps in existence. There's one more thing that we don't have to miss out on!
But they don't just look pretty. They taste great and they're absolutely perfect for rolling too! Remember when Warburtons Gluten Free Wraps used to be square? Well they're round now which actually makes rolling a wrap soooo much easier!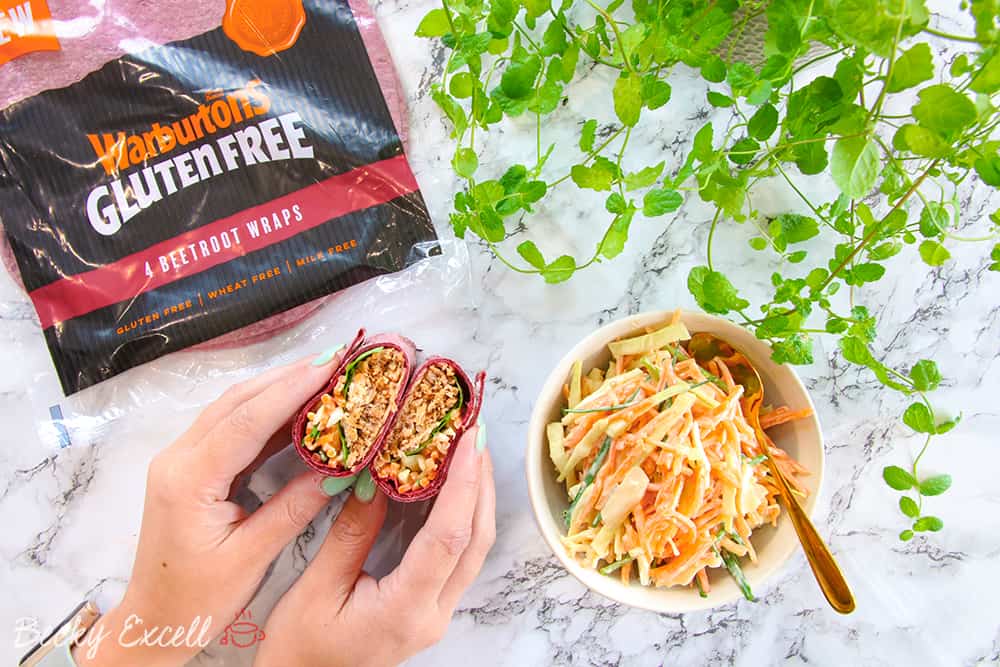 But what's inside?!
Pulled pork is one of those things that I absolutely dream of, but can very rarely eat (cue the sad violin music). Even if it's gluten free, my other food intolerances always get in the way.
So for me, this recipe is waaaay overdue. After about 5 years missing out on pulled pork, it was a reunion that was well worth the wait!
Plus, I've paired up my melt in the mouth pulled pork with crunchy, homemade slaw which just ties everything together. It really is a match made in heaven!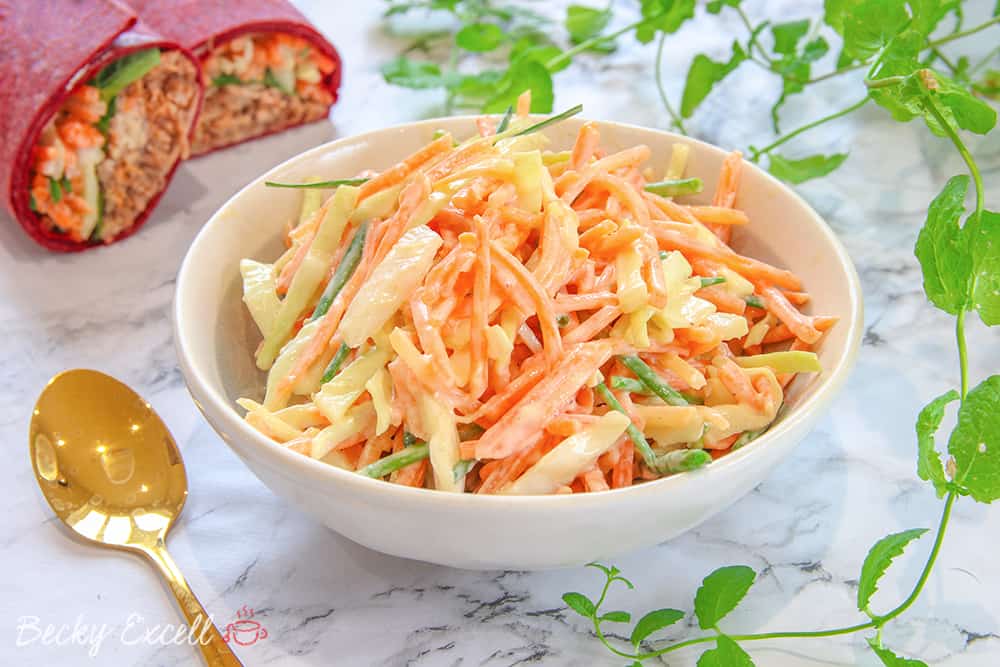 So first up, I thought I'd share the recipe for my homemade slaw. It only takes a bit chopping, a bit of mixing and boshing them both together!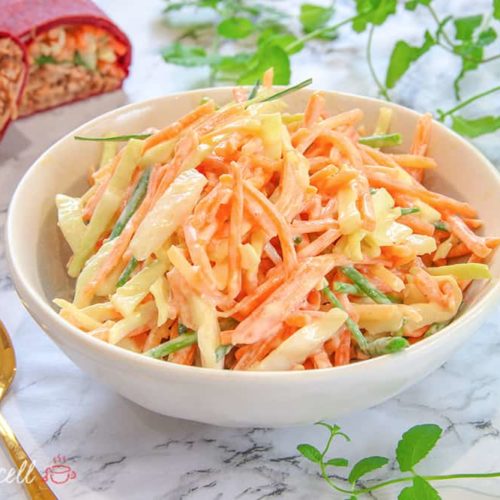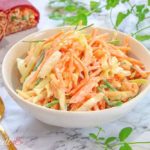 Homemade low FODMAP carrot slaw
My crunchy homemade carrot slaw is a low FODMAP version of a regular coleslaw. It's gluten free, lactose free and dairy free too.
Ingredients
3

tbsp

dijon mustard

(or any mustard you prefer)

3

tbsp

lemon juice

1/2

cup

mayonnaise

(ensure low FODMAP if needed)

400

g

carrot, grated

250

g

white cabbage, shredded

(75g serving of cabbage is low FODMAP)

fresh chives, chopped

(a large handful)

salt and pepper
Instructions
Mix together your lemon juice, dijon mustard and mayonnaise together is a bowl.

If you haven't already, grate your carrot, shred your cabbage and chopped your chives. (The chives can be chopped in larger pieces than usual). Mix together this in a large bowl.

Add your mayonnaise mixture just before you are eating and mix it in thoroughly. Try to coat all the veg. Season with salt and pepper.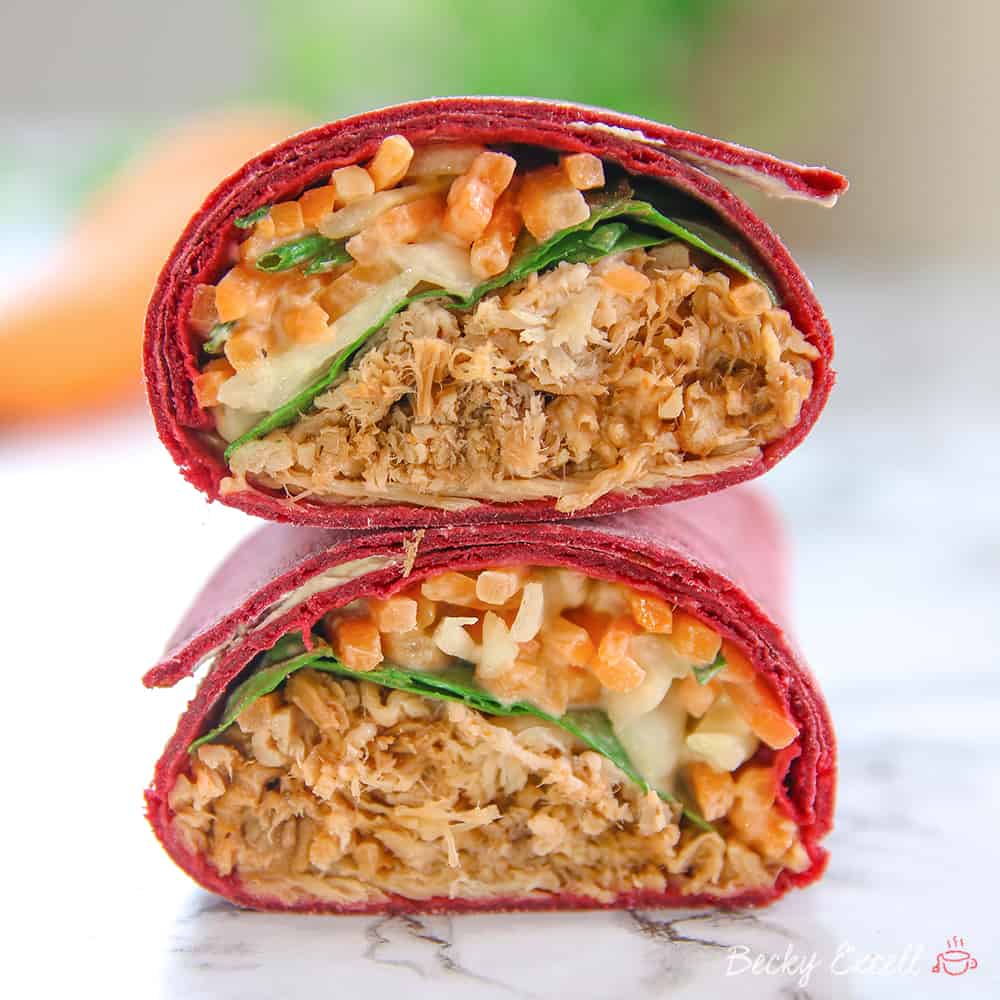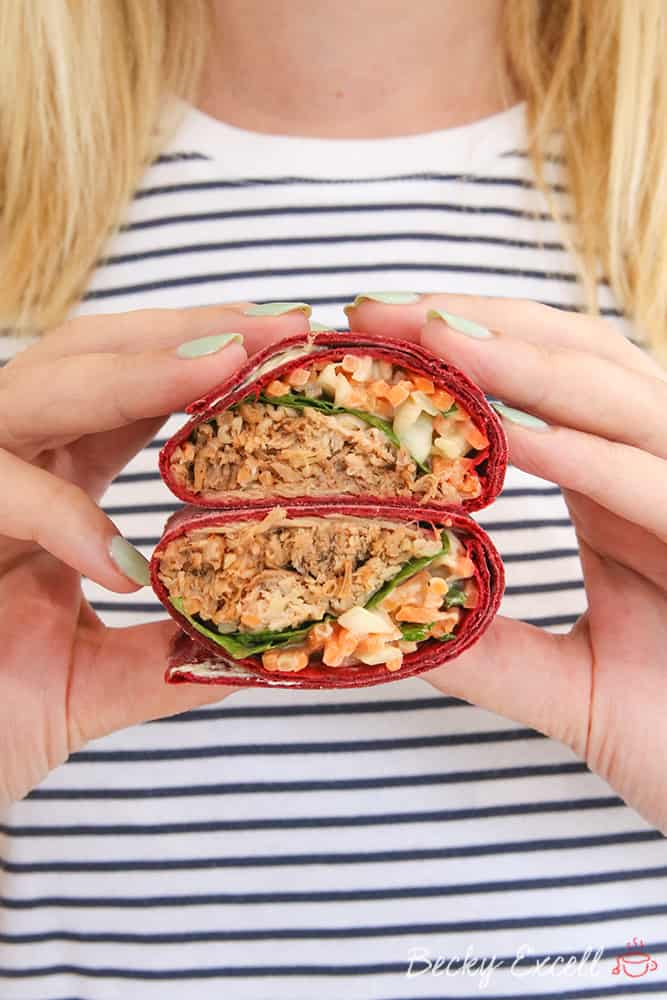 Now for the main event: my gluten free BBQ pulled pork! Making this is something that shouldn't be rushed, so I'd recommend putting this on in the morning so that it'll be ready for lunch – nice and hot!
But you can also create it well ahead of time and reheat it, or enjoy it out and about on the go too. Check the last few steps in this recipe for tips on how to roll the perfect wrap too!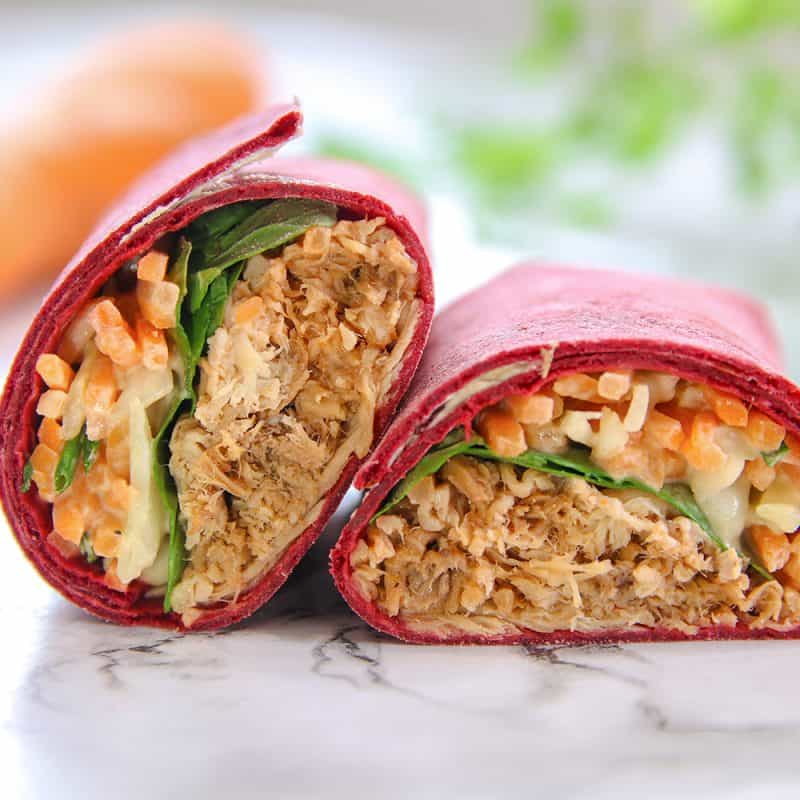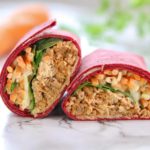 Gluten Free BBQ Pulled Pork
My Gluten Free BBQ Pulled Pork recipe is the one. It's completely onion free and garlic free but still has a delicious BBQ flavour. The pulled pork will literally melt in your mouth.
Ingredients
1

boneless pork shoulder

(mine was 1.7kg)

1

mug

cider

Warburtons Gluten Free Beetroot Wraps

spinach leaves

(or any salad leaves of your choice)
For the rub
1/2

tsp

paprika

1/3

tsp

oregano

1/3

tsp

cumin

1

tbsp

smoked sea salt

1

tsp

black pepper

1/2

tsp

mustard powder
For the sauce
275

g

tomato ketchup

(ensure it is low FODMAP if necessary - I use FODY Foods ketchup)

175

ml

cider vinegar

50

g

light brown sugar

1 1/2

tsp

Worcestershire sauce

(this is low FODMAP according to Monash)

1

tsp

tabasco

1

tsp

salt

1/2

tsp

mustard powder

1/4

tsp

black pepper
Instructions
Turn your oven onto 130C Fan.


Prepare your rub my mixing all the ingredients together in a bowl (if your pork shoulder is larger you might like to increase the amount of rub). Press the rub into the pork shoulder all over.


Place the pork shoulder (skin side up) in a large casserole dish with a lid and pour in your cider.


Pop the lid on and place in your preheated oven for around 5 hours. (You can leave it for longer if you wish but I always find 5 hours is perfect).

Check your pulled pork as you go to ensure there is still plenty of the cider in the dish.

Place all your sauce ingredients into a large saucepan and bring to a simmer over a medium heat for about 5 minutes. The sauce should have a little kick and tang to it! (You can add extra Tobasco if you want it hotter!)

Once the pork is done, remove it from oven and remove from the dish onto a plate. Loosely cover it with foil for about 20 minutes to let the meat rest.

Next, cut all the fat off and discard. Using two forks shred the pork. It should easily fall apart.

Serve up in your wrap alongside your slaw and spinach leaves. Enjoy!
Notes
To construct the perfect wrap, first put a line of pulled pork down the middle of the wrap.
Then place spinach leaves on top.
Then place your carrot slaw on top of that.
Fold your wrap in half and tuck the end of the wrap underneath the filling, pulling it back.
Then roll up completely. Tuck the ends in and cut in half.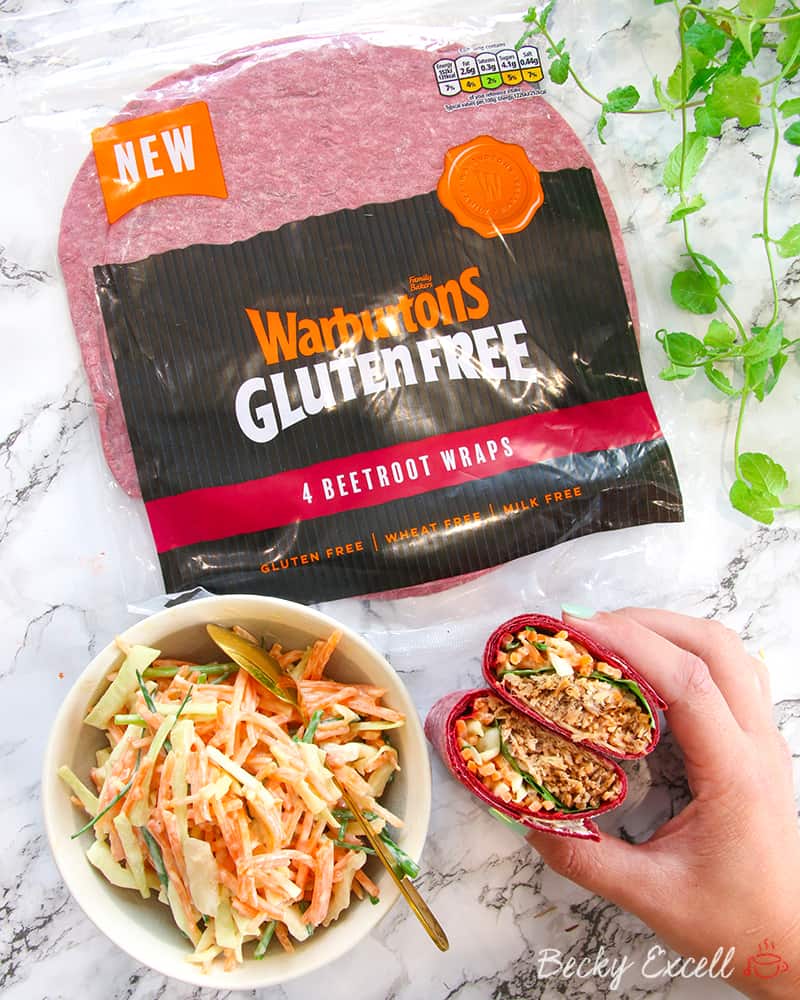 Thanks for reading how to make my gluten free BBQ pulled pork wraps and homemade slaw recipe! If you make it, I'd love to see how it turned out. So absolutely make sure that you send me a pic using my social media links below…
Any questions about the recipe? Please do let me know by leaving a comment below or on Facebook / Twitter / Instagram!
Thanks for reading,
Becky xxx
Oh and don't forget to pin this for later!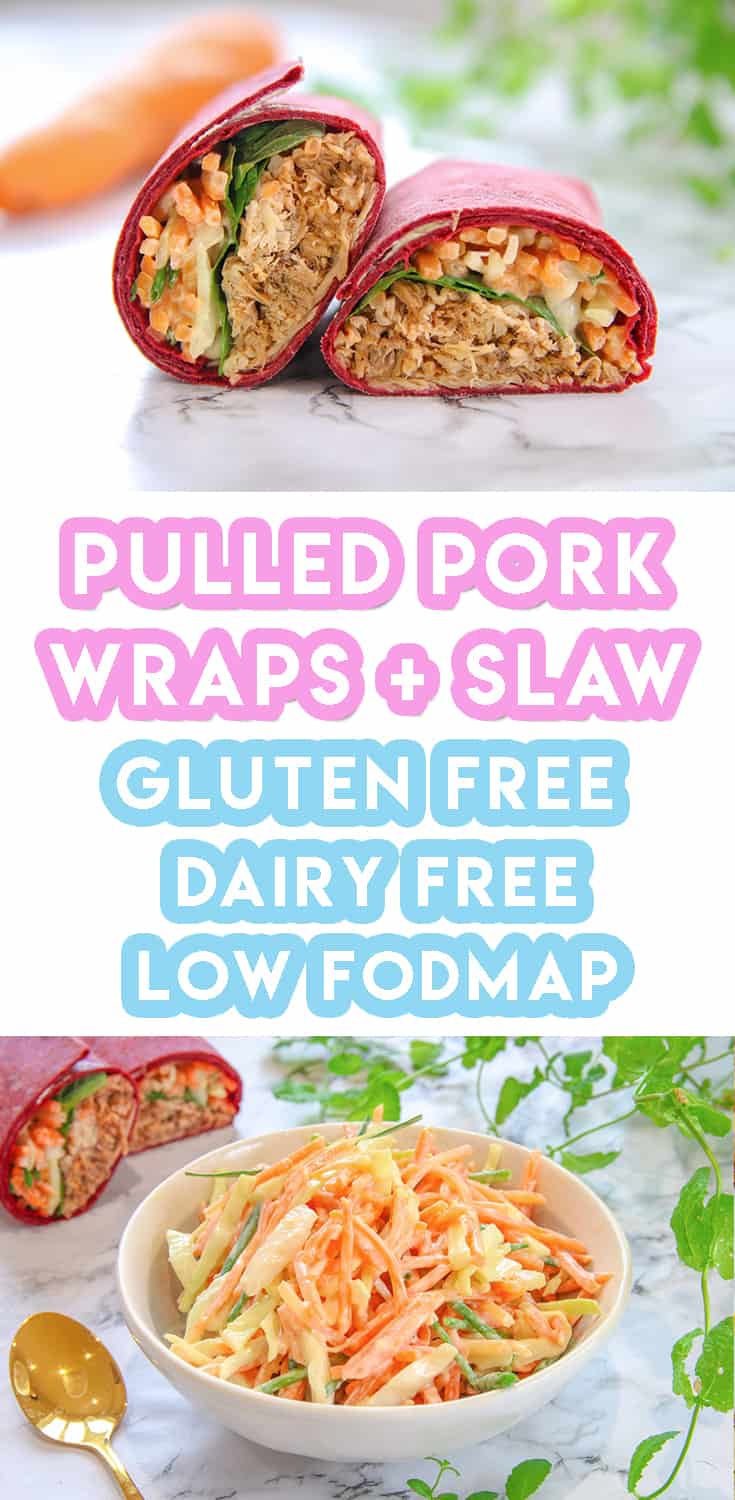 This is a sponsored post in partnership with Warburtons Gluten Free.
Follow them on Twitter, Facebook and Instagram.