When it comes to meal prepping, my 3 filled omelette recipes make the perfect light lunch at home or on the go. Plus, they're all dairy free and low FODMAP too.
You know what? I'd go as far as saying that you could eat any of my three filled omelettes for breakfast, brunch or at dinner too! Plus, they only take a matter of minutes to make and can be eaten either hot or cold. It's time to get cracking on my 3 omelette recipes!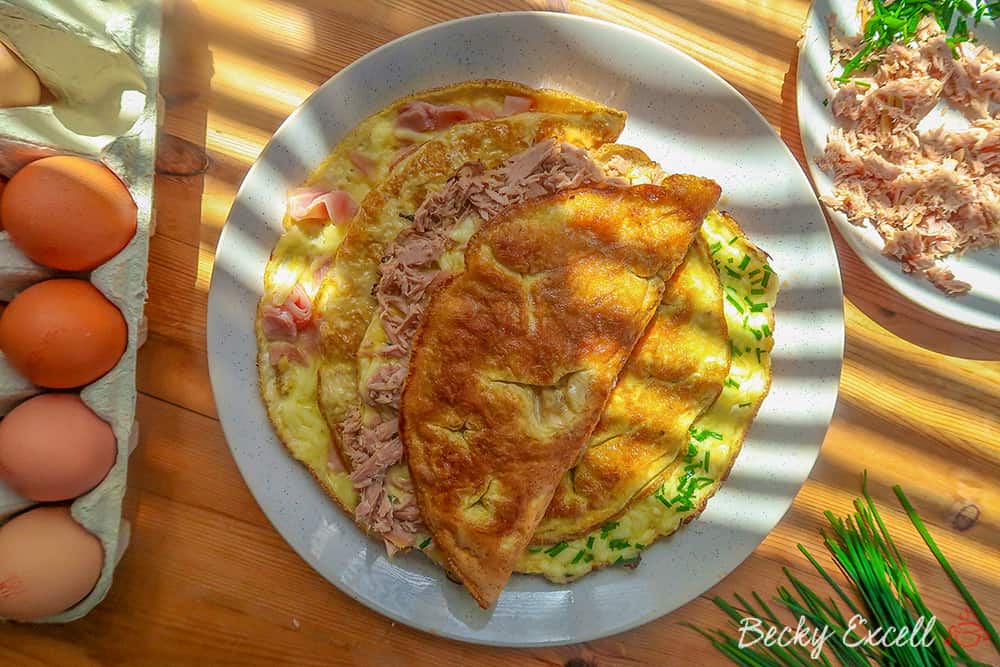 I had my first folded omelette experience in Amsterdam back in 2015 and I've never looked back.
It sort of ends up being like a sandwich, but instead of bread, you've got a perfectly cooked, light, fluffy omelette to facilitate your filling.
My fave fillings always came with lots of melty cheese, making it more into like a cheese toastie/calzone hybrid.
They were always so egg-citing…
(sorry.)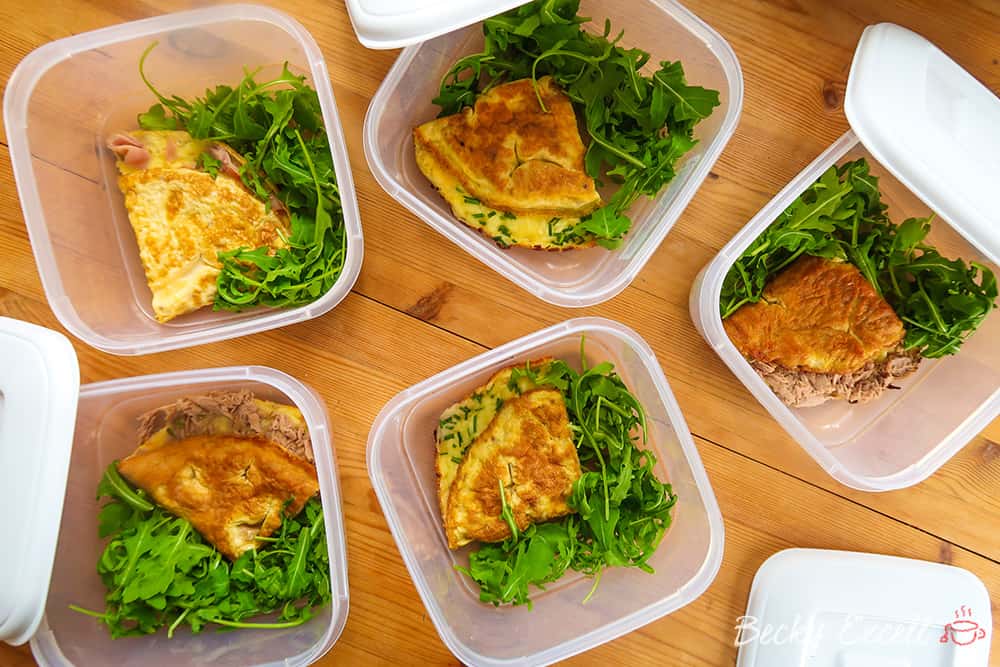 But the awesomeness doesn't stop there, oh no!
Once it's cooled, it makes the perfect meal prep lunch – on the go or at home.
I would absolutely love if you sent me pics of your omelettes on location, where it be at work or at the top of a mountain! Just tag me on Instagram as it'd absolutely make my day.
Just make three omelettes, cut each one in half, pop in a little rocket and hey presto – you've got 6 lunches in the space of 20 minutes. Not bad going, right?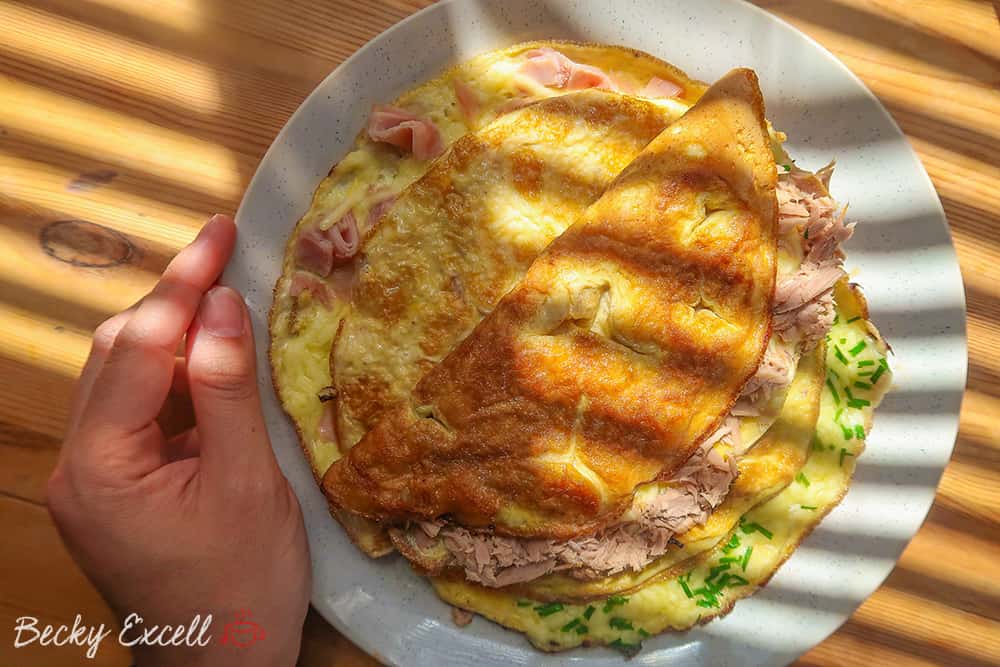 So what's inside? Well, my three fillings for my omelette recipes are cheese/tuna, cheese/ham and cheese/chive.
I basically went for my fave cheese toastie fillings and with the right dairy free/lactose free cheese, it's pure heaven. It's such a nice change from gluten free bread!
Plus, by using cooked meat/fish like ham/tuna, you're only making your weekly meal prep a million times quicker.
Once the egg is cooked, it's done.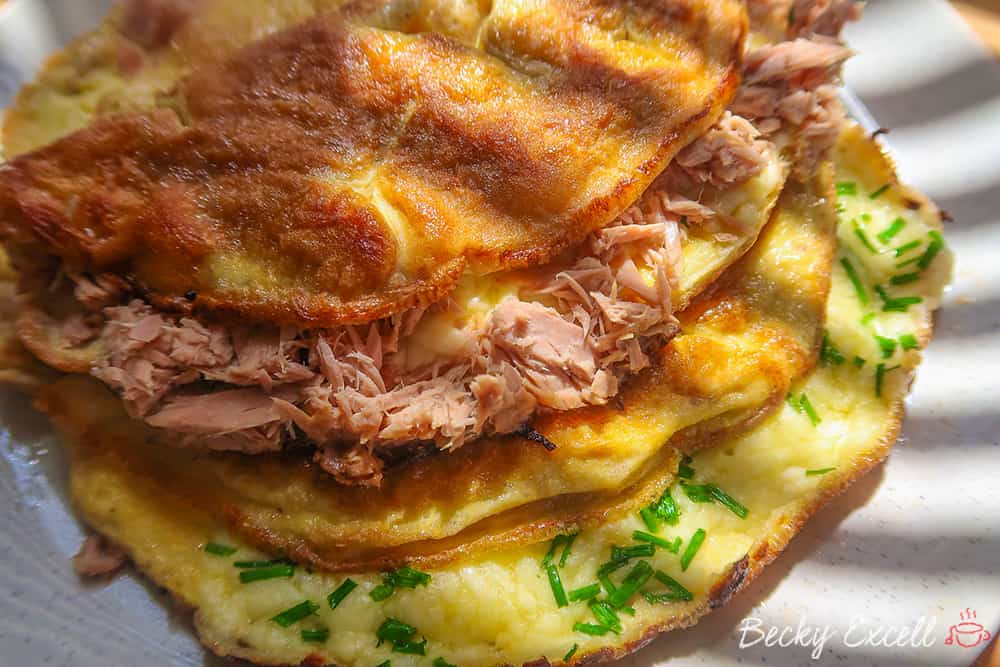 I actually learned how to make these purely because I went to the omelette place in Amsterdam so many times. Eventually I'd seen them make so many for me, that I just sort of made a mental note so I could make them at home.
You just pour pre-beaten eggs into a frying pan, allow one side to cook, add your fillings and fold.
Let your cheese melt and the middle cook – it's as simple as that.
Making all 3 of these easily took me around 20 minutes. Not bad going for a week's worth of lunches!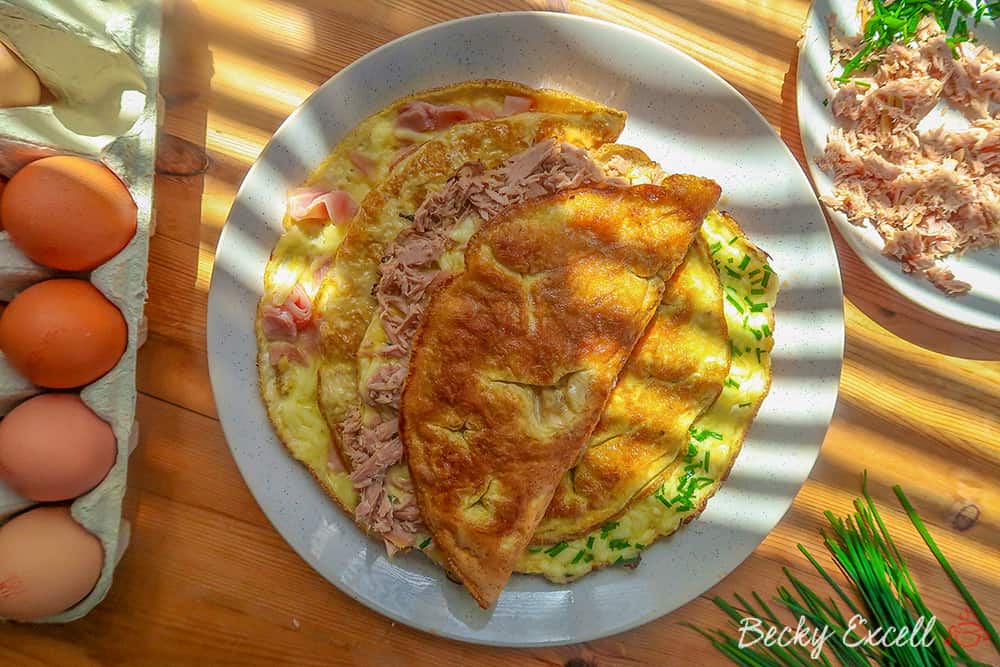 Yeah ok, this is a pretty basic recipe but I've had so many average omelettes in my life that it's easy to forget how seriously epic one can be when done right.
Feel free to mix it up by throwing in your own fillings, but without further ado, here's my 3 omelette recipes for weekly meal prep…
3 Filled Omelette Recipes for Weekly Meal Prep
Here's 3 simple omelette recipes for weekly meal prep or on the go eating. They're all gluten free, dairy free and low FODMAP too.
Ingredients
9 eggs

4 slices of ham

chopped

160g tin of tuna

200g grated cheese

lactose free/dairy free if needed

salt

pepper

garlic-infused olive oil
Instructions
Add 2 tbsp of garlic-infused olive oil to your flat saucepan at a medium heat.

Beat three of your eggs in a bowl.

Add 1/4 tsp salt and a pinch of pepper, then mix once more.

Pour this mixture into your frying pan and allow the underside to cook.

Once the edges are visibly cooked, add two big handfuls of grated cheese to one side of the omelette. Add a handful or so of your protein, or a generous amount of chopped chives depending on which omelette you're making

Use a spatula to fold over your omelette and allow to cook for a further 2-3 minutes or until the filling has sufficiently melted.

Remove from the frying pan and allow to cool. Cut in half and place into lunch boxes with a handful of rocket leaves. Store in the fridge for up to a week, or in the freezer for one month.

Repeat and change the filling until you've made the desired amount.
Thanks for reading how to make my 3 omelette recipes for weekly meal prep! If you make them, I'd love to see how they turn out. It absolutely makes my day when I see you guys have tried one of my recipes So pretty please make sure that you send me a pic using my social media links below…
Any questions about the recipe? Please do let me know by leaving a comment below or on Facebook / Twitter / Instagram!
Thanks for reading,
Becky xxx
Oh and don't forget to pin this for later!