So many of you asked about gluten free in Palma, so here's my guide on where to eat, explore, stay and most importantly, how to get there.
If you're heading to Mallorca, make sure you spend some time in Palma. It's got everything – great food, breathtaking sights and sunshine! Of course, I couldn't go there without letting you know all about gluten free in Palma.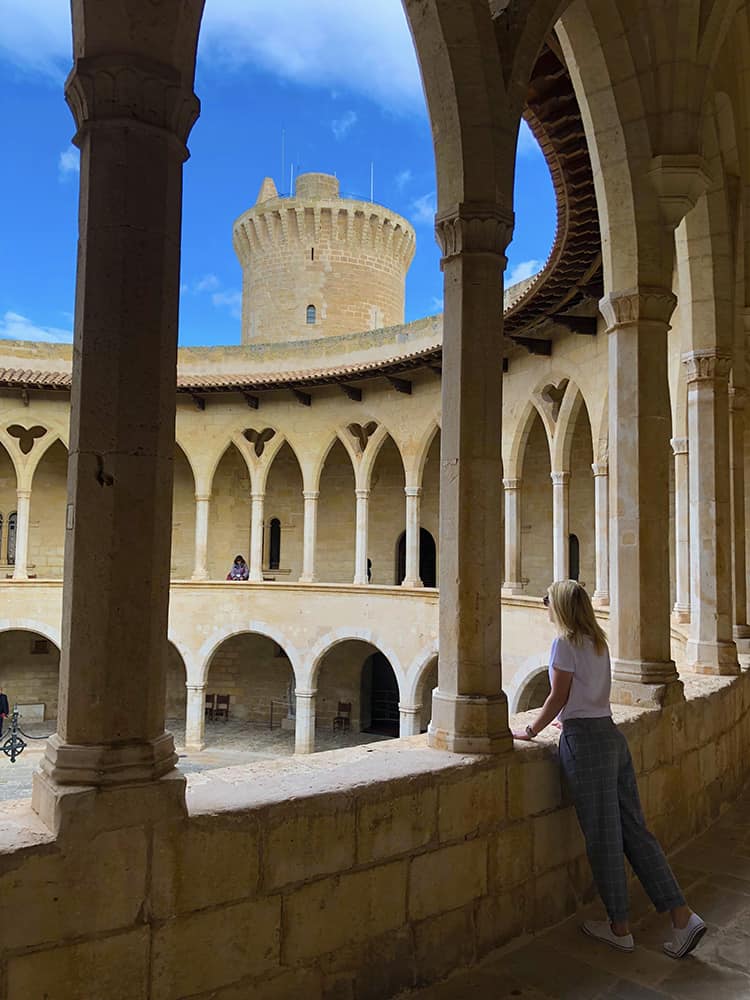 Rewind to 2009. I was 18, I went to Palma, Mallorca with my family and all I wanted to do was get a tan. Back in 2009 I'd only just met Mark and I think I thought that having a tan would make him like me more!
So yes, I spent a lot of that holiday by the pool or at the beach, not exploring the island. This time, I wouldn't make the same mistake.
(Plus, it was the middle of Feb, so there was no chance I was getting a tan anyway!)
So when I got the chance to head to Palma, the capital of Mallorca 9 years later with a bunch of amazing women, I jumped at the chance.
I will admit that I completely forgot that we were going in February, and February isn't bikini and shorts weather! I was certainly very unprepared clothes-wise. Anyway, let's get to the details: gluten free in Palma.
WHERE I ATE IN PALMA
For me, Palma was amazing for gluten free. What's great is that I hadn't done any prior research and it didn't even matter. All the restaurants I went to were more than happy to talk through gluten free (or sin gluten) with me.
I'm not sure that I've ever been to a country more prepared or more understanding about adapting food to be gluten free!
And for those wondering, I didn't find onion and garlic to be a problem either. I told my waiter at each restaurant and they either told me what didn't contain onion and garlic, or, they would make me an alternative.
Here are a few of the places I went that were incredibly helpful and perfect for gluten free in Palma…
We ate here on our first evening and what a way to start the trip! Tast Club is a lovely tapas restaurant – one of the best in Palma I've been told.
Every dish they served to us was exquisite. Think Spanish omelettes, all the fish, cheese and some of the best strips of steak I have ever had.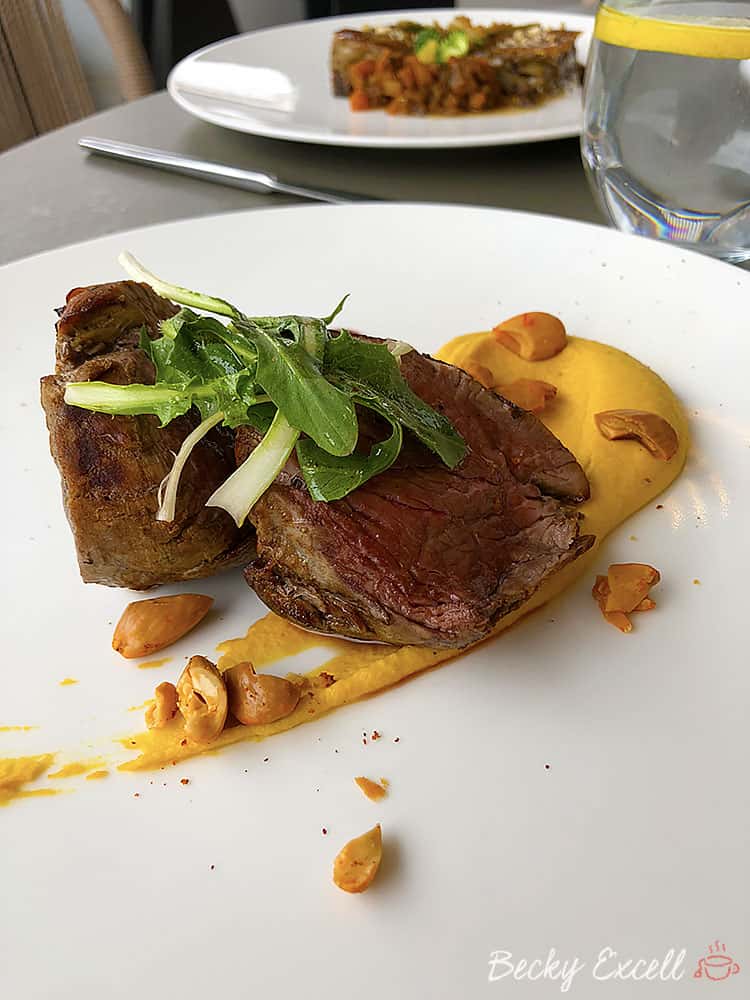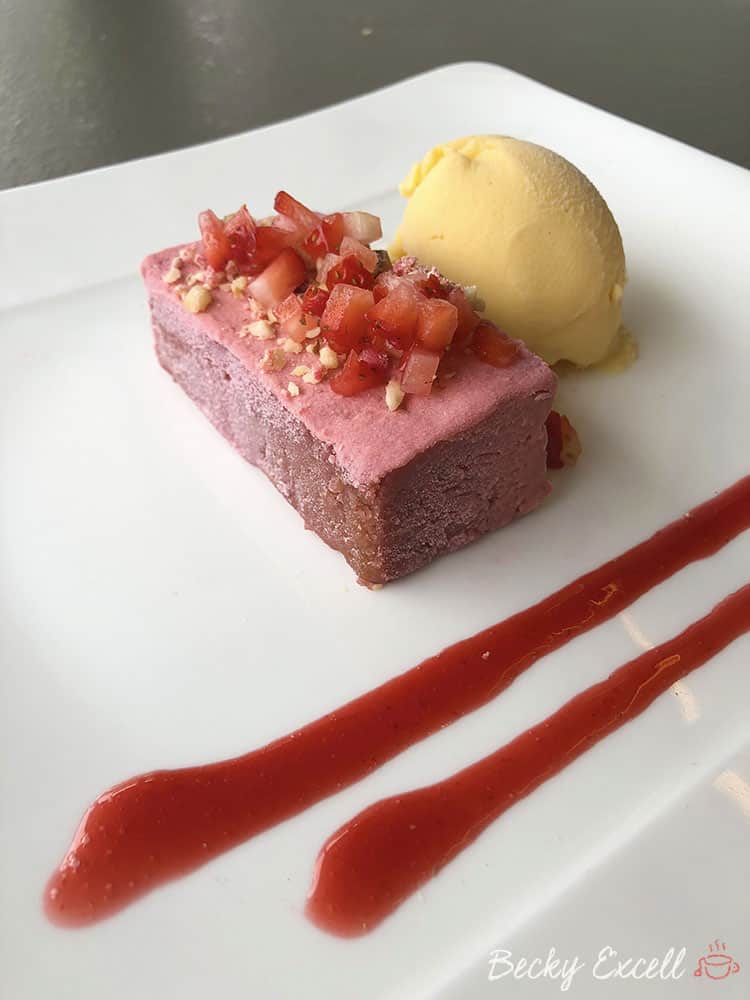 In at number two in my gluten free guide to Palma is Cuit Bar and restaurant.
This restaurant is at the very top of the Nakar Hotel (which is a beautiful hotel in itself with amazing rooms and a roof top pool!) The chef is Miquel Calent – a well known Mallorcan chef. The menu is brill with lots of choices to suit everyone.
I went for the Mallorcan veal which was my first try of veal – needless to say, I will definitely be having it again! We also had stingray in a gluten free crispy batter (honestly, it's divine) and a beautiful gluten free strawberry and hazelnut cake.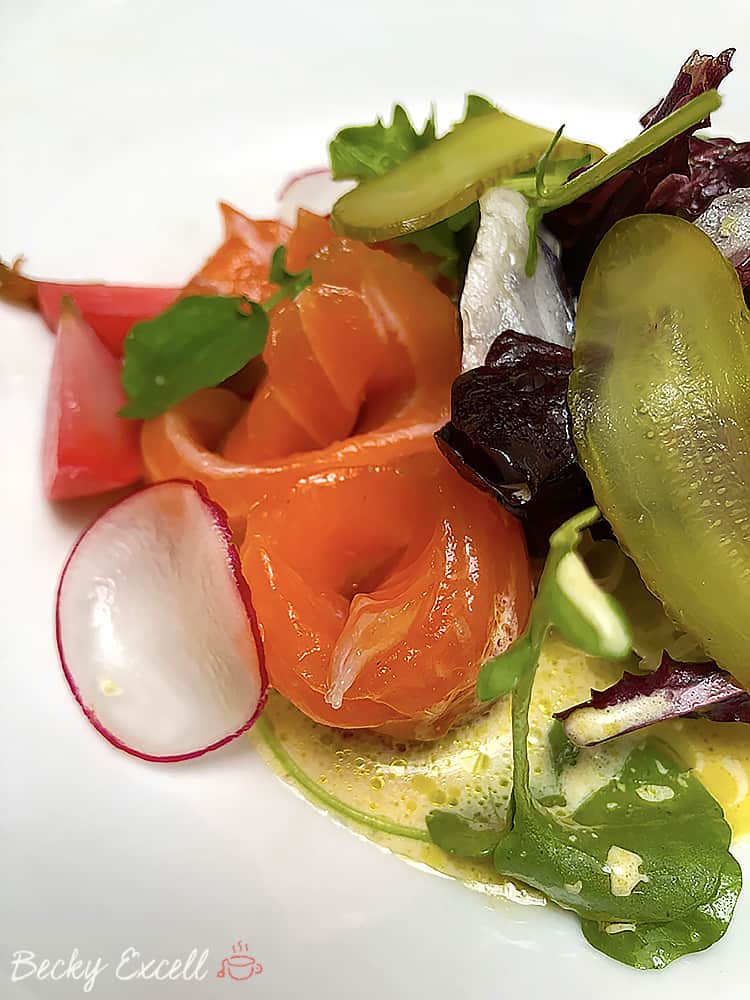 Aromata is the perfect spot for lunch or dinner and gluten free certainly isn't a problem at all. I was shocked at how understanding they were right from the off.
I think I've had a few bad experiences in the past at restaurants abroad so I didn't know what to expect. The combo of the language barrier and dietary requirements is often a massive hurdle to overcome!
Believe it or not, this restaurant is run by Michelin Star chef, Andreu Genestra. It's certainly not every day that you get to experience such a high standard of food that's also gluten free too.
Personally I've never been too bothered by Michelin Stars – I imagine the food to be overly fancy and nothing special. After all, my favourite food is probably fish and chips! However, I hold my hands up. I was wrong.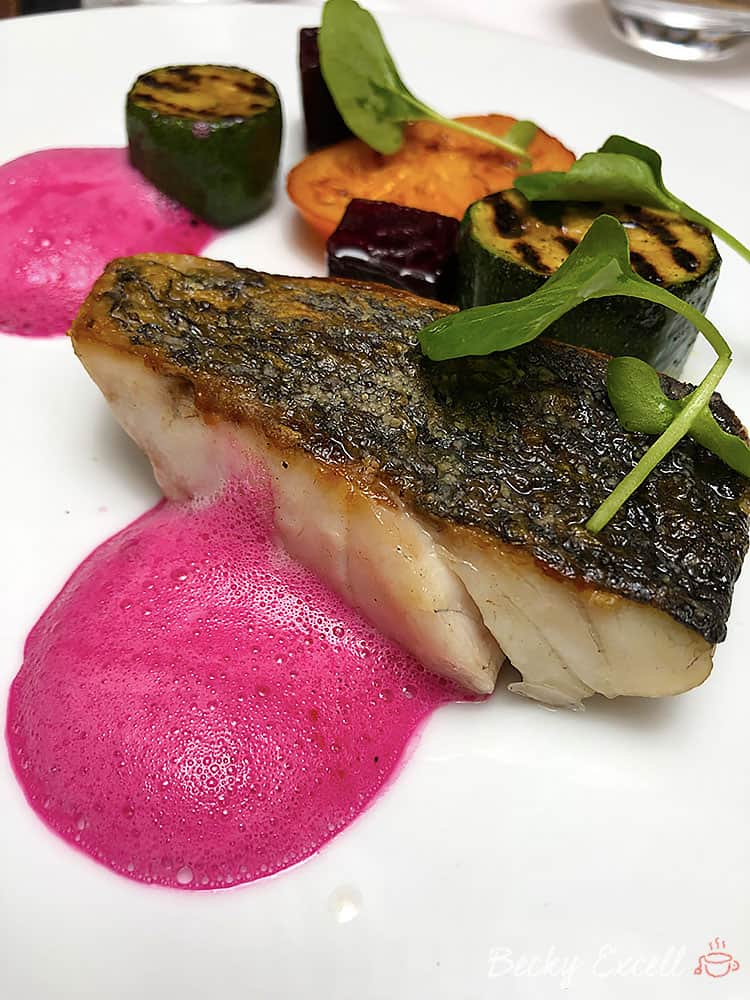 Ok, ok, my starter did have a seaweed emulsion and my sea bass was served up with a shocking pink foam. But the balance of contrasting flavours in the foam and emulsion sort of enhanced the flavour of that incredible, tender sea bass with crispy skin.
It's also really affordable if you go for lunch FYI. I'd definitely give this place a try if you're feeling fancy when it comes to gluten free in Palma!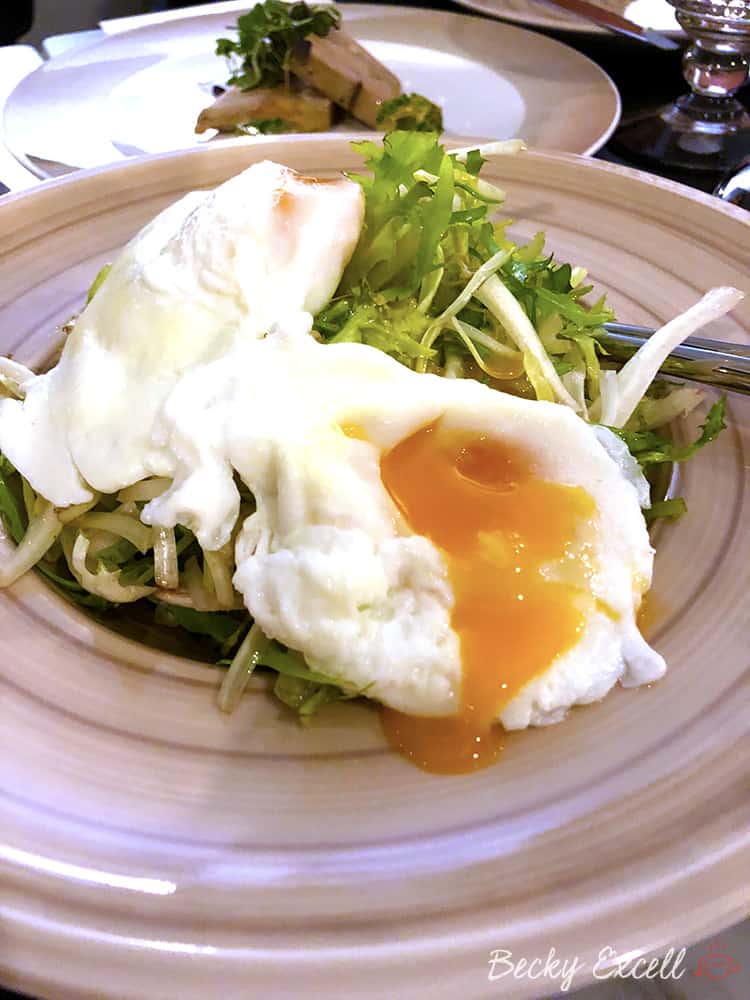 Equus is another restaurant based in a boutique city centre hotel. The restaurant actually created an entirely gluten free, dairy free, garlic free and onion free menu for us ahead of time when we visited. If that's not accommodating, then I don't know what is!
Every course was divine, from the tempura fish to the John Dory fish main and an amazing almond milk creme caramel.
So here's a Palma travel tip – never just look at visiting restaurants you see from the street. Pop into hotels and see how their restaurants are. From my experience in Palma, there really are some great places to eat hidden behind the front of a hotel.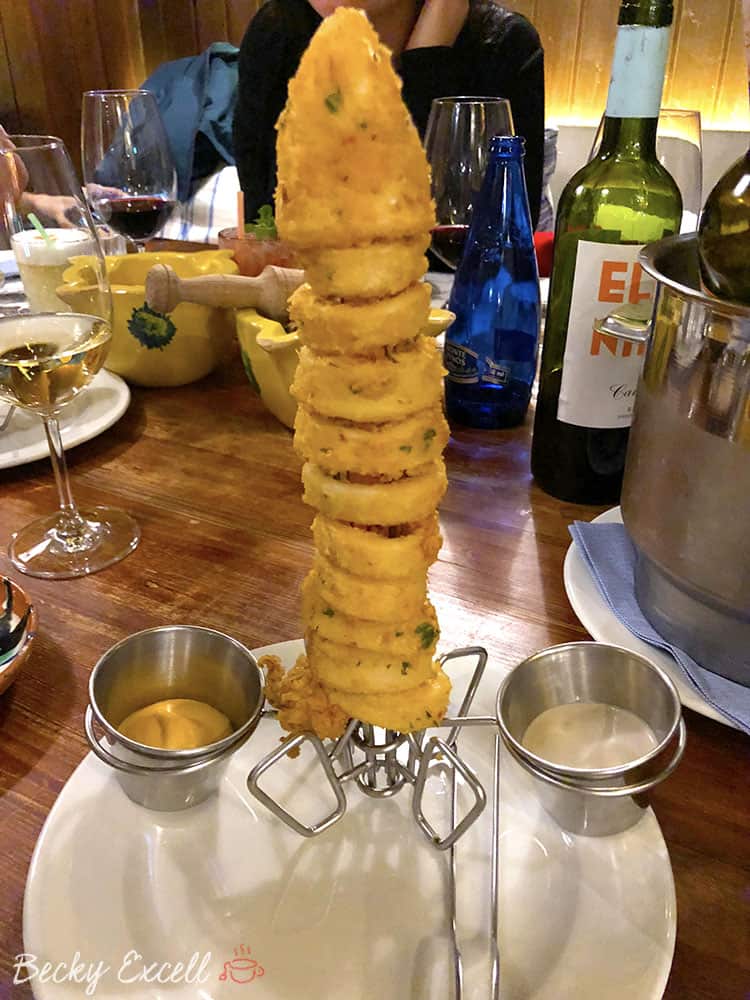 Our final evening brought us to Patron Lunares where we had a proper feast! We made our own guacamole at the table and had the best gluten free breaded squid which they like to call 'Rocket Squid' – picture above!
Many of my fellow bloggers thought it looked a bit rude, but obviously I'm waaaay too mature for the thought to have even entered my mind. Anyway…
The menu is really varied with a boatload of tapas options, as well as larger mains too. They were really great with gluten free, dairy free and even onion and garlic free (I feel like I've said that too much already but I really was catered for so well in Palma!)
I also had the most amazing lemon pie made specially gluten free for me – the meringue on top was totally to die for!
6. McDonald's – Gluten Free Big Mac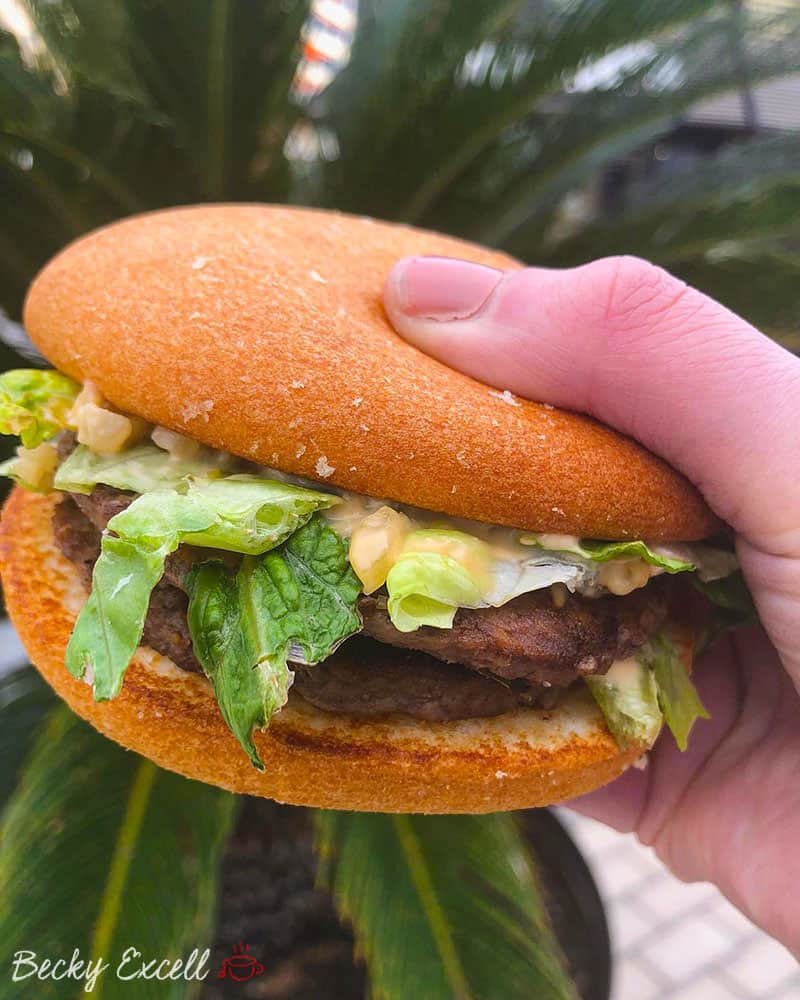 What would my gluten free guide to Palma be without a trip to McDonald's?
Yes, that's right I HAD to search out a McDonalds knowing that they had gluten free buns. It is literally so normal to have gluten free options at McDonald's in Palma.
It's just on the menu with everything else and nobody makes much of a big deal about it. I grabbed myself a gluten free Big Mac and it definitely ticked all the boxes.
I'd book a ticket to Palma just based on that!
7. Burger King – Gluten Free Cheeseburger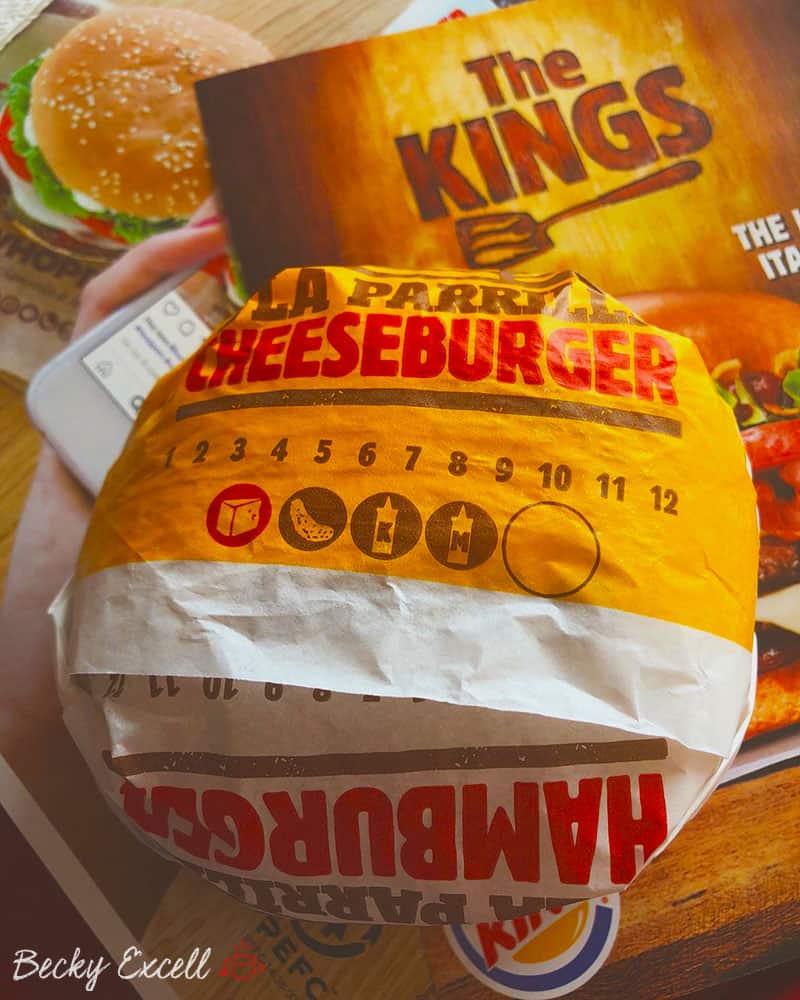 Since when did Burger King also do gluten free?! What planet is this? Ok, it's certainly not in the UK but in Mallorca it is most definitely a thing!
I 100% wasn't expecting much when I walked in there – I wasn't even hungry! BUT… I had to try one obvs. It was amazing in every. single. way.
I hadn't been to Burger King in 10+ years, so this had to get a place in my gluten free guide to Palma.
8. St. Lorenzo Tapas Gluten Free
So I didn't get the chance to go here but I don't really care – I am still definitely including this place in my gluten free guide to Palma! St. Lorenzo is an 100% gluten free and 100% lactose free restaurant in the heart of Palma.
It's a great place to go for gluten free tapas, but also for pizza and desserts. The menu is really varied so it would suit your whole group. I'm so excited to visit next time I go – if you go before me, let me know what you think.
WHERE I EXPLORED IN PALMA
Now I know you probably don't go on holiday searching for homeware, but every homeware lover who visits Palma MUST go to Rialto Living. It gave me so much inspo for my own home.
The furniture and kitchenware is dreamy but they also have a lovely cafe which offers gluten free cake to boot. Seriously, the overall interior of this place can't be beaten by anyone, anywhere!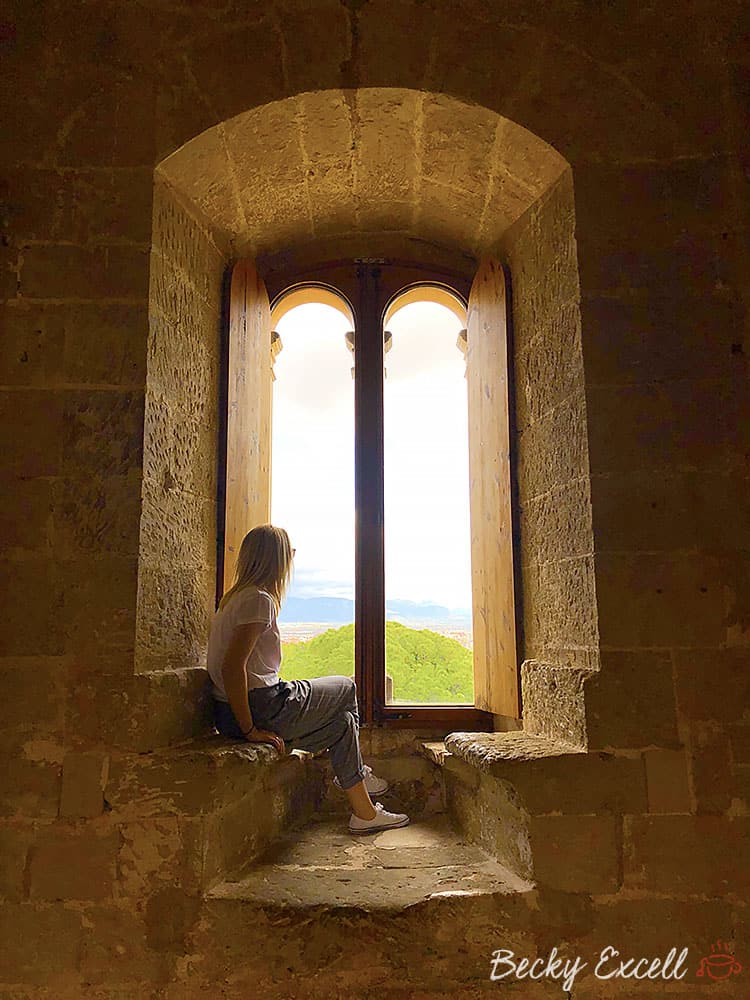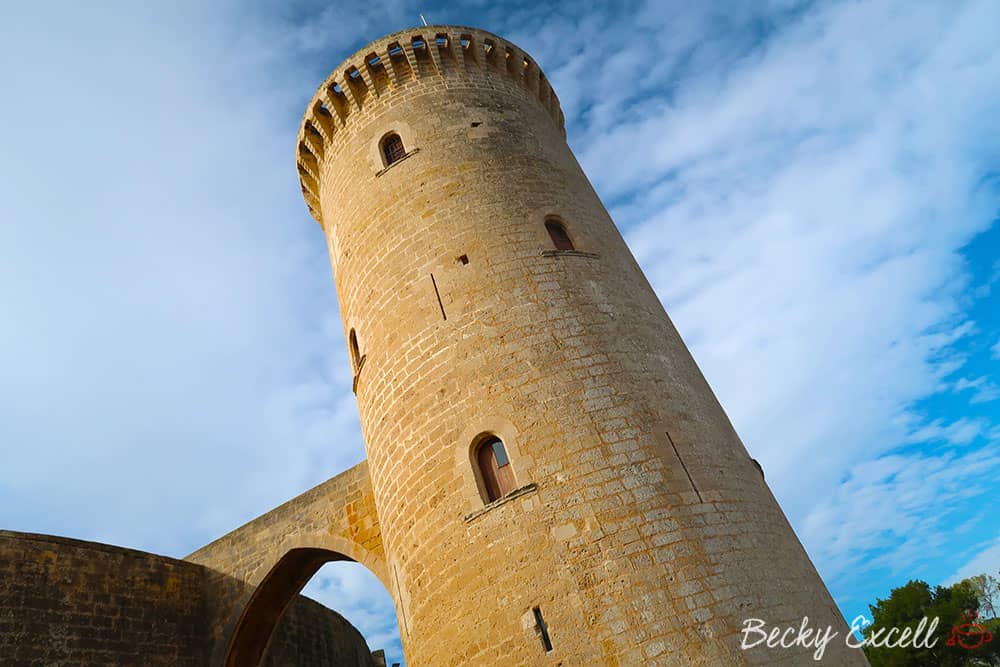 Castell de Bellver was my favourite tourist attraction by a mile. It's an absolutely stunning round castle (one of the only round castles in Europe – aha fact for you!) that was once home to the Kings of Mallorca and then became a military prison.
It felt all a little bit Game of Thrones here – which is exactly what I like! Definitely head there for the 360 views of Palma and amazing photo ops.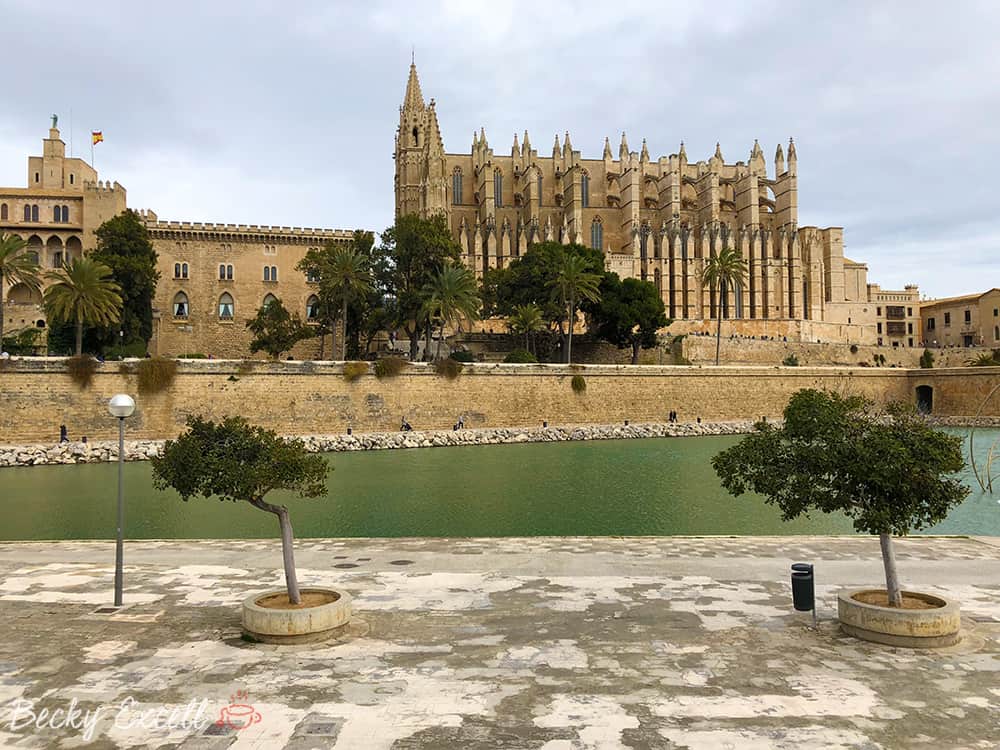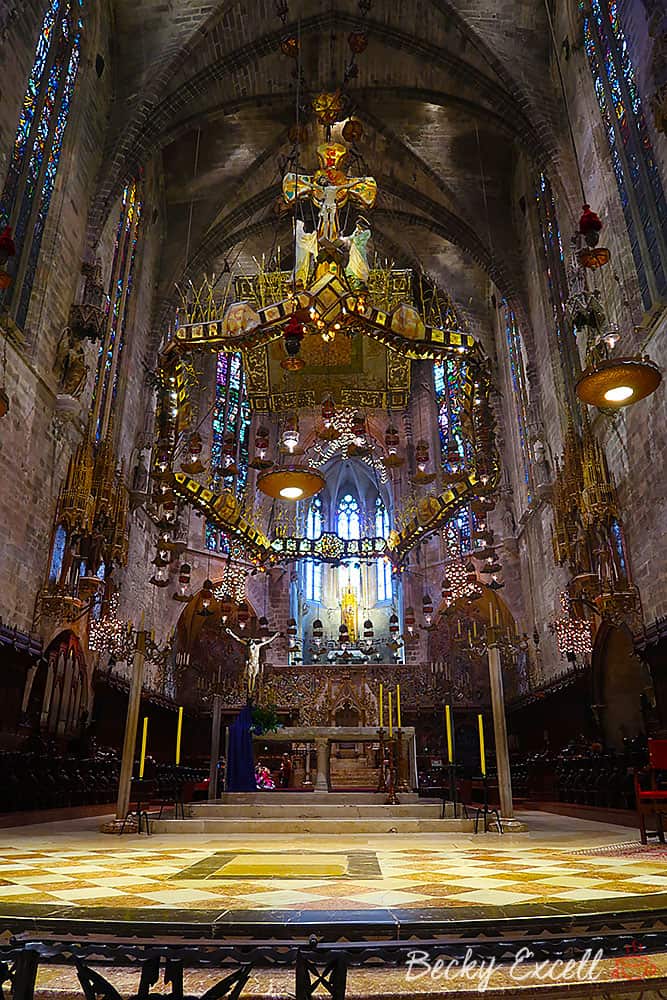 You haven't had a trip to Palma if you haven't visited the mind-blowingly beautiful cathedral. Similarly to Castell de Bellver, Palma's cathedral (aka La Seu) is gothic in style.
It's beautiful inside and out and probably the most well known landmark in Mallorca. It's the type of place that you feel like you should whisper when you walk inside – it's eerily beautiful.
If you're into your contemporary art (or even just a little on the fence about it) I'd definitely recommend checking Es Baluard out. There's a vast amount of modern art on display, including some fab pieces by ol' Picasso himself.
I've really got into my art over the past couple of years – I always used to look at more abstract pieces and think "what's the point?" or even "what the hell is this?"
But I now view art through my own interpretation of what a piece is trying to say, instead of wondering what on Earth the artist was getting at in the first place.
Trust me, it's much more fun this way! I'm not the sort of person who will be there for hours contemplating the meaning behind a painting, so this gallery was the perfect size for me.
As a big foodie, I always love visiting food markets in London, so Palma was no different. I adore the fresh smells from the fruit, trying samples of every different type of cheese under the sun and of course, the fresh fish market.
Honestly I've never seem such a vast array of fish, all locally caught. I would have loved to take some of the fresh produce home to cook with it.
Not sure my fellow passengers on the plane home would have appreciated the smell of fresh fish in my luggage sadly!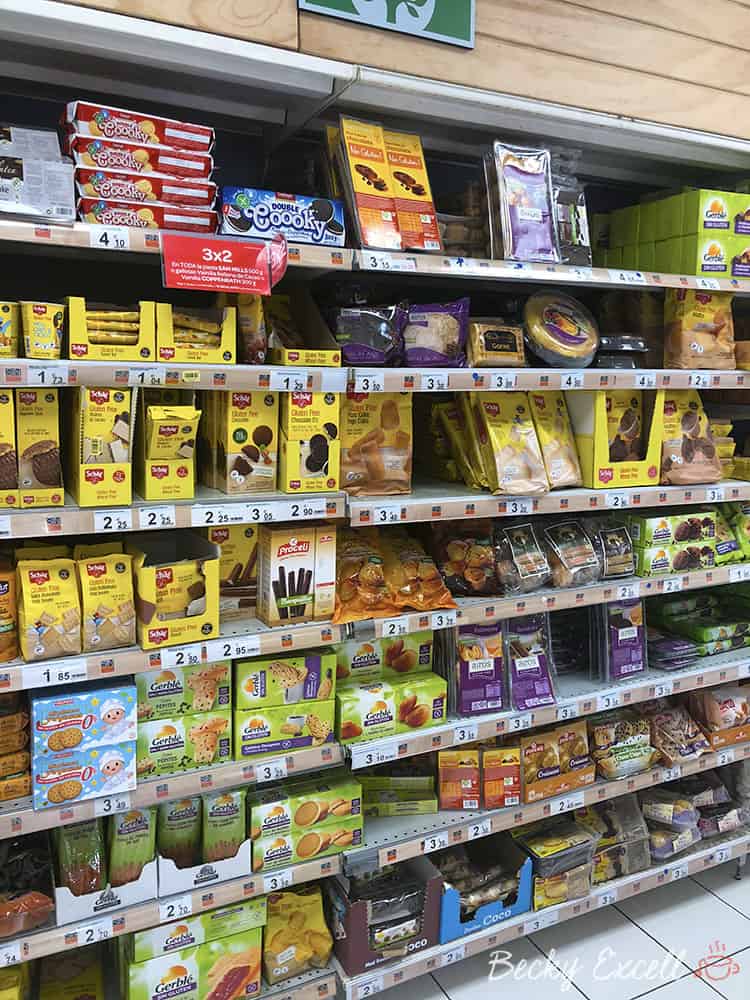 I was absolutely blown away by the free from selections in supermarkets in Palma. I went to a couple of different ones and both were exceptional and vast. Mercadona seemed to have all the gluten free basics, but then there is Carrefour. Wow.
Carrefour honestly had the best selection of gluten free I have EVER seen in a supermarket. It was endless. I really would recommend bringing an extra bag with you to fill up and take home!
I brought back a few goodies for Mark. They had lots of Schar stuff we just don't get back at home!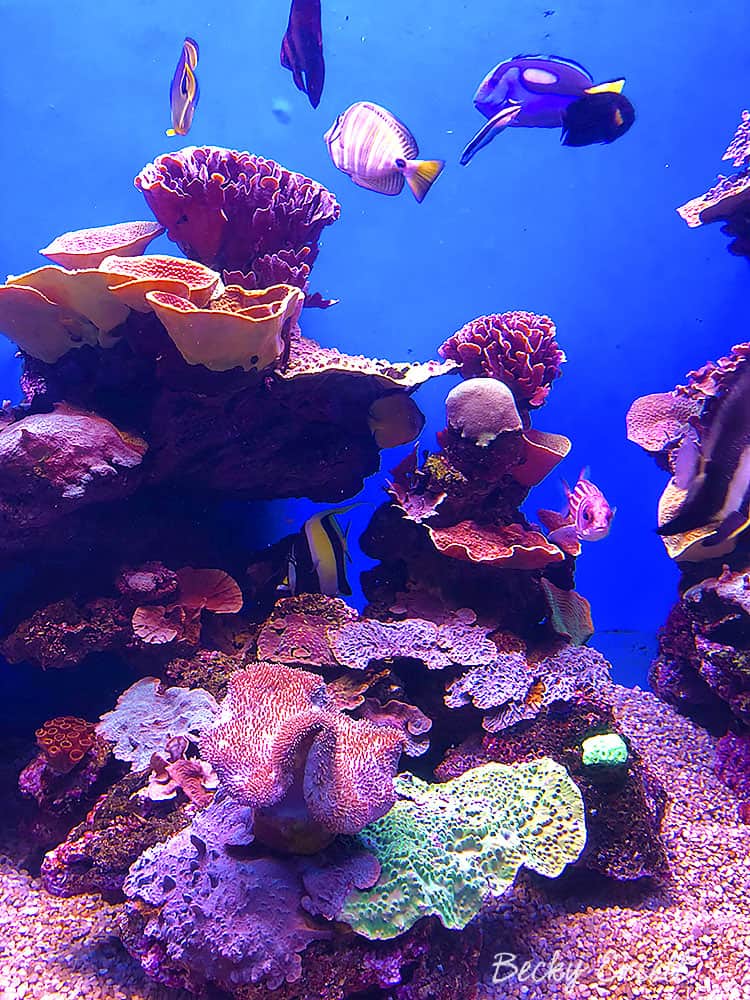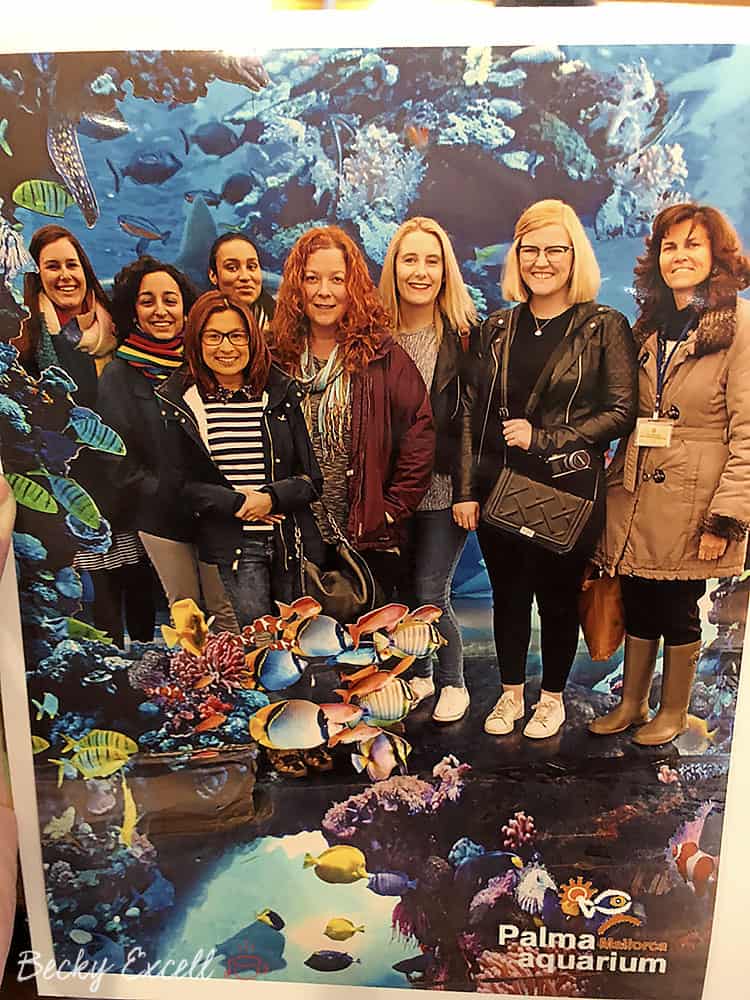 I've never been a massive aquarium fan but Palma Aquarium definitely changed my view on this. I learnt so much about sustainable fishing and endangered species. It really is a completely different world under the sea!
The aquarium offers diving with rays and sharks as well as an amazing shark-vision boat which gets you up close and personal with the sharks… but not too close thankfully!
WHERE I STAYED IN PALMA

The wonderful GPRO Valparaiso Palace & Spa was my home for the week – it was better than home, it was luxury! The rooms were spacious, clean and I had the most wonderful balcony with a view over the Mediterranean Sea. I loved opening my balcony each morning and watching the sunrise from my bed.
But now lets just take a moment to talk about breakfast! My gluten free guide to Palma isn't over just yet.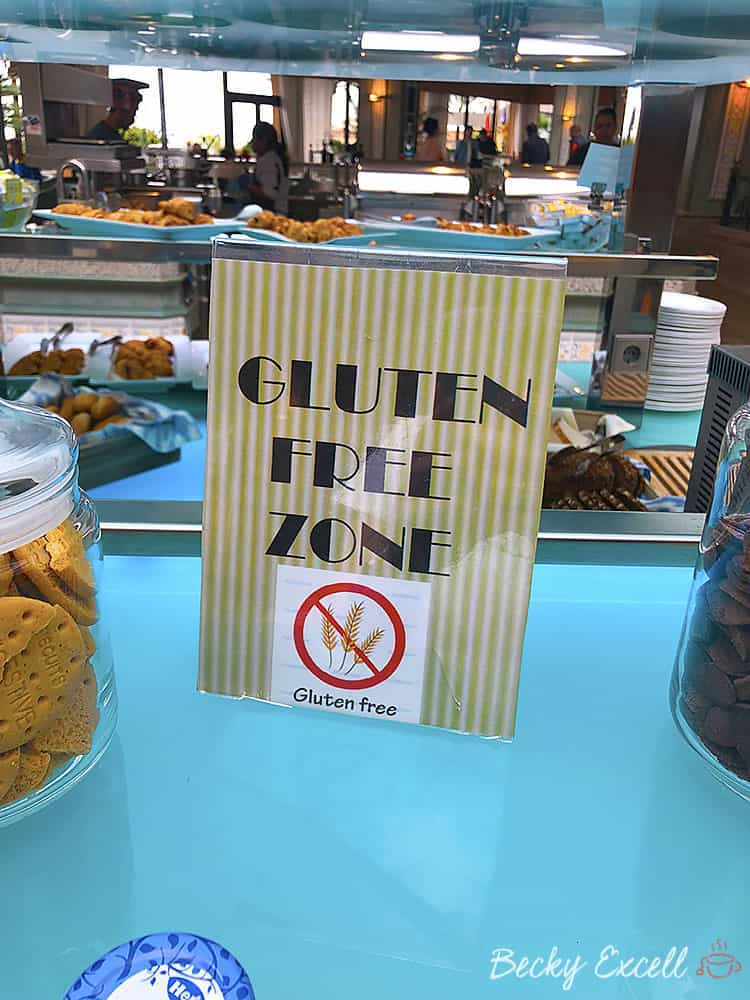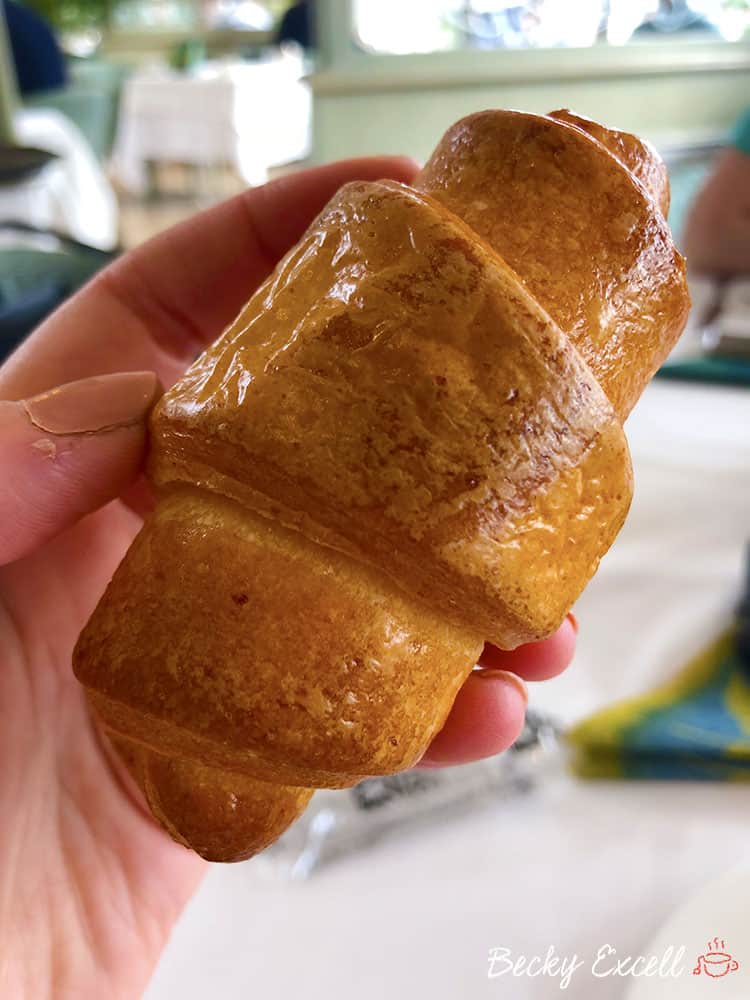 Breakfast at the hotel was amazing. It was a large buffet with more foods than I can remember. Fruits, meats, cheeses and the omelette station was more than enough for me.
But, what made it even more exceptional was that they had a 'Gluten Free Zone' every. single. breakfast time. Gluten free croissants, pain au chocolat, cereal, bread and muffins are all available in a completely separate area.
I've never seen this before in a hotel and it made me very, very, very, very, very happy! When it comes to gluten free in Palma, they just know how to do it right.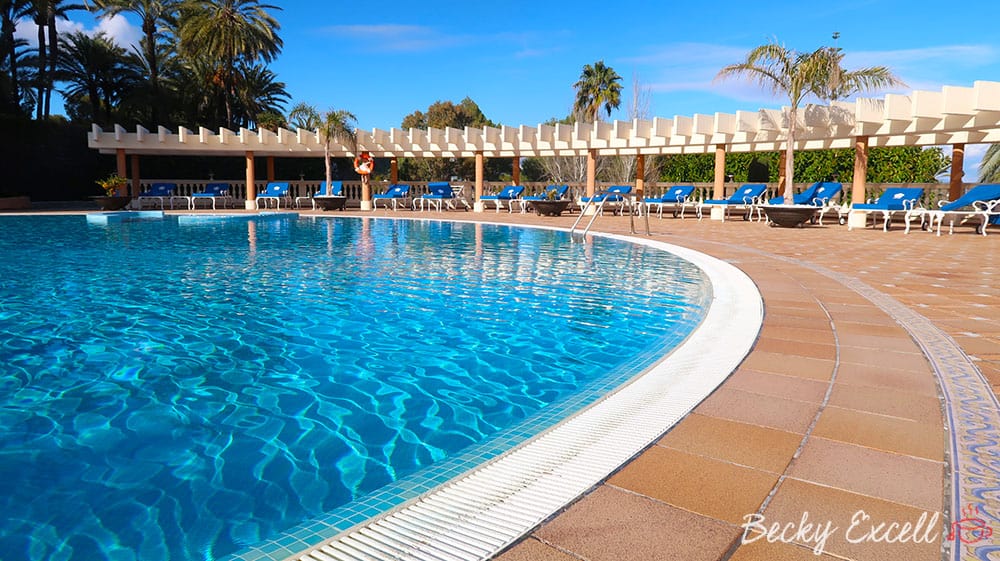 The hotel also has a couple of outdoor pools (I didn't venture in as it was mid February) as well as an indoor pool and a spa.
All the pools are salt water which for me is a big plus – I used to have Eczema and I find that it does wonders for my skin!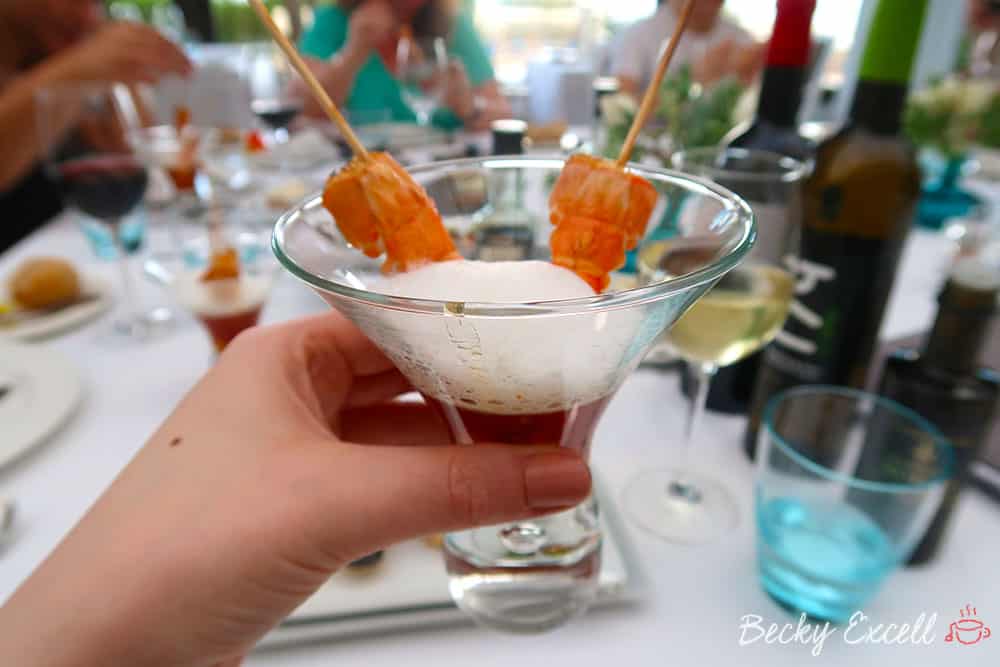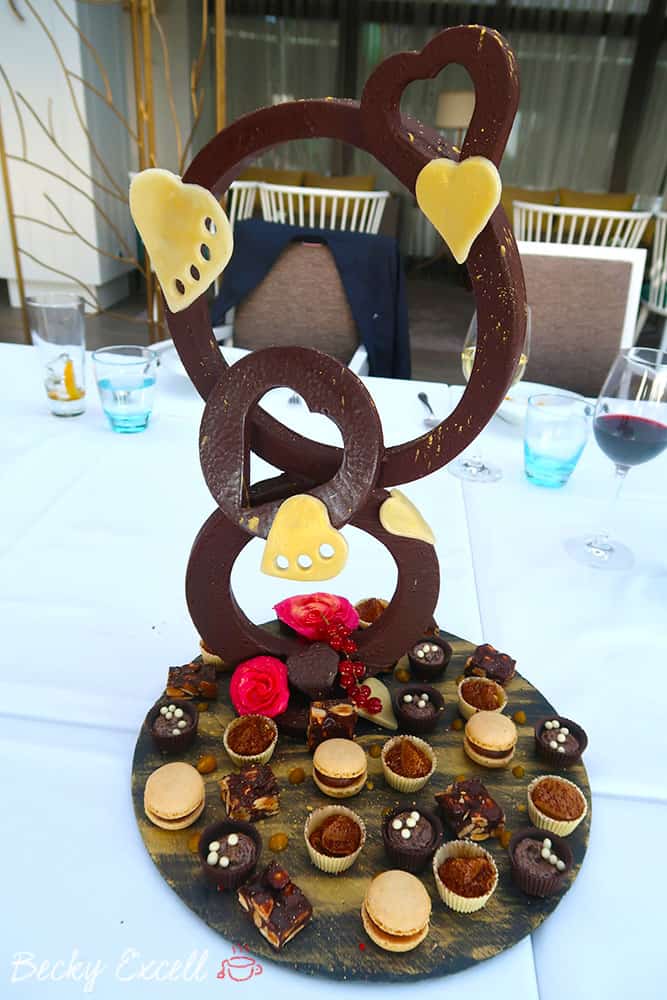 We had a couple of lunches in one of the hotel restaurants and I must say… it was some of the best food we ate the entire trip.
The Mar Blau restaurant put on a fab first lunch as soon as we arrived. My favourite courses were the crayfish in a chilli foam and an incredible chocolate platter made by one of the chefs. It was beautiful and every bit of it was edible!
They were amazing for gluten free as well as onion and garlic too. I didn't have any problems across both lunches – just make sure you mention it when you sit down.
HOW I GOT TO PALMA + BACK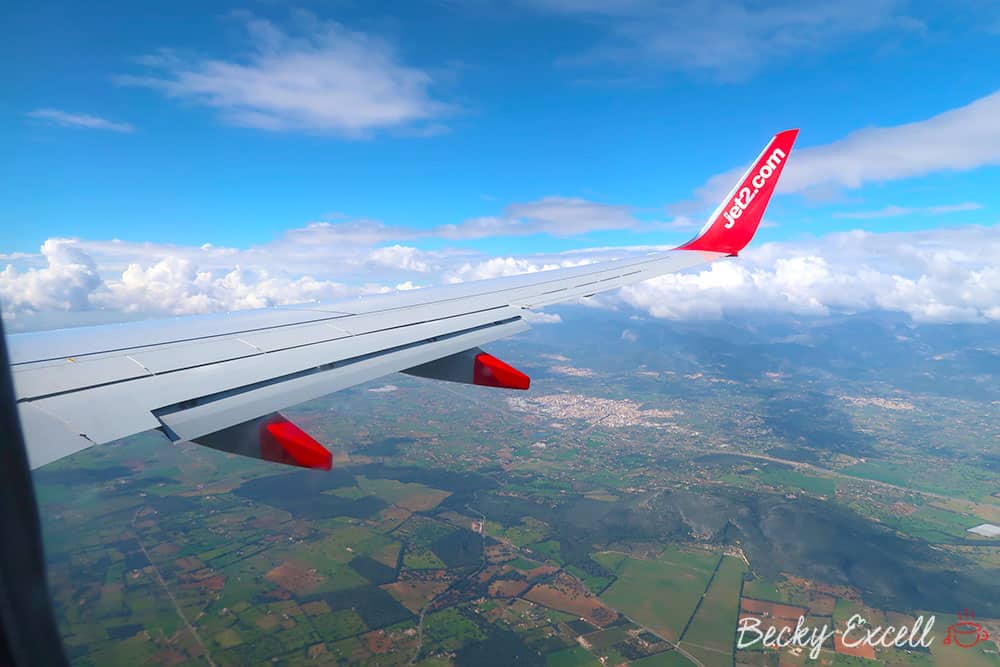 We travelled with Jet2.com – it was my first time flying with them and I was really impressed. The airline was modern and I had plenty of room to say the least.
Also, if you are anything like me and take a lot of luggage, Jet2 give you 22kg as standard, plus your hand luggage. Oh, and they had some gluten free snacks on board too, not that I really needed them on a 2 hour flight!
Overall it was the perfect trip with a great bunch. So thank you to Binny, Katy, Janie and Leyla as well as the Jet2 girls who made our holiday a fab experience that I'll remember forever.
I would definitely recommend Palma to everyone, it's the sort of place you never need to worry about if you are gluten free; the restaurants will cater for you. So that's my gluten free guide to Palma done and dusted!
Mallorca is a beautiful island so go eat, explore, etc. and enjoy.
Thanks for reading,
Becky x
This post is sponsored by Jet2.com and Jet 2 Holidays who kindly flew me out to Palma so I could create this guide. All views and imagery are my own.
Oh and don't forget to pin this for later!