I may not be in Paris at the mo, but at least I can recreate my favourites dishes now that I'm back home! What could be better than a gluten free Cordon Bleu recipe? Rien!
But this isn't just any gluten free Cordon Bleu recipe. What could more of a challenge than making a French dish using as many local ingredients as possible? Sacré Bleu!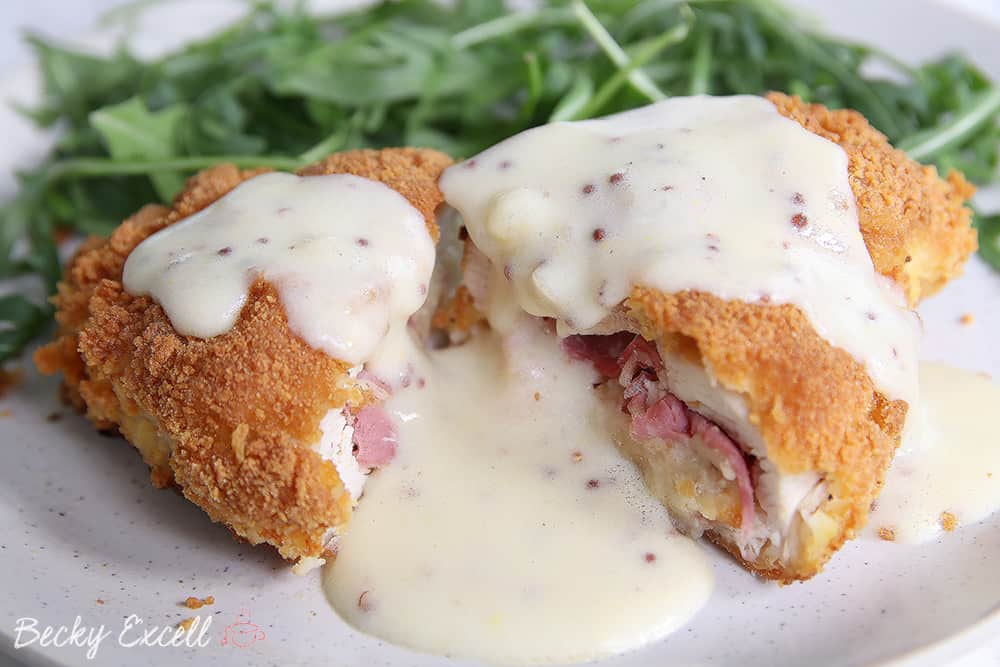 I thought it'd be fun to try and recreate a recipe you'd only ever really see in France, but with ingredients from just around the corner.
Fortunately, I live in a part of the world with some amazing local produce, East Anglia. My town is right on the border of Suffolk and Essex so there's tons of farm shops and locally reared/grown produce.
Just before the end of 2017, Mark and I went to the Tiptree Jam factory for the first time. It's a little unreal that a place so nearby produces jams and condiments that are sold all over the world. I mean, I actually saw a jar of Tiptree jam when I was in Paris!!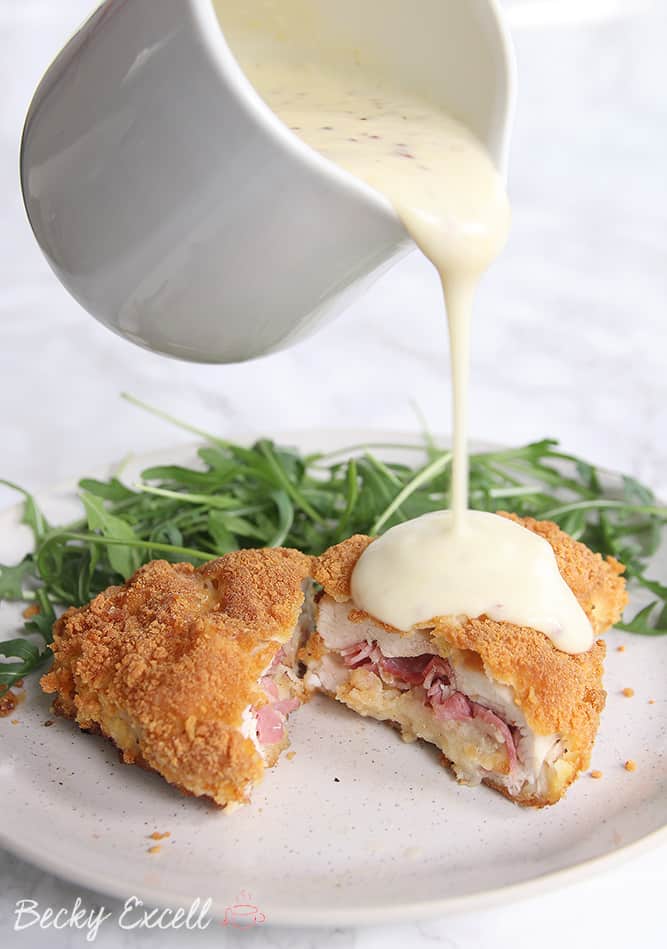 So we went back to the Tiptree Jam Factory and that's where I picked up the wholegrain mustard for the cheese sauce (obviously bought a million different varieties of jam for another day too FYI.)
Then, from local farm shops near Tiptree, I picked up free range East Anglian eggs for the breadcrumb egg-wash, locally reared chicken breasts and Suffolk ham on the bone.
But wait, there's one key ingredient I was missing!
But what would a gluten free Cordon Bleu be without a good strong cheese?
Fortunately I've got a lot of choice around my neck of the woods, so I went for Shipcord extra mature cheddar from Rodwell Farm Dairy in Ipswich.
So apart from my gluten free breadcrumbs (they were from my local free from aisle, does that count?!) I was all set to get started on my gluten free Cordon Bleu recipe!
If you've never tried Cordon Bleu, it's actually pretty simple. Take a chicken breast and butterfly it, fill it with ham and cheese, dip it in egg-wash and coat in breadcrumbs.
Then you'd usually have it with a lovely, smooth cheese sauce with a hint of mustard.
It makes the perfect meal for one, dinner parties or family meal. Just make sure you make enough of that sauce for everyone!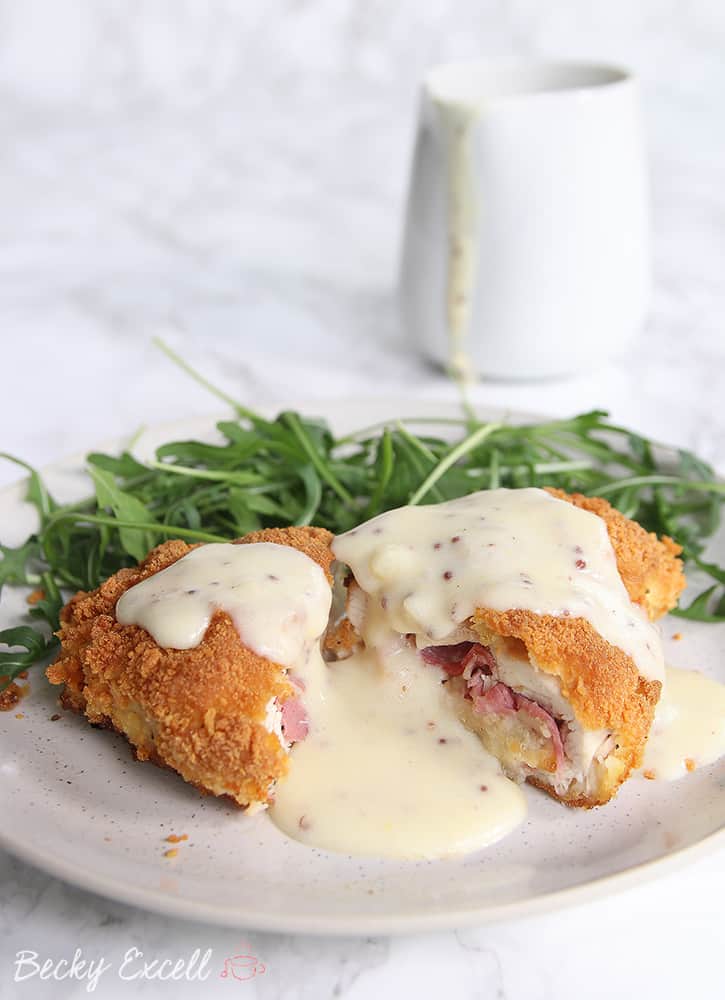 Obviously I picked up a few locally grown veggies to eat with this too. I'd highly recommend making some Hasselback new potatoes (so simple and quick) with some freshly steamed Chantenay carrots.
Well, let's get to it. Here's how to make my gluten free Cordon Bleu recipe!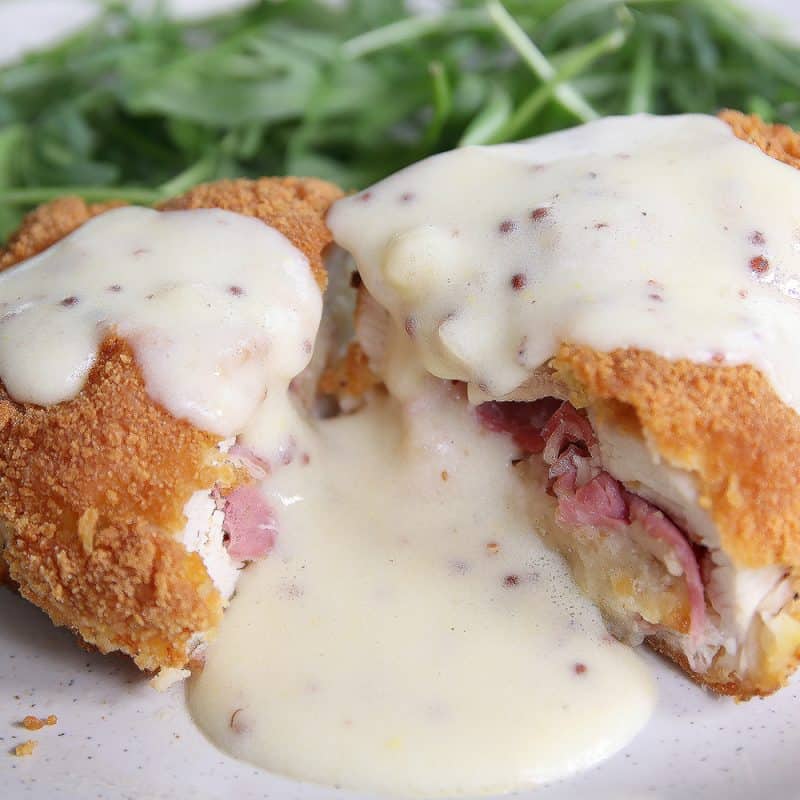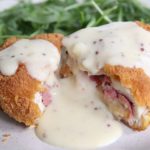 My 'Close To Home' Gluten Free Cordon Bleu Recipe
Say hello to my gluten free cordon bleu recipe! It's so simple and quick to make it yourself at home and it's a French classic.
Ingredients
For the Cordon Bleu
2 chicken breasts

a few slices of cheese

I used a local cheese: Shipcord extra mature cheddar, but a Swiss cheese is often used for this

a few slices of ham

I used a local Suffolk ham, again, any good quality ham will be perfect

1 egg

2 tbsp gluten free flour

gluten free breadcrumbs

you can make your own or buy these in most supermarkets
For the sauce
20g butter

about 1 1/2 tbsp

12g gluten free flour

about 1 1/2 tbsp

295ml milk

whole milk will work really well but any milk will do

2 tbsp wholegrain mustard

3 tbsp cheese

grated (Parmesan works really well here)

salt and pepper
Instructions
Firstly preheat your oven to 180C.

Take each chicken breast and butterfly it so that you can stuff them with your filling.

Put your ham and cheese in the middle and fold the chicken breast shut as tightly as possible. Don't place your filling too close to the outside edge of the chicken breast, or you'll risk it all oozing out when it cooks!

Coat your filled chicken breast in gluten-free flour to give it a nice, light dusting.

Beat your egg in a separate bowl and dredge the filled chicken breast in it, being careful not to lose your filling.

Then coat your egg-washed, stuffed chicken breast in gluten free breadcrumbs. Now you're ready to fry!

Fry your chicken breast on each side until golden brown, then place on a baking tray and place into the oven for 20-25 minutes.

Now it's time to make your sauce! Melt your butter down and then stir in your flour for a couple of minutes. Very gradually pour in your milk, constantly stirring.

Add your cheese and wholegrain mustard. Continue to stir over the heat until it starts to thicken up.

Remove from the heat and stir in a little salt and pepper.

Once your sauce is done, decant it into a little jug ready to serve up with your Cordon Bleu. Enjoy!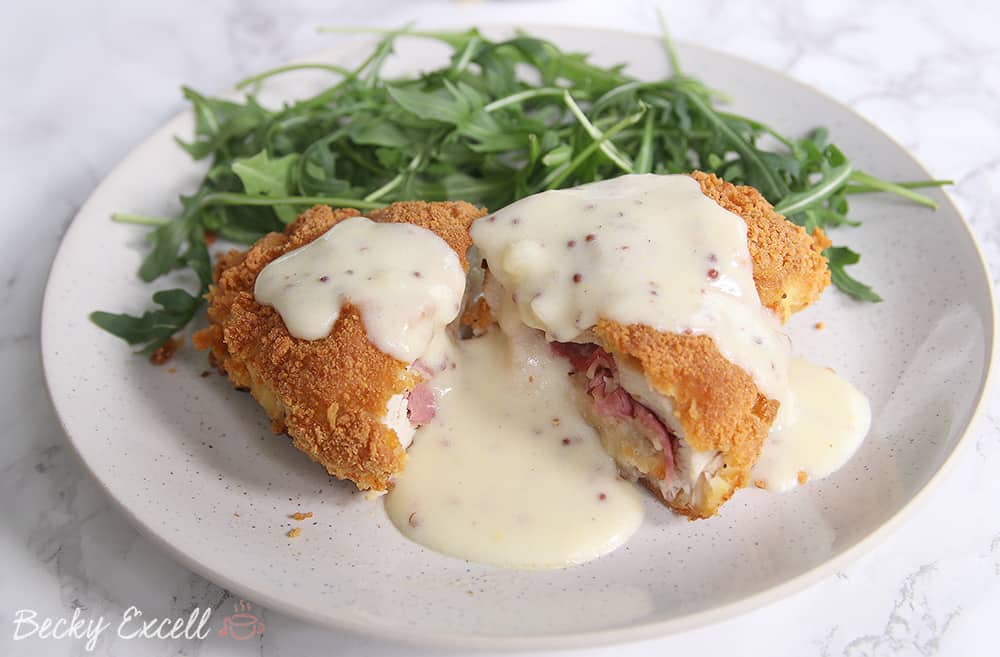 Thanks so much for checking out my gluten free Cordon Bleu recipe!
Interested in checking out the best way to source local ingredients? Check out The Foodie Guide put together by Leisure.
Any questions about the recipe? How did yours turn out? I'd love to see a photo of your gluten free Cordon Bleu! Please do let me know by leaving a comment below or on Facebook / Twitter / Instagram!
Thanks for reading,
Becky xxx
This is a sponsored recipe with Leisure.
Oh and don't forget to pin this for later!