My 3 ingredient vegan salted caramel recipe is so dangerously simple and incredibly quick to make in a hurry. Of course, it's gluten free, dairy free and low FODMAP too.
Gosh, I never thought I'd be able to make a recipe for vegan salted caramel that a) uses really simple ingredients and b) actually tastes like caramel. That's not much to ask is it?! Well, I guess I should go ahead and introduce you to my 3 ingredient vegan salted caramel recipe…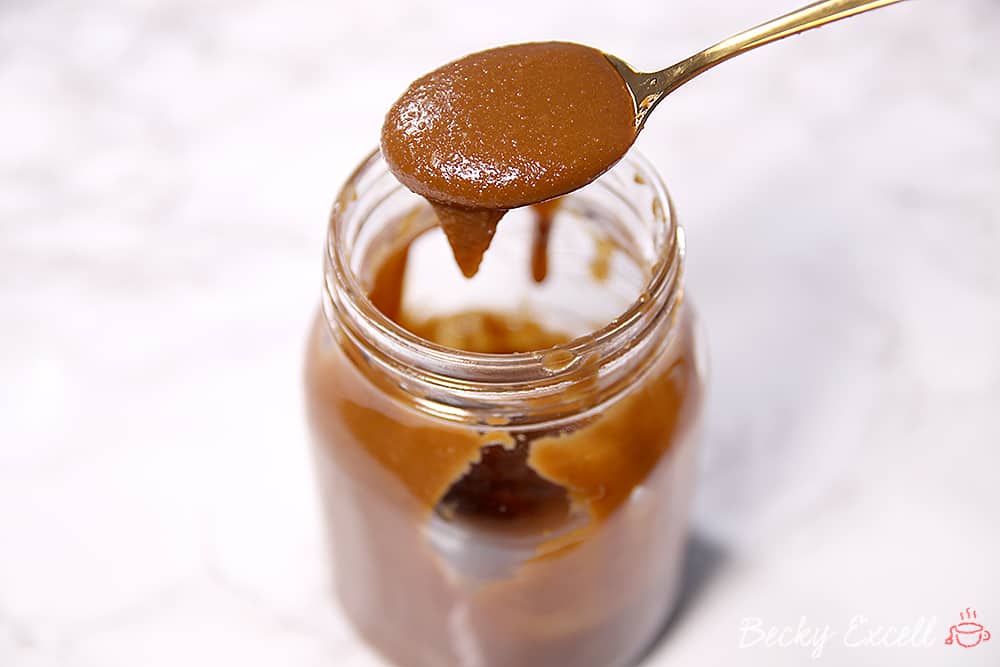 Now, I used to make caramel all the time using condensed milk when I was a kid. But without that, making caramel dairy free and vegan seemed next to impossible.
These days you can buy coconut condensed milk, but it's hardly something you'll ever come by without hunting for it (it's defo not in supermarkets). I actually bought a tin of it in Whole Foods, but then… it was pretty gosh darn expensive too.
But don't worry, we're not going down that route today, so you won't need to hunt or fork out the extra dosh for it. In fact, cost wise, I think making a decent sized jar of this caramel will cost you under £1. Not bad, eh?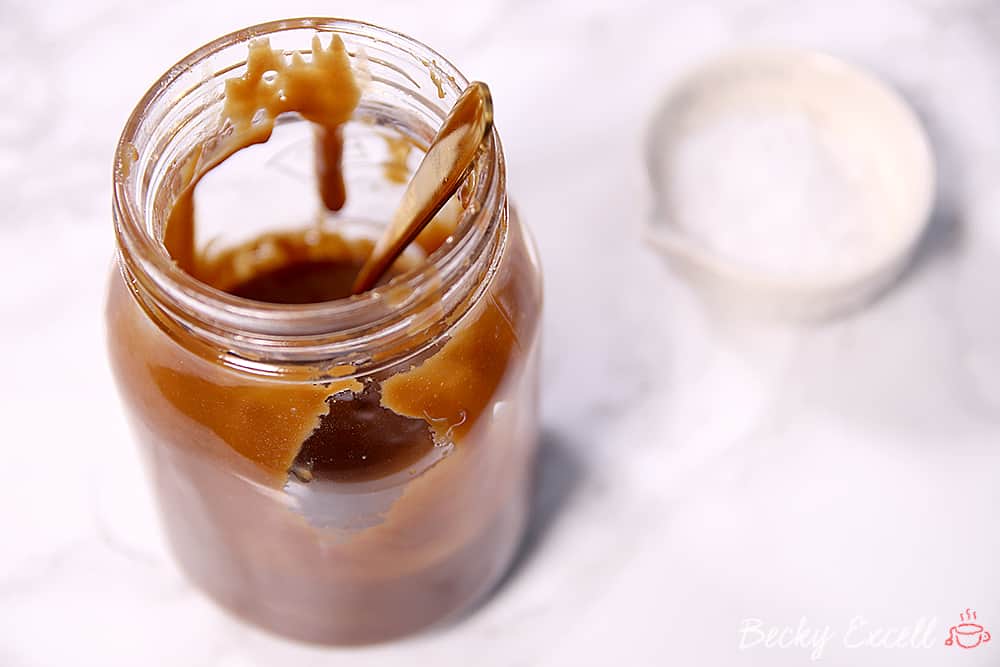 So, what's in my 3 ingredient vegan salted caramel recipe? Well… the solid part of a can of coconut milk, salt and sugar. That's it.
You simply add these three humble ingredients to a saucepan allow to boil and then simmer. What you're left with is the most gorgeously decadent, vegan salted caramel.
How does it differ from regular caramel with dairy I hear you ask?
Well, it does have a subtle coconut taste (super subtle though!) to it when compared to conventional caramel. It actually tastes nicer in mine and Mark's opinion! If you're on board with that, then this is the recipe for you.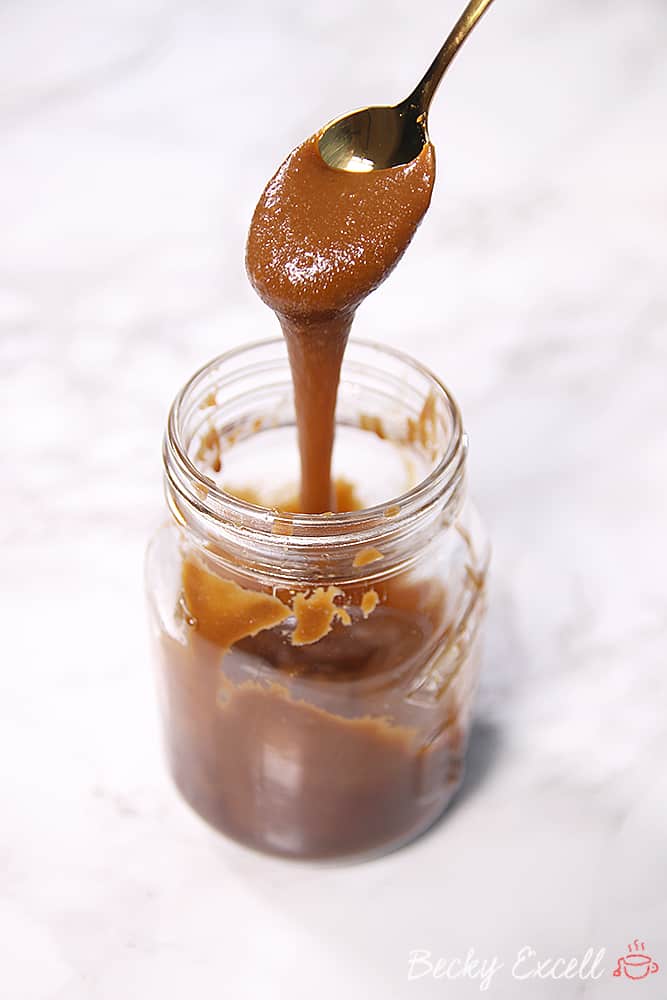 Once I have finished heating my vegan salted caramel, I leave it to thicken up in the fridge for just under 2 hours if I want it slightly thicker. If you want to use it to drizzle over something, for instance ice cream you could do this a lot sooner… or if you have chilled it to a more solid state, just pop it in the microwave! A little blast in the microwave will return it to its gooey and runny glory once again.
What should you use it for, I hear you ask?
It'd be perfect in a banoffee pie. Salted caramel brownies anyone?
Did I make you hungry?!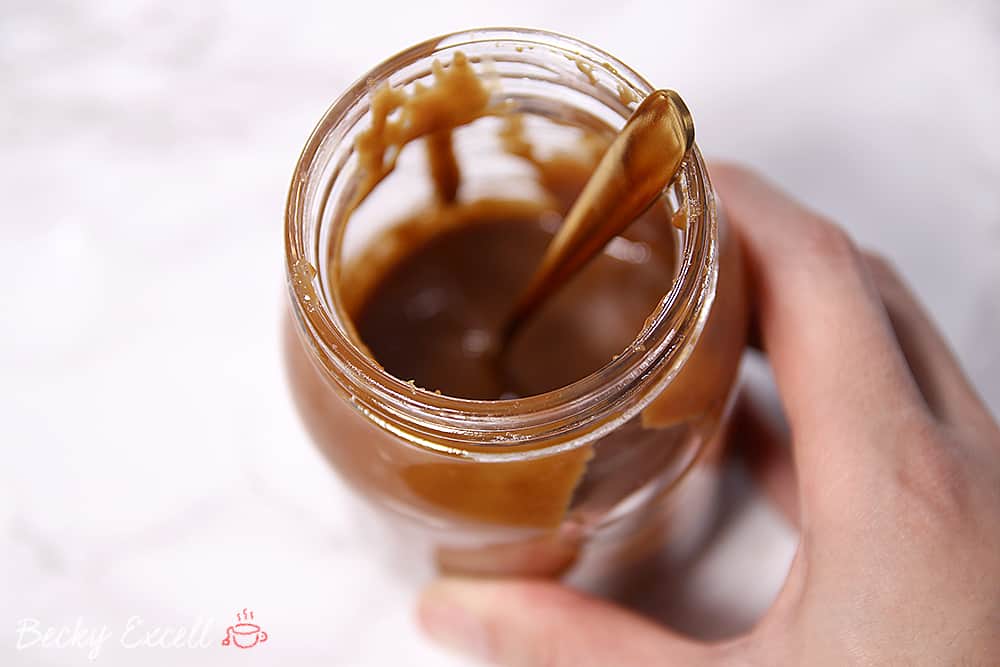 My biggest piece of advice is to make sure that your can of coconut milk is chilled before you even attempt this. It helps to separate the coconut cream from the coconut water. We don't want any of the actual coconut water in this recipe whatsoever FYI.
So make sure you pop it in the fridge ahead of time and you're golden. Also, the higher the percentage of coconut in the can (read the ingredients and aim for about 60% or more) the better. Don't use light coconut milk for this recipe.
Anyway, if you've been craving vegan and dairy free caramel, look no further. Here's my 3 ingredient vegan salted caramel recipe!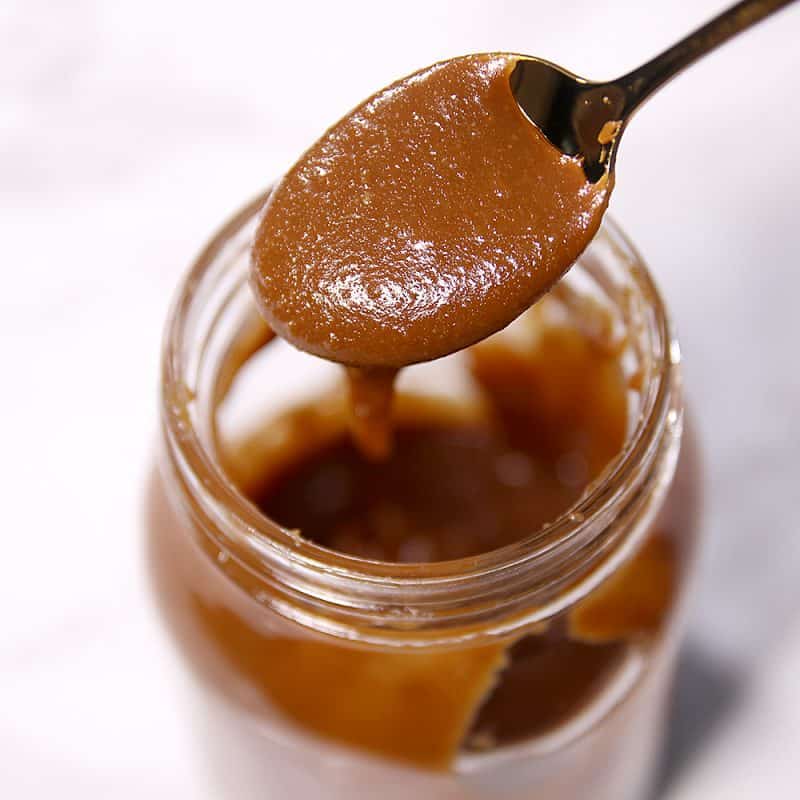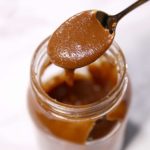 My 3 Ingredient Vegan Salted Caramel Recipe (low FODMAP, dairy free)
Say hello to my My 3 Ingredient Vegan Salted Caramel Recipe. It's simple and so easy to make at home. It's dairy free and low FODMAP too.
Ingredients
165g brown sugar

light or dark

1 tin of coconut milk

refrigerated for 24 hours (never use a light version, you will only need the solid white coconut cream not the water)

1/2 tsp salt

optional - you can use a little more or less, to taste
Instructions
Heat a small saucepan and once hot (medium heat), add your sugar. Stir your sugar for a minute or two so it's heated.

Add your coconut milk (only the creamy thick white part) and salt. Mix it to combine.

Bring the caramel to the boil and then simmer on a lower heat for around 15-20 minutes. Stir the caramel occasionally in this time, it should start to thicken.

After 15-20 minutes remove from the heat and allow to cool for about 10 minutes before pouring it into the jar you wish to keep it in. Put the lid on, even though it's still quite warm.

Place in the fridge to cool completely and thicken up - about 90 minutes. It will really thicken up in the fridge!

You can store the caramel in the fridge for a long time. It will solidify but is very easy to soften by taking a bit of it and heating it in the microwave. It's a very versatile and delicious jar of awesome!

Serve with ice cream, drizzle over brownies or whatever else you fancy!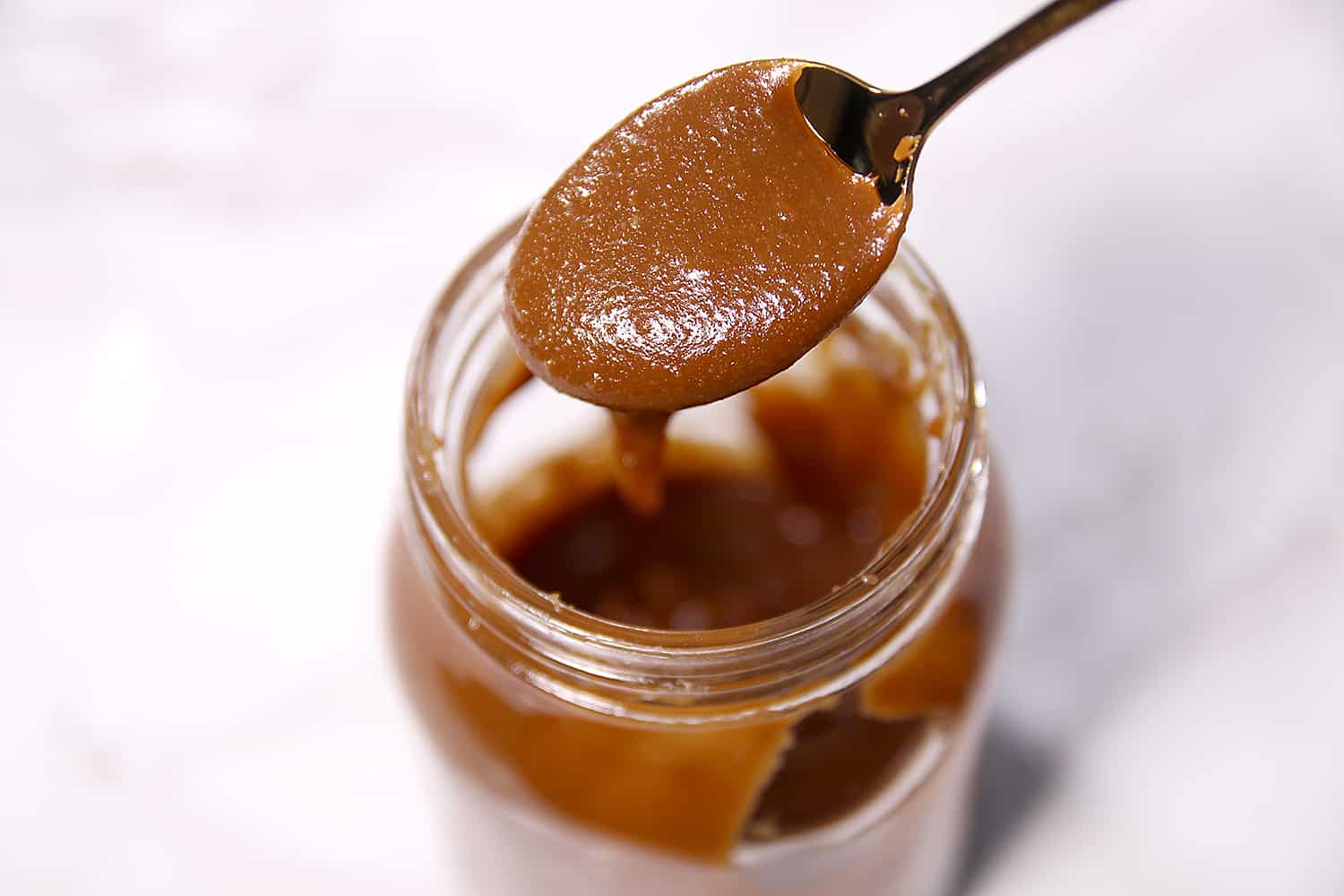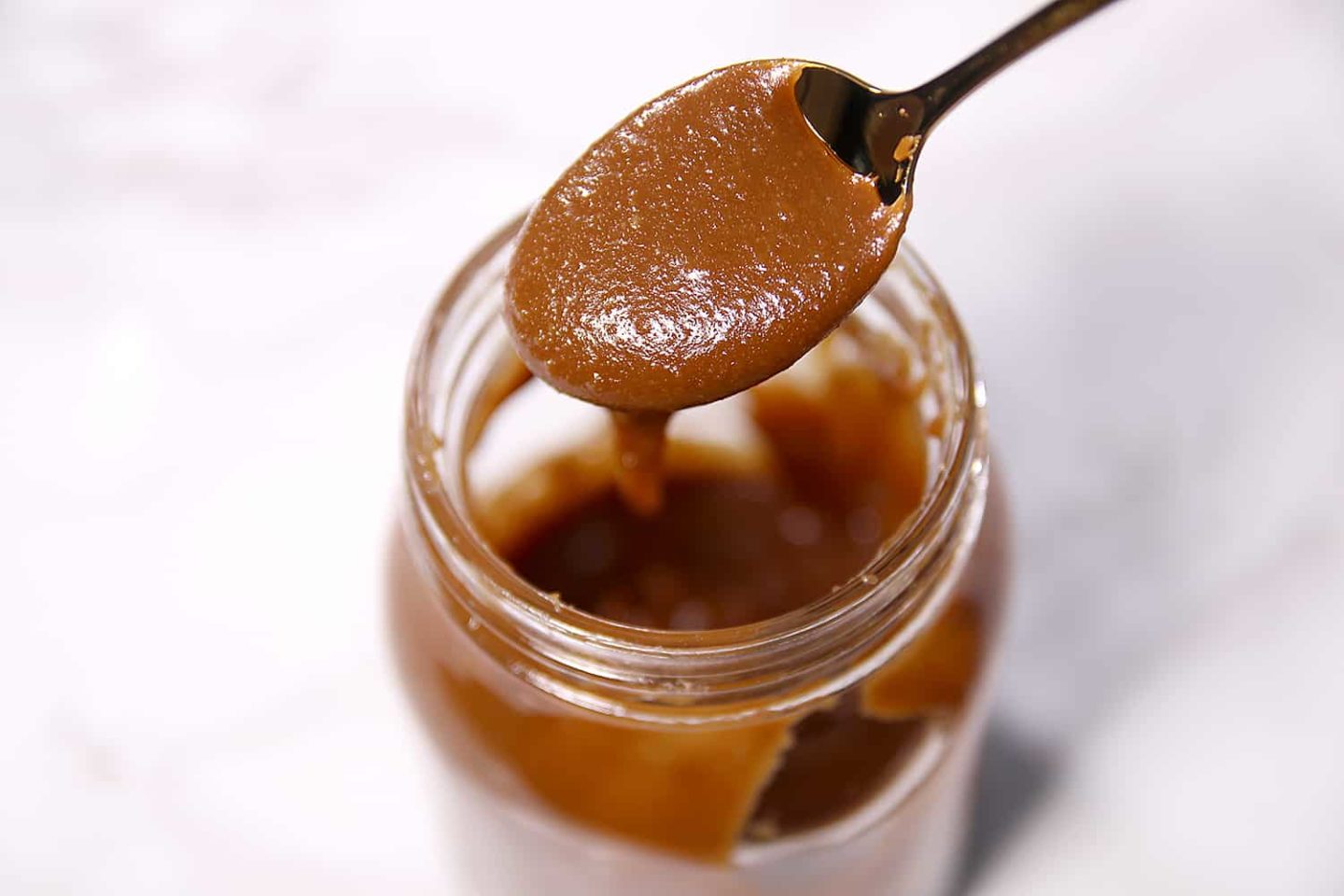 Thanks so much for checking out my 3 ingredient vegan salted caramel recipe!
Looking for more Veganuary recipes that are gluten free, dairy free and low FODMAP too? Check out my buckwheat pancakes recipe or my chewy chocolate chip cookies recipe, you can't go wrong!
Any questions about the recipe? How did yours turn out? What did you make with your caramel creation? Please do let me know by leaving a comment below or on Facebook / Twitter / Instagram!
Thanks for reading,
Becky xxx
Oh and don't forget to pin this for later!