There's definitely no need to miss out on your fave foods during Veganuary. My gluten free and vegan pulled jackfruit recipe is the perfect super-sub for pulled pork. It's dairy free and low FODMAP too.
Now, the vegan world of cooking is a little new to me, but after seeing pulled jackfruit out and about, I just had to make it for myself. Fortunately for me, my gluten free and vegan pulled jackfruit recipe is low FODMAP so I can actually try it once and for all!
So how does it compare to the real deal?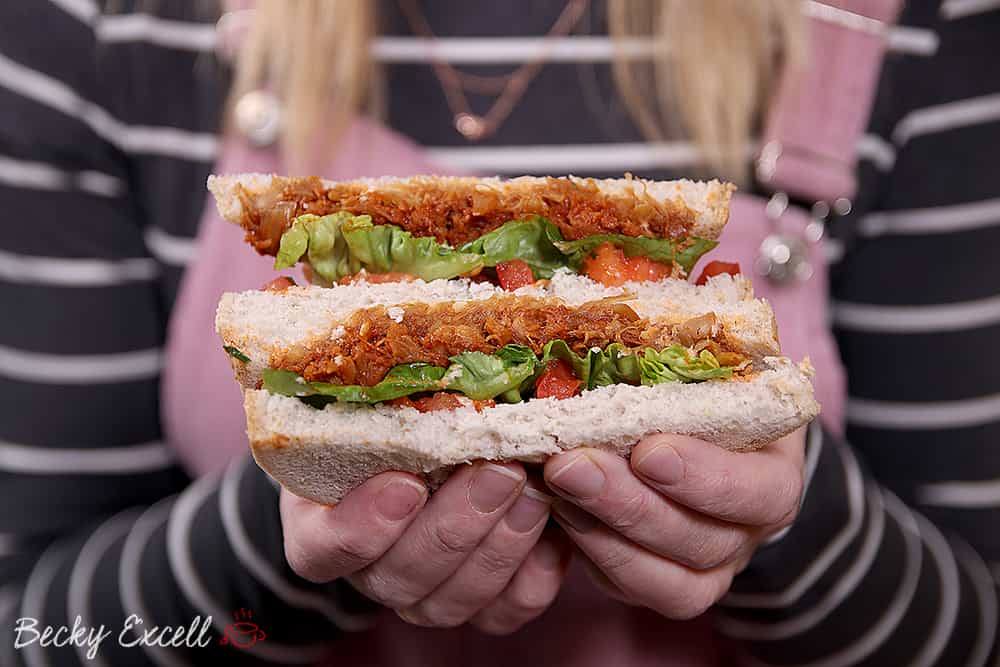 Pretty gosh darn good, I can assure you! I'm sure that most of you (like me) have never tried Jackfruit before. Unless you live in Bangladesh that is, because it's their national fruit.
(Please tell me if this knowledge ever helps you in some sort of pub quiz scenario.)
It's similar in texture to a pineapple but it has a distinctly similar taste/smell to lychees. All in all, pretty nice on its own to be quite honest!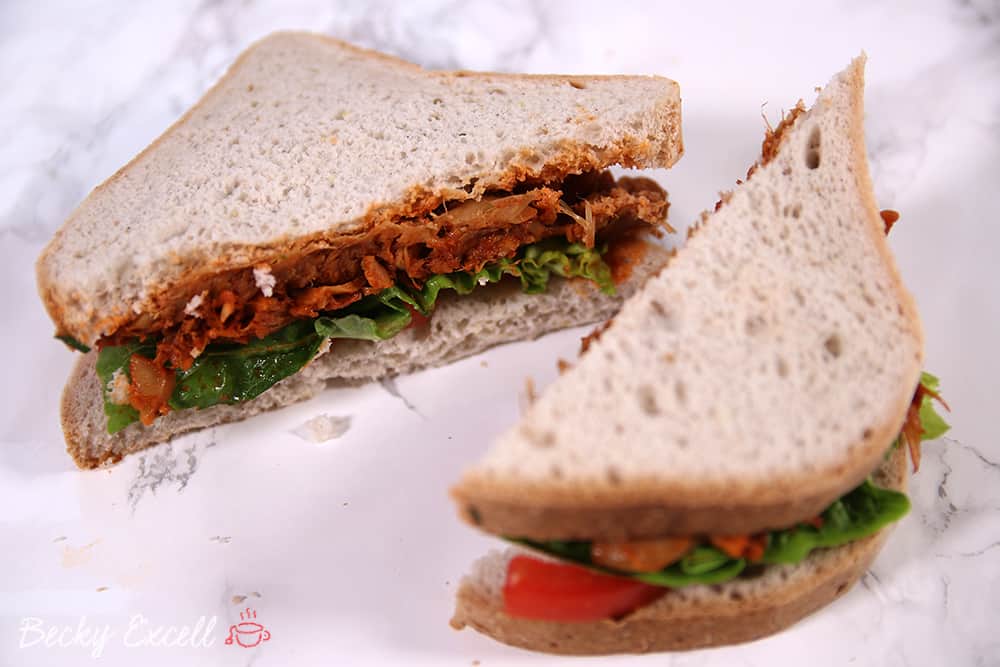 So why is a fruit of all things perfect as a replacement for pork?
Well, jackfruit just has that stringyness like pulled pork, plus its sweet yet subtle flavour allows the BBQ sauce to take centre stage.
As it's a fruit, I'd say it does still retain a welcome fruityness when cooked, but the texture is absolutely spot on.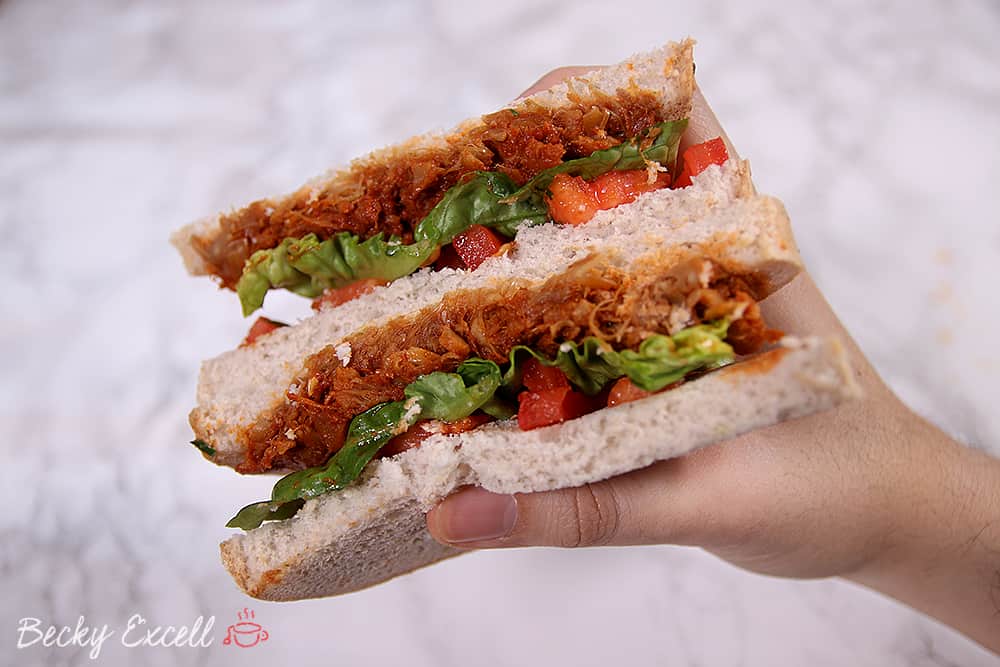 So where can you get this super-special ingredient? Sadly, not in any supermarkets as far as I'm aware.
The most convenient way to get your hands on jackfruit in the UK is in cans, which you can pick up from your local Chinese supermarket, or from Amazon.
Plus, there's also one other special ingredient you'll need – gluten free and vegan BBQ sauce by FODY foods. It's FODMAP friendly too.
Once, you've got these, you're ready to get cracking with my gluten free and vegan pulled jackfruit recipe!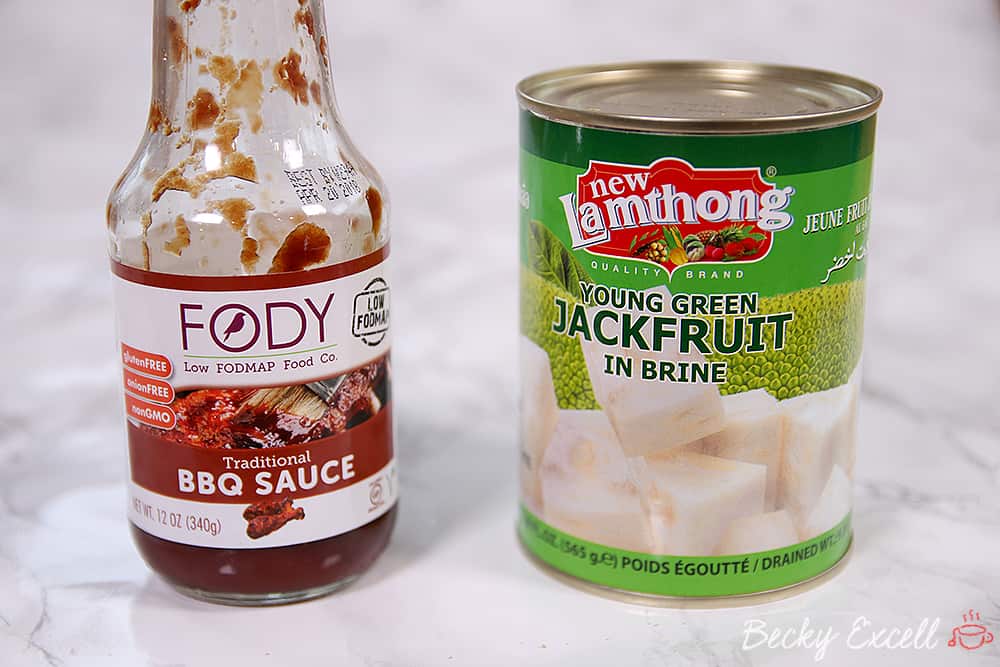 Just make sure your jackfruit is 'young green' (I don't think I've even seen jackfruit that doesn't say this on it) and in water or brine, not syrup.
How is it to work with? Pretty simple to sauté really – just make sure you break it up into smaller pieces as it'll cook much, much quicker.
Jackfruit has a few sort of round seedy looking things in it, which are perfectly fine to cook and enjoy. They're pretty much just part of the fruit and taste exactly the same.
However, if you reeeeeally want your pulled jackfruit to look as authentic as possible, you can always remove them. I kept mine in FYI and they tasted delish.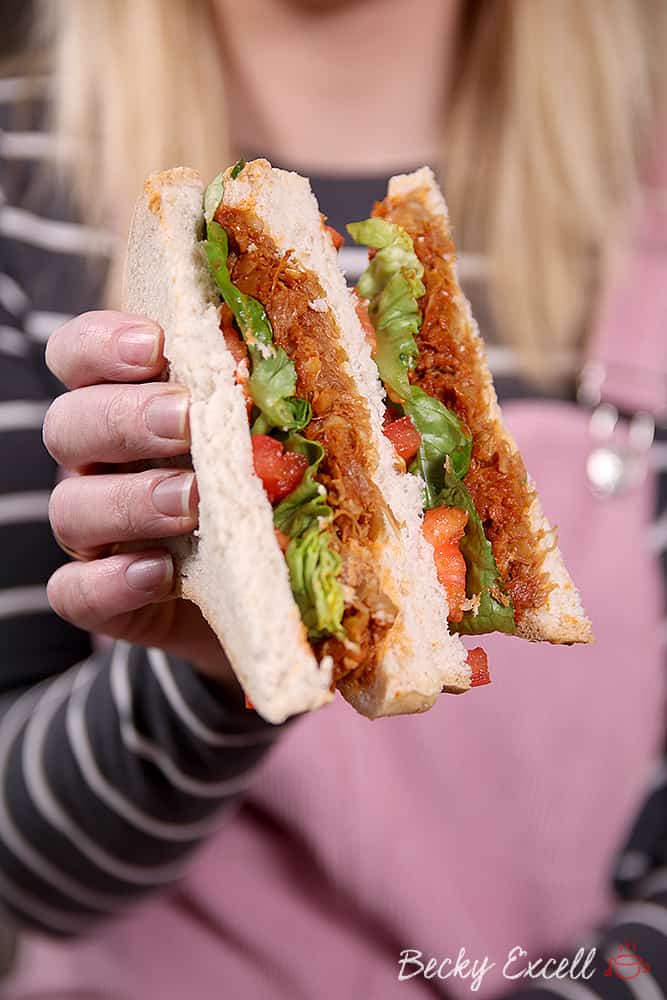 I usually just serve mine up in gluten free bread with dairy free spread (accidental rhyme) and a little lettuce and tomatoes before bed (purposeful yet nonsensical rhyme).
Oh, and I should probably add that this recipe is easy peasy and takes about 30 minutes or so to breakdown the jackfruit. You don't have to stand by the stove the whole time, so it makes itself pretty quickly.
Anyway, here's my gluten free and vegan pulled jackfruit recipe!
Pulled Jackfruit Sandwich
Say hello to my Gluten Free and Vegan Pulled Jackfruit Recipe. It's low FODMAP and dairy free too.
Ingredients
For the pulled jackfruit
280g young green jackfruit

I buy tins that have a drained weight of 280g in brine or water

150g low FODMAP vegan barbecue sauce

(I use Fody Foods BBQ Sauce)

1 tsp smoked paprika

a pinch of cayenne pepper

salt & pepper

1 tsp garlic oil

300ml water

small amount of oil for frying
For the sandwich
2 slices of gluten free bread

dairy free spread

lettuce leaves

tomato

sliced

fresh chives
Instructions
Drain all the water off your jackfruit in a colander. Then rinse the jackfruit under the tap. Once you've done this, break the jackfruit up into smaller pieces using your hands. You will break it up further when it's cooking too.

Heat up a frying pan with a little oil and add your jackfruit. At this point also add your salt, pepper, smoked paprika and cayenne pepper. Mix them all in so your jackfruit is evenly covered.

Then add a little garlic infused olive oil and stir it in.

After 3-4 minutes cooking add your vegan and low FODMAP barbecue sauce and allow to simmer for about 30 minutes.

Whilst it simmers I gradually added about 300ml of water just so the sauce didn't reduce too much. I also kept breaking the jackfruit up with a wooden spoon along the way.

Once the jackfruit has been on for 30 minutes it should be lovely and tender and have the consistency of pulled meat. At this point I use a potato masher on it, just to break it down even more.

Then it's time to construct your sandwich! Grab two slices of gluten free bread, add some dairy free spread and then spoon on some of your pulled barbecue jackfruit. (You won't need all of it!)

Add lettuce, tomato and some fresh chives before completing your sandwich!
Notes
* you won't use up all that jackfruit in one sandwich but it keeps really well for another day or if you want to make a pulled jackfruit sarnie for somebody else too!
* jackfruit can be bought in a tin online or at your local Chinese supermarket.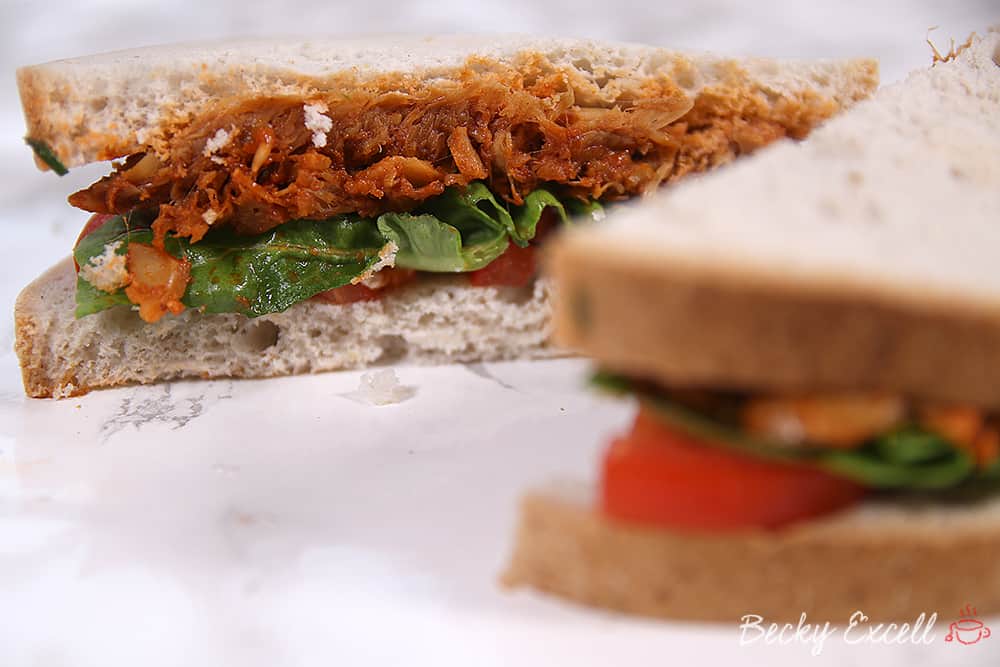 Thanks so much for checking out my gluten free and vegan pulled jackfruit recipe!
Looking for more Veganuary recipes that are gluten free and low FODMAP too? Check out my buckwheat pancakes recipe here.
Any questions about the recipe? How do you think it compares to pulled pork? Please do let me know by leaving a comment below or on Facebook / Twitter / Instagram!
Thanks for reading,
Becky xxx
Oh and don't forget to pin this for later!