Still not sure what to do with all that leftover turkey meat from Christmas? Here's another good shout: my leftover turkey gluten free Christmas pizza recipe! It's dairy free and low FODMAP too.
Just because Christmas is over, that doesn't mean that the food should go to waste! As a part of my 3 ways to use leftover turkey post, here's my gluten free Christmas pizza recipe. Perfect for boxing day buffets and lunch/dinners all across the land!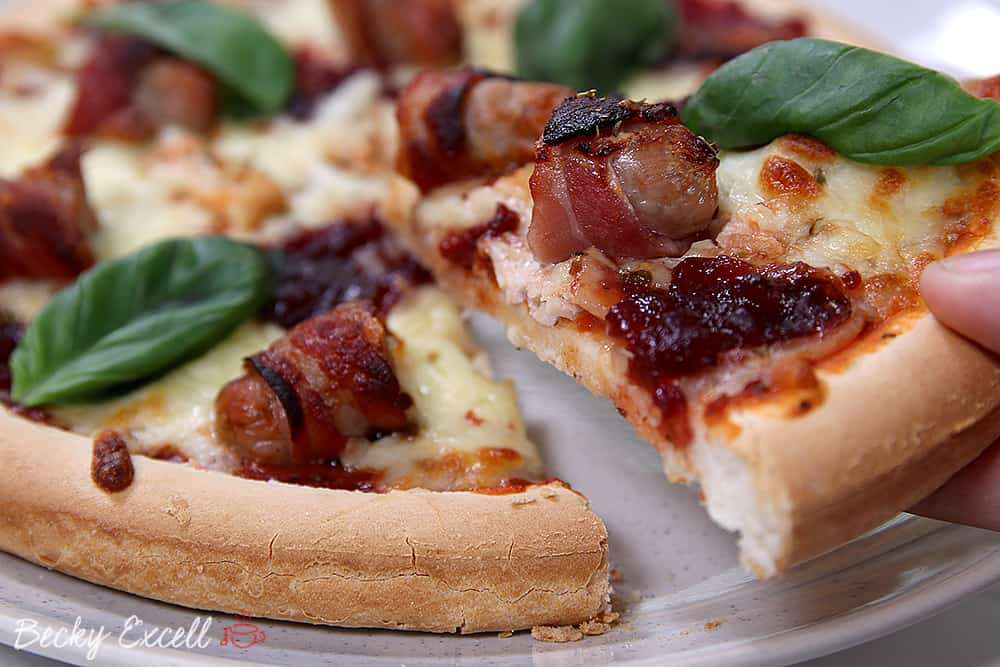 At home, we all looked forward to the annual boxing day turkey sandwiches. As we all know, having tons of leftovers is an integral part of Christmas! But this year I thought I'd step it up a notch and see what you can really do with your leftover turkey meat.
So far I've managed a wonderfully warming, spicy gluten free turkey curry and my turkey and bacon mini frittatas. But what could be a better full-stop to the trilogy than a leftover turkey gluten free Christmas pizza?
Trust me, this pizza will have you wanting to make sure you leave tons of leftovers on Christmas day!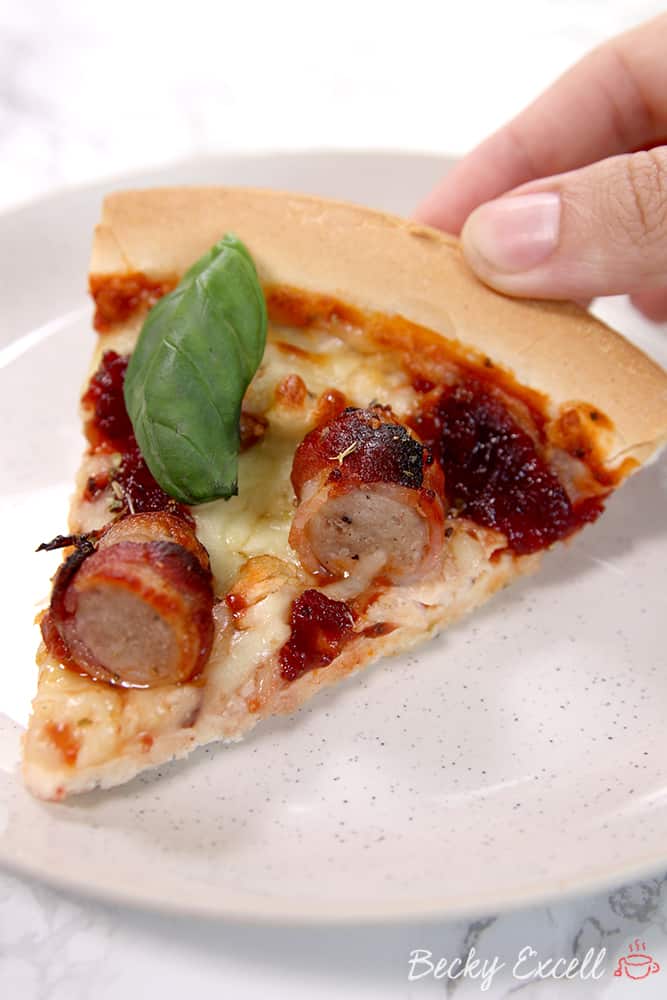 I haven't had much luck making gluten free pizza dough from scratch in the past. Pizza dough is one of those things that's really heavily reliant on gluten to get a nice and thin, stretched out pizza base.
Put it this way: you certainly won't be spinning your gluten free pizza dough above your head anytime soon, I can assure you! So until I'm brave enough to give making pizza dough another go, let's talk gluten free pizza bases.
The base I used in the photos is actually just a shop-bought gluten free pizza base, so there's certainly no need to start making your own dough on boxing day! They've really come a long way in recent years, but there's only one pizza base worth shouting about in my mind…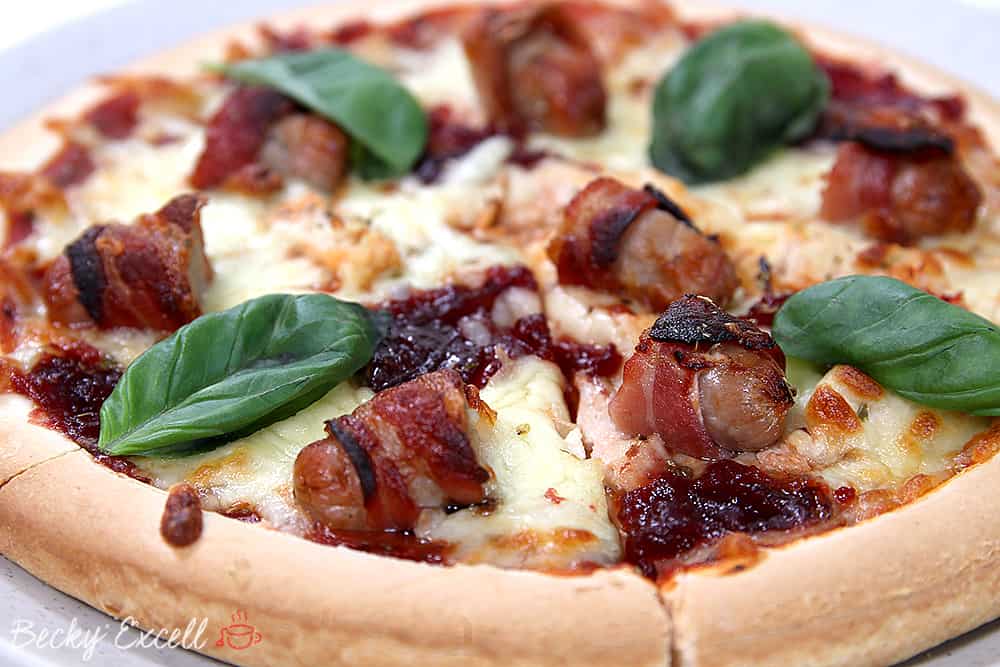 Is there really any contest? I've said this for years and I'll say it again: Venice Bakery UK pizza bases are awesome! They're thin, crispy and just taste like the truly authentic pizza bases you miss from your gluten days. Click here to read a terrible review I wrote about how great they are over FOUR years ago. Wow, time flies!
But the best part is… Venice Bakery bases are free from all 14 allergens! I only learned this recently and it's so awesome that there are products out there which cater to everyone. High five to Venice Bakery UK! Just make sure you order some ahead of time to keep in the cupboard/freezer, ready to eat on Christmas day.
When I made this recipe, I wasn't forward thinking enough to have ordered my Venice bases for when I needed them… don't make the same mistake I did! Nothing compares to Venice bases in my mind.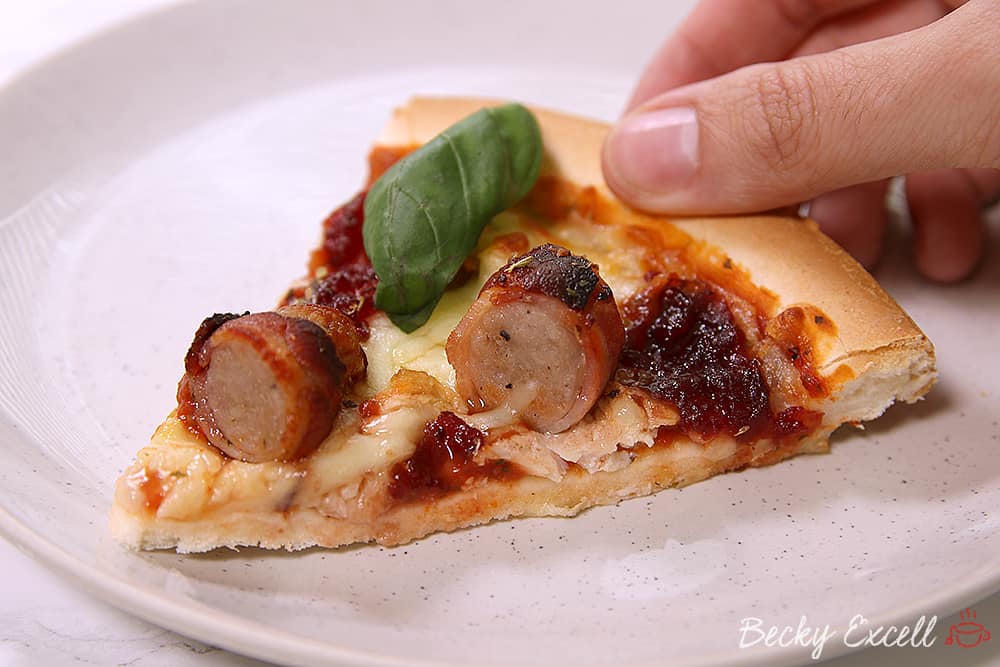 Now you know all about that base, what's on my gluten free Christmas pizza? Well, make sure you're sitting down for this part, or you might faint with food envy.
Obviously, we've got leftover turkey meat first of all. But then I've also thrown on gluten free pigs in blankets, cranberry sauce, dairy free cheese, homemade pizza sauce and fresh basil leaves. Pure. Perfection. Bonus points if you're brave enough to add Brussels sprouts!
It is seriously moreish and like nearly all of my recipes, it's dairy free and low FODMAP too. If you're not following the low FODMAP diet, feel free to disregard this next bit!
Tesco sells pigs in blankets that happen to be low FODMAP (always check the labels first) but watch out for gram flour if you're following the low FODMAP diet. It's in nearly every Christmassy-sausage-like product this year I've found, apart from in Tesco's!
Making low FODMAP pizza sauce is a total lifesaver that takes pretty much no effort. It's just a matter of seasoning and herbing (is that a word?) tomato passata. It's so easy and you can use this sauce for tons of other Italian-inspired recipes like meatballs and spaghetti, Bolognese etc.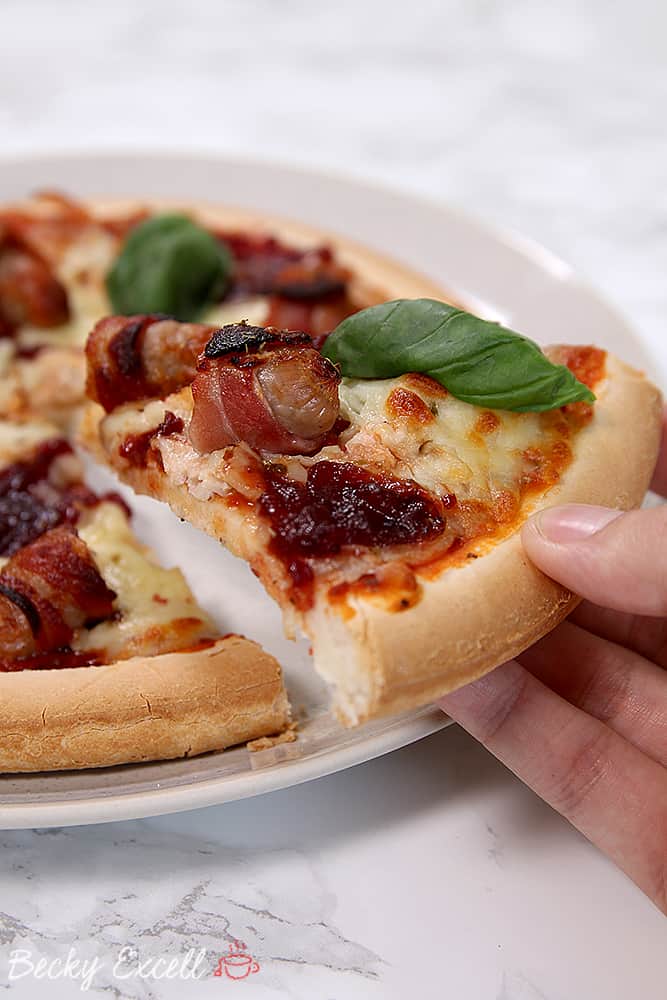 Needless to say, if you've got a gluten free pizza base handy, this recipe will be an absolute doddle. Which is exactly what you want/need on boxing day!
Considering everything is mostly already cooked, this is an extremely simple recipe! But making your own pizza sauce is a must and it only takes a few minutes. A jar of pizza sauce just doesn't compare.
My only tip is to always make sure you cook your pizza on the oven shelf. It guarantees the crispiest base, ever! Anyway, here's my gluten free Christmas pizza recipe…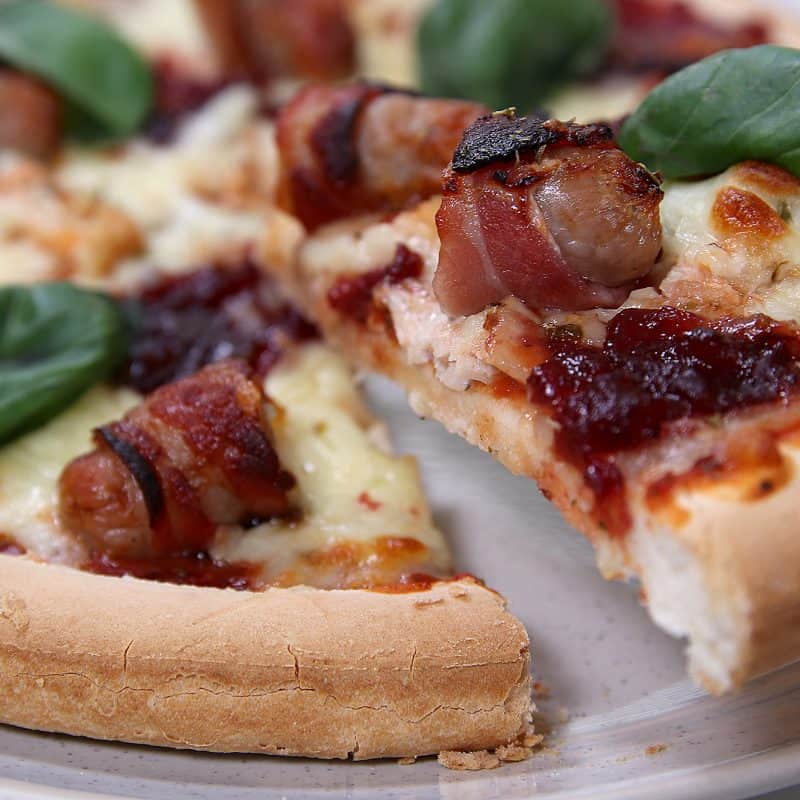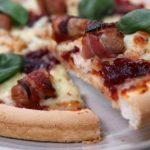 My Leftover Turkey Gluten Free Christmas Pizza Recipe (dairy free & low FODMAP)
Ingredients
gluten free pizza base

4 tbsp passata

1/2 tsp dried oregano

1/2 tsp dried sage

1/4 tsp basil paste

1/2 tsp garlic infused olive oil

dairy free cheese

grated

50g leftover turkey

4-5 leftover pigs in blankets

halved and pre-cooked (ensure they are gluten free & low FODMAP if necessary)

cranberry sauce

salt and pepper

fresh basil leaves

to finish
Instructions
Heat your oven to 200C (or whatever temperature your GF pizza base instructs!)

Make your pizza sauce. In a bowl mix together your passata, garlic infused olive oil, dried oregano, dried sage, basil paste, salt and pepper.

Spread your sauce over the pizza base.

Sprinkle on some of your grated dairy free cheese.

Place on top your leftover turkey and pigs in blankets.

Add more dairy free cheese on top (as much as you like!)

Place in the oven for around 8-10 minutes. (as I said different pizza bases vary!)

Remove from the oven and finish off with some fresh basil leaves.
Notes
* This is enough for the one pizza, just increase the quantities for more.
Thanks so much for checking out my leftover turkey gluten free Christmas pizza recipe! If you're reading this because today is boxing day, then I hope you had a merry little Christmas!
Any questions about the recipe? What leftovers did you throw onto your gluten free Christmas pizza? Please do let me know by leaving a comment below or on Facebook / Twitter / Instagram!
Thanks for reading,
Becky xxx
Oh and don't forget to pin this for later!