I have tried a lot of gluten free pizza bases. I think Venice Bakery UK Pizza Bases are the best on the market. You really can make the best pizza ever in the comfort of your own home!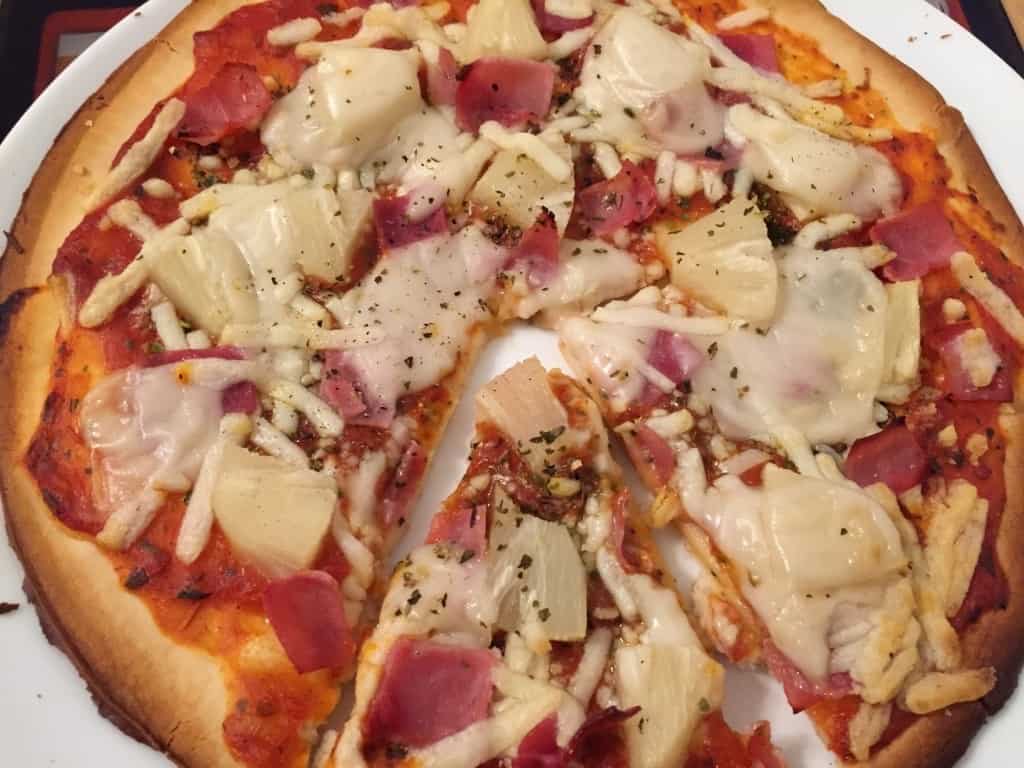 Everyone loves a pizza right? It doesn't matter if your intolerant to gluten or not, we all love pizza, well nearly everyone I guess! It has become more and more the case over the past few years that many restaurants, takeaways and supermarkets have recognised the demand for gluten free pizza bases (as well as yeast, egg & dairy free in some cases). Of course that has been a huge bonus for us pizza enthusiasts!
I haven't tried every gluten free pizza out there I must admit. Not being a huge takeaway
eater I have yet to try a Pizza Hut or a Dominos (I really want to though!), nor have I tried the likes of Ask or Prezzo. Let me know what you think of the pizzas at these places if you have had one, as I would love to know your thoughts.
I have had gluten free pizza out and about in other locations however, for example I had an amazing gluten free pizza at 'Mamas Pizza', which is in the Grassmarket area of Edinburgh. If you ever go up there I would strongly recommend trying it, the range of toppings was first class and the base was deliciously soft yet crisp.
I also always enjoy a slice or two of pizza on trips down to Brighton. 'Infinity Foods', a local independent supermarket there has an amazing bakery at the back of the shop that sells fresh slices of gluten free and vegan pizza. I would again highly recommend grabbing a slice or two whilst you're there. I love it so much I end up bringing some home after the trip as well.
Of course I have tried the gluten free bases of the Pizza Express pizzas too on a couple of occasions and really really rate them. I feel like I am eating a normal pizza if I'm honest. The base has just the right texture and of course getting back the ability to sit and order an American in Pizza Express like a regular person made me super happy. There is a review of the Pizza Express bases in a previous post, so click here if you fancy taking a nosey.
Supermarket gluten free pizza bases have always been a popular purchase for me, whether that is Tesco, Sainsburys or Asda. I buy them so that I can have a pizza at home (obviously!). I always put a ridiculous amount of toppings on them and always finish very satisfied with my creation. However my one problem is that the pizza base rarely manages to crisp and often gets quite soggy beneath my endless toppings. This might be my fault as I pile the pizza too high with tomato, cheese, chicken, salami, pepperoni, mushroom, more cheese etc, nevertheless it would be nice to be able to fill a make my own pizza with that amount of toppings and it be nice and crisp.
Fortunately I have found over the past few months that this certainly can be done! I can't even remember how long ago it was now but pre UK launch, Venice Bakery UK got in touch with me to ask if I would like to sample some of their pizza bases and flatbreads. I of course jumped at the chance and was very excited to receive the bases through the post about a week later.
Venice Bakery UK state on their products and their website that their:
'products are all Free From Gluten, Wheat, Dairy, Soy, Egg, Corn, preservatives, artificial ingredients and GM's. They are suitable for people diagnosed with Coeliac Disease, people who have an intolerance to wheat & gluten or anyone who has chosen the Vegan Diet or simply loves great pizza.'
So pretty much they are making big claims here, and I was hopeful that they would live up to them!
My boyfriend and myself decided that a pizza night was definitely in order, now that we had the bases. So we trooped down to Tesco and bought up a variety of toppings from a tomato sauce and some dairy free cheese, to a bunch of veg & of course some chicken and pepperoni. We chose to use the oval shaped flatbread bases for our pizzas as the Venice Bakery flatbreads were seasoned with Italian herbs and looked to be just the perfect size for us!
Next we layered up our toppings in a messy yet somewhat artistically delicious way and popped them in the oven for around ten minutes… I love how quickly pizza cooks!
What emerged out of the oven around ten minutes later from a crisp delight of a base that withstood all the toppings. The toppings didn't just sit on top, almost as if they were separate, they blended into the base beautifully and didn't make it soggy in anyway. The delicious seasoned Italian herb flavour of the crust was a delight and really gave the pizza that little bit extra that a plain base wouldn't. I don't know why more pizza bases aren't lightly seasoned with Italian herbs come to think of it. Personally I found the Venice Pizza UK pizza base the best I have ever tried since not being able to eat gluten. It beat all restaurant bases so far and also all supermarket bases (though that isn't too hard!). Just the fact that it combined the thin crispiness I love in a base with a lovely soft texture really worked. It wasn't tough, it was easy to slice through and it was easy to pick up and eat with ones hands!
I highly recommend these bases; I feel they could be used for more than just pizza as well. For example you could just have any of the bases as a tear and share hot flatbread or even make a garlic butter and create your own garlic bread. Venice Bakery UK sells their bases on their site in various sizes, which is really handy. You can buy really small bases in packs of 3, the flatbreads in packs of 2 or large pizza bases individually. All the bases can come plain, or with the Italian seasoning infused. I must admit I would always go for the seasoned base now, it was really really delicious!
By the time you have revised an entire takeaway menu, made the phone call and waited for it to arrive you really could have just made your own delicious pizza with a Venice Pizza UK base… that's if you have a base in the cupboard! The great thing about a pizza is that topping wise you can take a look in the cupboard/fridge and put whatever you find on top! So make sure you head over to Venice Bakery UK, give a few bases a try and I guarantee you will never look back. If you want a quick meal after work or have a group of mates coming round for a movie night, with a Venice Bakery UK pizza base in the kitchen, you've got dinner covered! Sorted!
Hope you give them a try; it'll make pizza night a new level of epic. Venice Bakery Gluten Free Pizza Bases rock!
Thanks for reading,
Becky xxx
Comments