I love leftovers! My gluten free turkey curry recipe was made for using up all your leftovers after the madness of Christmas day. It's dairy free and low FODMAP too.
Let's be honest… what's Christmas without leftovers? I have many fond memories of snacking on cold turkey meat in between a mix of Quality Street and Roses as a kid.
But here's a much better way to use up all those leftovers… my gluten free turkey curry recipe!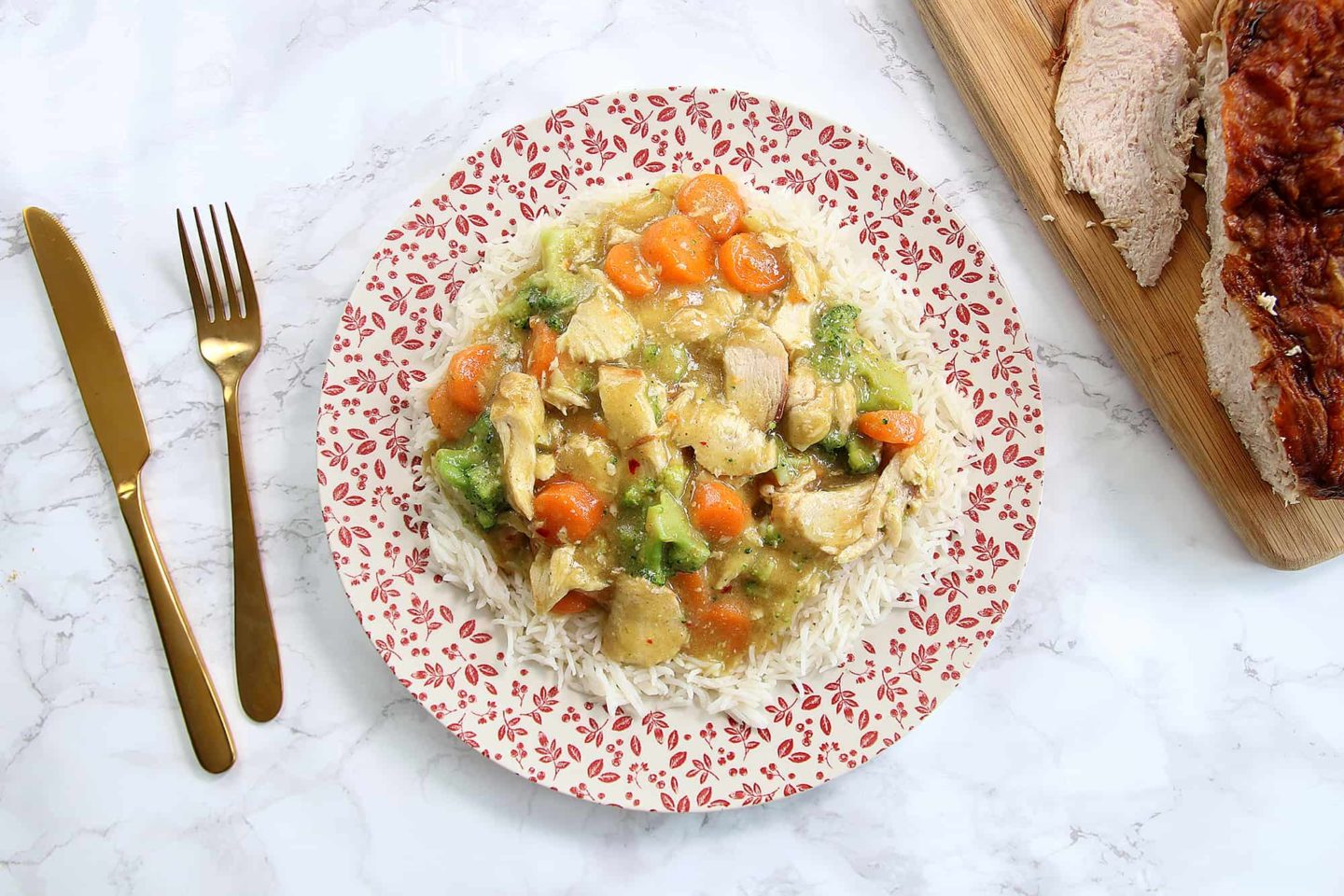 Ok, ok, I get it. You just spent the previous day basting that turkey for 4 hours and you don't really want to be turning the kitchen upside-down for the second day in a row. Don't worry, I've got you covered.
Since your leftover turkey meat and veg will already be cooked, it's simply a matter of making the curry sauce and… that's it!
Once your sauce has nicely thickened, you can throw in all your leftovers, warm them up and enjoy. It really is an amazingly simple and delicious recipe.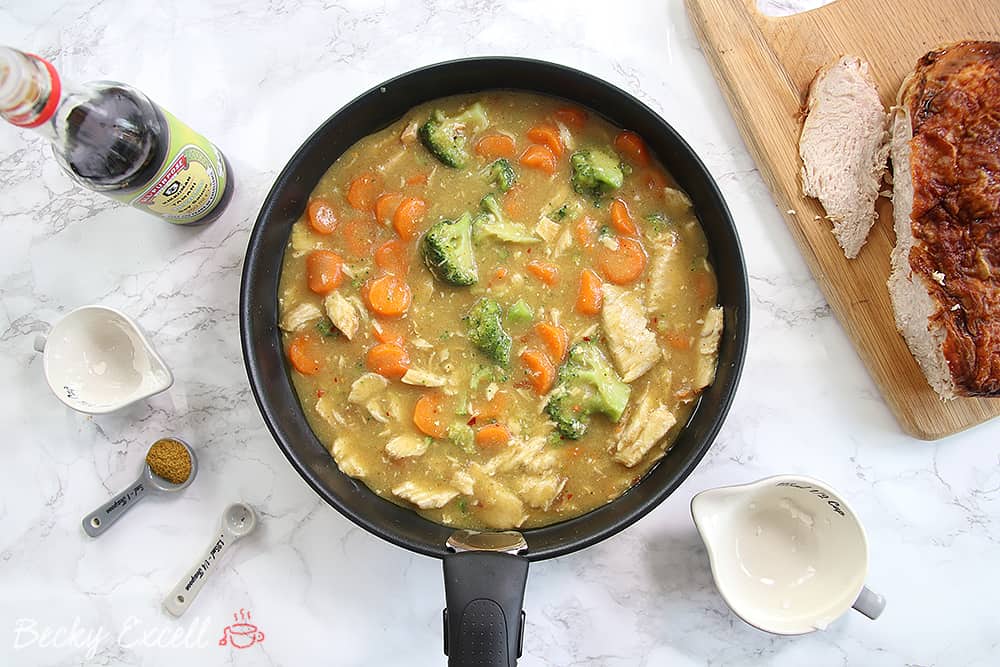 My Mum and I used to just pick up a jar of turkey curry sauce in the past (strategically named for the time of year, it was probably just a regular curry sauce I'm sure) but of course, they aren't gluten free, dairy free or low FODMAP.
But the most important thing of all is, my gluten free turkey curry just tastes so much better. I adapted this recipe from my Chinese chicken curry recipe so it's just like the curry sauce you get from the takeaway. Authentic, warming and lightly spicy.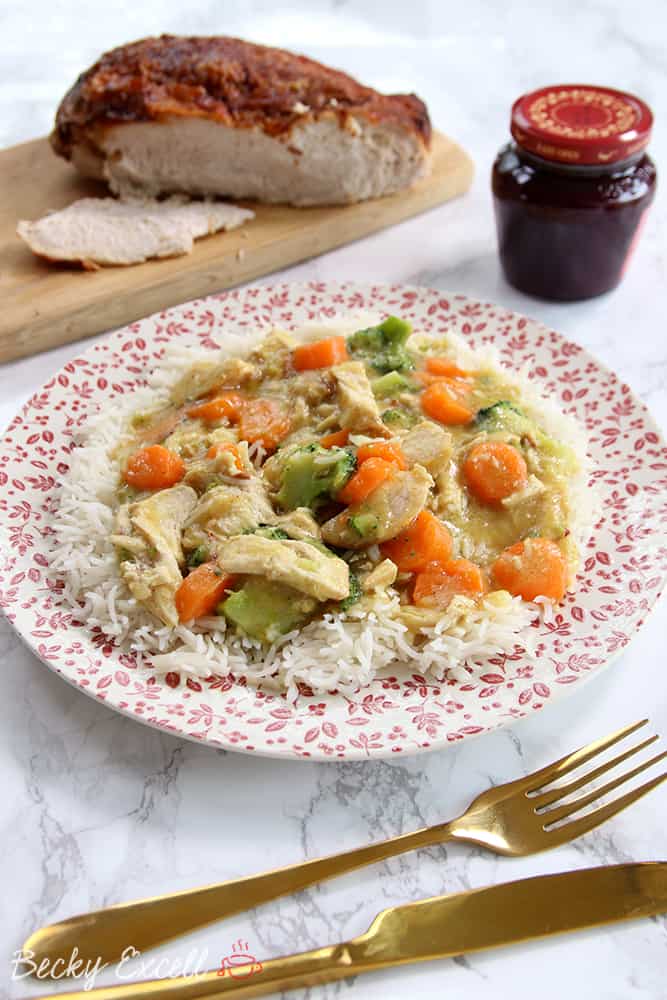 You really can throw in whatever you like with my gluten free turkey curry recipe. I threw in a few veggie leftovers which you'd likely have after Christmas day, like cooked chopped carrots and broccoli.
But trust me, any veg will absolutely sing in this thick, flavoursome curry sauce. Why not throw in roast parsnips? Roast spuds? (think curry sauce and chips. Want.) What about leftover pigs in blankets? How about a side of cranberry sauce?
It's so much fun to just break all the rules and make a really awesome, festive curry!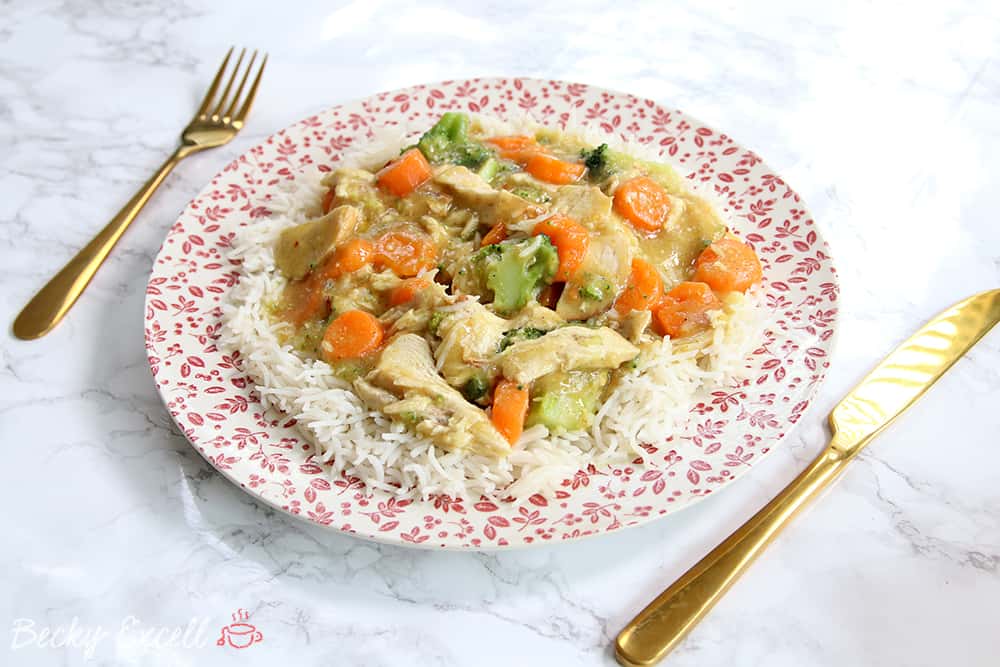 Then, all you need to do is to whip up some boiled rice and your boxing day lunch/dinner is done and dusted. Kick back and relax and do… whatever is you do on boxing day! Awkward family gatherings anyone?
Now, if you're not following the low FODMAP diet, feel free to disregard the next few sentences…
Remember, broccoli is ok in certain amounts on the low FODMAP, so make sure you eat no more than 1 cup measurement of the green stuff.
A lot of curry powders (basically every single one) aren't low FODMAP and contain garlic or onion powder. I'd recommend making my mild low FODMAP curry powder recipe ahead of boxing day so you're all prepared in advance.
Finding low FODMAP chicken stock is a little tough, but it does exist! Check out this one at Asda which I found through the FODMAP by Food Maestro app.
This recipe was made to be low FODMAP and though it might require a little more effort, it's totally possible and worth it!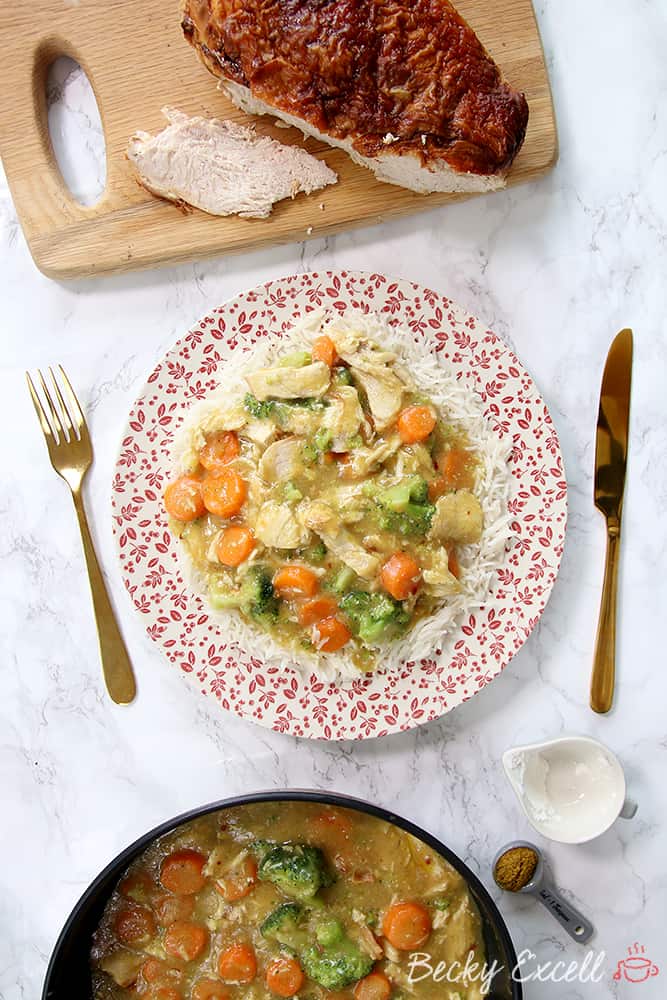 Any tips? Hmm… this recipe is just so simple!
Make sure you chop up your leftover turkey into more bitesized pieces and you're good to go, really. Once you've got all your spices measured out and your gluten free chicken stock ready, it'll only take you 10 minutes to make a big ol' portion of my gluten free turkey curry.
Well, get your festive leftovers ready, it's time to cook my gluten free turkey curry recipe!
My Leftover Gluten Free Turkey Curry Recipe (dairy free & low FODMAP)
A warming turkey curry made for pre-cooked Christmas leftovers. It's gluten free, dairy free and low FODMAP.
Ingredients
2 tbsp coconut oil

2 tbsp gluten free plain flour

400ml gluten free chicken stock

for low FODMAP ensure your stock contains no onion or garlic powder

A dash of gluten free soy sauce

2 heaped tsp of mild curry powder

I make my own to ensure low FODMAP, recipe linked above. Otherwise regular curry powder is fine.

1/2 tsp ground ginger

1/2 tsp chilli flakes

pinch of ground cumin

300g leftover turkey

or as much as your have spare

leftover veggies

if low FODMAP ensure the portion sizes are suitable

fresh chives

chopped on top to garnish
Instructions
In your wok, heat your coconut oil on a low heat. Once melted, add your gf flour, curry powder, cumin, chilli flakes and ginger to the wok. Mix it around in the oil for about 30 seconds or so.

Pour in your stock and add a dash of soy sauce. Mix thoroughly for a few minutes. You should see the sauce start to thicken, become smooth and consistent.

Add your leftover turkey (pre-cooked) and stir in, followed by any leftover veggies (also pre-cooked).

Allow to cook until everything is nice and hot (should only take a few minutes)

Serve on top of a bed of sticky jasmine rice and sprinkle some fresh chives on top.
Thanks so much for checking out my gluten free turkey curry recipe! If you're reading this because today is boxing day, then I hope you had a merry little Christmas!
Any questions about the recipe? What leftovers did you throw into your gluten free turkey curry? Please do let me know by leaving a comment below or on Facebook / Twitter / Instagram!
Thanks for reading,
Becky xxx
Oh and don't forget to pin this for later!