My sticky gluten free gingerbread loaf cake is one of my family's all time favourites. With my Dad's birthday coming up, this cake had to happen! Of course, it's dairy free and low FODMAP too.
Ok, my sticky gluten free gingerbread loaf cake isn't exactly what you think of when you think of a birthday cake. But my Dad loves the taste of gingerbread, so why not take it to the next level with a gingerbread loaf cake?!
Just like my gluten free ginger biscuits recipe (which he also loves!) this loaf cake is fiery, warm and spiced to perfection. I love the smell of ginger and the smell of this cake when it's been freshly baked is like pure heaven!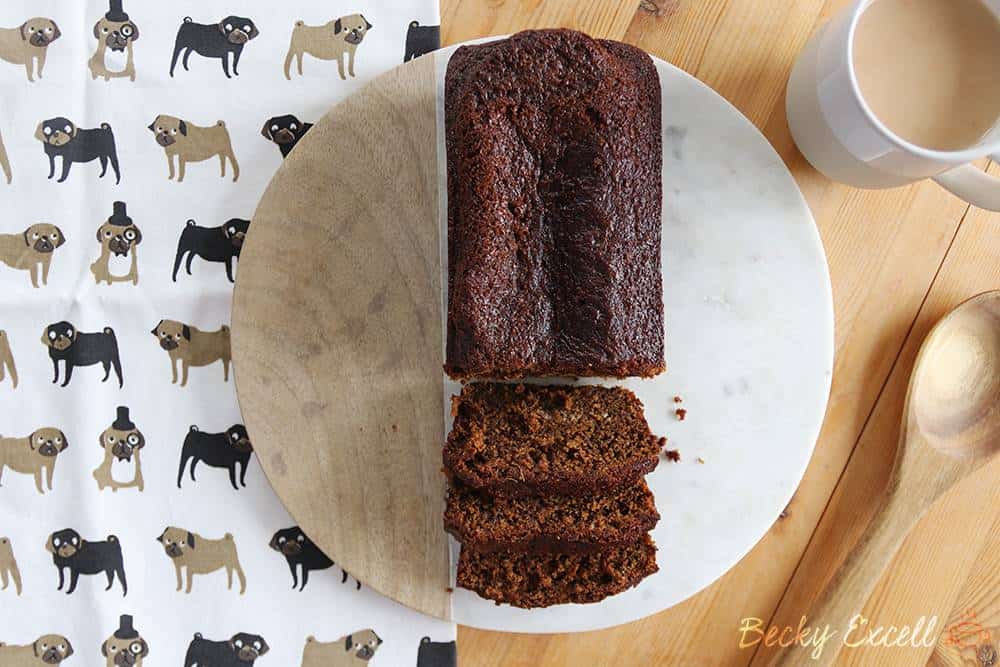 I hope you'll all agree that nothing makes a better birthday present than a freshly baked cake! I don't know about you, but the older people get, the harder it seems to be to buy them anything… even Mark is becoming quite difficult to buy for these days. Stop buying yourself things, people!
But you can't buy my sticky gluten free gingerbread loaf cake! As you can tell, I'm a firm believer that a freshly baked cake is the solution to all of life's problems. But hey, it's got me this far!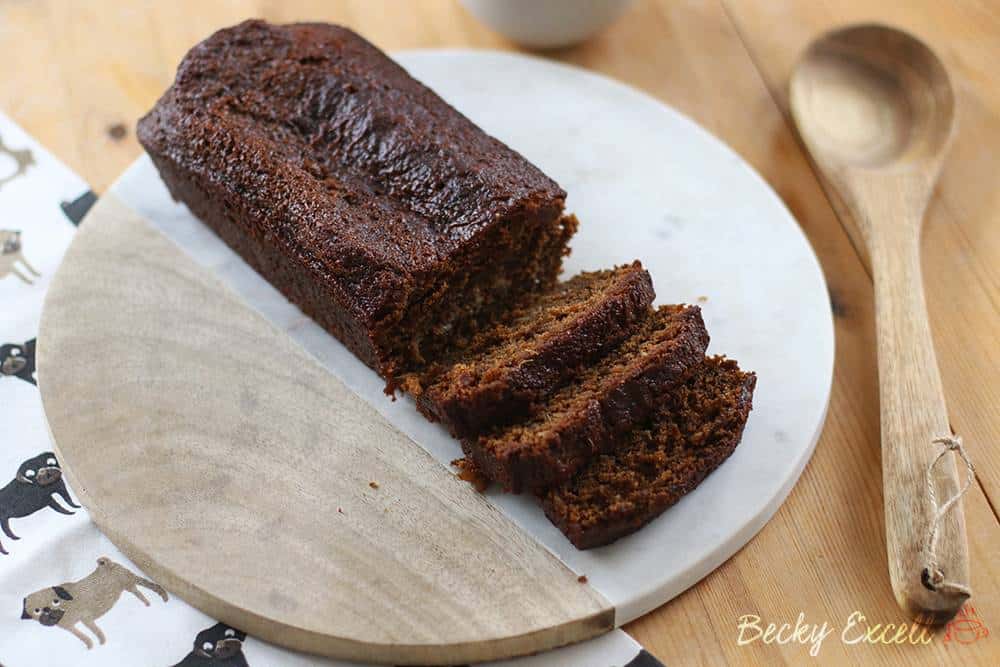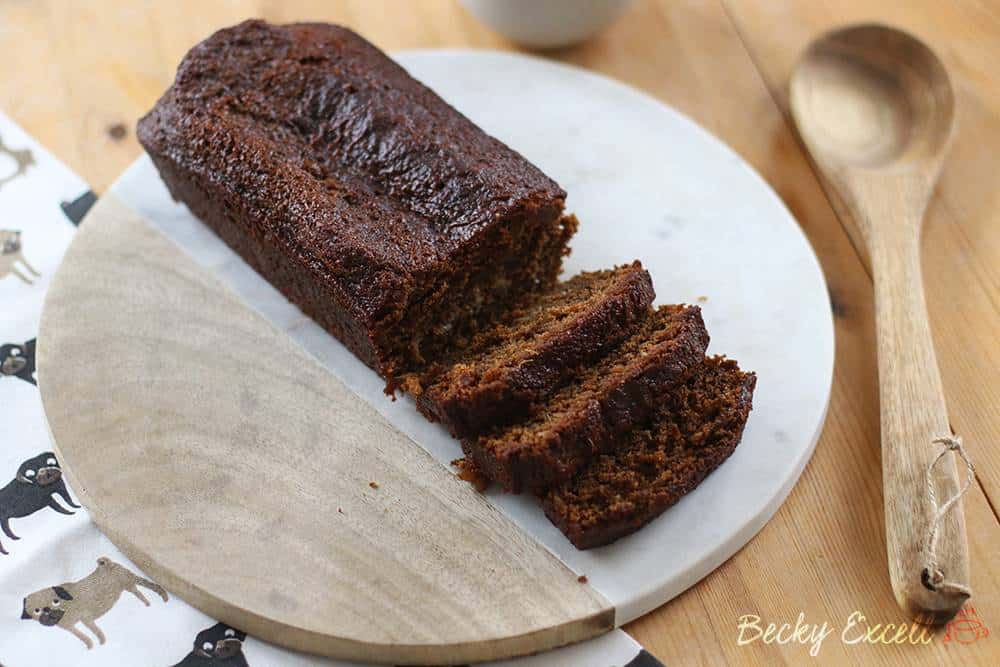 I absolutely adore cooking with stem ginger and that's the secret ingredient to my sticky gluten free gingerbread loaf cake. I usually make my best ginger-based baking using simple ground ginger which works a charm.
But once you start adding stem ginger, that's where things really start heating up! I love the warmth that ginger provides any bake and if you do too, my sticky gluten free gingerbread loaf cake is definitely for you.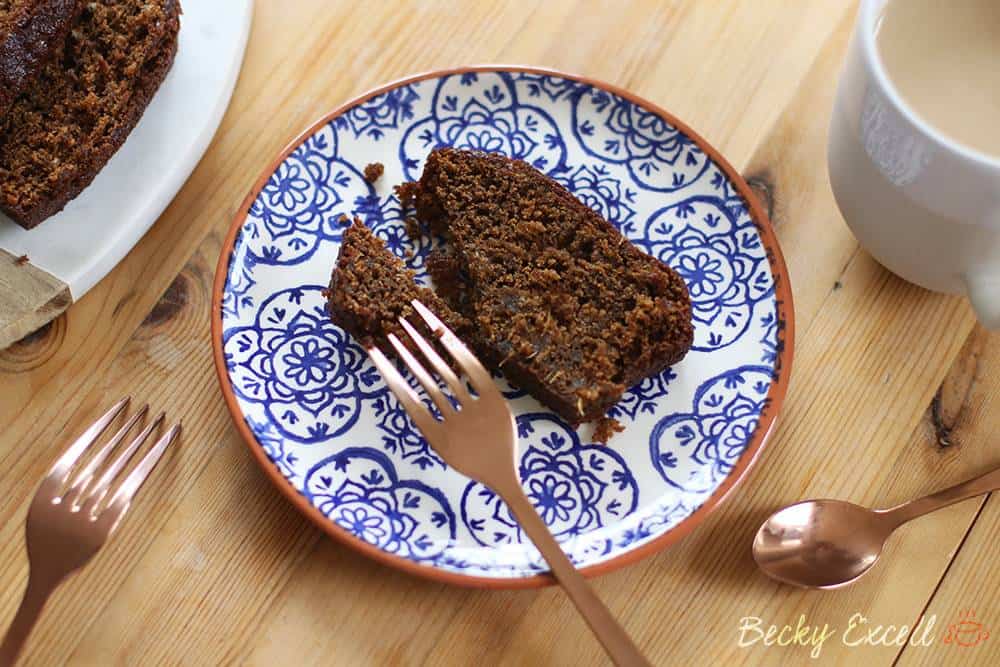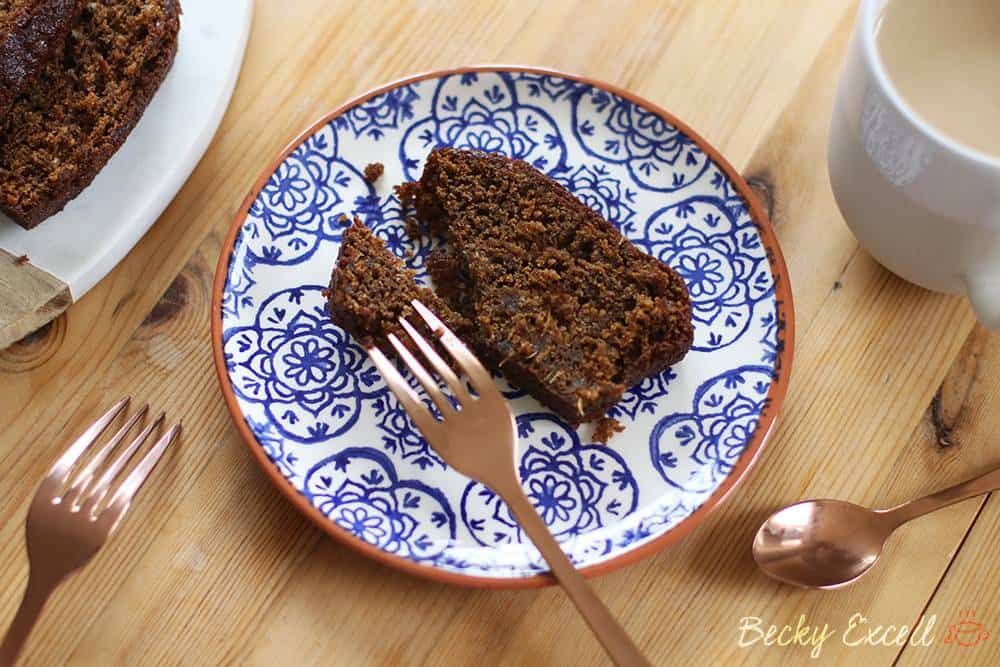 It really is such an easy recipe to make and the results are fit for any birthday boy or girl, no matter what age! Here's the recipe…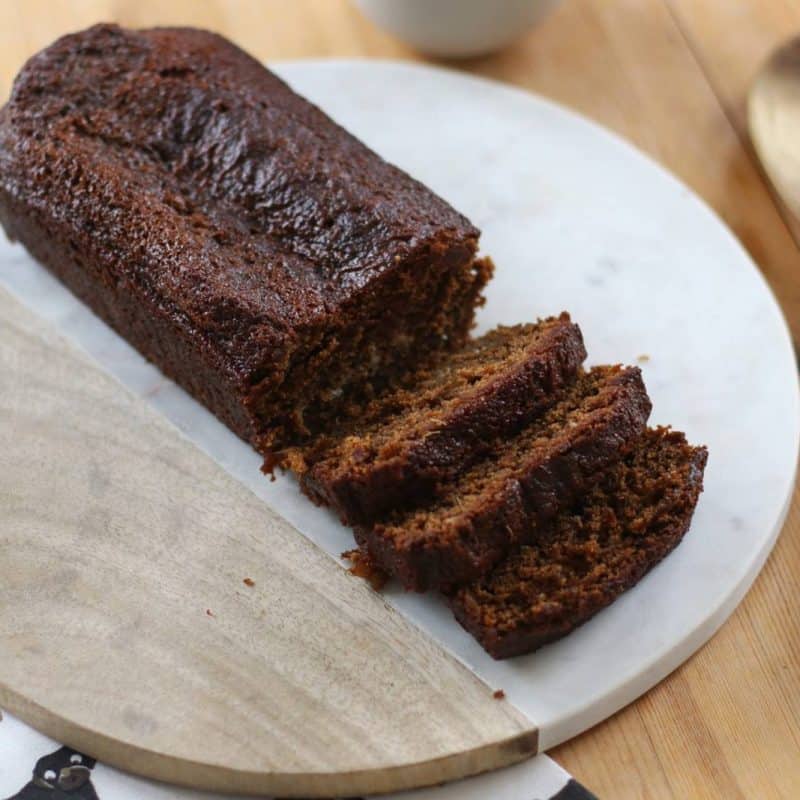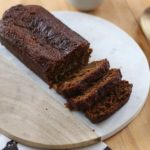 My Sticky Gluten Free Gingerbread Loaf Cake Recipe
Ingredients
100g golden syrup

100g black treacle

75g dairy free spread

75g light soft brown

150g gluten free plain flour

1 tsp ground ginger

1/2 tsp ground all spice

1 tsp ground cinnamon

1 egg

beaten

75ml dairy free milk

1 lemon

zest

1/2 tsp bicarbonate of soda

dissolved in 1 tbsp hot water

75g preserved stem ginger

finely chopped
Instructions
Line a 2lb loaf tin (standard size) with greaseproof/parchment paper.

Preheat the oven to about 170C.

Measure out your black treacle, dairy free spread, golden syrup and sugar into a saucepan. Heat gently until the butter has melted and all is combined. Put to one side to cool down slightly.

Sift all of your dry ingredients (gluten free flour, ginger, all spice, cinnamon) into a mixing bowl.

Make a well in the centre of your dry ingredients and pour in your beaten egg, cooled syrup mixture, dairy free milk and lemon zest.

Beat well by hand using a wooden spoon until the mixture is smooth.

Add 1 tbsp of hot water to your bicarbonate of soda and add to the mixture alongside your finely chopped stem ginger.

Pour your mixture into your prepared loaf tin and bake for around 50 - 55 minutes. The cake should be a little firmer than most cakes when they come out of the oven. (Check with a skewer that it is cooked through)

After 5-10 minutes in the loaf tin, remove and allow to cool on a cooling rack.

As with any ginger cake, I find the flavour develops over time. You can eat it straight away or wait a few days if you wish (it's difficult to!) Enjoy!
Notes
* as an optional extra, once the cake has cooled you might like to mix together a little icing sugar (50g) and lemon juice (1 - 2 tbsp) and drizzle over the cake. I find the cake to be flavoursome and sticky enough as it is, but ginger and lemon to go famously well together!
Thanks so much for checking out my sticky gluten free gingerbread loaf cake!
What's your favourite unconventional birthday cake? Let me know by leaving a comment below or on Facebook / Twitter / Instagram.
Thanks for reading and happy baking,
Becky xxx
Oh and don't forget to pin this before you leave!