I'm super proud of my gluten free gin and tonic drizzle cake recipe. Before you ask, yes it does taste as good as it looks! It's dairy free and low FODMAP too.
I've been literally surrounded by gin lately, so my gluten free gin and tonic drizzle cake recipe was an inevitable eventuality. My brother and his girlfriend absolutely adore gin so I made this especially for them.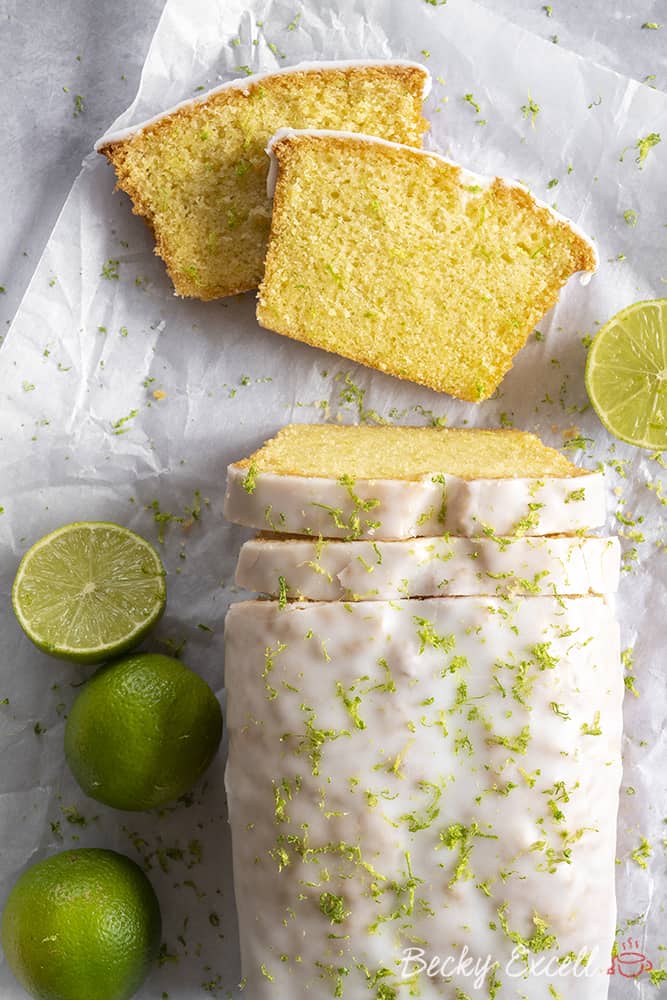 Myself and Mark aren't massive gin drinkers (or drinkers to start with thanks to our stomachs!) but we both absolutely loved a slice of my gluten free gin and tonic drizzle cake. It's a bit like a lime drizzle cake with a subtle yet unmistakable hint of gin, which I can assure you is absolutely divine.
Of course, there's gin in the cake itself and the icing too which infuses this cake with those lovely delicate notes of gin. There's tonic water in the syrup that's drizzled too. It goes without saying, if you love gin and tonic… you will love this cake!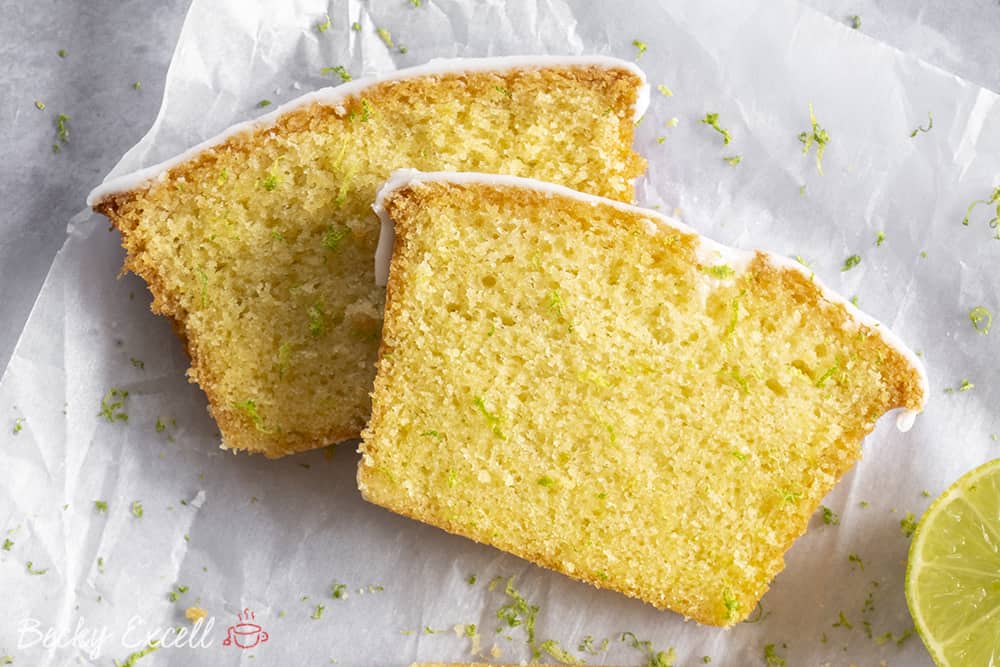 I see gin absolutely everywhere recently and so many new brands popping up. Myself and Mark only ever used to use gin when we made a Long Island Iced Tea (our old fave) so the whole gin craze is pretty new to us.
My bro and his girlfriend are the experts these days. We even brought them back a bottle of Brighton gin from our recent trip. I know they're enjoying it because of how little was in the bottle last time I saw it! I think that means they'd probably recommend it.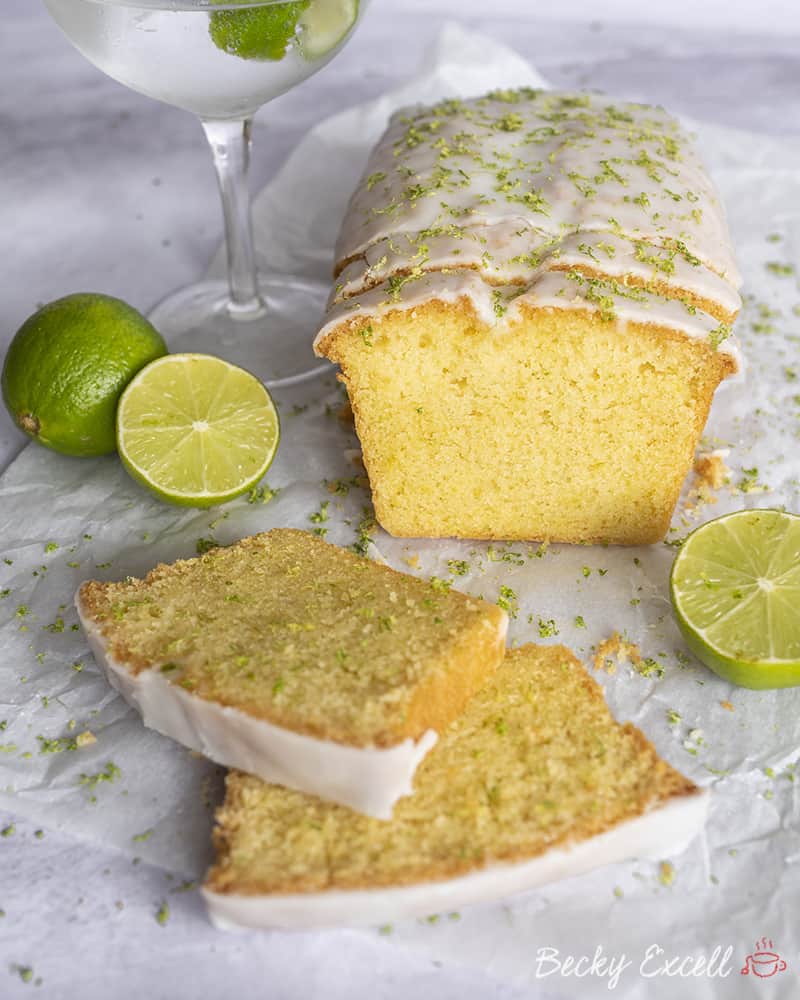 This gluten free gin and tonic drizzle cake recipe would work great with any brand of gin really. I used Gordon's gin because that's what Mark and I always used to make our Long islands with, but maybe you could try a few different brands and let me know what you prefer?
The same goes for tonic water, there's so many different varieties and brands these days. I was tempted to try elder-flower tonic water but I decided to stick with classic tonic water. Again, why not experiment and see what you prefer?
Anyway, here's my gluten free gin and tonic drizzle cake recipe. Cheers and bottoms up!
Gluten Free Gin and Tonic Drizzle Cake
Here's my gluten free gin and tonic drizzle cake! It's crisp and refreshing like a G+T and dairy free option too.
Ingredients
For the cake
200

g

butter, softened

(dairy free alternative if necessary)

200

g

caster sugar

4

eggs

200

g

gluten free self raising flour

1/2

tsp

baking powder

1/4

tsp

xanthan gum

2 lime

(zest)

75

ml

gin
For the drizzle
75

g

caster sugar

35

ml

tonic water

35

ml

gin
For the icing
150

g

icing sugar

lime juice

2

tbsp

gin

2

lime, zested

(for the topping)
Instructions
Line a 2lb loaf tin (standard size) with greaseproof/parchment paper.

Preheat the oven to about 180C / 160C fan.

Cream the softened butter and caster sugar together until pale, light and fluffy. This can be done by hand or with an electric hand mixer.

At your eggs one at a time, beating in between each one.

Fold in your gluten free self raising flour, xantahn gum and baking powder.

Then fold in your lime zest and finish by adding the gin to the mixture. Fold the gin in fully.

Spoon your mixture into the tin and bake for about 50 minutes until cooked through. (use a skewer to check)

Whilst your cake is cooking make your drizzle (you will need this immediately after you take your cake out of the oven). Place your caster sugar, gin and tonic water in a saucepan and heat until the sugar dissolves. Allow to boil for a minute.

When you take your cake out of the oven, poke holes in the top (like you would a lemon drizzle cake) and pour over your gin drizzle (I warm my drizzle up if it's gone cold). Leave to completely cool afterwards.

Whilst the cake cools you can make your icing. Place your icing sugar in a bowl and add 2 tbsp of gin. Continue to add some lime juice until you get to the right consistency for your glace icing.

Pour your icing all over your cake. Grate some fresh lime zest for decoration. Allow to briefly set.
Notes
* If you do not need to remove dairy then you can use softened butter rather than dairy free spread.
* If you feel like you want to have more gin in the cake, add more to the drizzle!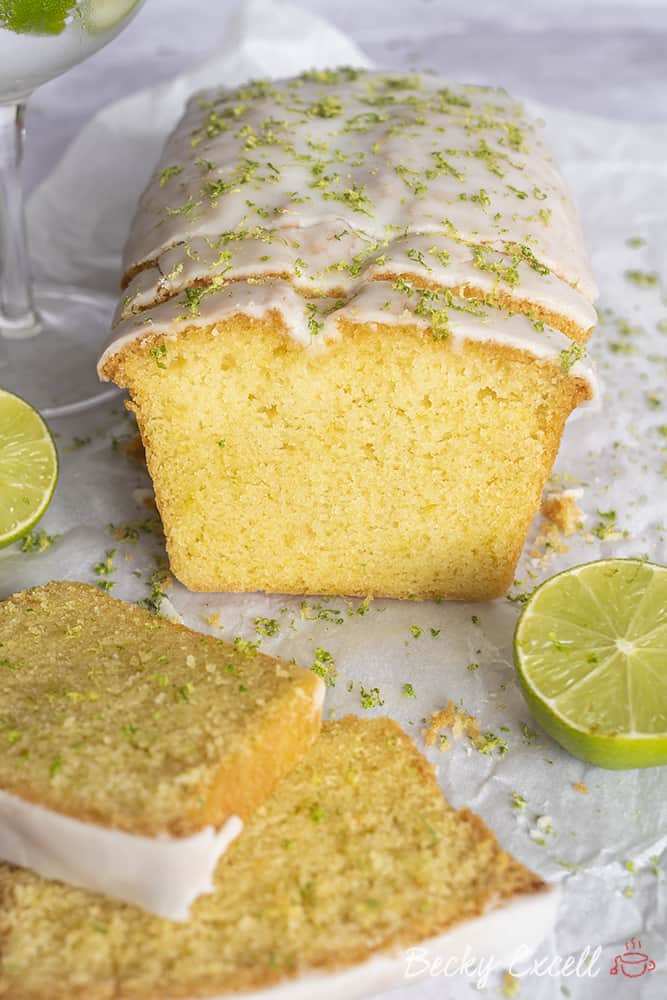 Thanks for checking out my gluten free gin and tonic loaf cake recipe! Please, please, please send me a photo if you bake it as I love seeing your creations.
Let me know if you get the chance to give it a try by leaving a comment below or on Facebook / Twitter / Instagram.
Thanks for reading and happy baking folks,
Becky xxx
Oh and don't forget to pin this before you leave!