Gluten free red velvet cake anybody? It's a cake that needs no introduction, yet here I am introducing it to you! Reader, meet my red velvet cake. Red velvet cake, meet my reader. Oh, it's dairy free and low FODMAP too.
Gluten free red velvet cake is pretty hard to find out in the wild. You might think that's because it's super complicated to make gluten free or dairy free… but it's really not! This recipe is super simple, rich, moist and indulgent.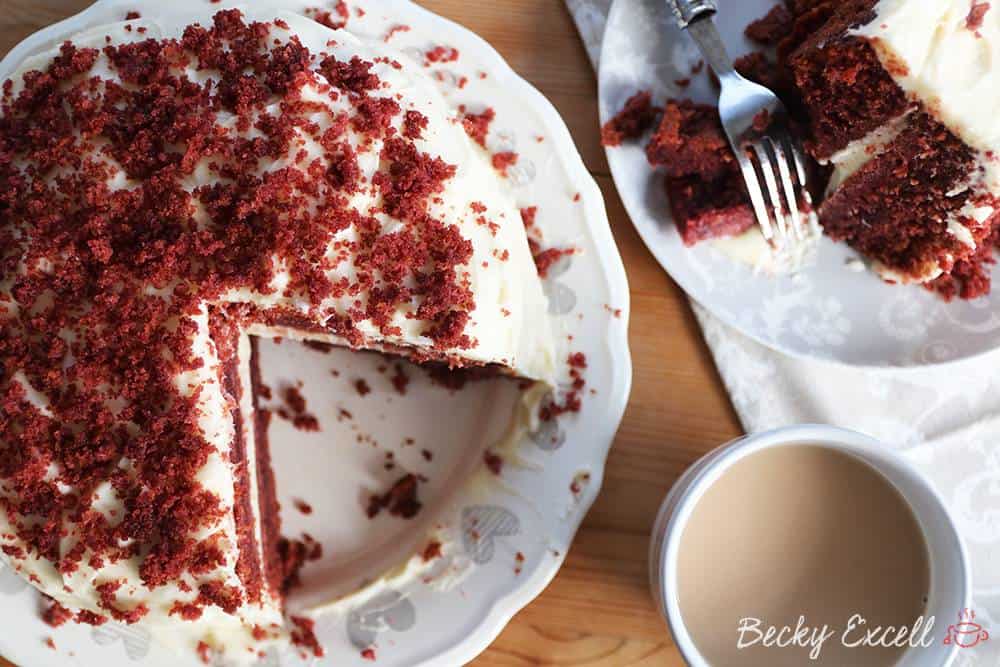 I must say, it's a strange ol' life when you can't eat 90% of all foods whilst you're out and about. On the one hand, it's a total pain and it can really get you down. But for me, it just motivates me and inspires me to get into the kitchen and recreate everything I'm constantly missing out on.
No longer do I have to simultaneously drool and cry over that amazing red velvet cake that I keep seeing in the windows of bakeries in Brighton. And neither do you! Because if my baking all goes well, I'll always share it with you guys here on my blog, like my gluten free red velvet cake.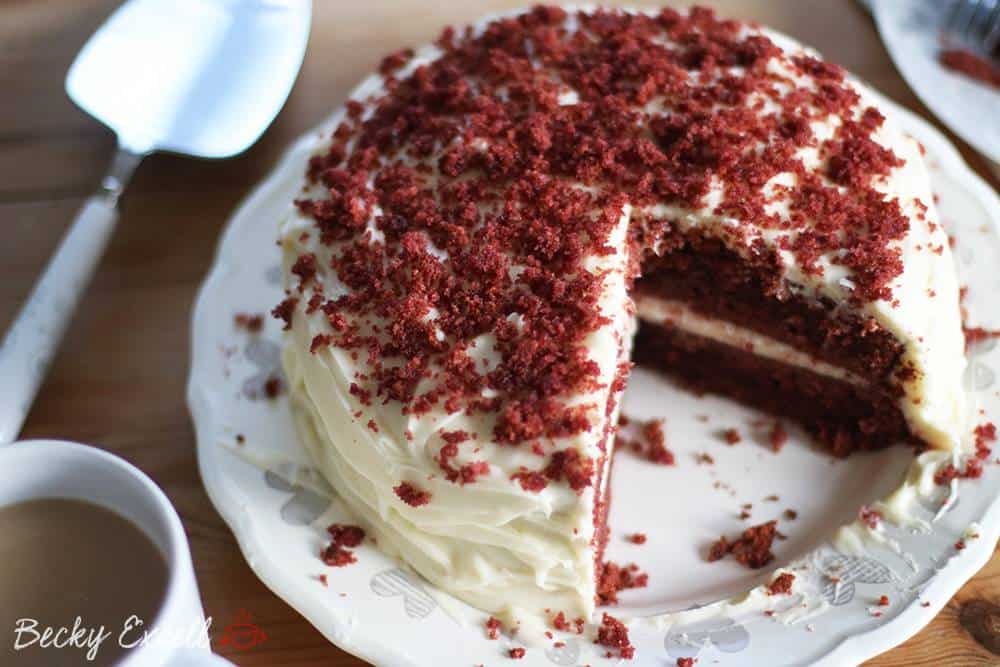 Whilst not being able to eat anything is an absolute pain at the best of times, in a weirdly ironic way, I probably wouldn't be doing what I love right now if I could just eat anything. So in a round-a-bout way, I guess I should be grateful that nothing agrees with me?!
I hope you know understand what I mean! I guess what I'm trying to say is that this gluten free red velvet cake recipe absolutely epitomises that rather confusing, rather odd notion. At the very least, it shows that any negative can be somehow turned into a positive if you keep plugging away.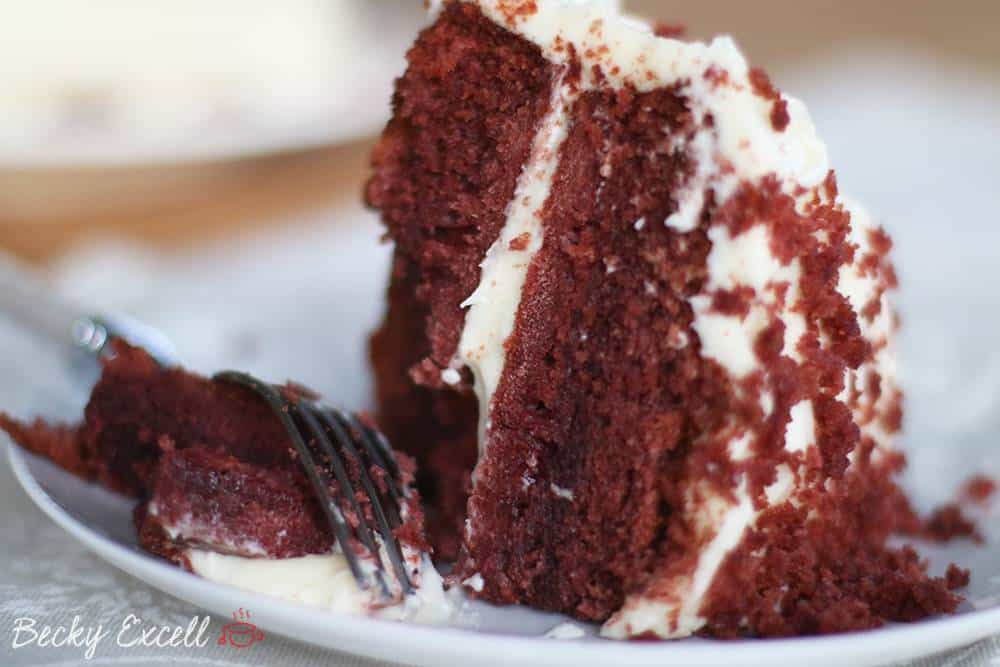 Anyway, enough about me! My gluten free red velvet cake makes no compromises on taste, texture or looks. It's so easy to get that vibrant red colour that makes this cake so iconic.
So if you've been missing out on a red velvet cake like I have, I hope that after making this recipe, it was well worth the wait 🙂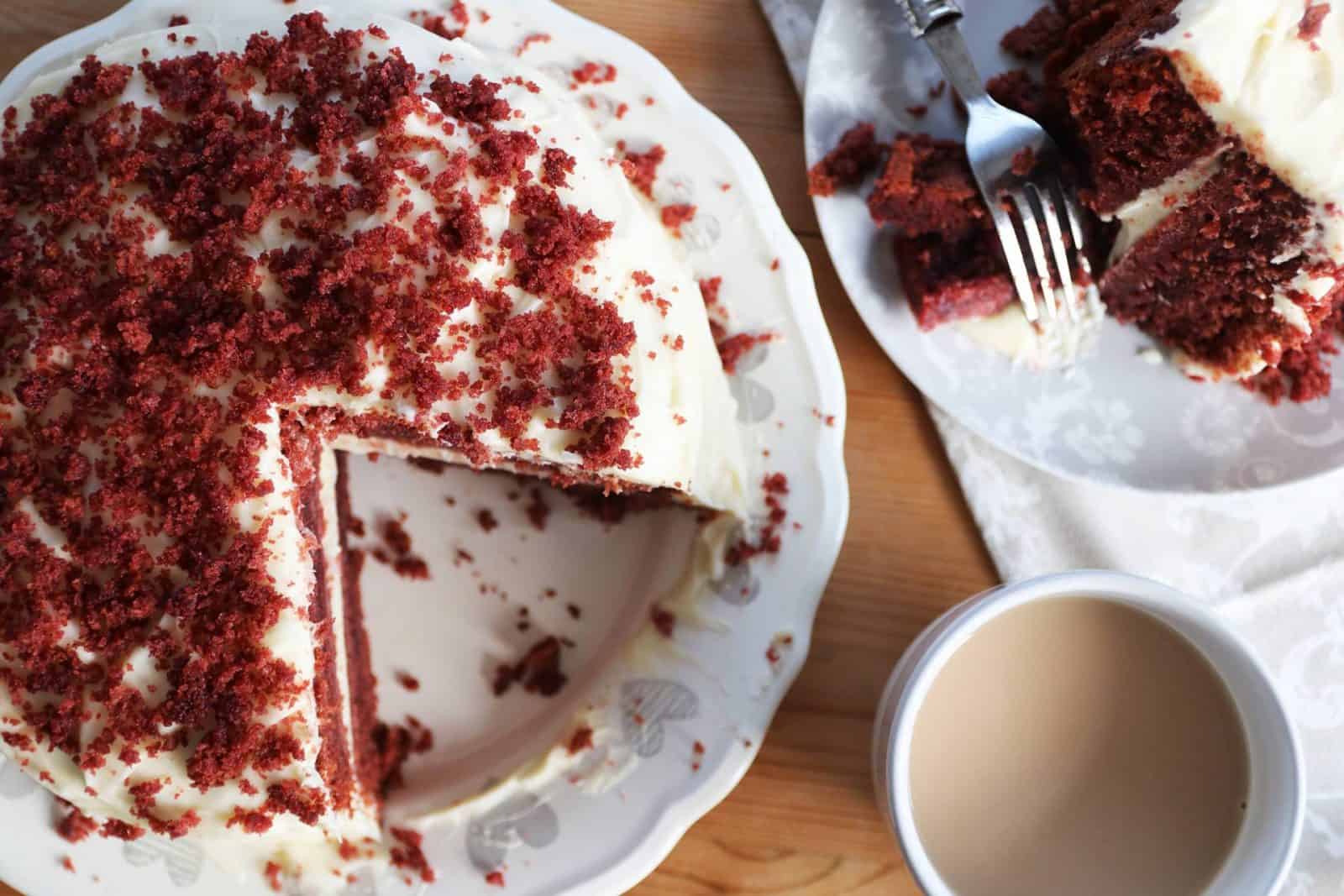 Gluten Free Red Velvet Cake
2017-08-22 09:59:46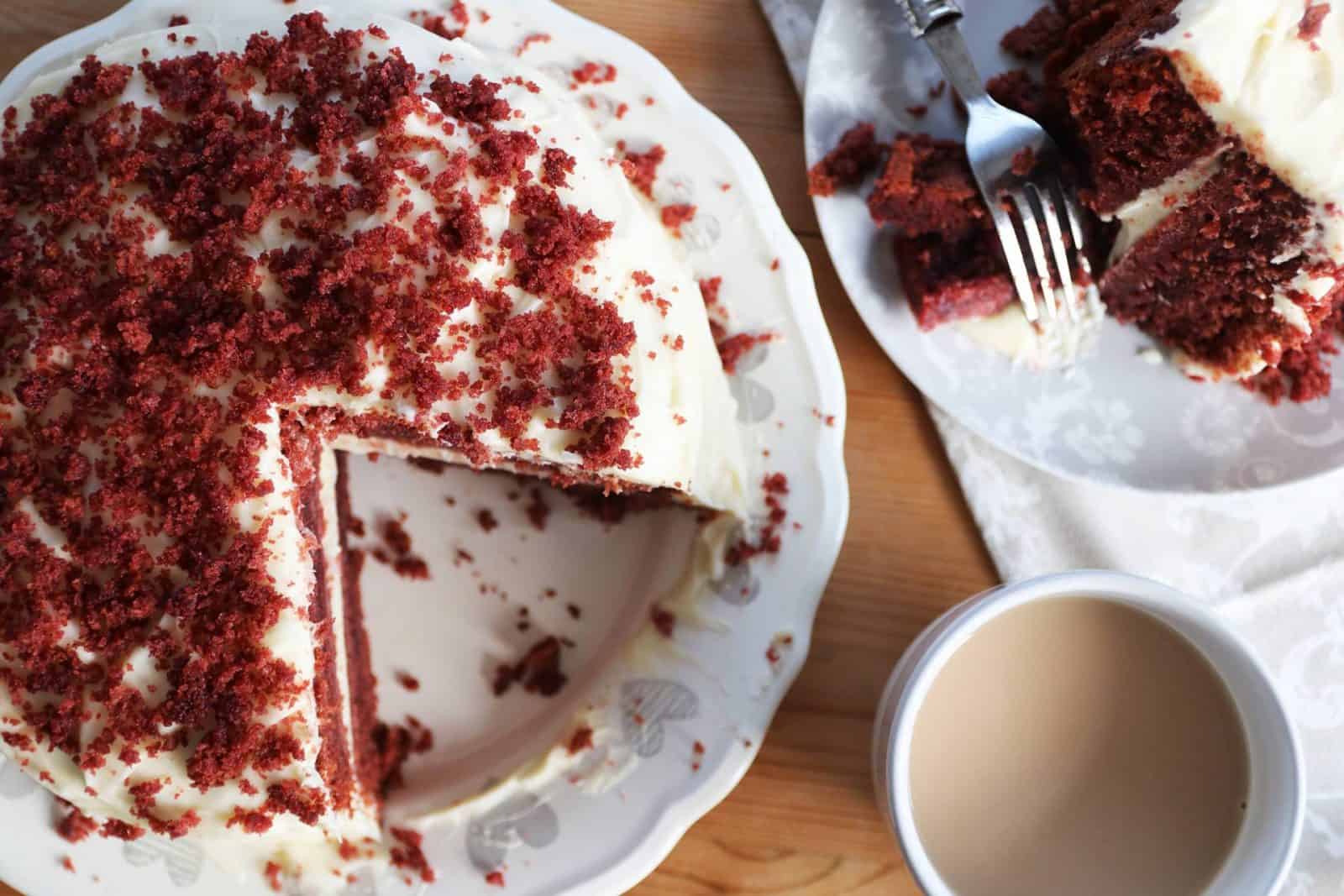 For the cake
* 115g dairy free spread (room temp)
* 400g granulated sugar (you can use caster sugar too here)
* 240ml vegetable oil
* 4 large eggs (room temp)
* 1 1/2 tbsps vanilla extract
* 1 tsp white vinegar
* 240ml buttermilk (mine is homemade)
* red gel food colouring (I use Dr Oetker Ultra Red Gel)
* 345g gluten free plain flour
* 1 tsp bicarbonate of soda
* 10g cocoa powder (ensure it is dairy free)
For the icing
* 100g dairy free spread (room temp)
* 220g dairy free cream cheese (I use Tofutti) (room temp)
* 500g - 600g icing sugar
* 1/4 tsp vanilla extract
Instructions
1) Prepare your tins. Grease and line 2 round cake tins with parchment paper.
2) Preheat the oven to about 175C.
3) Make your own dairy free buttermilk. Add 1 tbsp of white wine vinegar or lemon juice to 240ml of dairy free milk. Stir thoroughly and then allow to sit for 5 minutes. The 'buttermilk' will then be ready to use later in the recipe.
4) Beat your dairy free spread till smooth and creamy.
5) Add your sugar and mix together until nicely combined.
6) Add your oil and mix for a little longer, it doesn't look all that pretty at this stage! (I use an electric hand mixer)
7) Separate your 4 eggs and add the yolks along with the vanilla extract to your mixture. (Do keep your eggs whites for later) Mix until combined.
8) Mix in both your food colouring and your vinegar. I actually used 2 full tubes of Dr Oetker Red Gel in this recipe and it came out lovely and red.
9) Sift all your dry ingredients (flour, bicarbonate of soda, cocoa powder) into a separate bowl.
10) Then add your dry ingredients gradually in sections, alternating with your dairy free homemade buttermilk. Mix to combine, but importantly, don't over mix at this stage.
11) Next whisk your egg whites together until they become a little foamy. Fold these into your mixture which should thicken up. (Don't worry if the cake mixture doesn't look perfect at this stage, I find mine doesn't always but sorts itself out in the oven!)
12) Pour your batter evenly between two tins. (I actually put a very small amount of mixture into a cupcake case to bake too (for half the time) just so I can crumble it for decoration on top of the cake later.
13) Bake for about 30 minutes (Check with a skewer to make sure it is cooked through).
14) Once cooked allow to cool completely in their tins.
15) In the mean time, make your icing. Beat your dairy free spread until a little smooth and creamy.
16) Add your dairy free cream cheese and vanilla extract. Mix until smooth again (you could use an electric hand mixer here).
17) Gradually add your sifted icing sugar. I add around 150g at a time and mix it in. The cream cheese mixture will absorb all the icing sugar each time. Continue to add icing sugar until it's the right consistency for you (the icing will firm up once you have iced the cake and refrigerated it so it doesn't have to be really stiff).
18) To assemble your gluten free red velvet cake, place the first cake tier on your serving plate and spread with cream cheese icing. Sandwich with your top tier.
19) Spread the rest of the icing all over the top and sides of the cake with a palette knife until it's completely covered. (if it looks messy at first, don't worry mine did!! Once you chill it a little the icing holds a lot better. You can even touch up your icing if you need to)
20) I like to finish mine by crumbling some red velvet crumbs on top. (I mentioned making a little cupcake earlier to do this - it is optional though!)
21) I like to chill my red velvet a little before serving to help the icing, but then it's ready to serve, enjoy!
Notes
There might be a lot of steps to this cake, but I just like to separate them out when I bake to make each step quite simple 🙂
Gluten Free Cuppa Tea | Food blog based in London, UK. Low FODMAP. Dairy free Recipes.. https://glutenfreecuppatea.co.uk/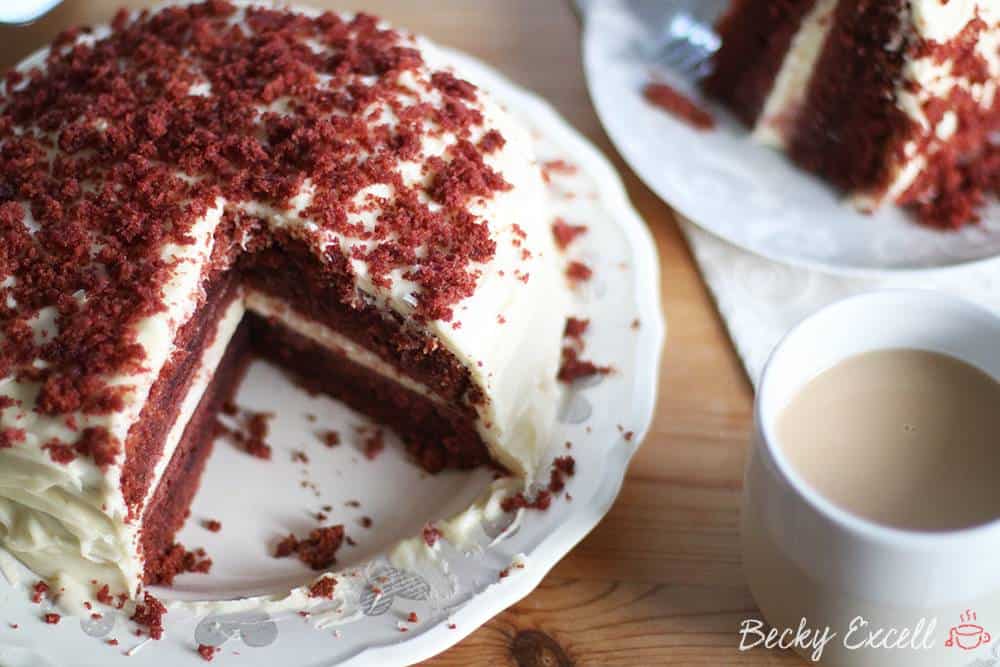 Thanks for checking out my gluten free red velvet cake recipe!
Let me know if you get the chance to give it a try by leaving a comment below or on Facebook / Twitter / Instagram.
Thanks for reading and happy baking,
Becky xxx
Oh and don't forget to pin this before you leave!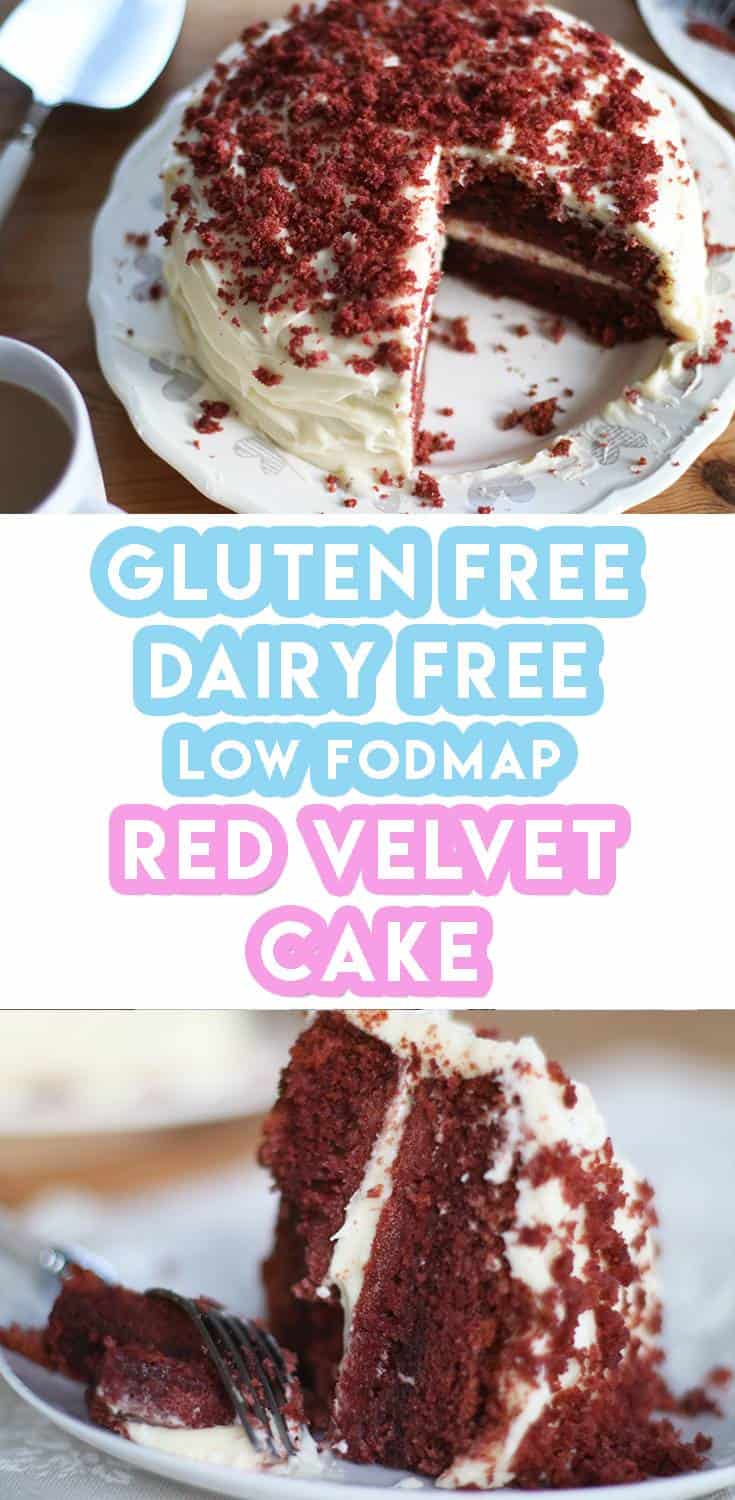 Comments