Yep, I'm back with another stolen recipe from Mum! But of course, my gluten free fish pie recipe has had a few tweaks so you can make it dairy free and low FODMAP too if you want!
Now it's getting a little chilly, I absolutely had to come back and update my gluten free fish pie recipe. It's a dish that my Mum alwaaaays used to make when I lived at home, so for that reason I think I'll love it forever!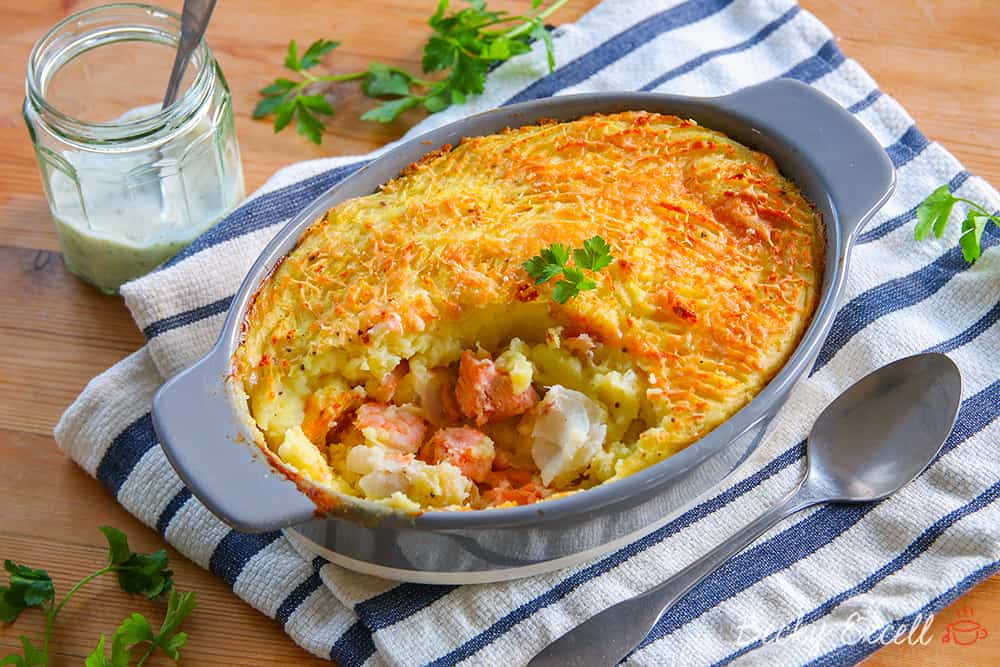 I mean after all, when you move out of your parents house, it's a wise idea to steal as much of their stuff as possible as fending for yourself out in the wild is tough.
I ended up stealing this recipe from my Mum and my brother ended up taking one of their TVs. But hey – we all have different priorities!
So I made this fish pie when I was at uni, when Mark and I moved into our first flat and presently, now we have our very own home together.
It's not exactly what I'd call 'fast food' but it sure is bloody easy to whip up. The longest part of creating this recipe comes simply from placing the fish pie in the oven. But feel free to just relax whilst it's cooking up!
(well, don't forget to set a timer before you start meditating and get interrupted by the smoke alarm)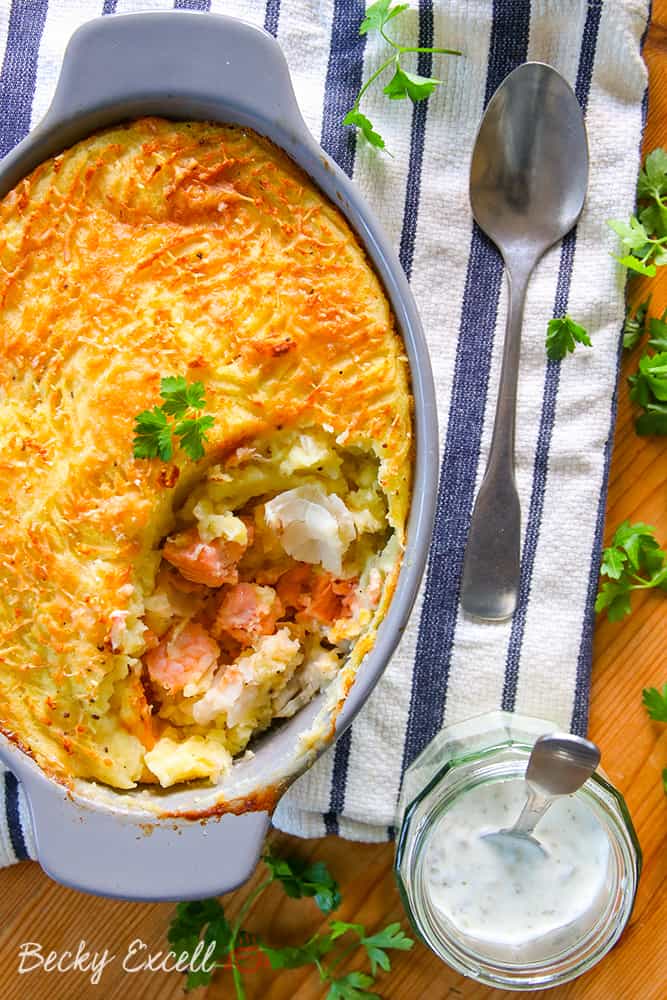 So, what's in my gluten free fish pie?
Great question, I'm glad you asked! Nothing.
(that was a joke)
There's salmon, smoked haddock, white cod and juicy prawns, dressed in a creamy white sauce, topped with fluffy mash and a crispy cheesy top.
Now that's a recipe worth stealing, right?
If you love this recipe, I'd also recommend checking out my Mum's gluten free lasagna recipe which I obviously also stole from her.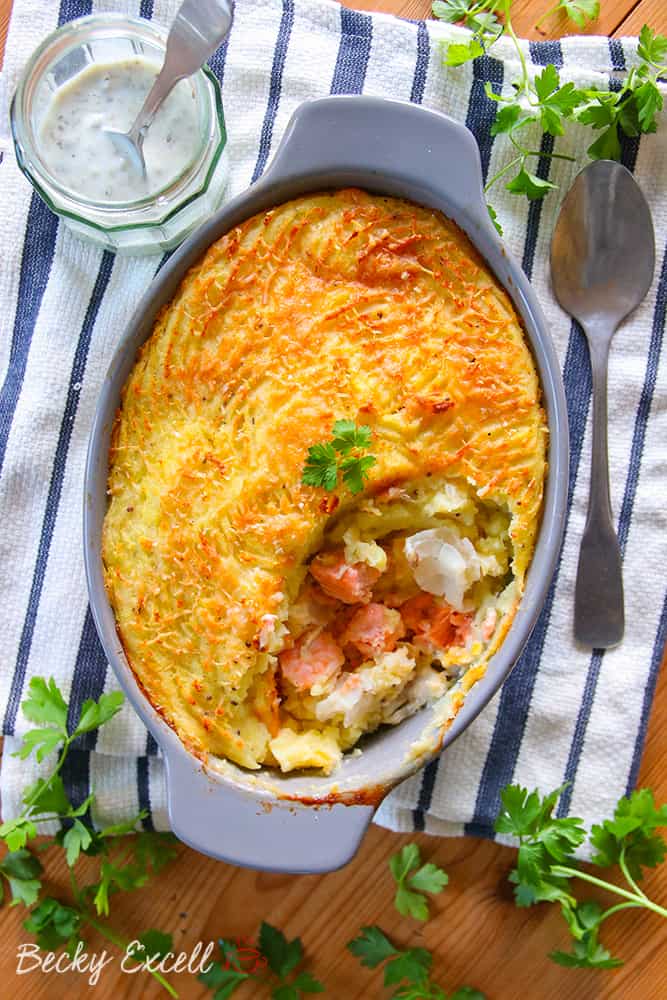 Making this dairy free and low FODMAP is a doddle. If you're dairy free, use dairy free milk and dairy free cheese. If you're low FODMAP, use lactose free milk and lactose free cheese. Simple!
Lastly, a good fish pie is extra special to me because it's what I chose from the menu on my first ever date with Mark!
(I somehow managed to embarrass myself by trying to eat the ceramic dish the fish pie came in, but luckily he didn't bin me there and then)
I hope you share many happy memories over eating my fish pie too 🙂
Ok, here's my gluten free fish pie recipe!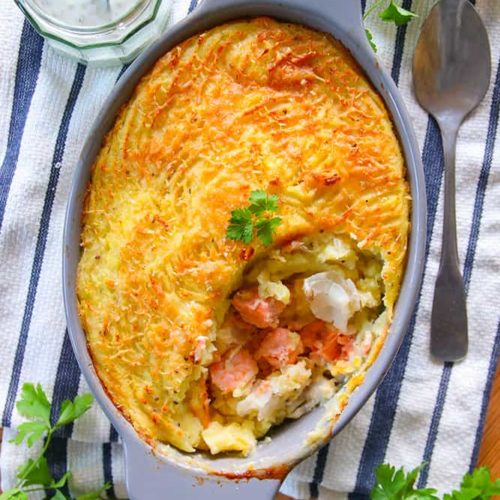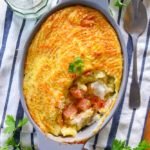 The Ultimate Gluten Free Fish Pie
Gluten free fish pie recipe... music to my ears! My recipe is also dairy free and low FODMAP adaptable too and so easy to make at home.
Ingredients
For the mash
4

potatoes

2

tbsp

butter / dairy free spread

dash of

milk

(any milk works here, dairy free, lactose free etc)

1-2

tsp

mustard

(wholegrain or dijon are my preferred)

salt and pepper

grated cheese, for the topping

(dairy free cheese is fine too, I tend to use a regular parmesan as it's low FODMAP and has a lovely flavour)

handful of

freshly chopped chives
For the fish
1

packet of

fish pie mix (haddock, salmon and cod)

(mine was around 400g so you could just buy fish separately too)

8-10

raw king prawns

50

g

smoked salmon
For the sauce
250

ml

milk

(any milk works here, dairy free, lactose free etc)

25

g

gluten free plain flour

25

g

butter / dairy free spread

salt and pepper

handful of

freshly chopped chives
Instructions
Preheat your oven to 160C.

Start with the potatoes, peel, chop & boil for 15 - 20 minutes, until cooked and ready to mash.

Mash your potatoes, I mash mine with a little milk (any type), butter (dairy free spread is fine), mustard (wholegrain or dijon are my preferred), salt and pepper. Put your mashed potato to one side till later.

During or after you make your mashed potato, start on your fish. Place your fish into the dish you are going to make the fish pie in. Pour over your milk and place in the oven for about 10 minutes to gently poach and fill the milk with flavour.

Once done, separate the fish and the milk (I usually just remove the fish from dish and put to one side). The milk will now be needed to make a white sauce.

To create the sauce, add gluten free flour, butter or dairy free spread & the milk you poached the fish in to a saucepan. On a low/medium heat, keep stirring your mixture until it thickens. Add salt, pepper and freshly chopped chives to season. (You could also stir a little cheese or mustard to the sauce here, I tend not to but it's definitely an option that I can recommend)

Return your fish to your oven proof dish. Mix it up a little so there will be different fish flavours in every mouthful.

At this stage I then add some raw king prawns (frozen or fresh) and some think slices of smoked salmon. Both are optional but I really love a fishy fish pie!

Drizzle over some of your white sauce (you don't need to use it all if you don't want to). You can mix your fish and sauce together before putting in the dish but there isn't any need to as it soaks through during cooking!

Spoon your mash over the top (I do this fairly messily and rough), make sure it's sealed at the edges.

Sprinkle some grated cheese on top (any dairy free cheese works, although I quite like a small amount of parmesan which is low FODMAP).

Cook in the oven for about 25 minutes at an increased temperature of 180C, until the top starts to go golden. I place my dish on a baking sheet incase the fish pie bubbles a bit! (If the top isn't golden enough for your liking just pop it under the grill for 5 minutes too - I do this with a lot of my cooking for a crispy top!)

Remove from the oven. Sprinkle some freshly chopped chives on top and serve with vegetables. Enjoy!
Notes
* I often use a fish pie mix instead of frozen fish. You can really use whatever fish you like and your measurements for fish don't need to be exact either! Use as much as you like 🙂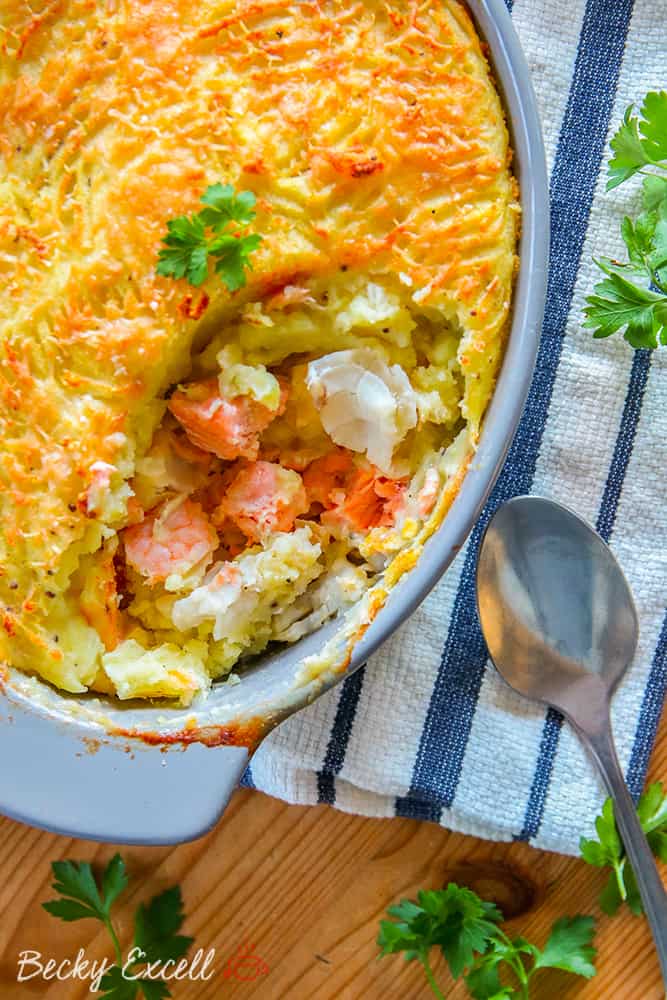 Thanks for reading how to make my gluten free fish pie recipe! If you make this, make sure you take a snap, upload it to Instagram and tag me (@beckyexcell).
Every month I pick my fave photo and that lucky person wins a £50 supermarket voucher – so get cooking
Any questions about the recipe? Please do let me know by leaving a comment below or on Instagram!
Thanks for reading,
Becky xxx
Oh and don't forget to pin this for later!