Gluten Free Fish Pie… these words are music to my ears. I've always loved fish pie, so I thought I would share my gluten free fish pie recipe with you. It's super simple, delicious & great value to make too, due to using frozen fish!
I absolutely adore fish pie, it is up there as one of my top five favourite meals. I rarely ate it when I was younger as it took me a while to love fish that wasn't breaded or battered. But once I realised how amazing it was, I have never looked back. Fish Pie was actually the dish I ordered on my first proper date with Mark (another reason why I like it so much?!).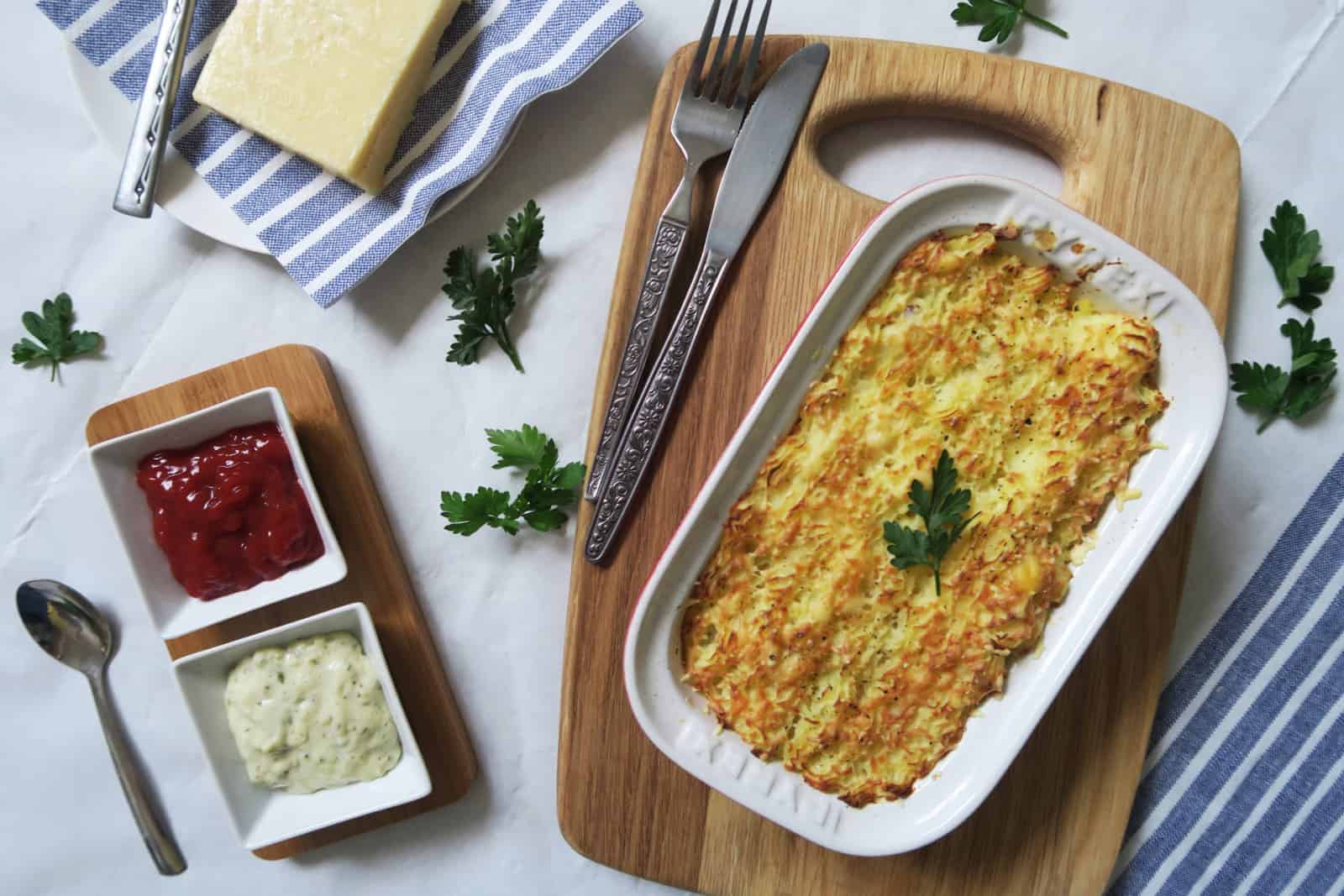 Anyway since not being able to eat gluten I have found that I can't generally eat fish pie when I am out. Initially, I was bothered by this but not anymore… I mean when you go to a restaurant for a fish pie (or even a ready meal for that matter), how much fish is really buried inside your fish pie? Very little I would imagine… not enough for my liking!
So, of course, I always make my own gluten free fish pie! It's full of delicious fish, never will there be a mouthful without it! I have always made my gluten free fish pie using frozen fish. For me frozen fish is cheaper, just as tasty & it definitely means you can knock up a gluten free fish pie whenever you fancy… how convenient! When I initially cook the fish, I just poach it in the oven in dairy free milk for about 15-20 minutes straight from the freezer. The poaching process is really important as you can then use the poaching milk to make a white sauce… a fishy white sauce!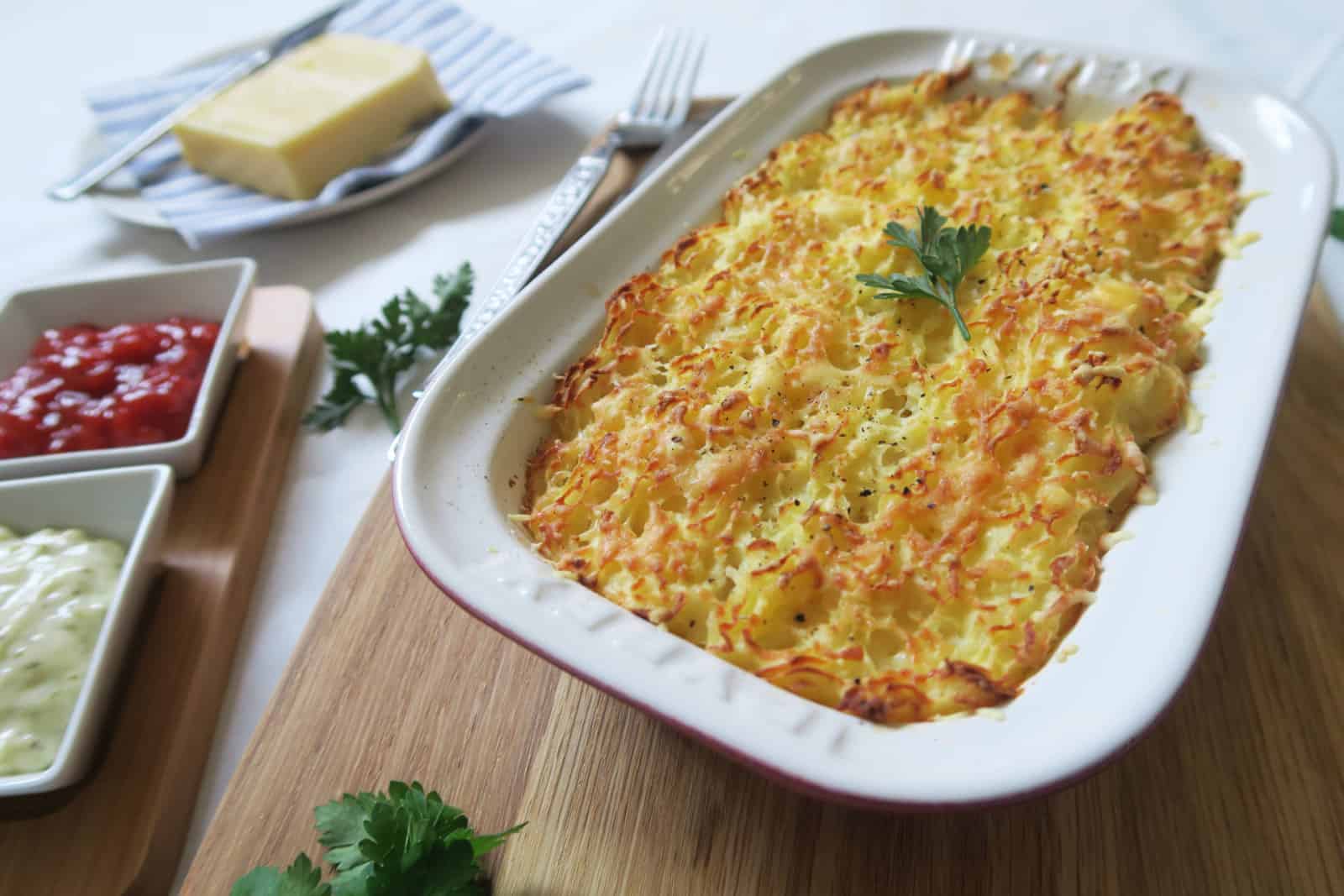 For me, a gluten free fish pie is a really simple and delicious meal. Although there are 3 components to the dish, all 3 are incredibly simple to create. Mash potato… is mash potato, the white sauce takes seconds, as the milk is already hot from the fish poaching & the fish itself is really easy and comes straight from the freezer. I've always found the very best selection of fish that you can cook from frozen is from Iceland. All of it can be cooked straight from frozen & there is a huge variety.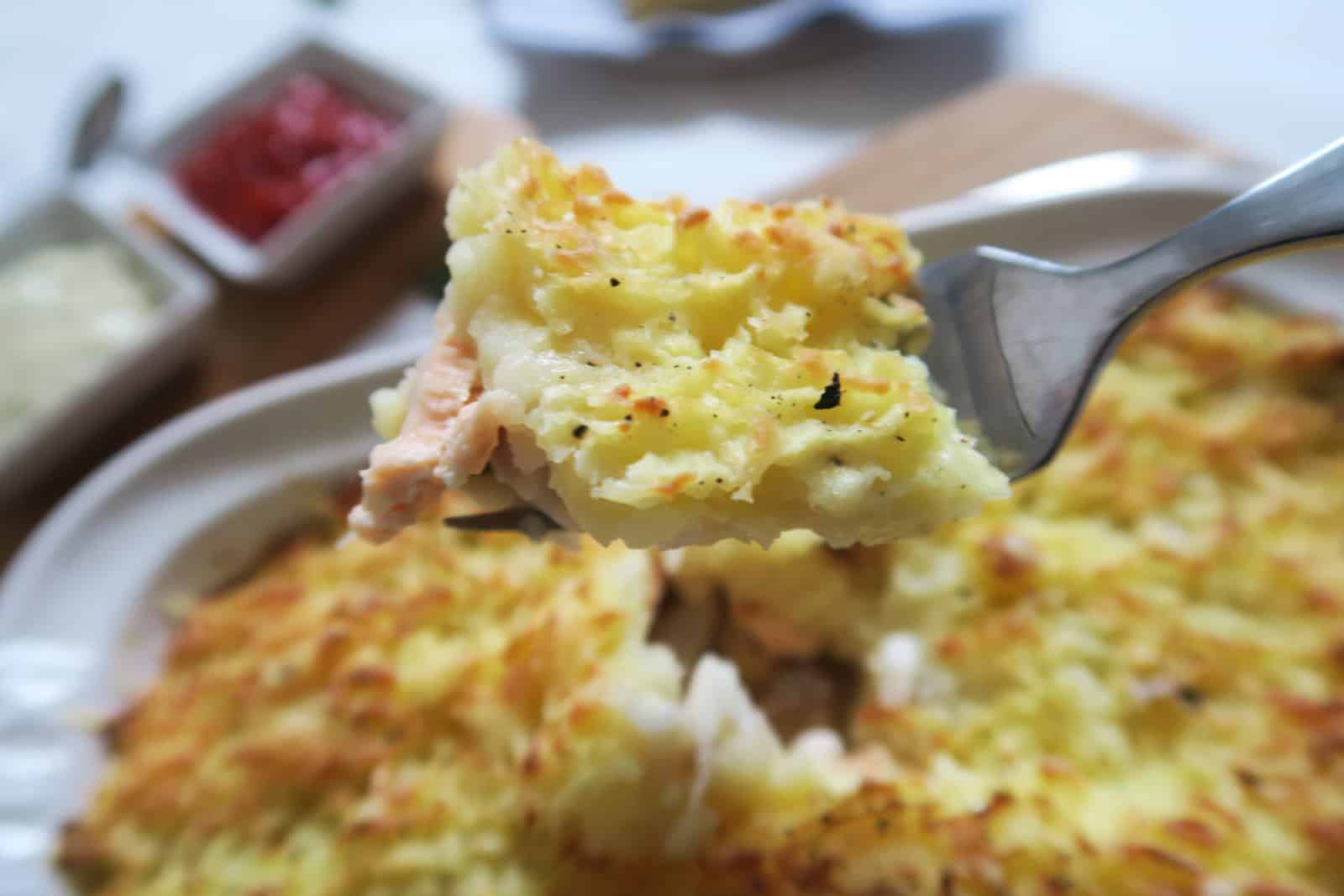 Anyway, enough waffle… here is my gluten free fish pie recipe. I guarantee you, your friends & family will absolutely love it; you can multiply the amount of ingredients you need to any amount of people… just remember you might need a bigger dish too!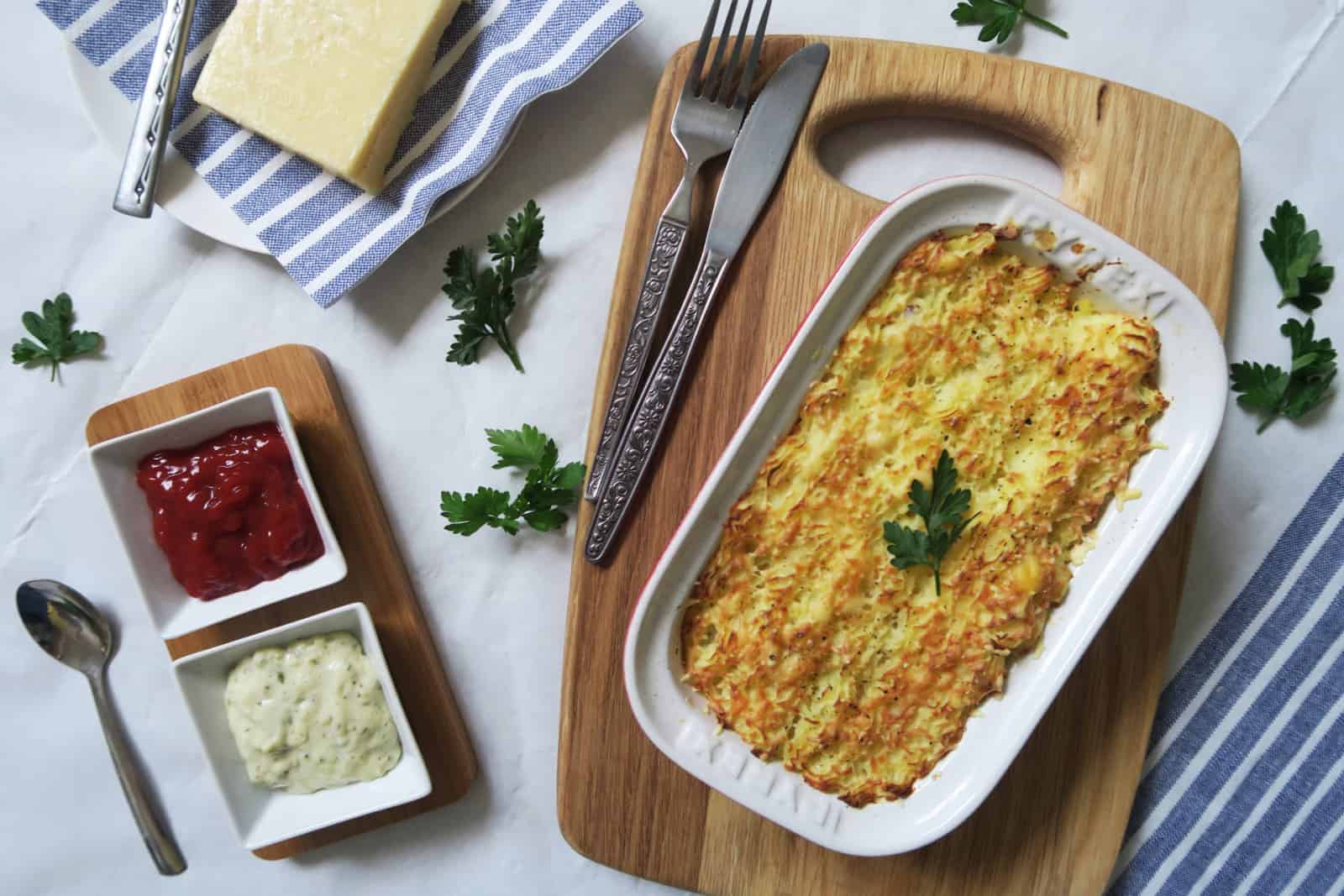 The Ultimate Gluten Free Fish Pie
2016-05-15 12:56:55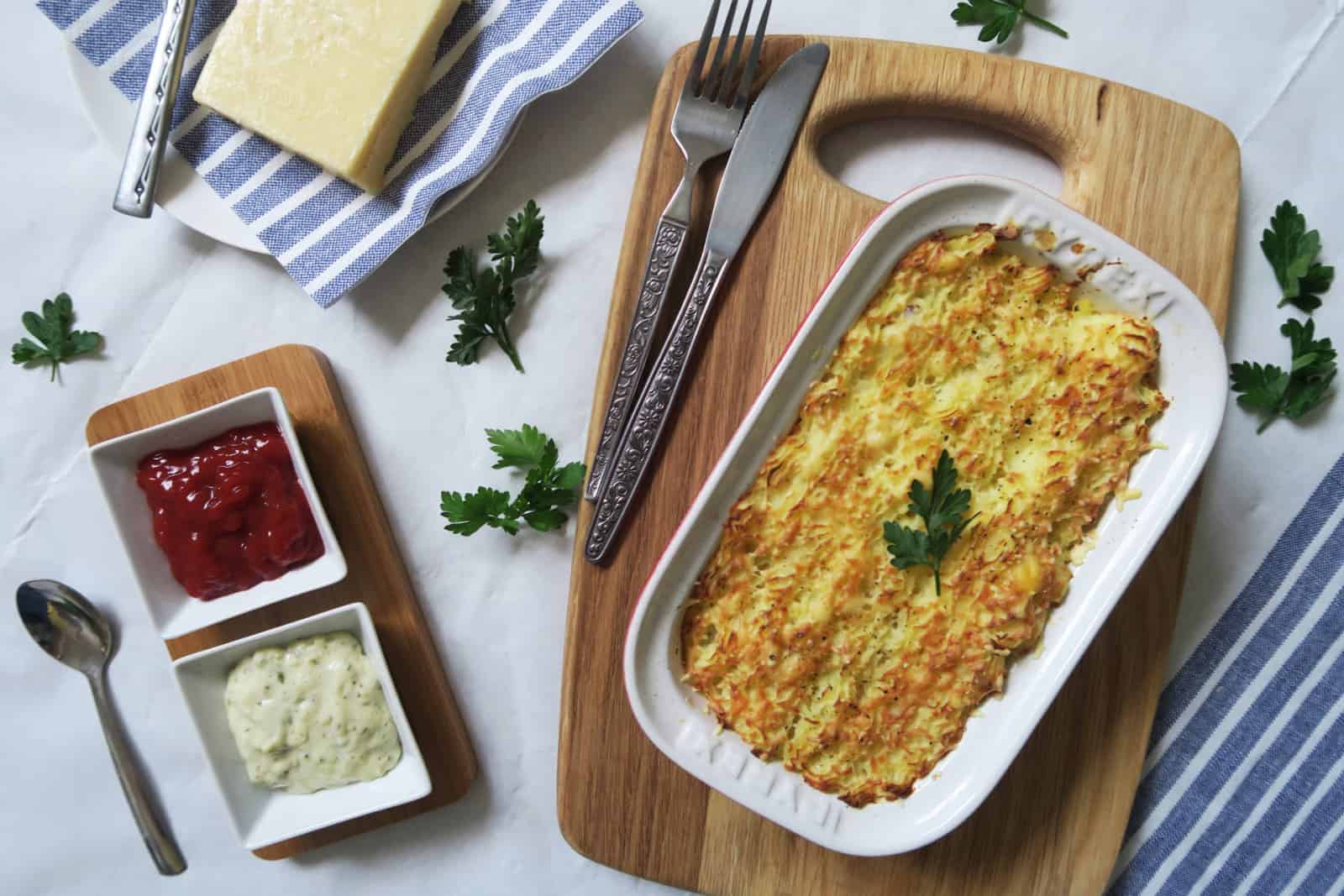 Ingredients
2 Salmon Fillets (I use frozen fillets)
2 Smoked Haddock Fillets (I use frozen fillets)
2 Cod Fillets (or another white fish) (I use frozen fillets)
6-8 Raw King Prawns (if using frozen, I tend to defrost these first) (optional)
500ml Dairy Free Milk (use this to cover your fish for poaching & then to use in your white sauce)
50g Dairy Free Spread
25g Gluten Free Plain Flour
3-4 Potatoes (for mashing)
1 Tsp Dijon Mustard (optional)
Dairy Free Cheese (grated, enough to cover the top)
Salt & Pepper
Instructions
1) Start with the potatoes, peel, chop & boil for about 20 minutes, until ready to mash.
2) Mash your potatoes, I mash mine with a little milk, dairy free spread & dijon mustard. (Plus remember to season with salt & pepper to taste) Put your mashed potato to one side till later.
3) During or after you make your mashed potato, start on your fish. Get your frozen fish fillets out of the freezer & place them in a large oven proof dish.
4) Pour over your dairy free milk & place in a preheated oven (160c) for around 15-20 minutes.
5) Once done, use a slotted spoon to remove the fish from the milk, then pour your milk into a jug.
6) Create a white sauce by adding your gluten free flour, dairy free spread & the milk you poached the fish in to a saucepan. On a low/medium heat, keep stirring your mixture until it thickens.
7) Return your fish to your oven proof dish or whatever dish you plan to cook your fish pie in. Break it up into nice size chunks, it should flake.
8) Add to this your defrosted raw prawns (they will cook through in the oven later)
9) Drizzle over some of your white sauce, I always make far too much and only use a few spoonfuls. You don't need to mix it into the fish either as it will soak through during cooking.
10) Next either pipe on your mash potato or spoon it over the top. Make sure it covers all the edges!
11) Sprinkle with dairy free cheese & season with some pepper.
12) Cook in the oven for about 25 minutes at 180c, until the top starts to go golden.
13) Remove from the oven & serve up!
14) Enjoy!
Notes
You can use however much fish or whatever types of fish you wish. The fillets I used were medium sized & great value from Iceland - I could cook them straight from frozen.
Gluten Free Cuppa Tea | Food blog based in London, UK. Low FODMAP. Dairy free Recipes.. https://glutenfreecuppatea.co.uk/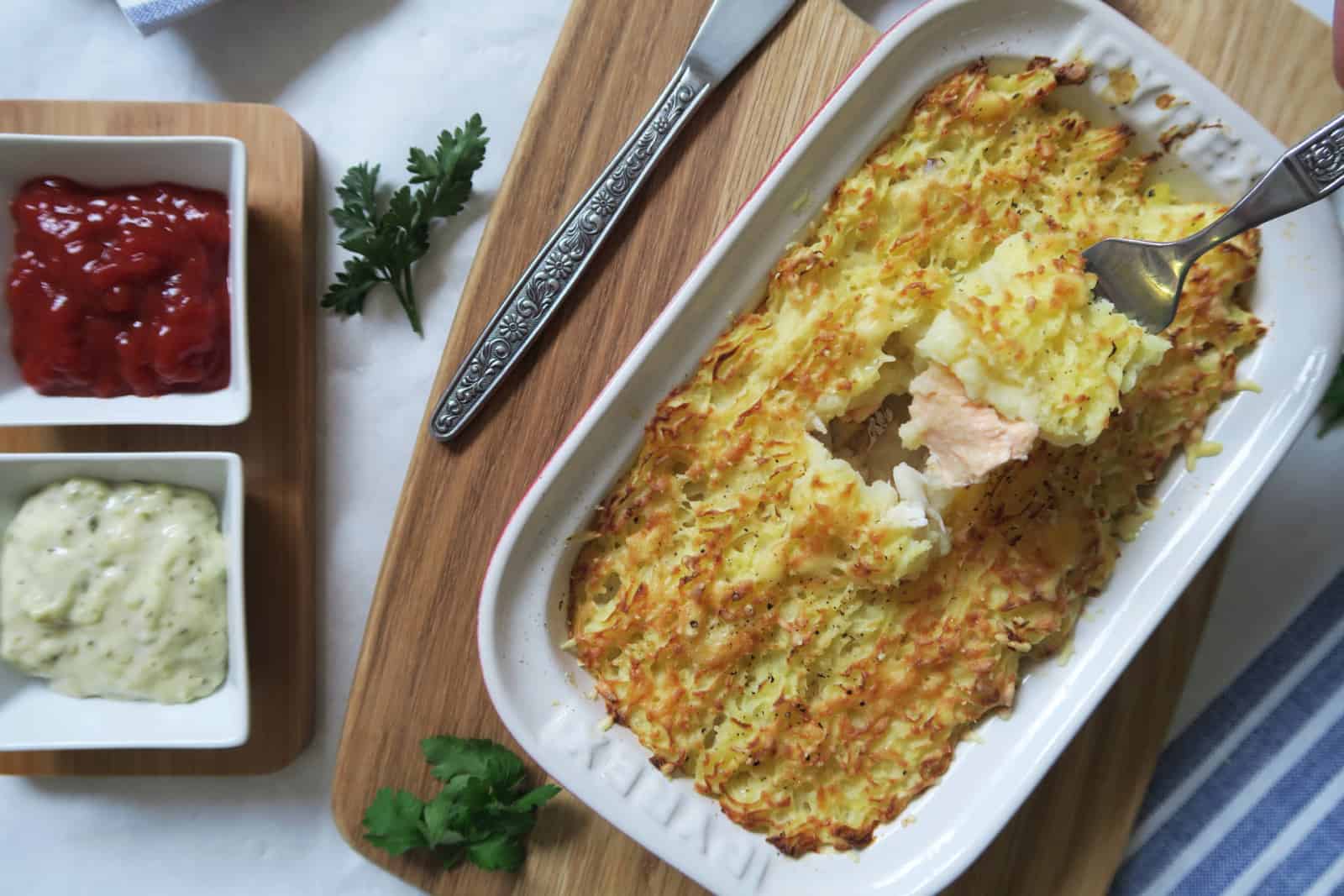 So there you have it, my delicious gluten free fish pie. I often just serve this up simply with some homemade mushy peas. Oh, & don't forget the tartar sauce! A gluten free fish pie is a super homely, feel good meal. One that I personally couldn't live without. Somehow it feels quite a summery pie in comparison to a meaty pie & gravy. It's lovely and light!
Let me know if you get a chance to try my recipe. Is there anything else you would use frozen fish for? What's your favourite fish dish?! Let me know by dropping a comment below, or on Facebook/Twitter.
Thanks for reading,
Becky xxx
Comments