I think we can all agree that Italian-style cooking has become one of the most accessible cuisines if you're following a gluten free diet, like me. These days, there's a variety of different types of pasta that form the perfect blank canvas for the beginnings of any authentic gluten free Italian dish.
Myself and Mark recently had a housewarming party to celebrate moving into our new house (we did invite you, but your invite must have been lost in the post!) We decided to make a gluten free Italian dinner party for our guests and we were surprised not only how well it went down, but how quick and easy it was to prepare! We laid out a selection of Italian antipasto with sundried tomatoes and olives, fresh basil, tomato and mozzarella bruschetta and a wonderful recipe by Gennaro Contaldo over at Bertolli's website – Tagliatelle with Garlic Mushrooms. Plus, we made sure it was all 100% gluten free!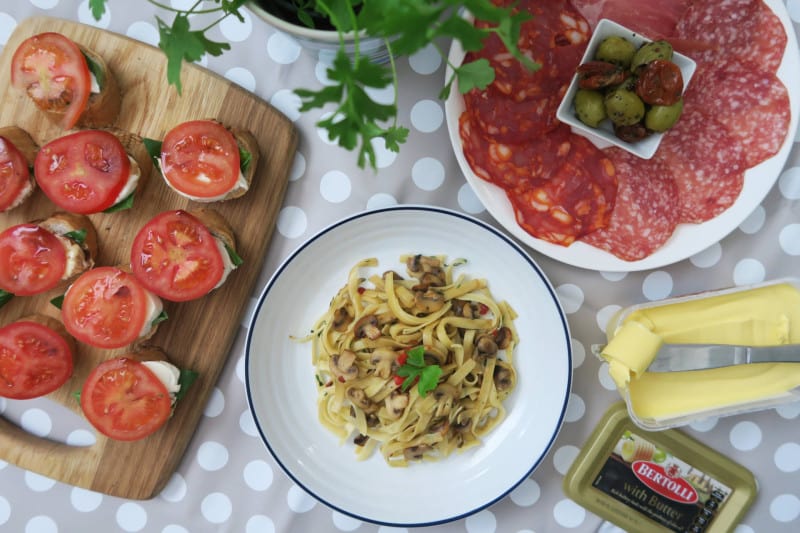 It can be a nightmare finding decent gluten free cookbooks and even worse still, it's often impossible to find gluten free recipes for a specific dish. That's why my biggest tip since going gluten free is this… (brace yourselves!) …you don't always need a gluten free recipe! You'd be shocked how easy it is to make a few simple swaps and end up with a totally gluten free recipe. For example, with Gennaro Contaldo's recipe, I simply picked up some of my favourite gluten free tagliatelle and suddenly, the world's your recipe book! I know it seems obvious, but it's all too easy to get stuck in the habit of always searching for a gluten free recipe first.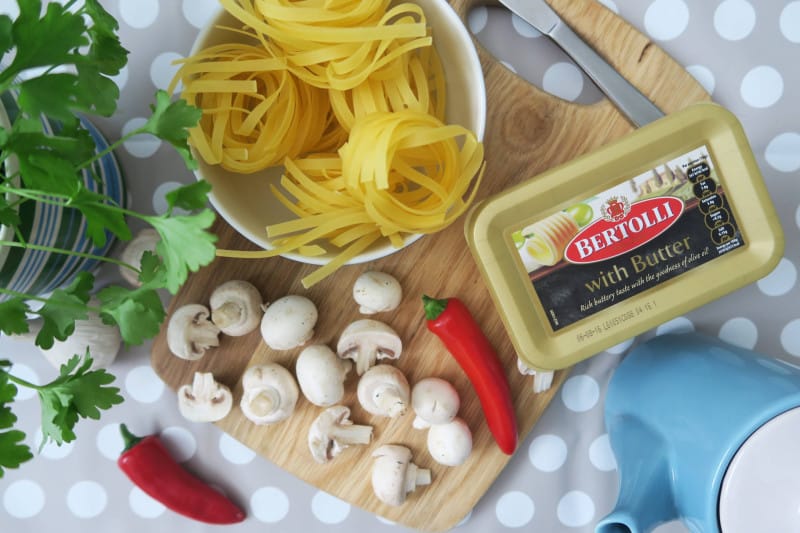 What I love most about authentic Italian cooking is that you only need simple, fresh ingredients. Recently on the news, supermarket jars of Italian pasta sauce have been highlighted as having extraordinary amounts of sugar in them, which will probably give Italian food a bad reputation for many people. For me however, it just gives me more reason to start cooking from scratch; you'll end up with an authentic Italian dish that's not only healthy, but it's just as quick and easy too. All the ingredients used in Gennaro Contaldo's recipe are shown in the photo above (apart from a little vegetable stock) so you know there's no hidden sugar anywhere. Good riddance sugar! It's also totally vegetarian, so if you'll be joining me on Meat-Free Mondays, this recipe is my first suggestion 🙂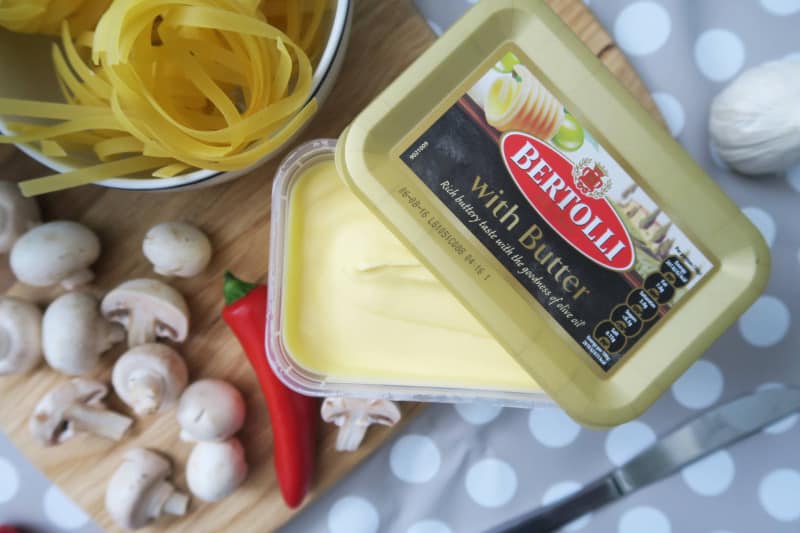 Gennaro's recipe instructs you to use Bertolli's butter infused olive oil spread and I really fell in love with the idea of cooking with it. It adds so much flavour to the dish, thus negating the need for a really sugary tomato pasta sauce completely. Combined with the chilli and the garlic, it's less of a sauce and more of a light dressing that's subtle yet rich in flavour. Now that's more of my idea of authentic Italian food! Let's start by going through some of the simple steps to create Gennaro's deliciously simple tagliatelle with garlic mushrooms.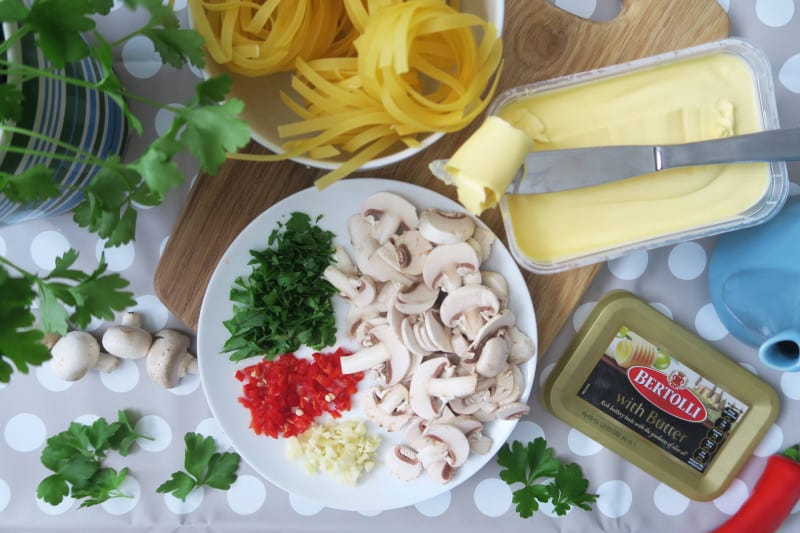 Start by chopping all of your fresh ingredients – flat leaf parsley, medium red chillies, garlic and button mushrooms. If you've got a sharp knife and a little chopping experience, this should only take you five minutes or so. You could even do it while your gluten free tagliatelle is on the boil – a little multitasking goes a long way in time saving! Now drain your gluten free tagliatelle and set it aside to cool.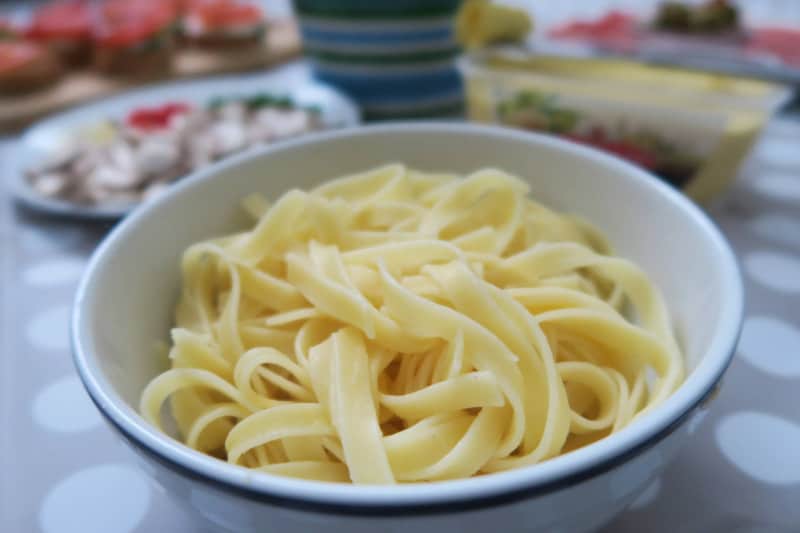 Gluten free pasta has come such a long way in recent years… remember when it would totally clump together, break indiscriminately or be covered in this slimy starch? These days, you can even get a wonderful al-dente texture just by following the instructions on the packet. One day I hope all gluten free food ascends to this greatness… basically, just because it's gluten free… you shouldn't be able to taste that it's gluten free! Well, I can keep dreaming I guess 🙂 Next up, fry your garlic and chilli in Bertolli with Butter before adding the mushrooms to fry off.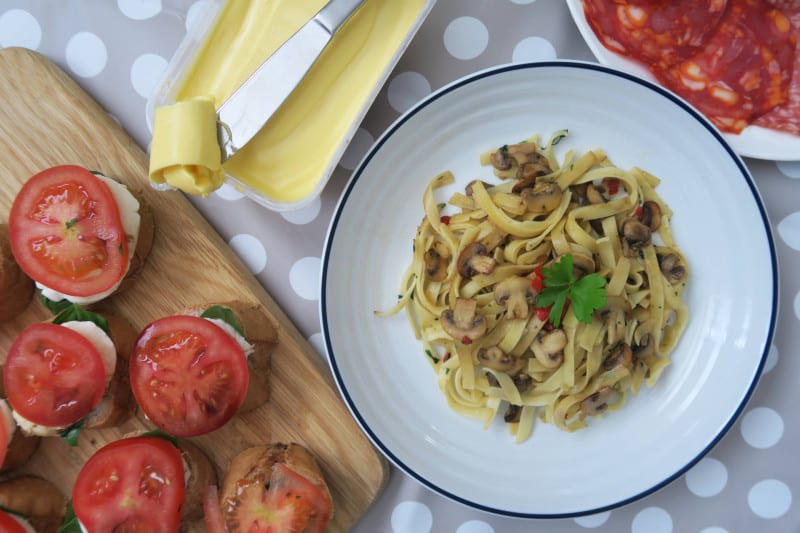 Add a little vegetable stock to allow the mushrooms to fully cook before stirring in your chopped parsley, a little more Bertolli with butter and then adding your gluten free tagliatelle. Job done! All in all, this intensely flavoursome yet modest dish should only take you around fifteen minutes in total. The Gennaro Contaldo recipe over at Bertolli's website is enough for four people and with our Italian-style antipasto and gluten free bruschetta, it was more than enough for six.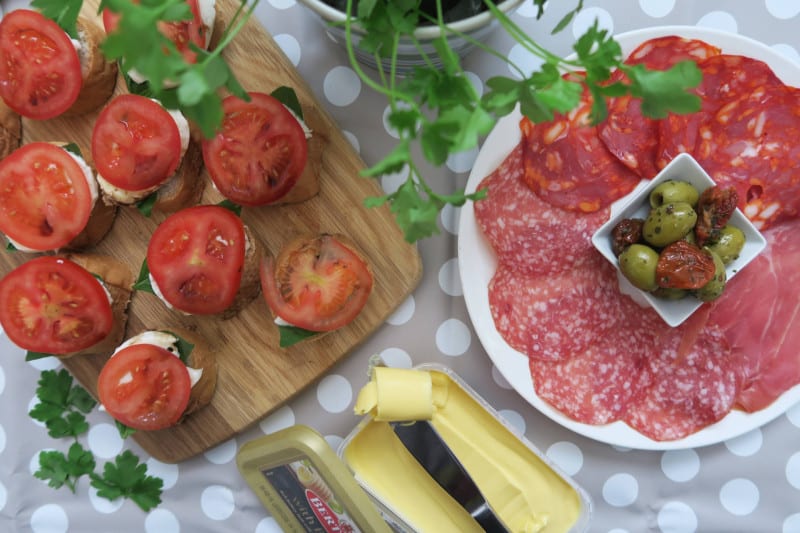 Our Italian antipasto and gluten free bruschetta was just as simple to make without any cooking even involved. After toasting my freshly baked gluten free baguette, I spread a thin layer of Bertolli with butter and layered a singular basil leaf, mozzarella and a slice of tomato before drizzling with balsamic vinegar. Belissimo! Bruschetta is so easy to make gluten free and it shouldn't take you anymore than 5-10 minutes to complete depending on how fast you chop! As for the Italian antipasto, we laid out a selection of prosciutto, salami milano and spicy venricina which I picked up from the cooked meats section of my local supermarket. I used some intensely flavoursome olives with slow roasted tomatoes as the centre-piece and that was it! In total, I think it all took me about 10 minutes! Not bad for an Italian feast that's entire gluten free, hey?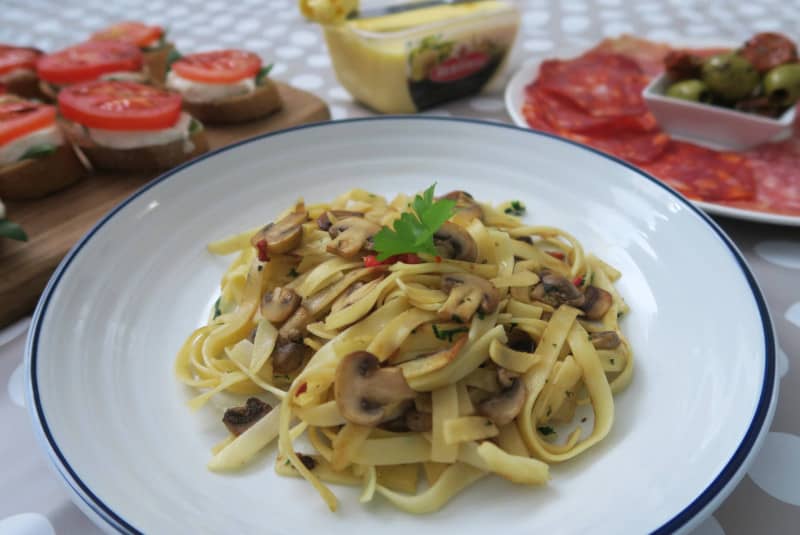 So there you have it, a gluten free Italian feast that'll make you say "Ciao Bella!" until the very last bite – and it only took me 25-30 minutes to complete. A massive thanks to Bertolli and Gennaro Contaldo's recipe for redefining what we think of as Italian cuisine and thanks for letting me be a part of it 🙂 So next time when you feel the urge to go for a spag bol, why not try something totally Italian that's totally different? Gluten free tagliatelle with garlic mushrooms, here we come!
Did you try this recipe? What did you think? Are you won over on the idea of cooking with Bertolli with butter? You can adapt this recipe in so many ways simply with a little creativity so why not give the recipe a try and let me know what twist you added to it? Let me know in the comments below what you thought as I always love reading them! Or pop over to my Facebook/Twitter to say hello, lets talk gluten free italian!
Thanks for reading,
Becky xxx
Comments