That's right, I have unashamedly stole my Mum's lasagna recipe and I'm now passing it off as my own. I guess I gave her credit in the title… sort of? Well I did make it gluten free and low FODMAP, so I guess I'm allowed to say… here's my gluten free lasagna recipe!
Sorry Mum. My Mum has been making this lasagna recipe probably for over 20 years, but for at least 8 of those, I haven't been able to eat it. So I thought it was about time that I made my own gluten free lasagna recipe!
(by totally ripping her's off and taking the credit of course.)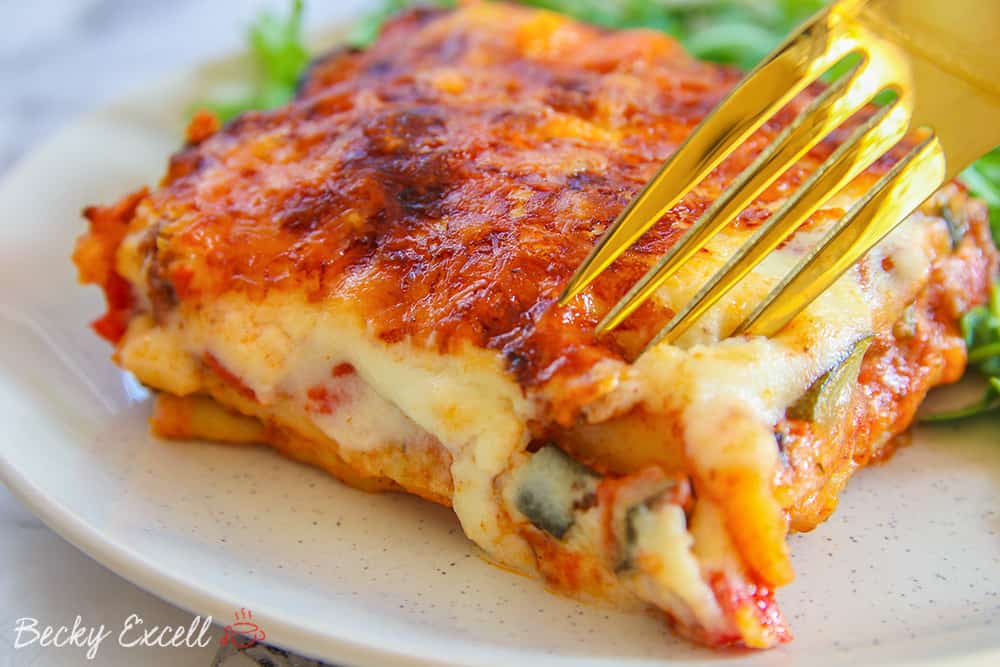 This is one of those recipes that my aunt would always ask my Mum to make when they came over to stay. It's the recipe she'd make and freeze so my bro and I wouldn't starve when they went on holiday.
Plus, when Mark first started coming over to my parents house for dinner (you know, those awkward 'meet the parents' dinners) she would always make one of these too!
It's about time that Mark and I could eat it again!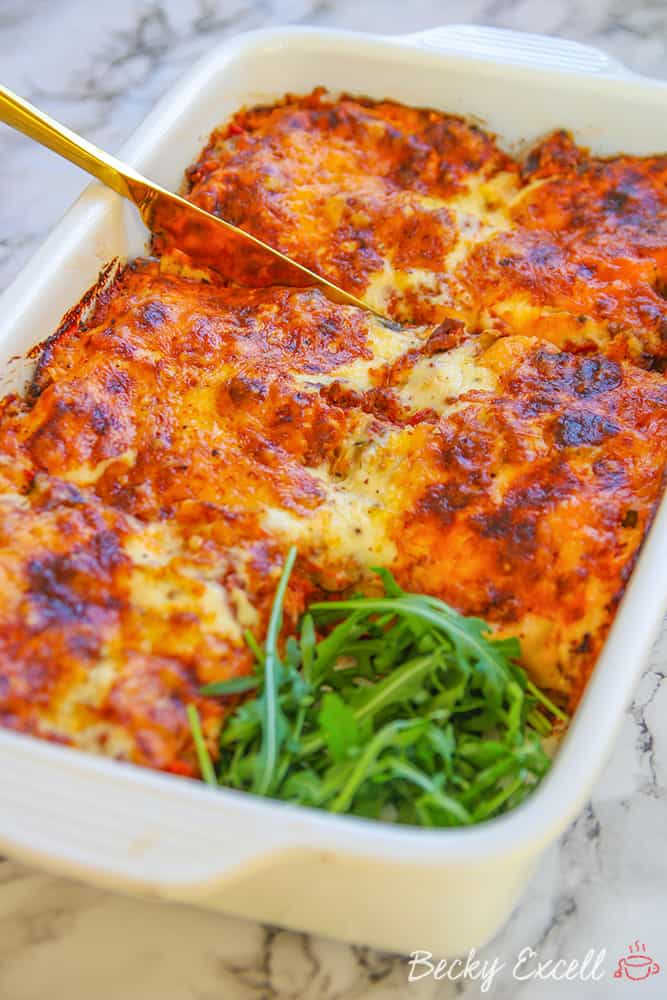 So how is mine different? Well, in all fairness, it is actually quite different! My gluten free lasagna recipe obviously uses gluten free lasagna sheets, it's totally dairy free and it's low FODMAP too.
Plus I like to put in a little finely diced courgette which works so well with the chunky texture of the chopped tomatoes.
But other than that enormous list of changes, it's exactly the same, I swear!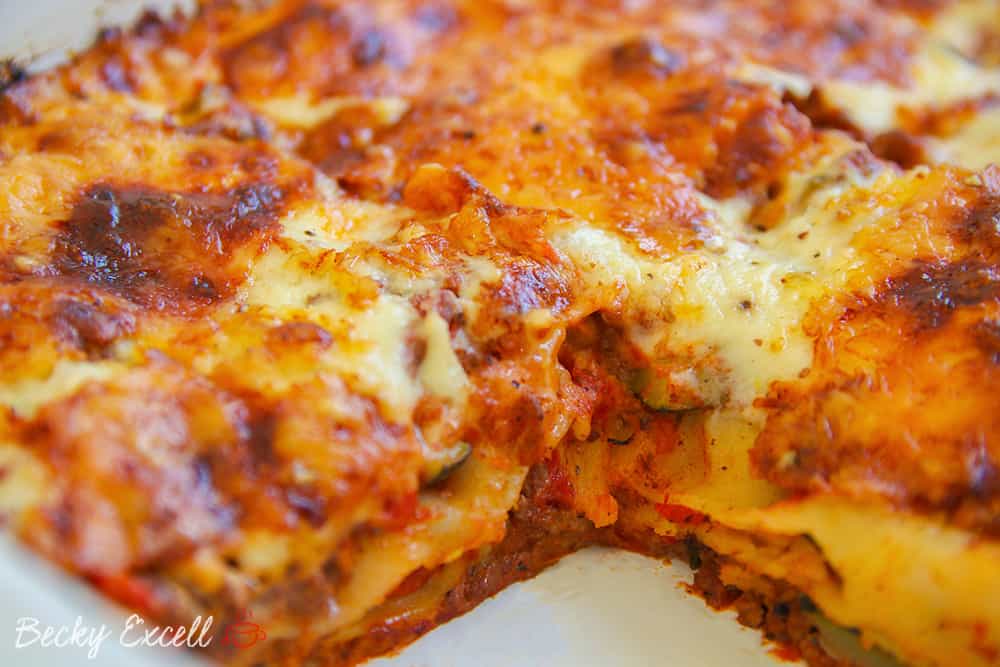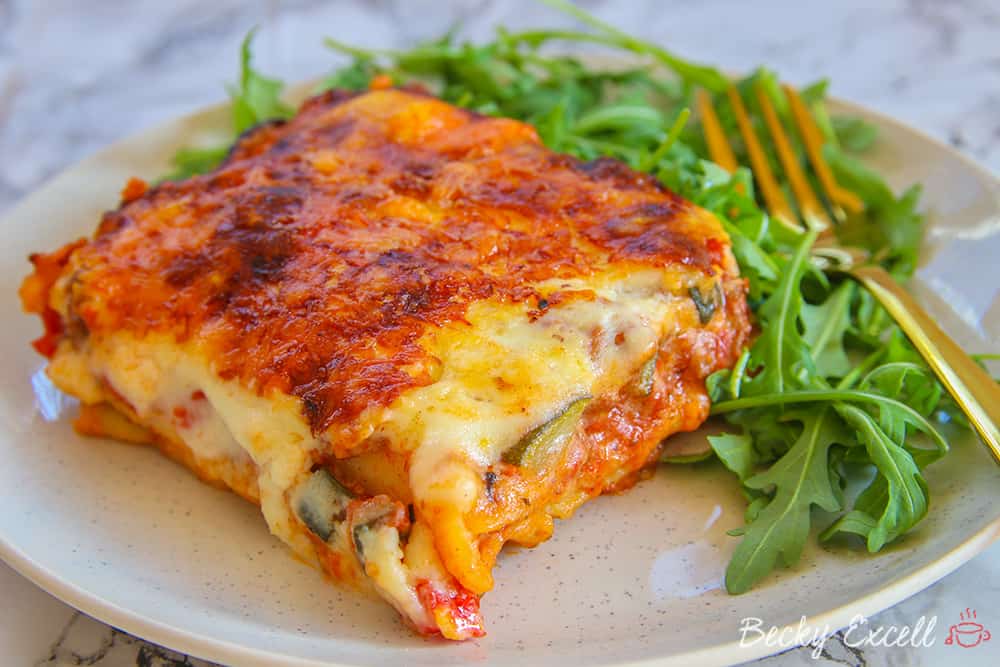 It was actually just the other day that I opened up a book we hadn't touched in years and my Mum's handwritten lasagna recipe was hiding in there as a makeshift bookmark.
I think she had must of given it to me when I was at Uni but obviously I was much too useless at cooking to actually succeed at making it, let alone making it gluten free!
Fortunately and many years later, I finally managed it and it was everything I remember and more!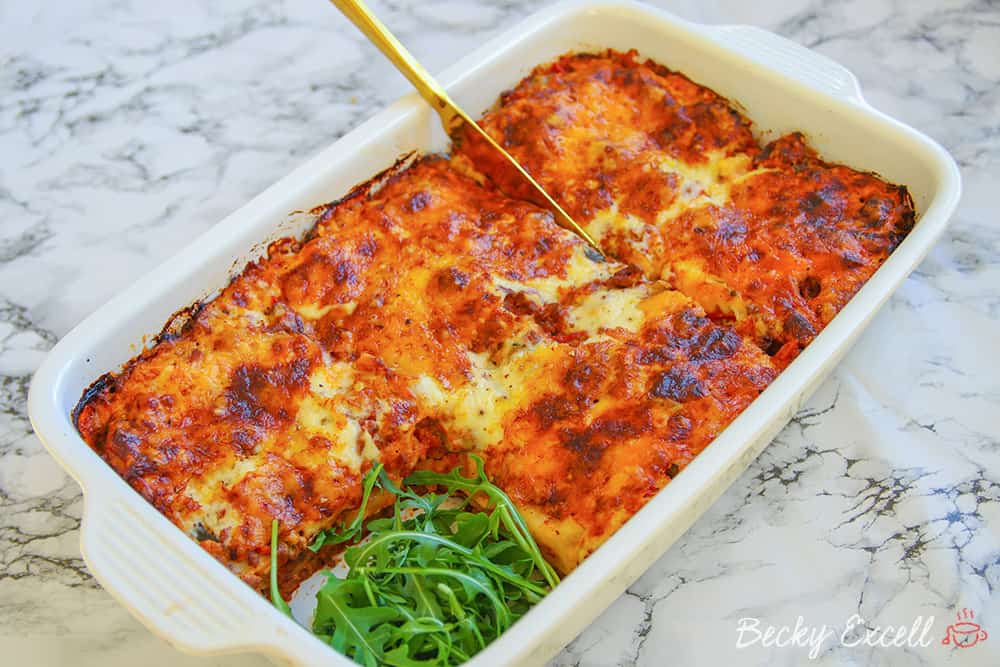 It has such a beautiful, thick and creamy white sauce with chunky tomatoes, courgettes, rich beef and a crispy top. Now I might be totally biased and I don't care – but you just can't beat this lasagna!
Here's how to make my gluten free lasagna recipe…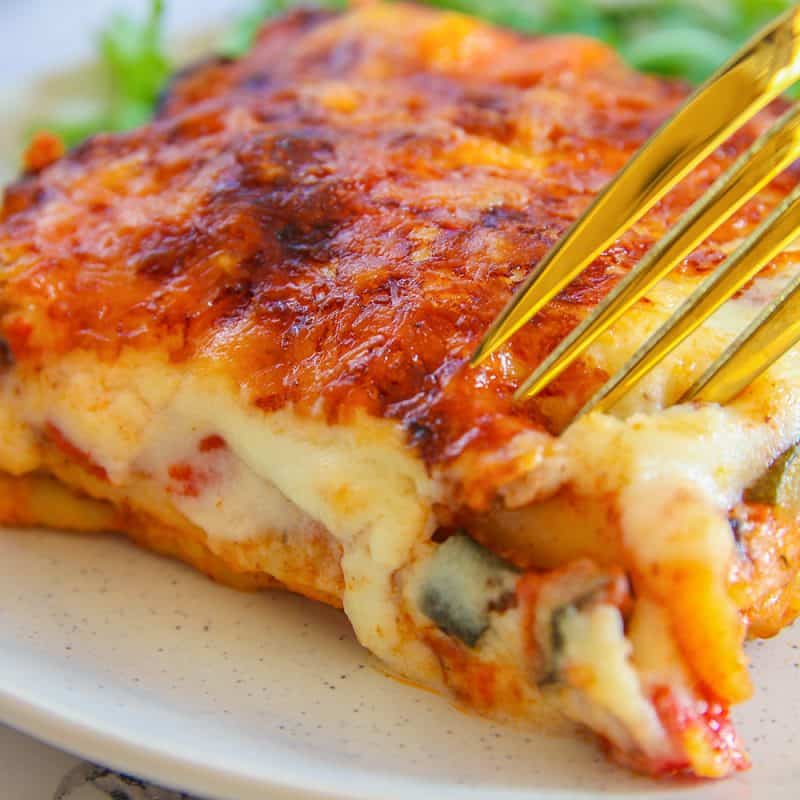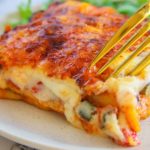 My Gluten Free Lasagna Recipe (low FODMAP, dairy free)
Say hello to my gluten free lasagna recipe that's low FODMAP and optionally dairy free too! It's so easy to make at home and this recipe is super easy to follow.
Ingredients
For the ragu
750g beef mince

2 courgettes

chopped into chunks

garlic infused oil

if low FODMAP ensure the oil is clear without bits

2 tins of chopped tomatoes

approx 400g tins

2 tbsp tomato purée

1 tsp basil purée

or dried/fresh basil if you prefer

1 tbsp mixed herbs

tsp dried chives

salt and pepper
For the cheesey white sauce
50g butter

dairy free spread or lactose free butter if needed

50g gluten free plain flour

750g milk

dairy free or lactose free milk if needed

2 tsp wholegrain mustard

optional

75g cheddar cheese

grated (dairy free or lactose free cheese if needed)

salt and pepper
For the lasanga
1 packet for gluten free lasanga sheets

100g cheese

grated (dairy free or lactose free cheese if needed)

fresh chives
Instructions
Fry your chopped courgette in some garlic infused oil until a little softened.

Add your beef mince and allow to brown.

Add your two tins of chopped tomatoes, tomato purée, basil purée, mixed herbs, dried chives, salt and pepper.

Simmer until slightly reduced but still with plenty of sauce. (I only do this whilst I make my white sauce)

To make your white sauce add your butter, flour and milk to a saucepan. Heat and continuously stir until it thickens. Don't expect it to thicken super quickly - have patience and it will be lovely, smooth and glossy!

Remove your sauce from the heat and stir in your mustard and grated cheese, which will melt into the sauce. Season with salt and pepper.

Construct your lasanga. Place about a third of your ragu in the bottom of your dish. Then spoon a little less than a third of your white sauce on top. Then place your first layer of lasanga sheets on.

8) Repeat the previous step!

For your final layer, place the remaining ragu on top, followed by the rest of the white sauce (you should have slightly more for the top layer - no worries if you are reading this and don't!!)

Spinkle your grated cheese on the very top.

Place in the oven and cook for around 45 minutes at 180C until the top is golden.

Sprinkle some freshly chopped chives on top and serve up with some salad. Enjoy!
Notes
If you can tolerate onions and garlic I'd recommend chopping some up and putting them in when you add your courgette.
One eighth of this lasagna is a low FODMAP portion size.
Thanks for reading how to make my gluten free lasagna recipe! If you make it, I'd love to see how it turns out. So absolutely make sure that you send me a pic using my social media links below…
Any questions about the recipe? Please do let me know by leaving a comment below or on Facebook / Twitter / Instagram!
Thanks for reading,
Becky xxx
Oh and don't forget to pin this for later!