My gluten free sweet potato fries recipe is so easy to throw together at home in the oven! I'm a massive fan of food that tastes awesome but can be made in no time at all. Obviously, this recipe is dairy free and low FODMAP too (if you stick to a modest 1/2 cup measurement).
If you're like me, you stand around in the supermarket for hours deciding what to eat. Then you'll spend a few more hours deciding what to eat it with. The answer to half of that overall dilemma is my gluten free sweet potato fries recipe!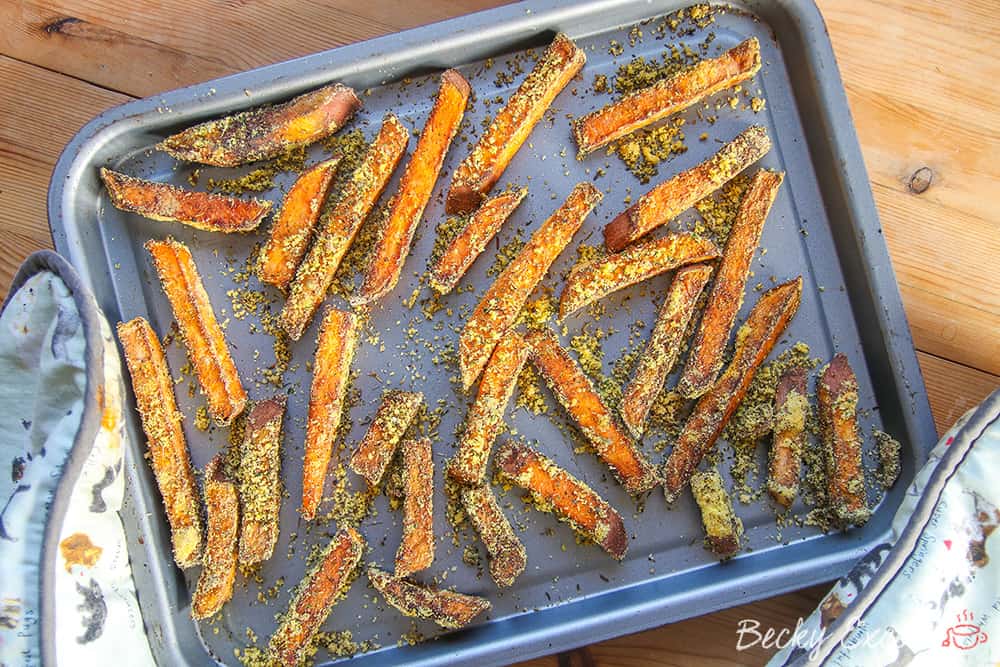 Whilst we don't have incredibly strict healthy eating rules in our house, we try to keep frying to a minimum. If not we'd be battering and deep frying everything in sight, I think…
(case in point – my beer battered gluten free fish and chips recipe)
That's why these fries are so great – they taste as good as if they were fried thanks to a modest drizzle of garlic-infused olive oil. But they're just as healthy as roasted, seasoned veg at the end of the day!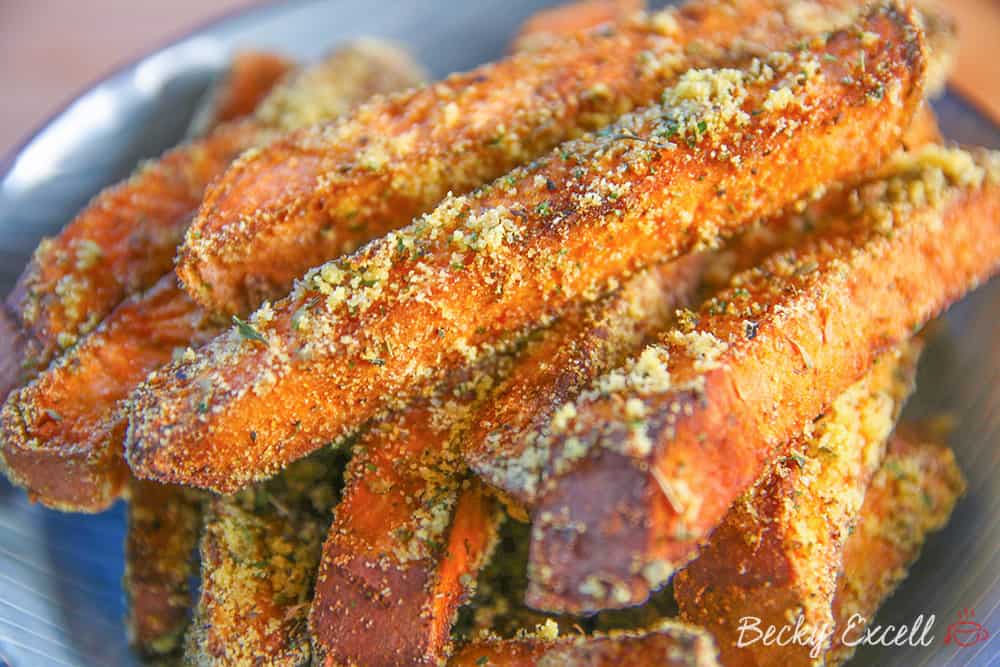 Even without the polenta and herb crumb, these sweet potato fries turn out pretty damn crispy. If you're feeling super lazy, you can just chop up sweet potato into chips and roast them in the oven – trust me, something so basic has never tasted so good!
But my polenta and herb crumb just adds a whole new dimension of awesome. It adds a light, crispy crumb to every bite that I've been craving so much!
Usually any coating on sweet potato will not be gluten free, so of course, I decided to make my own!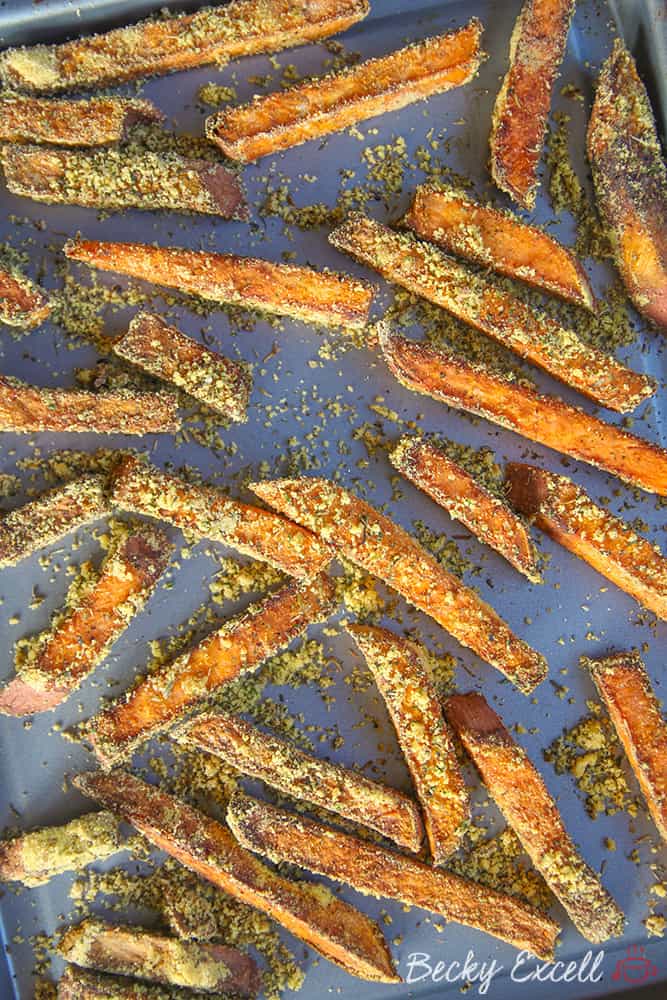 So what do I have my gluten free sweet potato fries with? My gluten free sundried tomato and basil turkey burgers of course!
I also created a wonderful low FODMAP relish that just absolutely sings in my turkey burgers too. The combo of all that with my sweet potato fries is sooooo good!
If you're not convinced, just take a look at the photo below. If you're on the low FODMAP diet, just watch the portion size of your sweet potato fries – remember to stick to 1/2 a cup!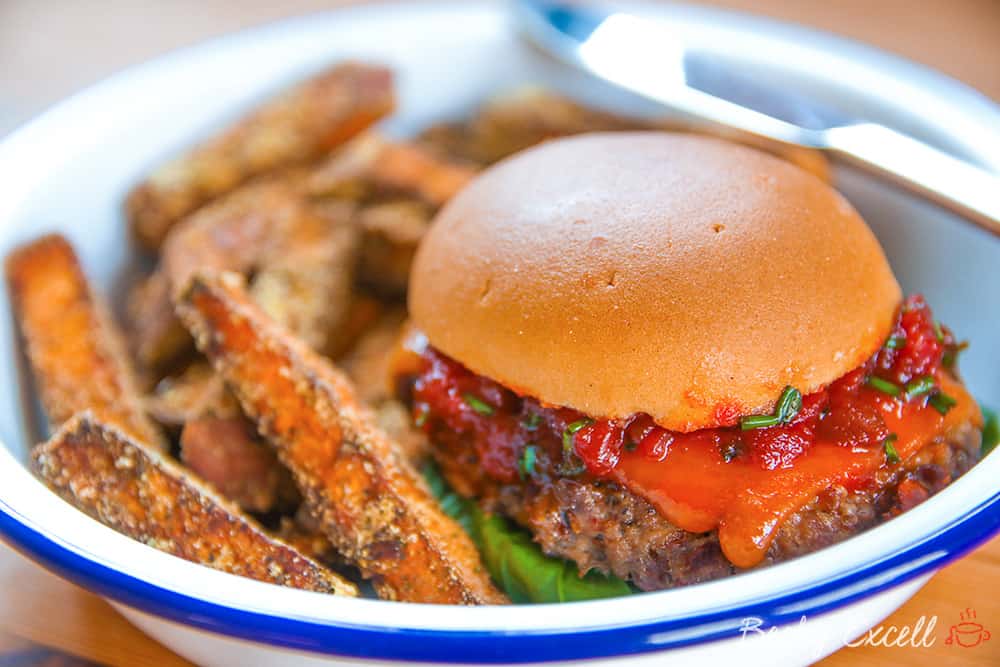 But for now… here's the recipe of the moment… gluten free sweet potato fries, baked perfectly in the oven!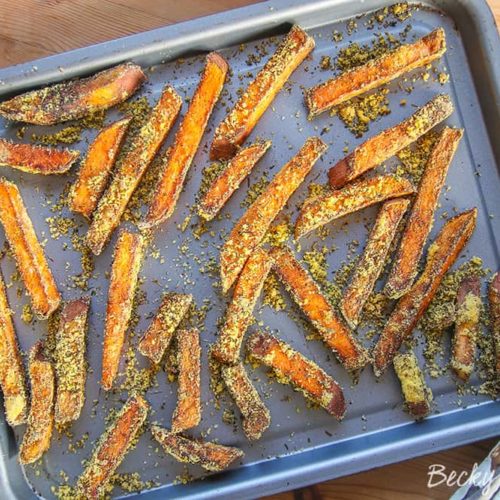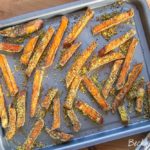 Gluten Free Sweet Potato Fries with a Polenta and Herb Crumb
My gluten free sweet potato fries recipe has a crispy polenta and herb crumb and is so easy to make in the oven!
Ingredients
600

g

sweet potato

2

tbsp

mixed herbs

3

tbsp

garlic-infused olive oil

4

tbsp

polenta

1/2

tsp

salt

1/4

tsp

black pepper
Instructions
Preheat your oven to 200c. Chop your sweet potatoes into chunky chips - around 1cm thick.

Throw together everything into a bowl and mix like crazy.

Spread it all out onto a large baking tray.

Pop into the oven for 45 minutes.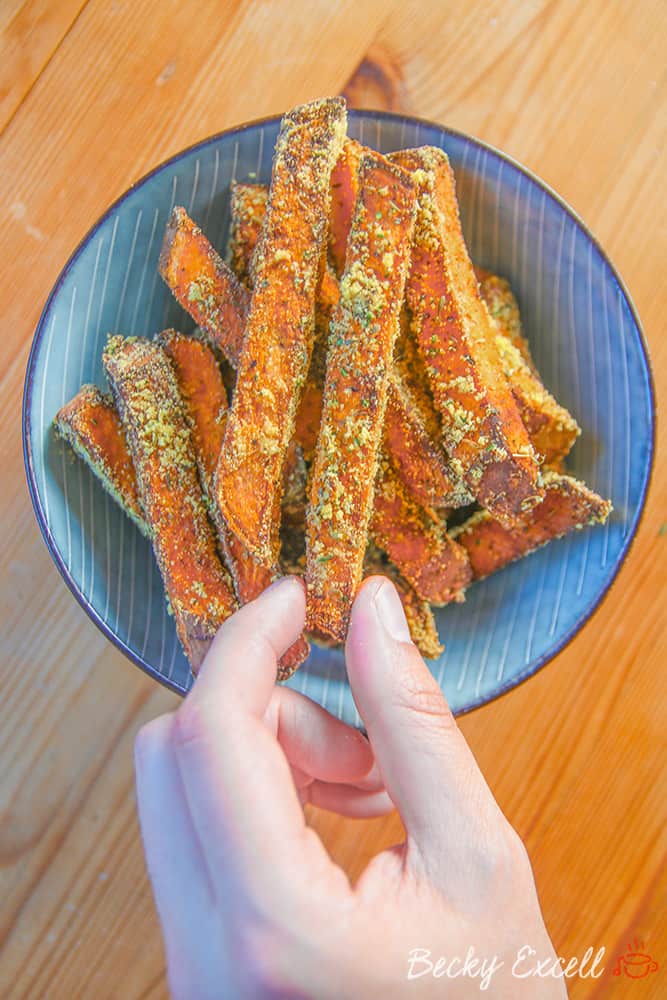 Thanks for reading how to make my gluten free sweet potato fries recipe! If you make it, I'd love to see how it turns out. So absolutely make sure that you send me a pic using my social media links below…
Any questions about the recipe? Please do let me know by leaving a comment below or on Facebook / Twitter / Instagram!
Thanks for reading,
Becky xxx
Oh and don't forget to pin this for later!