I have always loved flapjacks but I can't tolerate oats, (not even 'gluten free oats'). Using rice flakes, here is the most delicious recipe for oat free flapjacks. These oat free flapjacks have a bakewell twist & are also iced to look even more inviting! Of course they are Gluten Free & Dairy Free too!

I've always been a massive fan of anything that contains oats. I love porridge, oaty biscuits, oats in an apple crumble & of course I love flapjacks. However, oats do not agree with me. It doesn't matter whether they are 'gluten free oats' or not, I just find that they bloat me and make for a very uncomfortable day! Therefore the likes of porridge & of course flapjacks have not been items on my menu over the past few years; I really miss them!
I noticed Rice Flakes in a supermarket a while ago now, but, I never really thought to pick up a packet and try them. However, when I got sent a packet of Rice Flakes from Delicious Alchemy I decided I wanted to experiment with them & try and make dishes that I used to love, that I can no longer tolerate in their oat-like form. Recently I made a delicious Rice Flake Porridge with Hazelnut Milk and a huge dollop of Deliciously Ella's Nutritious Nutella – it was amazing!
My true love, as I mentioned, is flapjacks. I remember making them as a child frequently. I destroyed one of my mums baking sheets once when I forgot to grease the tin.. we never did get all the flapjacks out! I think my cooking ability has slightly advanced since then fortunately!
These oat free flapjacks bring together so many great things. They are gluten free, dairy free, oat free, taste liked Bakewell Tart & of course they look and taste delicious!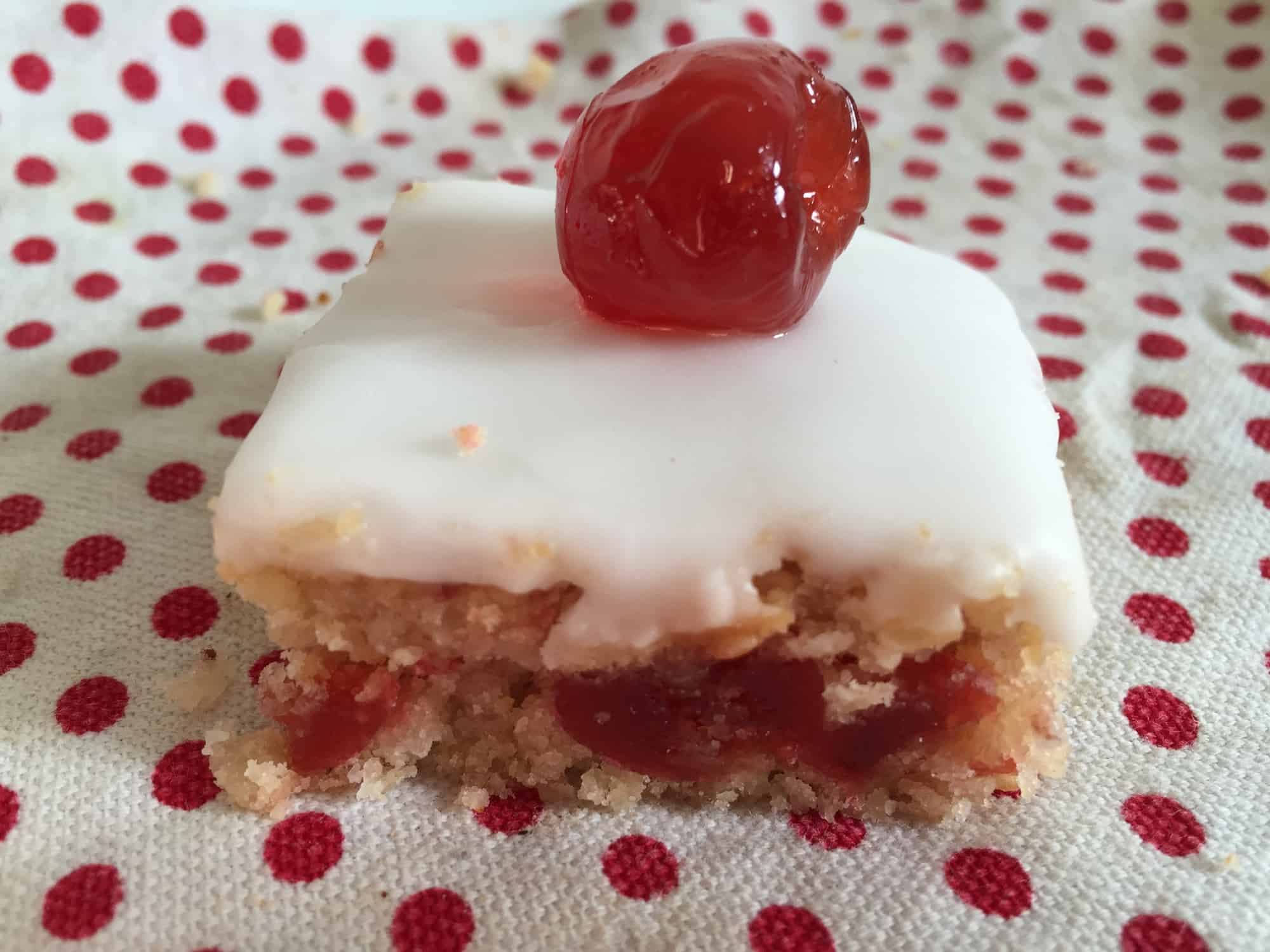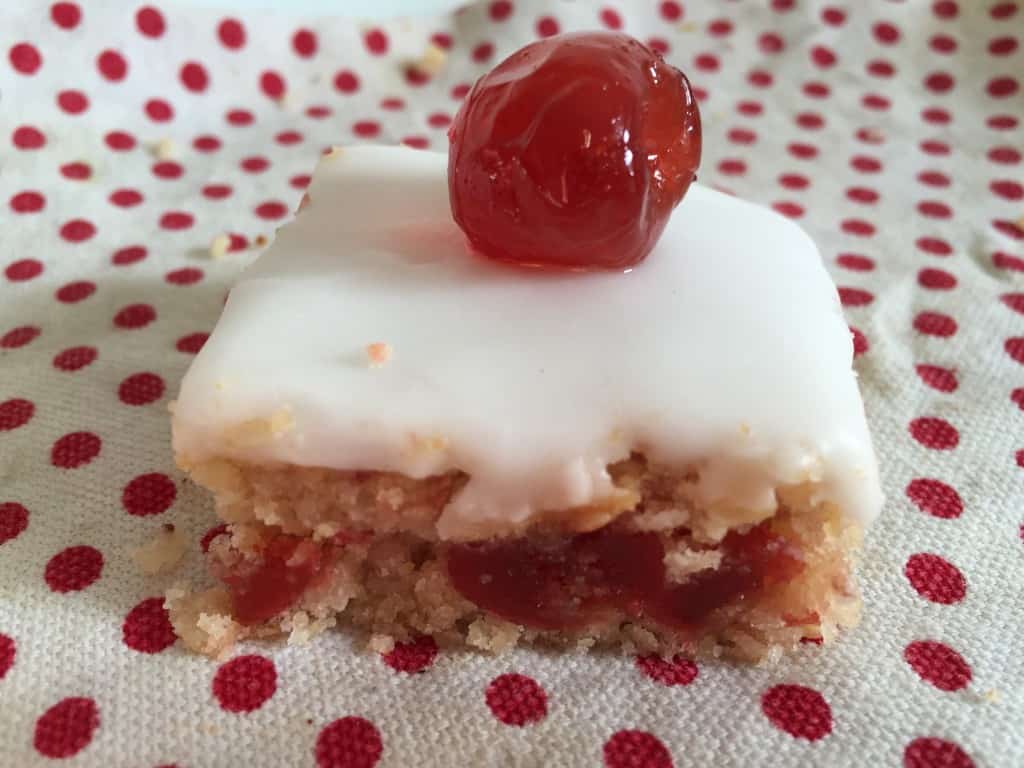 I have always loved using ground almonds in recipes, I love Bakewell Tart so combining almond flavours, jam & rice flakes to make oat free flapjacks is pretty much an the ultimate tasty treat for me. I often make Gluten Free Bakewell Tarts without any icing on them and just flaked almonds instead, however I felt these bakewell oat free flapjacks really warranted a little icing & a rosy red glace cherry! It just makes them look fun and inviting. I made these off the back of watching the Comic Relief Bake Off last week where one of the tasks was to make a tray bake. I'd like to think this tray bake beats any of the celebrities PLUS it's gluten free, dairy free and oat free! It would be perfect for Comic Relief / Red Nose Day Cake Sales. Equally, these oat free flapjacks are perfect with a cuppa tea, in a lunch box or at a party.
Anyway I'll quit the waffle, so I can let you get involved in this delicious recipe for bakewell oat free flapjacks… think I might go and enjoy one myself if there are any left!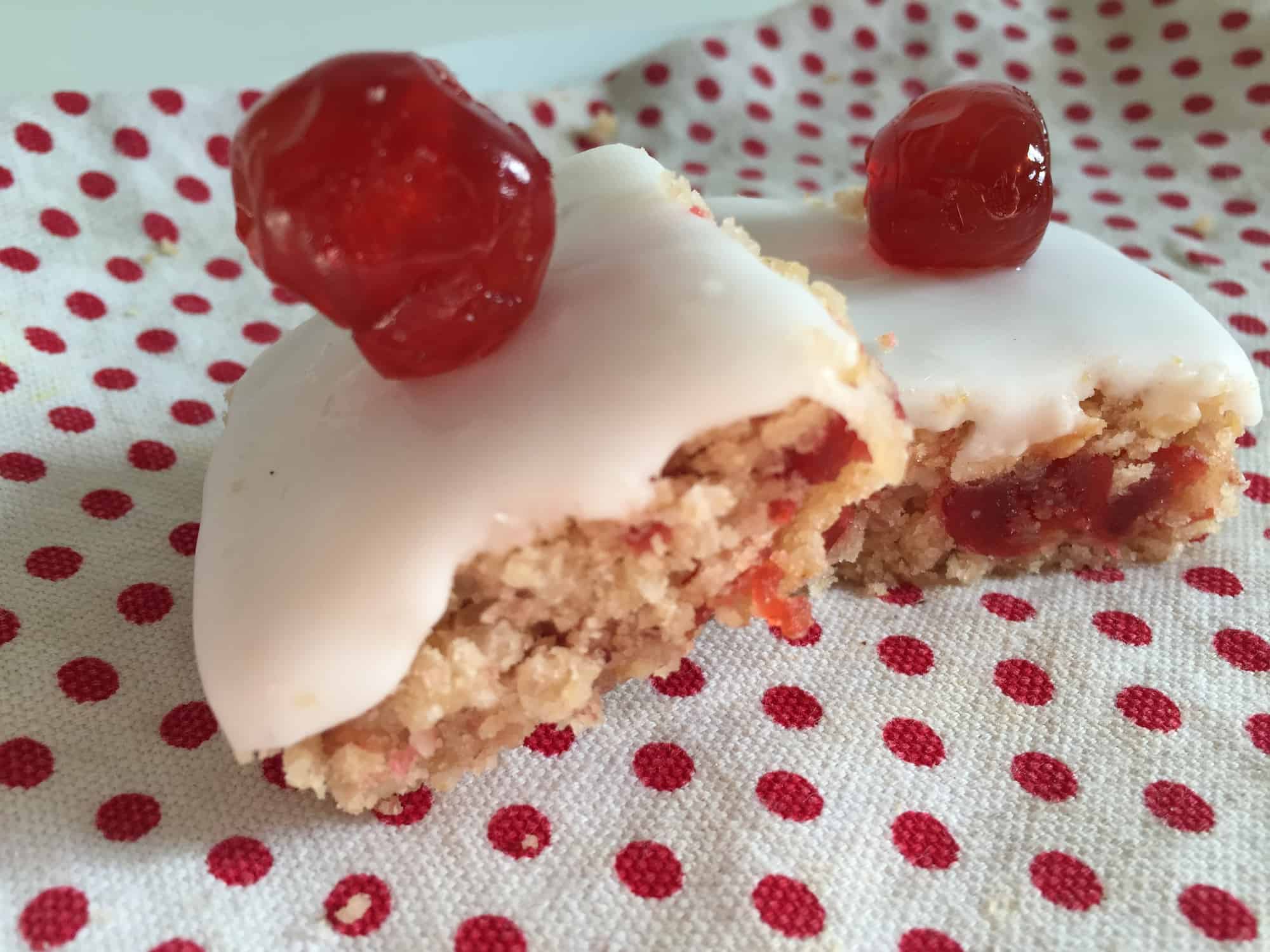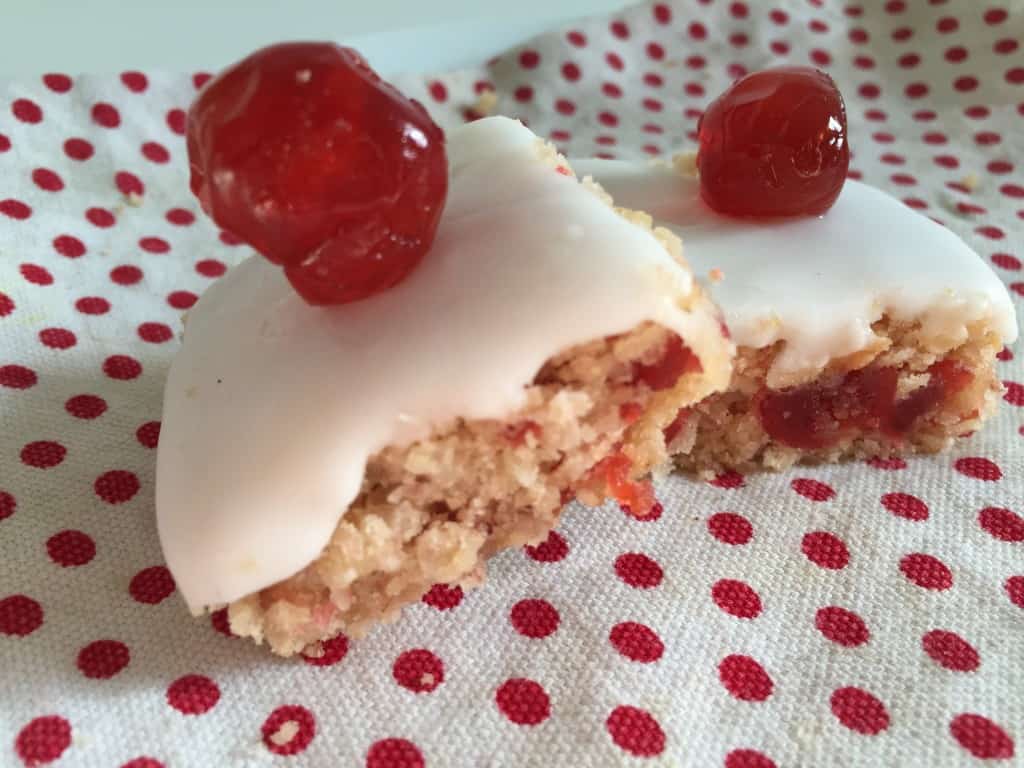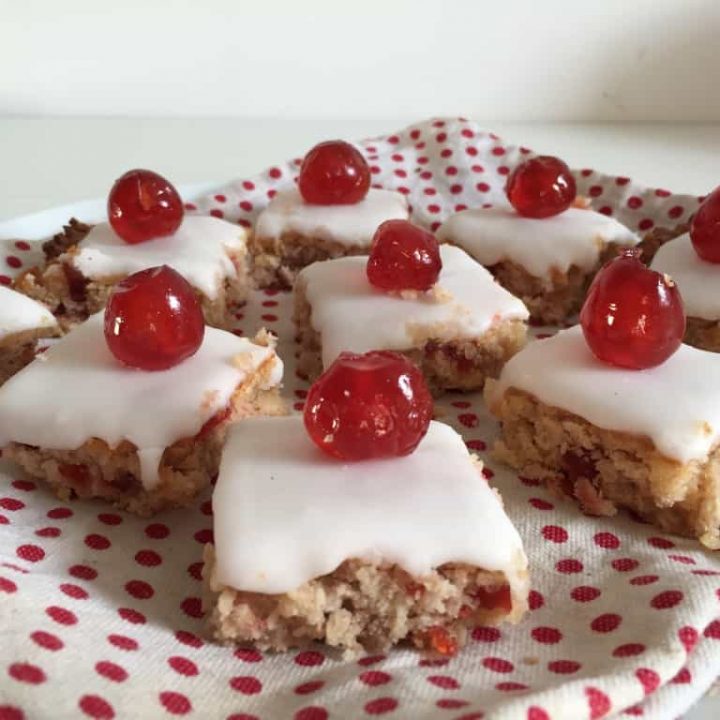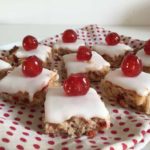 Oat Free Bakewell Flapjacks (Gluten Free & Dairy Free)
Ingredients
140

g

coconut oil

175

g

glace cherries

I chopped mine up in halves and quarters

180

g

ground almonds

200

g

gluten free self raising flour

350

g

rice flakes

I use Delicious Alchemy Rice Flakes & love them, though there are plenty of brands available

2

eggs

beaten

1

tsp

almond extract

6

tbsp

golden syrup

I think you could likely substitute this for Rice Syrup which is something I will be trying out next time

6

tbsp

maple syrup

4

tbsp

raspberry jam

any flavour would work here!

Icing

250

g

Icing Sugar

Mix in slowly a few tbsp of water make sure its thick & shiny though!

Glace Cherries

For Decoration!
Instructions
Preheat your oven to 180 degrees / 160 degrees fan.

Grease a large baking tin (a large, deep one is perfect here as this amount makes a large tray bake!)

Measure out your rice flakes, flour, ground almonds and chopped glace cherries. Mix together thoroughly.

Then add your maple syrup and golden syrup (or rice syrup) to the mixture and mix once more.

Next add your beaten eggs & coconut oil (the coconut oil needs to be melted, which can be done easily in a microwave) Mix this in.

Make sure your jam is fairly smooth and stir it into the mixture. Make sure it doesn't clump together and is spread throughout the mix.

Spoon your mixture into your prepared tray bake tin, make sure it is evenly pressed down.

Put the tray bake into the oven for about 20 minutes, until golden.

Once done remove from the oven and leave to cool in the tin for a short while before taking it out and placing on a cooling rack.

Once cold cover the traybake with glace icing (made from icing sugar mixed with a small amount of water - I love to have the icing really thick & a shiny white colour.

Once fully covered, place in the fridge or leave in a cool place for a while to allow the icing to set.

Once the icing has set, with a sharp knife cut the tray bake into slices & finish with a glace cherry!

Enjoy!
Notes
Adapted from Cheery Little Thing's Cherry Bakewell Flapjacks
Let me know what you think if you get to try these & if there is anything you would change. Thanks again to the lovely Kay Brown & her blog for inspiring this tasty Iced Bakewell Oat Free Flapjacks recipe.
Thanks for reading,
Becky xxx